My first real memory of anything wilderness was watching the John Candy movie classic, The Great Outdoor's with my family when I was a little kid in 1987. Even though I lived in a rural mountain town in an alpine forest, besides our once every few years family camping trip, my family was not exactly the outdoor explore the wilderness types. Watching the comedic shenanigans of John Candy, Dan Akyrod and some rascally raccoons were as close to being one with nature as I was going to get in the 80s. Flash forward thirty years and you can barely drag me out of the mountains and wilderness kicking and screaming. I've had some crazy outdoor adventures in the last thirty years of traveling through the Eastern Sierras. I love telling these stories to city friends whose children have barely set their feet on dirt trails. The city kids in particular always look so interested and intrigued by my tall wilderness tales;
Kid-Friendly Hikes in the Eastern Sierras
"You had a bear break into your car?"
"You had to fight off a pack of coyotes?"
"You caught fifty fish in an hour?"
These are outdoor adventures you simply can not have in the city and that's why it's so great to introduce children to nature. Not to mention these moments camping and hiking in the great outdoors will be memories that will last a lifetime! So have the kids put down that Ipad and book a camping and hiking trip to the Eastern Sierras this summer with your family! These easy hikes in Mammoth Lakes will be great for your entire family!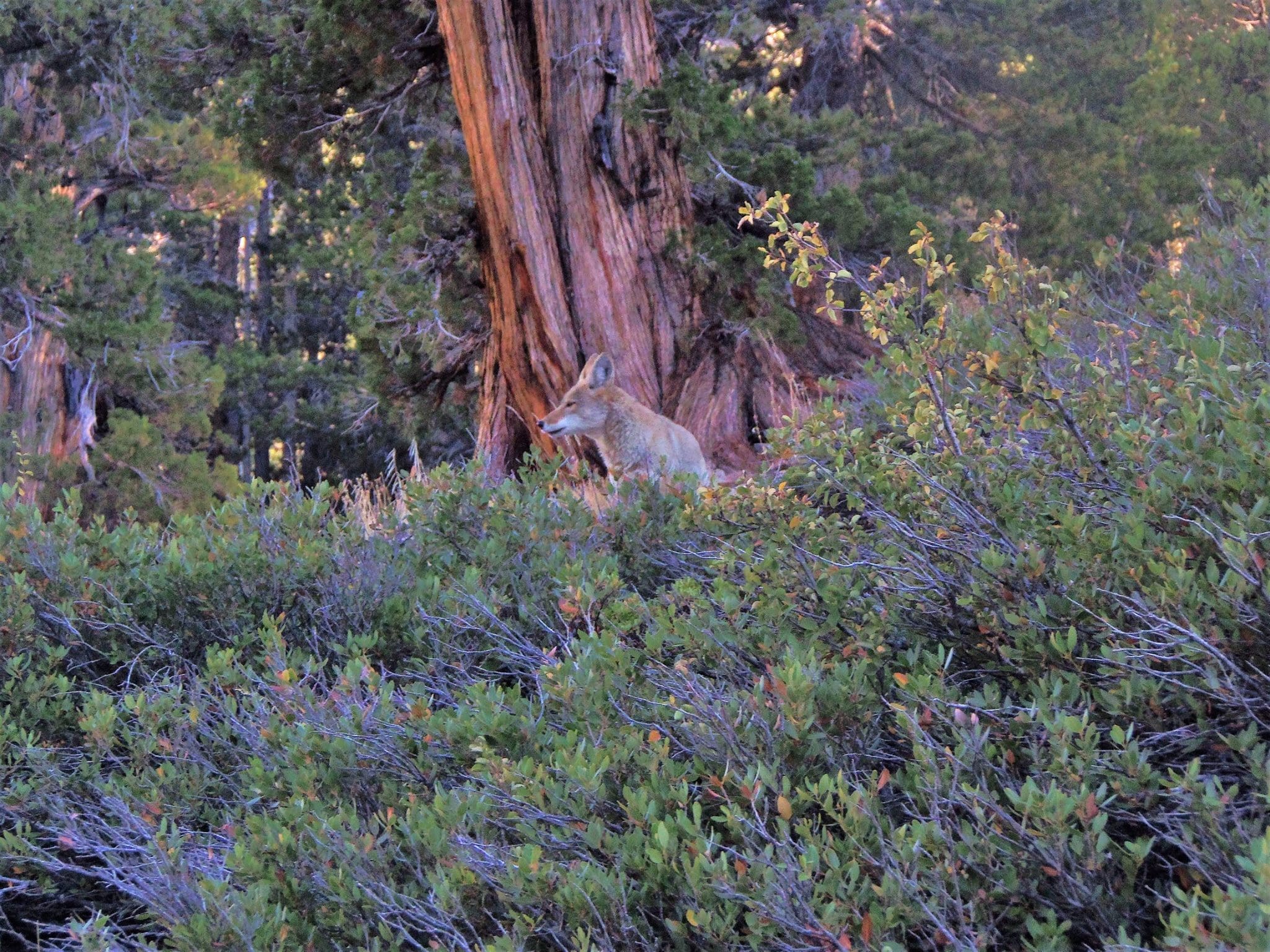 How do I keep kids engaged on hikes?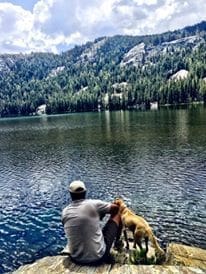 When looking to start going hiking with kids try to plan a hike to something cool, exciting and interesting for kids. Sightseeing in nature is the best! Will you be planning your hike around some caves to explore or waterfalls to jump into on a ninety-degree summers day? For us, we try to plan hikes to great places to swim or to fish in the backcountry. If you have dogs, bringing Fido with you on these treks into nature will definitely keep your kids entertained. If you have dogs bringing them and having your children see how much fun the pups are having trailside will keep your children entertained for hours. Even if your kids start to get tired they will be entertained by your pup having the time of her life enjoying the forest and all those great smells trailside. When I first started hiking with my boyfriend's eleven-year-old daughter our old rescue dog was twelve years old and our rule was any hike that was too hard for our half Chow, half-German Sheperd senior citizen would also be too hard for an eleven-year-old. It was a good rule to plan our hikes around and it worked as my boyfriend's daughter has a lot of fun exploring these trails of the Eastern Sierras by our side.It's also a good idea to show your children books on local flora and fauna in your area so they can try to point out the different wildlife, local native American artifacts, flowers and trees you will see on your hikes. It's a great lesson for kids on what local foods you find on the trail that are edible and which ones should avoid at all costs. You can also point out which herbs and plants can be used for medicinal purposes. I love to point out remnants of local native American tribes like long lost artifacts, arrowheads and bent trees that are actually trail markers when we are on our nature hikes. All these things can really help children start to appreciate nature and this wonderful earth of ours!
Sometimes trails are long; it seems like we will never reach that glorious alpine lake and the day is getting warmer. We are all getting a little grumpy and more then one small child has asked, are we there yet? Parents, we have all been there. One cure for the grumpies is an awesome snack when we reach that little lake in the wilderness at the end of the trail. I make the best cookies or brownies to pack just for special occasions; like when little legs are finally able to hike to my favorite alpine lake. (And yes, sometimes I bring special homemade sweet potato biscuits for Fido as well) Pack awesome snacks for your family to consume when you reach your destination, a lakeshore picnic area where the fish are jumping and the lake water is looking inviting for an afternoon swim.  Even the hardest hikes are better when you get to have an awesome snack on the top of that mountain peak, or a culinary delight sandwich when you finally reach that backcountry lake with the huge trout.
Mountain memories are a lot more fun to build when you have good friends to share in the laughs and the struggles too. As adults, we all enjoy making these fabulous outdoor memories with friends. That's why we backpack with friends, plan ski trips and spend as much time with our loved ones as possible.  Encourage your children to bring their friends if possible. Your kids will have way more fun exploring the outdoors with a friend at their side and even if the hike seems a bit hard for little legs, it will be more fun for your children if they have a friend to commiserate with (And celebrate with when they reach that amazing waterfall!)
How to make hiking fun for little feet too!
Let's face it, some hikes are harder than others. Anyone who is a beginning hiker knows it's a little rough in the beginning and it definitely is for kids when they are just beginning to hike. Make it easier for your kids by carrying the heavier hiking items in the adult's backpacks. Take lots of breaks, like way more breaks then you think they will need. Trust me, taking lots of breaks adds up to way fewer tears on the trail. Besides taking lots of breaks, be prepared with extra supplies like extra bug spray, water shoes for wading into slimy lakes, first aid supplies and even a ball for Fido.(Our dog loves to get the ball out of the lake, and the kids are entertained for hours throwing the ball for her)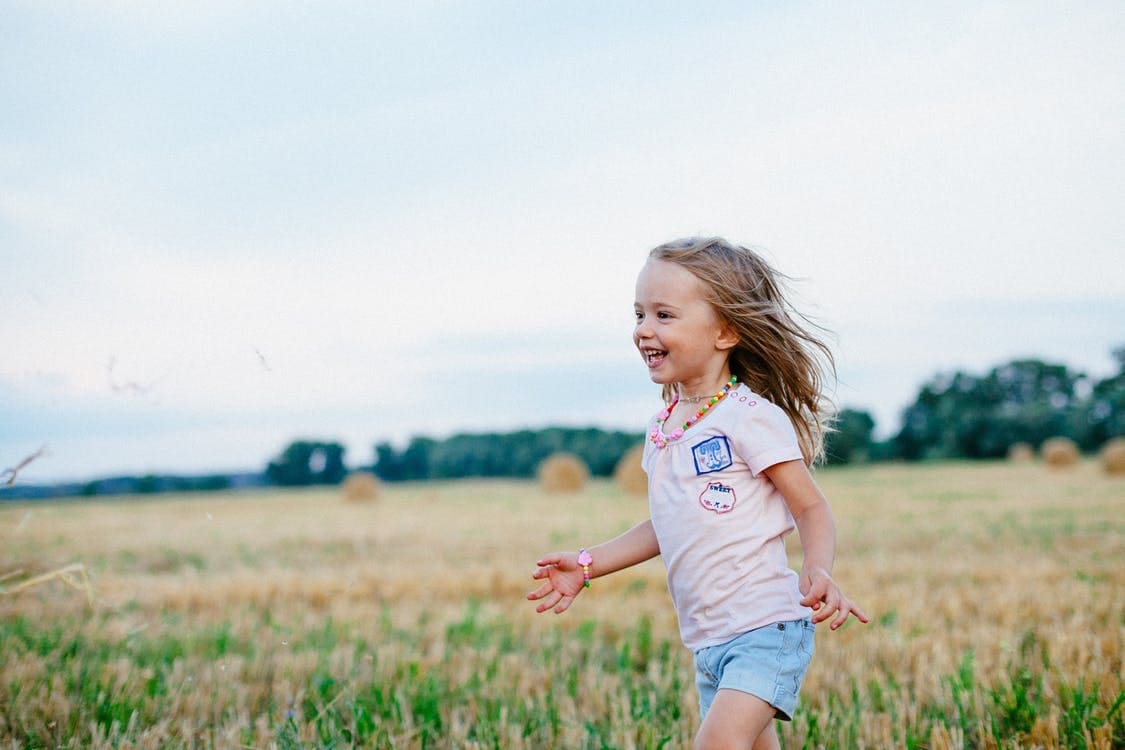 First aid supplies on a backcountry hike are a must anytime and especially when hiking with children. One thing about hiking with children, sometimes they fall. Little feet can't hike as fast as adult ones and being in a hurry to keep up with adults, kids are known to take a tumble. Always pack extra bandaids and first aid supplies for any boo-boos you might get along the way.
When hiking at high altitudes children and adults may have problems with the high elevation and get headaches or feel nauseous. Some of the most gorgeous alpine hikes in the Mammoth Lakes (Eastern Sierras) are above 10,000 feet. And believe it or not some of these hikes are actually quite easy for little feet! The Saddlebag Lake Loop is actually quite easy for a backcountry hike at over 10,000 feet. This hike features not very much altitude gain over the entire hike. Starting out a hike at an altitude greater than 8,000 feet can be hard for anyone not used to these high elevations. The best way to not have an issue with hiking at altitude for your family is to camp near where the trailheads start at high altitudes. For example, right next to Saddlebag Lake, there is a first-come, first serve campsite, Saddlebag Lake Campground. If this 20 spot site is full, there are also awesome spots at Ellery Lake Campground, right off the Tiago Pass. Both of these campsites are above 10,000 feet. Camping at this elevation the night before your hike can help your family acclimate to the higher elevation quickly.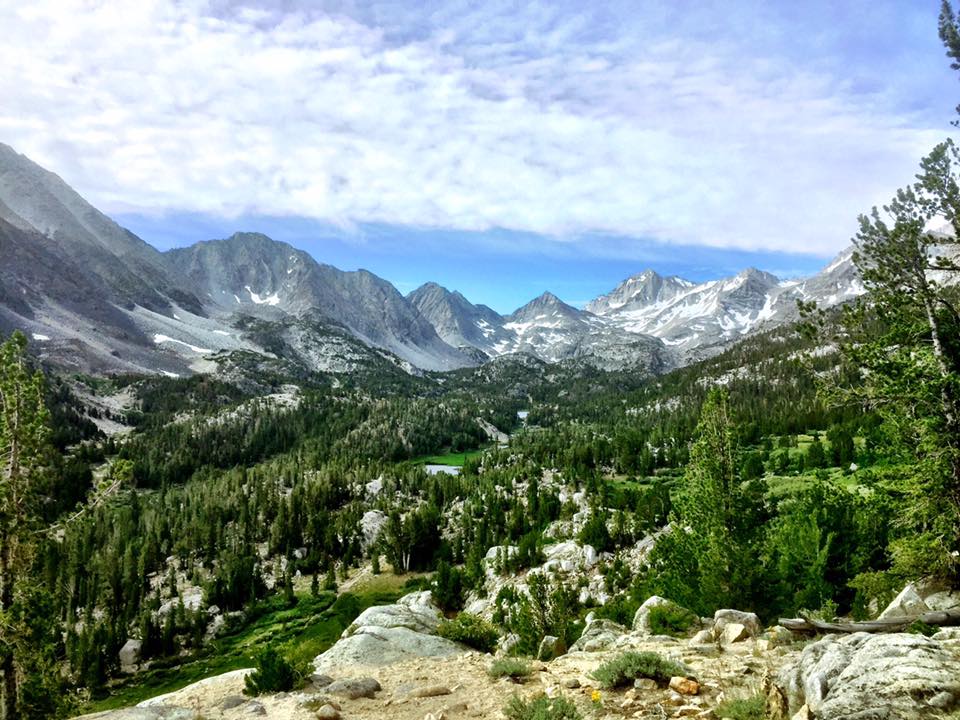 When camping and hiking above 8,000 feet remember to drink a lot of water because you will get dehydrated quickly. Also when hiking during the day wear a higher SPF sunscreen and reapply more often. You will get sunburnt faster at these higher altitudes. What helps me on hikes above 8,000 feet is taking altitude pills a few days before high altitude hiking. These pills are basically Gingko Biloba, which comes from a tree and is a perfectly natural product known to also help ADHD in children and improve memory function in adults. And also reduce the chances of getting headaches at higher elevations. I never travel to altitudes above 10,000 feet for any kind of exercise without this herbal supplement packed. It's a lifesaver in my outdoor experience.
Altitude RX OxyBoost Complex. Altitude Formula for Acclimation to Ski or Mountain Trips with Vitamin C, Alpha Lipoic Acid (60 Servings)…
TRAVEL AND FAMILY FRIENDLY. Whether you're hiking Machu Picchu, skiing, or snowboarding with your family, Altitude RX helps by accelerating altitude...
COMMITTED TO NUTRITION. Made with natural ingredients, Altitude RX helps boosts oxygen and maximizes your endurance, so you feel as energized and...
ALTITUDE RX OXYBOOST. Be free to enjoy every moment in the mountains as you reduce worries about altitude and vertigo. It has alpha lipoic acid and...
BORN IN THE USA. Based in Southern California, we use the latest technology and production capabilities available. Our production facility allows us...
60 Tablets (30 Servings)
Where to Hike in the Mammoth Lakes with Kids
When hiking out in the wild make sure the adults carry any extra water and any heavy items to make it easier for young hikers. Hikes like the Saddlebag Lake Loop are certainly not beginners hiking (What I consider a mile or less hike) You want the kids to have a super fun experience and want to come back to these high sierras trails, so lets make it as easy as possible for them to have a great fun time in the mountains. So it sounds like you have all the basics on how to have a fun-filled day of hiking in the mountains of the eastern Sierras, now where should you hike?
Parker Lake
Parker Lake is a great wilderness adventure trail for kids because, after the first mile of a little bit of uphill hiking, the trail gets really easy. You also follow a pretty creek through a wooded area for miles until you actually reach Parker Lake and this wooded area keeps this trail super shaded, making it not quite so hot and difficult for little kids on super warm summer days. Parker Lake is such a pretty little lake, with 12,850-foot Parker Peak towering over it. The just under two miles one-way hike has a relatively gentle grade and is not to difficult for little feet. Total altitude gain for this hike is just 350 feet.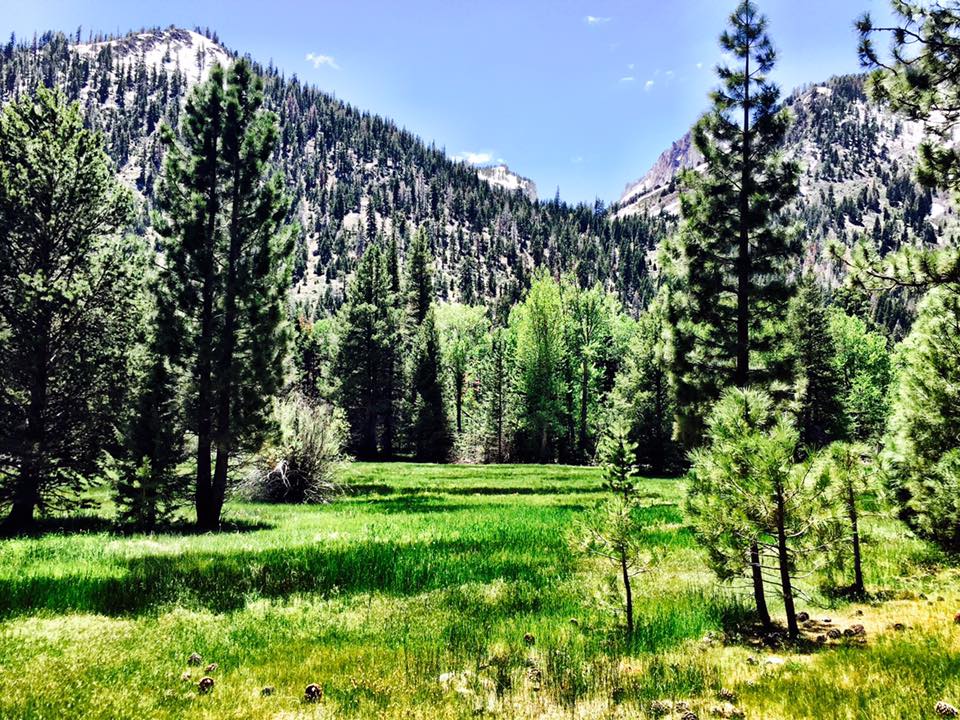 Trail hint; This gentle graded hike is better-hiked mid-week. Holiday weekends this trail gets jammed with families looking for some easy hike-able solitude in the great outdoors. Saturdays and Sundays are pretty busy too. If you try and hike this trail with your family mid-week the crowds are way more minimal.
Little Lakes Valley
The Little Lakes Valley hike is a really great one to do with kids because this hike does start uphill but the hike is very meandering and not hard at all. If you want you can even encourage your kids to summit Mono Pass, one of the easiest passes to summit in all of the Eastern Sierras! Little Lakes Valley is a great hike to do with kids because there is literally another lake every mile or two on this hike and reaching the next lake tends to keep kids interested. All of these lakes boast incredible fishing opportunities also if your kids enjoy fishing.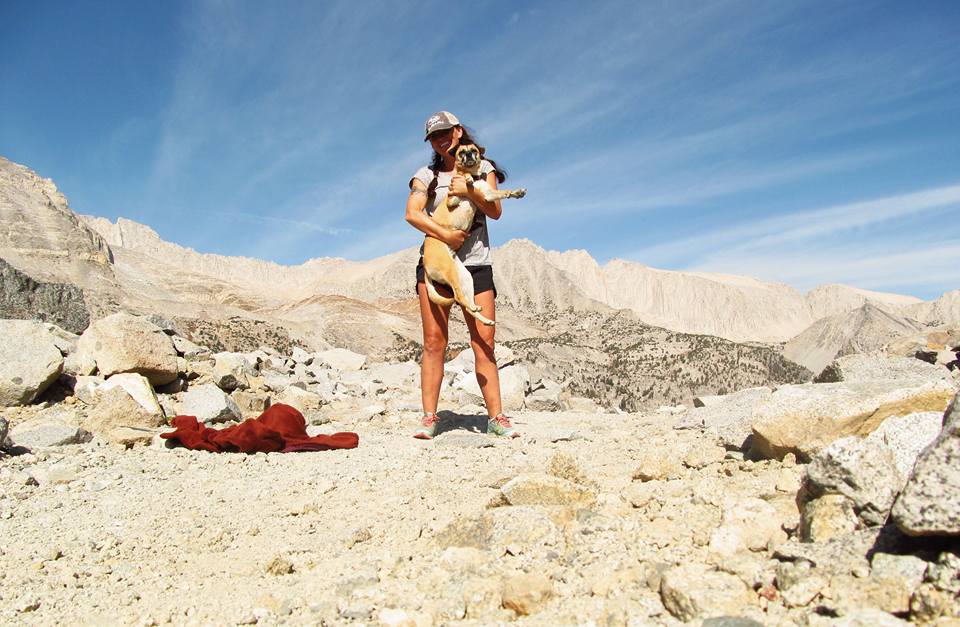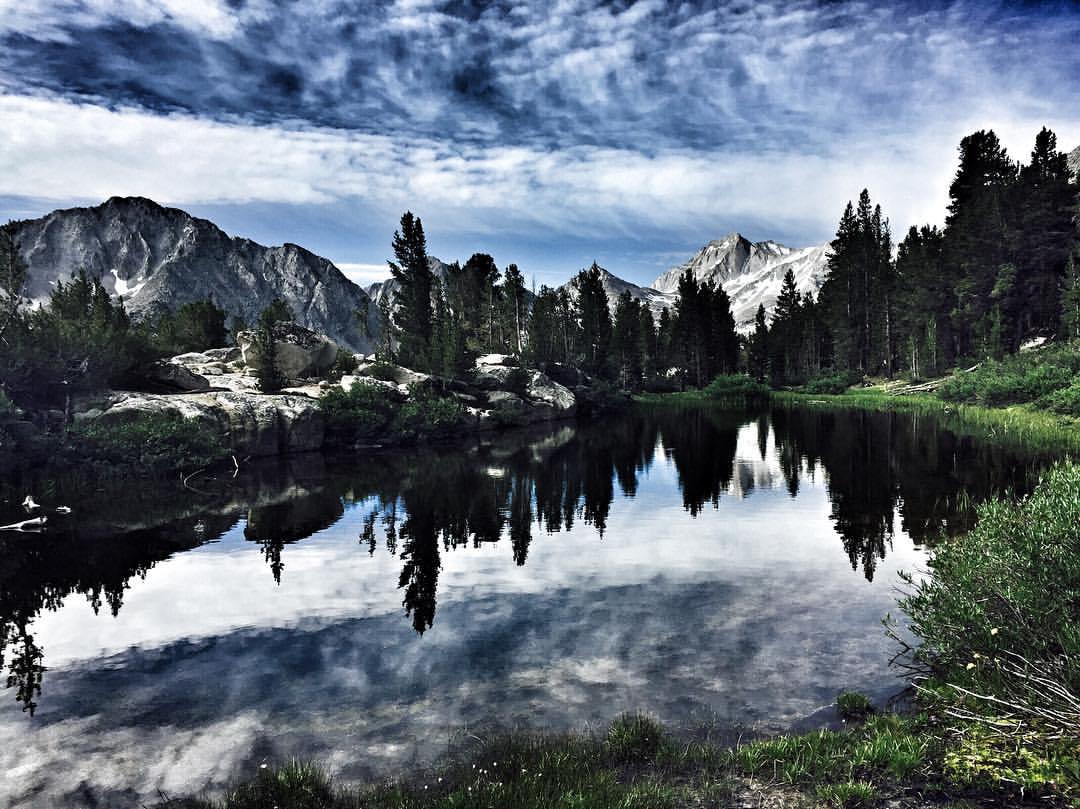 The Little Lakes Valley trail actually takes you to Mono Pass which is one of the easiest passes to summit in all of the eastern sierras. If your kids are really great hikers and want a challenge you can encourage them to try and summit Mono Pass. Or just try to make it to Gem Lake right below Mono Pass which is an incredibly gorgeous high sierras lake. (Filled with hungry rainbow trout, if fishing is your thing) If your kids are good at doing a longer hike then I definitely recommend hiking the trail to Gem Lake. It's pretty easy most of the way, although there is a little hard altitude gain stretch right after you pass Long Lake. Gem Lake is jewel-like in color and really one of the prettiest lakes in this chain of alpine watering holes. This hike is 7.2 miles round trip but it only has 980 feet elevation gain (Pretty easy for a hike this length) This trail starts just at the end of Rock Creek Road.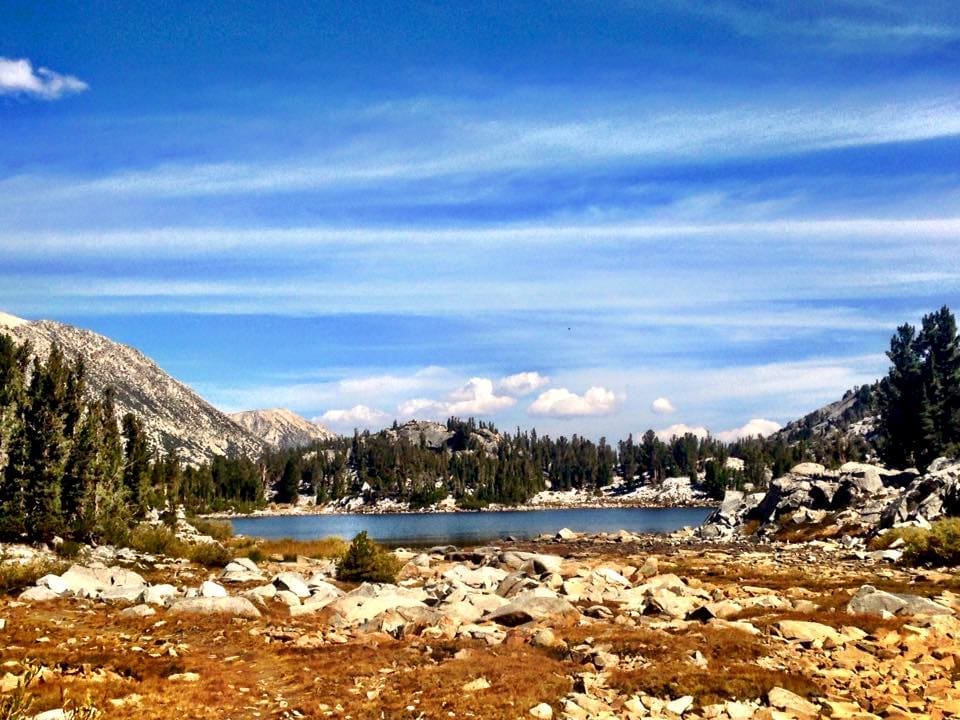 If Gem Lake sounds too difficult for your family then Chicken Foot Lake may be a better goal. Chicken Foot Lake is about three miles one way from the parking area and this is a gorgeous little backcountry lake, fed by a natural stream that is awesome for soaking hurting hiker feet in. This is a great lake for backcountry camping too with many spots available with easy lake access.
Trail hint; After a day of hiking, fishing and swimming at the Little Lakes Valley, try the homemade ice cream and pies with your family at Rock Creek Grill. They also smoke their own meats here and offer local beers from Mountain Rambler Brewery for mom and dad! BBQ and local craft beer are delicious for the adults in your party after a long hike!
Inyo Crater
I love a sunny summer afternoon hiking or mountain biking near Inyo Crater. The trails around Inyo Crater are relatively flat for a mountain area and a great beginner mountain biking area for kids. The hike from the parking area to the actual crater is less than a mile and a little shaded. It's a pretty short hike to the two hundred foot deep aqua colored water-filled crater. These craters in Inyo County were formed by a series of small but violent steam-blast eruptions over six-hundred years ago. What kid doesn't love a science lesson in the middle of summer vacation?Trail hint; There is free dispersed camping on the dirt roads around Inyo Crater for those families on a budget while camping and hiking this summer.
Rainbow Falls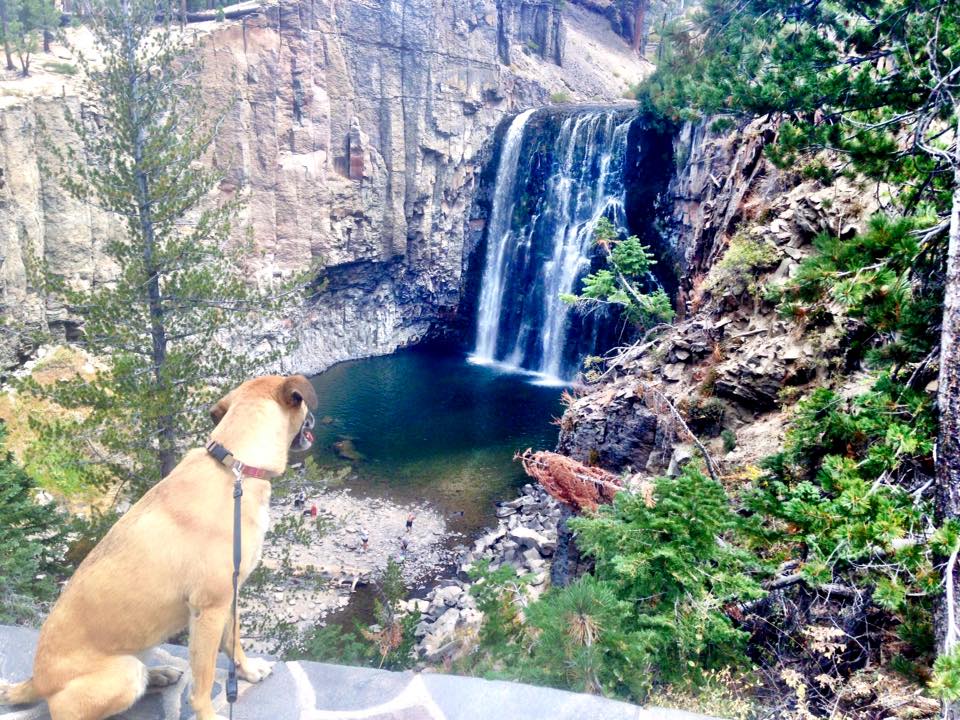 It took me years and years of vacations in the Eastern Sierras to discover Red's Meadow and hiking at Rainbow Fall's. This has to be one of the prettiest areas in the Eastern Sierras but it is also one of the most crowded. During the summer months, you must take the shuttle into Red's Meadow if you arrive any later then 6 a.m. The shuttles get super busy so expect to wait an hour for a shuttle. If you bring your dog on the shuttle, you must have it muzzled. There are campsites you can stay at in Red's Meadow (And then you have the option of driving in the park wherever and whatever time you want) but the campsites are all first come first serve. That being said, Rainbow Fall's is one of the most impressive waterfalls you can hike in the Eastern Sierras and not to be missed. The hike to get to the falls is only 1.5 miles one way and not very hard at all, but it is all in the sun so gets very hot. Rainbow Fall's drops over 101 feet to the rocks below and when you see the rainbows in the mist made by the falls you can see how Rainbow Fall's got its name. The pool that sits below the falls is awesome to cool off in before hiking back to the trailhead. You can also make this hike longer by hiking to Devil's Postpile, on the same series of trails on the way back to the parking area.
Trail hint; Kids are tired of hiking? Red's Meadow also offers guided horseback rides to Rainbow Falls!
Shadow Lake
Shadow Lake is also located in Red Meadow. It's a bit longer in distance then Rainbow Falls but this almost nine-mile roundtrip hike takes you to a large alpine lake that offers great fishing opportunities as well as some giant boulders that are perfect for sunning, picnicking and jumping off of into the chilly waters of Shadow Lake. Shadow Lake is gorgeous and secluded and you can see why this lake inspired Ansel Adams to paint as you relax with your family on its shores. Shadow Lake is a little more than four miles down the trail that eventually takes you to Lake Ediza and the Thousand Island Lakes (Not named for the salad dressing). Most hikers skip Shadow Lake on the way to another backcountry lake so it tends to not get overcrowded. The San Joaquin River pours into this lake from further up the trail that leads to the other backcountry lakes. Mount Ritter sits in the background and is sometimes still snow-capped at 13,143 feet. Behind that, you can see some of the jagged teeth of Mammoth's Minarets. Hiking nine miles round trip to Shadow Lake and back way sound intimidating with children but there is very little elevation gain on this hike so it is not very hard for young hikers.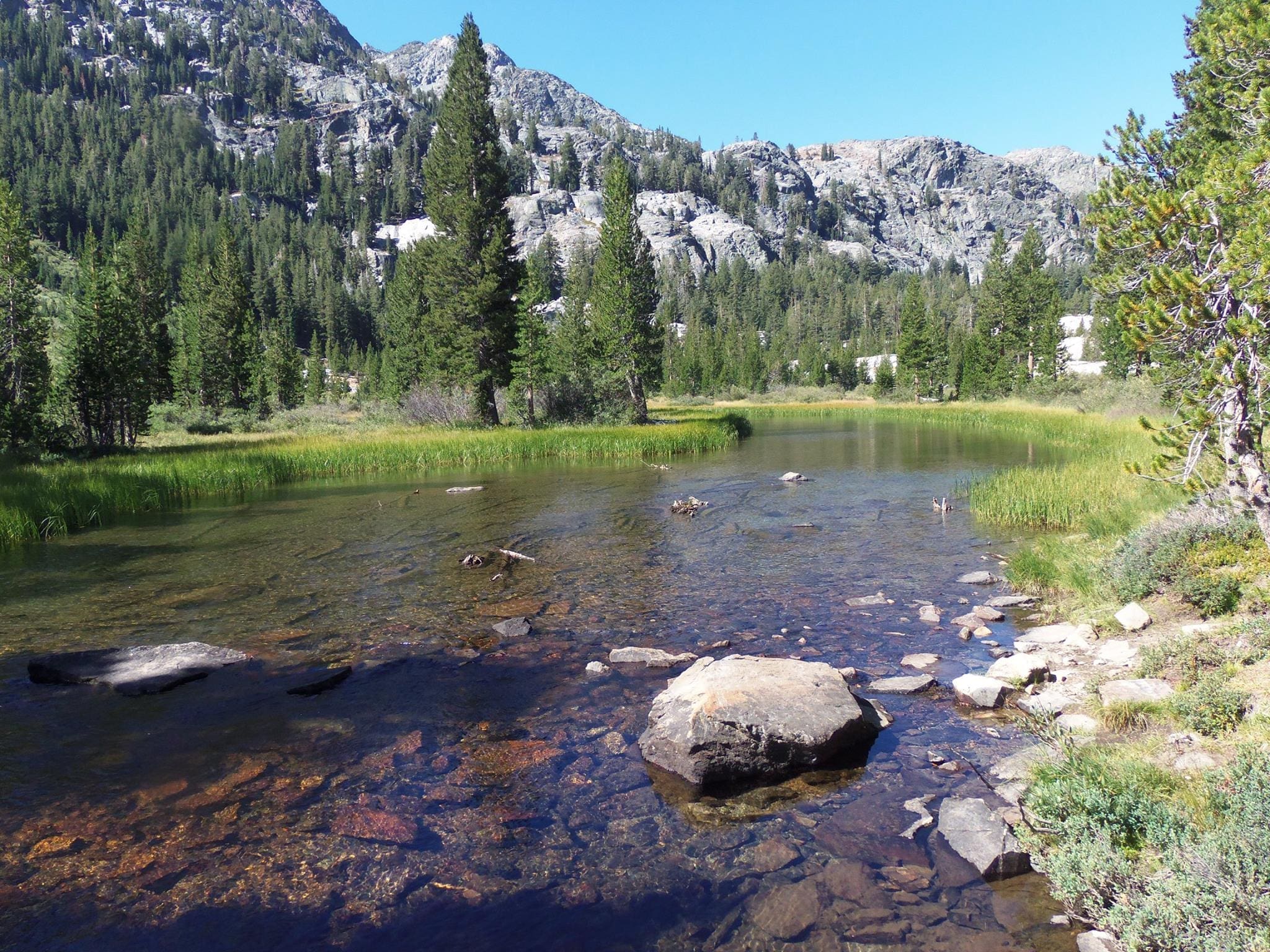 Trail hint; If you and your family choose to hike further up the trail, the trail does get easier and is really pretty meandering along the river.

Saddlebag Lake Loop
Saddlebag Lake sits just outside the entrance to Yosemite National Park. Wonder why this hike is just so gorgeous? Well, it's practically inside a national park! I love hiking at Saddlebag Lake with children because you can take the ferry across Saddlebag Lake for the beginning of this hike and who doesn't like a little trip on a boat? Hiking dogs on leash are welcome on the ferry as well. Taking the ferry across the lake cuts out a mile and a half of the hike. When introducing children to high altitude hiking this is about as easy as it gets. This hike takes you past multiple lakes, a new one every few miles, keeping kids entertained. Plus if they do get hot, you can always cool off at the lake! The Saddlebag Lake hike is just eight miles for the roundtrip loop (With doing the ferry route) This hike only has 318 feet altitude gain during the entire hike and is super easy for kids as an introductory hike through the Twenty Lakes Basin. Drink lots of water at these high elevations as you can get dehydrated. Also, apply extra sunscreen throughout your hike as the sun's UV rays can burn faster at 10,000 feet.
Trail hint; This easy hike starts at over 10,000 feet. You may want to take altitude pills in the days before this hike so your body can handle the high altitude!
Crystal Lake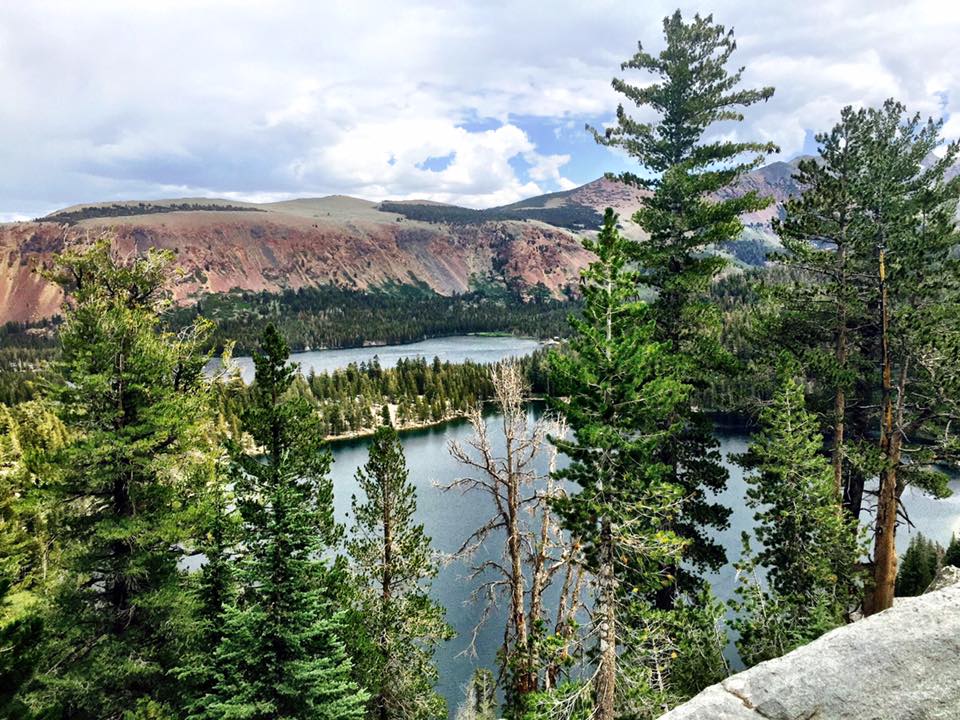 The nice thing about hiking to Crystal Lake with kids is the trail is very short to reach a gorgeous alpine lake. If you do this hike in early June there may still be snow on the mountains that sit behind this lake making it even more pretty. The monstrous mountain, Crystal Crag at 10,000 feet tall, can be seen in the distance as you hike up (And yes, mountaineers climb this route, nearly every day!) Crystal Lake is a 1.5-mile hike up, so three miles round trip. It is a bit steep when hiking with kids, but a very short trail with incredible views.  This trail has almost 700 feet altitude gain. You can even see nearby Lake Mary and Lake Mamie as you climb higher into the pines towards your destination (And a really good picnic lunch, I hope)
Trail hint; The Crystal Lake trailhead starts just above Lake George. If you have time for lunch or a picnic Lake George is absolutely stunning and a great place to relax.
Lake Tenaya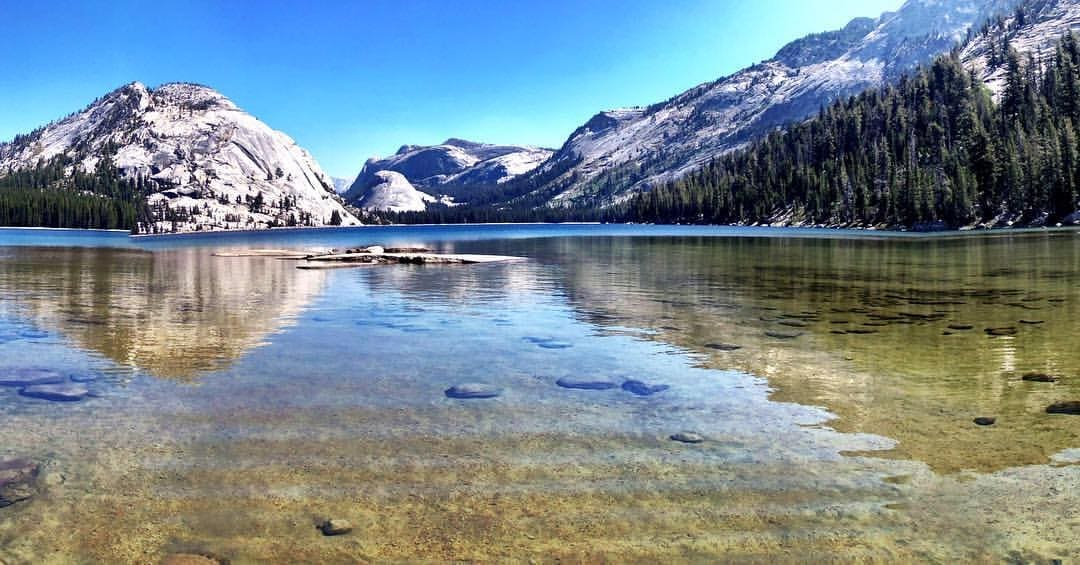 Anywhere inside Yosemite National Park is not my favorite area to hike as all the trails are beyond overcrowded with tourists. If I am out enjoying a day in Yosemite National Park then we will often take a family-friendly detour for a little hike, picnic and swim at Tenaya Lake. Tenaya Lake at 8,150 feet is one of the prettiest lakes in Yosemite. It sits just beyond the east entrance up Tiago Pass. The hike to and around the lake is short and sweet and if you have done a bunch of longer hikes with little kids all week in the Eastern Sierras then this is an easy hike to end out your week of mountain fun.
So you are spending a week in the eastern sierras and the kid's feet are hurting and all the children are tired of hiking. Don't head home to the city yet! What else can you do with children for fun in the Eastern Sierras? After a fun few days of hiking mountain trails, we all deserve a sweet treat and Mono Cone in Mono Lake is a fun family destination and a local favorite. Obviously, you need to try the mono cone at this walk-up window ice cream palace in Lee Vining. And after that take the kids to explore the salty Tufa Towers at nearby Mono Lake. Mono Lake is so gorgeously unearthly beautiful, well anytime, but I love it at sunset and this is when I recommend going. The Old Marina at Mono Lake also rents out kayaks and canoes for boating fun on this lake which is three times saltier than the Pacific Ocean. After checking out the alkaline Mono Lake make your way back down south on Highway 395. Off-road for a few dirty miles back into the forest to show the kids the lava rocks of Obsidian Dome. Obsidian Dome is located near June Lakes down dirt forest roads way back in the forest (Keep your eyes peeled for bears, bald eagles and deer!) on the east side of the mountains. This natural dome was created out of lava which solidified to black glass, hence the name, obsidian. It's a giant black mass of lava rock that kids just love to explore.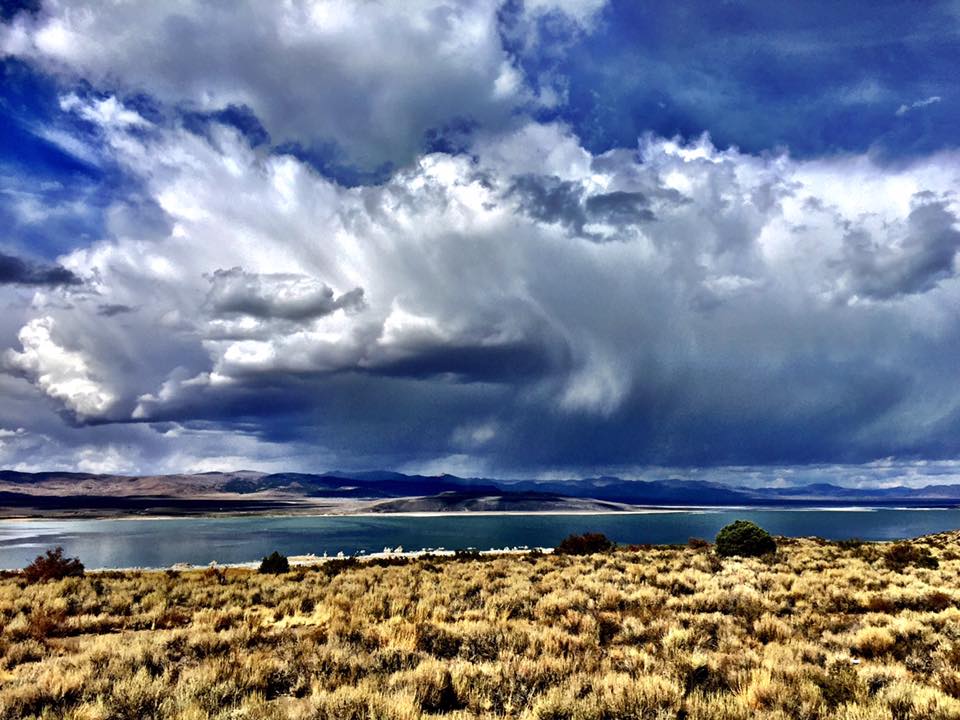 There are so many interesting things in nature to show to young minds who are open to learning and trying something new (like hiking!) in the Eastern Sierras. Getting kids away from the internet and their iPhones seems to me like a great way to introduce kids to how great this planet of ours is and the Eastern Sierras is a gorgeous area in California to do this. Teaching kids how to hike can be a struggle sometimes but is a fun one and something that hopefully your kids will learn to love as they grow and become adults. For me, when I think back on my childhood, our few adventures camping were some of the most fun family times we had and I feel blessed to have spent those nights under the stars and those days beginning to hike trails as I got older. These memories turned me into the hiker and the mountaineer I am today and I have been blessed that it awakened this love of everything wilderness in myself. Sharing my love of forests and nature is a fantastic way to contribute to these electronics obsessed younger generation.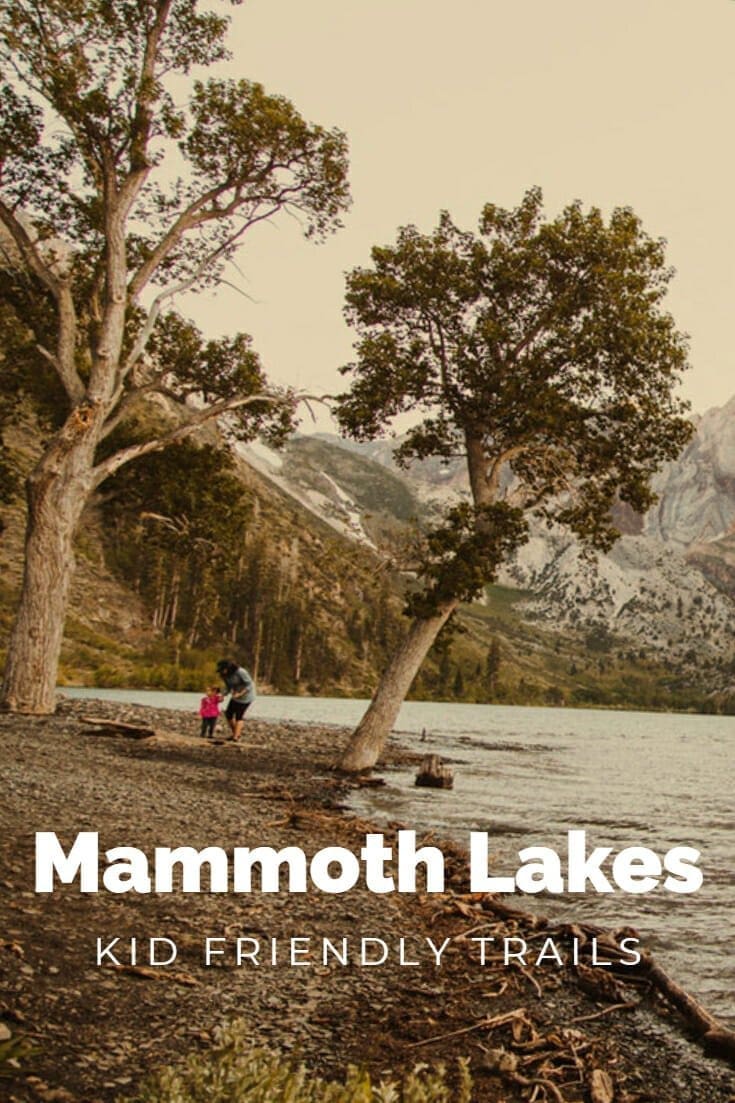 What do you think about these easy hikes in Mammoth Lakes? Did you and your family enjoy these trails? Any updates for our readers? Leave a comment below!