If you can hear water, you can quench your thirst on the trail with the Grayl Geopress Water bottle and filtration system. I've carried this bottle over mountains, across deserts, through the hill country, on hikes, on kayaking trips, and day trips and it has served me well.
Grayl Geopress
Fresh water is all important for every one of our outdoor activities – whether backwoods adventures or traveling to foreign cities, the Grayl Geopress affords you clean, safe and good tasting water.
Mission
To me, this water bottle screams "adventure" – camping, hiking, boating, or even traveling abroad. It isn't designed for the ultra-light backpacker but that doesn't mean it isn't sufficient for backpacking. If I do a long trail loop around a lake or one that follows a body of water, there is no reason to carry anything else but the Grayl – so keep your mission in mind if you're shopping around for a filtration system.
Grayl Geopress Filtration System
Removes waterborne pathogens – virus, bacteria, protozoan cysts, pesticides, chemicals, heavy metals, and microplastics.
Capacity: 24 oz
Weight: 15.9 oz
Filtration Rate: 5 liters/minute
Cartridge lifespan: 350 cycles / 65 gallons
BPA-Free materials: made from polypropylene #5, food-grade silicone, TPE, ABS food-grade plastic
Grayl Replacement Purifier Cartridge
24-ounce filtration in less than 25-30 seconds. If it takes over 30 seconds to push water through, it's time to replace the filter.
Removes: waterborne pathogens (99.99% of viruses, 99.9999% of bacteria, 99.9% of protozoan cysts), including Rotavirus, Hepatitis A, Norovirus, Giardiasis, Cryptosporidium, E. Coli, Cholera, Salmonella, Dysentery, and more
Filters: particulates (i.e. silt, microplastics, etc.); activated carbon effectively adsorbs chemicals, pesticides, heavy metals, flavors, and odors
BPA Free
The filter has a 10-year unused shelf life. I recommend changing the filter between long non periods of use.
What does the water taste like?
After pushing a few gallons of water through our Grayl Geopress water bottle – from crisp clear mountain lakes, to streams and large lakes – I've come to realize it does taste earthy, but not bad. The taste can absolutely reflect where you are filtering from. A crisp mountain stream of snowmelt will taste like some of the best water you may ever find, yet a sandy bottom stream like the stream we took photos with to share the process will taste a bit earthy.
I've used Grayl filtered water for drinking, cooking, cleaning, and filling up our hiking and CamelBak water bladders.
How does the Geopress Water Filter work?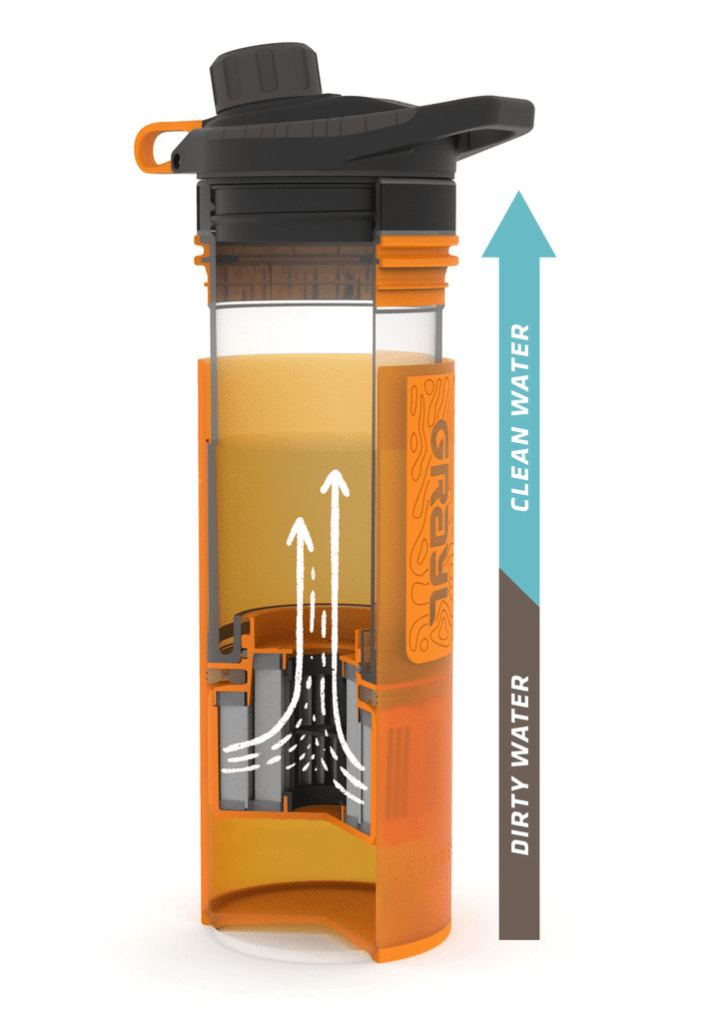 Step 1- Locate drinking water
It's a golden rule of mine that I try and get all my drinking water from bodies of water that are moving if possible. If I find a pond small lake, I'll try and walk around to find any source of incoming water as well. Large freshwater lakes have enough movement, currents, and flow to help alleviate issues with stagnant water.
On my trip to Southern Colorado, we found this beautiful river where I set up to demo the Grayl Geopress.
Step 1 – Separate the purifier from water cup
Everything just unscrews like the photo below. You use the bottom cup to scoop up or fill up with the water you want to filter.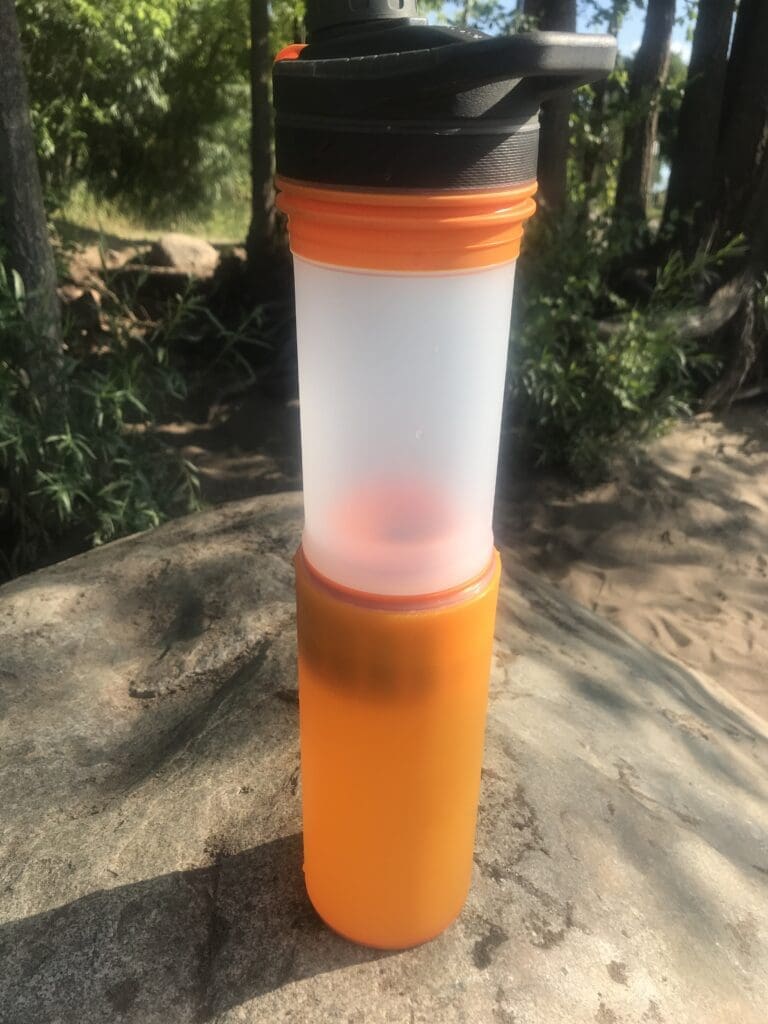 Step 3 – Fill-up to fill line – about three-fourths the way up
You should see a water line on the inside of the cup. It's important to not overfill as it makes the process messy and more difficult if you do.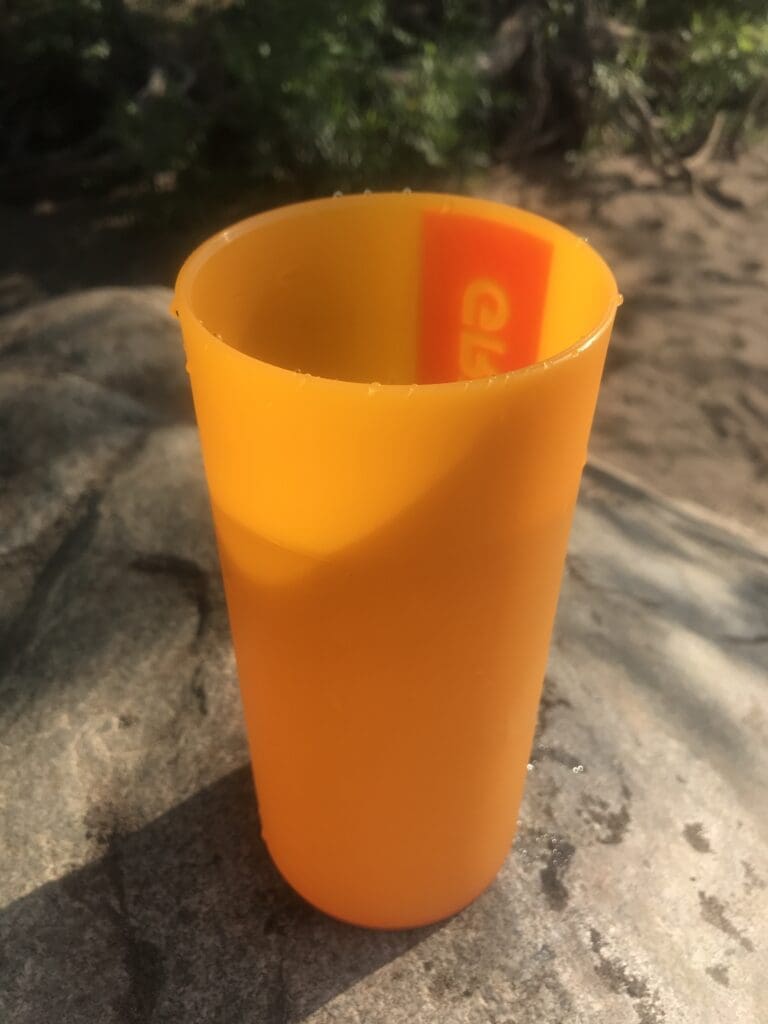 Open Drinking Lid
Be sure to at least loosen or unscrew the top drinking lid part, you need to let the air out or else you will never be able to compress the water through the filter. For demo purposes, I just unscrewed the lid entirely, but to keep the drinking spout clean it just needs about one-half turn open to vent.

Insert inner bottle into water bottle
The filter should settle down to the point where you stopped filling the fill bottle at the waterline.
Find a solid surface to use as leverage
This isn't a gravity drip system, this is "put your muscles into it". I found a nice rock to push down on. I used one hand to grip the orange cup while using another hand to push down on the top.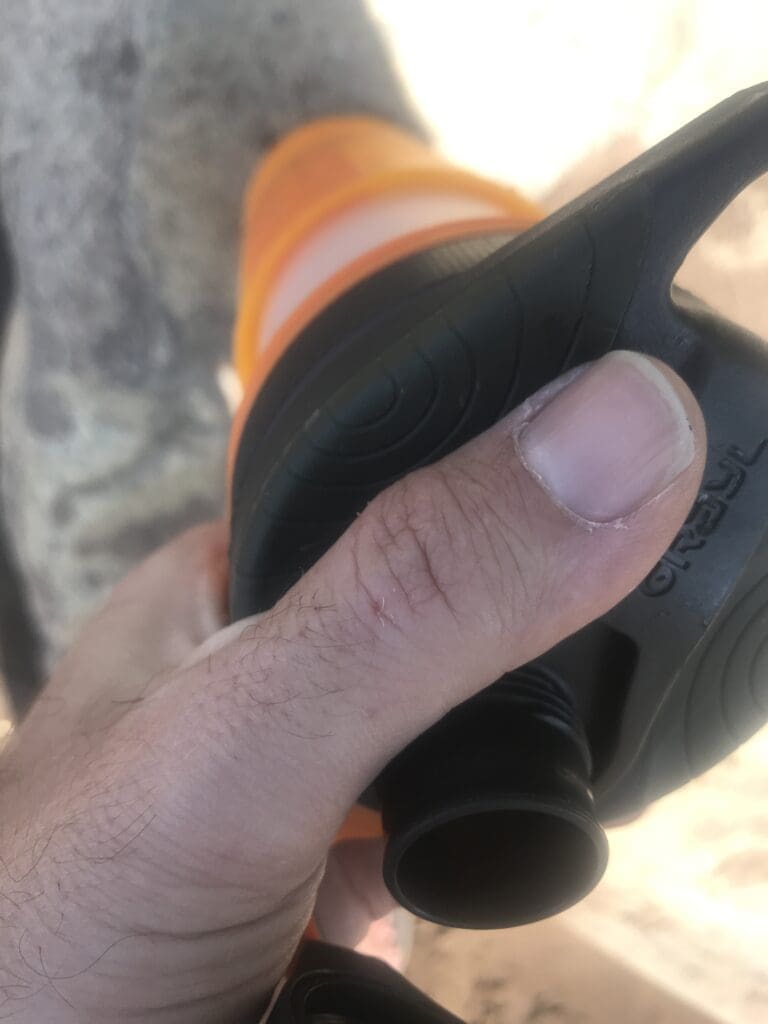 Push the Bottle all the way in.
Once you have pushed the bottle all way in, you can screw it together. Enjoy your clean drinking water!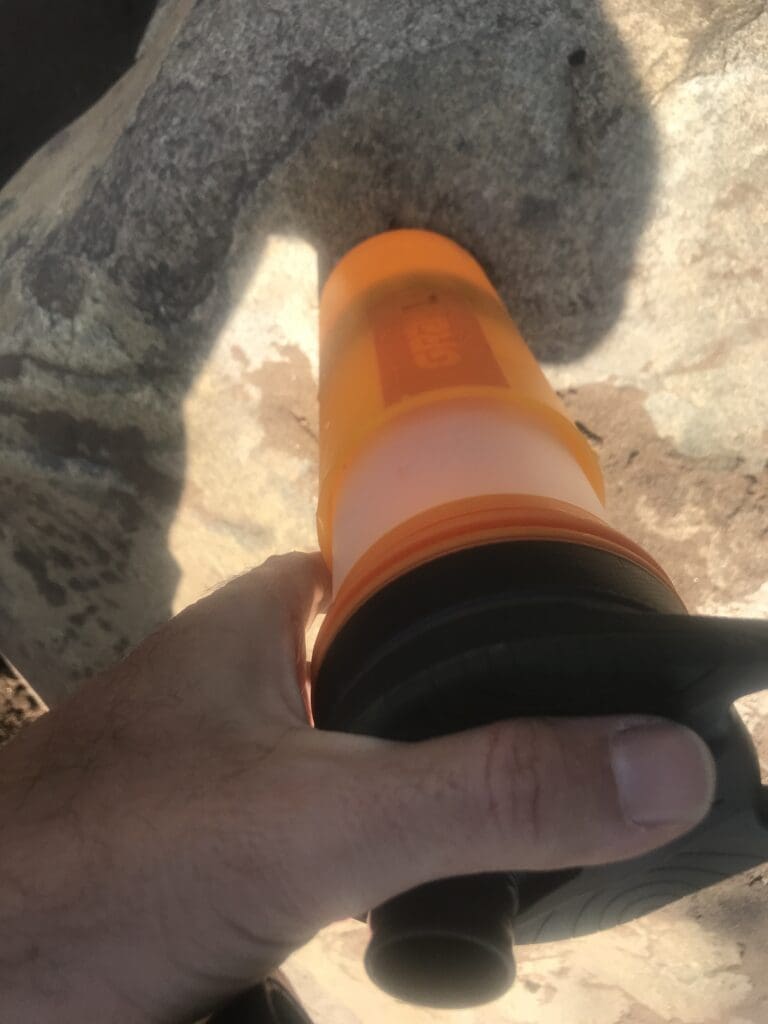 Done
Enjoy freshly pressed, err, filtered water 🙂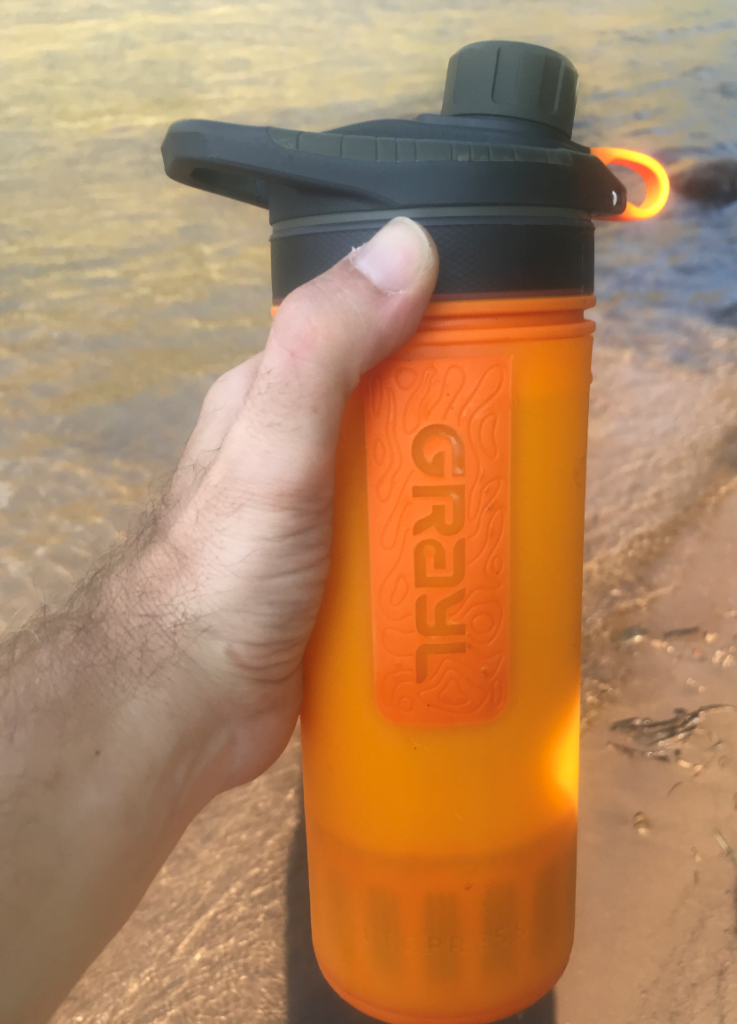 Grayl Geopress Review
We've had our Geopress in use for over two years now, and I've only been through three filter cartridges. I'm happy with the purchase and have it on my recommended product list for a few reasons listed below. I've found myself using this device increasingly while fresh water Sailing since I can scoop up water on the move and limit how many water bottles we keep on board. I used to finish a long sailing trip a bit parched, but this works great for hydrating on the lake.
Water is life on the trail, it can be hard to carry enough fresh water on you and plan ahead and even if you do plan, you can't always rely on that the water your drinking – even from a water fountain is clean and free of nasty stuff you don't want to ingest.
Whether we're hitting a fountain, scooping up out of a river, or out on a kayak and dipping into the lake, our Grayl has never failed me. I've never had an upset stomach, gotten sick, or had any other digestive problems you don't want to have while on the trail.
What do we like?
Build Quality – The Grayl Geopress is built like a tank. When I'm thirsty, I squeeze it like I mean it and its never failed on me yet.
Easy to clean – I wipe down the filtration inner body, wash the drinking lid and outer body with soap and water. No difficult tubing or tiny areas to clean.
Filters are readily available and last for a while. They're rated for pushing through around 65 gallons of water. If you find it hard to push and filter, it's time to replace it.
Taste – Like we mentioned above, taste is not a problem. If you know you have put a lot of water through and you're not enjoying the taste, it's a sign you need to change the filter.
2022 Update: I've had this filter for over three years now and it still works great. I typically replace the filtration media twice a year. Haven't broke anything, haven't had any foul taste or contamination issues.
What don't we like?
Grayl Filter recycling: I get a lot of clean water through mine but would love an effortless way to recycle these. It's not as bad as coffee coming from wasteful pods if you ask me, but I always try to be as environmentally conscious as I can.
Note: A recycling program may be coming soon. I hope they think of drop-off at retailers. I'd love to just drop off at my next visit to REI. Grayl Filter Recycling Program
Grayl Filter costs: It's my hope that a filter recycling/trade-in program can be set up to lower the costs of filters. Life straw for example says its carbon filter does up to 26 gallons but the mechanical filtration does up to 1000 gallons and those filters cost ~$25 each. The Grayl filters run about 30/each while doing more carbon filtration than life straw but far fewer total gallons.
Price is a tad higher than I thought I would spend, but really, since the entire Grayl Filtration system has lasted a year – much longer than other water filtration systems I've used where bladders break, tubes break, hanging hooks fail or whatever it may be, the Grayl simplicity of forced filtration and durability has been great.
When I'm tired, thirsty, and out on the trail, I do prefer the press of the Grayl over sucking through a straw, but that's just me. In comparison to gravity systems, I'm still a fan of on-demand water but I'll often carry both depending on the outing.
Where to buy Grayl Geopress
Available online, at REI and direct from Grayl.
GRAYL GeoPress 24 oz Water Purifier Bottle - Filter for Hiking, Camping, Survival, Travel (Visibility Orange)
ONEPRESS GLOBAL PROTECTION: Empowers international travelers and outdoor adventurers to make the world's sketchiest water sources clean to drink....
REMOVES ALL PATHOGENS: Viruses, bacteria and protozoa - from any freshwater source on Earth. Filters pesticides, chemicals, heavy metals, and...
UNRIVALED EASE & SPEED: Effortlessly purifies 24 oz (710ml) of water in as quick as eight seconds. Requires no setup time, pumps, hoses, sucking,...
MAKES WATER TREATMENT EASY: Use your body weight on the SoftPress Comfort Pads to power purification. Drink and share safe, clean water through the...
AWARD WINNING ONEPRESS VERSATILITY: No straw, pump or gravity bag can match. Effortlessly fill from any spigot, hotel sink, murky river, taco stand,...
GRAYL GeoPress Replacement Purifier Cartridge (Orange)
COMPATIBLE WITH GRAYL GEOPRESS Water Purifier (not included), this cartridge provides OnePress global protection for drinking water from sketchy...
REMOVES WATERBORNE PATHOGENS, including viruses, bacteria, and protozoan cysts (e.g. rotavirus, hepatitis A, norovirus, giardiasis, cryptosporidium,...
ACTIVATED CARBON effectively adsorbs many chemicals, pesticides, heavy metals, flavors and odors; filter removes microplastics and other particulates
INDEPENDENTLY TESTED & LABORATORY CERTIFIED to meet or exceed NSF protocols 42 and 53 for pathogen and chemical removal
Cartridge is rated for 350 cycles (65 gal./250L); Unused purifier cartridge has a shelf life of 10 years when stored properly
Wrap Up
I love my Grayl. It's not the only filtration system I have on me, but it fits the bill for many occasions. To get the most value from such a system, it's best for people who are actively using it. If you just go on a short hike and drink some water from a nearby stream and don't do it again for a year, it's not very economical – but then again, there is no portable system that really is cost effective for casual use with consumables that need replacement even without frequent use.
If you enjoy being outdoors, the Grayl system is extremely durable and easy to use. I hope that the filter recycling program comes to fruition, and it would be nice to have amazon subscribe and save discount or something similar from Grayl direct.
Let us know your thoughts below!