Ready to hit the trails without the fuss? Skip the tedious half-hour of deflating tires one by one and dive right into your off-road adventure with Staun Tire Deflators. They're the quickest way to get your tires trail-ready, so you can spend more time conquering terrains and less time twiddling your thumbs. Get let down and let down fast!
Get right to enjoying the trail within 2-3 minutes by using these Staun Tire Deflators. Straight from the factory they're calibrated for 18psi. I tend to run my tires right around 22-23 psi myself – a little more air than what the factory sets these too but making the adjustment is easy.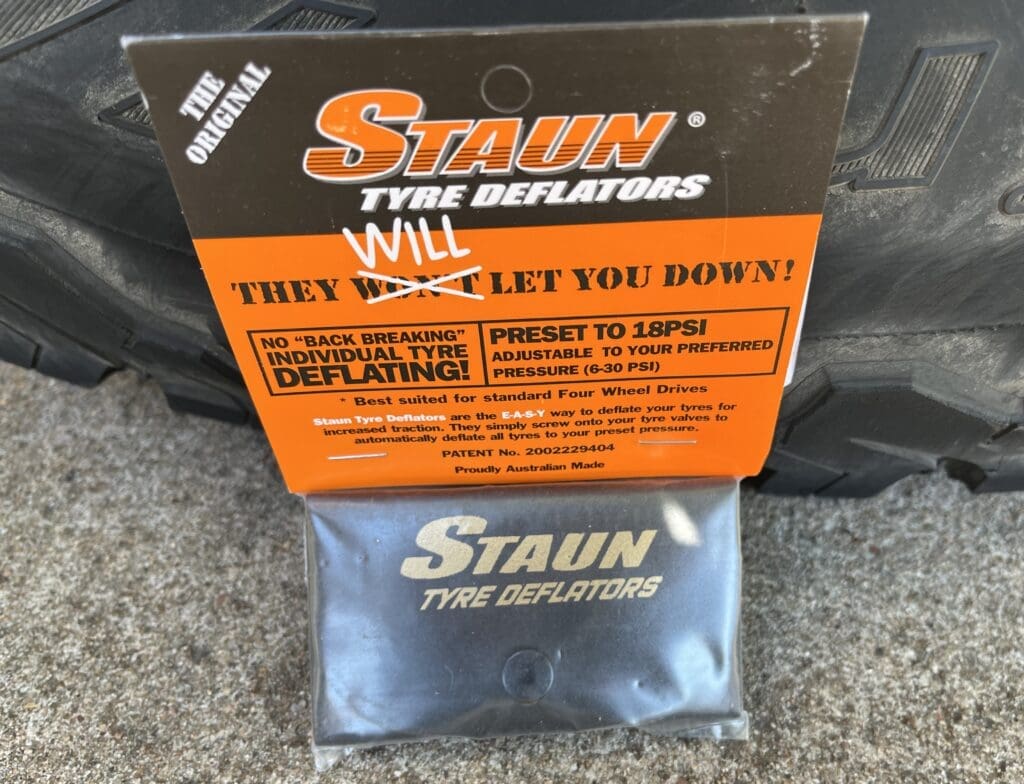 If you're driving a stock Jeep Wrangler and looking for your first Jeep Upgrade, this is one of the best to start with.
How to set up Staun Tire Deflators
If you want to air down to 18psi, just unscrew your stem caps, screw on the Staun Tire Deflators and repat x 3 for your other tires.
If you want to re-calibrate your Staun Tire Deflators to another PSI, then check out this excellent YouTube video they have on setting them up.
Tire Deflation for Off Roading
There is no formula here that I'm aware of, it's just people's personal preferences. You don't need to air down at all for off roading, but I find the experience to be worth the time/effort.
Since I tend to do more overlanding with a trailer and rooftop tent vs rock crawling, I air down all tires to about 20-25 PSI mostly to smooth out a rough road. If you get much lower than 20-25 PSI, be sure to verify that your tire/wheel/rim rating can support vehicle weight and not lose bead. (Separate sidewall from rim)
Be sure to always re-inflate when driving on roads or above crawling speeds. If there isn't a trail or road service for inflating your tires, be sure to bring along a trust inflator. I use the following one and it airs up super quick.
Sale
Smittybilt 5.65 CFM Air Compressor - 2781
Auto-thermal cutoff switch - protects motor against damage
Maximum continuous cycle time (duty cycle) - 40 minutes at 40 psi at 75 degrees Fahrenheit
Maximum airflow - 72 liters per minute. Quick release 24 foot coil hose
Integrated easy to read 150 PSI pressure gauge
Storage bag included
Staun Tire Deflator Review
Price – not cheap. $99 dollars on average +/- $10 dollars or so but you get what you pay for. I purchased a cheaper $25.00 no name set, and I couldn't get them to deflate to a standard PSI to save my life and they were slow. They released air until they eventually stopped releasing air whereas the Staun deflators release are at high pressure until they hit the set PSI – taking must minutes.
With everything being hours away or daylight being worth its weight in gold, I love hitting the trail in ~5-minute air down time. I just screw these on the wheels, do a vehicle walk around inspection – check my fluids, unscrew – recap wheels and off I go. Please don't drive with these on your wheel, it's a quick way to lose them or damage your rims.
Review Disclosure
These tire deflators were purchased by us and not gifted or given for any review. This review is entirely my opinion – Can't claim it's unbiased because I went the cheap route before and ended up spending more time and money doing that than had I purchased these first. My loss, your gain 🙂 Enjoy your smoother adventures with your aired down tires!
Where to buy
Available at many off road shops and retailers as well as Amazon.com. By following the link below we will earn a small commission for referring you to amazon.
Sale
Staun Tire Deflators | The Australian Original Tyre Deflator (Airdown to 6-30 PSI Standard Range)
FAST: Accurately air down all four tires from street pressures to trail pressures effortlessly in just a few short minutes.
AUTOMATIC: Apply one deflator onto each tire stem and Staun automatically stops gushing air at the set PSI. No tricky removal of valve cores. No need...
ADJUSTABLE: Airdown from street pressures to between 6 and 30 PSI (the most commonly used range) - factory set at 18 PSI. Adjust as often as you like.
CONVENIENT: Save your back and knees. Yes, now you can stand up while Staun airs you down.
COMPACT: The set of 4 deflators fit easily the palm of your hand with the included genuine Australian leather pouch.
Update
Took these up to Colorado and they performed remarkably well. Deflated at high-altitude and everything worked. I tell you what, driving the alpine loop at 19psi is much smoother than running at 35psi. Do yourself (and your passengers) a favor and invest in good deflators (and an air compressor to air back up) if you drive a lot of old washer board or bumpy off-road roads.