Need to carry more gear or throw a kayak/canoe on your jeep for your next adventure? We take the Thule Jeep Wrangler roof rack system out for a spin and show you how simple it is to add more capacity to your Jeep.
We've had this on our roof for several years now and it's worked great. I've carried a roof to carrier and strapped down two kayaks while hauling down Texas highways to go camping & fishing.
Thule Roof Rack System
When it comes to adding a roof rack to your Jeep Wrangler, there are many choices. From full cage systems to bolt on kits and gutter mounts.
Since my mission is mostly hauling a car top carrier and a kayak and with easy removal and ease of installation (no drilling), I chose to go with the Thule Roof Rack system.
While I like the looks and features of some of the full cage systems, I wanted to avoid the added weight and noise I've heard can happen.
Roof Rack Mission
My Mission:
Skiing Gear
Roof Top Carrier
Bike Carrier
Kayak
Misc stuff (sometimes boards/lumber tied down)
The Thule roof rack system does a fantastic job at safely carrying any of those items while freeing up precious cargo space in the rear. (Please watch the bikes and car topper when driving through places with any low clearance!)
We found the Thule system to be extremely easy to install, easy to remove, and very capable of carrying the loads we haul around. The rooftop carrier freed up the often overpacked trunk and limited interior space.
Before we dive into the Thule rack system, let's make sure we cover the ever-important weight rating of Jeep's. Always understand the limitations of your gear and how to operate it safely and make sure your gear fits your mission.
Thule Jeep Wrangler Roof Rack Roof rating
There are two ratings you should be aware of before you install and load any equipment on your Jeep: Static Weight Rating and Dynamic Weight Rating.
Dynamic Weight Rating – the most amount of weight that can be safely carried by the roof rack system while the vehicle is in motion.
Static Weight Rating – the most amount of weight that can be carried by the roof rack system.
On the Jeep Wrangler, the only rating I have been able to find any manufacturer supports that is the Dynamic Weight rating of 165 lbs. The dynamic weight rating means the roof rack system can safely carry only 165 lbs. of kayak, gear, bikes, skiing, or any equipment while the vehicle is in motion.
If you "know your mission" and know that you will be just carrying light activity gear, a moderately heavy kayak, or a rooftop carrier system then any rack system will work as 165 lbs. of equipment is a lot of gear.
If your mission is to carry a rooftop tent or something substantial permanently mounted to your vehicle, then you should be aware of the 165lb dynamic weight rating and the fact that Jeep doesn't establish a static weight rating. We installed our rooftop tent on our overland trailer because we didn't want to install a roll cage set up to get the weight rating necessary for 2-4 people to be sleeping in a heavy tent. With the 165lb dynamic rating you can certainly drive around with most tents on the roof, but I didn't want to push my luck with a non-rated static rating.
Roof Rack
For my 2017 Jeep Sahara Unlimited, the recommendation for a Thule Jeep Wrangler roof rack is:
ARB60 – 60″ Aerobars (must be 60″ kit!)
Thule Rapid Gutter Foot Pack (4 feet) – Model # 300R
This should fit any JKU or JLU Jeep Wrangler.
Sale
Thule 300R Rapid Gutter Low Foot Pack, One Color, One Size
Gutter Foot Pack that is compatible with Thule AeroBlade and Rapid Aero load bars
Available in 5" clearance
Additional sport carriers and rack accessories can be mounted to integrated front and rear upper t-track channels
Sold 4 feet per pack
Secures to roof with Thule One Key locks (sold separately)
Thule ARB60B AeroBlade 60" Roof Rack Load Bars (Pr)-Black
WindDiffuser is a textured surface on the t-slot cover that disturbs the airflow better than a smooth surface, greatly reducing wing noise.
The sophisticated BoxBeam aluminum extrusion creates one of the strongest load bars in the market.
SmartSlide is a molded measurement system providing a quick, no-hassle, tapemeasure-free foot installation. SmartSlide also covers the underbar slot...
SwingBlade end cap pivots open to allow full access to the t-slot for easy accessory installs.
AeroBlades work in conjunction with Thule feet and vehicle specific fit kit (sold separately). Please check the Thule fit guide for more information.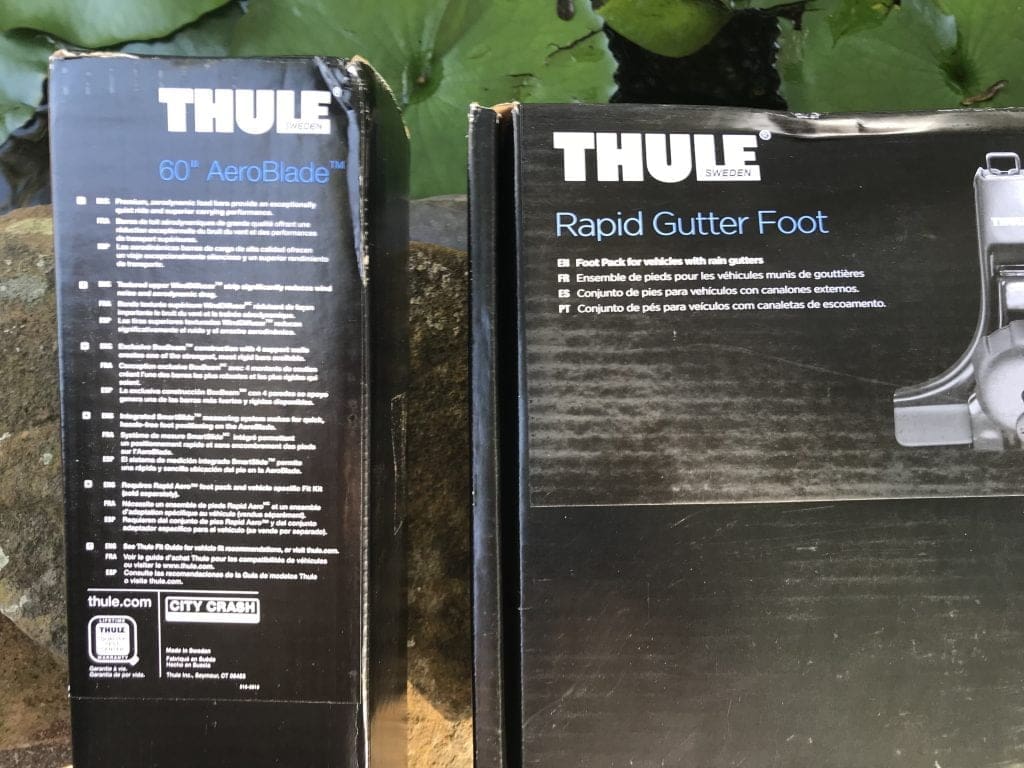 What's in the Thule Rapid Gutter box?
The Thule rapid gutter box comes with a bunch of components that need some assembly.
The instructions were straightforward, but we'll cover some of the trickier pieces in a video below.
All the parts look well-made and durable. Nothing sticks out as a potential failure point or bad design. The adage applies here, "You get what you pay for."  You should be able to get many years of use from this roof rack system without worry of rust or component failure. If you have any issues, all parts are available to order online and have spares.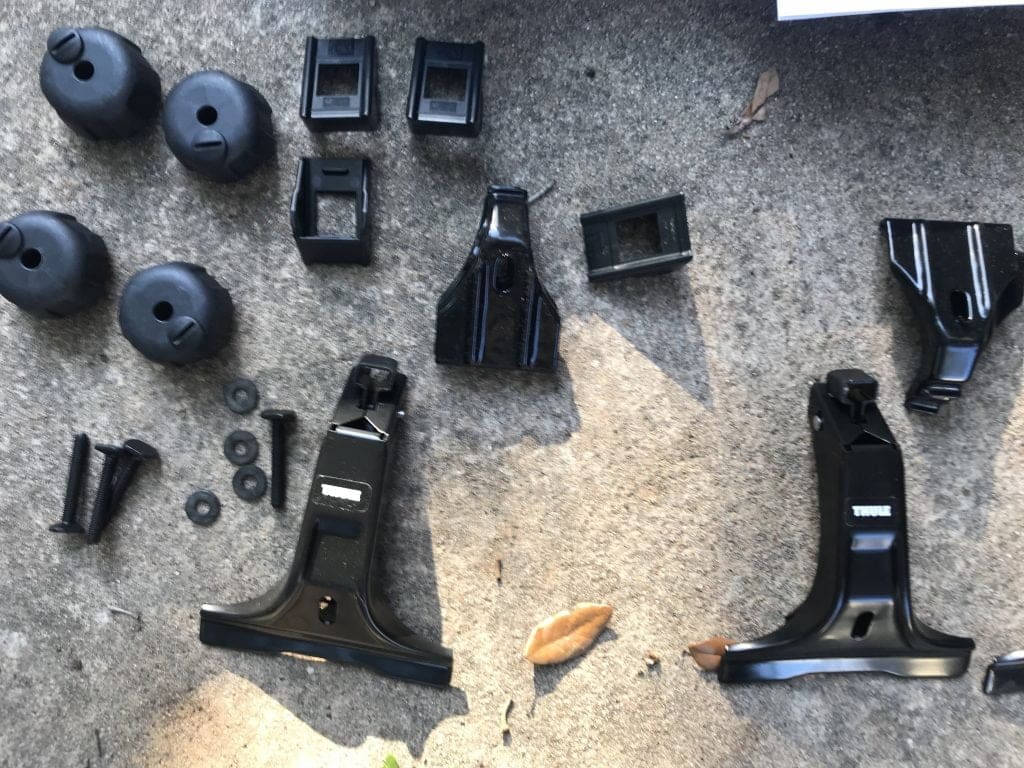 Assembling ARB60 Thule AeroBlade
Assembly of the ARB60 AeroBlade is quick – insert the rubber track in the channel and push it in with your fingers as you work down the length of the blade.  I would recommend sitting the far end of the Aeroblade bar on a box, as these suckers cost a lot to scratch up as you work the non-slip strip down the AeroBlade.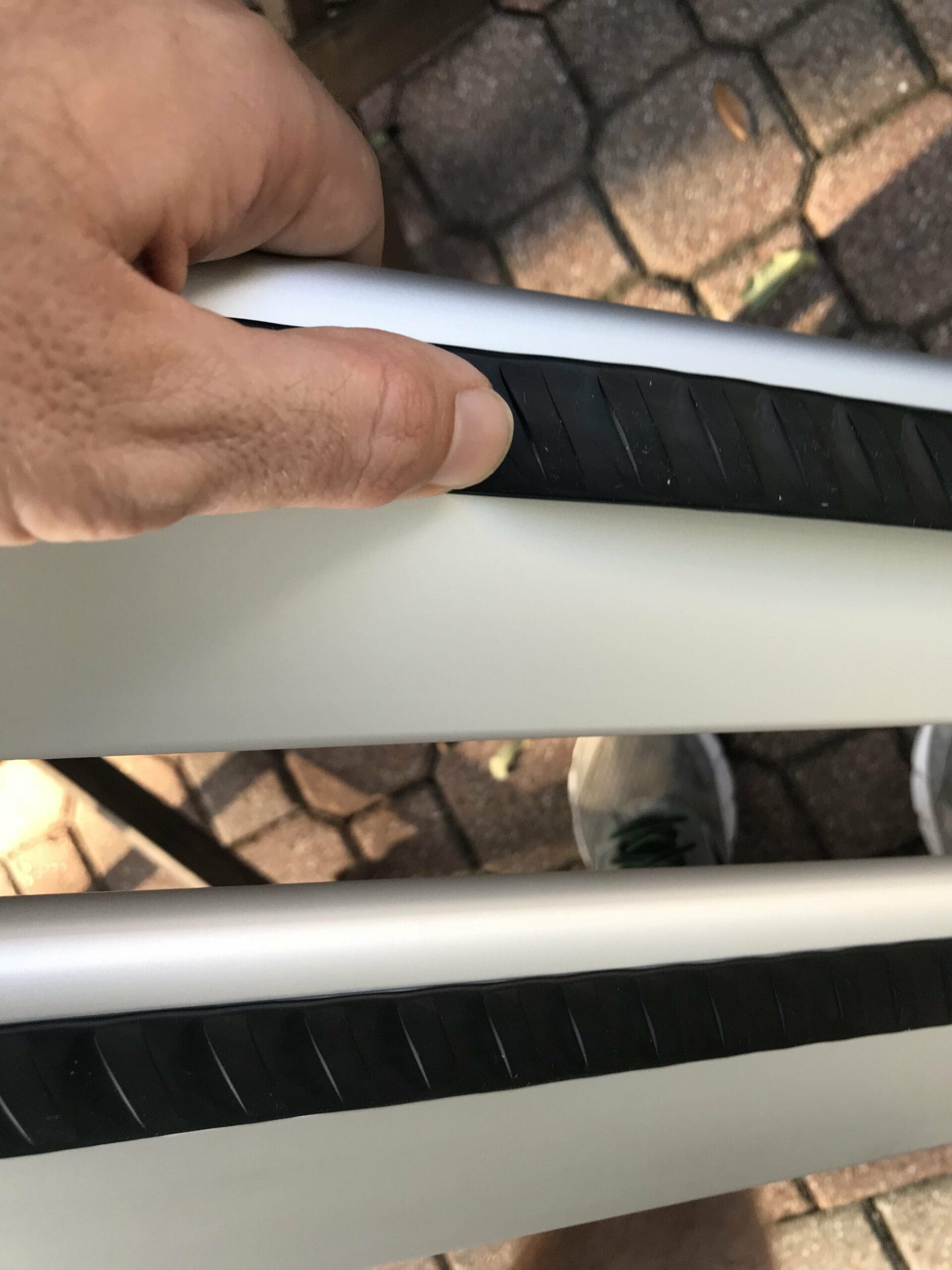 Once you have installed the non-slip rubber channel, set the AeroBlade aside – Do NOT put the end caps on just yet.
Thule Rapid Gutter Foot Pack Assembly
In your Rapid Gutter Foot box, you should have four sets of the pieces below. All these parts are used to build one foot as pictured below.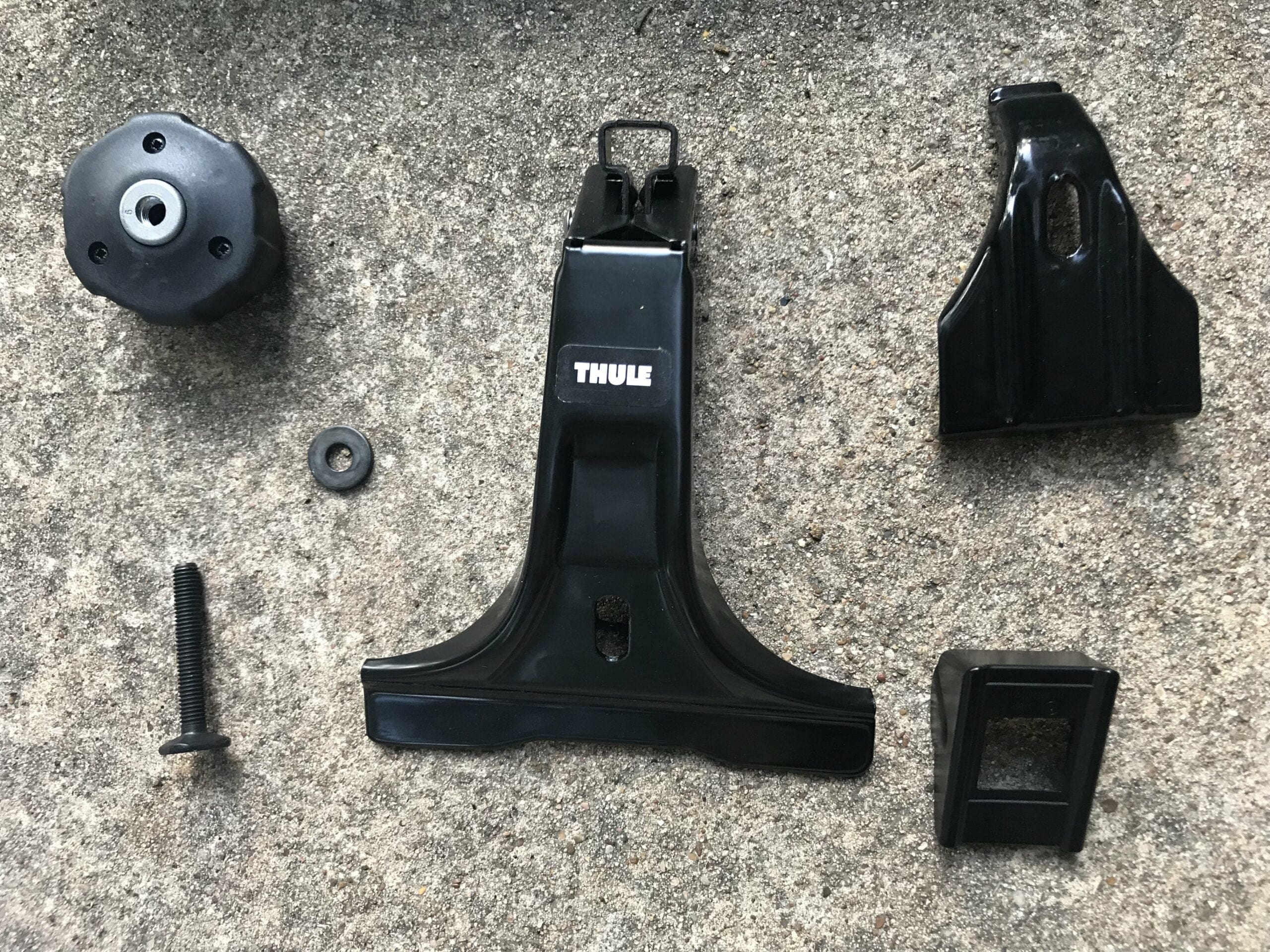 Here is a quick YouTube video showing how to assemble the foot:
The plastic part on top was slightly challenging to get into the ARB insert, but I found that if you push on the flat side of the rivet/bolt and then push on the rounded side, it snapped in slightly easier.
Do NOT overtighten the hand nut. You want this loose so you can install the Roof Rack assembly easily.
Installing Thule AeroBlades
This part was the most hassle of the entire setup. When you slide the feet into the AeroBlade track, it doesn't like to slide very well. I had to wiggle it back and forth to get it to push in and if it got stuck, I used a screwdriver to reach into the channel and move the black piece around to jostle it lose.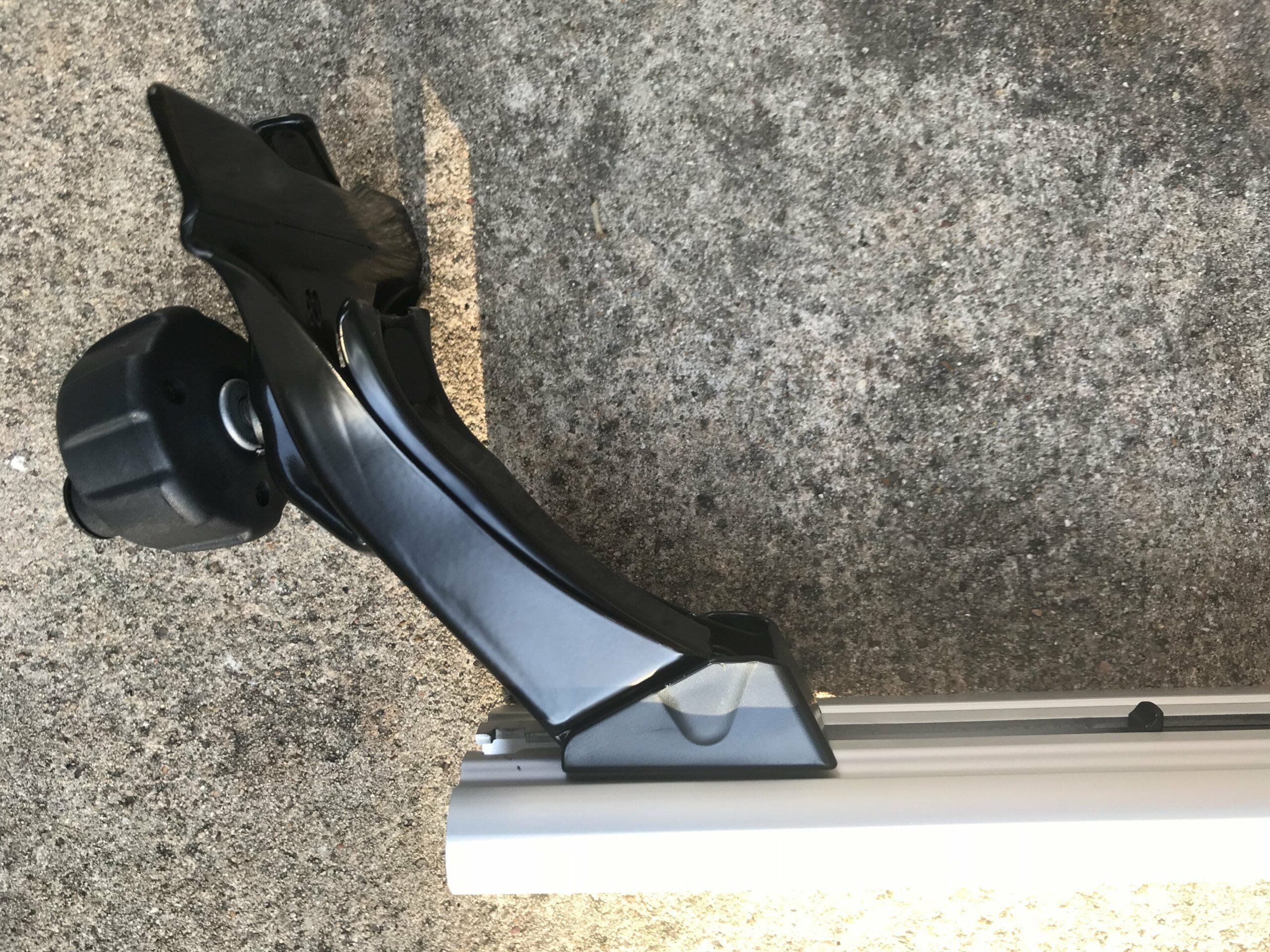 Once you get your feet on a bit, you will see there is a black slider that you can adjust (see picture below). This adjustment helps you get the feet set equal distant apart and helps it match your roof evenly, so the bars don't hang off one side or another any further than the other.
On my 2018 JKU Sport, the rear roof rack assembly was marked at "59" on each side for the rear rack (over the back seat). On the front Roof Rack assembly – over the removable Freedom Top (front seat) the sliders were right around "57" – so a slightly smaller distance between feet.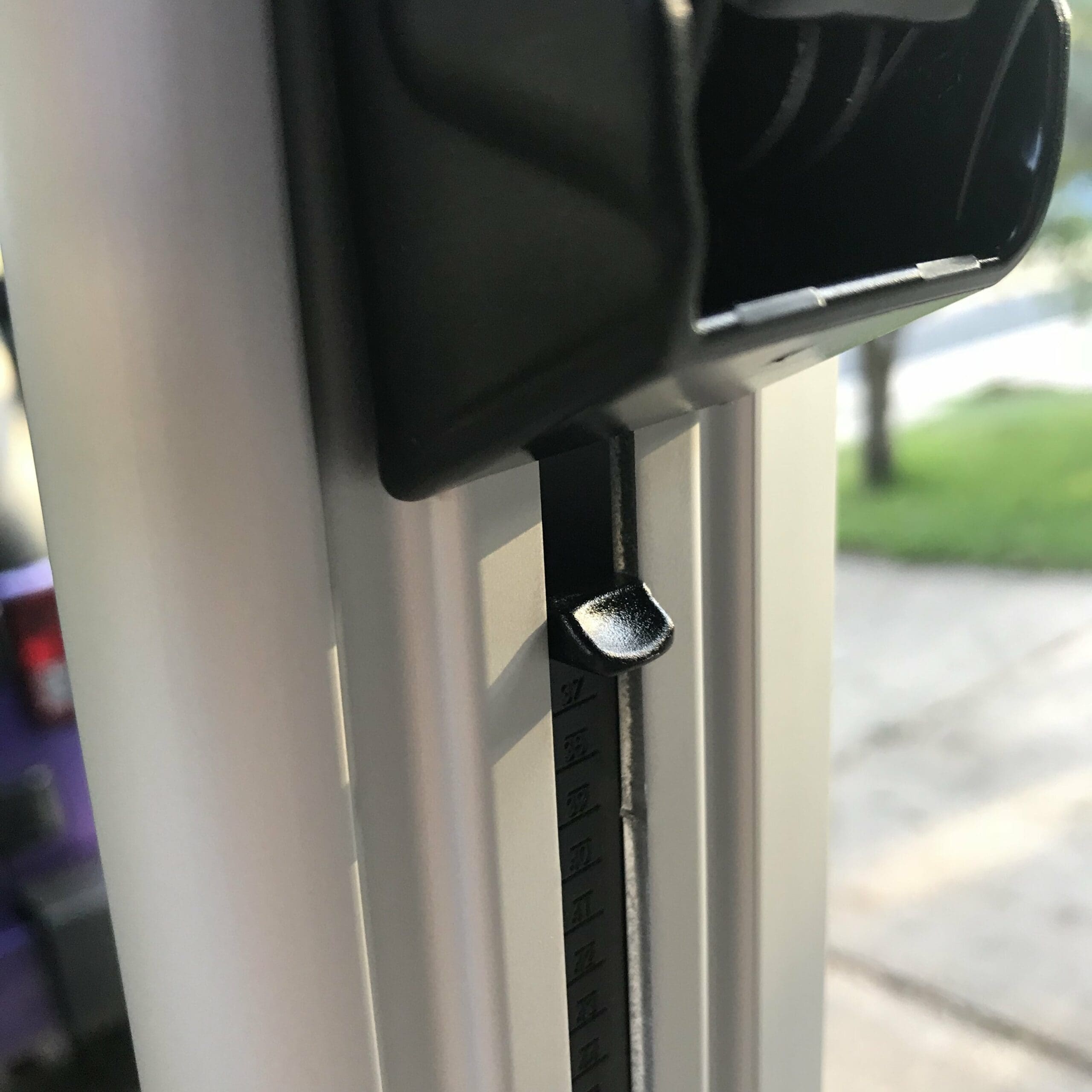 Now that you have the assemblies adjusted, you're about ready to install the rack on your roof. At this point, I would recommend that you have all doors open, so you don't pinch any of your doors rubber seals.
If you have two people, it's not too hard to lift over the rack and install. Otherwise, gently rest the opposite end of the assembly on the roof and insert into your jeeps rain gutters and work around to all 4 feet.
The Aeroblade should look like a wing with the thicker end towards your engine. Once the roof rack is resting in the gutters, gently tighten the hand nut until firm. Picture below shows how the feet should align with your rain gutter.
The larger foot should be on the inside, and the outer clamp should fit right over the bottom of the rain gutter.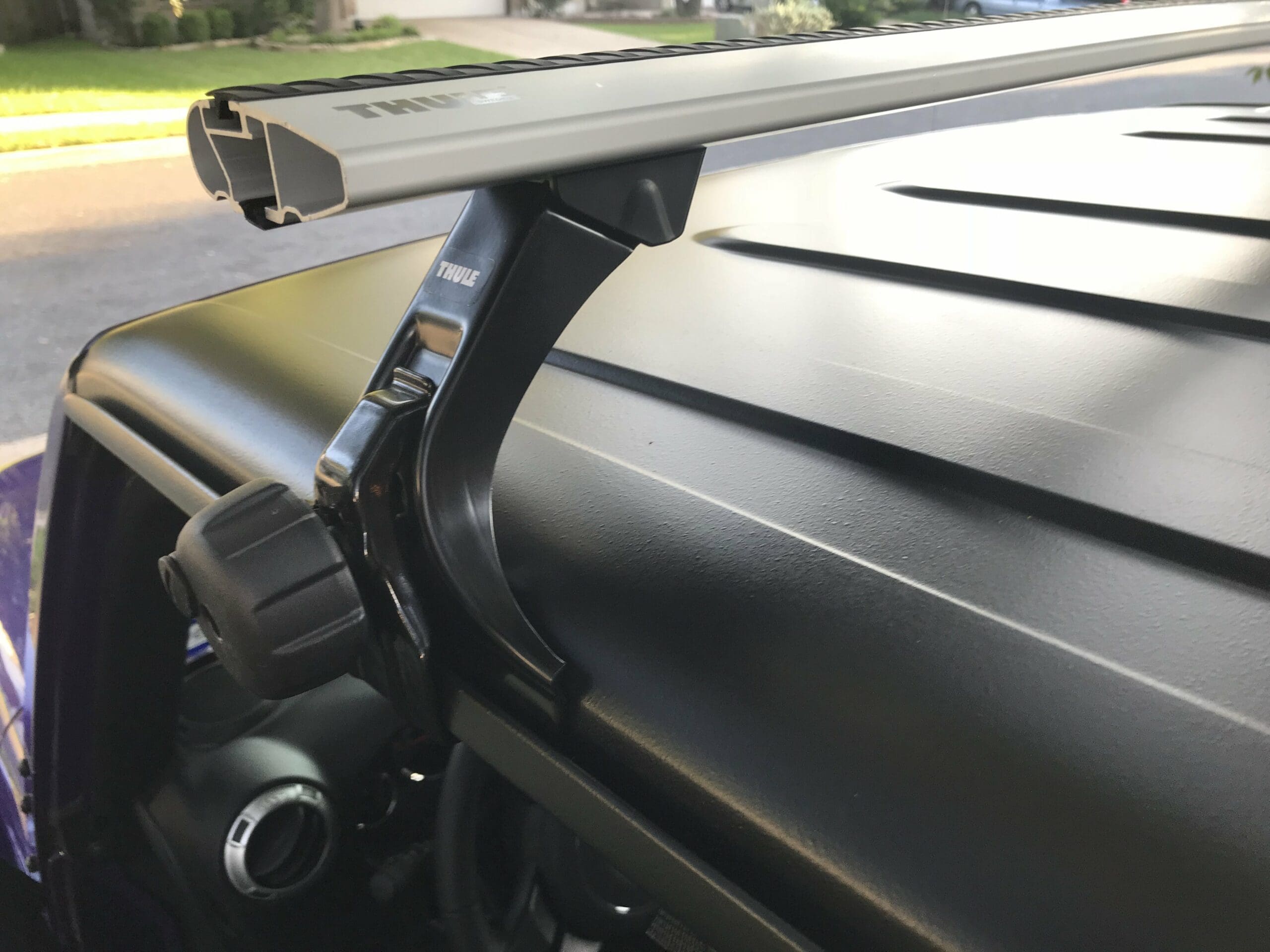 With the feet and bars on your roof, you want to insert the outer edge strip by sliding it in the empty channel with grooves up. I just used scissors to cut off the excess right at the end of the AeroBlade. You want to do this to all ends. These will keep your bars from whistling and causing too much wind resistance.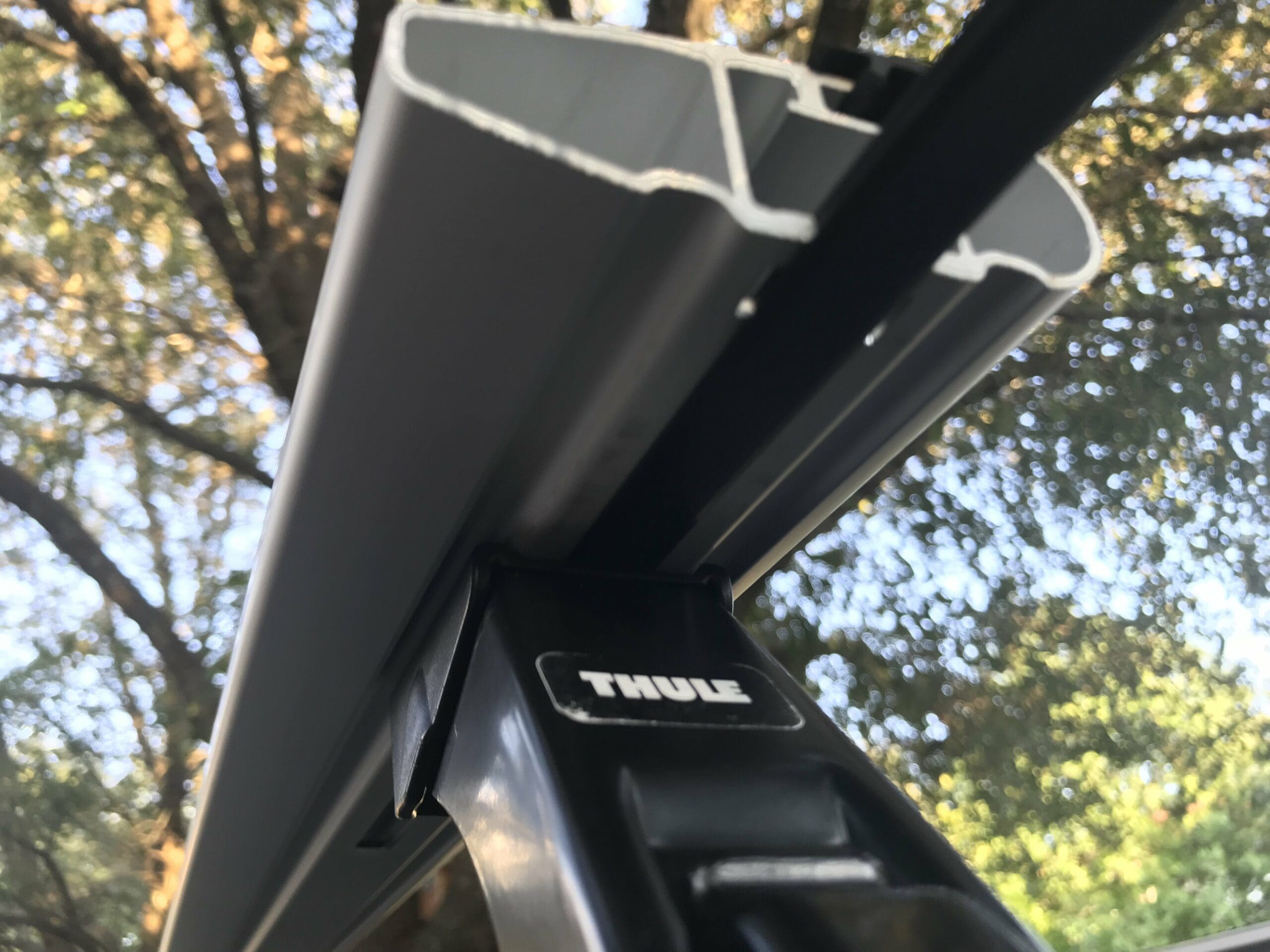 When you slide end caps on, be sure that the clip that faces down slides over the rubber channels that you installed on the lower section. If the rubber pinches out, you can usually push it back in or pull the cap off and try again.
The cap will help hold the lower rubber channel in, and when locked, it will hold the upper resistance strip in too.
Installed Caps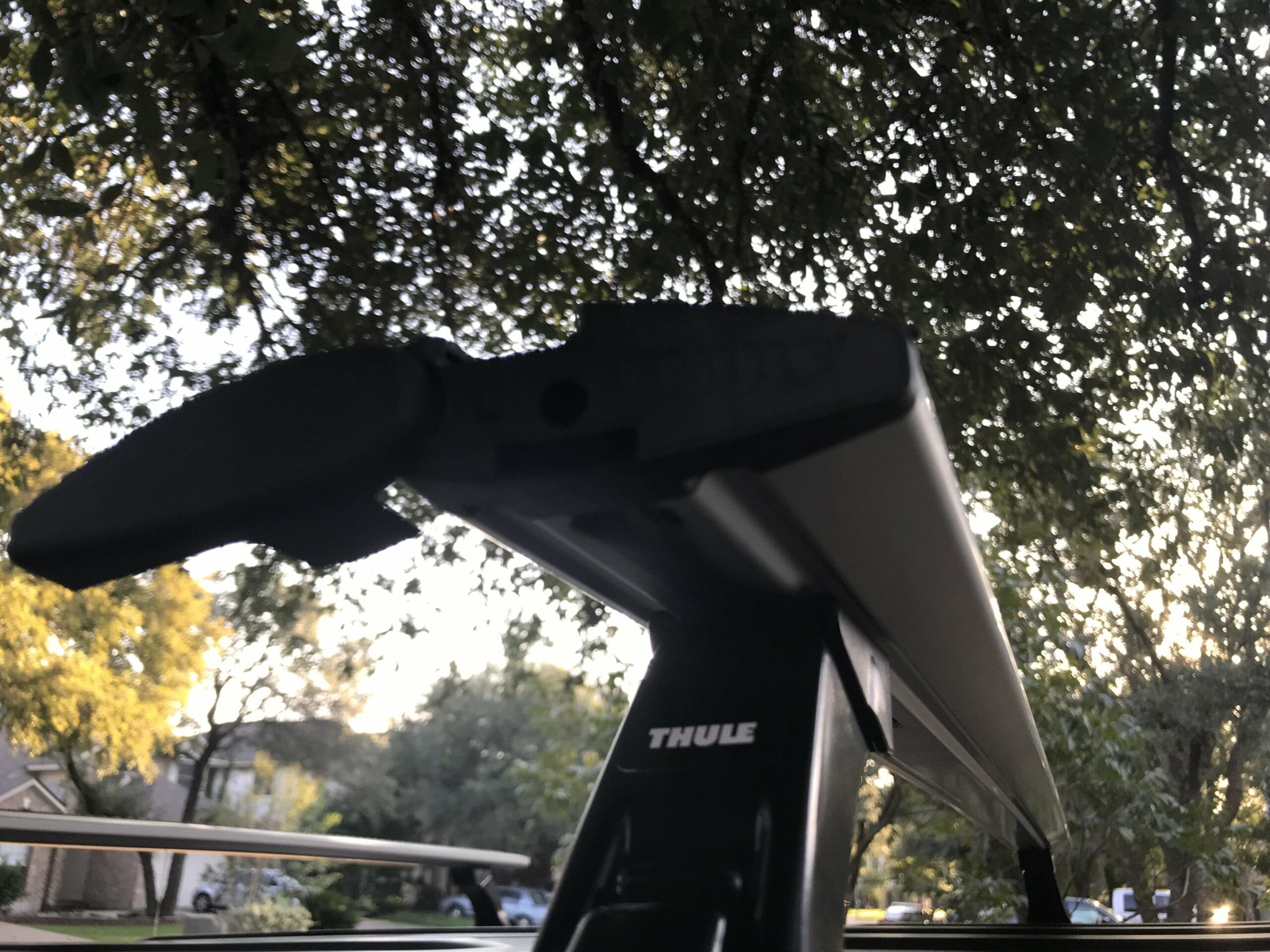 "Locked" caps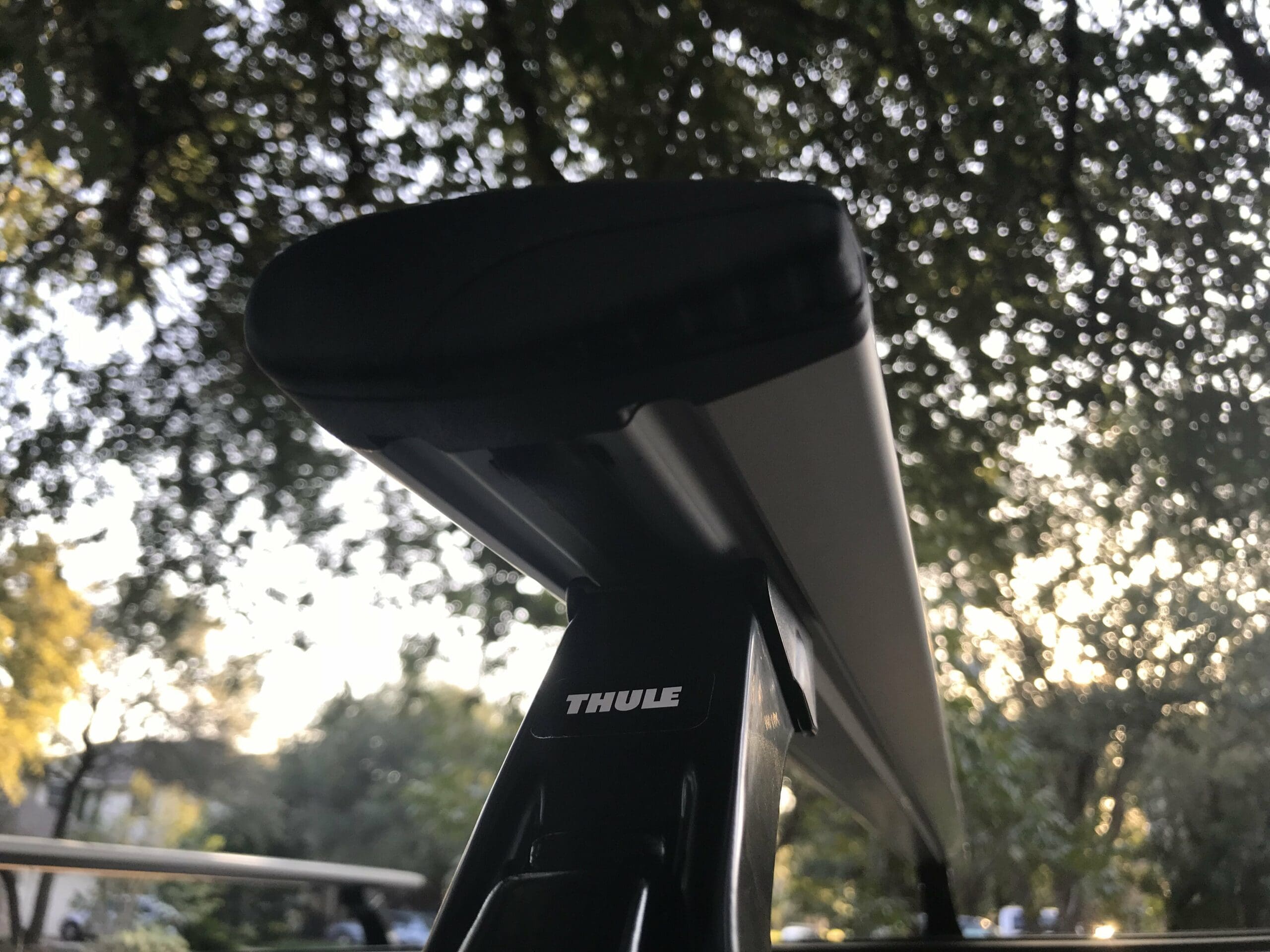 Mounted Thule Roof Rack
The Thule jeep wrangler roof rack doesn't look bad and feels sturdy. With everything is connected and sized well removal and re-installation is a snap.
We've had the roof rack for a couple of years now, and it has been effortless to add and remove. It just takes a couple of minutes to lift over the vehicle and re-attach to gutters.

Storage
I have hooks in the garage to hang them when not in use to keep them out of the way. When storing, I never need to separate the feet or adjust them.
Thule Accessories
The Thule Aeroblade bars and a universal mounting system capable of carrier many Thule and 3rd party roof rack components. This includes J-Bars – Great for carrying Kayaks to Bike Mounts, Roof Top Carriers for Skiing and Luggage and many other accessories.
Wrap-Up
Installing the Jeep Wrangler roof rack wasn't too difficult or time-consuming. The most difficult part was getting the feet attached to the Aeroblade and adjusting them for the right dimension across the roof.
Other than that, no pieces were missing, and no problems found during installation.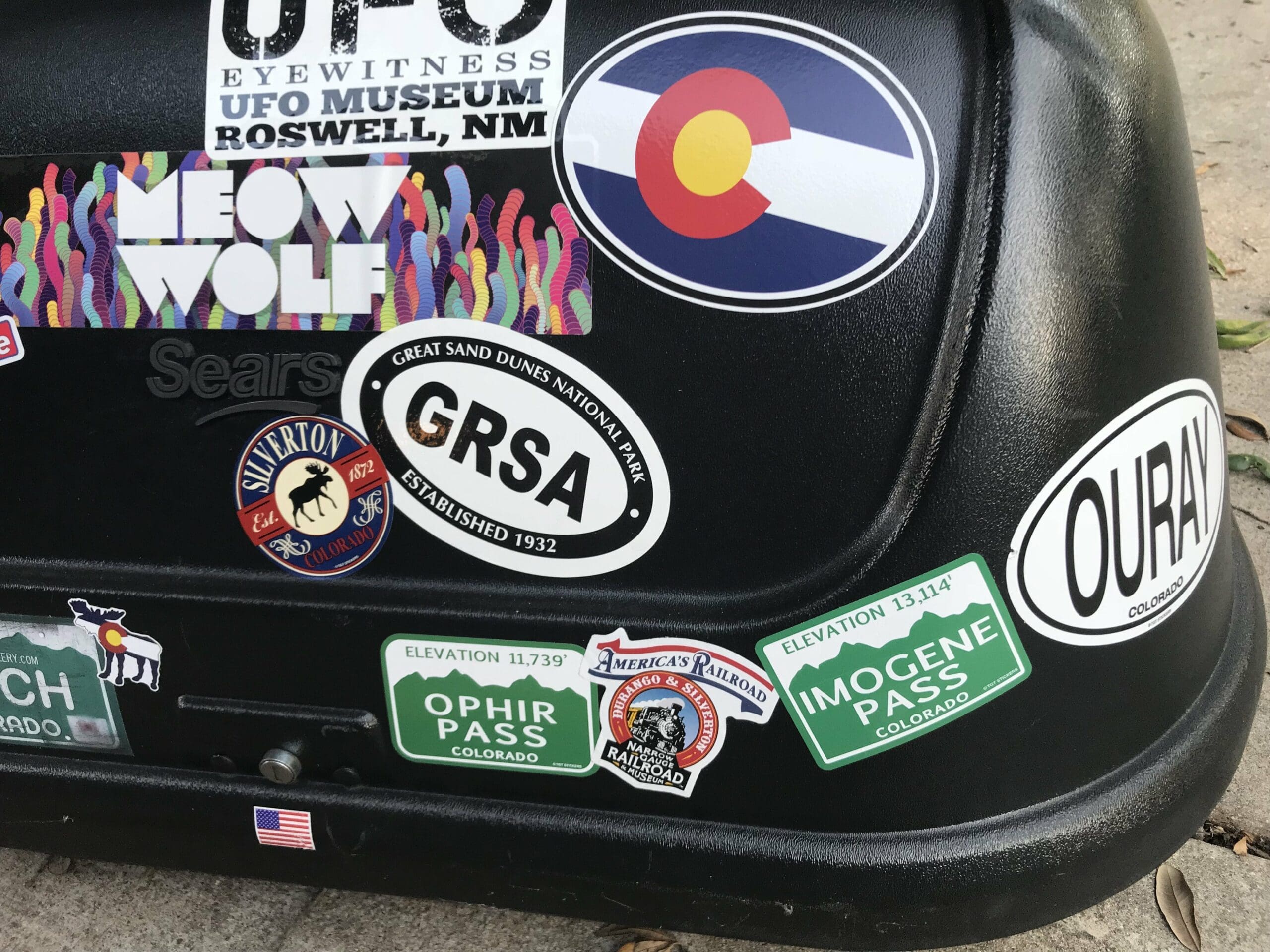 Be sure to keep your bars within load limits. Thule Recommends 165 lb max load and Jeep has no real stance on roof racks.
Check your vehicle fit – https://www.thule.com/en-us/us/fit-my-car
Order Online
Sale
Accessories:
Thule SnowPack Extender Ski/Snowboard Rack (6pr/4 Boards), Black
Aerodynamic slide-out rooftop rack for all types of skis and snowboards
Slide-out design extends from vehicle for easy loading and unloading
Fits up to 6 pairs of skis/4 snowboards
Ultra-soft rubber arms grip without scratching
Oversized push button to easily open while wearing gloves
Sale
Sale
Thule One-Key System 4 Pack, Silver/Black
Replace The Locks In Your Thule Product In A Few Easy Steps
Including Grip-Friendly Thule Comfort Key
Set Of 4 Locks, All Using The Same Key
Package Dimensions: 1.3" ( H ) x 5.7" ( L ) x 2.9" ( W )
FAQs
Does the Thule Roof Rack fit on a two door Jeep Wrangler?
No, the Thule Roof Rack is only for four-door Jeep Wranglers (JKU/JLU).
What is the max weight the Thule roof rack can carry?
The Max dynamic load weight of the Thule Roof Rack is 165lbs.
Can I carry a Rooftop Tent on my Jeep Wrangler with Thule Roof Rack?
While many tents are available that can fit the dynamic roof rating, Chrysler doesn't rate the Jeep Roof loads for static loads. I wouldn't recommend an RTT with this rack system.
Is there a no-drill roof rack for Jeep Wrangler?
The Thule gutter-foot based roof rack requires no drilling!
Does Jeep Wrangler have a roof rack?
There is no factory Roof Rack option rack on Jeep Wranglers, however the Thule Roof Rack is available as an aftermarket roof rack system.
Update June 2020
Roof rack still works like a charm! I've used it for car top carrier and kayaks. No issues to report. Haven't seen any damage to the roof, gutters, or rack system. Just be sure not to pinch the rubber gasket around your windows when you install your feet! Not the most affordable solution but easy to set up, carries my kayak, roof top and other loads and comes off quick.
Update November 2021
Still going strong! I've since added a Thule Hull-a-port kayak carrier to the cross bars and use that to carry around two large kayaks. (Only one shown in photo below, but you can see how they stack). I love that the Hull-A-Port can be set up to carry one or two kayaks at the same time and locks to the aero blades. Be sure to buy matching long spindles for all four feet and the two Hull-A-Ports.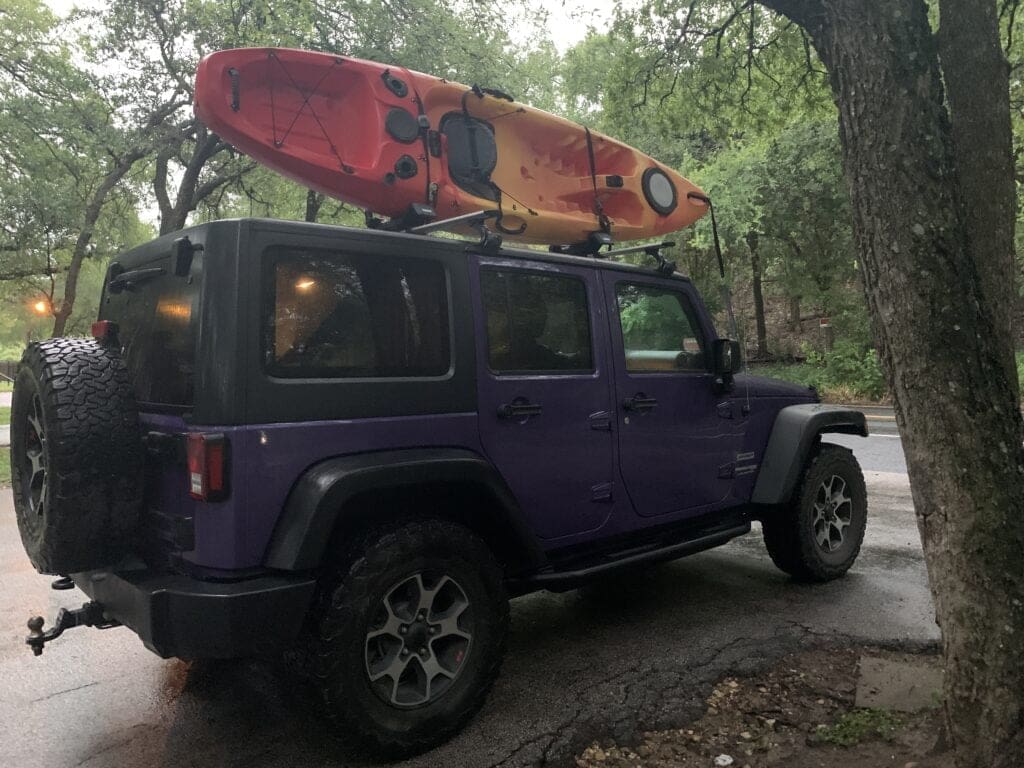 Update September 2023
The roof rack still works great. The aero-bar rails themselves are showing some sign of wear – the rubber nonslip grip is getting a bit beat up but that is also because I have a heavy pedal kayak I load up. I'm still happy with this set up and have had no problems to report.
If you have a roof rack system that you use or recommend, we'd love to hear from you! Leave a comment below!