Over the years I have collected a pile of GPS devices – from TomTom's that once ruled the vehicle GPS market to an army of apps and add-ons like Google Maps, Apple Maps, and other tools for my mobile phone. Today, I'm happy to say that I've come to love, appreciate, and embrace everything about Gaia on my iPhone as my preferred hiking & trekking App.
Gaia GPS is my go-to off road mapping when we're exploring Colorado Jeep Trails or looking for a secluded place to set up our Jeep Roof Top Tent.
GAIA never leaves my pocket anytime I'm hiking – and has saved my skin on more than one occasion when I got confused taking an animal track for a park track and was running low on water.
Gaia GPS Review
Gaia GPS is a mobile and web experience for all your mapping needs. It offers a comprehensive mapping system online via their website gaiggps.com as well as mobile apps for Android and iOS Platforms. I use Gaia for hiking as well as off road trail driving tracking and mapping.  It works great regardless of hiking a well-marked trail or chasing down cairns to mark where you're at or following old mining trails on the Jeep and avoiding getting lost on the endless offshoots and dead-end trails.
We use GaiaGPS for tracking and mapping all of our outdoor adventures. Whether we're out exploring our favorite
off road trails
or exploring small hiking trails at
Possum Kingdom State Park
this app has been fantastic at keeping us on our route/trail and helping us track our adventures.
Mobile Navigation App
Gaia GPS is a GPS app available for iOS and Android which offers full mapping capabilities, full GPS tracking capabilities and social sharing all in a friendly and straightforward to use interface. It integrates with iWatch nicely and offers full sync to the web for backups and online editing.
Gaia GPS Tracking
I've put the GPS tracking to the test on many occasions now – but the toughest and most thorough was a 6+ hour hike up and down Quandary Peak Trail.  The app worked flawlessly in tracking time, ascent, distance, and mapping and plotting out the trail as I worked my way up my first 14er.
I had no problems with battery life while leaving the tracker open for the entire duration of the hike (I also used my iPhone to take pictures, I wasn't trying hard to conserve my battery).  I would, however, advise that you do bring a portable battery pack for longer trips.
Gaia GPS Saved Track
Saved Tracks show you all your historical data for your hike/drive/off road adventure. They allow you to share, edit and take notes as well as manage your photos from your hikes.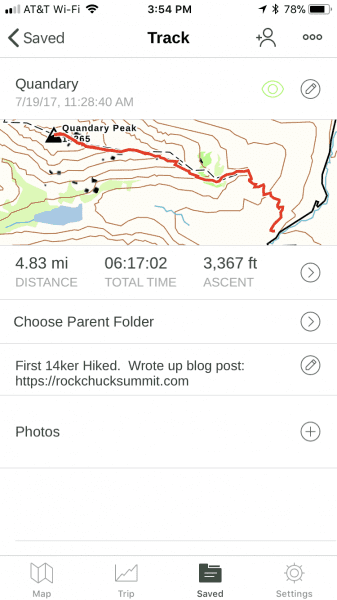 When you click on the track details, you can see how fast (err I mean slow) you hiked, what the altitude gain was and the profile graph of how much you trogged through the ascent/descent.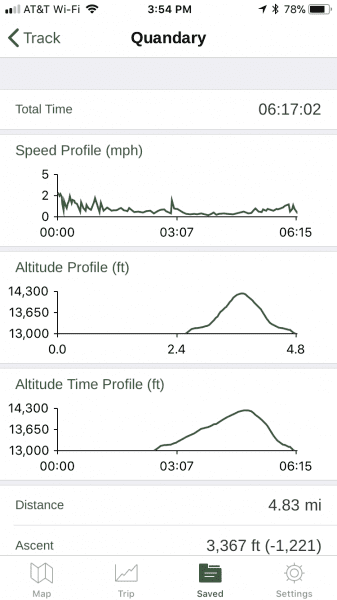 The app also allows you to collect details about your trip on top of the rich data sources – attach images and comments. When we went to Buescher state park, I used the app to track and mark fire damage for personal interest as well as to mark trailheads and check waypoints.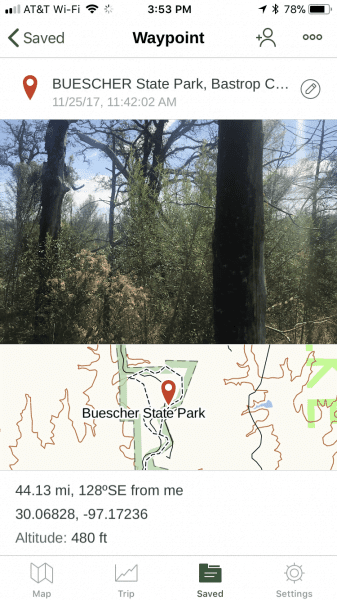 GPS Save Points
Gaia GPS makes it super easy to view your saved parks, points & images. I tracked a short hike through Buscher and took some photos that I wanted to mark. Didn't have to rely on my phone GPS EXIF data to overlay, Gaia made this quick and easy.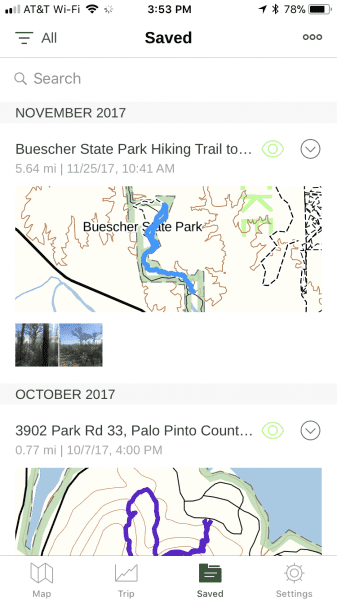 Gaia GPS Offline Maps
Gaia Premium supports offline maps and to me – this is one of the best features of the app. The offline map functionality allows you to define a region in which you want maps to be cached/downloaded to your device. The off-line map functionality is super simple to do – I follow their offline map guide
Backup to Web
With backup to web functionality, I Never fear changing devices, upgrading, or switching phones again. When you log in to Gaia GPS on your phone, it will synchronize your routes, waypoints, and folders and backup all your data online. Gaia GPS cloud backup is an excellent piece of mind and one reason that Gaia is one of my favorites even over dedicated handheld devices.
Gaia GPS for iWatch
Gaia GPS for iWatch is another fantastic feature of their complete mobile app experience. The iWatch app integration allows you to instantly view the route and mapping data points at a glance.
Gaia GPS iWatch Features: 
Time
Elevation
Compass
Pace
GPS Strength
Speed
Ascent/Descent
Distance
When you start recording from your mobile device, you can pause from the watch as well as mark waypoints. You can even view your local map screen without having to take out your phone.
If you are pairing your watch with your phone to display map details and info, please be warned that will cause an increase in battery drain.
Gaia GPS Web
The mobile app does everything I've needed out of a GPS tracker, but one of the more helpful features is the ability to view my data on the web from the comfort of my desktop or tablet. The web app allows you to see your history, waypoints, pictures, and share this with the world.
With Gaia GPS web you can create routes, way points and save them to your phone (synchronization) or share them online with friends and family. Data can be imported and exported to GPX and KML files for integration with anything that uses those data formats – including non-Gaia GPS devices.
While I love my phone, I'm a die-hard keyboard and mouse user when it comes to tracking, managing, and planning my routes. Being able to do everything I need over the web and sync back and forth to my phone is why I enjoy Gaia.
Gaia GPS Premium

Gaia GPS Premium subscription-based service. For a nominal fee, you can subscribe to get all the latest and greatest features including map updates, offline syncing and more.
Premium Maps
The premium maps are what make Gaia GPS Premium. They give you advanced mapping features to mark hunting areas (in the US), to mark/overlay park boundaries, borders, overlay imagery, and science data and give you access to full National Geo trails unlimited.
Once you have some of this advanced mapping functionality, you will wonder how you ever had anything less. I love saving areas I've found to go back and merge in overlay data from multiple map layers to research. With so many map options to choose from the premium maps functionality surely has all the data you need to plan and track your net adventure.
SwissTopo
NeoTreaks US Topo
US Hunting
France IGN
ESRI World Imagery
NatGeo Trails Illustrated
*New* – Air Quality Index Maps
*New* – PCT Oregon Maps
The annual fee is not a bad price, and there are discounts to be found online (You can click the save 20-50% link above to order direct and save!). I find it to be cheaper to pay for Gaia Premium in comparison to map subscriptions or device refreshes from 3rd party hand-held GPS units and MUCH less expensive than map subscriptions and updates for in-vehicle systems.
Keep it Simple
Even with the power of Gaia in your hand, I still suggest that you don't ditch your trusty printed map and compass. Sometimes technology can fail, devices can break, batteries can die, and nothing beats having a printed map and compass to help you get home safely.
Gaia GPS 2022 Update
This app is still our go-to app for all our hiking and off-roading mapping needs. Gaia is still adding notable features, updates, maps, and we're excited to see what the next year brings!
Pin it! Save & Share!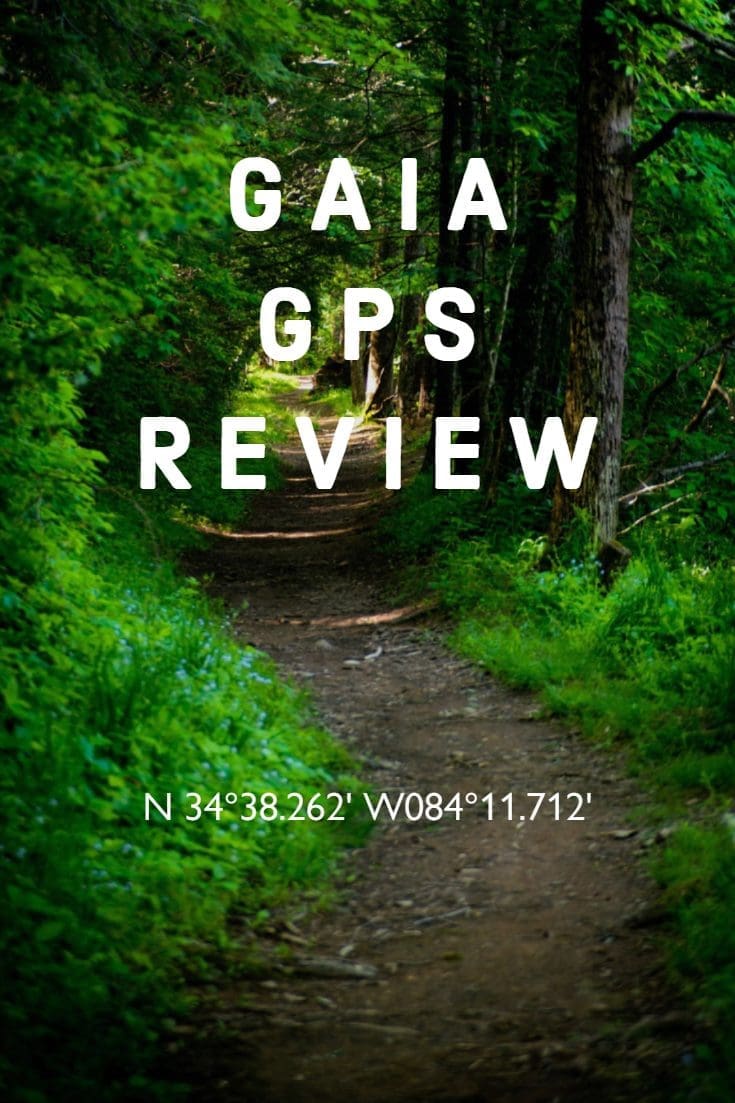 Review Wrap up
An affordable & robust GPS app for hiking, trekking, off roading and exploring off the beaten path. Software is continuously updated, improved and new features, maps and options are released often. We've been a happy subscriber for 2 years now using it for hiking and off roading.