This New Year's instead of staying in the bustle of Austin, waiting for the fireworks and drinking to my heart's content, I thought I would do something different. I would backpack into Big Bend National Park and enjoy my New Year's hiking up ridges and enjoying the views that nature has to offer.
Big Bend National Park
Big Bend is a national park on the west most corner of Texas bordering Mexico. The park is unique due to its three biomes in the park the desert, the basin, and the river area. Staying at each one will give you a vastly unique experience with the park. I opted to go backpacking in the mountains to see the park from above and challenge myself with a difficult hike.
Gearing Up and Staying Safe
Water
First of all, Big Bend is a desert, so the most important thing is water. I cannot stress enough the importance of bringing all the water you need for your whole backpacking excursion. I personally went with a 10L water bladder that I filled up with 7 liters for a three-day two-night trip.
Food
With food you want to keep it lightweight but high in calories and protein. Good options include freeze dried backpacking food, dried rice, hot dogs, and snacks that are high in calories. Although candy seems unhealthy it is compact and high in calories, and it was definitely the one source of energy that kept me going when I thought my legs could go no farther.
Shelter and Gear
With all backpacking trips you need to be concerned with weight, so only bring the essentials. Often this does not include a change of clothes other than potentially base layers, underwear, and socks. It's okay if you smell so bad that everyone in a 10 foot radius of you gags, but it's a good idea to have backups base layers in case one of these essentials becomes unwearable, dirty, or wet.
During this time of year Big Bend is cold at night and warm during the day, so be prepared for both. Have a four-season tent or bivy, and have light breathable layers for hiking with thicker outer layers for when you're at your campsite inactive at night.
Finally, bring toilet paper. . . I don't believe this needs an explanation.
Safety
Big Bend is full of wildlife including bears and mountain lions which means you have to keep your food as well as anything that smells like food such as lip balm in bear boxes. The bear boxes are heavy metal boxes. Especially don't keep food in your tents, you don't want to invite unwelcome guests.
Big Bend Hikes
The Chisos Basin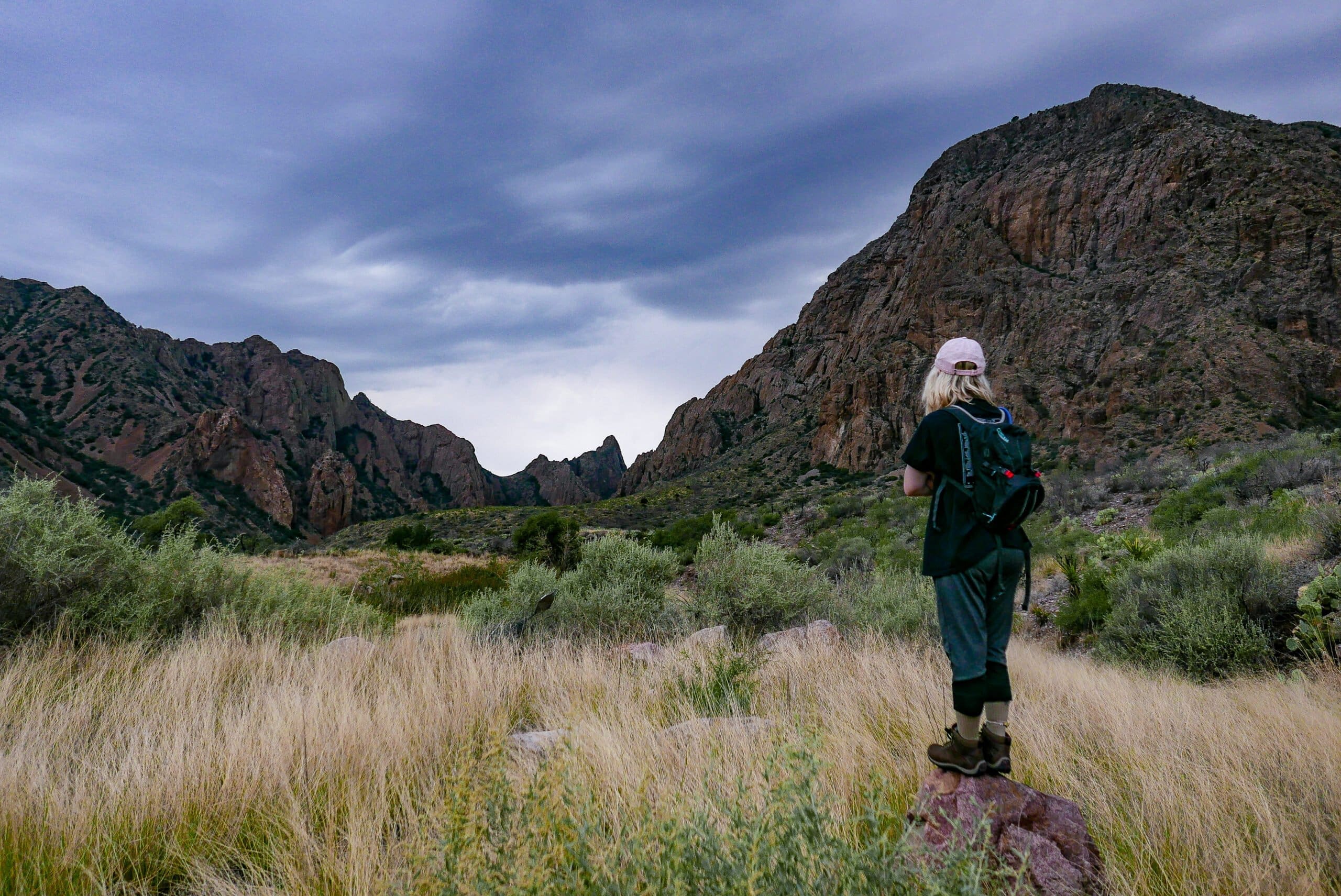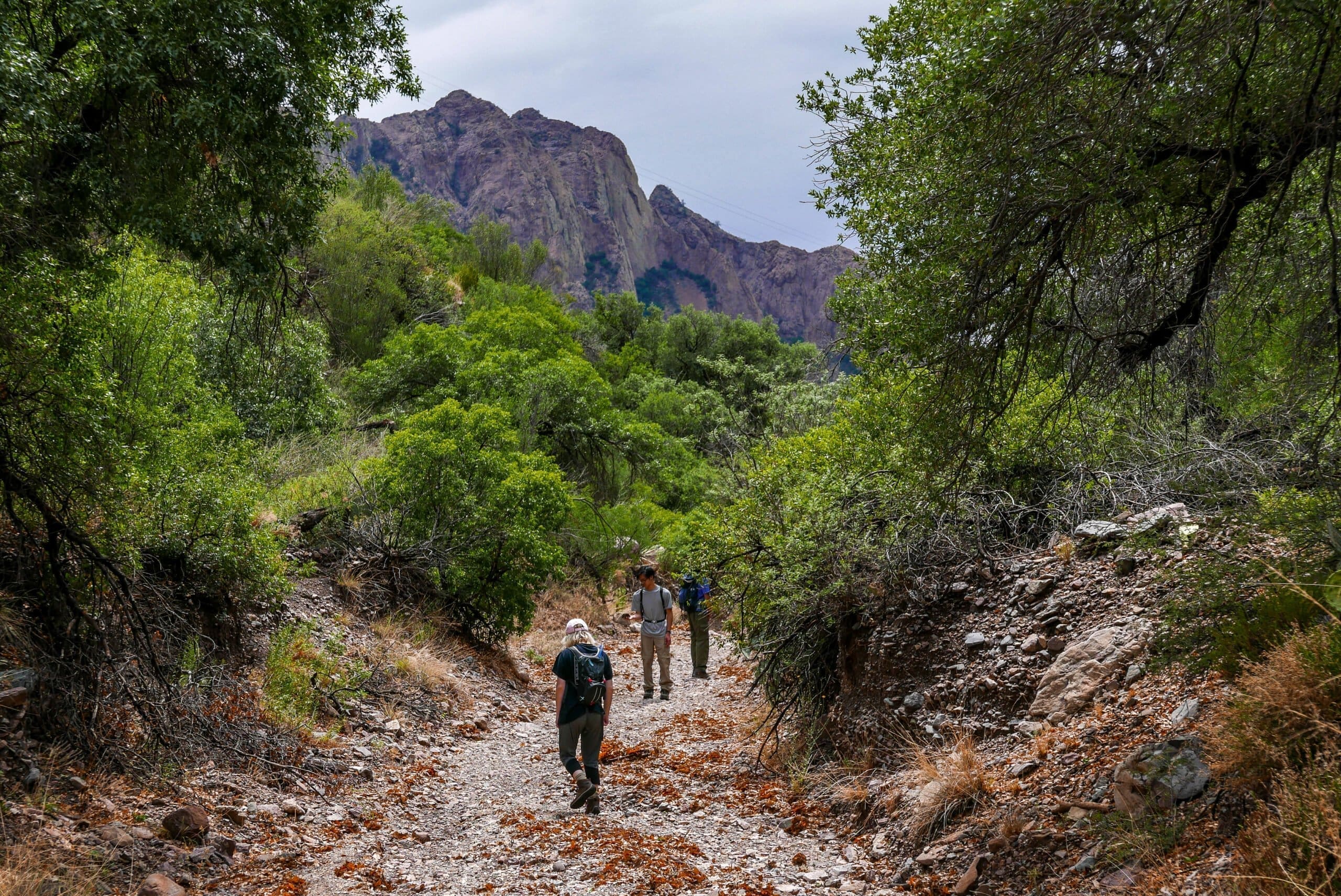 You'll start your journey at the Chisos Basin which also has drive up campsite. The Chisos Basin is full of lush greenery and wildlife, especially during the summer. There are several short hikes around the Chisos Basin  which are very scenic and aren't too difficult if long backpacking trips aren't for you. The Window Trail is one of these and by far the most popular trail since it's short and easy but offers a glimpse outside the rim of the Basin. While in the Basin you'll be able to catch glimpses of a multitude of birds and bugs. However, if you are backpacking then from the Chisos you can start the Emory Peak trail that will eventually branch off towards the North/South Rim.
Pinnacles, the first campsite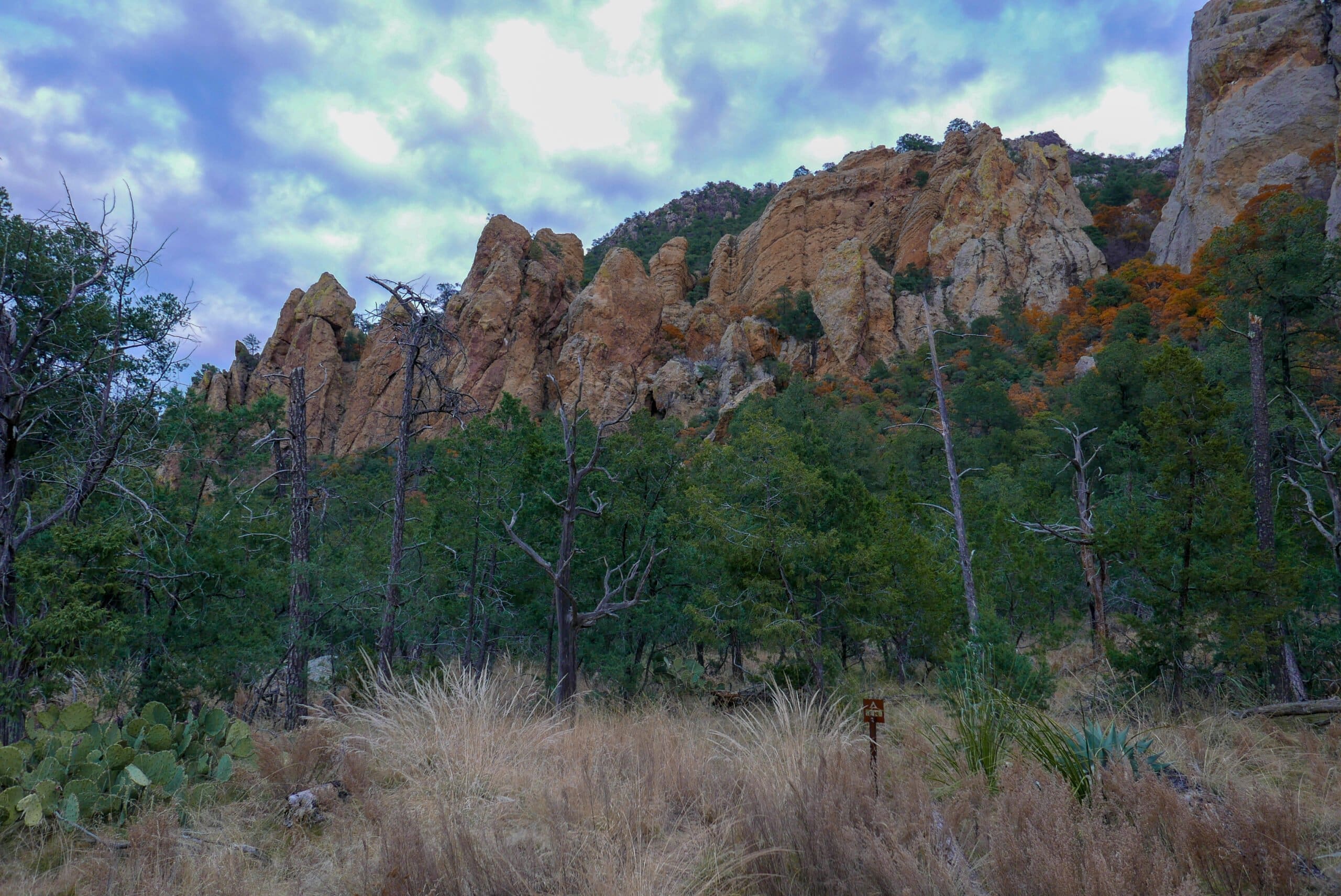 Pinnacles is the first campsite that I chose to stop at, it's a beautiful campsite that faces these rock formations. The Pinnacles campsite are located about halfway up to the base camp which is in turn about 1/3 the way up to Emory peak. This section of the hike will be the most difficult due to the steep elevation, but once you get here you'll be rewarded with a secluded campsite and a gorgeous view. In the morning here, I was greeted with birds chirping and fluttering around the campsite.
Towards Emory Peak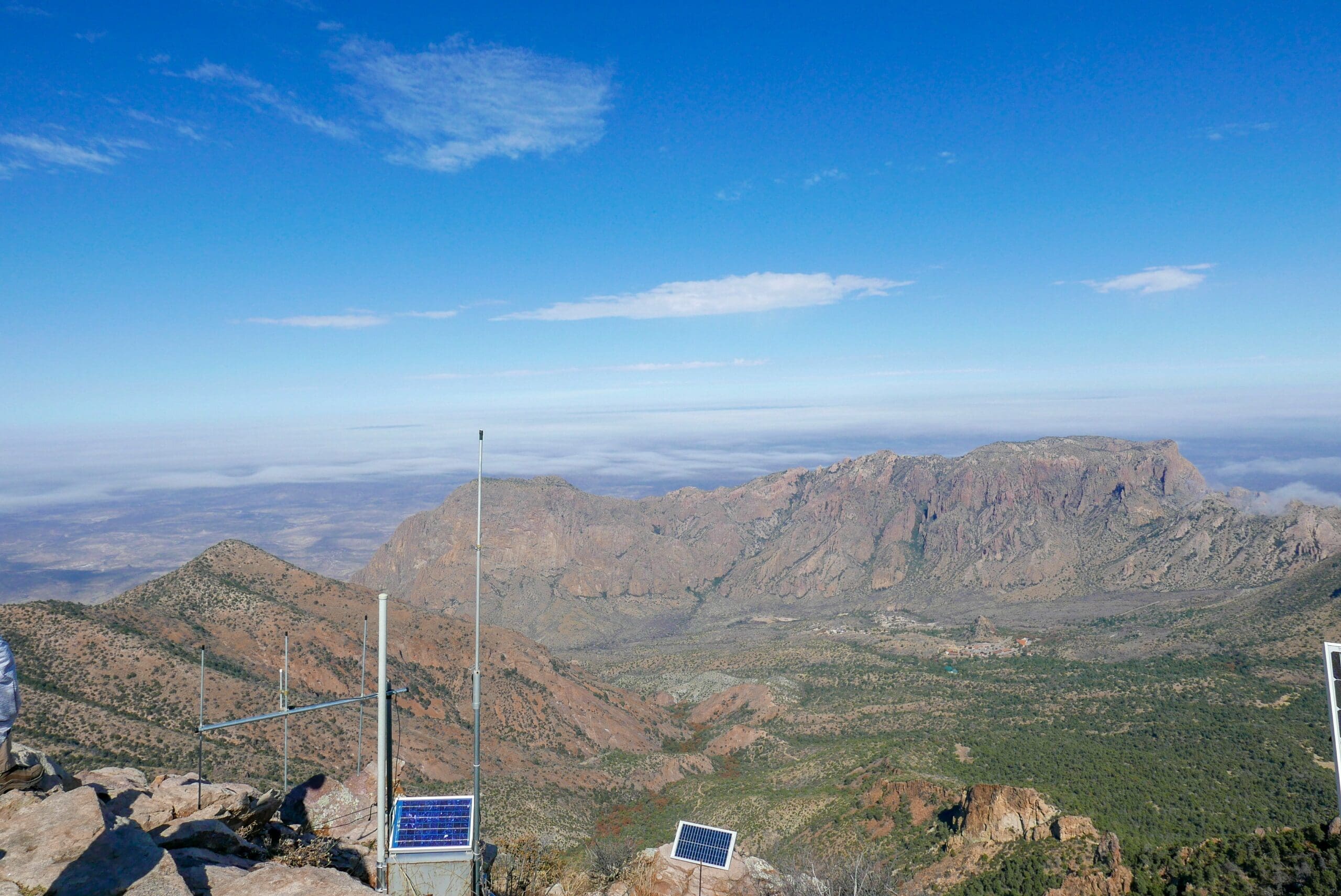 The two big destinations you want to hit while you are out in the backcountry are Emory Peak and the North Rim. Emory Peak is the highest point in the park and one of the highest in Texas. After camping at Pinnacle you'll continue to hike towards the base camp. This section of the hike is still very steep but while you're climbing, you'll start to be able to see a glimpse of the basin below. Finally, at the base camp, you can dump your pack in some bear boxes and hike up to the peak without having that cursed pack weight on your back. You'll climb about one thousand additional feet in elevation over one mile to a breath-taking view as well as a pleasant breeze. To get to very top of the peak you do have to climb a vertical rock face, so take caution. From the top, you can see the Chisos Basin where you started your excursion and the trail ahead of you. At this moment, you realize how vast and beautiful the park is and how small you are.
The unforgettable North Rim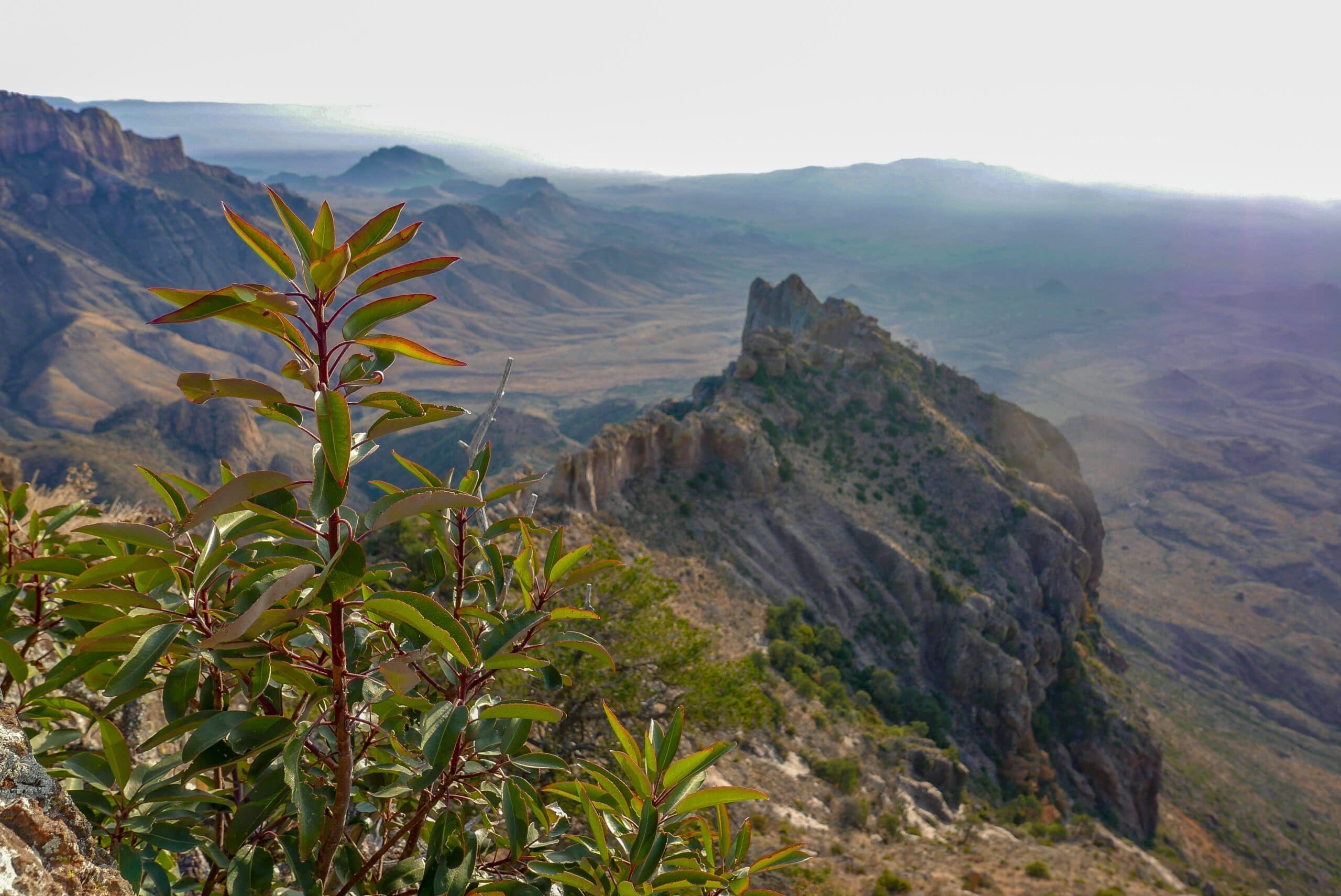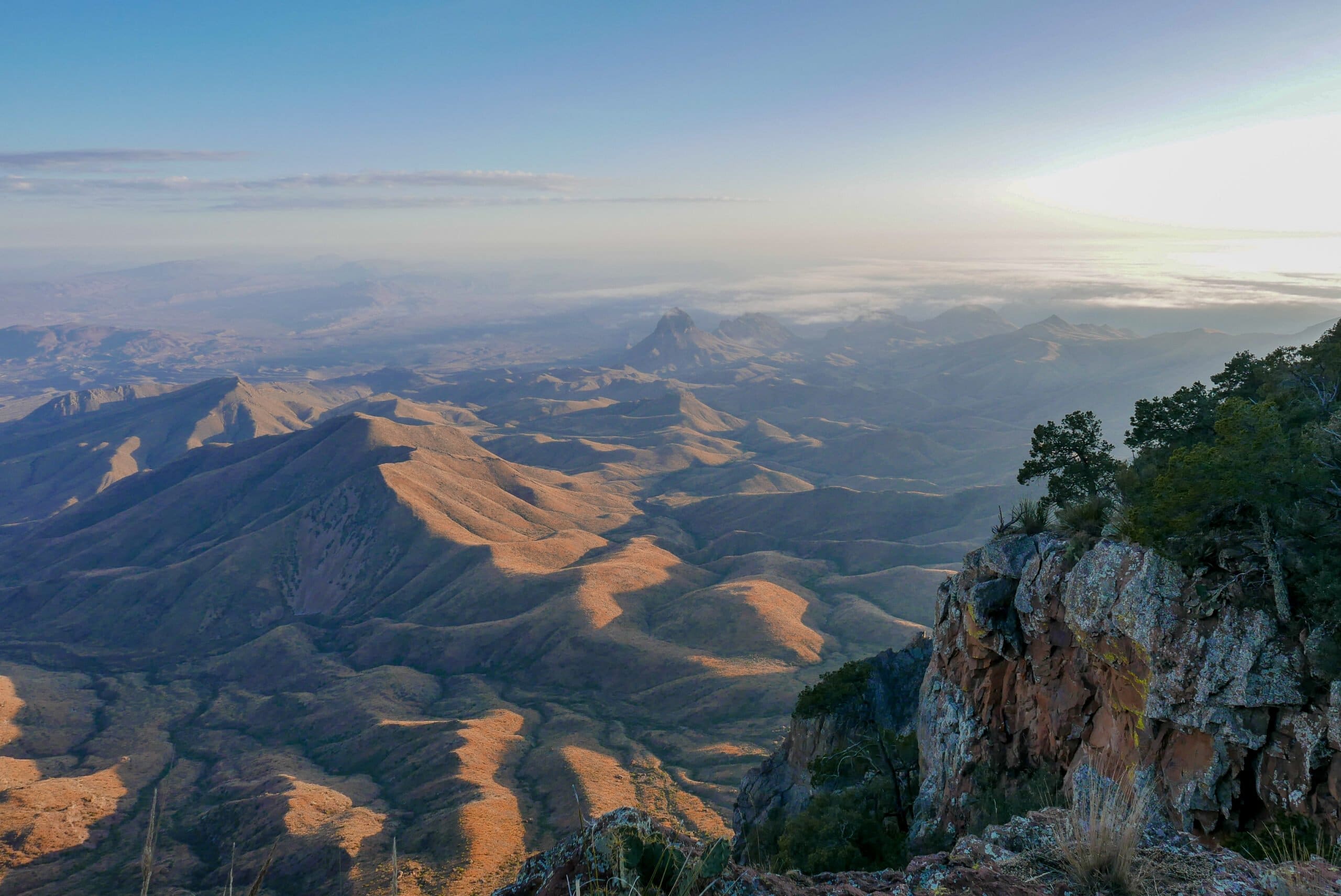 I would recommend camping somewhere along the North or South Rim as the view is unforgettable. After hiking all the way to the rim from the peak, your legs won't want to keep moving, but the sights will mend your broken spirit. While at the rim you'll see a view even more impressive than at Emory Peak. You'll see the vast expanse of lands that have been virtually untouched by humans, the shadows wrapping around the mountains and valleys, and the clouds making their way through the sky. While you're camping here, you'll be the farthest you can be from the Chisos basin and you'll feel secluded and at peace with nature. As the sunsets and the vast amount of star come out to be admired, and if you are lucky the fuzzy haze of The Milky Way will come into view.
The Journey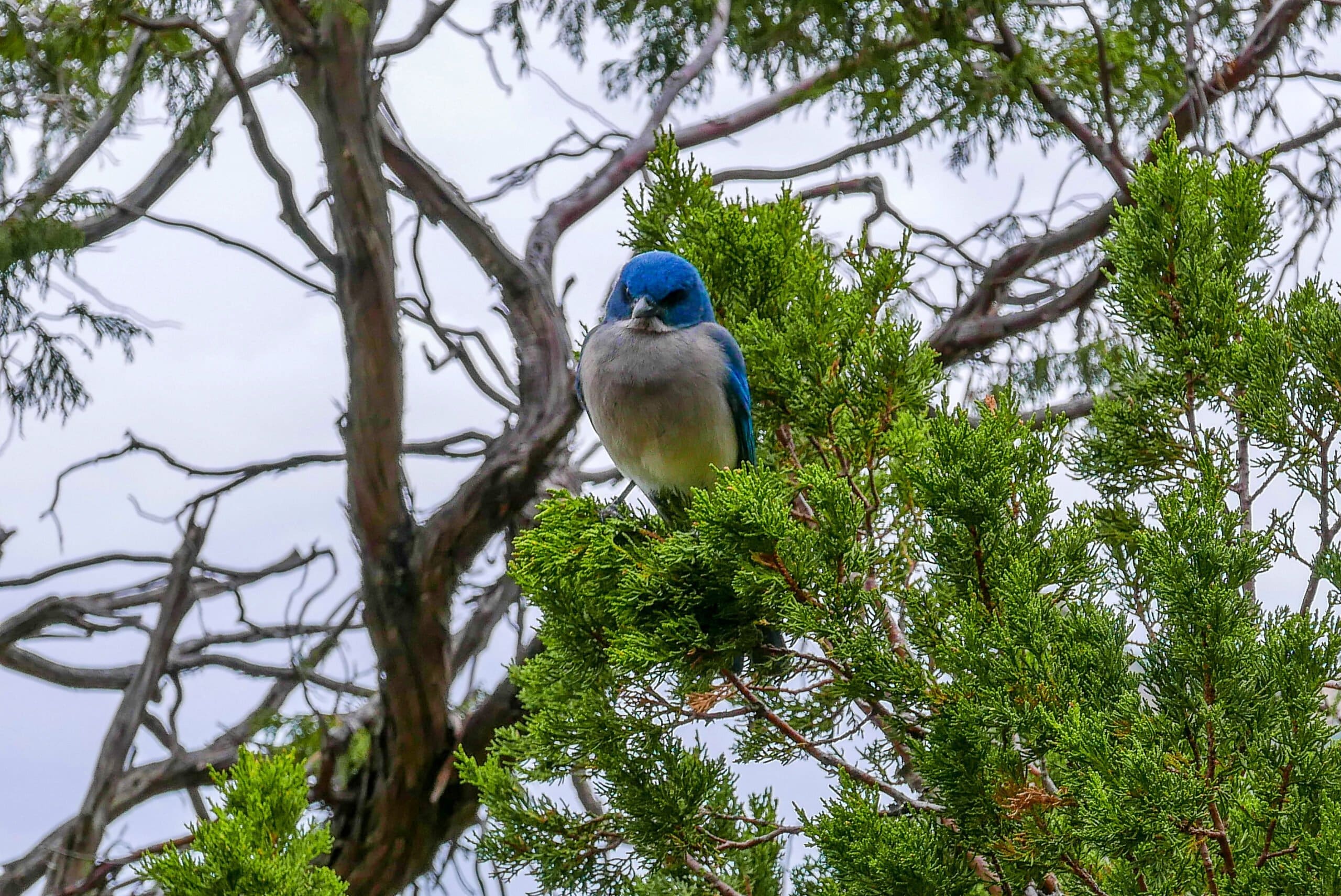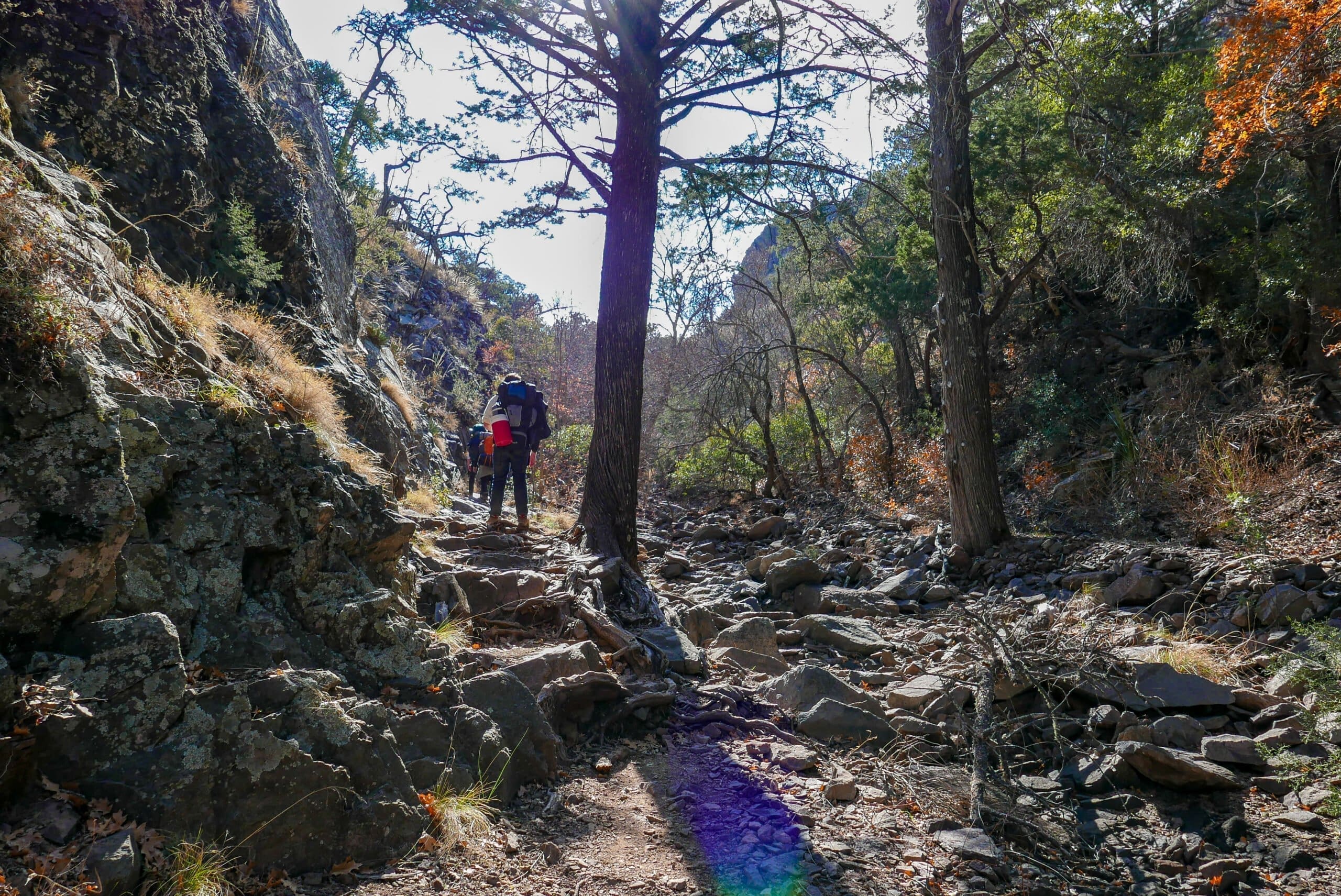 After camping at the Rim and regrettably leaving it you'll start making your way down back to the Basin. This will be the easiest part of the journey as you feel like you're flying downhill after all the uphill hiking you've been doing. When you finally get back to the Basin after a few days in the wilderness, you'll have hiked many miles and climbed (and then descended) about 5000 feet in elevation. You'll have seen all kinds of wildlife new and old. Your legs will feel like jelly, your feet will hate you, but you'll have started a New Year absorbing unforgettable views and finding a new you among all the aching muscles and memories of what you have done.
If you're in the area, don't forget to visit Davis Mountains State Park!
Have you been to Big Bend? We love reader feedback, post your tips & comments below!