Rockchuck Summit is an Austin Texas based Adventure Travel Blog. We showcase stories of travel, adventure, outdoors and road trips from myself and our growing contributors.
RockchuckSummit.com
We love to experience our world up close and personal and share our experiences in the hopes our readers can experience it for themselves.
We value personal experiences, real stories, and real photos. We try not to filter, enhance or hide anything but tell the experience as it is.
DBA Rockchuck Summit – Austin Texas
Working with Us
We would be thrilled to collaborate with you! Please contact us and we'll be happy to schedule some time where we can catch up, tell our story and share with you some of our creative ways we can work together.
Content Creation
Product Reviews
Guides
Vlogging
Blogs
Brand Ambassador
Social Networking
Community Building
Whether your a small startup just trying to launch your first product or you're looking to expand your reach and market with a growing partner, we'd love to hear how we can work with you.
Contact Us
Contact Form – Please leave us a detailed message when you contact us.
You may be wondering how we came up with the name "rockchuck summit". Here is a bit of our story and how its stuck with me through life.
Our Backstory
Some things in life leave an impression with you that you can never forget. They may be so odd, so strange or so memorable that any time you think of something – a Rockchuck, you remember and are brought back to what that moment was.
When I was young…
I spent most of my young life living in the pine forest, and concrete jungles of a little town in north Houston called "Spring Texas."   I built forts, explored, climbed, chopped, dug, floated, canoe and swam. Texas is something I felt I knew and felt comforting. Texas is HUGE, and there was a lot to explore but what I enjoyed the most was our annual two-week vacations up north. I loved seeing the mountains and breathing the fresh air. It was two weeks out of the year I didn't suffer from allergies. It was two weeks out of the year I got to experience something so different from everything I ever knew.
The 4×4.
One year, we did more than just visit the national parks, drive to the mountains or camp in our favorite camp spots – We rented a 4×4. Before this day,  I'd never been on a mountain summit that wasn't a busy highway and manicured park. I'd never been above the tree line. I'd never been up on a mountain so high you could almost touch the clouds. It was beautiful! It was my first memory of a sky so blue I felt never knew what blue was before. I was in love! The animals, the rocks, the plants, the remnants of history and a time long past. Why had I never been here before?
Being on top of a mountain summit was a new world for me. A world of history, a world of wonder, a world of awe.  How did people live up here? How did people migrate west and pass these passes? How did they get trains over these mountains? What was life like?  How… how.. How..
As we got to the top of our first pass, my father pulled over – partly because my mother was not quite as enthusiastic about the mountains trails as I  was but mostly to take a break to let me get out and explore after driving them mad to do so.   Once we parked,  I ran out of the car as fast as I could booking it towards a nearby snow patch to dive right in and as I reached in to make the first snowball of my life that I could remember, I looked up –
There it was!
And there it was.. a big, fat, buck-toothed rock chuck – as my dad called it. (like the one below.  I didn't have a camera – nor was there such a thing as digital photos back then, but he looked exactly like this guy! Thanks for the great photo by Gary Chang CC )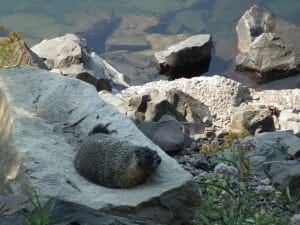 Fascinating!
I don't dream about rock chucks or buy coffee mugs, shirts and stickers of them (yet?), but what I do remember is that anytime I see them or hear about them, I remember this experience of doing something that I find not many people do – whether by foot or 4×4. I got to experience the summit of a mountain, on trails cut by humans and animals before me – through beauty and wonder I've never before seen.
It is to the rock chuck and all the associated memories that this blog is dedicated. Moments I'd like to remember, and moments I'd like to share.
Sometimes in my hectic professional life, the best thing that can happen to me is to have flashbacks to these furry critters so I can day-dream about where I've been and what adventure I want to go off to next. Here's to your rock chuck memories!
What is a Rockchuck?
The yellow-bellied marmot (Marmota flaviventris), also known as the rock chuck, is a ground squirrel in the marmot genus.