Exploration isn't just seeing what's over that mountain, across that lake or around that turn of the trail – but what's up in the sky above us and beyond. At rockchucksummi.com we love exploring our planet and beyond and we're thrilled to share our adventures no matter where they take us!
Over the past year, we have built up a robotic observatory in very dark skies that we use to image the cosmos and share that with the world.
We would love to have you join our Observatory membership program and grant you access to all of our amazing data from our remote dark skies. The suggested fee is for an entire year of access to our current and future catalog and the fee helps us afford the hosting, download, bandwidth, and observatory costs. Pay whatever you can and enjoy the cosmos!
All new memberships are perpetual memberships, with no expiration. Signup today and we'll send you all the details to get started downloading our synchronizing our data!
Read on for more details!
Remote Observatory Membership
Observatory Membership
One year Observatory Membership with full access to our existing back catalog for as long as membership is maintained.
Observatory Equipment
Our equipment is fully automated and 100% remote in dark 21.97 magnitude skies. We manage everything so our members just wake up to new data as we target new objects through the clear/dark skies.
Paramount MX+ Mount
Esprit 120mm Apochromatic Telescope
Apex .65x Focal Reducer
ASI2600mc pro 26 megapixel APS-C Camera
FocusLynx Robotic Focuser
Alnitak Flip-Flat flat fielder
Pegasus Pocket Powerbox Advance Power & Dew Controllers
Dew-Not anti-dew straps
ZWO 2″ Electronic Filter Wheel
ZWO Off-axis guider
Triad Ultra quadband Filter (Narrowband)
Antlia Sii Filter (Narrowband)
Optolong L-Pro filter (broadband – used for reducing moonglow on some targets)
Coming soon…
We're working on adding a longer focal length scope to piggy back this for imaging those distance DSO's and yup, we'll be getting an APS-C or Full Frame Mono eventually too. (We think you will enjoy some of our color and tri-filter data regardless!)
How Important are dark skies?
Dark skies are extremely important for observation and astrophotography for many reasons and there is no better way to show the obvious how than showing the gradient of sky glow and its impact on imaging from a high bortle 9 city sky to an absolutely dark sky like bortle 1 or bortle 2.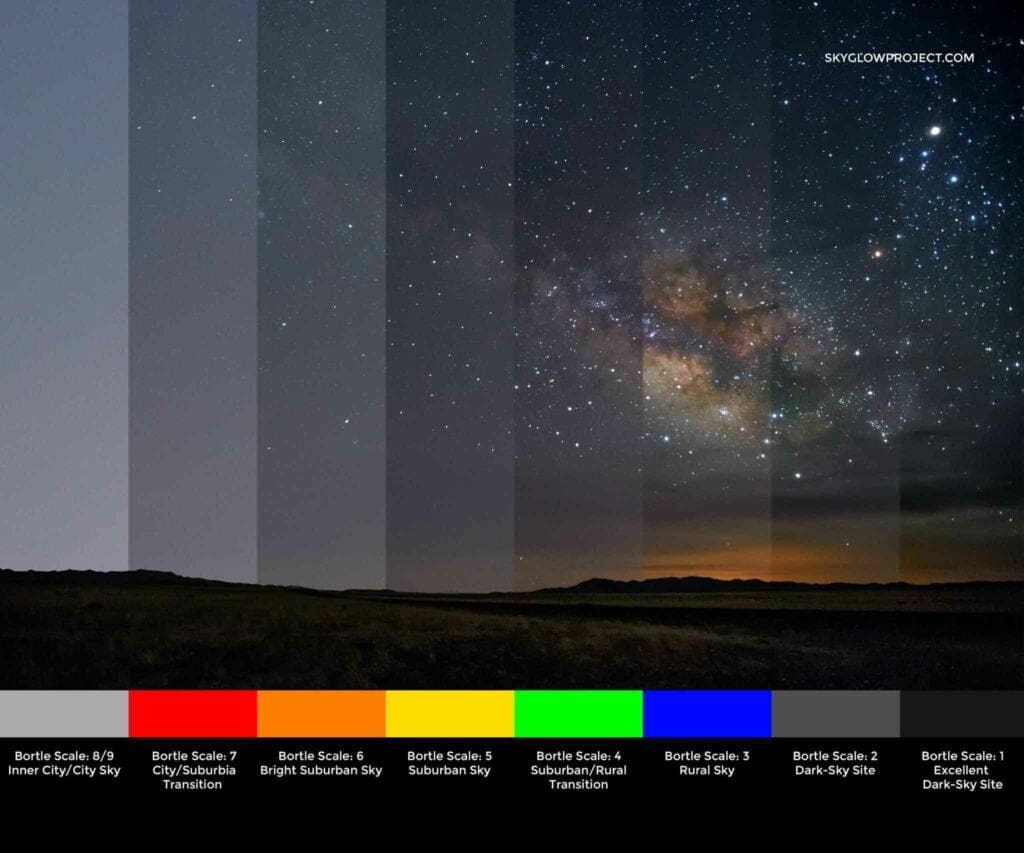 Our observatory is right at B1 skies, with B2 on one horizon (due east). We're about 3 hours drive from any major city.
While you can image through light pollution with Narrowband imaging, the performance of imaging in a B1 sky vs a B9 sky is drastically different. Hour per hour of imaging time, the dark sky will win. When it comes to broadband imaging (color) there is simply nothing better than dark skies.
Look at the amount of dust we were able to capture in just a couple of hours of data at 45 second exposures. This is just a small sample of what we gather in our dark skies!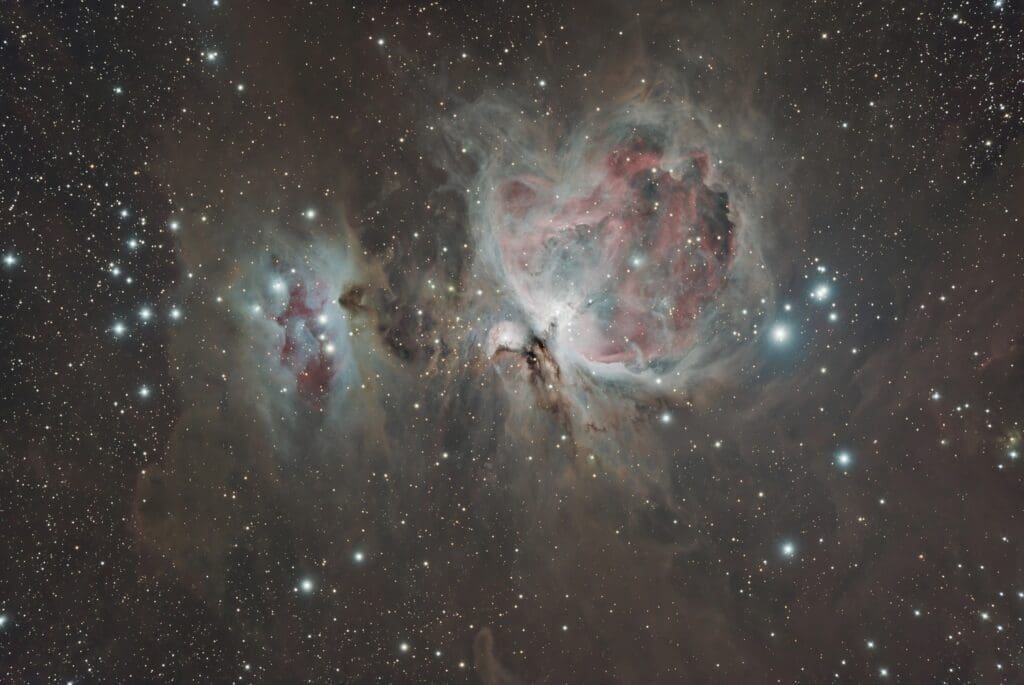 While you can surely pack up your gear and drive out to dark skies to image as you wish, we're set up with a permanent pier in a remote observatory for 100% observing in dark skies – from dusk to dawn. It's not uncommon that we'll shoot 5,10,15 or 20+ hours on a single object to make sure that we capture as much detail, texture, richness, and image quality as we can. This is hard to do if you can only drive out to a dark night once in a while and let's be honest, our monthly cost is less than what a tank of gas would cost you to get out to a dark sky!
Learn with us!
We'll continue to write our guides, share them with the community and some are published online. As a member, you will get access to our private chat, downloads, fully processed images in high-res glory. We've done a few hangouts, discord live streams, and Zoom meetings.
Our goal is to provide you data, tools, and resources needed so you can enjoy this hobby and unleash your own creativity and artistic processing.
Imaging
We love sharing our images, work, and creations on our blog and with our readers. In fact, some of our readers have processed our data into beautiful images such as the Rosette Nebula by ForaxX!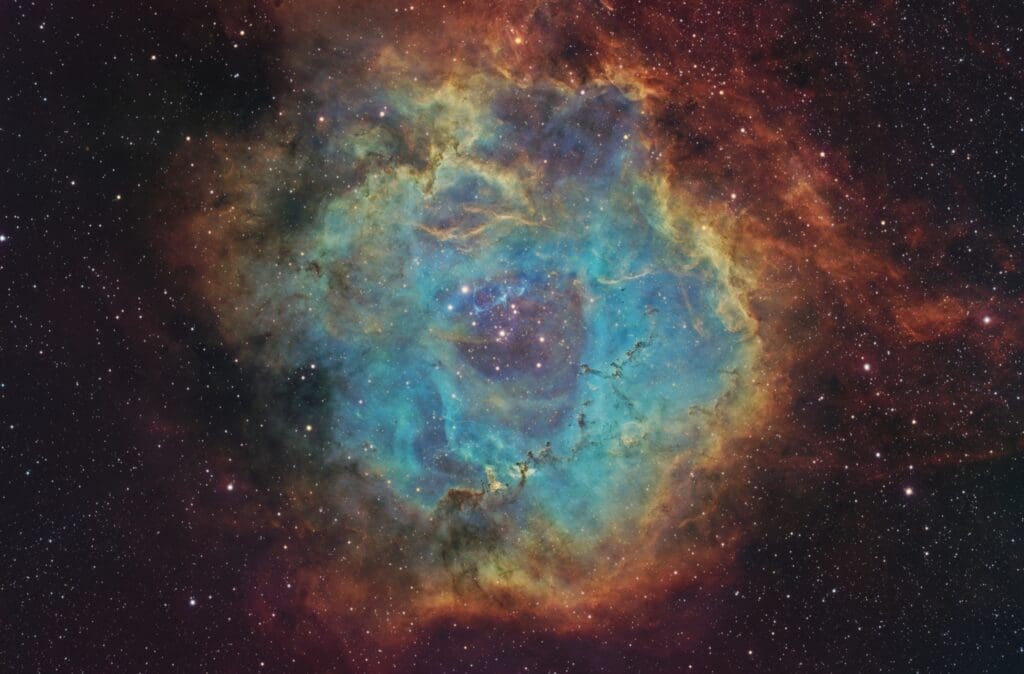 Join our Imaging team today
For a suggested price of $120/year, you get full access to all of our data on our OneDrive, DropBox, and (coming soon) G Drive storage. We find it works best to sync out and offer downloads this way – again, controlling our costs and keeping things as simple as possible is how we're able to open up data to so many people and keep our costs so low.
What is a suggested price? Well, we want everyone to enjoy this hobby and we don't want your financial status dictating whether or not you can enjoy the cosmos above you. If you're a student, unemployed or under paid or whatever your circumstances may be, make an offer in the name your own price and we'll be happy to help you enjoy this hobby!
Benefits
As a member, you get access to all of our data. You can use this to create your own images, add on to your own working sets, do research, process our masters or anything you want to do! It's your skies, it's your data!
Raw Subs
Integrated Masters
Drizzled Masters
Processed Subs with Processing Guide (PixInsight, Siril coming soon)
Private Forums
sftp/scp/https download & DropBox Synchronization (G Drive potentially coming online)
Spreadsheet for planned target list & integration times
Note on Integrated & Drizzled Masters & Processed Images
We use cloud processing to do some of our large integrations as image sets with 800+ sub-exposures can take pretty beefy systems to integrated, so we do this on the cloud and share the masters to make it easier for people to start working with the data super quickly.
We also provide processed images with steps on how we did the processing to share with our members. Some images are shared with the general community on our website too.
Current Data Catalog
California Nebula Mosaic
Rosette Nebula
Horsehead Nebula
Andromeda (m31)
Christmas Tree Cluster
Hercules Globular
Jellyfish Nebula
Dolphin Nebula
Mon R2 IRS3
Monkey Head
North America
Pleiades
SH2 129
Witch Head Nebula
Triangulum / Pinwheel Galaxy (m33)
Heart Nebula
Cigar Galaxy (With IFN)
Orion Nebula
Elephant Trunk
+more
More coming each week and as we "blink"/verify & upload to share.
Non Restrictive Licensing
Creative Commons License
This data is your data. These are your skies. Everything is licensed under the Creative Commons Share Alike Attribution License. We just ask for attribution for helping make this possible.
the freedom to use the work and enjoy the benefits of using it
the freedom to study the work and to apply the knowledge acquired from it
the freedom to make and redistribute copies, in whole or in part, of the information or expression
the freedom to make changes and improvements, and to distribute derivative works
Student Pricing
Name your own price. We would be thrilled to share our data with you and we're happy to work with whatever budget you may have. During checkout, just put in a price you can afford and become a member!
Club Pricing
We love astronomy clubs & societies and would love to work out a way to provide our data to your members. Contact us and let's see what we can do! We can sync data to your existing website, shares or set up a download site/mirror for your club.
Join Today!
Purchase Terms:
This membership is non-refundable and valid for 1 year from the date of purchase. If you have any questions, please contact us. All data is currently available in XISF format – TIFF, FITS, and others are coming online as we get requests. Since our observatory is remote/off-grid and uses satellite links for replicating to our servers, XISF offers us the most compression/stable format for "Raw subs" but we will provide FITS and others upon request. All of our integrated masters will be provided in XISF, FITS, and TIFF – it's the large raw data sets that are defaulted to XISF.