Start your hiking aspirations on the right foot. Hiking 101 will run you through the gear, knowledge, tips, and tricks you need to enjoy yourself and achieve your goals on the trails.
Bookmark this page, save it for later and use it as a reference to expand your hiking knowledge where needed. We'll keep it updated and tweaked as we continue to grow from our experience and share reader feedback.
Let's dive in!
Hiking 101
Welcome to the fantastic sport of hiking – where you can do something as simple as hike your local neighborhood trail or you can go on a year-long journey completing the Pacific Crest Trail or section hiking across the Appalachian Trail.
It doesn't matter if you're new or just getting back into the sport, this guide is here to provide you with the essentials you should know before you start on a day hike or a beginner multi-day hike.
Before we start on a gear list or dive into dos and don'ts, let's begin with the hiker philosophy.
Hiker Philosophy
First, be safe. Safety is your number one concern for yourself, your friends, and your family. Know the weather. Know your gear. Be prepared. If you see someone who needs help, please stop and assist! Don't be one of the few struck by lightning or caught in a flash flood. Be prepared and be safe.
Second, Leave no trace behind. We're here to enjoy and experience the world on foot, and we must protect our sport by cleaning up after ourselves and leaving no trace behind.  Packing out what you pack in is essential to backpacking whether it's a short-day hike or a long trip. Old-timer hikers will call this "LNT" – leave no trace.
Third, don't trail blaze. We're able to preserve, protect, and provide trails for ourselves and future generations following these simple rules.  Trailblazing can cause erosion, environmental damage, or impact wildlife (many paths are wildlife trails).
Now for the hiking gear essentials.
Absolute essentials – hiking 101 gear
A map, compass, whistle, and first aid kit should be in every backpacker's kit regardless of day or multi-day trips.
Map & Compass
Whistle
First-Aid Kit
Your map and compass are necessary for any trail. You want to make sure that you know where you are, you remain on marked trails, and you can plan to be safely home or back at your campsite.
Be sure that your maps are up to date and always carry a printed map. It's easy to rely on technology, but things can go south when technology fails, and all it takes is a dead battery to turn a fun hike into an unnerving hike.
If you get lost or need assistance while on the trail, a whistle is used to signal for help. There are extremely high DB whistles available at every outdoor shop and even a few available online you can print with a 3d printer.
Beginner Day Hiking
The goal of gearing up for a day hike should be to have the best hike you can have with the least amount of hassle. Your gear should be light, it should be reliable, and it should include everything you may need to be safe, hydrated, and on-course while on the trail.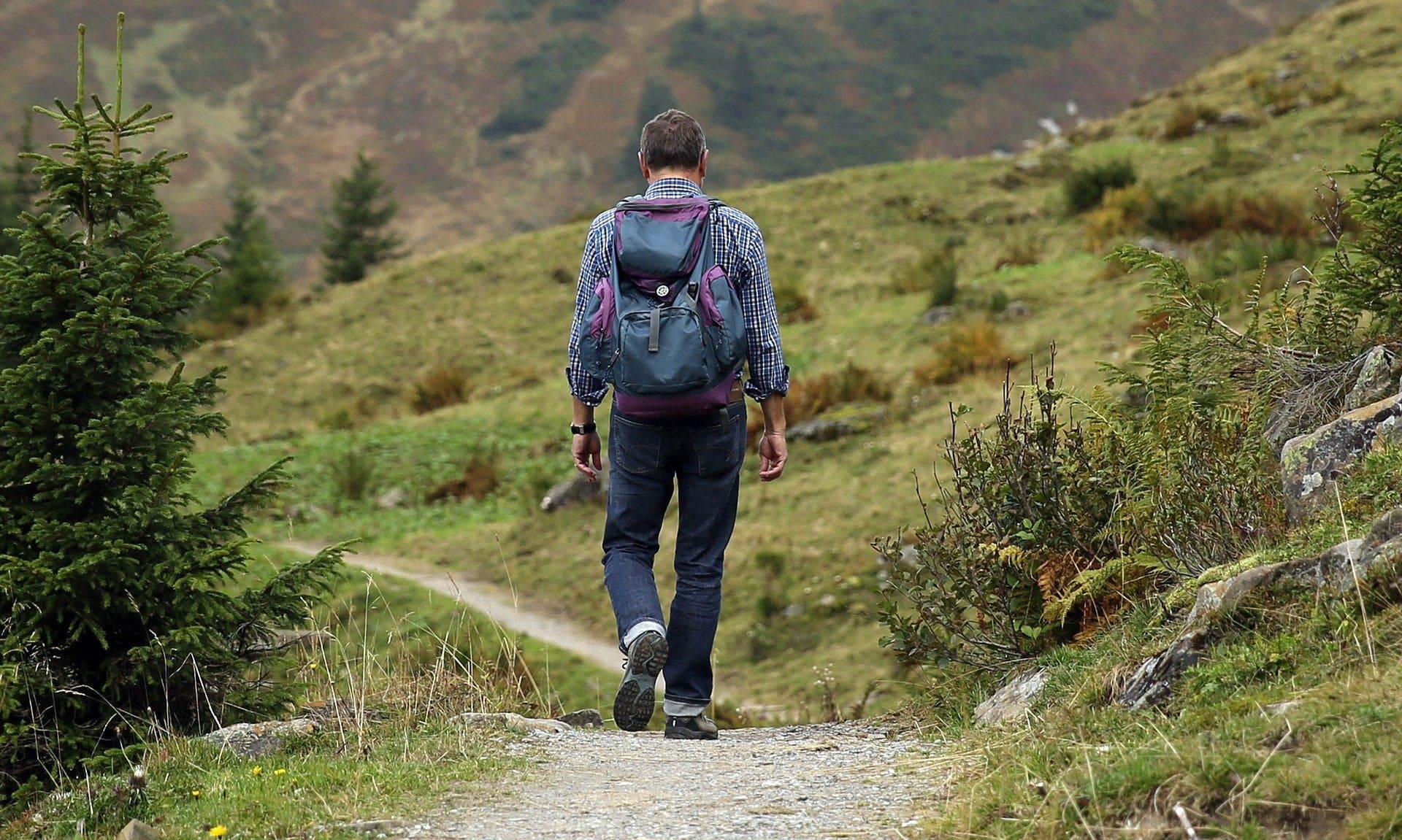 Everyone started as a beginner at one point. We've all had good hikes, bad hikes, scary hikes, and thrilling hikes. As with any sport, the premise may seem simple, but to progress in the sport, you will need to gear up, train, and condition yourself.
There is nothing worse than being unprepared, lost, cold or hot, so gearing up and planning well is critical to your success. It's where we'll spend a lot of our time and energy on this hiking guide.
Hiking Gear for Day Hikes
Day hikes are short hikes you do – often called "there and back" or "loop hikes." The idea is you start from your camp/house and return to your camp house. You only need to carry on yourself with what you need for the hike and nothing more.
Beginner hiking equipment
When day hiking, I use a combination hydro pack/backpack for my trips. The hydro pack carries all of my food, water, and emergency supplies and leaves plenty of room for my camera, phone, and battery charger as well.
For snacks, I keep snack bars, dehydrated fruits, and lightly salted mixed nuts. I avoid anything that can melt, spoil, or needs to be kept cold. Dehydrated snacks, dried fruits, veggies, and granola bars are hard to beat.
Personal Recommendation: CamelBak 100oz day pack – I've used this pack for two years and many trips now, and it still works great and looks and performs as if it were brand new.
Day hike Emergency Supplies
Emergency Checklist:
first aid kit
Whistle
Sunscreen
Bug spray
All in one portable first aid kits are great for short day hikes. They usually include bandages, gauze, aspirin/ibuprofen, and insect bite and wound care supplies. Be sure to replace used gear and to refresh your first aid kits annually. Lots of first aid items do have a shelf life, and if you keep these items in your garage/shed or non-airconditioned space, they may wear prematurely.
When choosing a bug spray for hiking my preference is natural, low smell and low irritant sprays. I like smelling nature, not some fake citronella or lavender scent.
Clothing
The secret to success is your comfort. While on the trail, your comfort means fast-drying clothing, quality shoes, SPF protecting materials, and a hat & Sunglasses. Match all your clothing to the season and environment.
If you plan on hiking in altitude, remember that temperatures can swing wildly in a single day and while it may be warm or downright hot during the day nighttime temperatures can drop below freezing in the middle of summer.
Clothing Checklist:
Socks
shorts/pants
shirts
pullovers
Rain gear
hat
Hiking Socks – Should be wool socks that wick away moisture and keep your feet comfortable and dry.
Hiking Shoes – Should be well fit, appropriately sized, and the right option for your choice of trails.
Shorts / Pants – Materials that offer SPF protection and dry quickly.
Shirts – Sports shirts that wick moisture away and keep you cool or warm depending on environment and season
Pullovers – sweater/sweatshirt as needed.
Rain gear – Always plan for rain regardless. A lightweight rain jacket will keep you happy and dry.
Equipment
I enjoy using trekking poles even on short hikes. It keeps my pace up and provides additional strength training. Other gear you may want to have is a GPS route planner, camera, cell phone, and a portable battery charger to keep all of these devices charged.
Fitness level
Beginner day hike trips are the best options for anyone of any fitness level.  Doing multiple-day hikes to prepare for longer duration hikes is the single best way to train. The most important thing for day hikes is to stay hydrated and use sunscreen. Being dehydrated and sunburnt is one of the top reasons people give up on their hike and the sport early. Headaches, soreness, aches, pains can all stem from lack of hydration or sunburn.
To train up for day-hikes, you can walk around your neighborhood, use the stairs at work & school, park in the back of shopping parking lots and take advantage of using your feet whenever possible over a car.
Beginner Multi-Day Hikes
Multi-day hikes build upon what you have learned for day hikes and much of what you have already purchased for day hikes. The only major component I switch out is that my multi-day pack is much larger.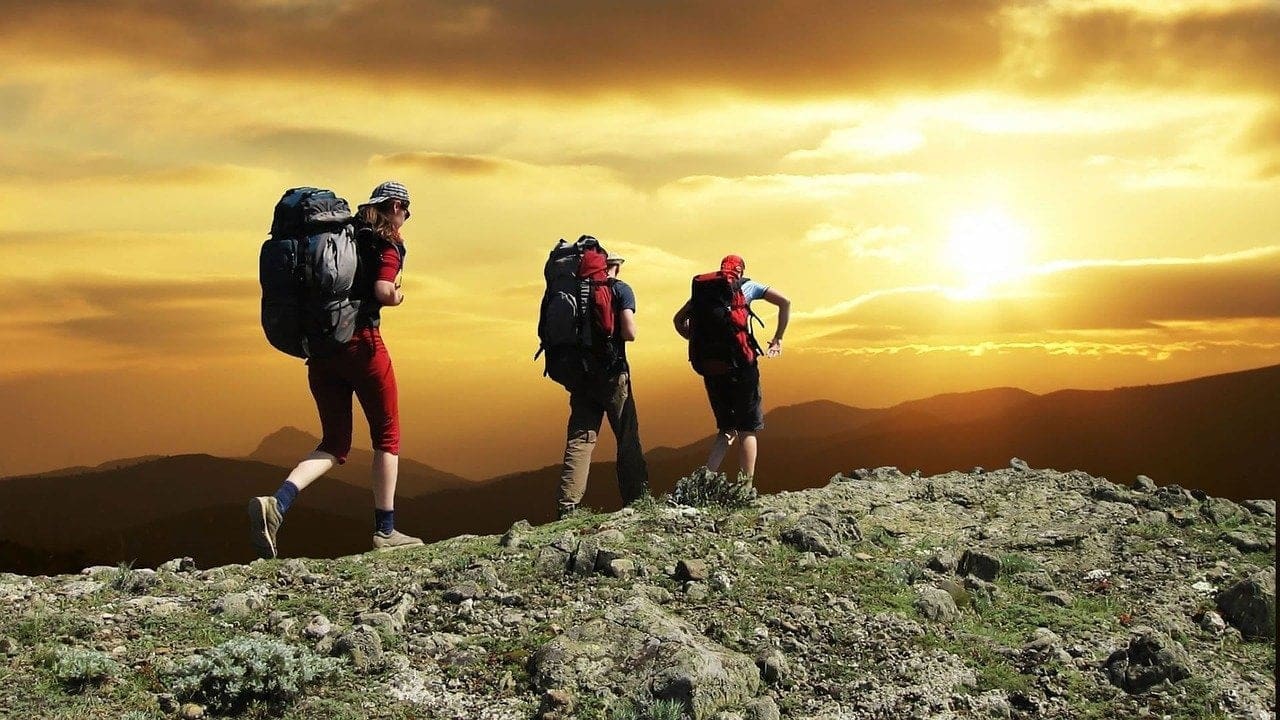 Hiking Gear for Multi-day Hikes
Planning for a more extended multi-day trip means a lot more gear. Not only everything you need to sleep safely and comfortably but all of your food, nutrition, and supplies you may need.
Overnight Backpack Checklist:
Frame Supported Backpack
Tent with rainfly
Sleeping bag
Sleeping Pad
In addition to day hike supplies, you should carry the following items on you with your long hike.
Emergency Supplies:
Flashlight
Batteries
Multi-Day First-Aid Kit
Pocket Knife
Nylon/Survival Cord
Long-distance backpacks often come with an internal or external supporting frame. It's the internal frame and size that sets them apart from regular backpacks that help keep the bag supported while you can load it up with your gear.
Plan your tent for the season and the size of your group.  Tents come in 1,2,3 or 4 season options, and by the number of people they sleep.  It's coming for two people to share a two-person tent and split the load between them to share the burden of the tent. Please keep in mind that backpacking tents are usually very cozy sleeping arrangements. In the cool of the night, a two-person tent with two people in it will keep you warmer than sleeping in individual one-person tents.
Sleeping bags should be as light as they can be for the season. You don't need a 20-degree rated sleeping bag if you're camping in the southwest during summer, but you may need that up in the mountains year-round.
Sleeping pads will be one of the best investments you can make. I use an inflatable pad that only takes about 8-12 breaths to fill up and provides a little bit of insulation above cold or warm ground to increase my comfort.
Your emergency supplies should be everything you need to work for the duration of your trip. Your pocketknife can serve as utensils, tools, openers, and self-defense.  A paracord/survival cord bracelet or necklace is excellent for attaching gear or items while you hike but if you need any cord to tie down, fix or fasten anything.
Clothing
The clothing for a long hike is the same as a day hike. Many people will try and focus on purchasing ultra-lightweight materials instead of everyday clothes when shopping for gear for longer hikes.
The less weight you carry, the better your endurance will be, and the more you will enjoy your hike. There is an entire cottage industry thriving around Ultralight backpacking, and it's thriving for a great reason, no one wants to kill themselves hiking around many lbs. of gear and accessories, they may not need or could have used something lighter.
If it's warm in the middle of summer a lot of people are switching from hiking boots and cargo shorts to trail running shoes and running shorts. Running shorts are vastly lighter than cargo style shorts and offer excellent moisture control, and smell control (running shorts are often antimicrobial) and trail running shoes provide a lot of support as a massive weight reduction over hiking boots.
Clothing is about Layering
The secret to planning your clothes for your long trips is to think in layers.  In the cold mornings, you may want to layer on to stay warm, but as the day progresses, you want to remove layers to keep cool easily.
On a chilly night, you can layer your pants, shorts, and pullover as well as a hat or hoodie to help stay warm.  On a hot night, you can remove all these layers and be comfortable and protected as needed.
Hiking Food
The general principle for food planning is to bring about 1.4-2.5 lbs. of food per day per person. Your trail plans define your food intake needs. If you're making short day trips, then 1.4lbs of food or 2000-3000 calories may be fine, but if you're doing extended legs or rough terrain, you may want to push for 4000+ calories.
Many ultra-lightweight hikers will only bring dried foods and avoid needing a cooking stove, cooking gas, and cookware. Instead, lightweight backpackers opt for fruits, dried fruits/nuts, peanut butter, flatbreads, and other foods that are high in calories and easily portable.
Your calorie and food intake will depend entirely on your body mass, distance covered, and length of your hike.  Starting small and working yourself up to more extensive hikes will let you over plan when the weight won't hurt you much and learn from your habits and preferences as you gain experience.  To this day, I still overpack on food, and I accept the additional weight. With experience, you will find a better balance.
Experiment around. I enjoy a warm breakfast and a hot cup of coffee to start my day. One trick I was told to save some room and simplify my food options is to use the same boiled water to make hot oatmeal with dried fruit to make instant coffee. I don't miss a pancake breakfast with fresh eggs as much with a little warm breakfast to get me going, and I don't need to carry a coffee press or grinds to get my caffeine fix.
Personal Recommendation:  Starbucks Instant Coffee – No fuss, no muss. Just instant Coffee.
Equipment
Your equipment list for long hikes is set up around cooking and cleaning needs. If you like to enjoy warm foods then you will need a stove, fuel, and utensils to cook and eat your food and you will also need soap and a container as well as potable water to clean up after cooking.
Stove
Fuel
Utensils
all-purpose Soap
water treatment (mechanical or iodine)
Toilet Paper/ Personal Wipes
Toothbrush
All-purpose soap is available for doing dishes and washing hands as well as washing your body and hair. This kind of soap is usually environmentally friendly and the best option, so you don't need to carry around multiple body washes, detergents, and shampoos.  The lighter you can make your kit, the better off you will be.
Accessories
Headlamp & Batteries
Shovel / Scoop
Stuff Bags
Sunglasses
Headlamps are the way to go. Having your hands free and being able to see in the dark is a hiker's best option.
"Stuff bags" are great to keep your clean and dirty clothes separate and store items and layers as needed.
Fitness level for long hikes
It's always better to start small and work your way up to longer distances. Runners do this with a program called "couch to 5k" – where you work your way up to a 5k to reduce injury and increase strength and endurance.  You can use the couch to 5k programs to train for hiking. Running is a great sport to build up your fitness level for hiking.
In my personal experience, beyond the essentials of starting small and working up to long hikes, the most significant aspect of long-distance hiking is the mental fitness and mental conditioning. Hiking will try your body, your soul, and your mind. You will get tired no matter how much you train. You will get soaked, cold, miserable, and sleepy. You will run into dead ends, broken gear, outdated maps and an endless supply of trials and tribulations await you.
Mental Conditioning for long hikes
Mental fitness is your ability to know yourself. To remain safe at all times and to listen to what you need and make adjustments. The ability to know when to rest, read your body and know when it's safe to stop and set up camp will come with experience and, most importantly, patience.  Don't rush yourself, don't push deadlines, don't take unnecessary risks.
Like getting in shape for long hikes, mountains offer increased challenges and require more preparation. Whether you're climbing a 14er or just summiting the tallest mountains in your area, preparation is key and knowing your limits is the difference between success or failure.
When Nature Calls
We all must use the bathroom, and when you're out in the wilderness, you're just part of the ecosystem of the wilderness itself. If you're not at a campsite with facilities, you will have to do your part to preserve the natural habitat and keep things sanitary.
Burry solid materials 5-6 inches deep and at least two hundred feet away from camp, and sources of water.
Carry out & dispose of wipes in Ziploc bag.  Animals like to dig up tissue paper, and it doesn't decompose as quick. Our goal is to leave no trace behind.
Do not burn your waste or tissues. Tissue paper is extremely flammable and can cause forest fires. It's best to dispose of waste materials properly.
Volunteer
Many trails are only open to the public because of the arduous work of volunteers who help maintain and protect them. Look for volunteer groups in your area and offer to help join them to clean up, preserve, and protect our trails. Some of the best trails in North America are managed by volunteer groups and wouldn't exist without their arduous work and dedication.
Summary
Hiking is a Zen sport for me. When I'm out with nature, I am one with nature. I'm at peace and just humbled by the experience and soaking it all in. It's this Zen that keeps me sane when things go south and it's that Zen that keeps me modest when I feel I could do something I shouldn't.
Having the right gear, the right knowledge, and proper tools to be safe, have fun, and enjoy the experience is essential to experiencing the Zen of hiking. You don't need the best gear. You don't need the lightest equipment. You need the essentials and desire.
Sometimes you will step out of your comfort zone – when nature calls and you're out in the wilderness it can be odd at first to have to bury your nature call, but that is part of the experience, and every hiker does this.
Hiking 101 is about learning the essentials, increasing your confidence, and hiking skills. Have fun and safe trails!
FAQ
Do I need to buy gear to start hiking?
No, you can certainly enjoy the outdoors locally and explore the trails with normal clothes and shoes you already have. Gear can certainly provide more capability and comfort and is something you can grow into.
Should I buy hiking boots or trail running shoes?
If you're hiking well maintained trails and putting on miles, I recommend trail running shoes. If you're going through technical territory and need more protection and support – a Hiking boot is recommended. The choice is entirely yours.
Pin it!  Save & Share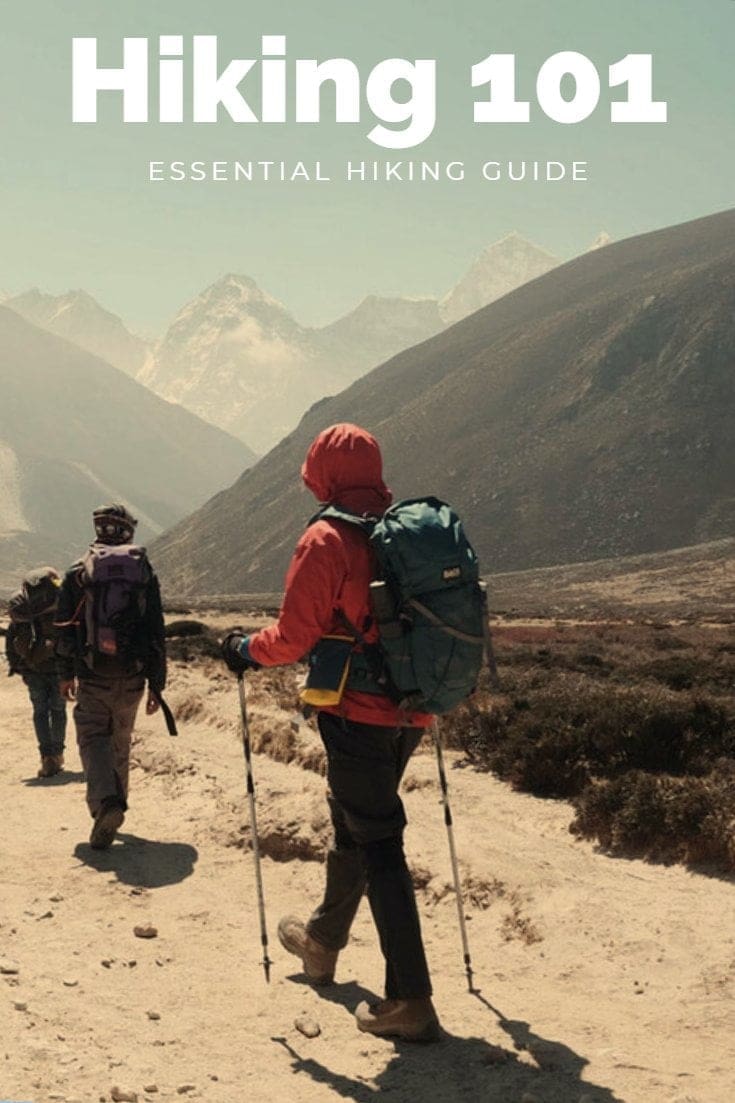 PS, we love community feedback. Leave a comment below with your beginner hiking tips, and we'll keep this hiking 101 guide updated!