Every year, the Art Shanty Projects invite artists to design a small hut as an engaging public art piece.  These shanties and their artists set up camp on one of Minnesota's many frozen lakes and invite the public to experience them over a month-long period.  Since its inception in 2005, it has hosted an annual average of 20 shanties and 100 artists, drawing thousands of visitors each winter.  It was held at Medicine Lake for several years before moving to White Bear Lake, and in 2018 it will make its debut at Lake Harriet in Minneapolis.
Art Shanty Project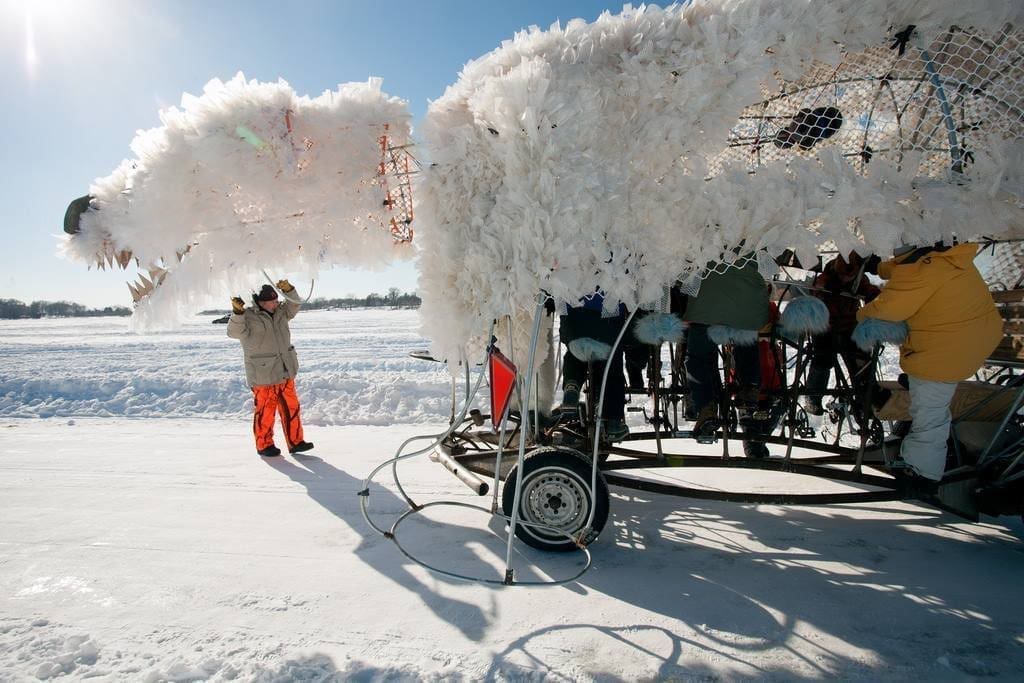 When my husband and I visited the 2016 Art Shanty Projects at White Bear Lake, we were impressed by the creativity and passion of the artists.  Weekend after weekend, they braved the bitter cold for hours on end to contribute to this dynamic community gathering.
Our absolute favorite part of the Shanty Village was the Matoska Tonka Pedal Bear.  Up to ten visitors at a time could hop into the underbelly of this 12-foot tall, 20-foot-wide polar bear and pedal it across the ice.  Matoska Tonk is the Dakota name for "big white bear."  The group of artists who created the bear also designed a warming booth for visitors decorated with English names and the corresponding Dakota names for places around the Twin Cities.  Their creations were a fun way to explore Minnesota's rich cultural history and think about how this heritage is still reflected throughout the state today.
A few other highlights from 2016 included sipping on local blends at the Botanical ShanTea, wishing on a star at the AstroLounge, channeling our inner child (while predicting the future!) on the gigantic Ouijatotter, and freeing our inhibitions at the Dance Shanty.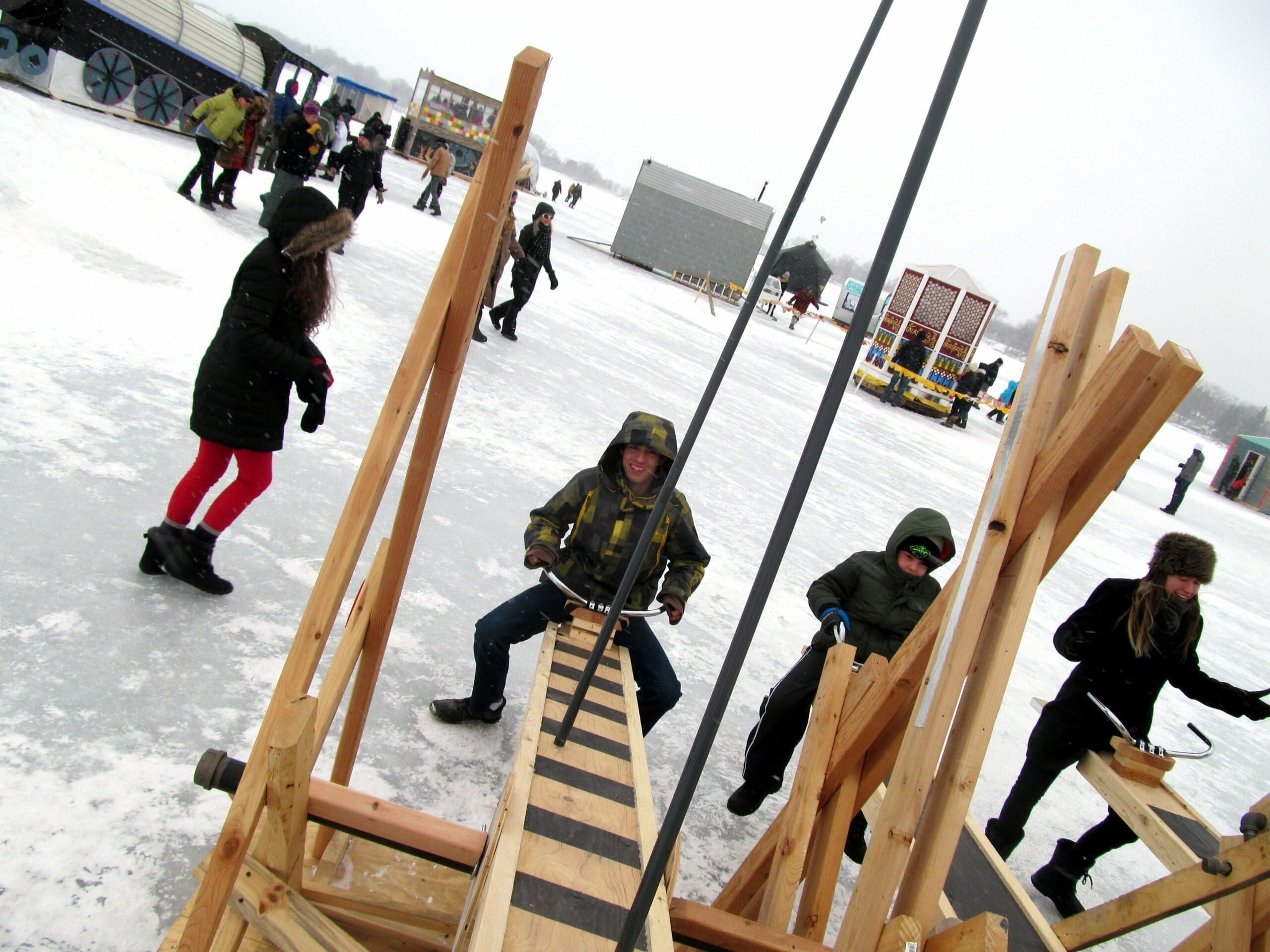 The best thing about the Art Shanty Projects is that they remain diverse from year to year.  You can visit every year and still get excited because each season brings a fresh crop of thought-provoking and just plain fun shanty creations.  In past years, visitors have been able to take a shot at curling, one of the North's bizarre yet time-honored sports.  Giant jigsaw puzzles have been communally painted for the next weekend's visitors to put together.  Actors, dancers, puppeteers, and musicians have performed in what is undoubtedly the area's smallest theaters.
Shanties range from topical and thought-provoking to purely whimsical and carefree.  You might find yourself performing as a lawmaker at a miniature Capitol Hill or exploring personal and communal identity at the Data Lab one minute – then walk a few feet, and you've entered an all-ages slumber party or a working sauna made out of a converted 1966 travel trailer!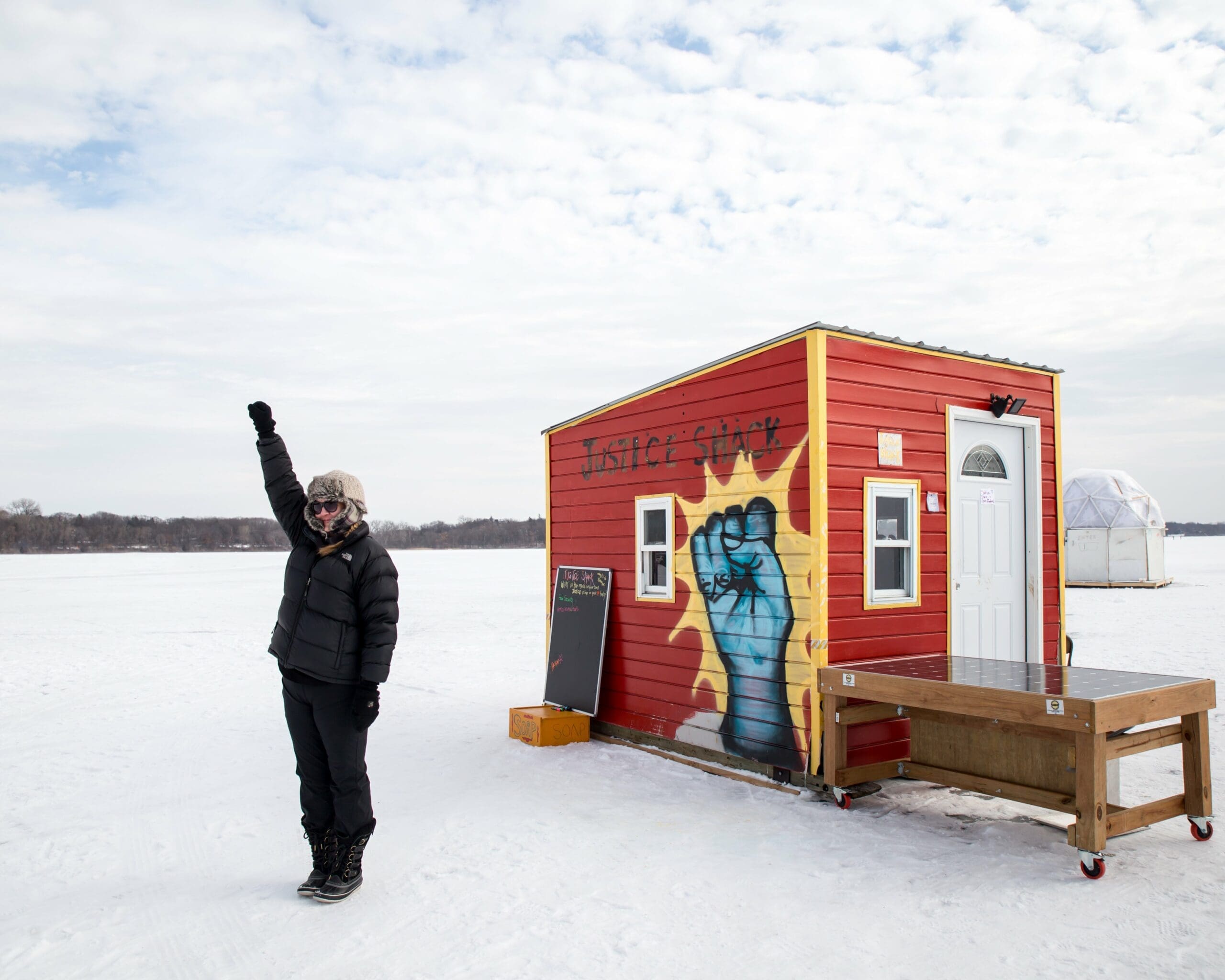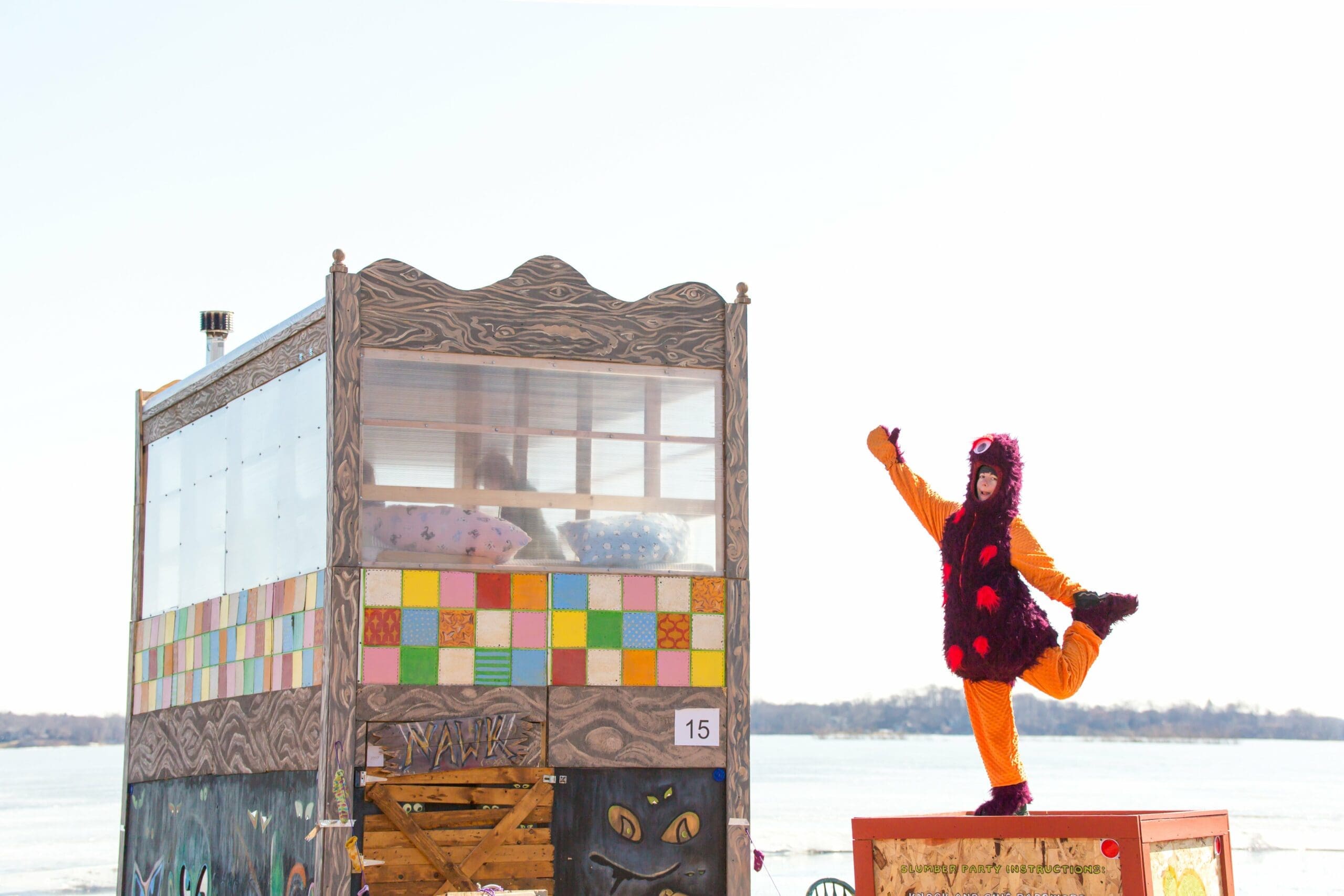 2018 looks to be another amazing year.  Enter the belly of a lonely whale, play 10,000 Lake Twister, hear your real-time sonic impact on the world underneath the ice, write a revolution poem, or hop in a human-sized hamster wheel!  For those who prefer to observe, there are also a myriad of performances.  Admire the Coro Flamenco Street Choir, listen to Glenda Reed's true-life stories of her time spent hitchhiking on sailboats around the world, peek at the canvases of various plein air painters, or immerse yourself in Lady Xok's complex audio-visual experience.  In total, there will be 22 shanties and 18 different types of performances.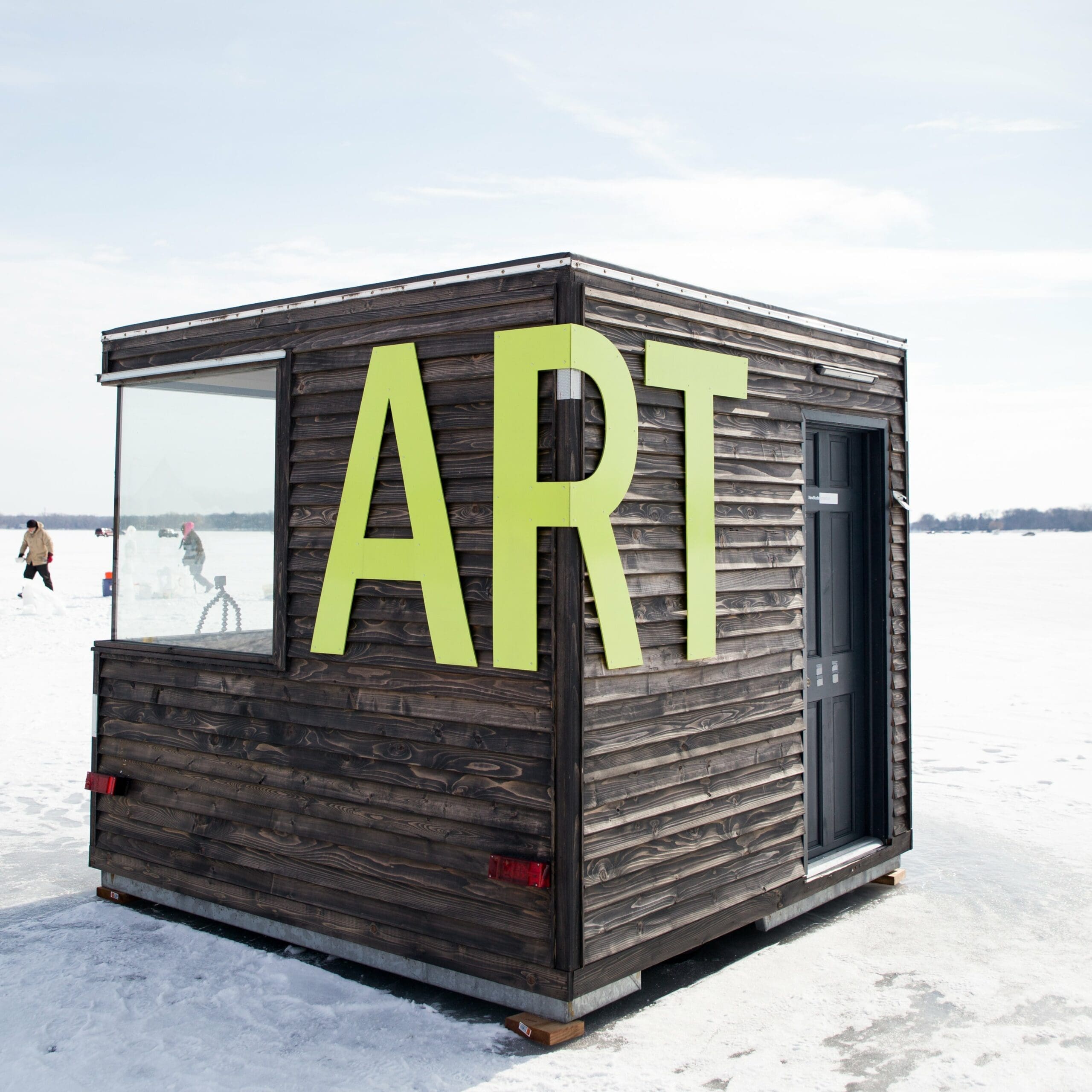 Planning Your Trip 
The Art Shanty Projects have a very limited time frame, so plan ahead to participate in this quirky cultural gathering!  The 2018 season starts January 20th and ends February 11th.  During these dates, it is open every Saturday and Sunday from 10 am to 4 pm.  Don't let Mother Nature drive you away – rain, sleet, snow, ice, and even blizzards do not result in event cancellation.  In the past, if the weather has proven to be unseasonably warm the shanties have been moved to the shore. We'll update as we hear anything about future seasons! (2023 here we come!)
This year, the Art Shanty Projects will take place on Lake Harriet (Bde Unma) in Minneapolis, MN.  The event is free and open to all ages.  Because the event is on the ice, it may be difficult for those with disabilities to access.  If you are bringing small children, plan to pull them on a sled rather than in a stroller.  Dress warmly and wear boots or thick shoes with good traction!
To learn more about past and future artists, this year's event schedule, and the philosophy behind the Art Shanty Projects, visit their website at http://www.artshantyprojects.org/.
All Photos Courtesy of Art Shanty Projects (Excluding Ouijatotter)