These favorite Colorado jeep trails are what gives the San Juans and Ouray Colorado the name "Jeep Capital of the World." With nearly 100 miles of trails offering some of the most breathtaking mountain scenery in North America one quickly realizes how it got this name.
We haven't received any updates on trails opening for summer 2020 yet. Please be sure to contact your destination to validate your travel plans due to ongoing covid19 issues.
May 30th, 2020 Update
(Note – Crew 1 and Crew 2 work concurrently)
Crew 1: No Reported trails open
Crew 2: NO reported trails open
From the infamous Black Bear pass that zigzags down sharp switchbacks along a waterfall into Telluride or Imogene pass that sets you on the very peak of a mountain where a post office mailbox once stood and one of the first electric utility lines passed over to power the mines –  these Southern Colorado 4×4 trails are sure to impress and offer off road experiences, you will never forget!
Did you know that Great Sand Dunes National Park is just but a couple of hours away? If you're looking for a fun place to try off roading in the mountains and along the sand dunes check out Great Sand Dunes National Park while you're in southern Colorado!
Black Bear Pass
**Update**: Currently closed for 2019 summer. No estimated opening time due to excessive snowpack and avalanche debris.
Blackbear pass is one of the most famous passes in Colorado with its switchbacks down a shelf along with the sight of the beautiful Bridal Falls.  This trail is one way (down) and only recommended for experienced drivers with short wheelbase off road vehicles.  Rental Jeeps are excluded from being able to drive this trail.
If you wish to experience Black Bear Pass (as you should!), I recommend one of the many guided Jeep Tours that may offer this trail.
If switchbacks and narrow roads aren't your idea of fun, then the view of the falls and Black Bear Trail from Imogene Pass will give you plenty of options to see the beauty of Black Bear Pass without having to build up the nerves to drive it.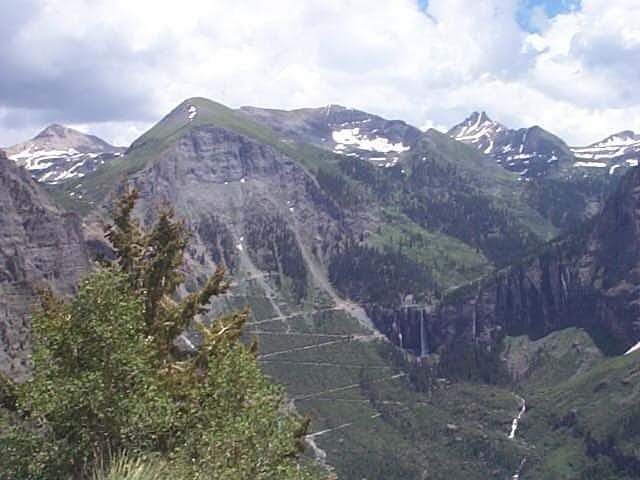 Imogene Pass
One of my favorite passes to experience in Colorado. The road was initially built in the late 1800s for access to Ouray from the Tomboy Mine. I have always taken the pass from Telluride, and as you drive up you get terrific views of Black Bear Pass, Bridal falls and the Telluride valley. The road gains altitude quickly as you head up to the Tomboy mine and offers views of the valley, lots of aspen groves and towering mountains.
Tomboy mine and many other remains of buildings, tunnels, and structures offer a great escape into the history of gold and silver mining on these mineral-rich mountains.  Not much remains to today of the massive operations that existed but what still exists is impressive to see. Just be sure to leave everything and only take photographs!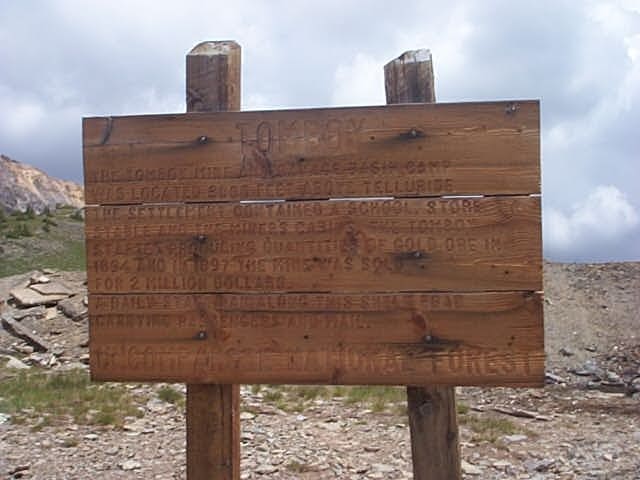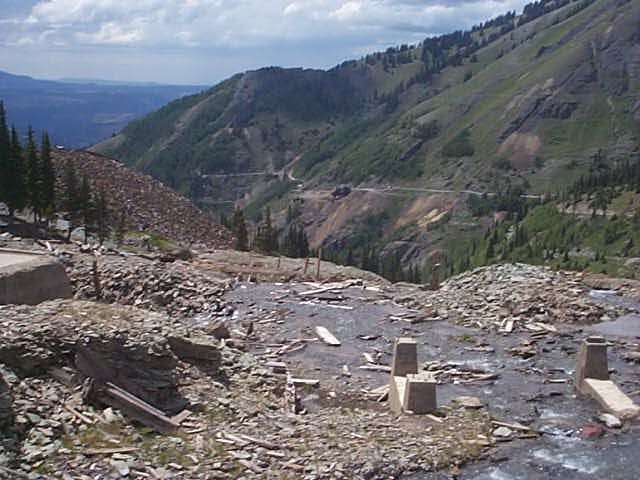 Imogene Pass is the second highest pass in the United States. Be sure to stop at the top and take a picture! The views go on for miles! (unless you're stuck in the clouds)
My summit picture from 2001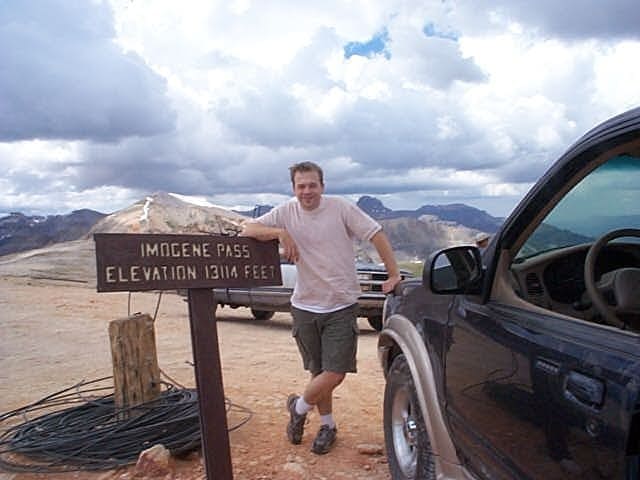 My trip from 2017 – Not much a view this time as dense fog embraced us at the top of the mountain and forced us to get down as quick as possible (Darn those summer afternoon thunderstorms!)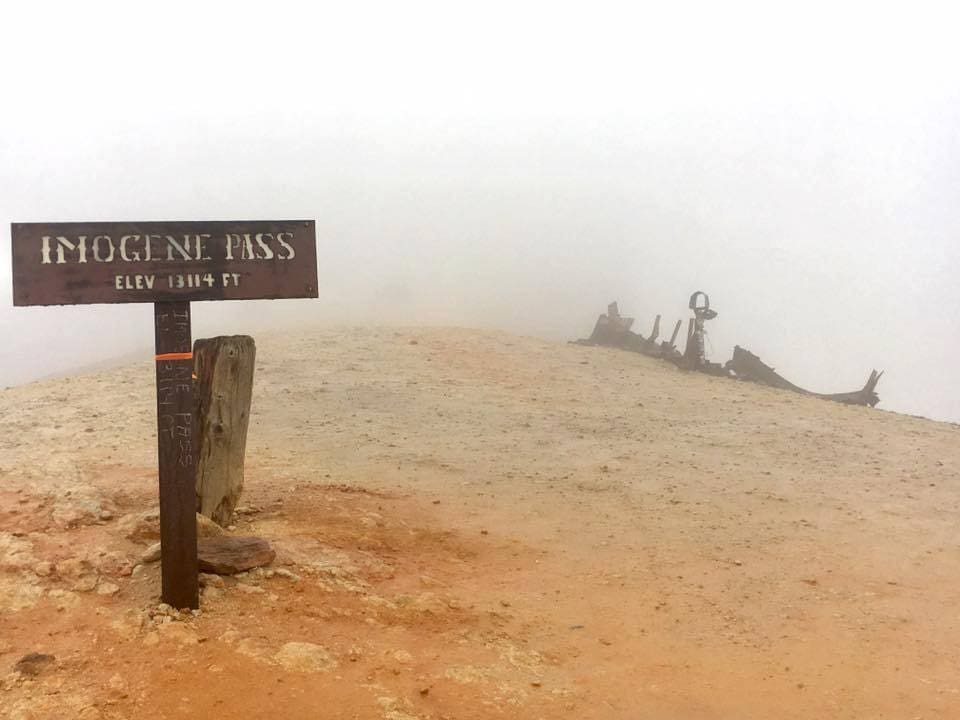 Ophir Pass
Ophir Pass offers some fantastic scenery, multiple stream crossings, a quaint town that still exists out in the middle of nowhere and some of the most impressive spans of Aspen trees you will see. The town of Ophir survives to this day as cabins out in the middle of an Alpine valley and its one of my favorite places to dream about having a cabin.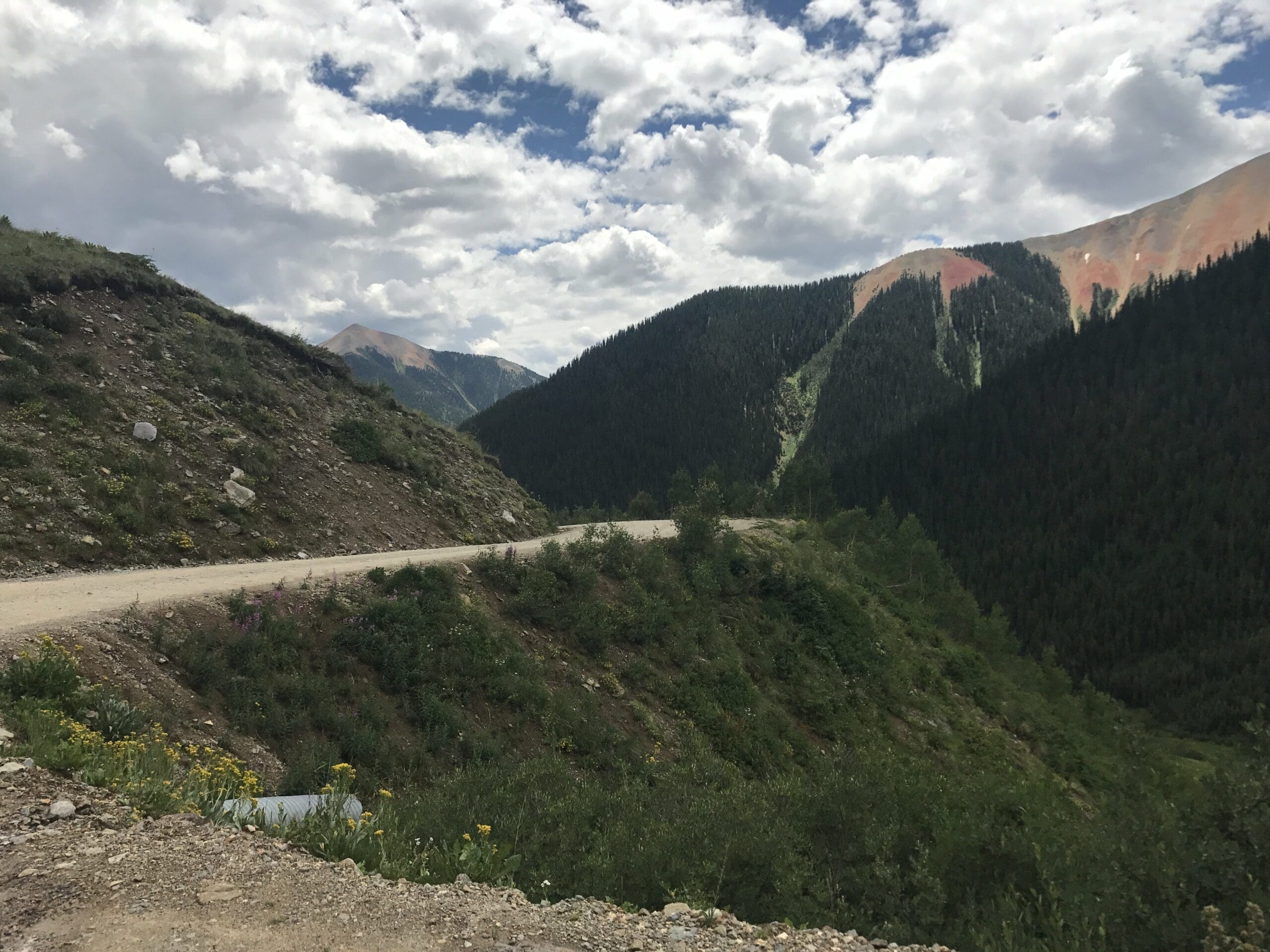 Ophir Pass Trail is another road initially built to service the surrounding mines and the town of Ophir. It is a great beginner trail that most four-wheel drive vehicles would have no problem getting through, giving you a great way to experience and see the beautiful rust colored summit mountains and alpine scenery.

The Summit of Ophir Pass doesn't quite make it over the top of the mountain but cuts between two peaks. There is plenty of space to park here, stretch your legs and enjoy the views. (You may even see some rock chucks here! Marmots love it up on Ophir Pass!)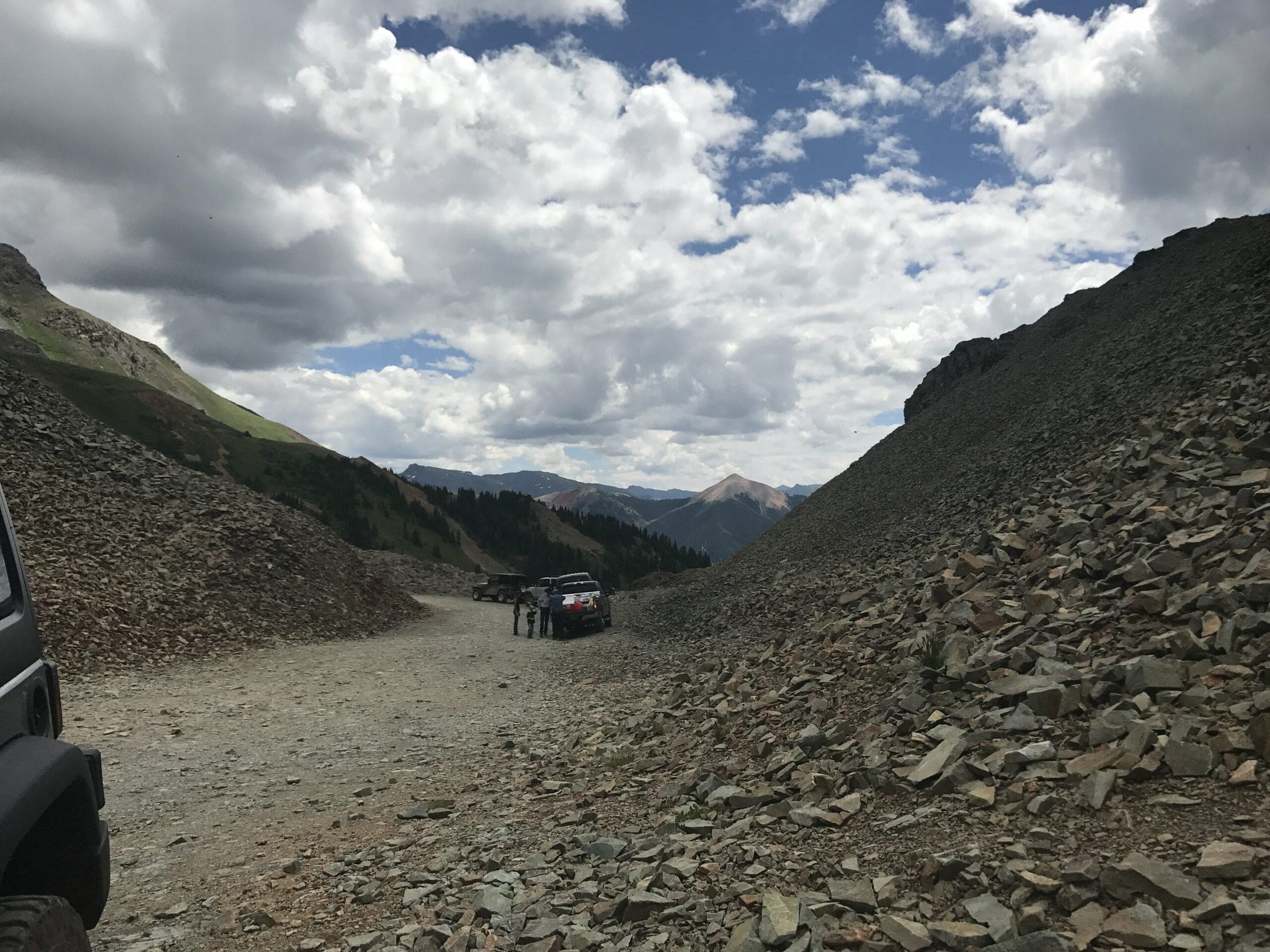 Ophir Pass is 11,789 ft altitude – if you're not entirely acclimated to the altitude be sure to drink plenty of clear fluids while you're up here. Staying adequately hydrated will help you stay sharp and aware at altitude. You want to make sure you're in tip-top mental condition as the drive down the other side towards Ophir is a long shelf-road with a sheer dropoff. No time to be messing around with dehydration or potential altitude sickness.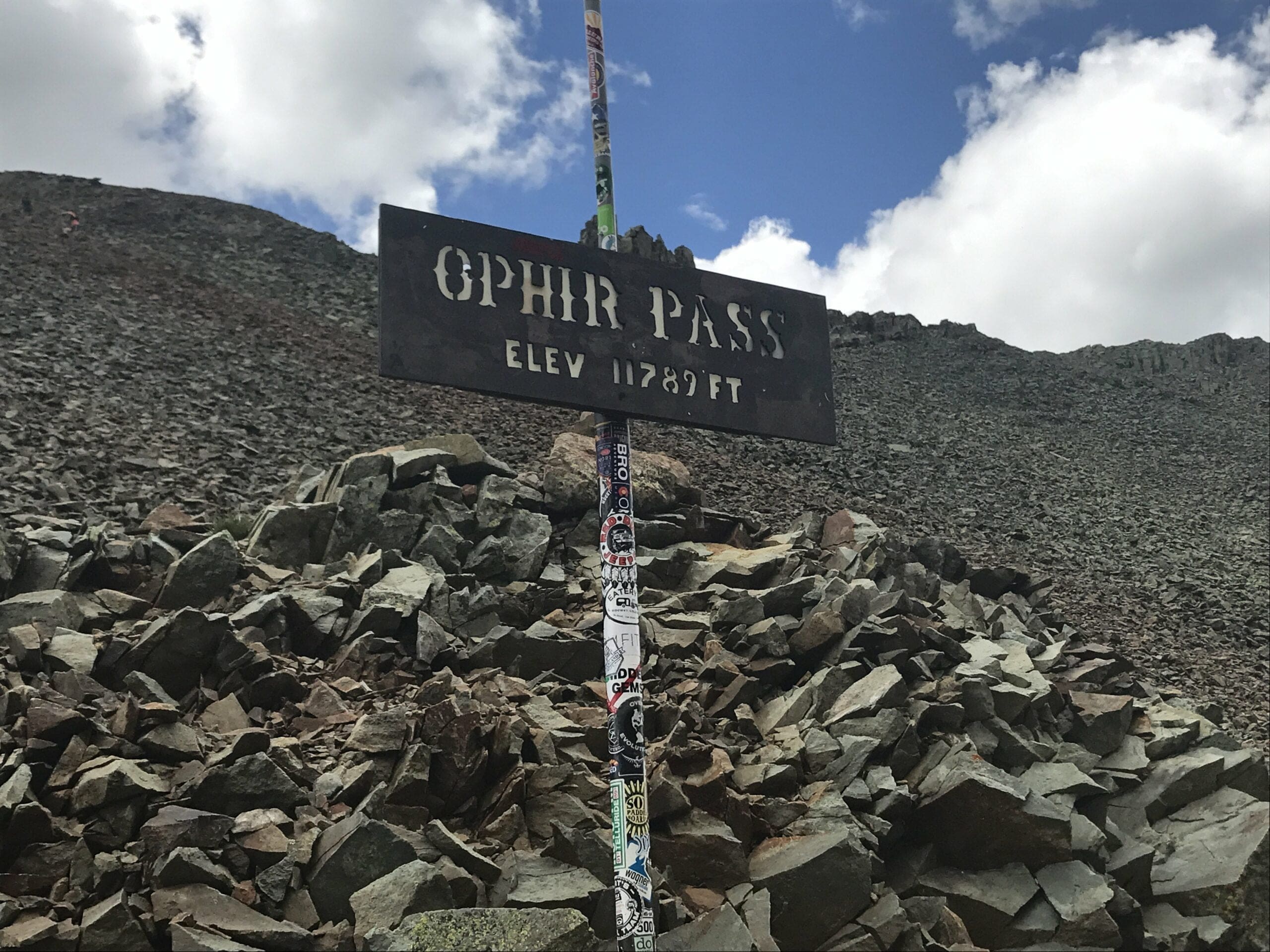 Don't Forge to take Photos with the Sign – Always nice to have photographic evidence of you driving over a mountain summit to share with friends and family!

Alpine Loop
The Alpine Loop is one of the best (and busiest) day-long adventures in the San Juans. The trail takes you up through Cinnamon Pass and Down through Engineer pass, opens early in the season and is open to most 4×4 vehicles. A great novice/beginner trail with varied scenery, wildlife, and majestic mountain views. If you choose to rent a Jeep this is often one of the most recommended loops since it covers so much ground in a single trip and fills the entire day. The Alpine Loop encompasses both Cinnamon Pass and Engineer Pass.  If you're in the area and have a detailed map (as you should!) you will see that there are dozens of off shoot trails and criss crossing passes you can explore. If you only have a day to explore or a day long Jeep rental, the Alpine Loop is your must do experience to give you the most of your trip.
Cinnamon Pass
Cinnamon Pass leaves from Lake City where it was built as a wagon trail to supply a shipping route for Ore leaving the nearby mines. The pass follows for 26 miles and leads to some fantastic summit views where you are sure to see a few marmots, maybe a moose and usually some deer.
Engineer Pass
Engineer Pass was part of the Otto Mears toll road before the completion of the Million Dollar Highway that is used today to get between Ouray and Silverton. It was a vital wagon and mule train route to move Ore & supplies between the abundant mining operations along the road.  Engineer Pass offers an EXCELLENT beginner route with tons of gorgeous scenery.
One of my favorite things about the Alpine Loop is the spring flowers. They're gorgeous up here and add a bit of color to the otherwise almost moon-scape summits. I've never seen so many colorful columbines.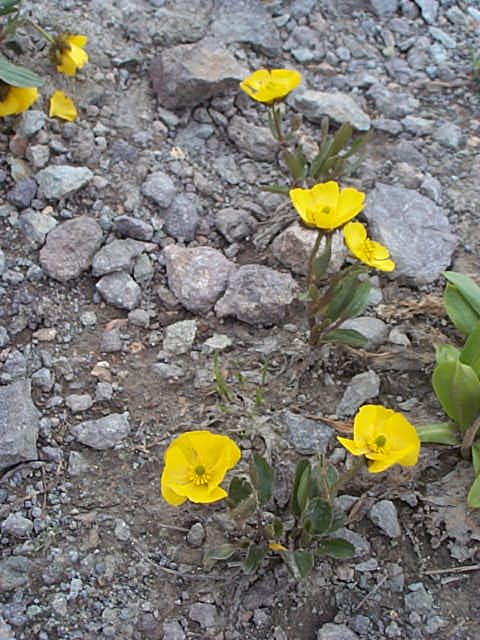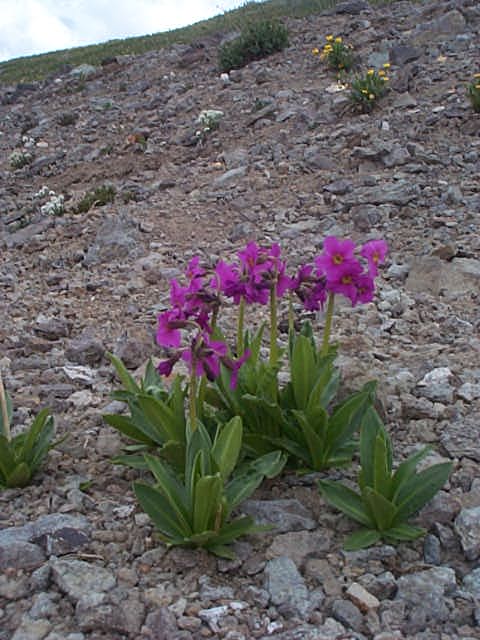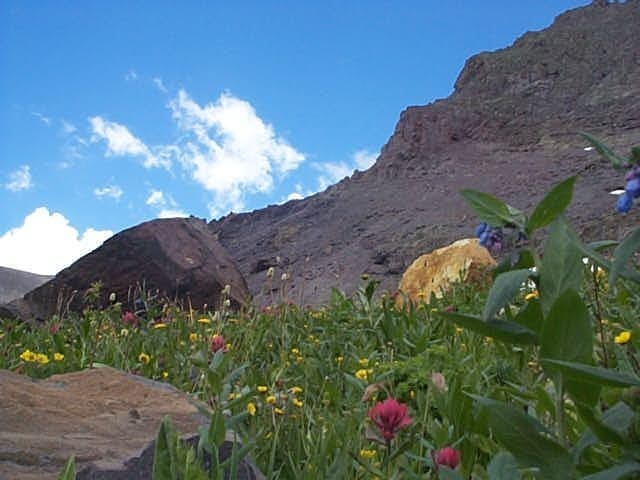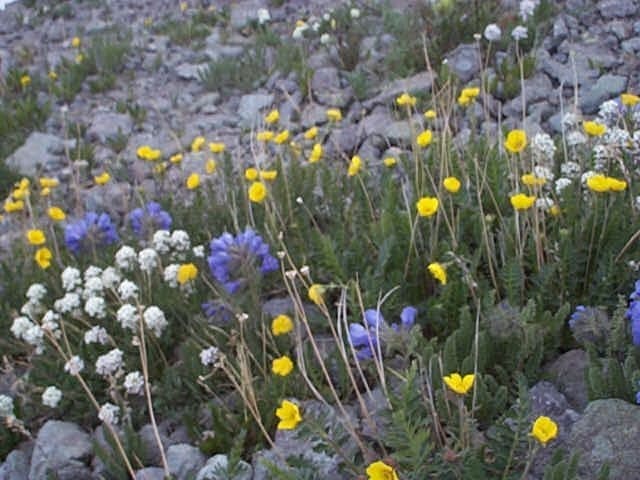 Yankee Boy Basin Trail
Depending on the route you take to the other trails mentioned above, you may follow up through to Yankee Boy Basin as you either leave for Ouray or start your trip from Ouray. This road is a very mild-rating road which is extremely fun along the Canyon Creek Shelf. There is a small waterfall you can stop at, and you get to drive through some fun undercuts. I would advise you to give yourself more time than you planned on this trail since the scenery is breathtaking and there are just a ton of places to explore, take photos and have fun.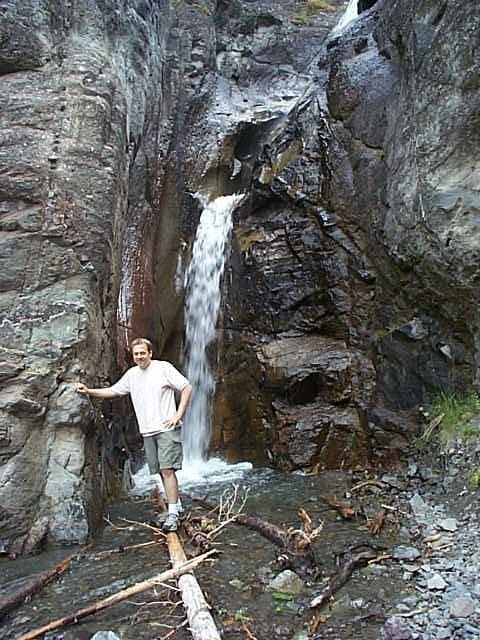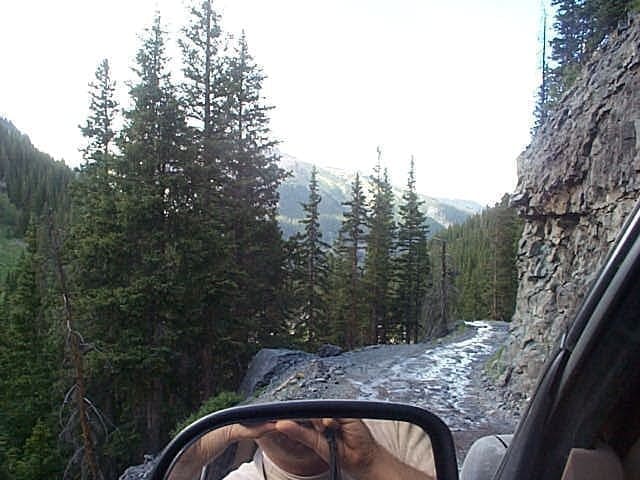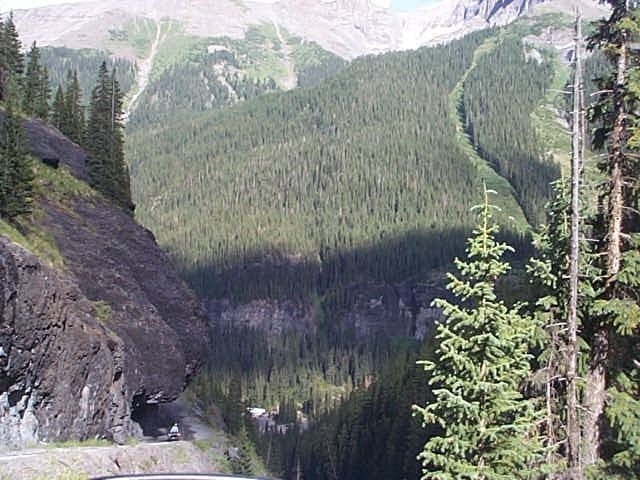 Yankee Boy Basin is a trendy destination in the summer months – traffic can be busy.  I've even seen All-wheel drive vehicles exploring this area, so it's not just limited to exclusive 4×4 use.  Many mines, buildings, and structures along this route are exceptionally well preserved and beautiful to admire from a distance. Please respect them as they're private property and of historical importance.
Colorado Ghost Towns
Some of the best off road trails in Colorado take you out to some fantastic ghost towns from Colorado's mining boom of the 19th century. Many towns popped up across the state as gold, silver, and other minerals were found, and prospectors sought out vast mineral riches. Please be sure to be safe, respect these properties and preserve them for future generations. Many of the buildings may be on private property and owned by active corporations.  They serve as living monuments to the gold rush of the 19th century and should be respected.  Please do not remove materials, climb or play on any of the mining equipment, mine shafts or any of the remaining buildings. The winters are long and hard, and the condition of these structures make them unsafe.  View from a safe distance and take only pictures to keep as memories.
Trail Guides
Please check out these very richly detailed and in-depth Colorado 4×4 trail guides before planning your next off road adventure to the San Juans. They contain beautiful images, links to maps, addresses, and locations as well as full explanations of the trails, their history and how to navigate them.
Trail Safety
Driving these trails can be dangerous. Weather changes fast, snow/rain/sleet can happen year round and the condition of the trails changes on a daily basis.  Please be sure to pack appropriate 4×4 safety essentials and make sure you know these Off Road Driving skills every off-roader should know.  Always drive safely, wear your seatbelts,  and bring plenty of water!
More Jeep & Offroad Posts
Pin it! (Save & Share)