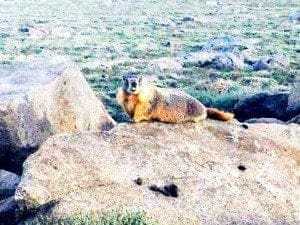 As soon as we realized the car keys were missing, I knew it was those darn marmots. It had to be those cute marmots who I just couldn't get enough of. A few days camping at the trailhead below White Mountain Peak's  14,252 summit had me snapping photos of these especially cute rodents with my new digital camera almost as soon as we rolled into camp. And when I say rolled into camp, I mean we off-roaded over sixteen miles up a barren rock-studded dirt road into a landscape that did not even look earth like. And that was just to reach our campsite at the locked gate miles below the Barcroft Station run by the University of California, the highest research facility in California. You have more than likely never heard of White Mountain Peak, but its summit sits only 200 feet lower than Mt Whitney, the highest peak in the continental United States at 14,505 feet. To reach White Mountain Peak we would be day hiking fifteen miles in one day, all at altitudes way over 11,000 feet. Does it sound intimidating yet? Changed your mind about this crazy hike? Did I mention how cute the yellow-bellied marmots are? Technically they are just super fat squirrel-like creatures but let me tell you, the yellow-bellied marmot is way cuter then any squirrel I have ever seen! In California, you only see this furry rascal at crazy altitudes over 8,000 feet.
One thing about marmots; Any trail hiker knows they are sneaky jerks. Hiking the Mt Whitney Trail? Leave your pack for just a moment and they will steal your chapstick and all your snacks too! When we rolled into our dispersed campsite in the White Mountains at 11,000 feet in our truck that was loaded to the gills with camping supplies, we found a sign in the pit toilet that warned "Caution! Marmots will chew through your engine wires!" We were not at all prepared for hungry marmots ready to destroy the pickup truck!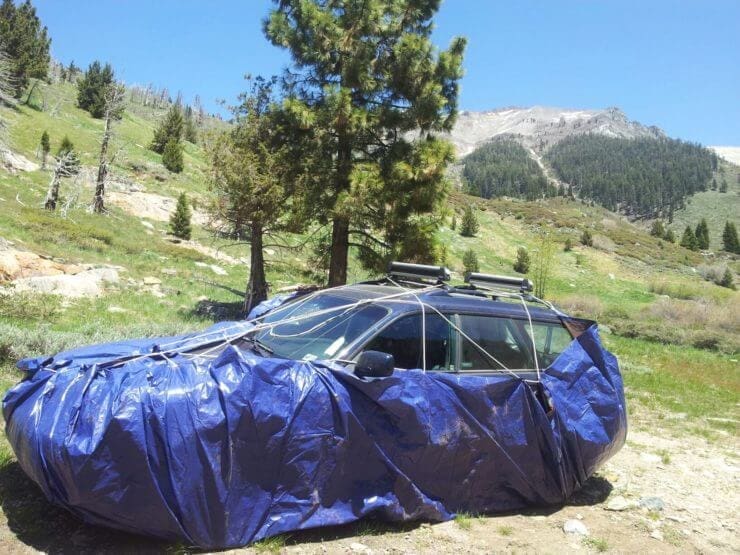 Now let me just begin by saying I did not want to Whitney prep at White Mountain. I looked up pictures on the internet in advance and starting this hike at 11,680, feet the landscape did not look pretty at all. I like to hike in nature and all its green alpine glory. Trees barely grow above 12,000 feet and here in the highest area of the bristlecone forest they rarely see any rain. The top of White Mountain looked as desolate as the moon. I thought to myself, this was not going to be my kind of hike. That's what I was thinking anyways in the days prior to our White Mountain adventure, in the planning stages.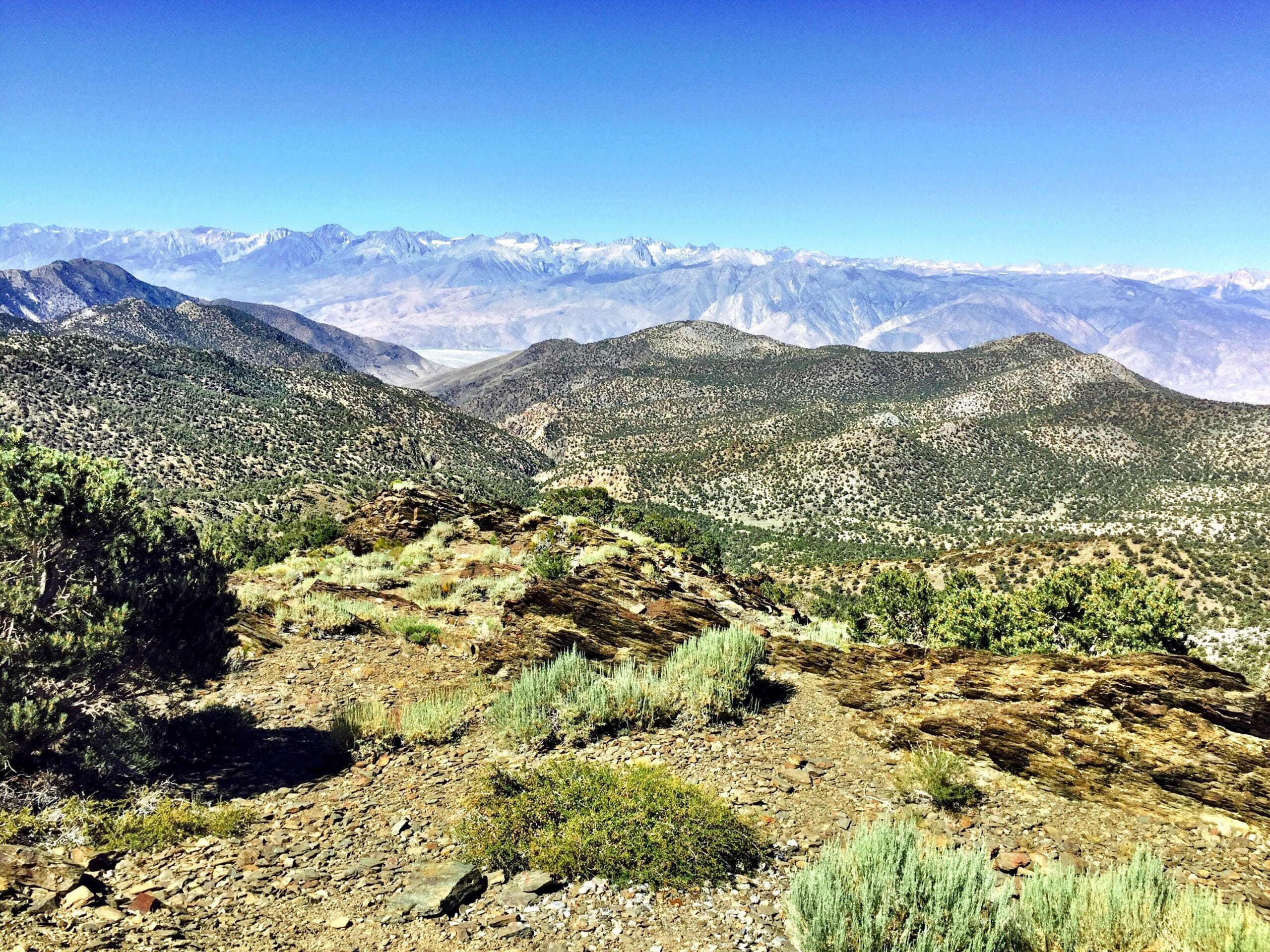 Flash forward to June 2015 and we began off-roading up White Mountain Road into one of the most breathtaking (in a dry high desert kind of way) forests I have ever seen in my entire life. This bristlecone and pinion pine-filled forest looked like something out of another planet. As we continued up the long, long road to the locked gate where we would camp for the night I was shocked to see that even well over 11,000 feet all the fields of native flowers I saw on the sides of the road were lavender lupine and ruby red Penstemon like we had at home in our national forest in Big Bear Lake at six thousand feet. As we continued deeper into this bleak yet unbelievably gorgeous forest we passed a few trucks here and there on the dusty dirt road but practically no one. It felt like we were on top of the entire world as we stared down at the rust-colored land that surrounded the tiny town of Big Pine down in the Owen's Valley. The views over the mountains edge were just incredible.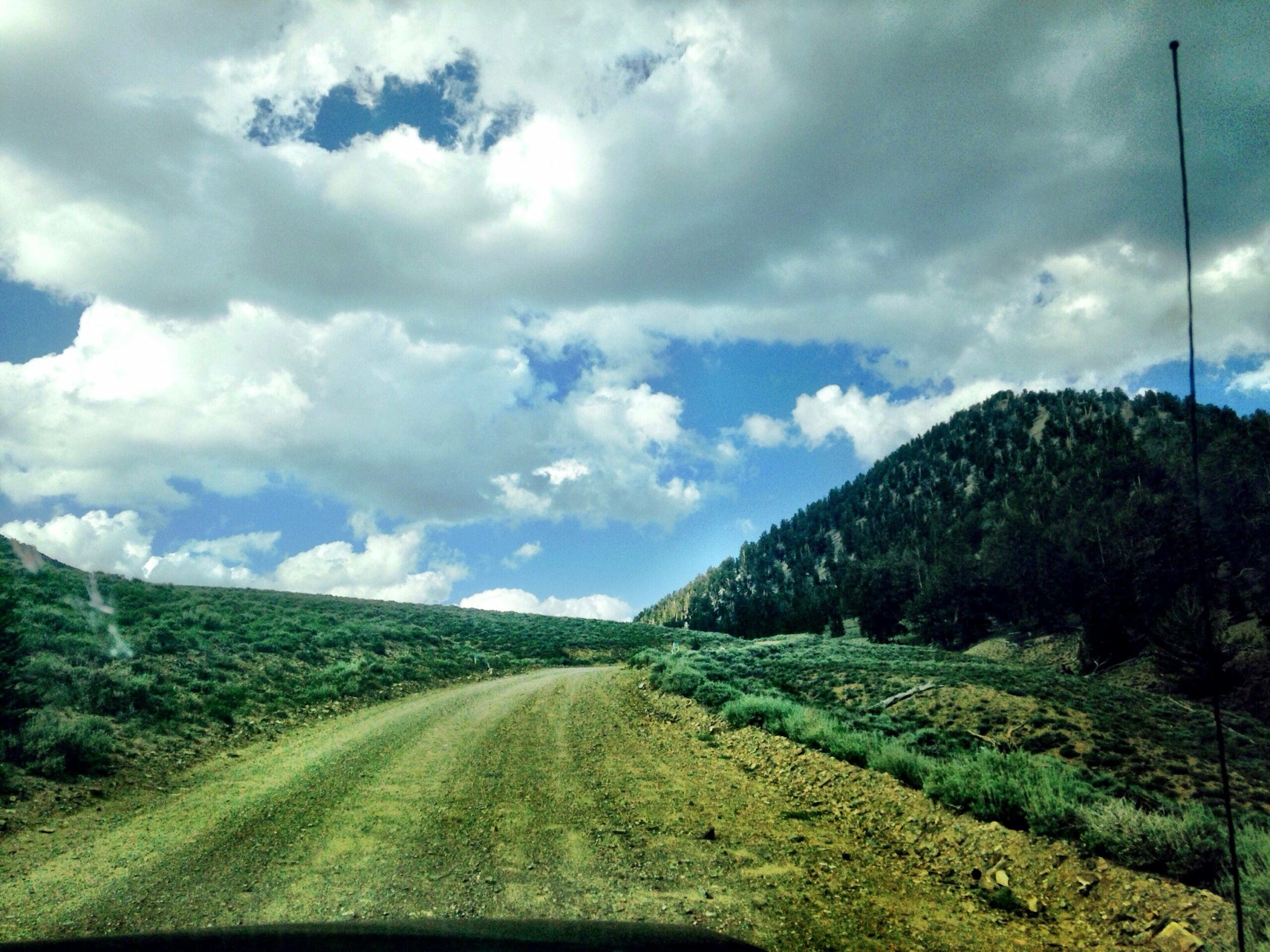 I was just musing on how there must be not too much wildlife at these elevations when we saw a beautiful brown stallion, his shiny coat glistening in the late afternoon sun! I felt like we were seeing a mirage! I mean I know wild mustangs still graze out here but this horse was so beautiful; he looked like Triple Crown champion American Pharoah! He wasn't in any kind of corral or paddock so even though he was such a gorgeous horse we are just assuming he had to be a wild mustang. We stopped to get a few pictures of "American Pharoah" than continued on. We had been off-roading for so long at that point, almost an hour. Where was this locked gate/ campground spot already? Every crest of the green hills we made as we stared at all the sagebrush in the distance, we mused "That tall mountain there, must be White Mountain!"
Then the road would continue…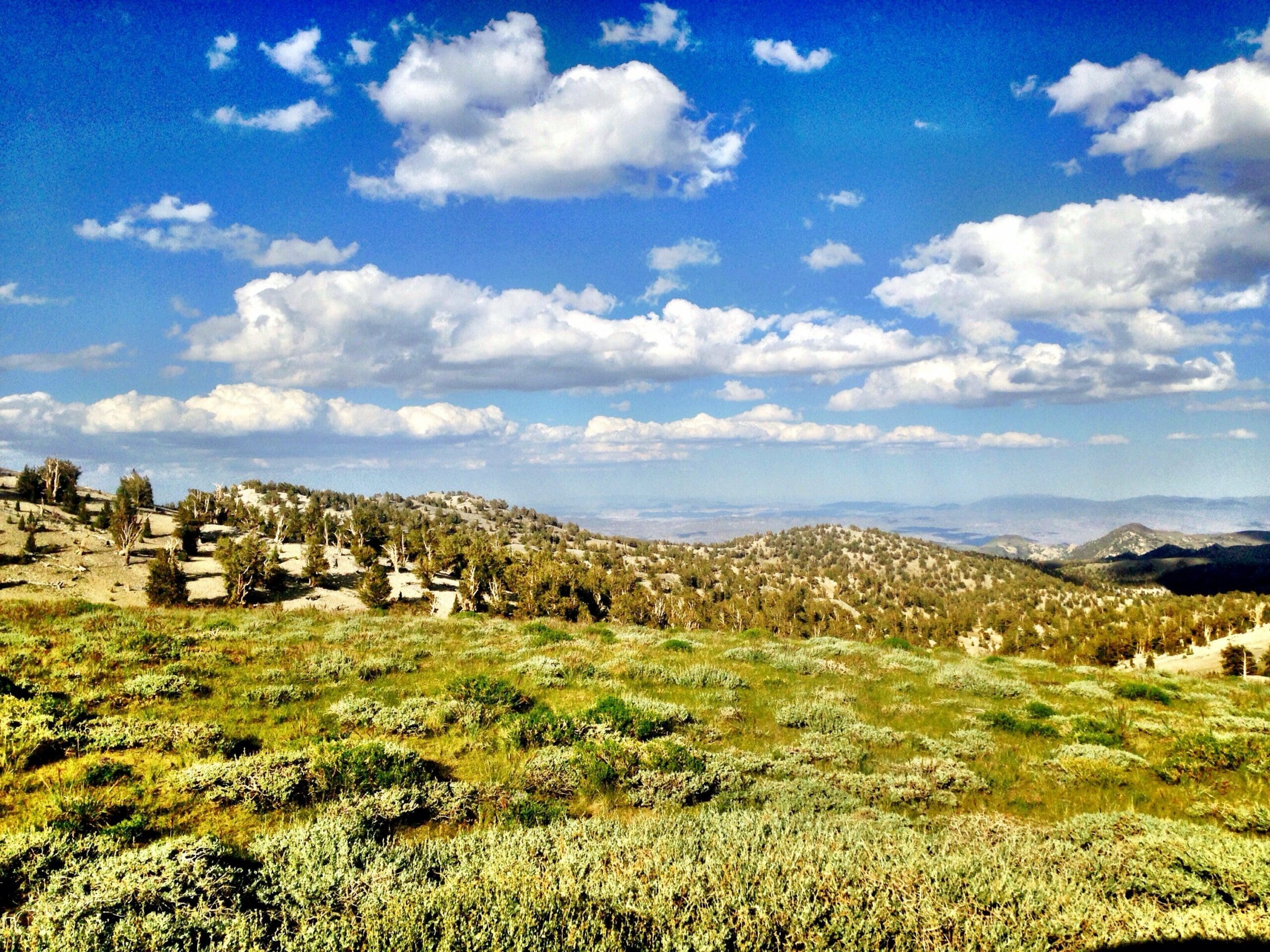 Finally, after almost an hour of off-roading we came to a locked gate, with a Prius parked next to it (A Prius? Really? We were worried about popping one of the giant aggresive snow tires on the four wheel drive truck on this rough dirt road) It was after six by the time we parked, celebrated the fact that there was indeed a pit toilet (I honestly did not believe my boyfriend that there would be toilets all the way out here, of any kind) and ripped into our absolutely delicious sandwiches we had procured from the Lone Star Bistro in Big Pine, hours ago. After dinner, we went for a quick little walk up the beginning of the trail to White Mountain. (I'm glad we did; hiking at almost 11,000 feet is a challenge!)
Originally, we had brought our mountain bikes and had been planning to bike the first few miles. As soon as we saw what the beginning of the trail looked like I knew there was no way on earth we could bike it (although the next morning we would see numerous cyclists way more fit than me biking up White Mountain.) The beginning of the trail was a super steep uphill battle and even harder for us as we had just arrived at the 11,000 elevation an hour earlier. We were definitely huffing and puffing, and I wondered how we were going to summit the peak in the a.m. My boyfriend tried a mile of it on his mountain bike as I walked up with him. He gave up about thirty minutes before me and turned back around, completely missing the exceptionally cute marmot family I stumbled upon a few minutes later. At least I thought they were cute until the next morning when our neighbors told us we should have wrapped chicken wire around our engine as a hungry marmot will happily chew through your engine wiring for a warm and cozy place to sleep. (But more about those rascal marmots in a bit)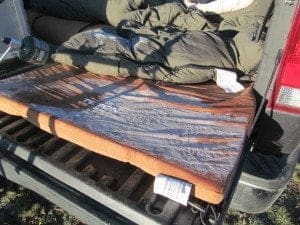 We had made our comfy bed in the back of the pickup truck after dinner and the hike. We layered our Teton sleeping pad, sleeping bags and pillows and gathered lanterns, headlamps and ear plugs and settled in to watch an amazing Eastern Sierras sunset from our truck "bed" When you are getting up at dawn for a massive hike you go to bed early, like when the sun is setting and the stars are just coming out at nine p.m. No joke, as we laid in the back of the chilly truck, this fantastic sunset lasted almost two hours. It was so tempting to have a glass of wine in the evening as we were watching the sunset but I wanted to feel refreshed for the next morning's hike to White Mountain so I decided to say no to Pino Grigio just for tonight. We said goodnight to the pesky marmots and tried to turn in for the night. Six hours later I was thinking, I should have just had the wine; maybe it would help me sleep. Even with the expensive and usually really comfortable, Teton sleeping pad below me, my bony hiker's hips were digging into the bed of the truck. My hips were aching almost any way I lay. I was more comfortable if I lay on my back, flat but for some weird reason, my toes were freezing when I lay like that. It was weird as our sleeping bags were rated to 15 degrees. When we finally got up just before dawn, freezing cold and desperate for a hot mug of coffee I saw why my feet were so cold. I don't know how cold it had become during the windy night but the bottoms of our sleeping bags were completely caked with a layer of frost! No wonder my toes were popsicles! As cold as I was and as much as I just did not want to get out of my slightly somewhat warm sleeping bag, we had a mountain to conquer!
We both changed into our shorts, grabbed our packs and began the trek up to White Mountain Peak. The beginning of the hike started at almost 11,000 feet so it was very hard going in the beginning just digging our toes through the dirty sand. Not to mention we were both dressed in shorts, ready for the warm summers day ahead of us, and the temperature had to be in the thirties still. As we fought our way up the first big hill towards the Barcroft Station, located at over 12,000 feet, I was thinking this was going to be an intense day on the trail. My boyfriend was running some of the trail, prepping for Mt Whitney in a few days. I was just planning to do as many miles as I could manage. I was still recovering from back surgery a month ago. Hiking at over 12,000 feet is not easy, even for the fittest hiker or trail runner. You may think you are an expert hiker until you start to wheeze and gasp up the very first hill you encounter and even the cute marmots seem like they are laughing at you. My boyfriend left me in his dust just after we passed the Barcroft University of California research station and the research station sheep gave us dirty looks. (Like we were invading their space or something)
This White Mountain Peak hike is known to be one of the easiest fourteeners around. (Hike up to a mountain peak over 14,000 feet) You actually only do 3,450 feet of altitude gain to reach the summit on this hike. Compared to other crazy mountain peak hikes in California like Mt Whitney or San Gorgonio that is pretty easy. Starting the hike at over 11,000 feet is what makes this hike such a challenge. My boyfriend and I did not see a single another hiker on the trail on this sunny summer morning who was not suffering from the altitude sickness.
I ended up turning around before the final ascent to White Mountain. The red volcanic rock of the mountain was so tempting but I didn't want to overdo it and those switchbacks were not calling me on this day. (And I wanted to save my strength for the hike up Mt Whitney two days later)  Not summiting and with taking three ten minute breaks on the trail I hiked over ten miles all over 12,000 feet in just under four hours. My boyfriend summited and made it back to the car in five hours, but like I mentioned he did run eighty percent of the trail. The last few miles there are crazy rocks so he had to hike carefully in that area and slow way down.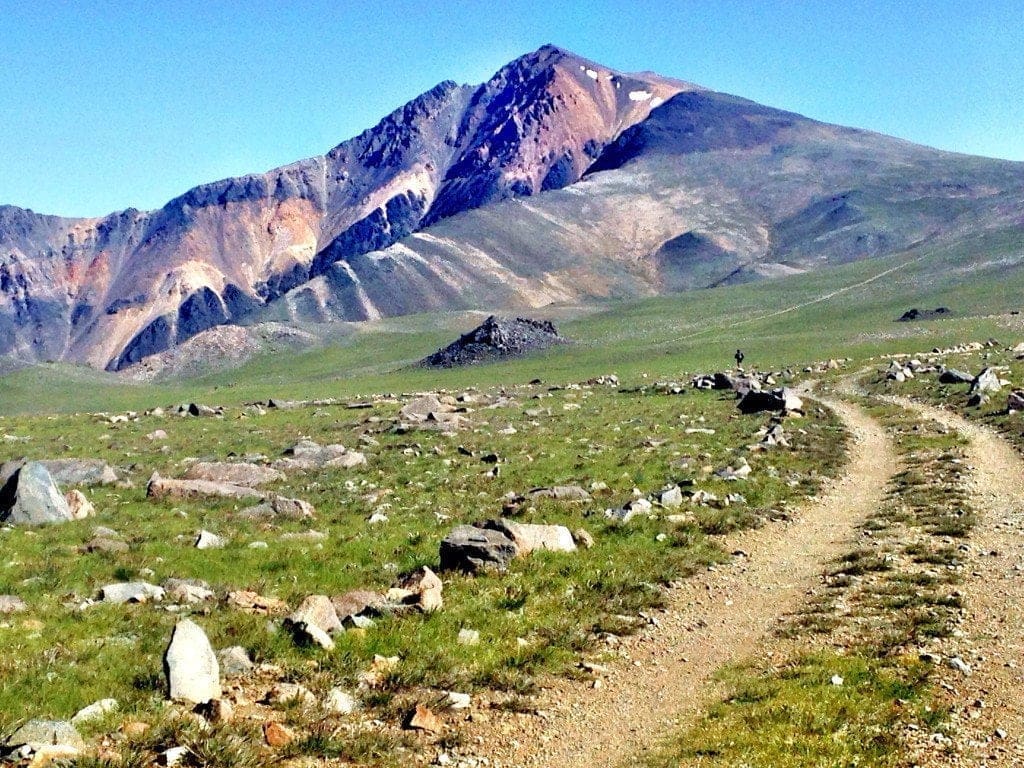 It was a gorgeous summer day, late afternoon back at the truck and my boyfriend and I had both attempted to summit White Mountain Peak. We were filthy, we were sweaty, we were dirty hikers. All we wanted was to off-road sixteen miles down this mountain and into Big Pine to enjoy a burger and a beer in this cowboy town, and eventually check into our hotel. But we couldn't because the truck keys were missing and I thought I knew who was to blame. I had literally spent the last hour wandering our campsite and instead of singing "Here kitty, kitty" I was shaking a bag of organic sprouted wheat bread and had a hopeful look in my eyes while hollering "Here marmot, marmot, marmot" and I was getting a sinking feeling in my stomach because I was sure, so sure we had dropped the truck keys in the dirt and the marmots had stolen them. I don't know what I thought I would accomplish by tempting the marmots with my organic bread from Whole Foods but we had already torn the entire truck apart searching for the keys and we were just so darn tired at this point, it seemed to make sense at the time.
Maybe the altitude was getting to me finally or maybe I had White Mountain Madness. On our trip to White Mountain, we were the only people camping at this altitude that did not get terrible altitude sickness from camping at 11,000 feet. That could be because we live at 7,000 feet in Big Bear Lake, California. Just to be sure we did not get altitude sickness we purchased altitude pills on Amazon before we left for our fourteener challenge. (The altitude pills are basically Gingko Biloba) Even with the all that Gingko Biloba coursing through my veins I was so exhausted from the hike it made perfect sense, that yes, of course, those rascal marmots had taken the truck keys.
One thing was for sure; the truck was one hundred percent packed to the gills with our smelly camper supplies, we were sixteen miles down a dirt road and eight thousand feet above Big Pine, the closest town and there was no sign of the truck keys anywhere. The truck keys were gone and we were at one of the most desolate spots in California. I just knew in my heart the marmots had snatched them, probably while I was playing with the settings on the new digital camera. We were just starting to give in to the thought that, we are going to be in some major trouble here, and had unpacked half the truck and camping supplies when I just happened to shake out a sleeping bag and out fell the keys! I've never been so thankful in my life! As much as I enjoyed our days in the White Mountain when you have been camping and hiking for a week straight and there is the vision in your head of a clean hotel bed, a shower and a burger and a beer on the horizon, the last thing you want is to be stranded miles from nowhere. Goodbye White Mountain. See you again soon!