Interested in a getaway in Texas that offers hill country views and a meandering lake? Look no further than Texas's very own Possum Kingdom State Park.
Possum Kingdom State Park
We took a three-day weekend getaway during the first weekend of October to camp at Possum Kingdom State Park and had a wonderful time. Arriving around lunchtime on a Friday, we set up camp in some shady spots with the least amount of slope.  The way the campsites are set up, finding a flat place can be difficult at times, but if you can't find a flat spot, I recommend finding a spot where you sleep with your head uphill.
Once we had gotten all set up and grabbed some snacks, the first thing we did was head down to the swimming hole. They mark off a section of the lake with ropes to keep boats out of the way and provide lots of covered picnic areas with grills to sit down and relax at as well. After swimming, we explored the park a little bit, headed back to our campsites, started a fire, and cooked our dinner.  Our site included a fire ring with a grill cover that could swing over as well as a stand-alone charcoal grill.  I cooked up some steaks, hot dogs, burgers, and baked potatoes, and everyone hung out by the fire before retiring to bed — a fantastic end to our first day.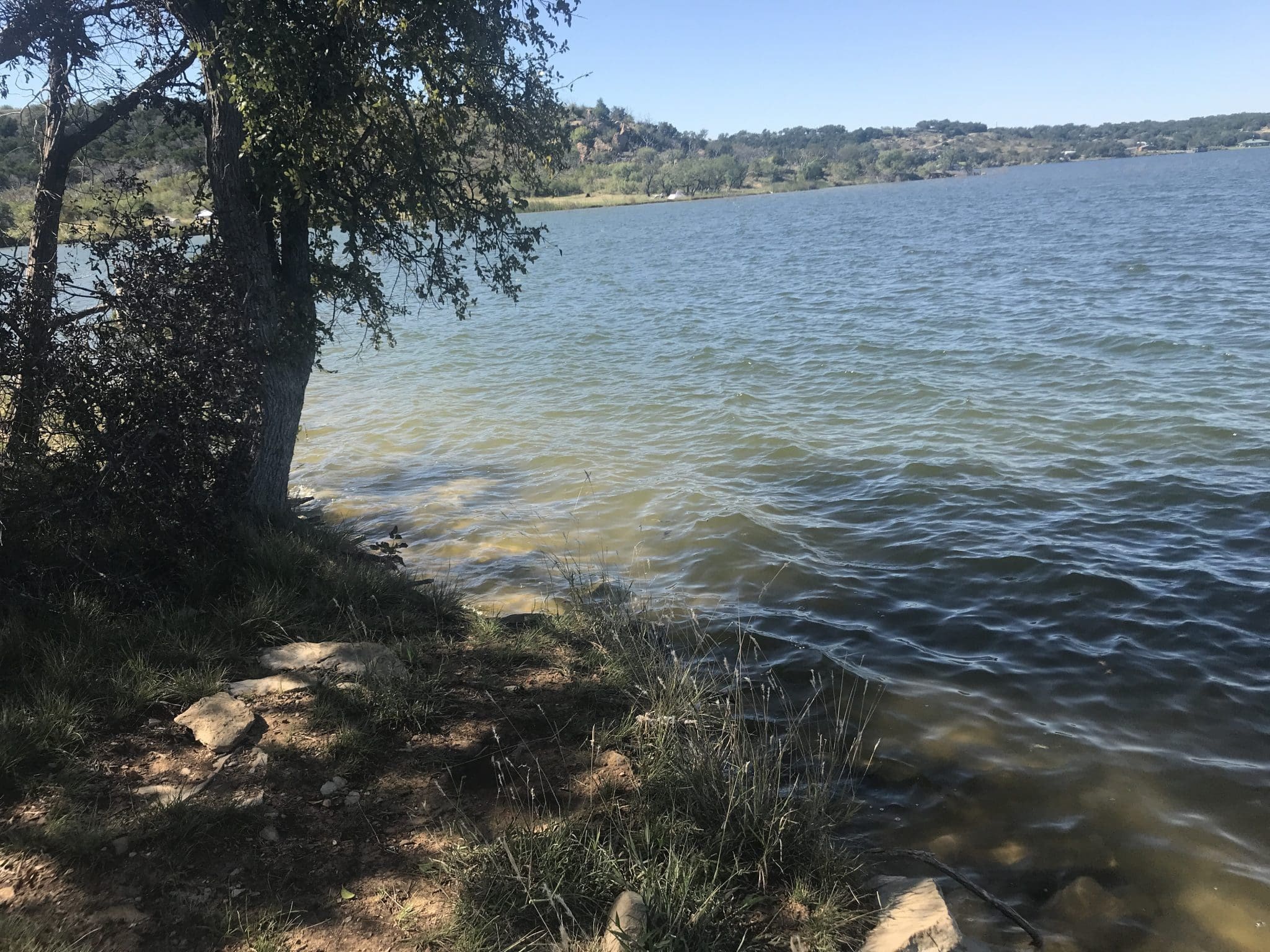 Saturday, we woke up, had some breakfast, and tried some luck at fishing. Fishing from the shore can be tricky since I didn't want to infringe on rented out sites (the park is usually booked full on weekends) or the vegetation/trees and cattails made fishing by the shore an exercise in futility. None the less, it was still fun to get out and fish.
A bad day fishing is always better than a good day at the office. We used lures on this trip mostly just getting nibbles from bluegill. Fishing wasn't active as the wind picked up. The store on site does offer live bait for purchase, and there was lots of minnow activity near shores that you could use a cast net to catch bait if needed as well.
I initially anticipated renting a kayak to fish from, but the weather made that impractical with rules on wind speed, so we had to settle for fishing from shore.
After fishing, we walked some of the trails around the park. The paths we attempted were excellent and provided some magnificent views of the lake; however, they did show reminders of the fires that came through a few years ago as some sections of the trails are entirely lost/covered by the recovering woods. The trails can be steep and rocky but often open to clearings and views that offer perfect spots for a picnic or a scenic view to capture on camera.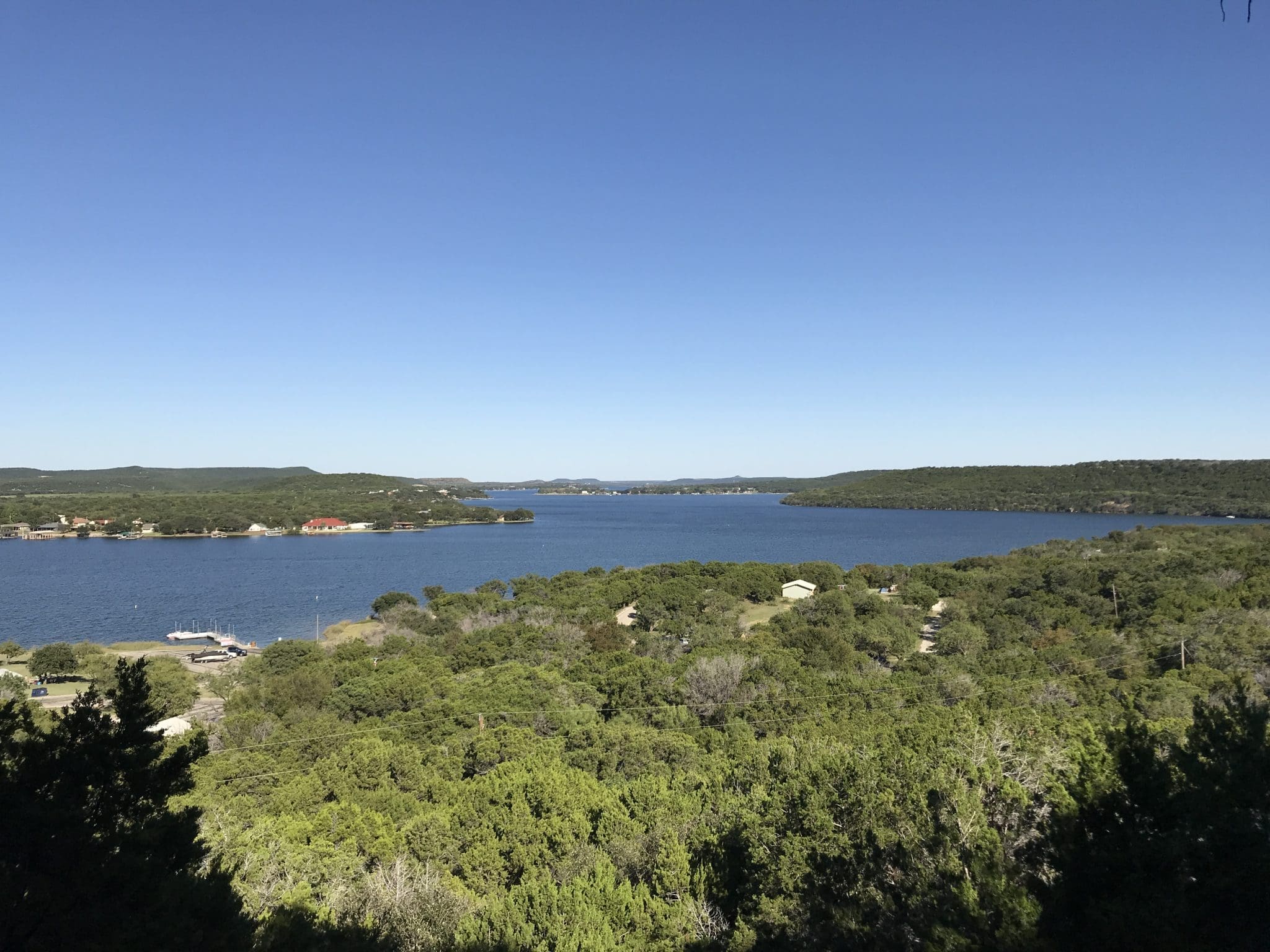 There are still plenty of reminders of the fires from 2011 such as all the burned trees with black trunks, but the area is starting to recover as other plants and animals move back in. The deer were plentiful and always coming down from the hills to say hi to campers.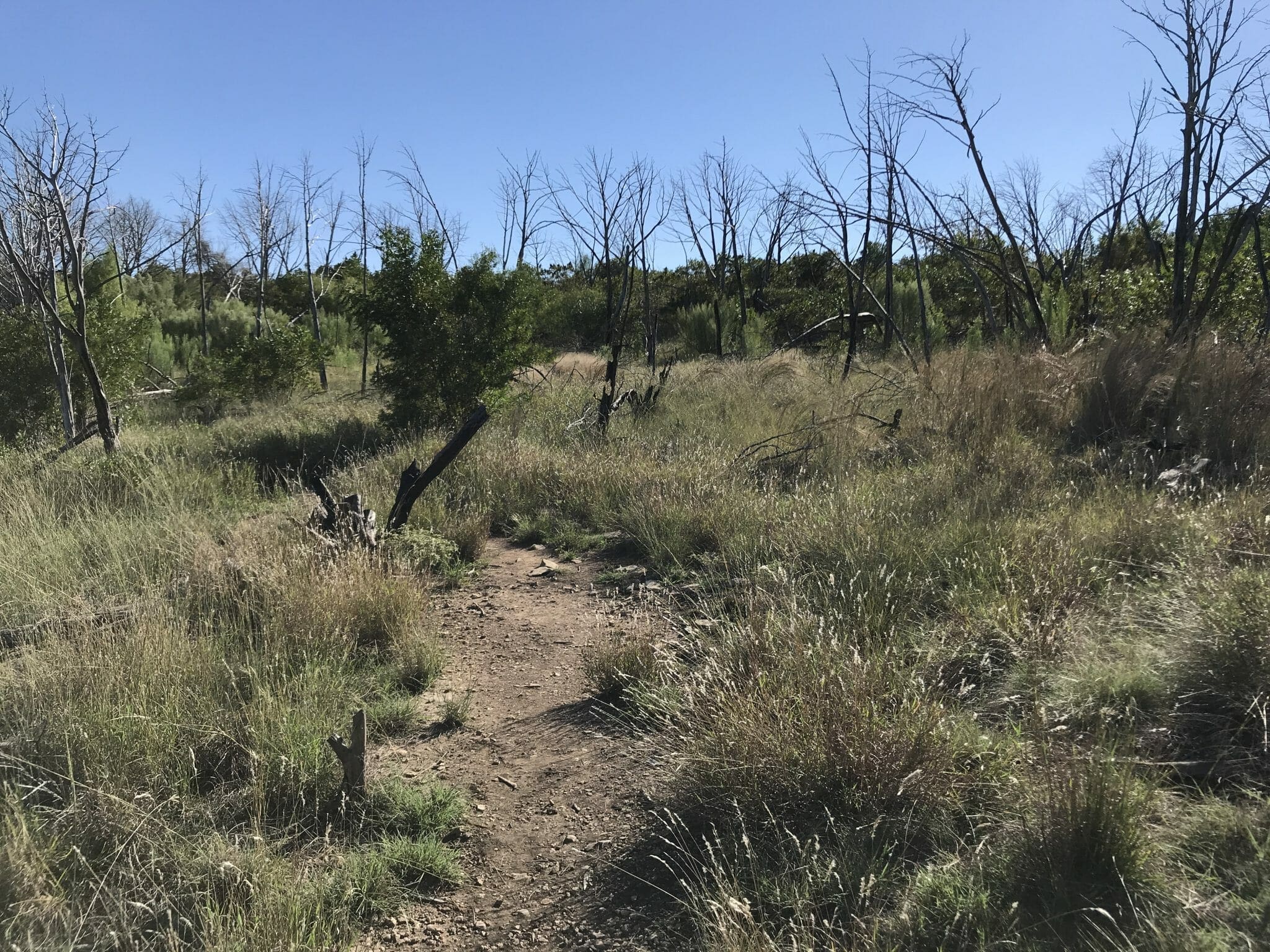 Once back down from our hike, we cooked dinner and spent another night by the fire.  Park was bustling, and the smell of all the campfires filled the air.
Sunday morning was our first day of fall in Texas for many of us. We finally had some colder weather, and we hit the dew point, so everyone woke up thinking it had rained, but instead we were just welcomed by one of our first signs that fall was finally here. We enjoyed relaxing and hanging out and slowly packed up camp to head home. It is always nice to end a peaceful weekend with a cup of coffee and some cool weather while we wait for the tent and gear to dry before packing away.
We came in with no real plans other than a weekend of relaxation and Possum Kingdom delivered. We were a little saddened we couldn't get the kayaks out, but such is life.  I look forward to a future trip and hope to explore more of the lake by paddle and try my luck at fishing again.
Things to do at Possum Kingdom State Park
Park Store
The park store offers snacks, drinks, firewood, kayaking, canoe rentals, and all the camping accessories one could need. A word of warning though if there is any wind, they won't rent out kayaks or canoes.  While it can be disappointing to make the drive out there with hopes of renting a kayak to explore around on, I do understand they don't want you getting blown across the lake and getting stuck; the high wind does seem to be an unpleasant fact this time of year at the park (fall).
Camping
Possum Kingdom State Park offers many different campsite options from Primitive sites a short hike from parking to sites with water, electricity (30 amp and 120v service), and cabins.
All the non-primitive tent sites are close to bathroom and shower facilities.  Primitive camping has a bit of a hike to the nearest facility.
Campsites include picnic tables, fire rings, and primitive sites include a pole to hang anything that would attract wildlife. The critters are fast to eat garbage or food left behind, so secure it away or utilize the poles.
Facilities
Possum Kingdom SP includes a boat launch ramp and plenty of parking for trailers. There is a nominal launch fee for the boat ramp.
A fishing pier is also located adjacent to the park store and provides an excellent spot to fish in a calm cove.
Restrooms and Showers are located across the park and within walking distance of campsites, parking, store, and boat ramp.
Activities
There are lots of activities available at Possum Kingdom State Park.  As mentioned earlier, there is a swimming hole, a canoe & kayak rental at the store, and a boat ramp to launch your boat. There are hiking trails around the park; however, ever since the fire, many of the trails aren't as well marked as they used to be.
Possum Kingdom State Park Activities:
Hiking
Boating
Fishing
Camping
Swimming
fossil/mineral hunting
open areas for frisbee/catch/sports
While hiking the trails, you are exposed to some fantastic views of the lake when you hit spots free from trees.
In some parts of the lake along the hills and cliffs, primarily where the Brazos River flowed, you can often find good fossil beds in the shales/slate rocks to hunt around for some fossil treasures.
History
Possum Kingdom state park has an interesting historical element to it; it was the last of the Texas parks built and managed by the CCC – The Civilian Conservation Corps. The CCC was a public relief program that started as part of the New Deal to get young 17 to 18-year-olds back to work, and it was the Possum Kingdom, State Park.
I couldn't read enough about the CCC and recommend following the above links to learn more.
Massive wildfires hit the Possum Kingdom in 2011, burning 90,000 acres but the park and surrounding area are recovering quickly.
Directions to Possum Kingdom State Park
Take U.S. Highway 180 to Caddo, and then go 17 miles north on Park Road 33.
The Park HQ is located at:
Latitude (degrees, minutes, seconds) N:  32° 52′ 25.17″
Longitude (degrees, minutes, seconds) W:  98° 33′ 34.20″
Website:
FAQ
Is this the lake that the band is named after?
When is the best time to visit Possum Kingdom State Park?
Spring and Fall are the best times for camping to avoid the heat and not be too cold, but nothing can beat spending the summer on the lake if you enjoy boating, swimming, and water activities.
Pin It!