Standing 1733 meters tall to the south of Sarajevo, Crveni Kuk is a stunning peak with panoramic views. If you're considering a trip to the Balkans, make sure to schedule an extra day (or week or month) so you can go hiking in Bosnia! I'd recommend basing yourself in Sarajevo where you have easy access to the surrounding mountains.
Crveni Kuk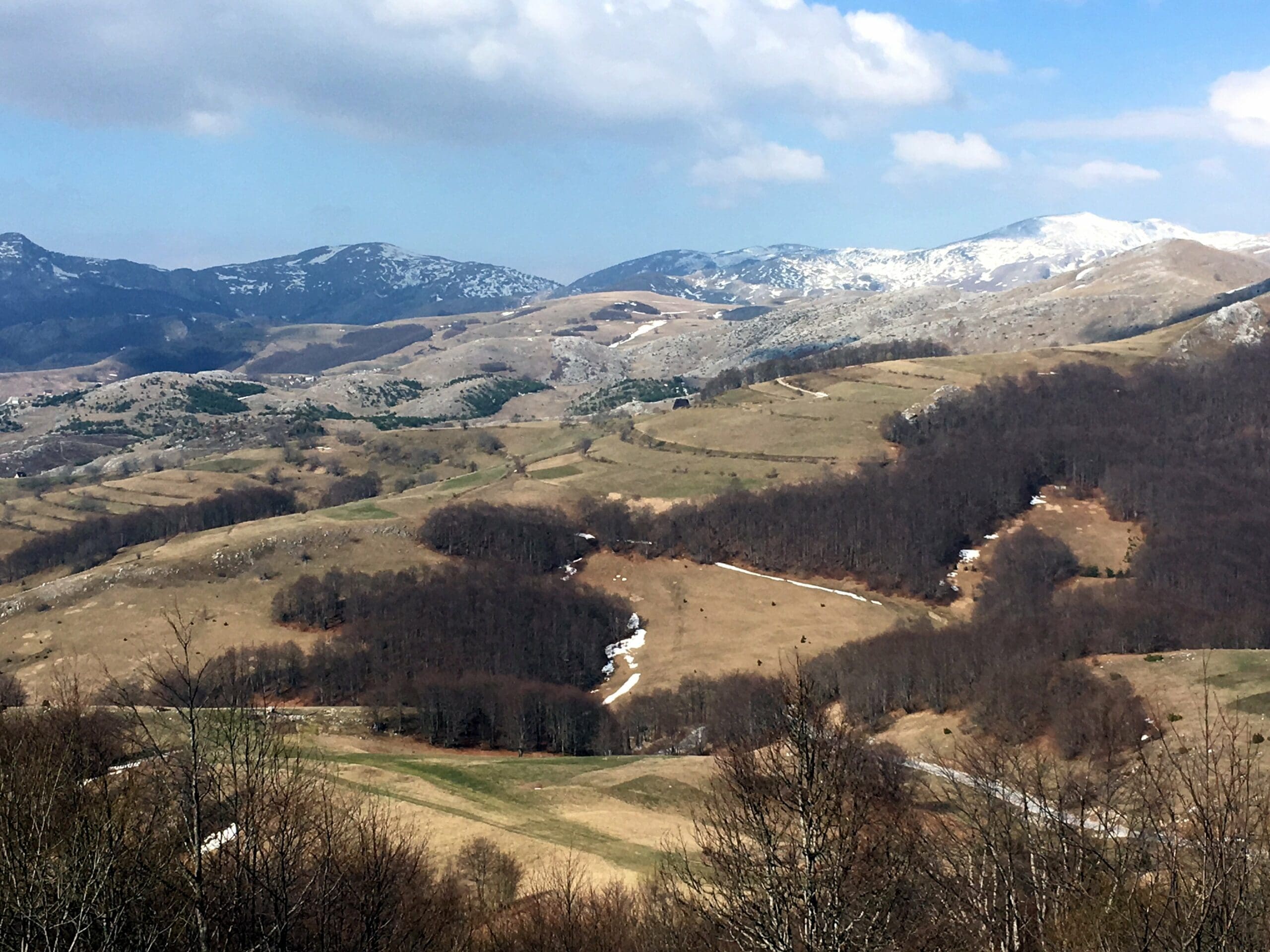 This was my second time in Bosnia, and one definite entry on my itinerary was meeting up again with local mountain guide Fikret for another spectacular hike. He'd previously led my dad and me on a tour of the hills north of Sarajevo, along peaceful trails interspersed with farm animals and friendly dogs. Now, my dad, sister, and I were ready to explore the mountains to the south of Sarajevo. As it turned out, Fikret had already planned a small group hike to Crveni Kuk, so we were able to join the group.
There are a number of impressive mountains just south of Sarajevo. Among the best known are Mounts Igman and Bjelašnica, belonging to the Dinaric Alps, remembered for their use during the 1984 Winter Olympics. But today, we'll be hiking up Crveni Kuk, a peak in the Visočica mountain range, slightly further south than Bjelašnica.
Unfortunately, this whole area is also known as a site of fighting during the Bosnian War from 1992 to 1995. Many de-mining efforts have improved safety conditions, and the walk up Crveni Kuk is safe. Generally, when hiking in Bosnia, you're advised to do your research ahead of time and either stick to well-marked trails or go with an experienced guide.
We passed maybe one or two pieces of litter over the day. According to Fikret, in Bosnia, this is a good sign. It means that people have come through the area recently, so there aren't any landmines.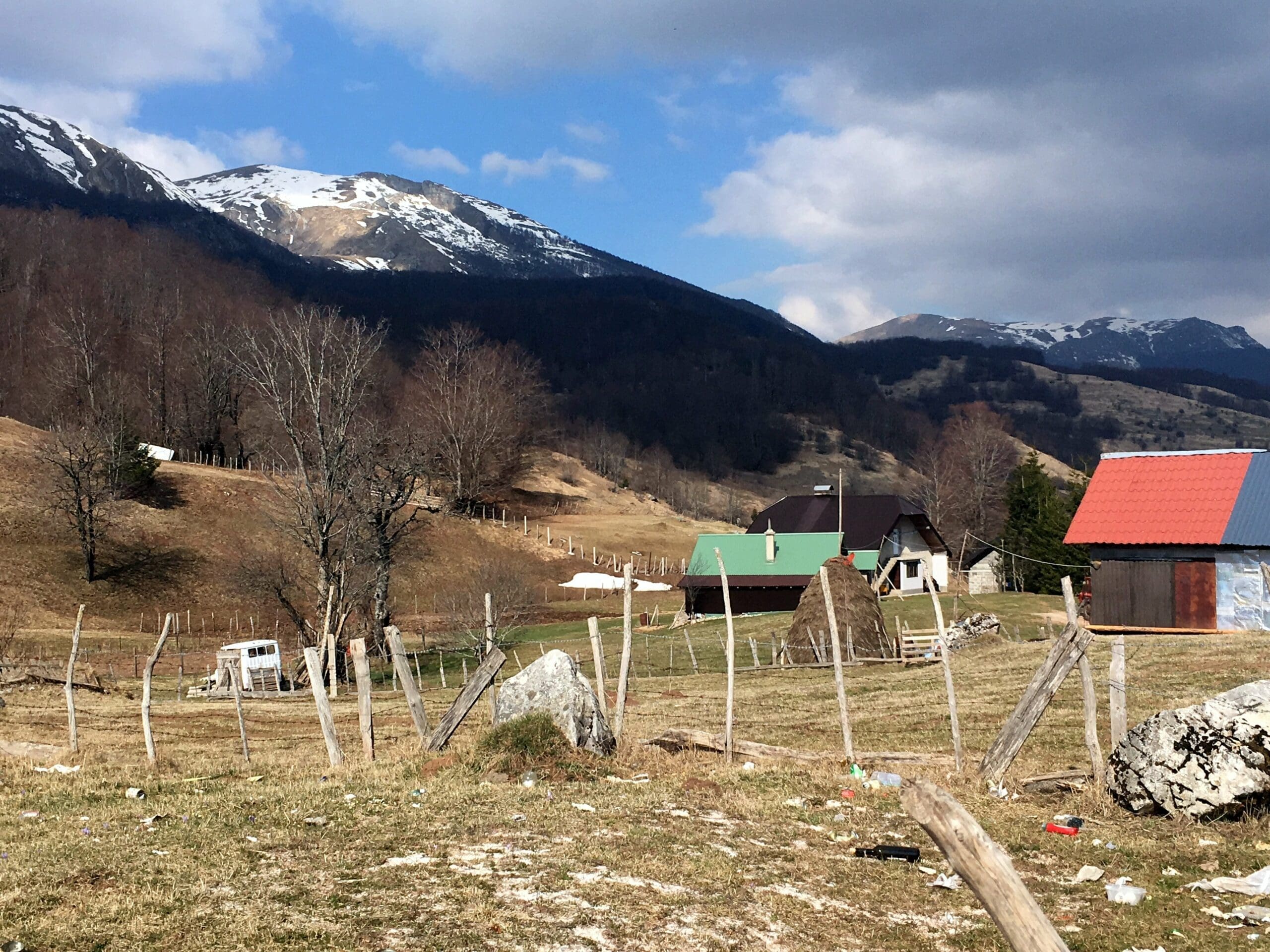 The drive out here from the center of Sarajevo probably took about an hour, mostly along winding, hilly roads through small towns and pastures. We passed countless large haystacks in their distinctive conical shapes and the occasional dog or farm animal.
The first part of the hike involved tramping through a meadow, then climbing up through a mossy forest. Although we did this hike in late March, conditions were still pretty wintry, with snow lying in uneven patches on the ground. Small, interlocking streams wove like ribbons down the mountainside.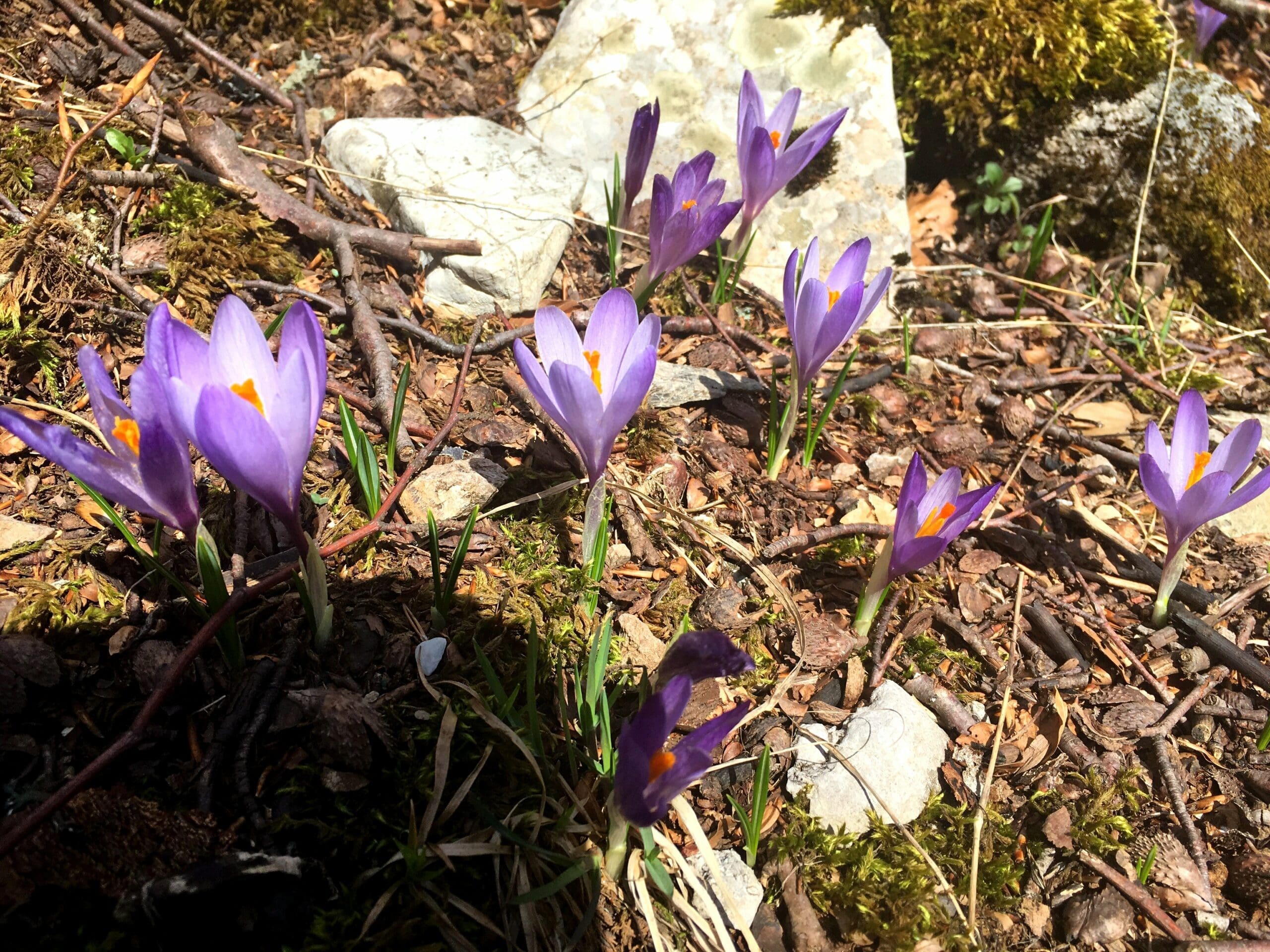 We walked partially on small tracks and trails, and partly picking our way across the snow, looking for the surest footing. Occasional crocus patches reminded us that spring was imminent, despite the cold air and lingering snow. Before long, we emerged from the trees. Now we were hiking across open meadows of grass, snow, and rock. This is when the views start getting good!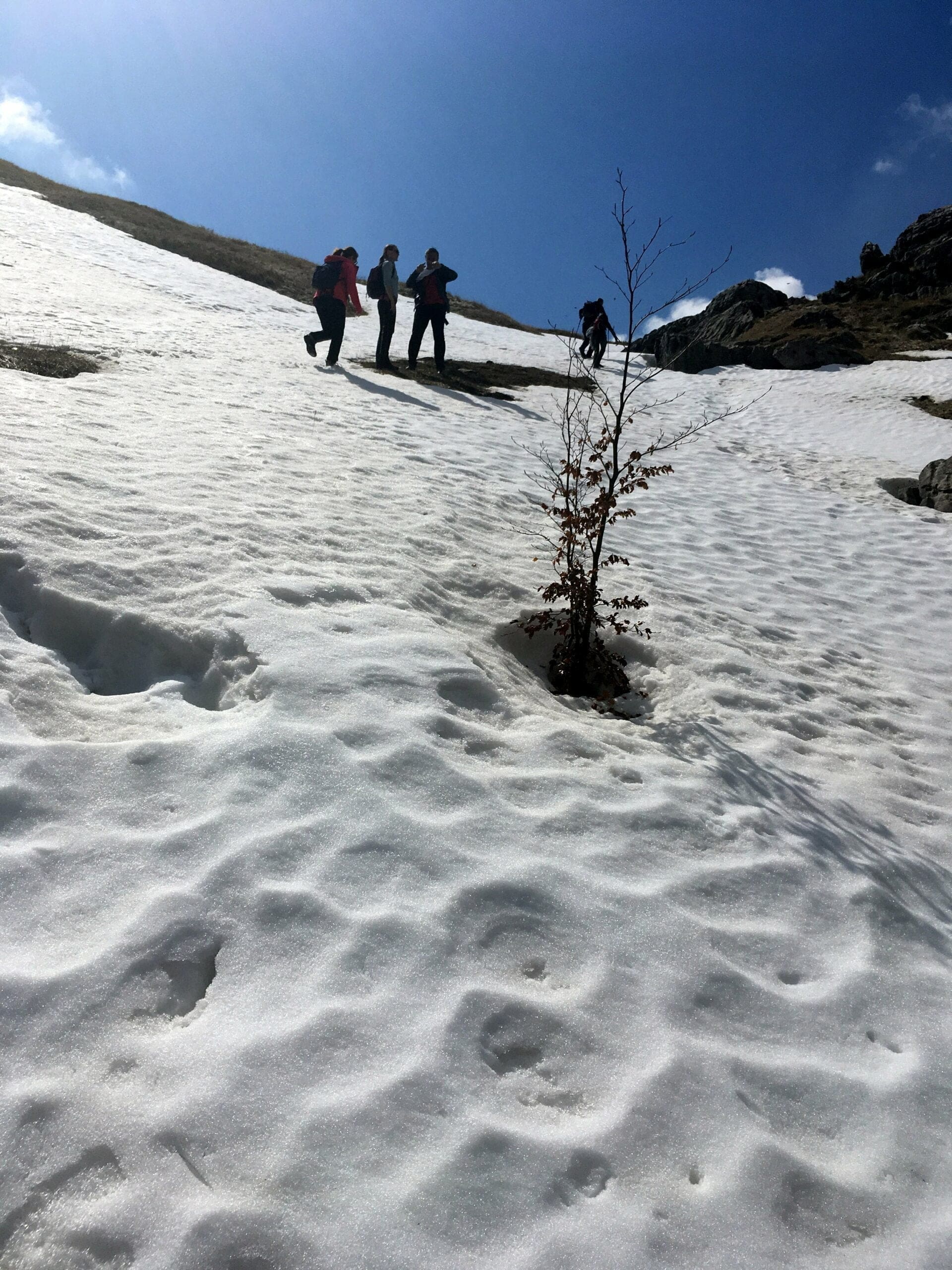 Getting close!
Eventually, we hit a road. We followed it for a while until Fikret indicated it was time to veer off to the left and start climbing again. Our peak was close.
I imagine this hike could be shortened considerably if you just drove up to this point and parked somewhere off the road. But where's the fun in that? We had all day, and we enjoyed watching the landscape and vegetation change as we climbed.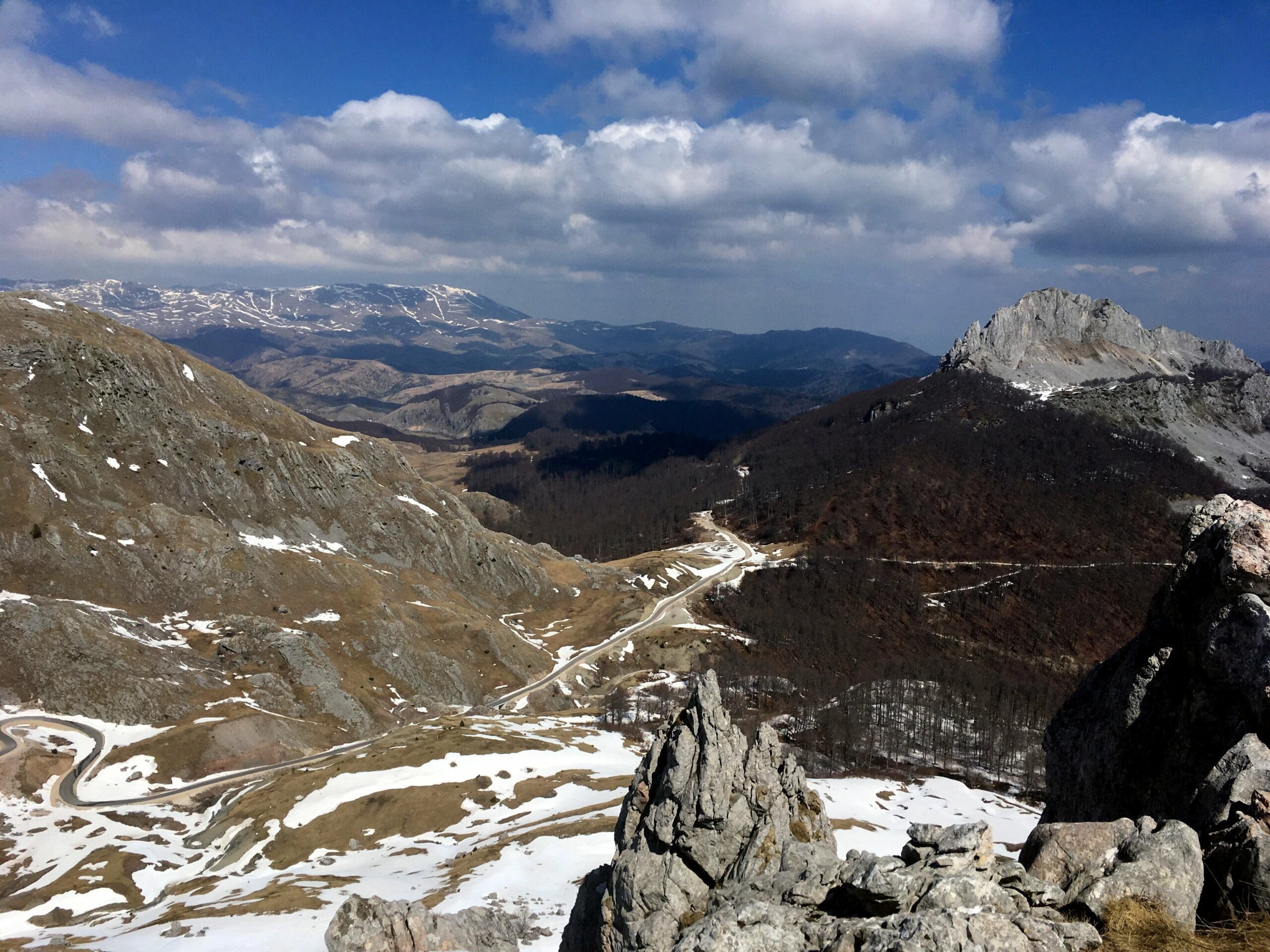 The final push to the summit was pretty much UP, UP, UP for what felt like hours (probably more like fifteen minutes). Here's a view up the final ascent: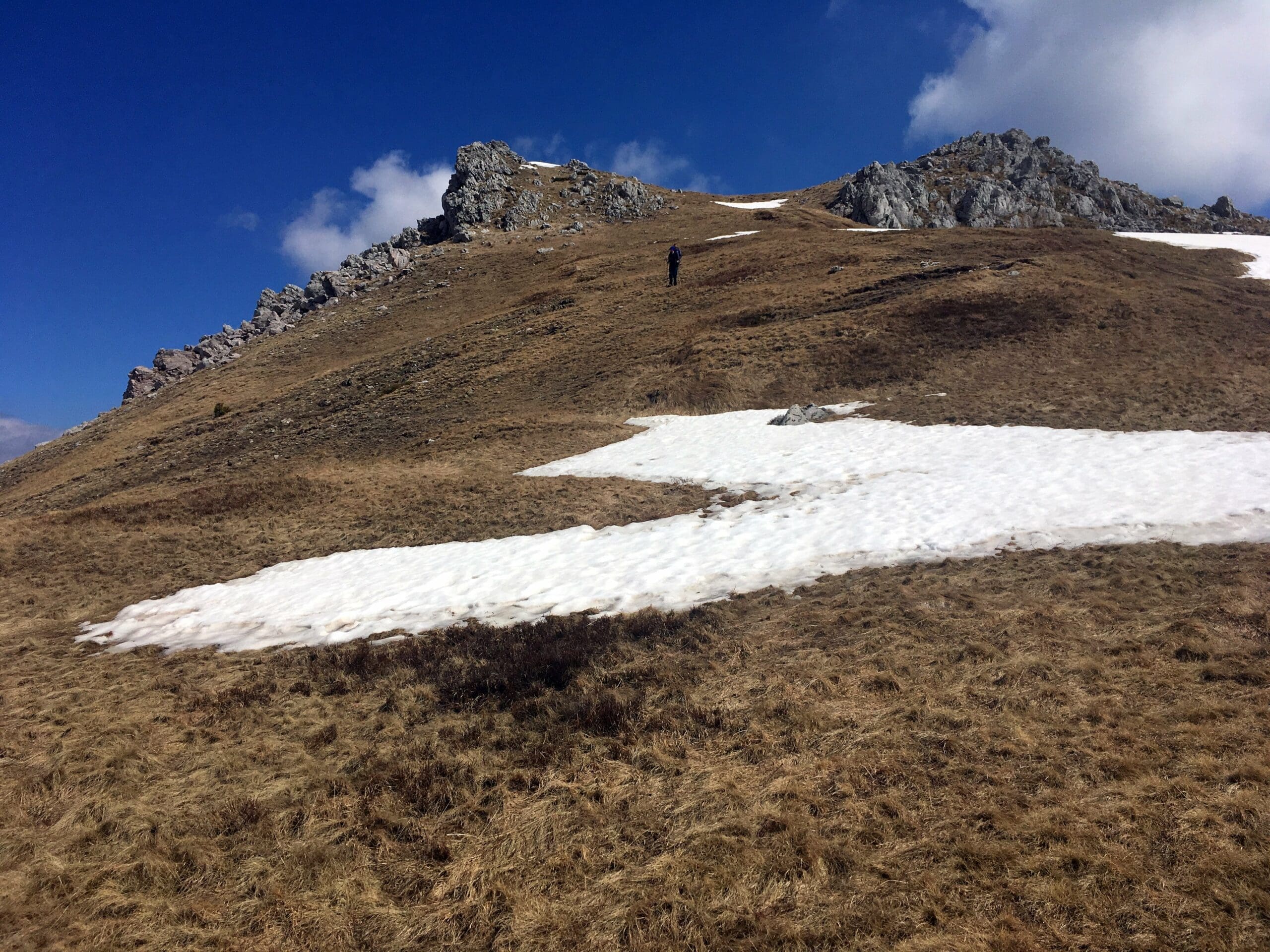 And then…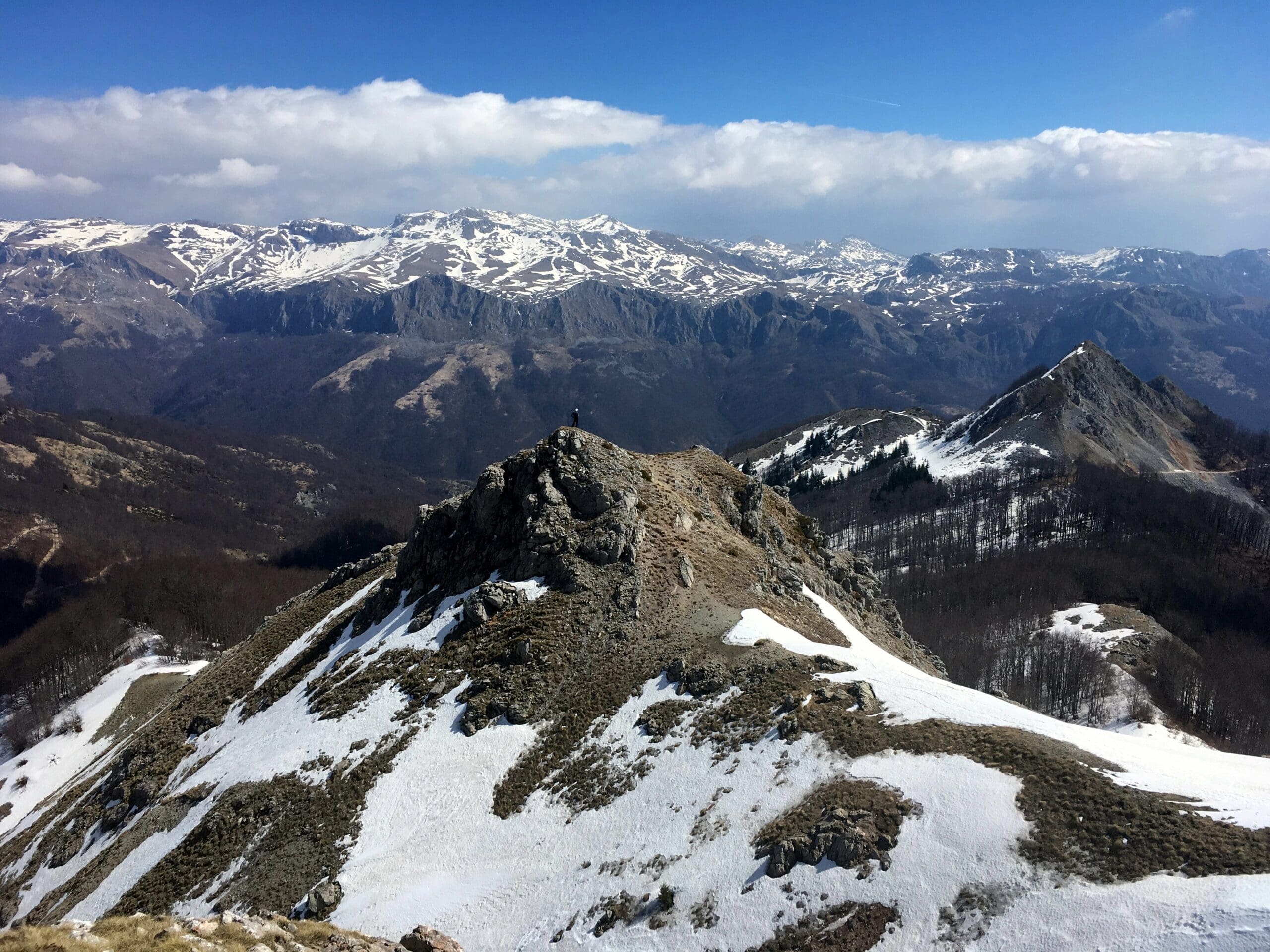 We made it! While our hiking group lounged around taking photos and snacking on digestive biscuits, Fikret ran over to a neighboring peak: he's the small figure in the middle of the picture.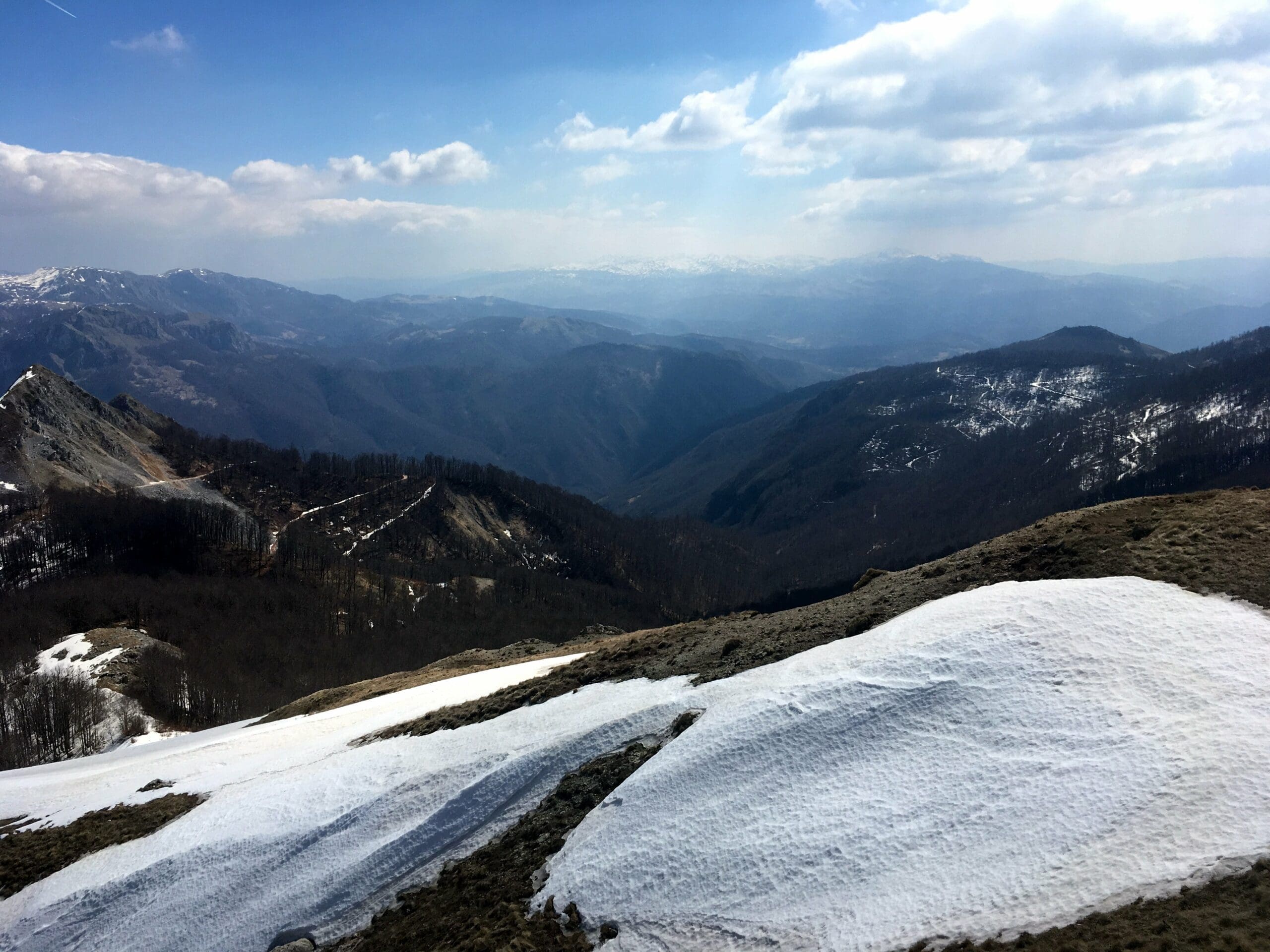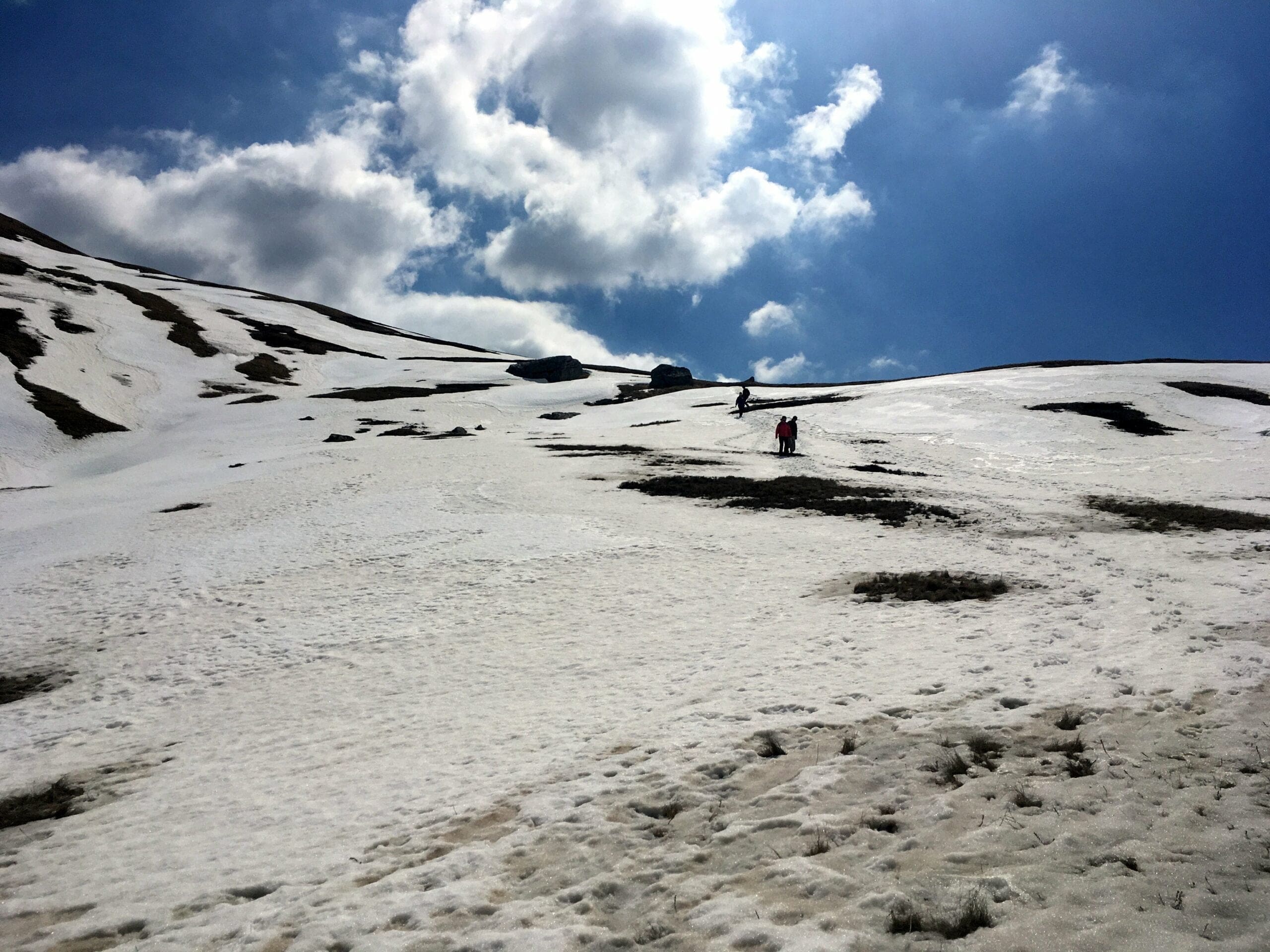 I always find that going down on snow is much easier than going up on it. This hill was kind of a pain to climb. On our descent though, it was perfect for plunge stepping down and letting gravity do much of the work.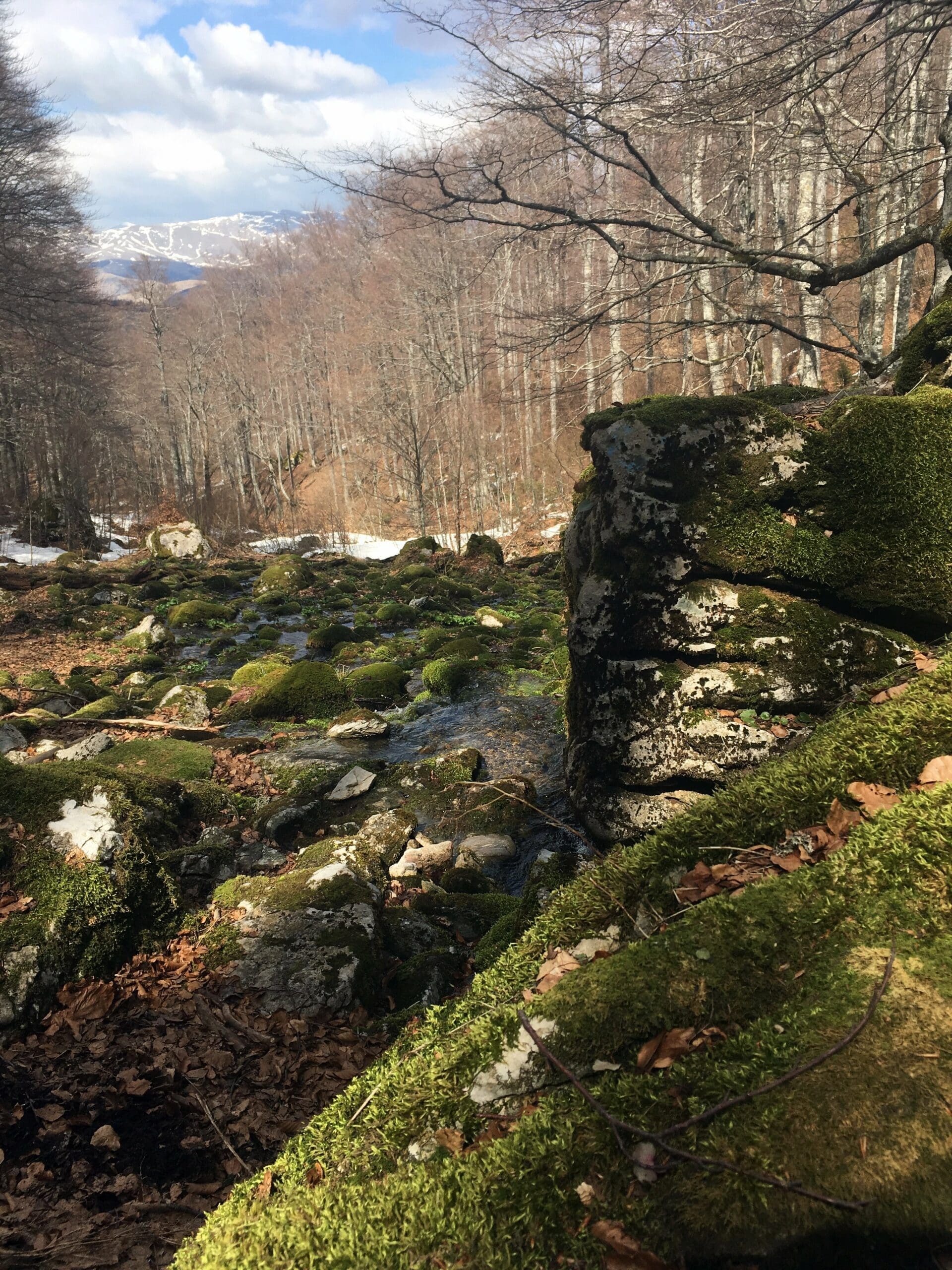 We're back in the woods with the streams and moss-covered rocks. Beautiful but slippery! And eventually, it was time to pile in the car and return to Sarajevo.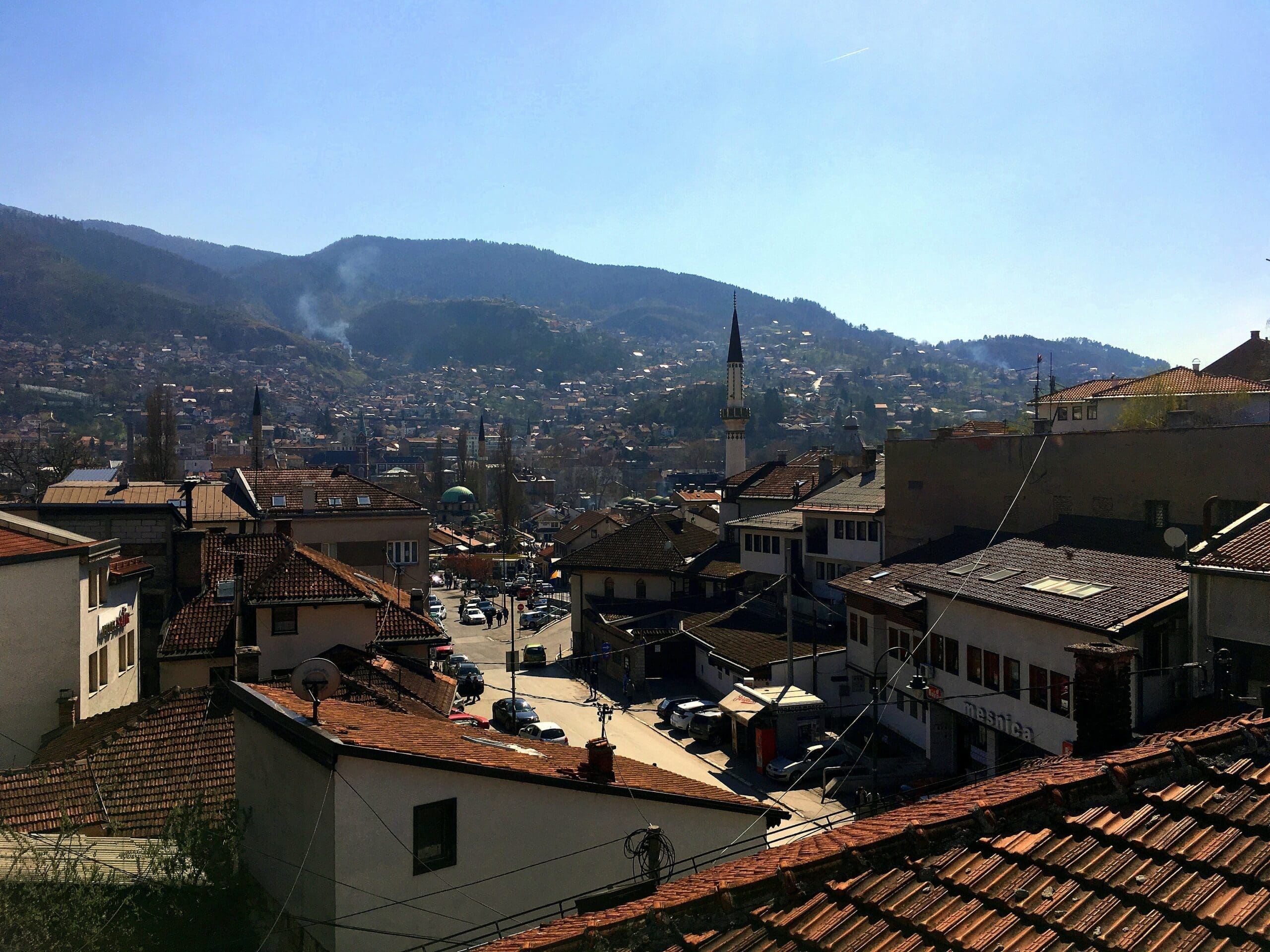 After a long day in the outdoors, we were too zonked to do much in the evening besides stuff ourselves with ćevapi and relax at our guesthouse. In other words, it was awesome! I'm hoping to do some more hiking in Bosnia this summer, both returning to the region surrounding Sarajevo and branching out to explore Sutjeska National Park. Bosnia might be best-known among tourists for its dynamic capital city and charming towns like Trebinje and Mostar–deservedly so! But its mountains are, in my opinion, just as unforgettable.