The Culver City Stairs offers an intense climb up 282 uneven stair steps leading to the Baldwin Hills Overlook with amazing views of LA and some quirky sculptures along the way. Join us as we explore the trails of Baldwin Hills Scenic Overlook.
Culver City Stairs
Distance: About a mile
Overlook Elevation Gain: 400 feet
Staircase Elevation Gain: 715 feet
Weather
Weather for Culver City – Check the weather before you climb the stairs
Parking
1. You can park on the street (it's off a terribly busy intersection) and start hiking up the cemented pavement to the very top of the hill.
2. Be semi-lazy and drive past all those hikers on the same cemented pavement to the top of the hill, where parking is more accessible at a meager $2.00/hour fee.
Directions
Culver City Stairs is located at 6300 Hetzler Rd, Culver City, CA 90232
Click on Directions on the following map to plan your route to the park.
Webcams
I don't know of any webcams watching the area. If you have one, please leave a comment and we'll update this post!
Hours of Operation
Baldwin Hills Visitor Center is open 8 am to sunset daily with off-season hours posted on their website.
Trail Map
PDF Map: Baldwin Hills Trail Map
Nearby Trails
Looking for other trails to experience nearby? Check out our detailed guides below!
Eaton Canyon Trail – Pasadena's waterfall Hike.
Escondido Canyon – Explore the falls of Escondido Canyon.
Hollywood Sign Hike – Hike to the iconic Hollywood sign and Wisdom Tree.
Baldwin Hills Scenic Overlook
Beyond the pay stations lies the first trail, which leads up to a beautiful glass building of some sorts (I later find out this is a visitor center).
Restrooms to the left, about two hundred feet from the base of the parking lot (do you know how rare it is for a hiking trail to have "nice-looking" public restrooms?!)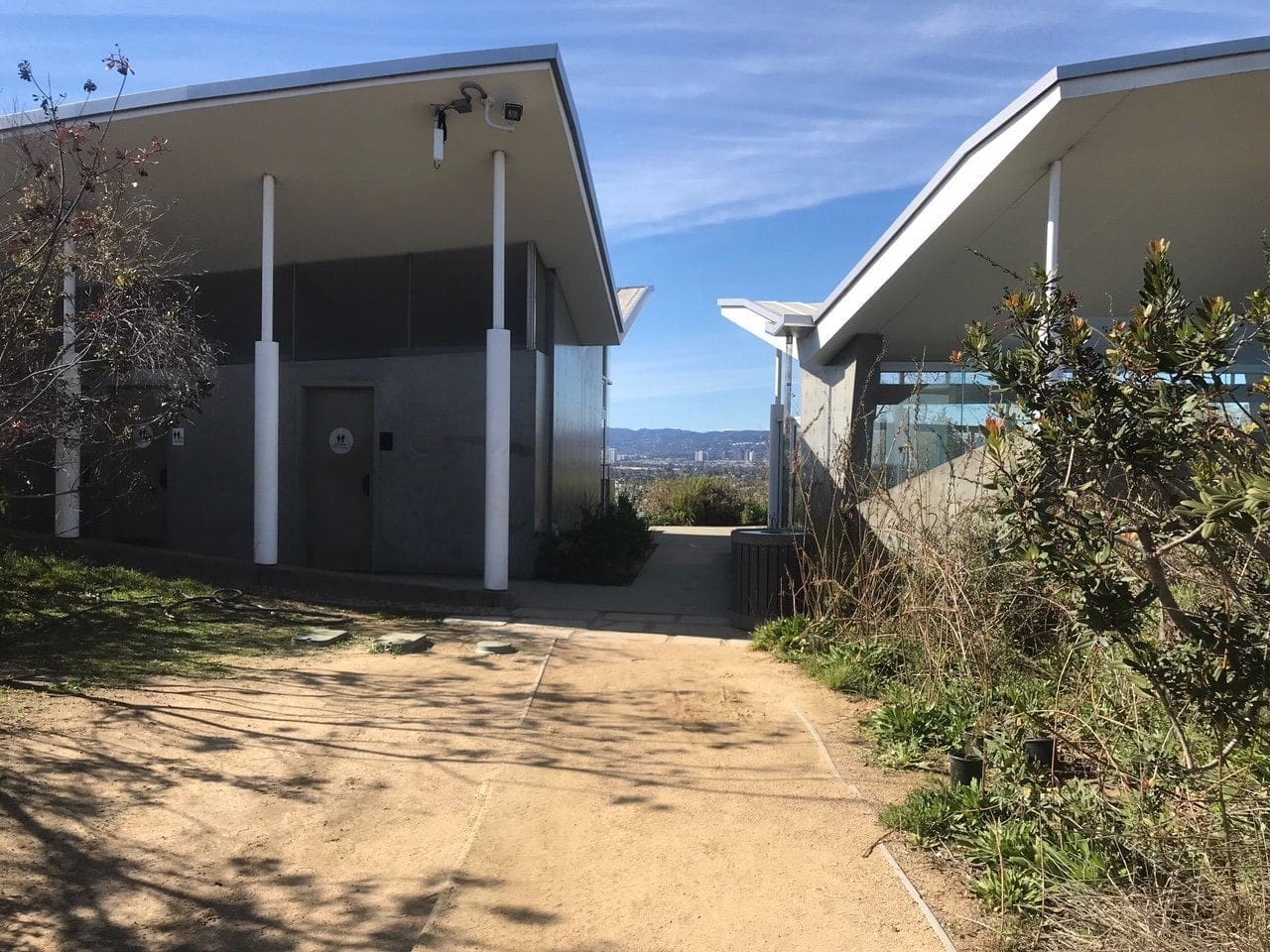 I could tell right away that the upkeep of this hiking spot was second to none compared to most trails that I've been on (I didn't see one beer bottle or ounce of trash).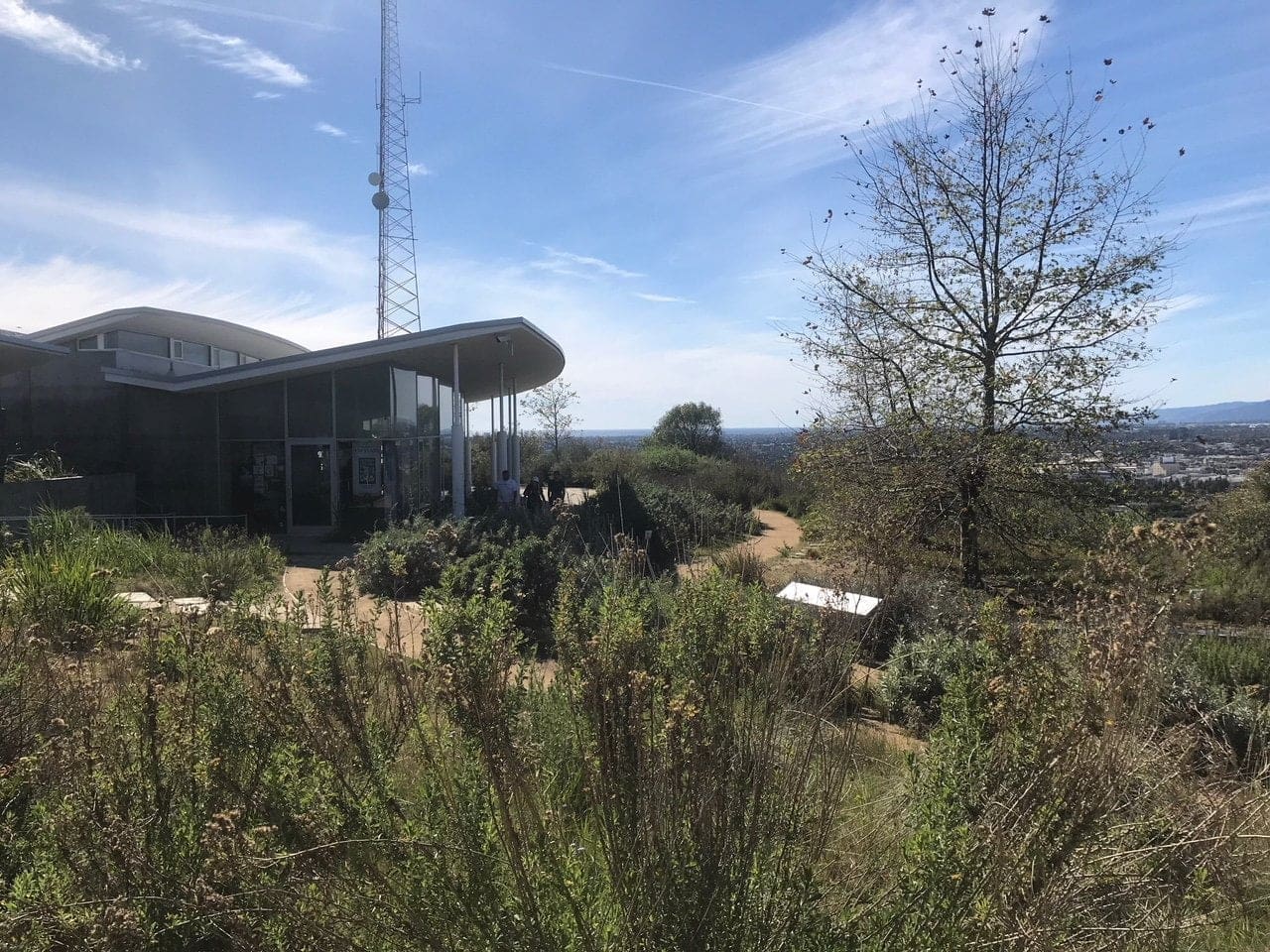 A "mini" staircase that leads to a small garden.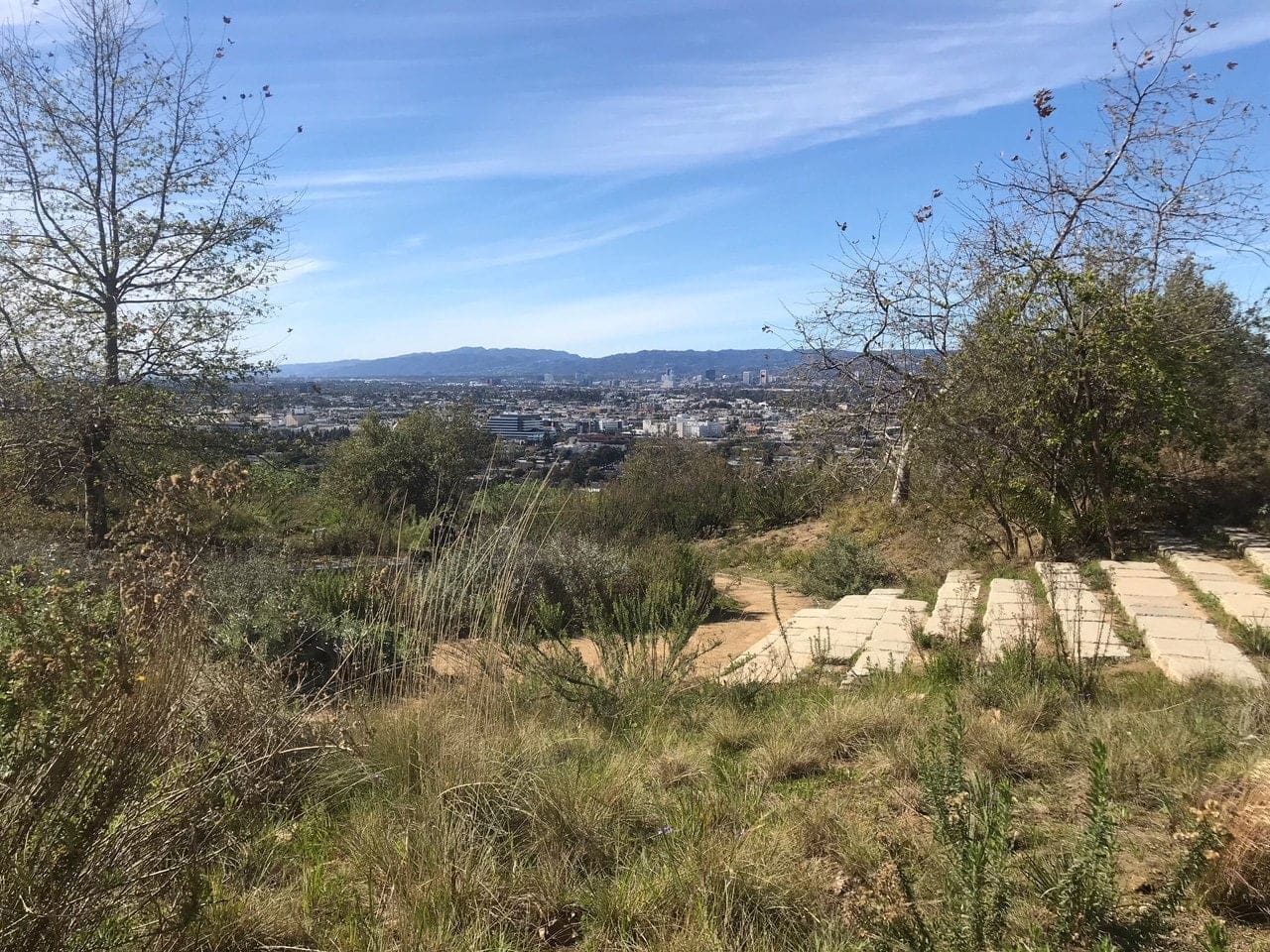 View of the Baldwin Hills Visitor Center behind me.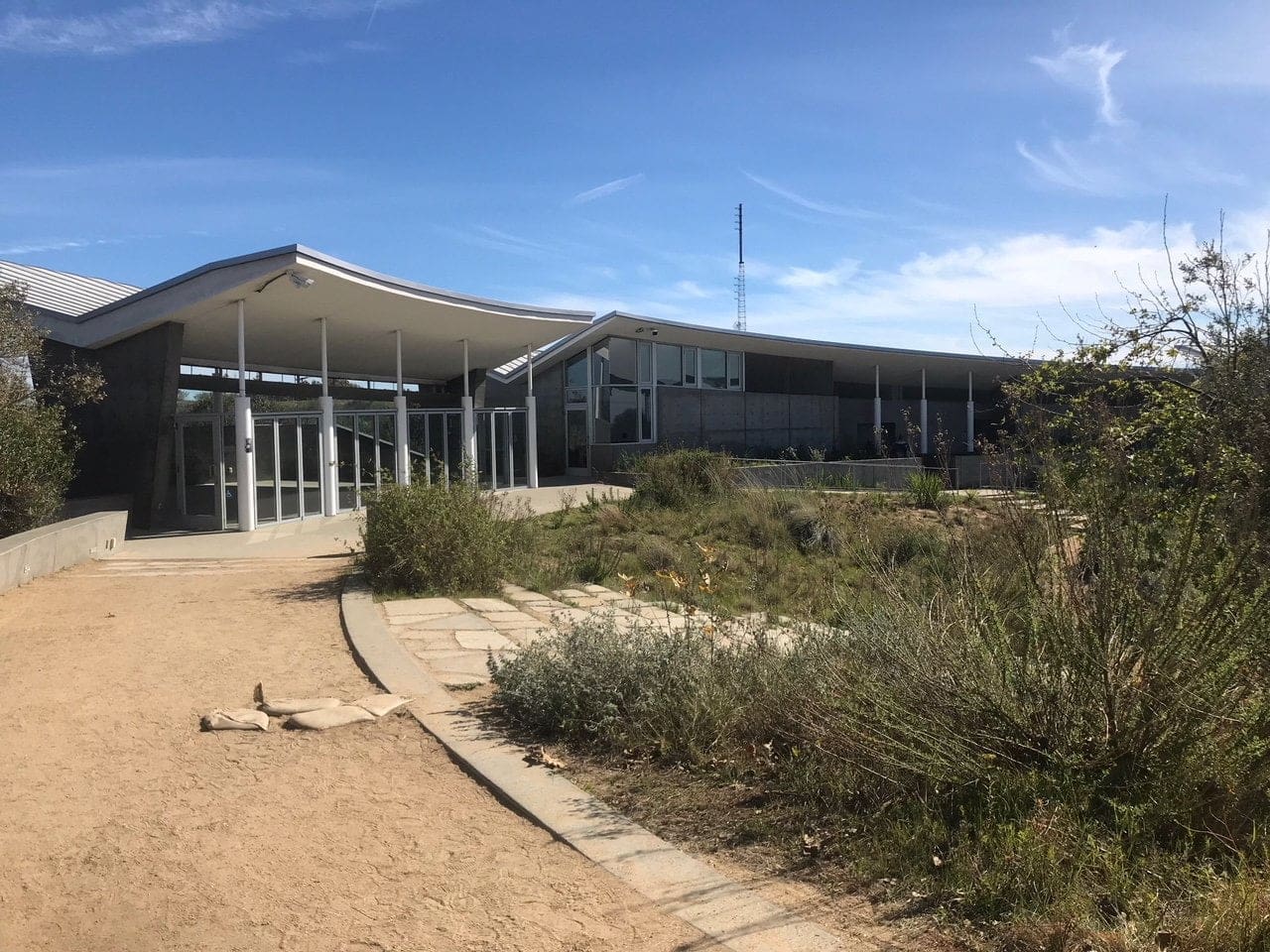 The trail from the small garden loops up to your first scenic view of Culver City (you can either drive or hike up the pavement in the photo, as I mentioned earlier).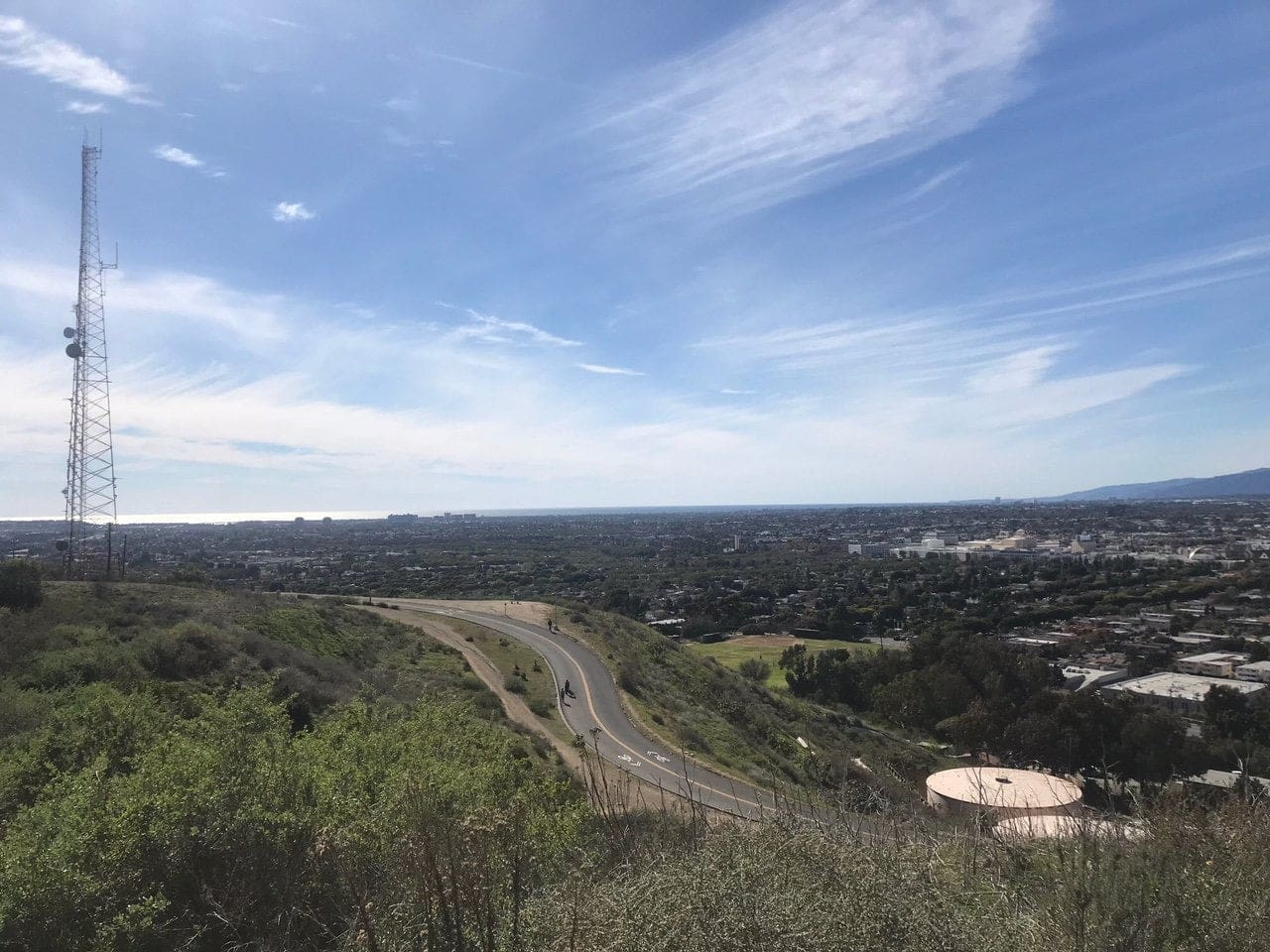 I always silently chuckle when I see a single chair or bench on a trail, especially if the trail doesn't pose much of a challenge.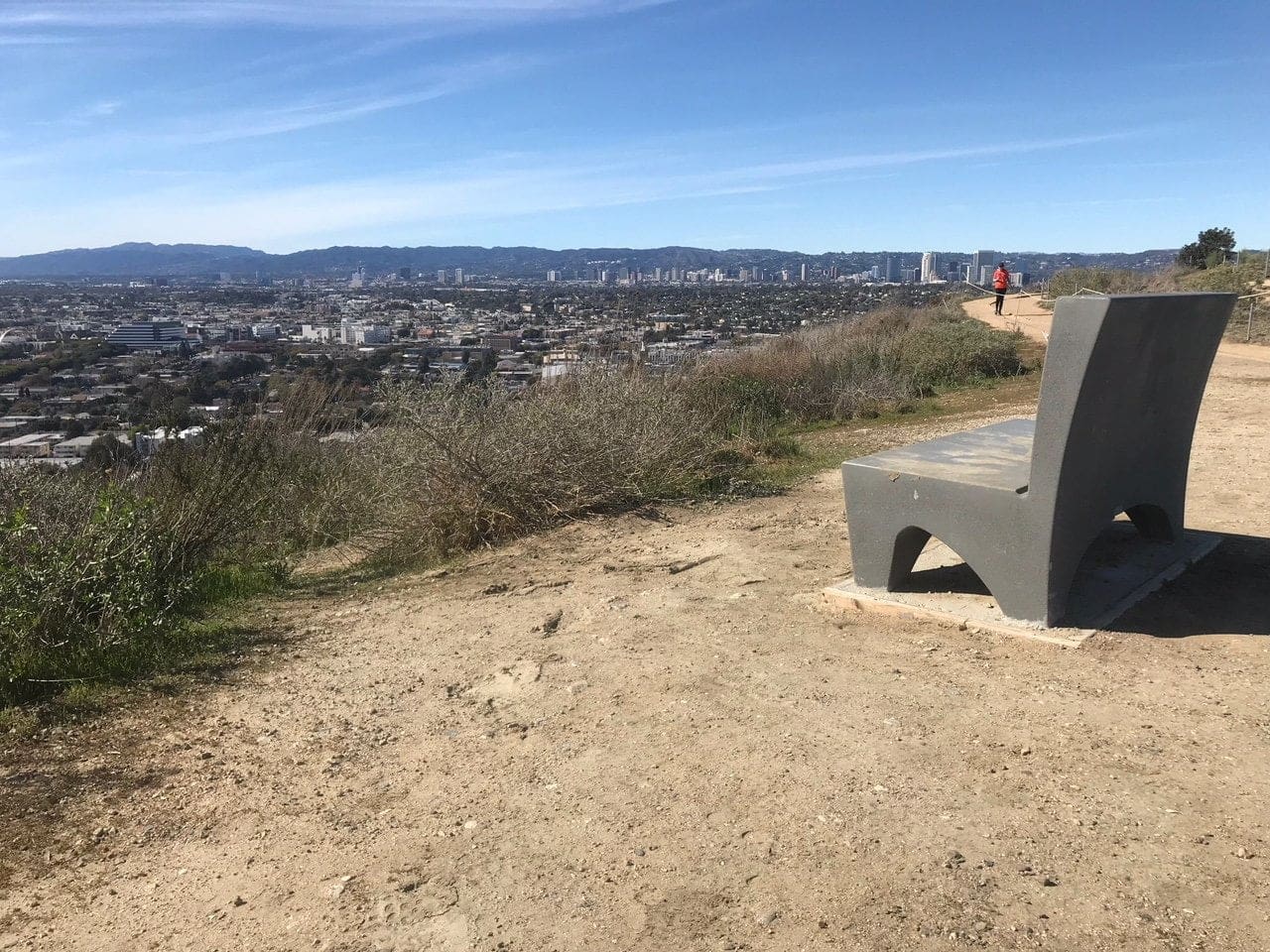 You can get a sense of how close this trail is to the city, which reminded me a lot of Runyon Canyon in LA.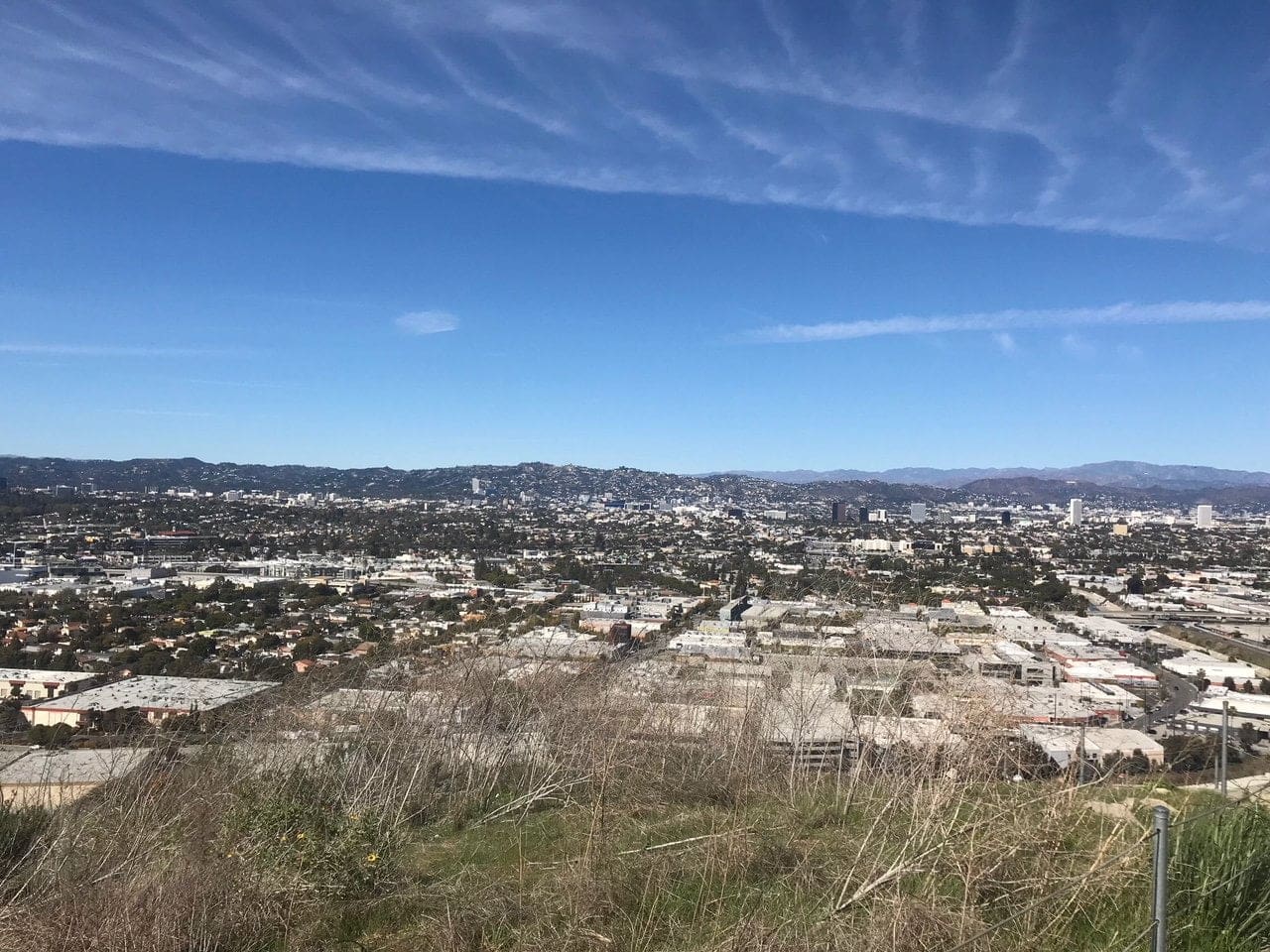 The trail forks off and loops to a rounded-area, (my English skills are coming through guys) showcasing some "negative-space" artwork of animals and plants.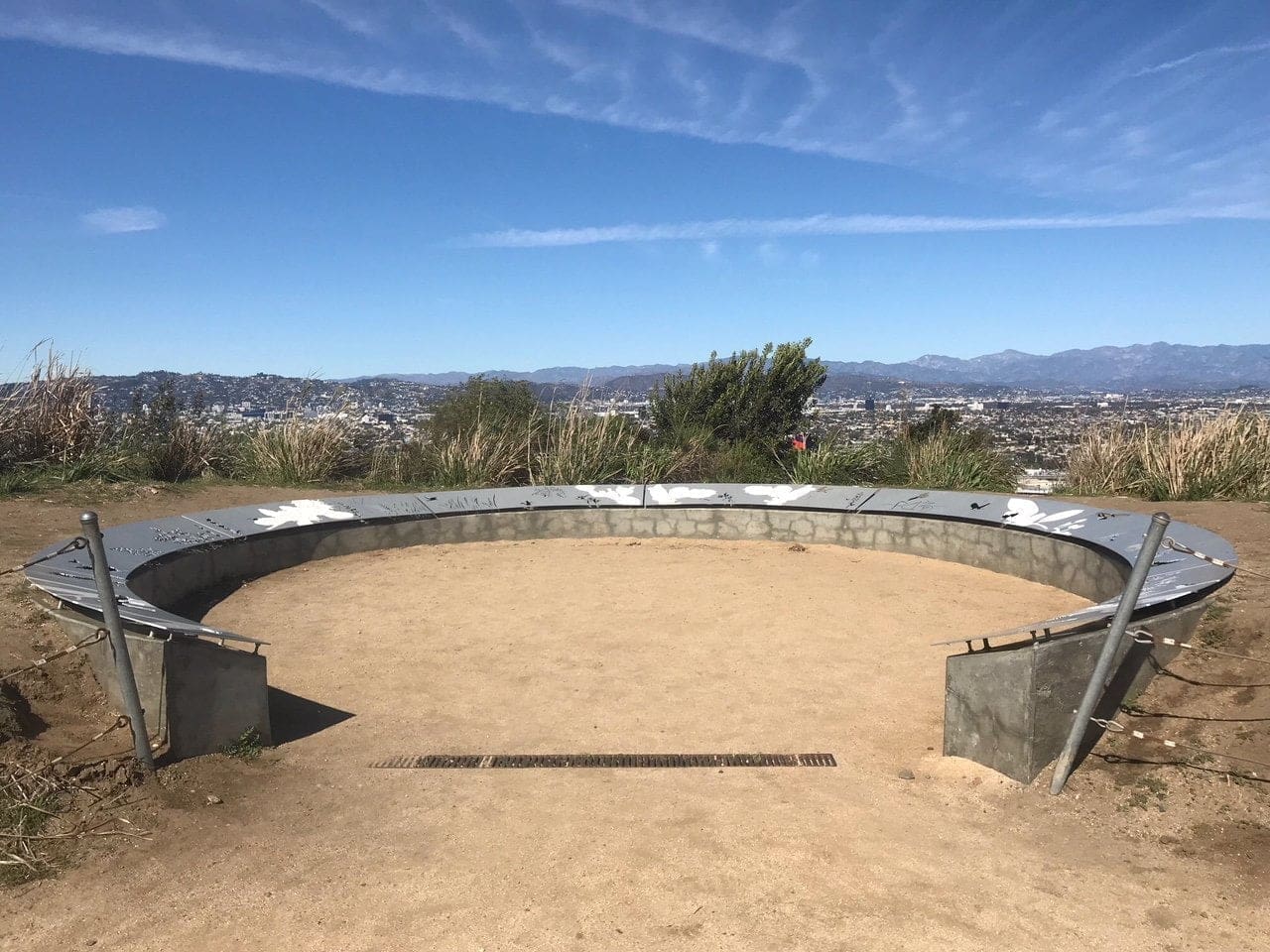 The start of another trail, just behind this "rounded-area," which descends slightly into the abyss below.
The trail to Culver City Stairs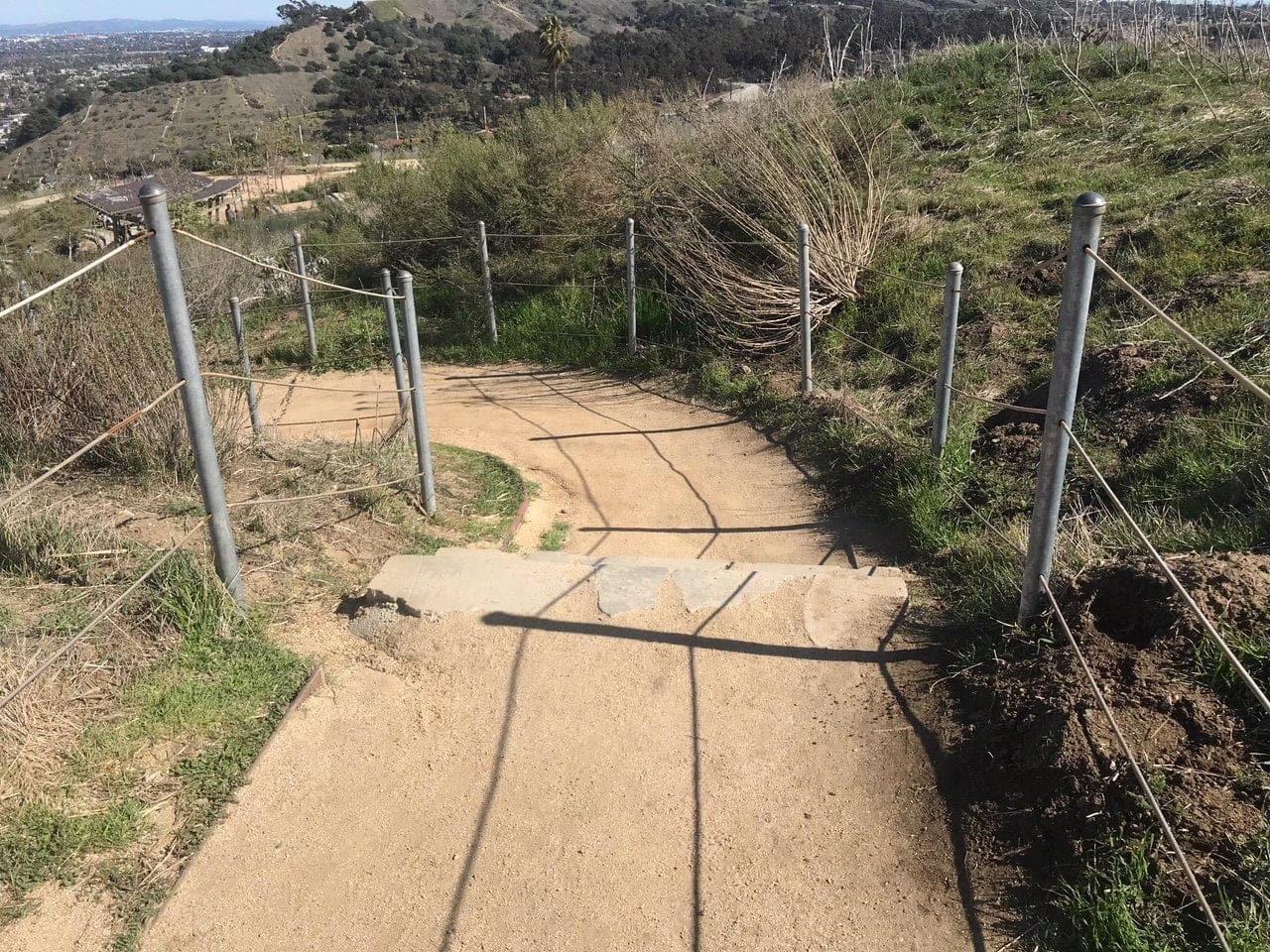 About 300 feet later, you'll reach a "playground" of some sorts (and by a playground, I mean a lengthy set of monkey bars to your left).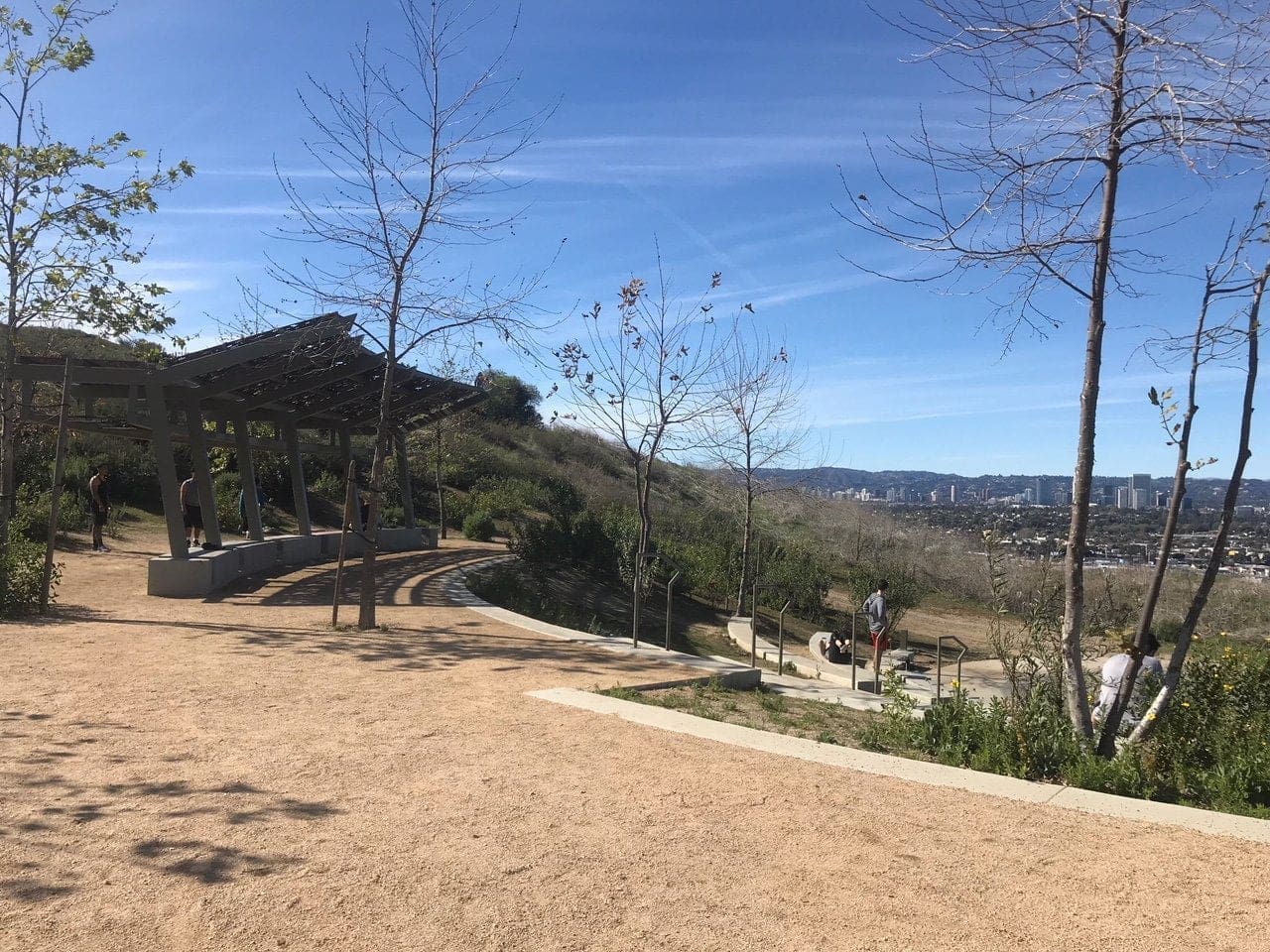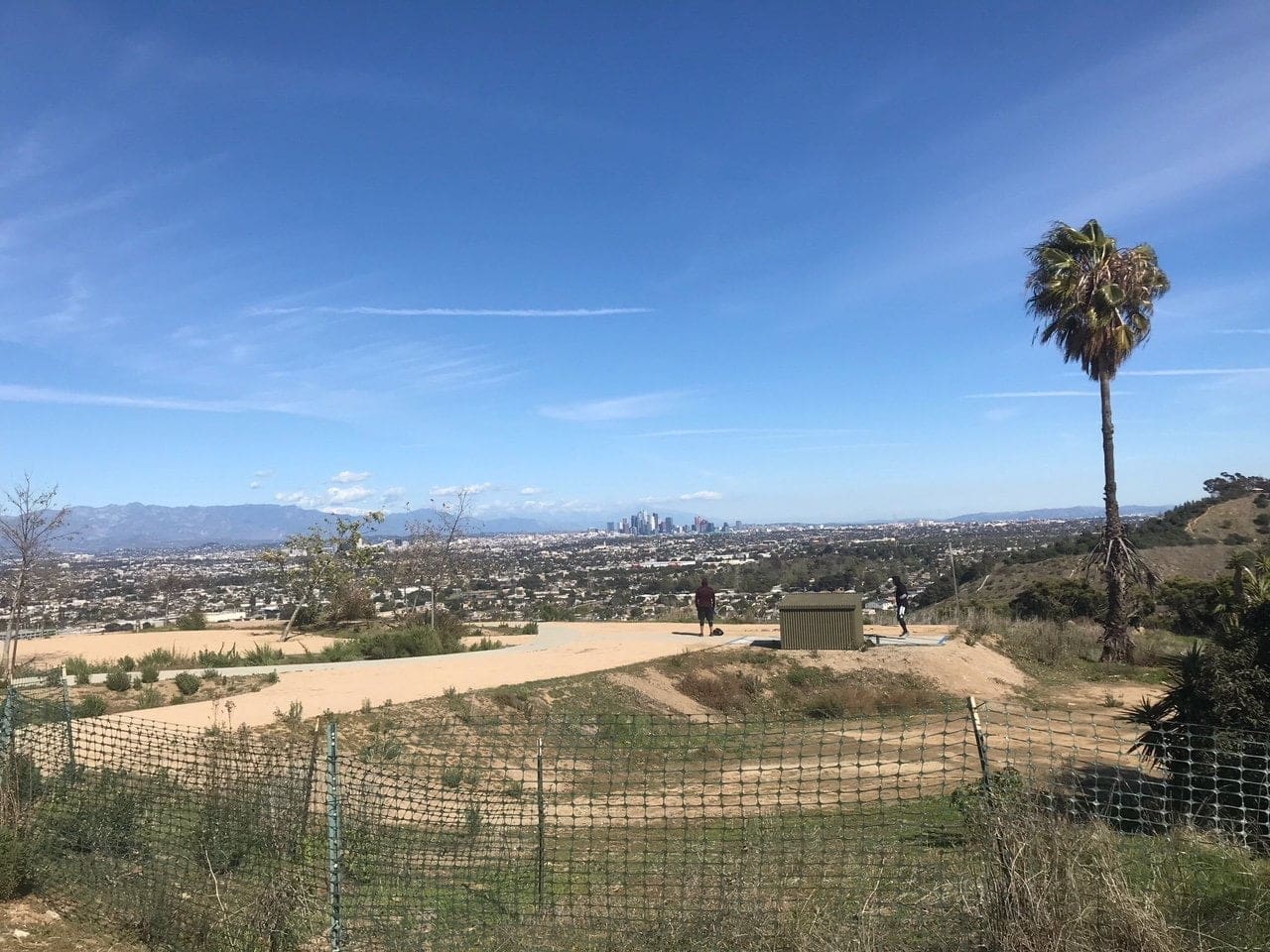 I continue the trail around to the left to reach a radio tower of some sorts (which reminds me of the ones in Wildwood Canyon).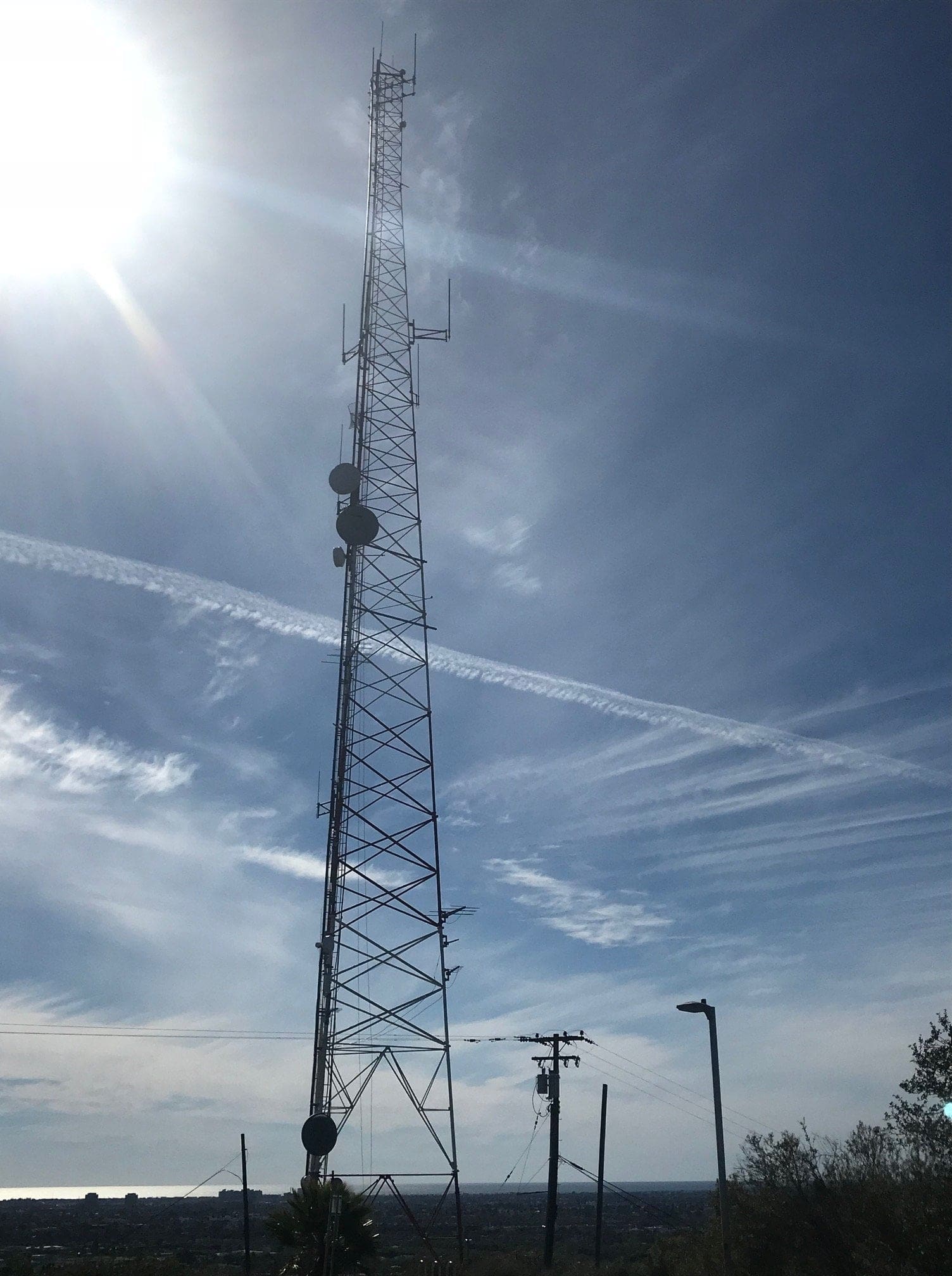 A sign depicting a synopsis of the Baldwin Hills Scenic Overlook.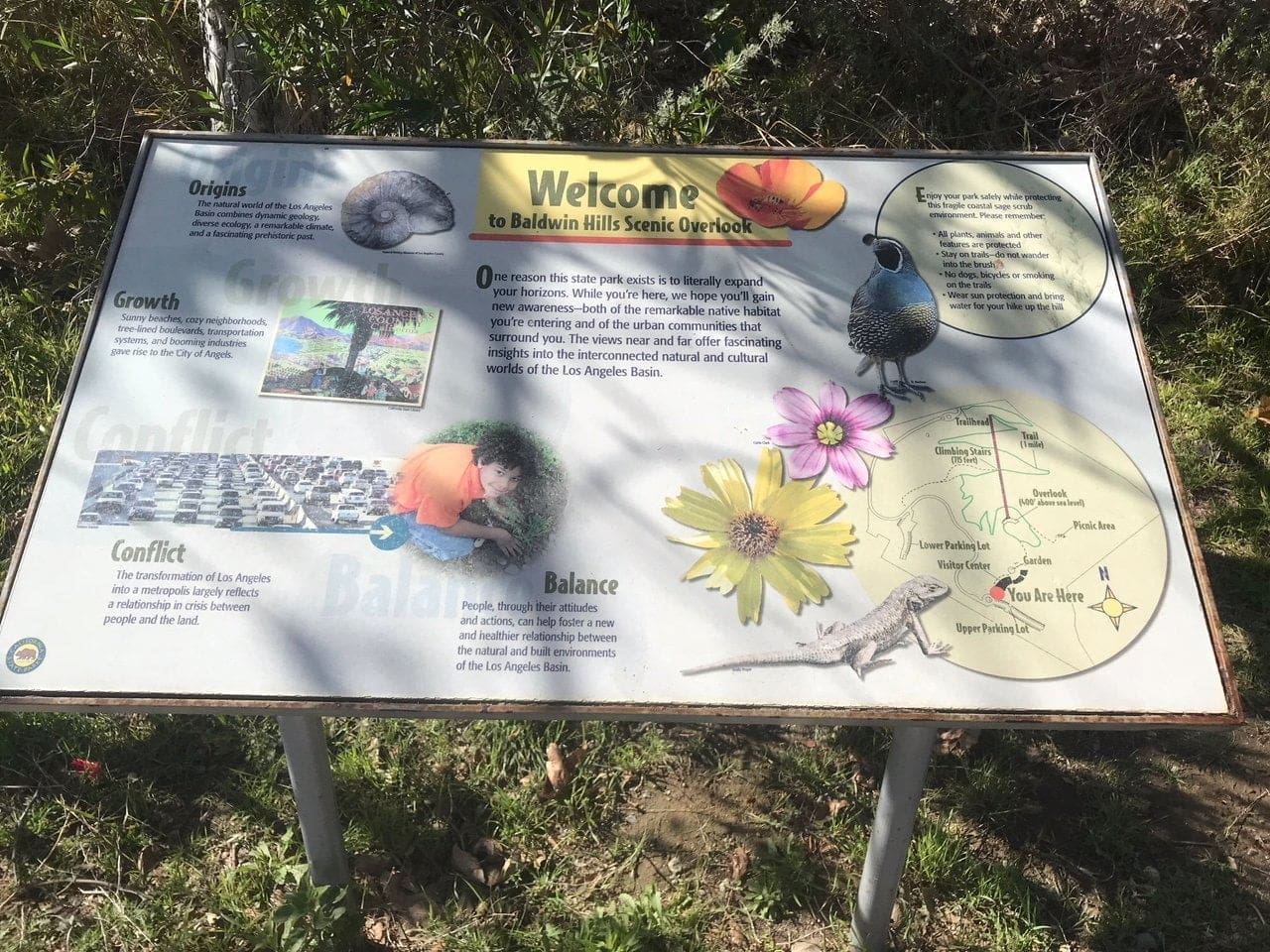 I fork left to loop back around to the Visitor Center (I like to cover a hiking trail in its entirety).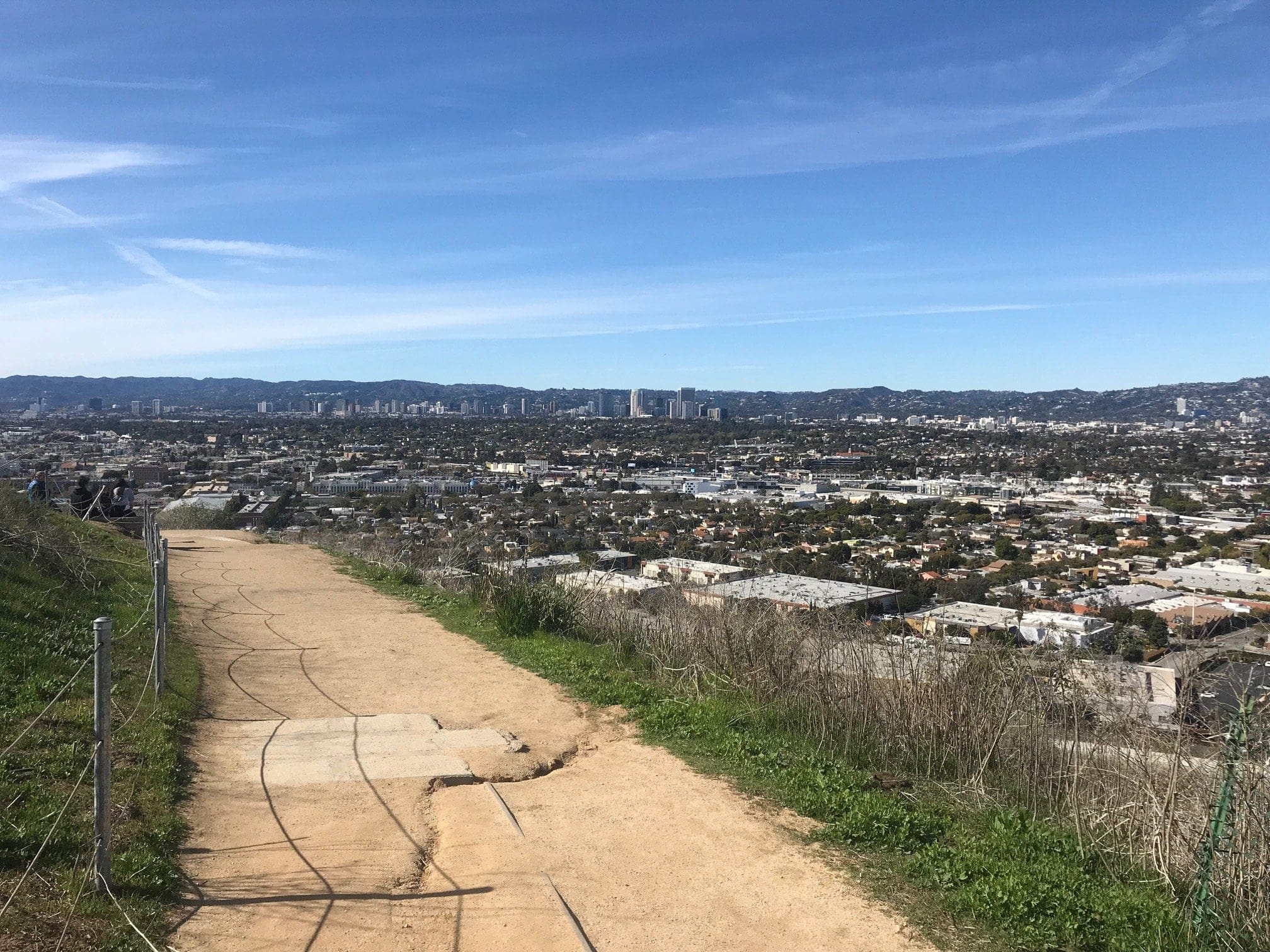 Once I make my way back toward the Visitor Center, I figure it's high time to head toward the infamous Culver City Stairs.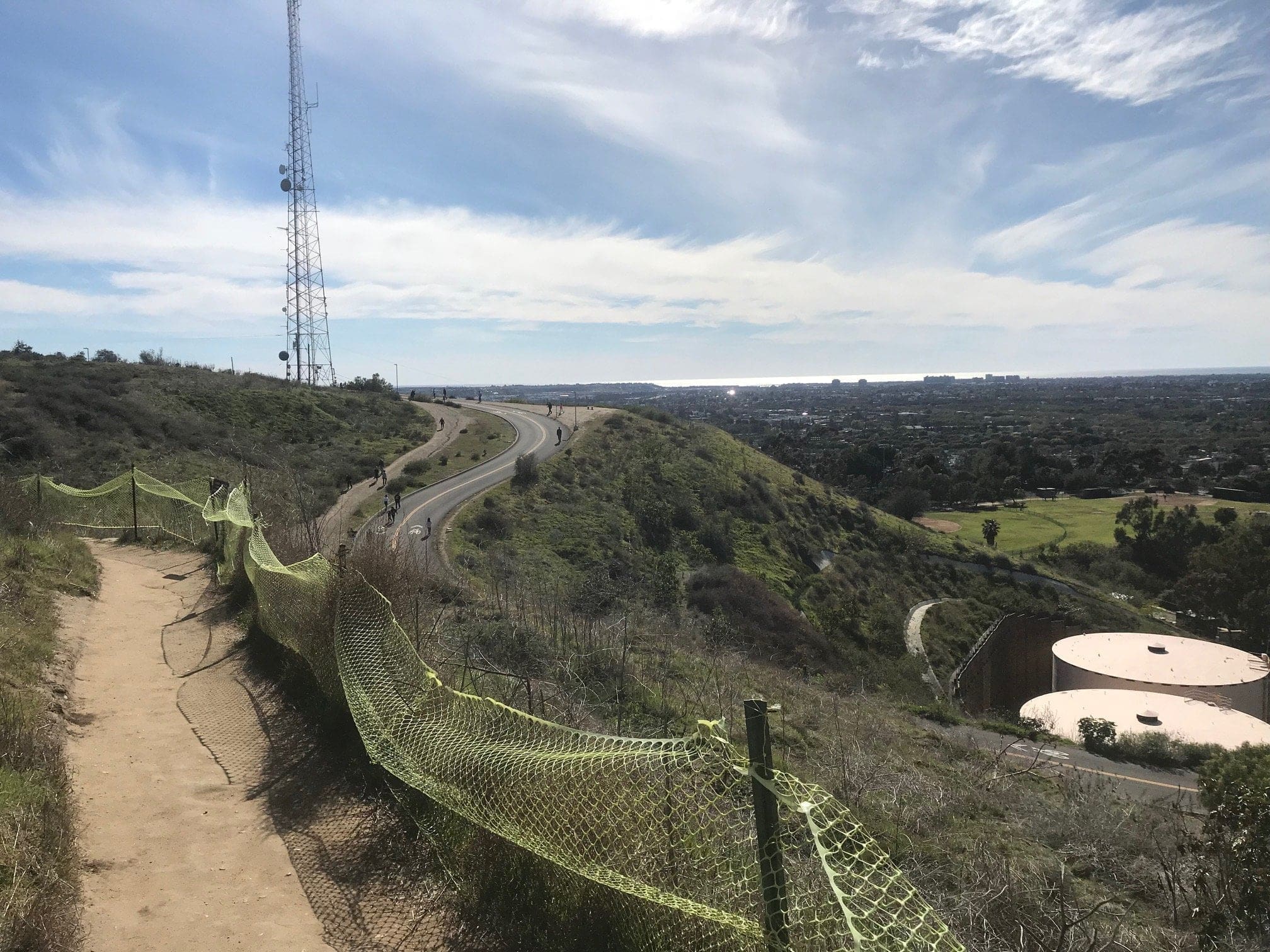 But not before I make a quick stop to a gigantic banana-shaped metal contraption!
Baldwin Hills Scenic Overlook Trail
This tasteful piece of architecture is located about three-quarters up on the paved road that I drove on, so I had to descend a few hundred feet on another forked trail from the Visitor Center.
I always admire the determination in keeping a trail "closed" with a simple, yet effective wooden stick.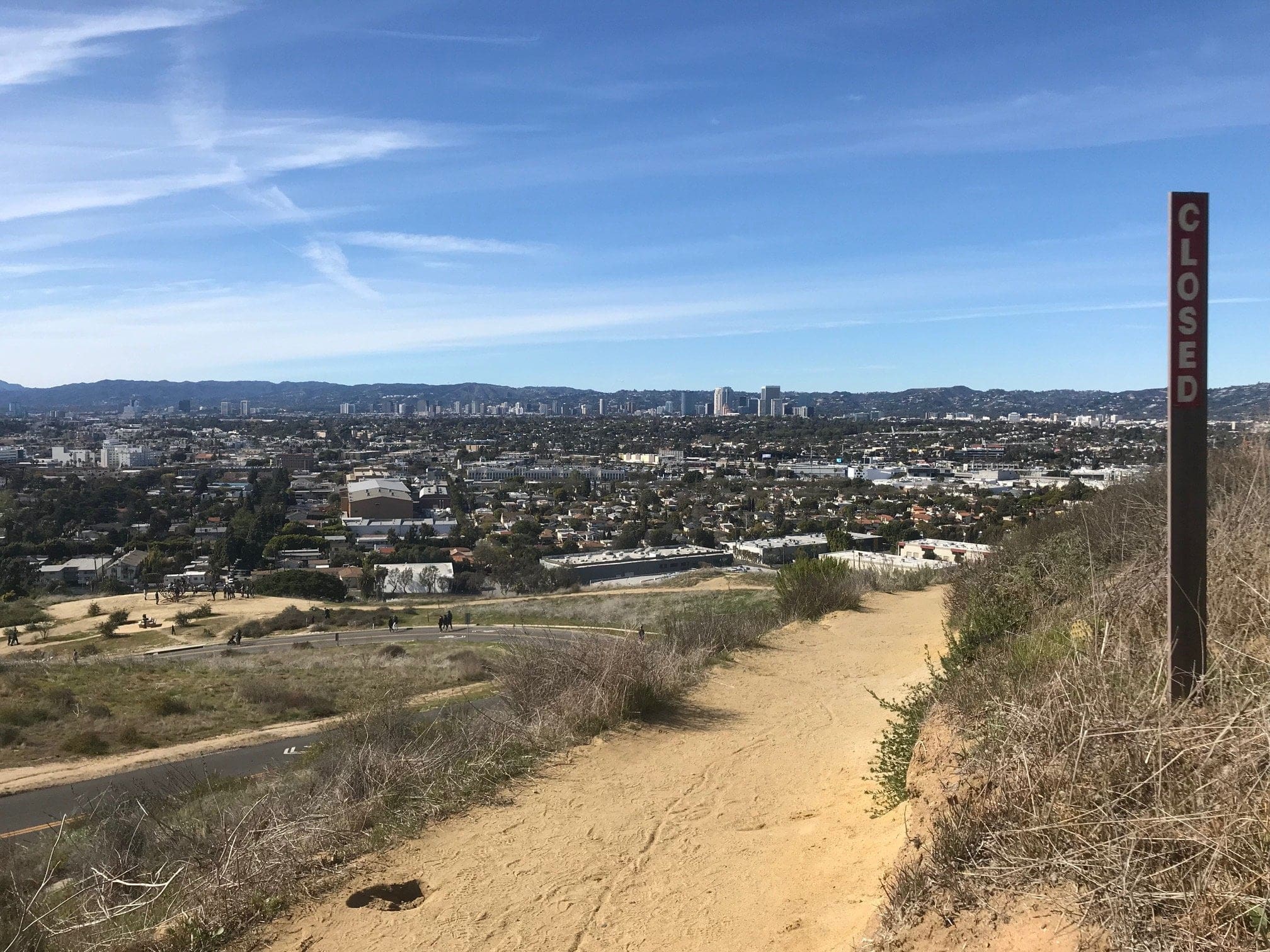 After a few easy switchbacks, you'll hit a sign: Hetzler Road (the paved road) to your left, with the Scenic Overlook Trail to your right.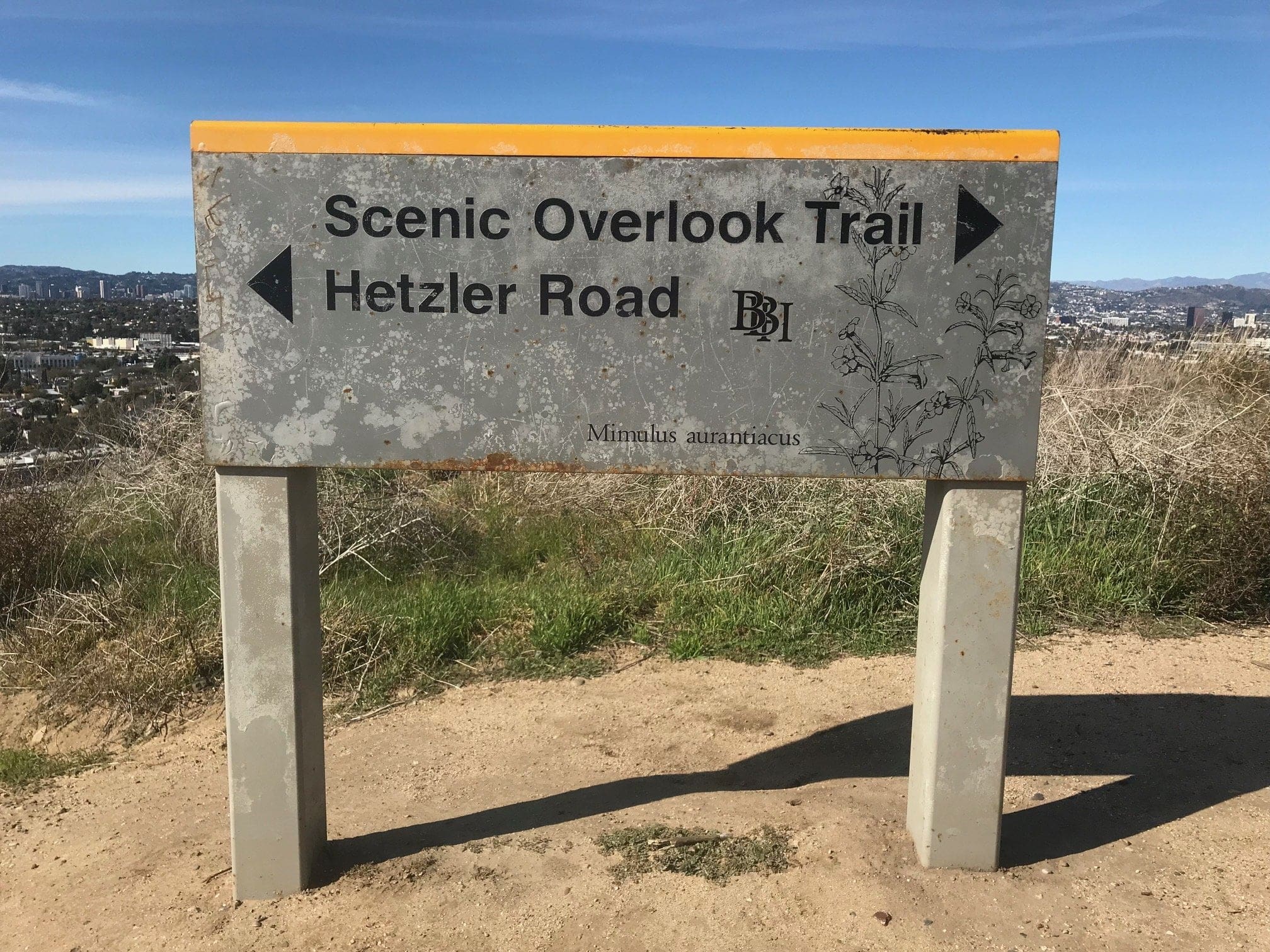 The banana is off of Hetzler Road, so head that way for some mild amusement.
Giant Banana Sculpture
A jungle-gym in the shape of a fruit. My life goals are officially complete.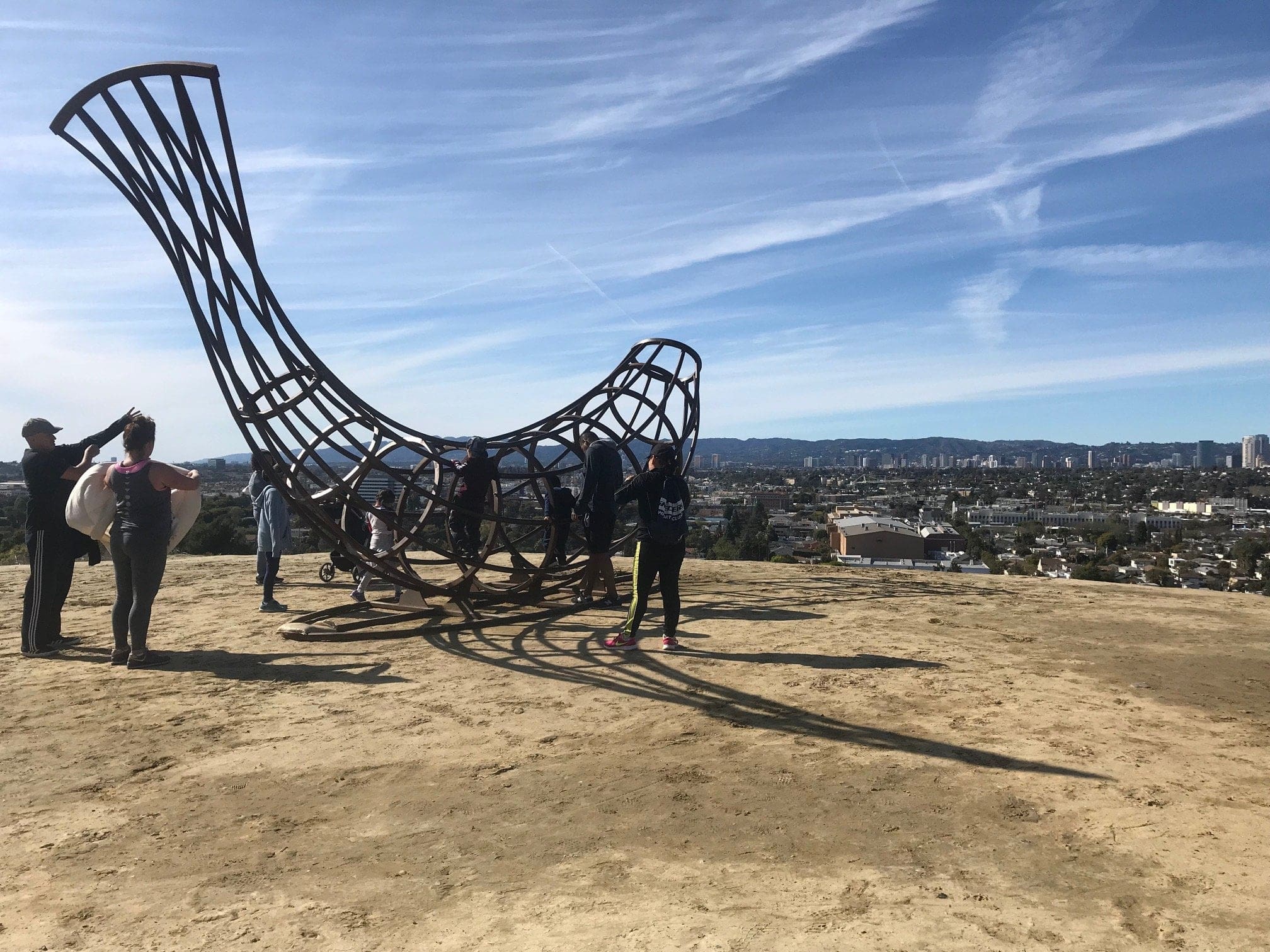 This would make for a fantastic hammock.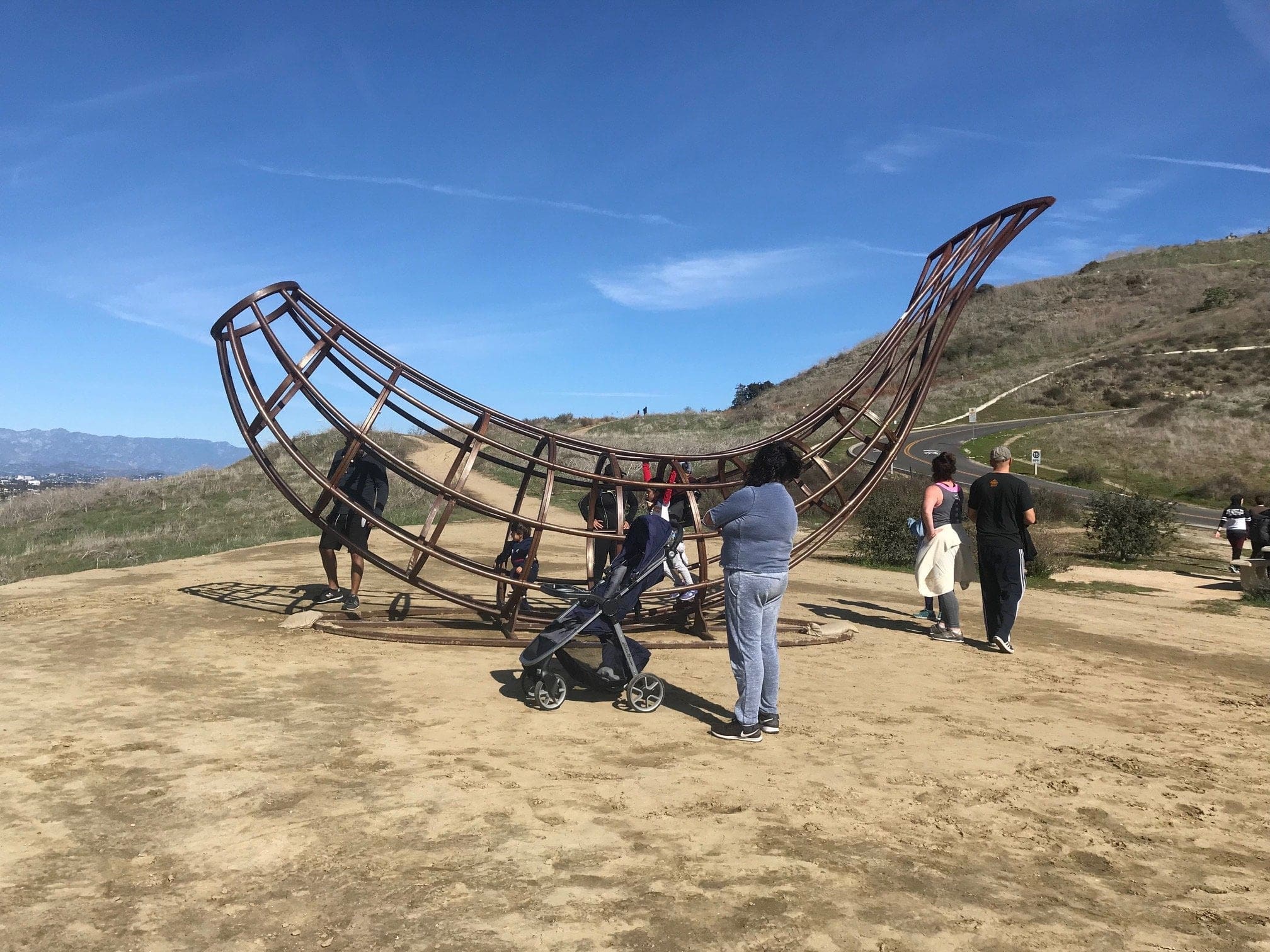 The view from the metal banana.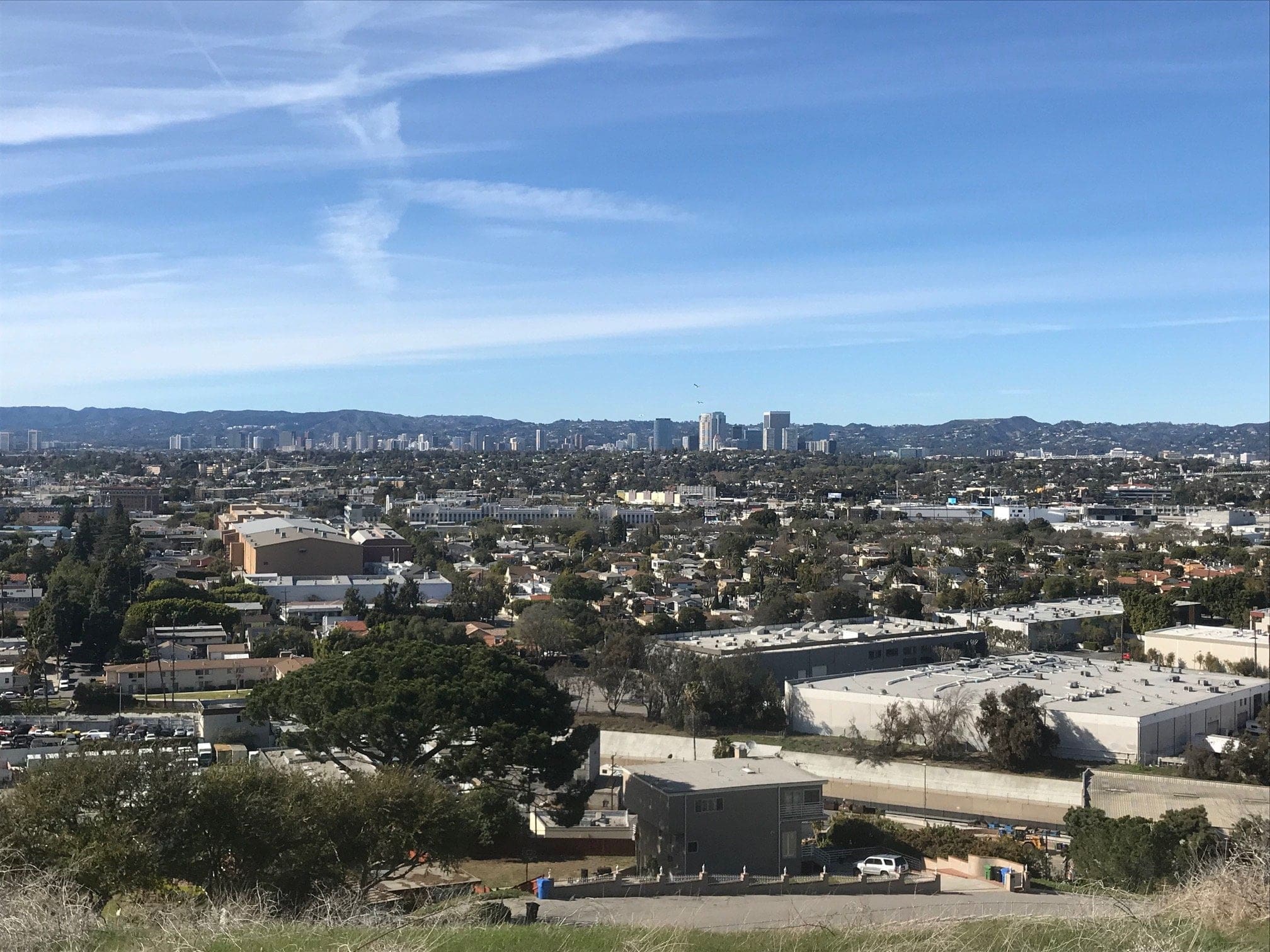 You can either continue down Hetzler Road for a downhill hike or continue back up toward the stairs (and we're here for the stairs people)!
A pano-shot of the trail from the metal banana, overlooking Culver City and the mountain range beyond.

Now here's where things get interesting:
This part of the trail loops through the Stairs, hitting different "levels." You could theoretically ascend up the stairs once you reach the first level, but I would recommend you continue on the current trail to descend down to the base of the staircase.
Culver City Stairs – Lower Staircase
The first "level" of the staircase.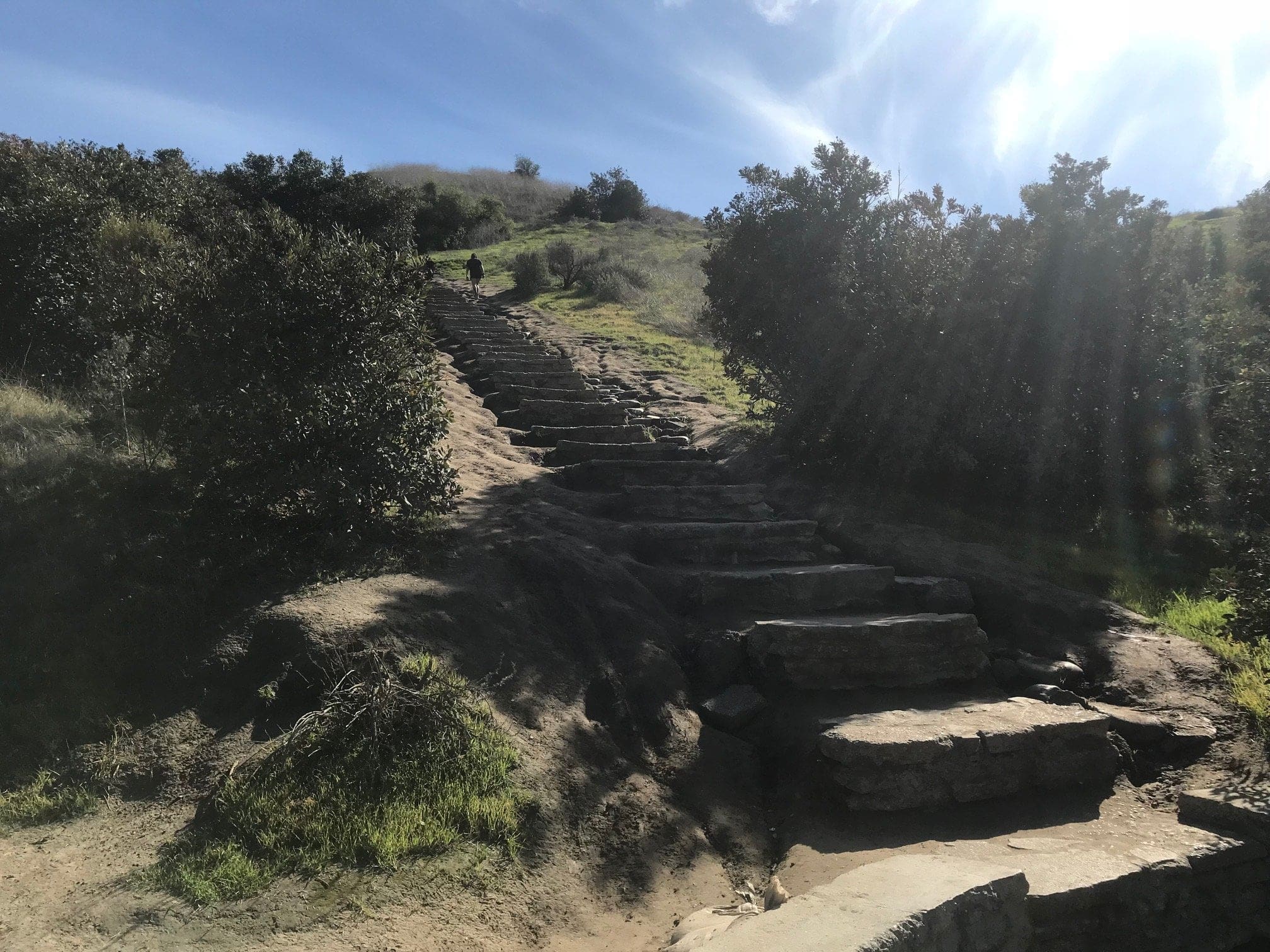 Another "level" of the staircase as I descend further down the trailhead.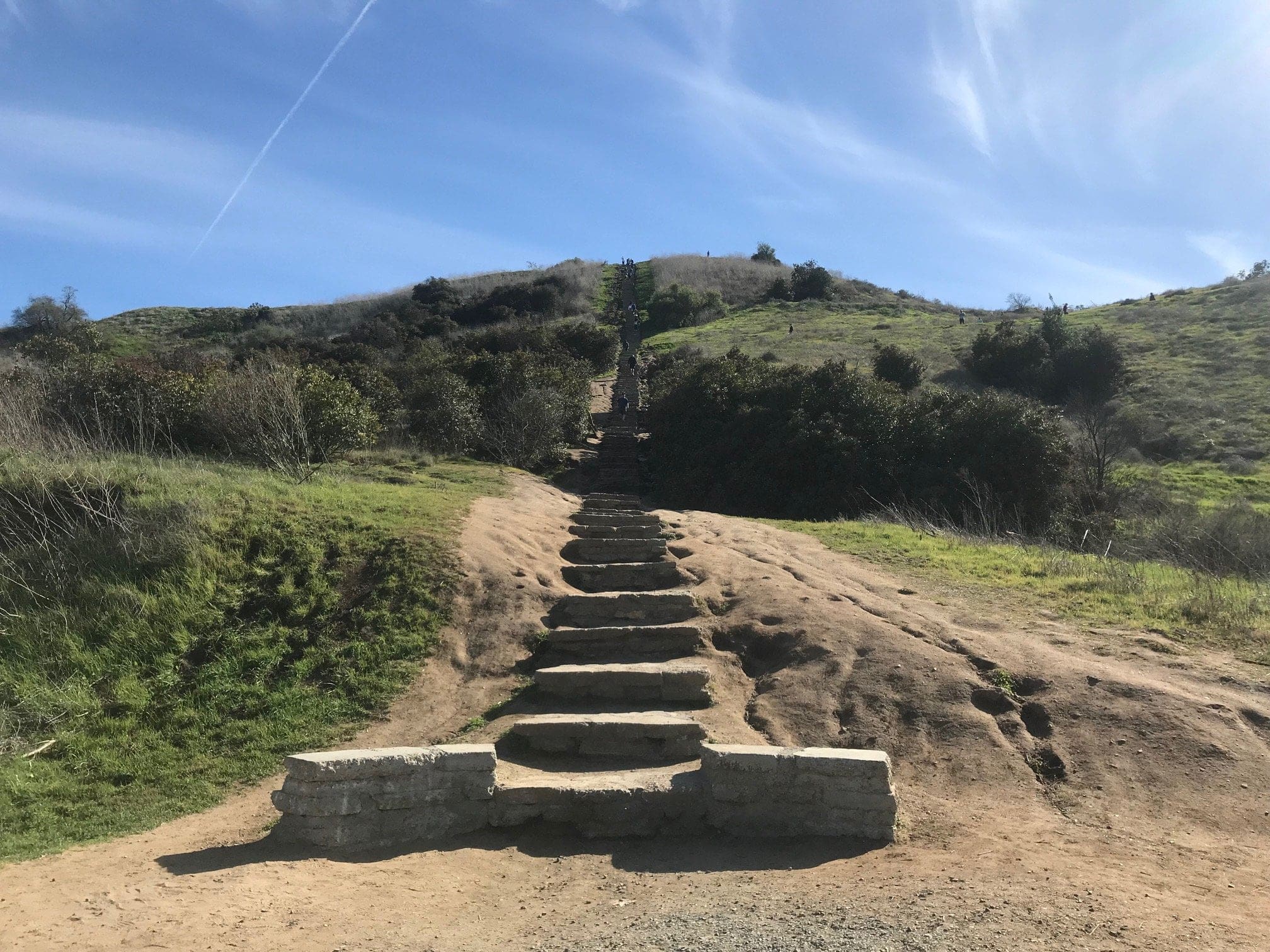 The trail is fairly easy and consists of a few switchbacks and mild elevation loss, which is perfect for beginner hikers.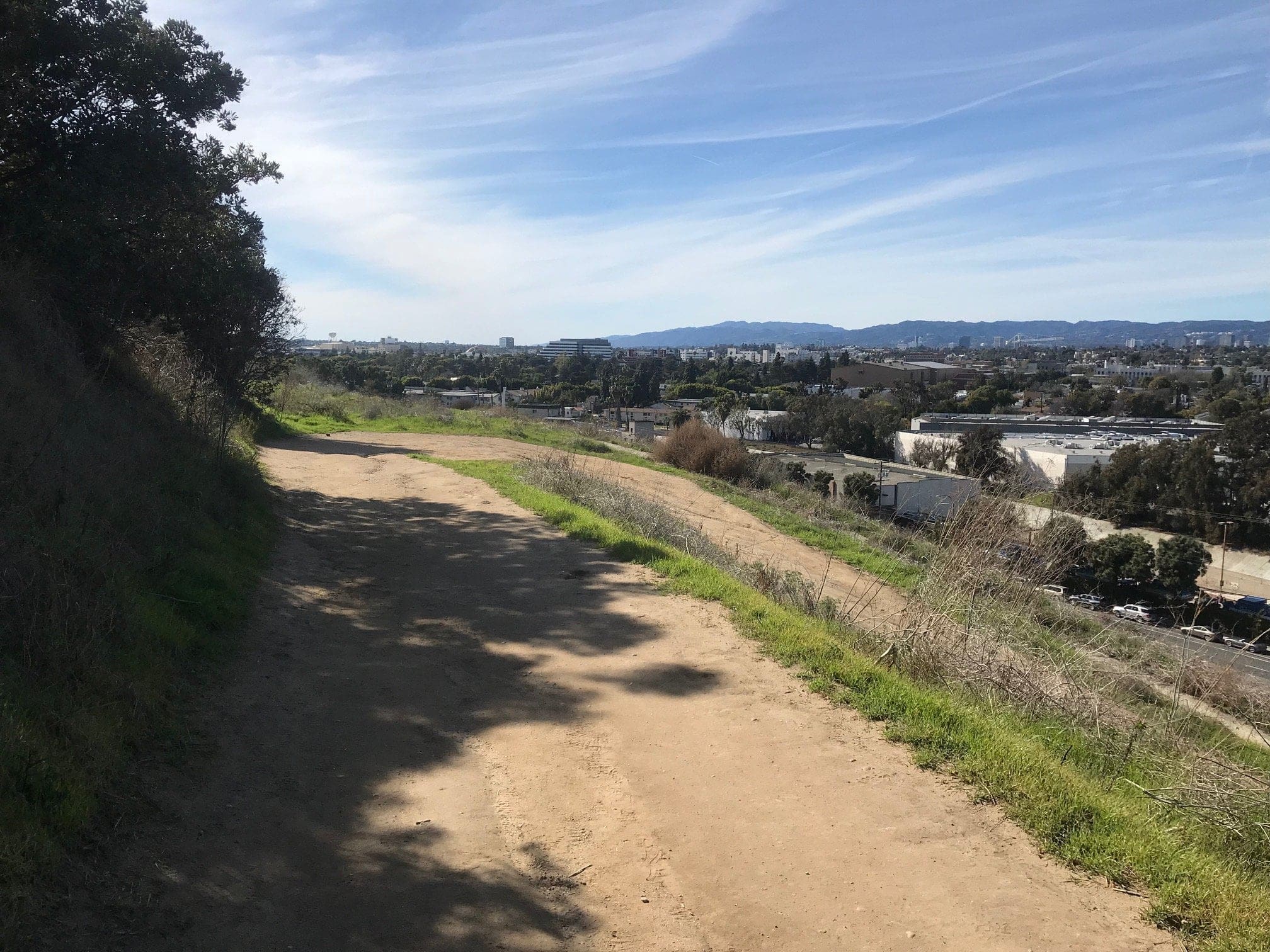 A quick off-trail that leads to…nowhere.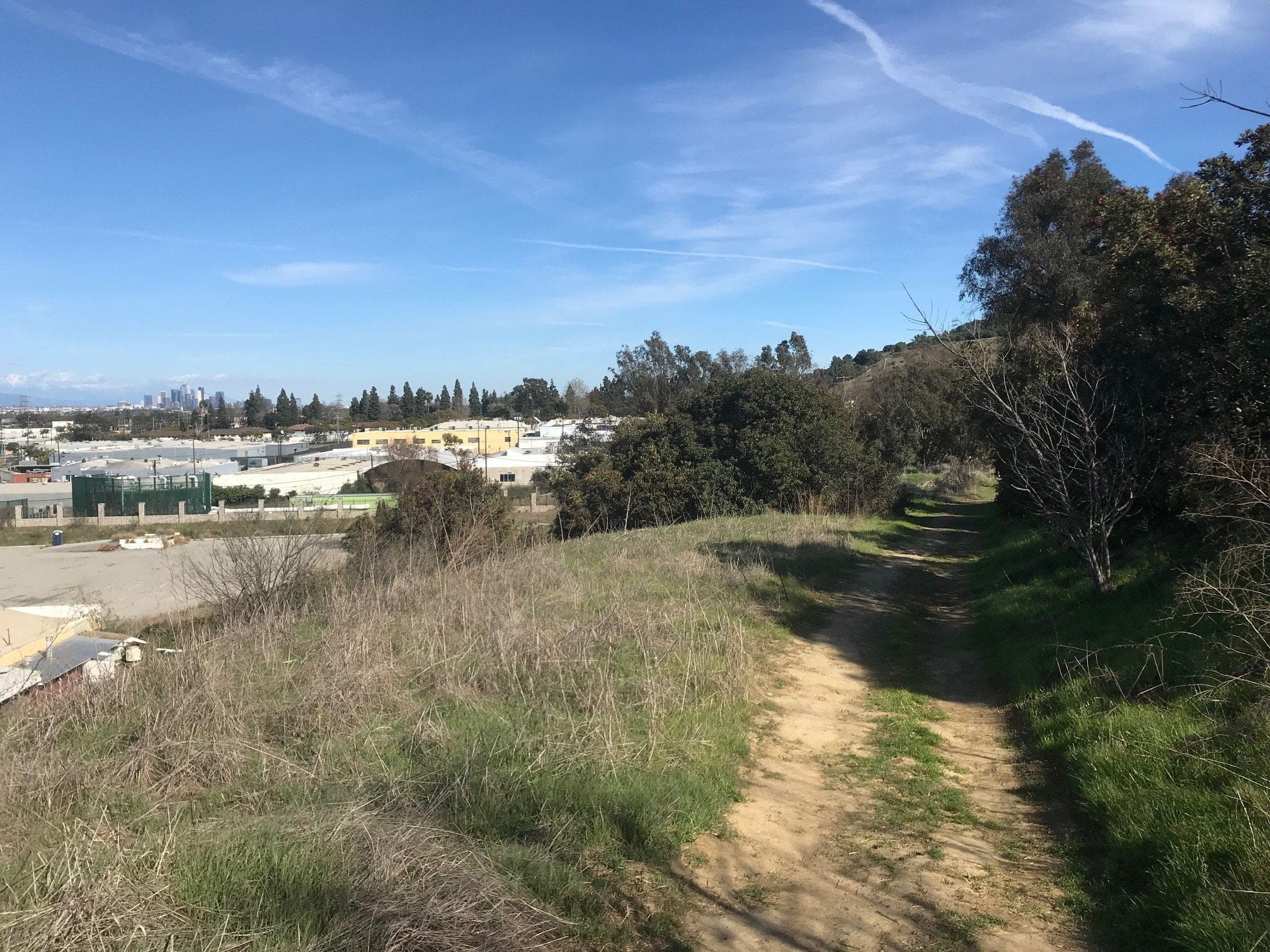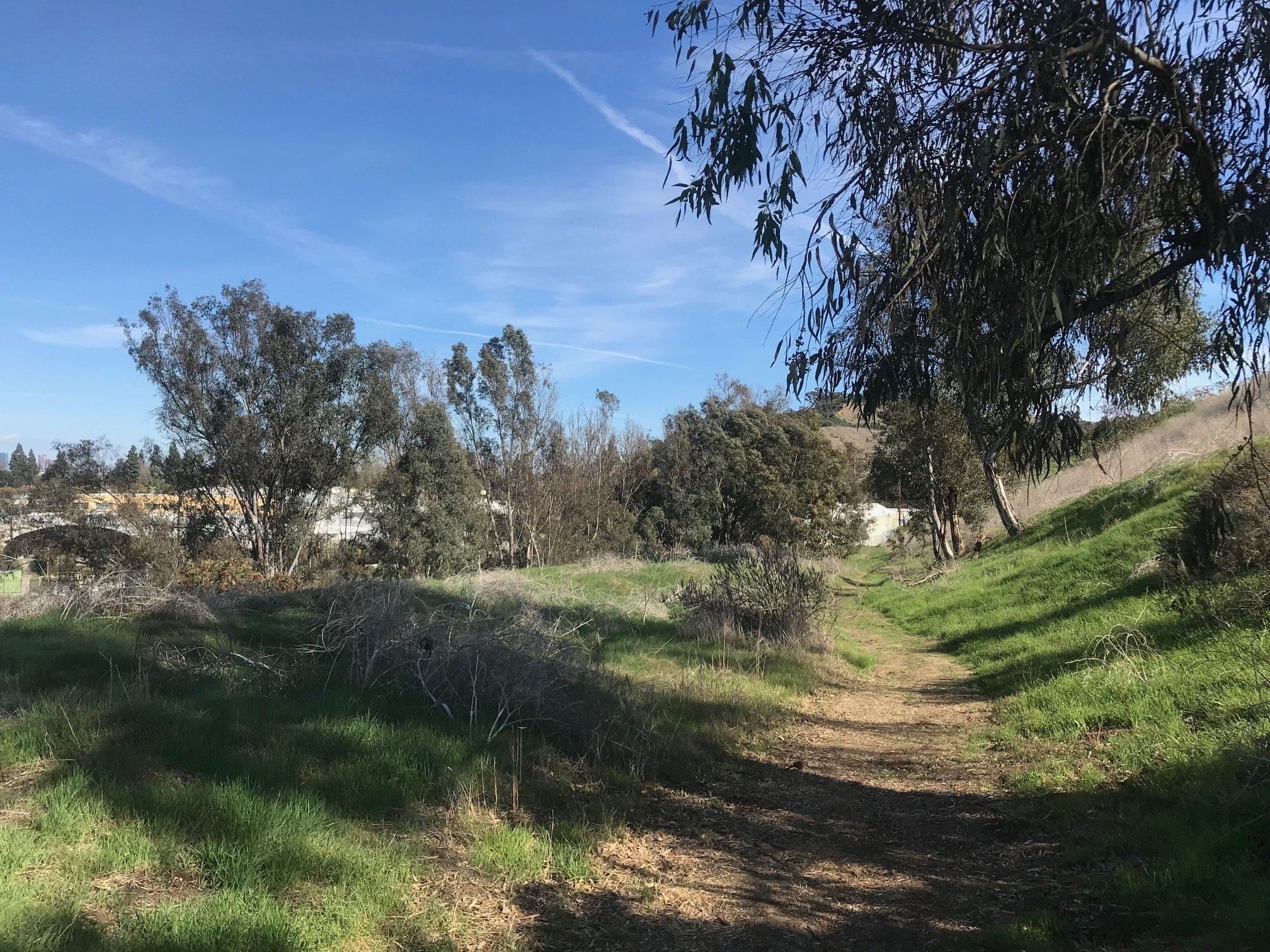 Some pretty cool graffiti on this off-trail (check out my post on Sunken City: The Lost Ruins of San Pedro for some epic graffiti artwork).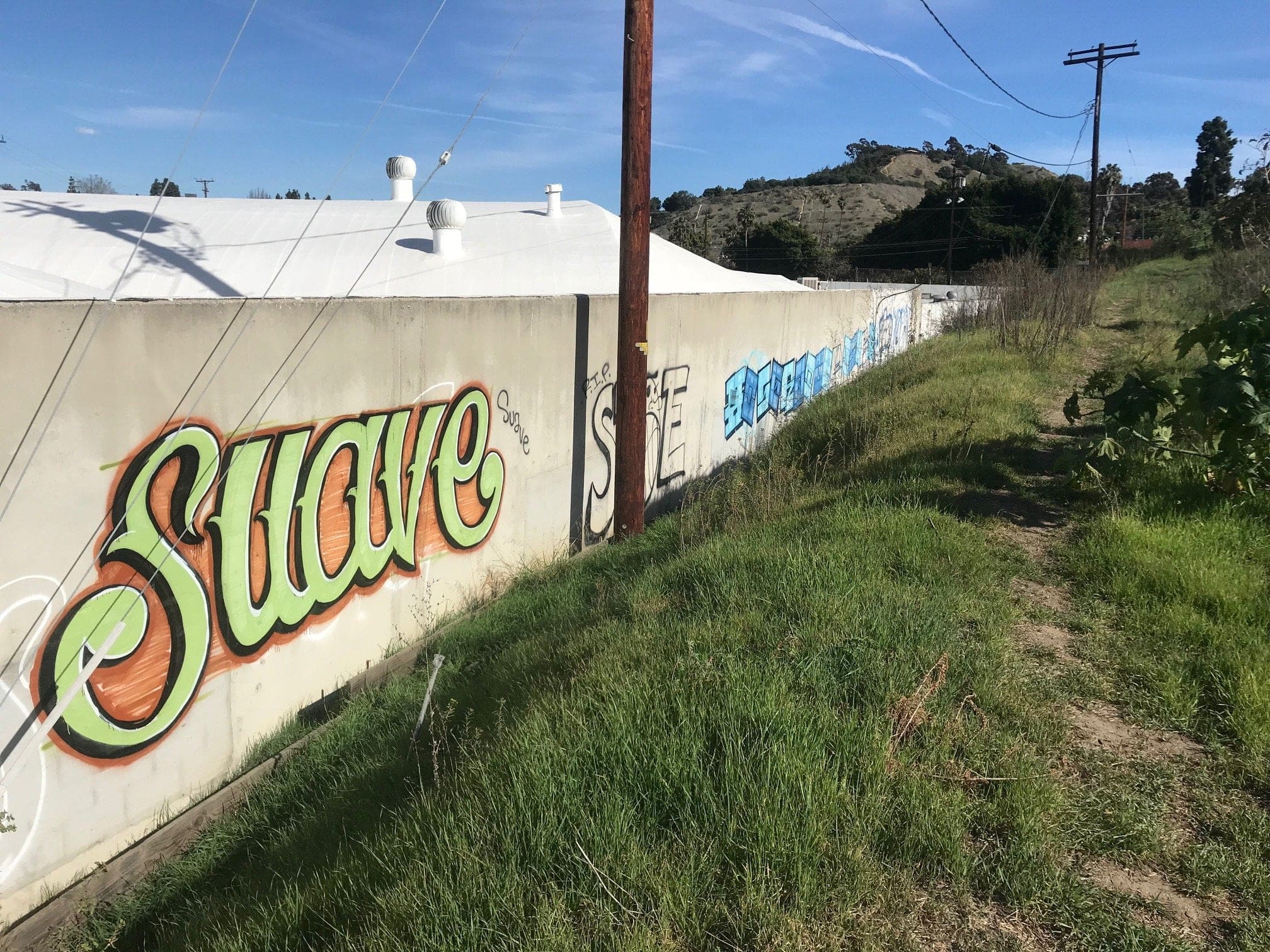 I quickly turn back around to the main trailhead, which leads down to the initial streets of Culver City (the busy intersection I mentioned in the beginning).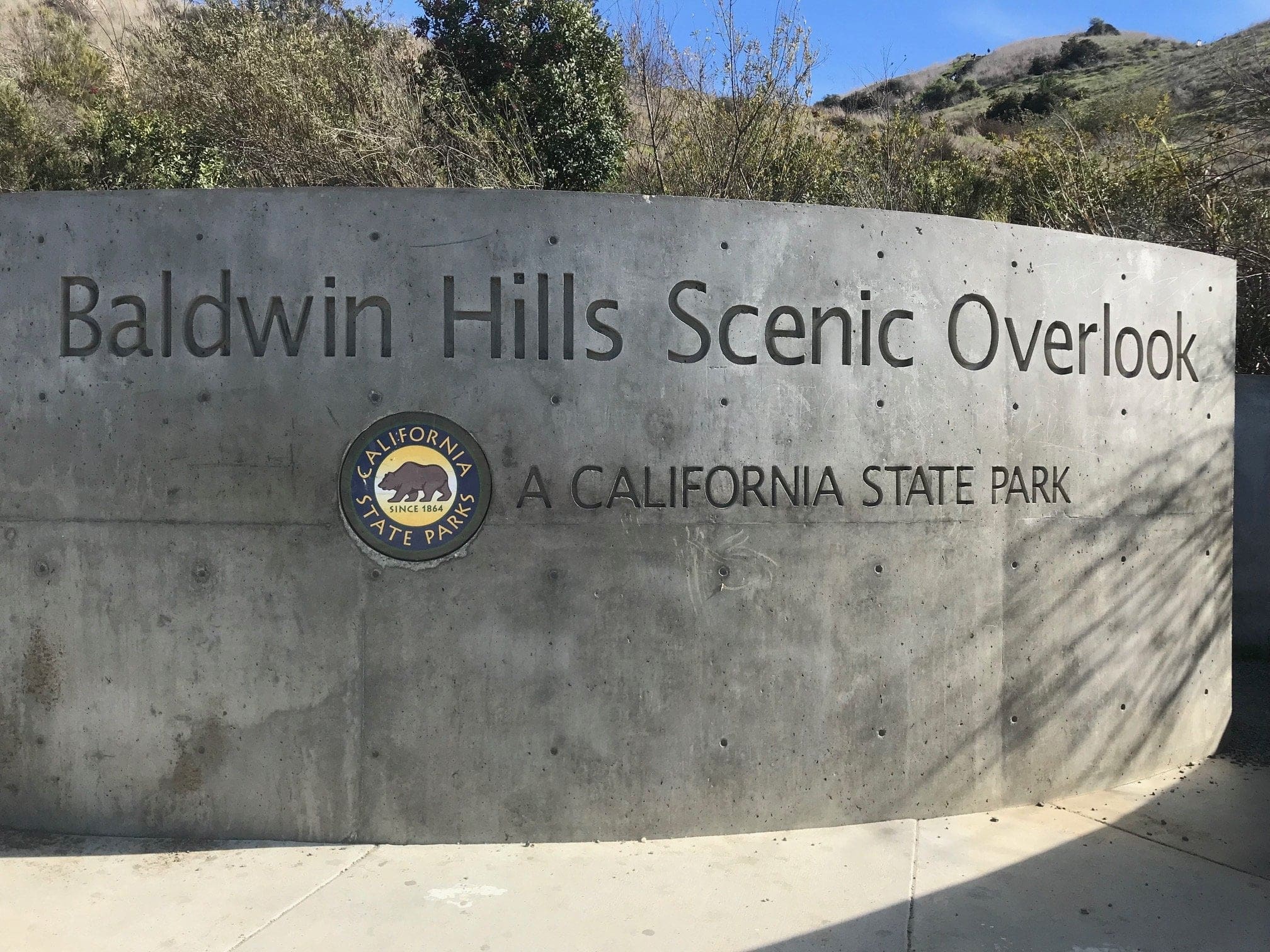 The start of the trailhead up the paved road.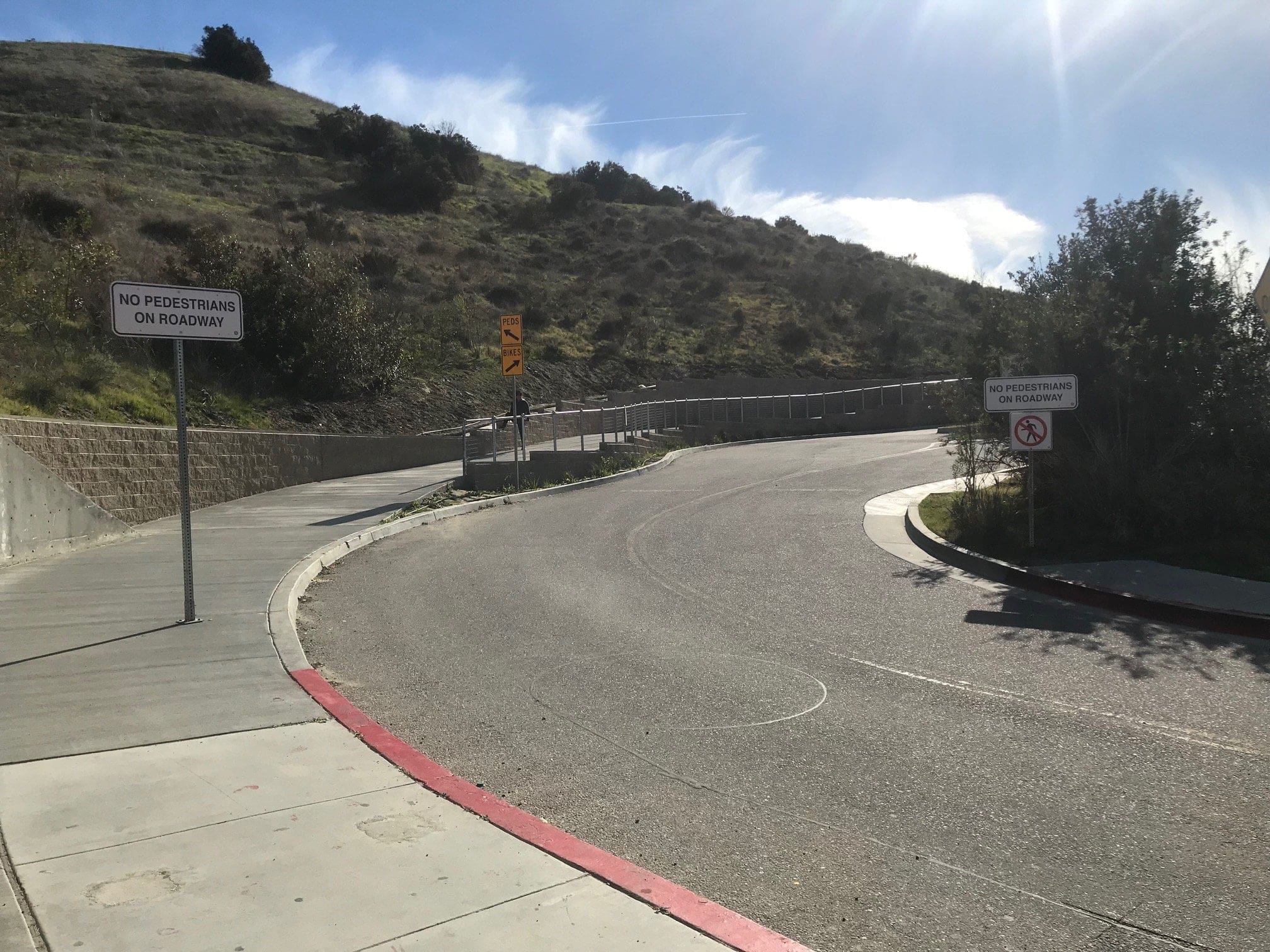 Like I said before, I like to cover a hiking spot in its entirety, so I decided to hike up the paved road to see what that's like before (finally) tackling the staircase.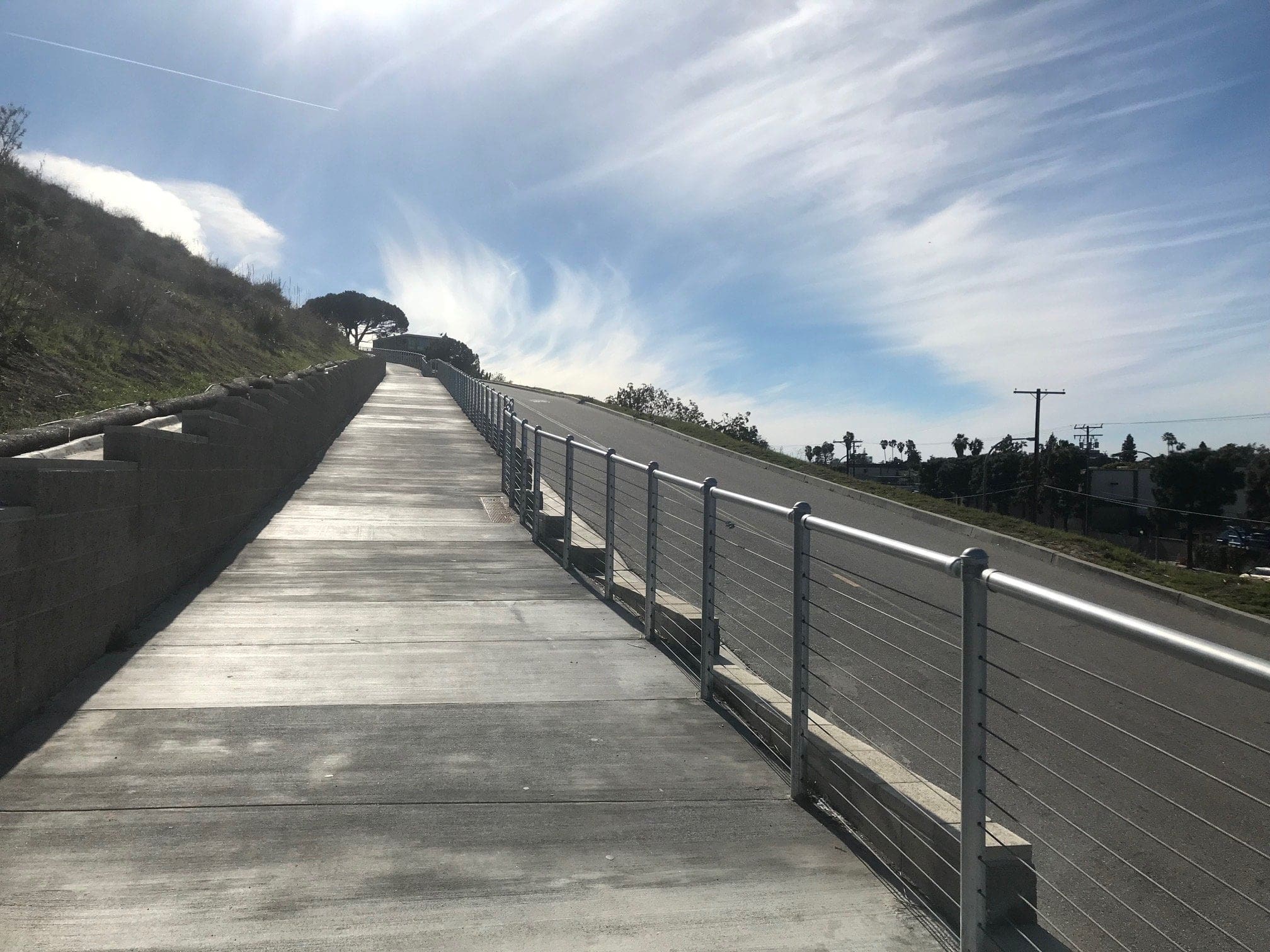 The paved road is pretty strenuous but doable for even a beginner hiker.
A few hundred feet later, you'll reach another Baldwin Hills sign (just in case you forgot where you were).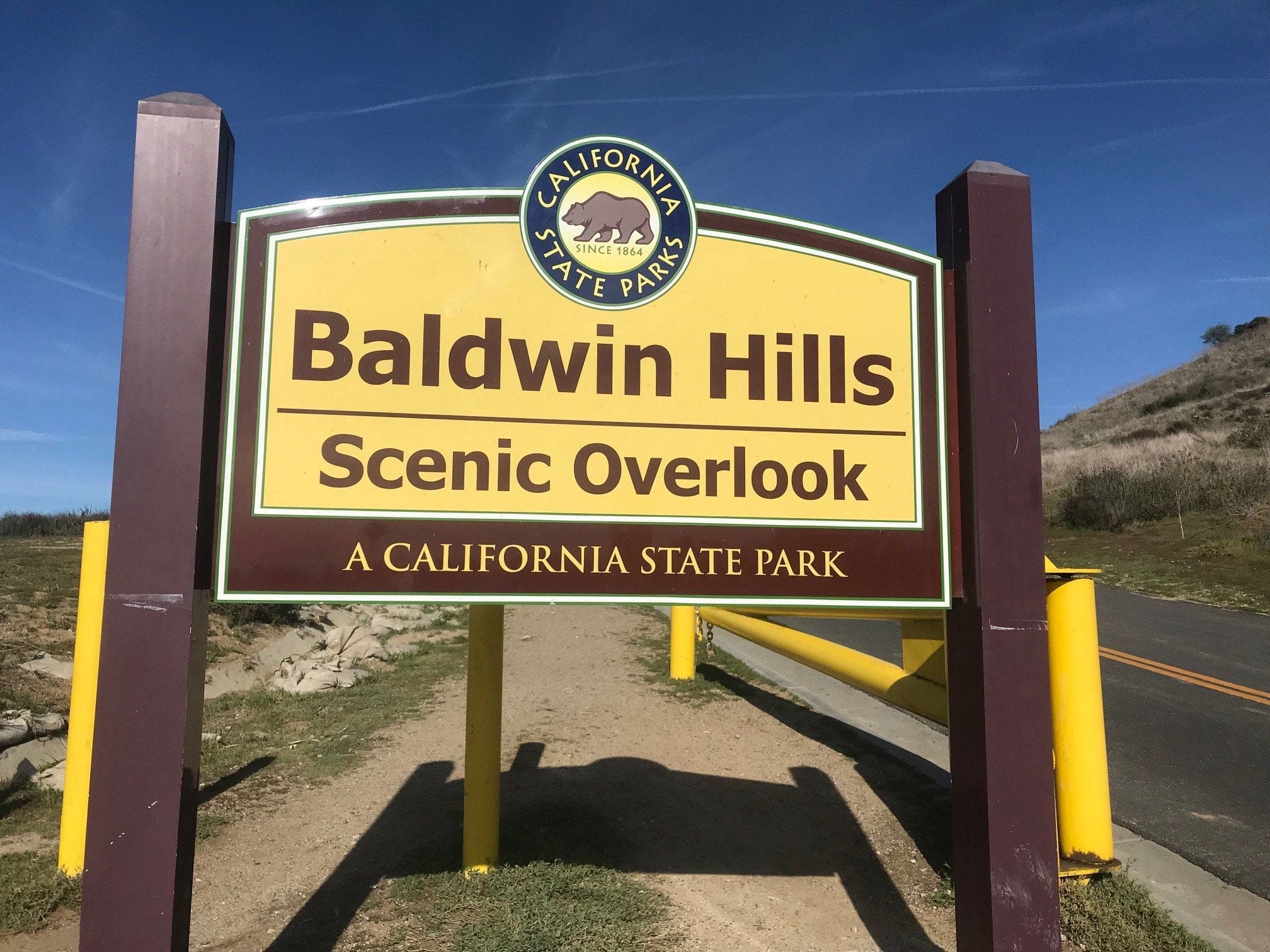 I pass by the metal banana once more and loop back down to the base of the staircase, ready to tackle the gem of this hiking trail.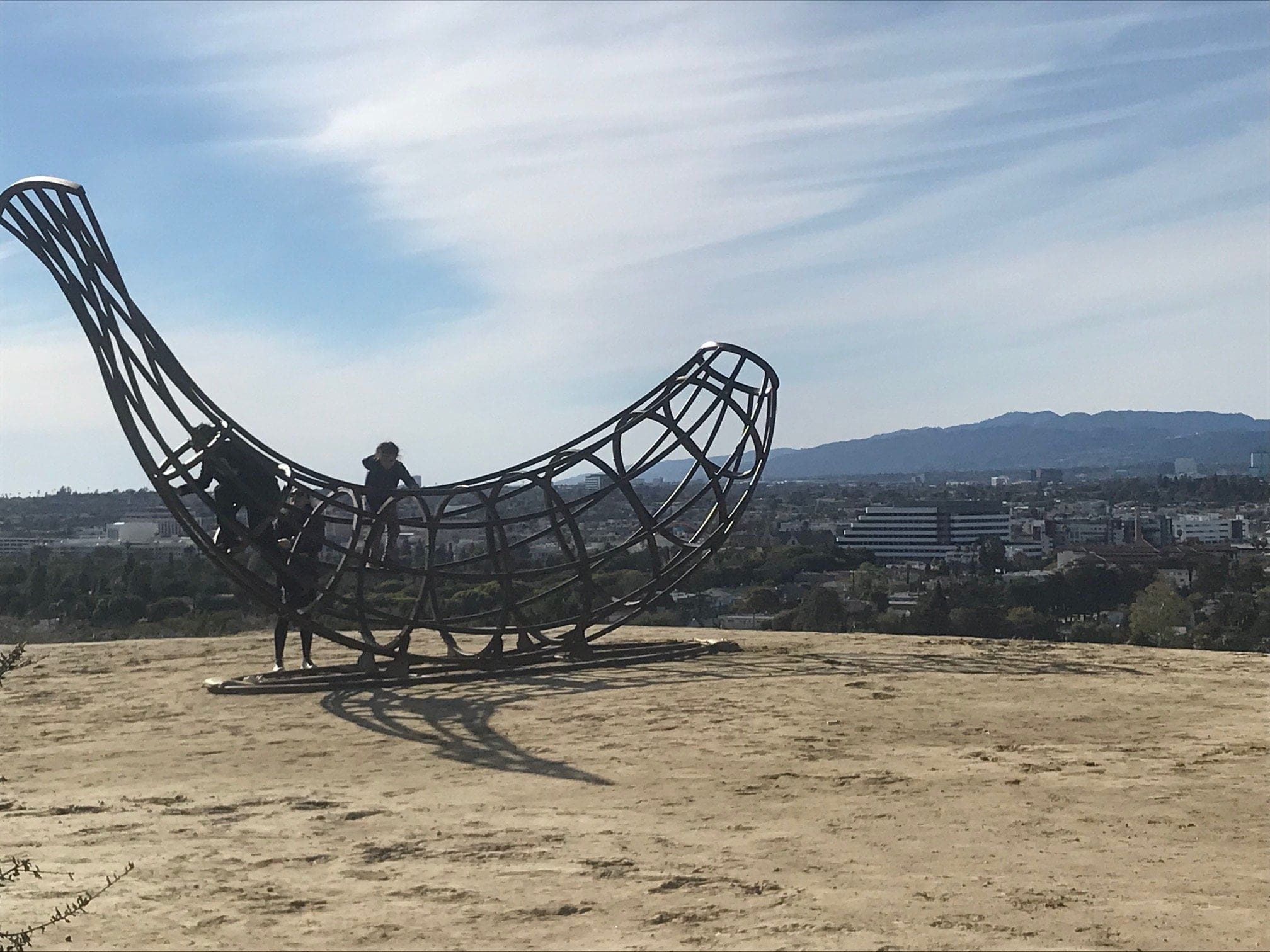 The Culver City Stairs – Upper Staircase
It doesn't look so bad from afar, but trust me when I say this was an a**kicker.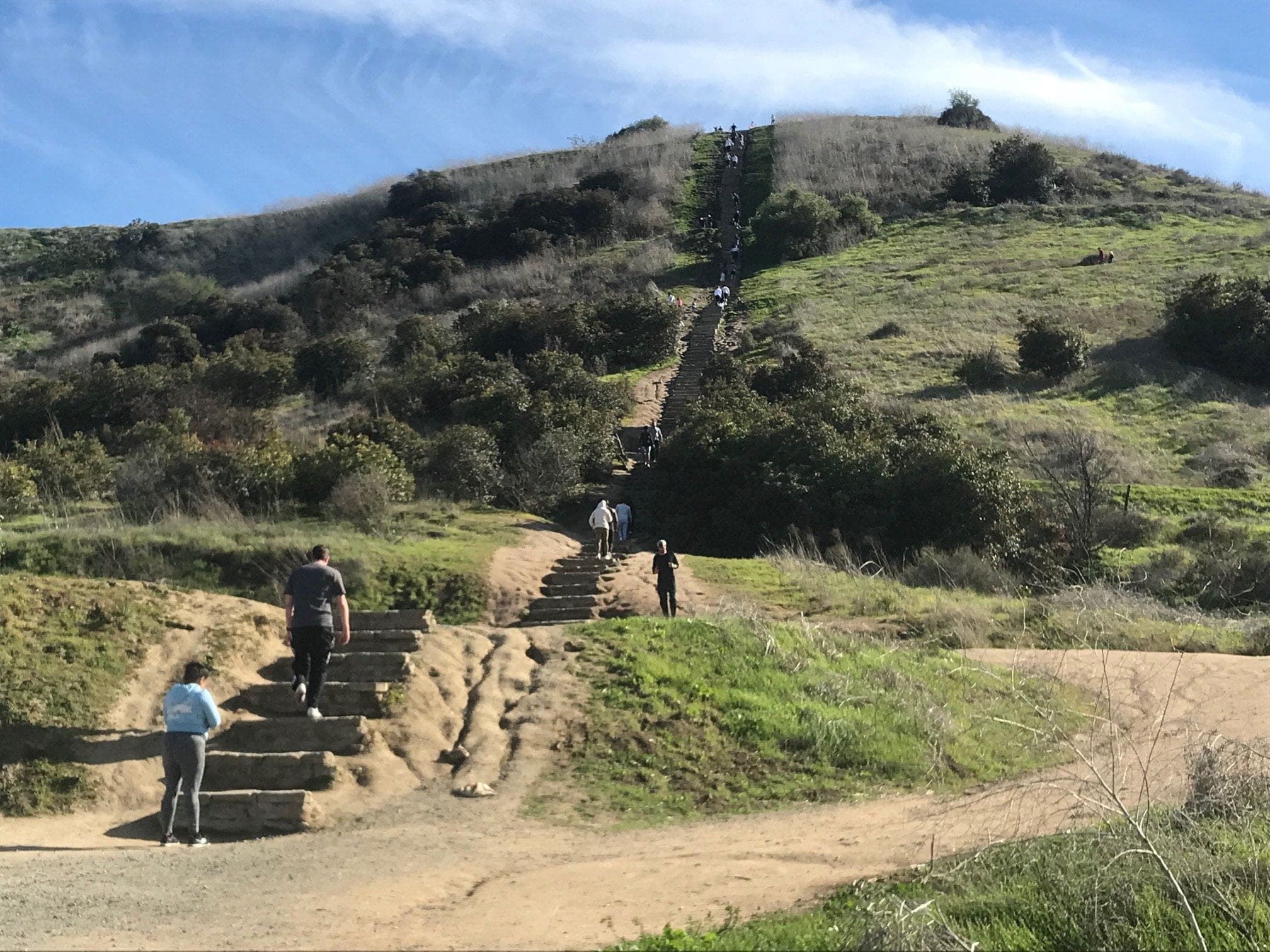 Let hell commence. The Culver City Stairs go on forever!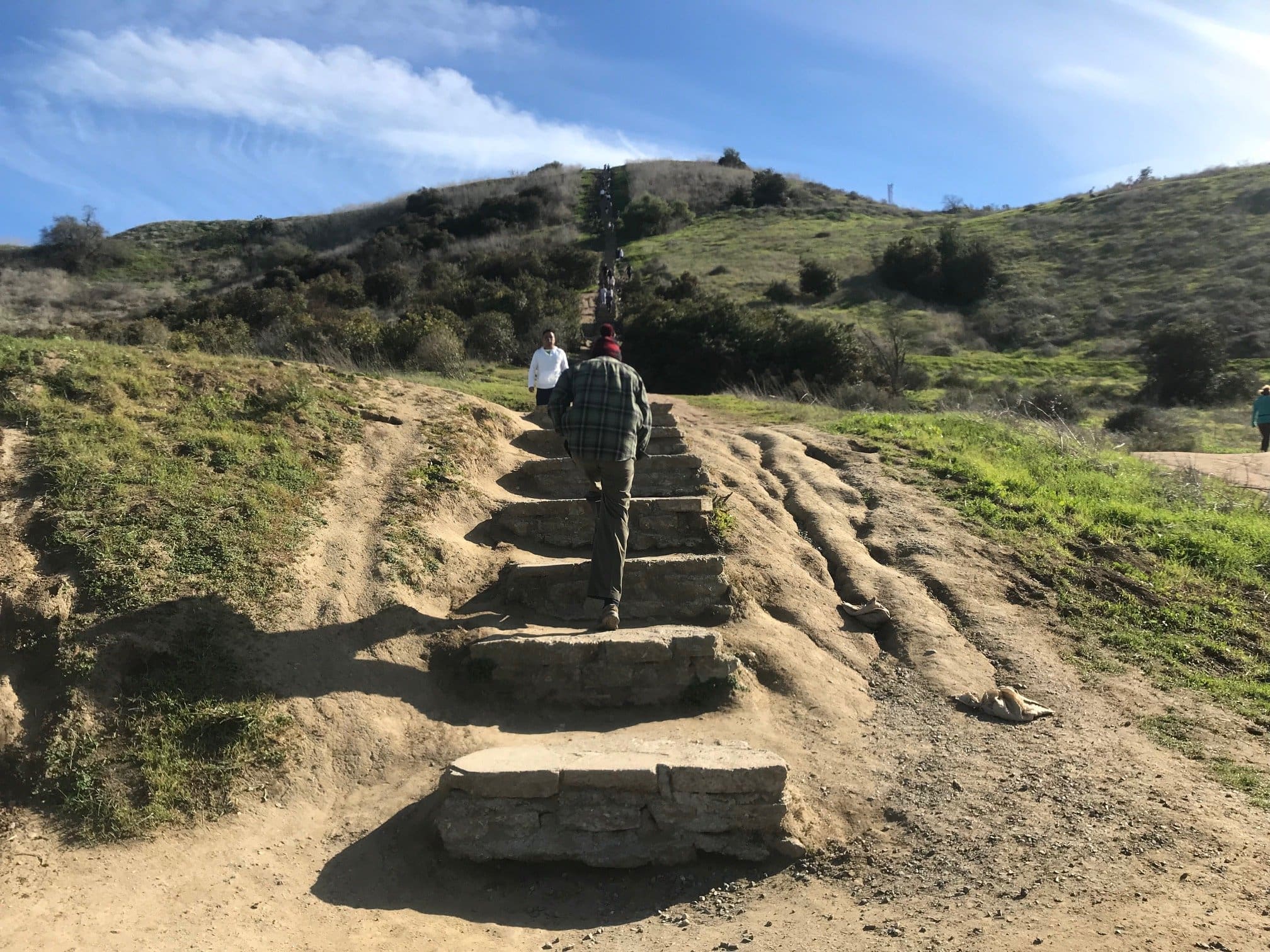 About a quarter of the way up. So far, it's not too bad. The Culver City steps aren't too high (no higher than a foot) and I'm moving along pretty swiftly.
One of the "levels" I mentioned earlier regarding this staircase, which is essentially a large gap or "checkpoint" between various parts of the stairs. (This is also connected to the main trailhead).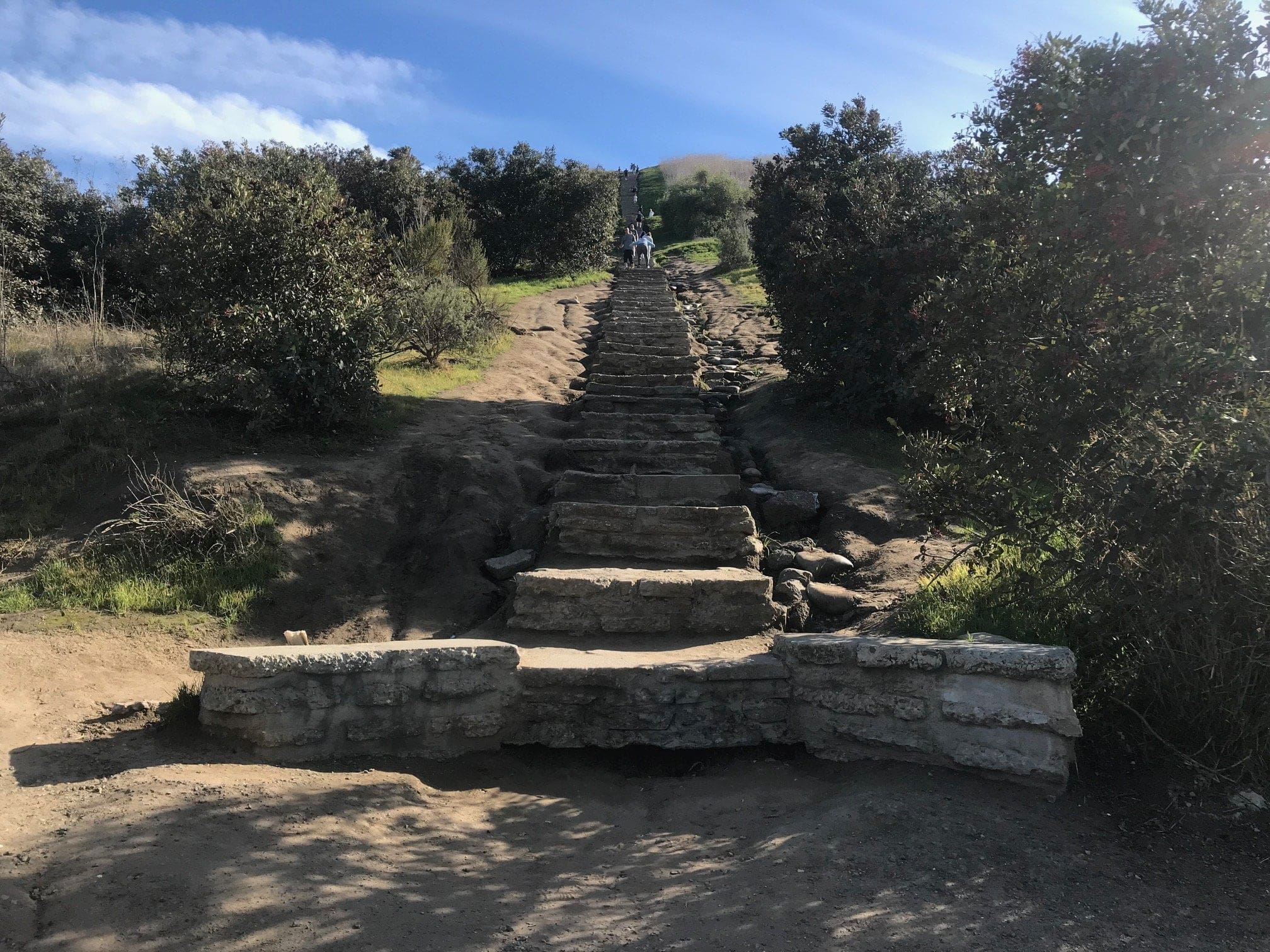 About halfway up; I notice some hikers opt to walk up the hill instead of the steps themselves.
This is where the tricky part began, where the steps decide to increase in height by about 1-2 feet (and being a whopping 5'4, I had to slow down and leverage my tiny little leg muscles to haul over each step).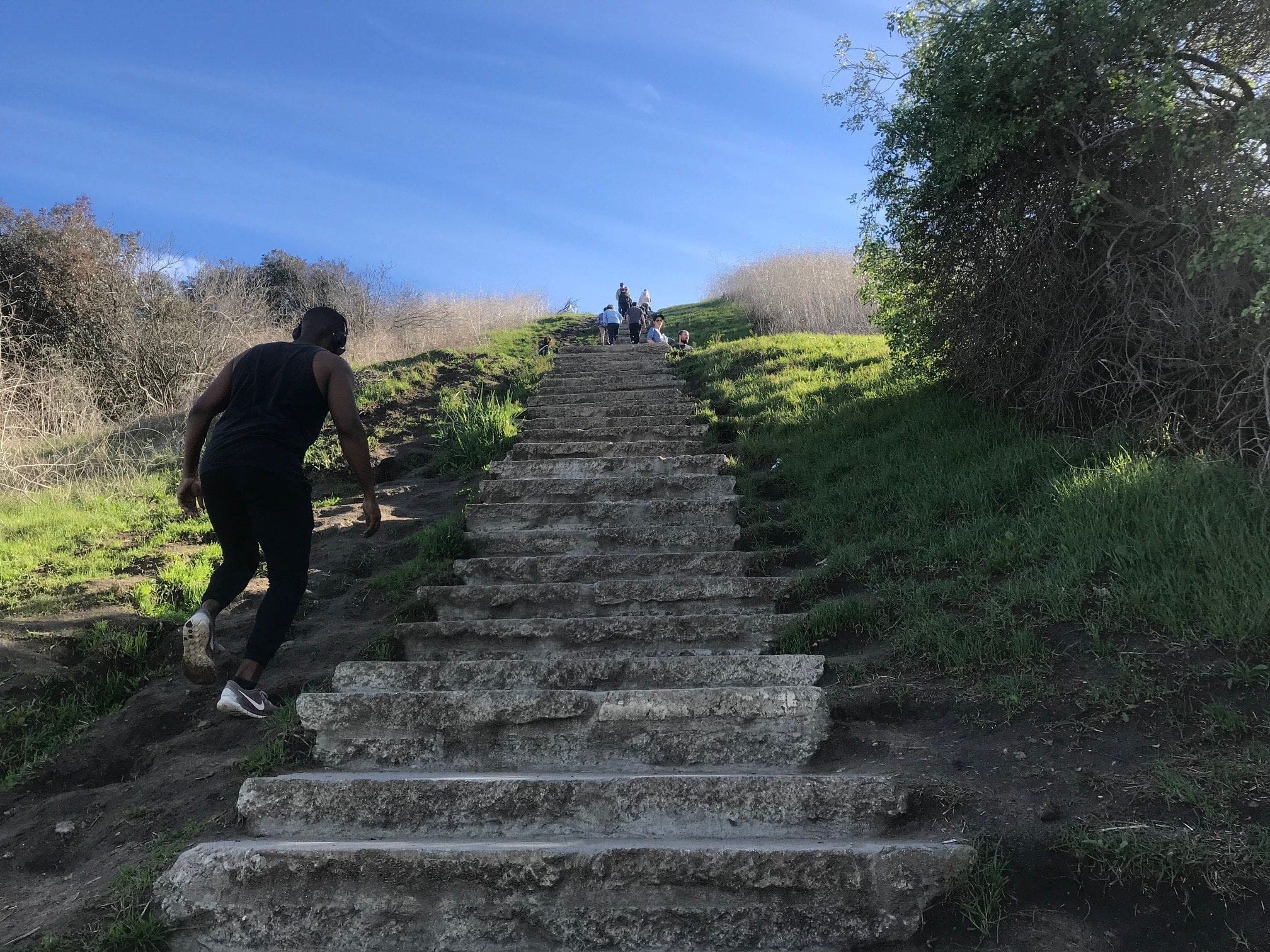 The last leg of the staircase, where the steps go back down to normal (about 6 inches).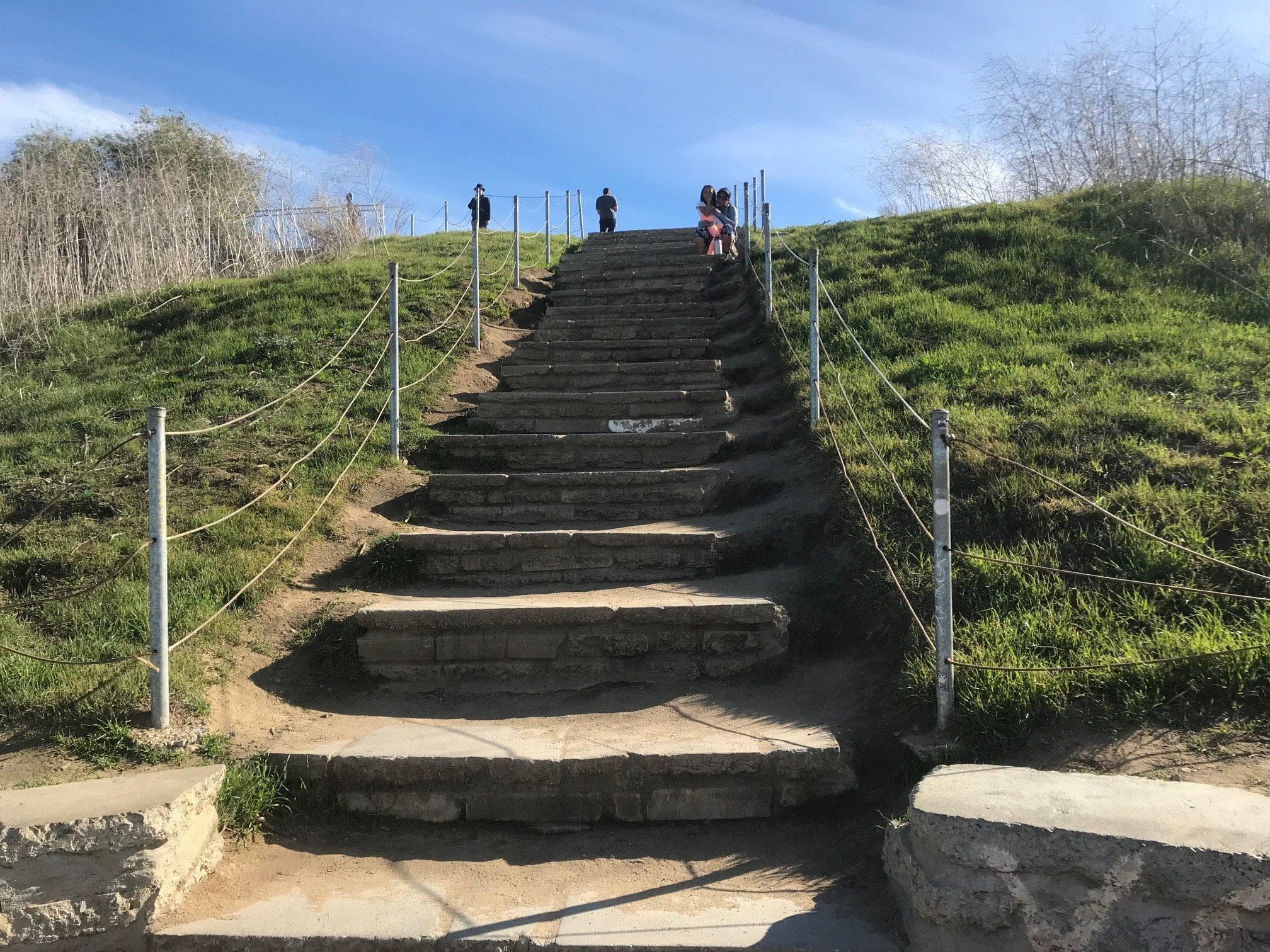 The view from the top of the staircase (the feeling of conquering a tough climb never gets old).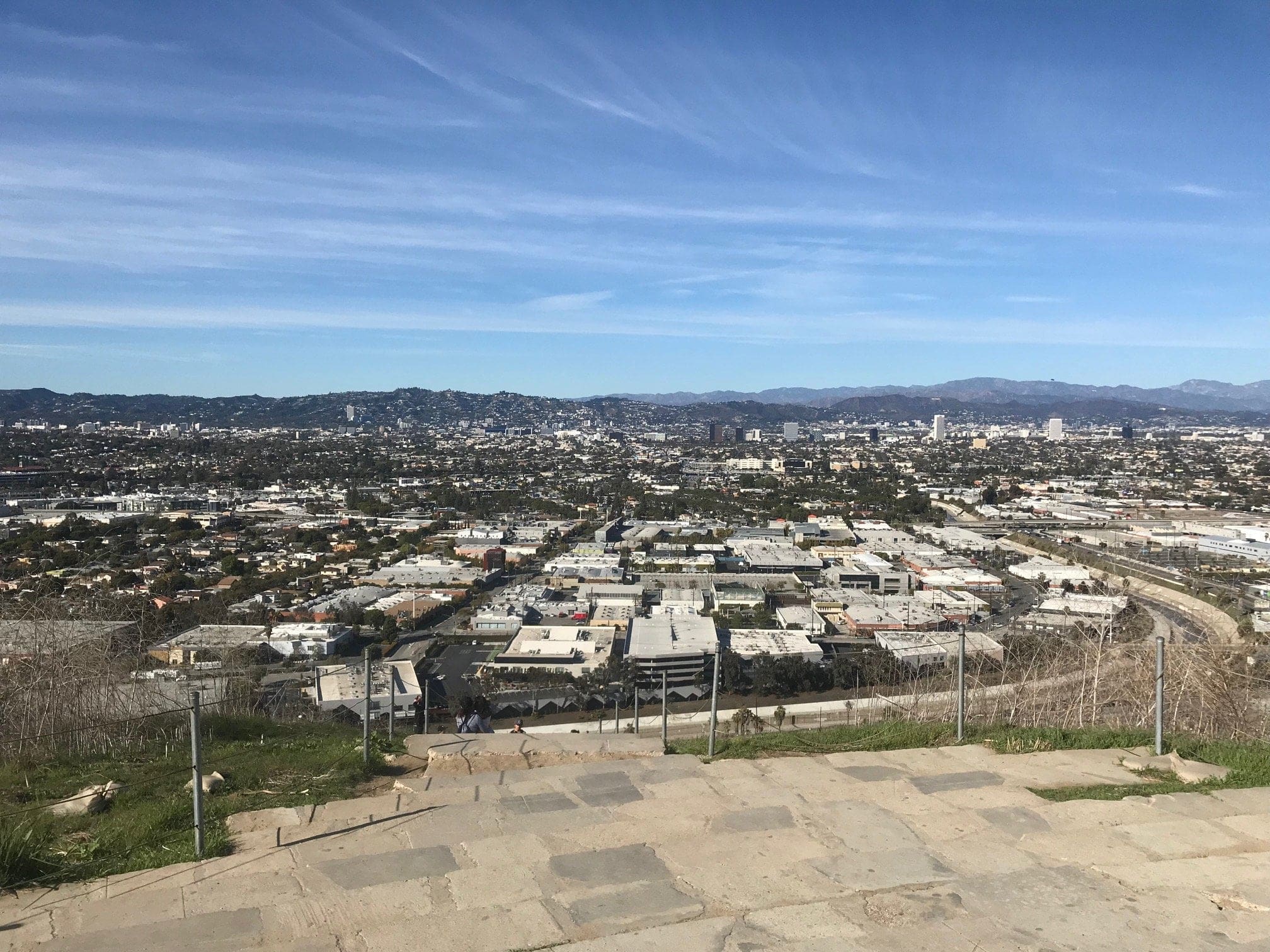 I make my way back to the Visitor Center and towards my car where I collapse from sheer exhaustion (a slight exaggeration).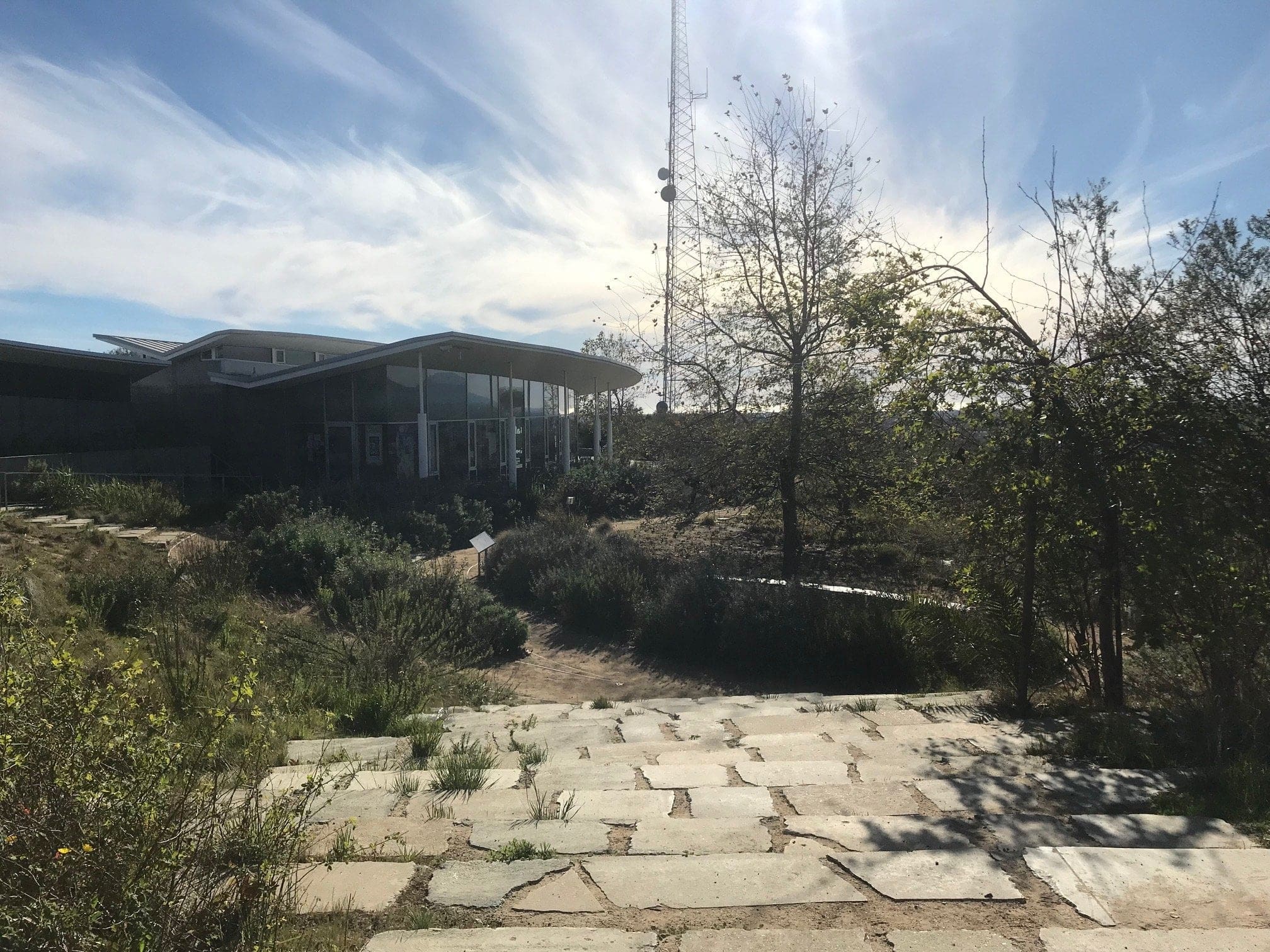 Workout
Overall, the total workout of the steps is up to your individual fitness, strength, weight, and capability. If you're curious as to what kind of workout this is, you can plug in your fitness numbers on Wolfram Alpha and calculate the workout.
Estimated Calories burned for 185 lb male – 282 steps. – 102 calories expended in about 400 feet gained over ~10 minutes. Of course, this assumes a rather fit and healthy average 25-year-old male so for some of us the caloric burn could be much higher.
It's surprising how the caloric burn doesn't seem that high.  If you have used a fitness tracker on this trail, we'd love to share some of your data. Leave a comment below and we'll update this post!
Overall Thoughts
Total Time Spent:
Hiking: 1 hour
Climbing the stairs: 7 minutes (the record for hiking the staircase is just over 2 minutes)
What I liked the most about the Culver City Stairs hike was how difficult the staircase became. The steps not only changed in height but also became more uneven and rigid to provide an even greater challenge. It starts off easy but quickly slaps you in the face with a 180° turn in difficulty.
I also appreciate how this outdoor staircase is in the middle of the hustle and bustle of Culver City, surrounded by well-kept grounds and easy trails that don't really become too steep (aside from the Hetzler/paved road).
The fact that there are also public restrooms and ample parking (albeit a $2.00/hour fee) at the top of the hill also earns this hike some brownie points.
However, if you're not a fan of people in general, stay far away because this place is about as touristy as Runyon Canyon and Griffith Park.
Pin it! Save & Share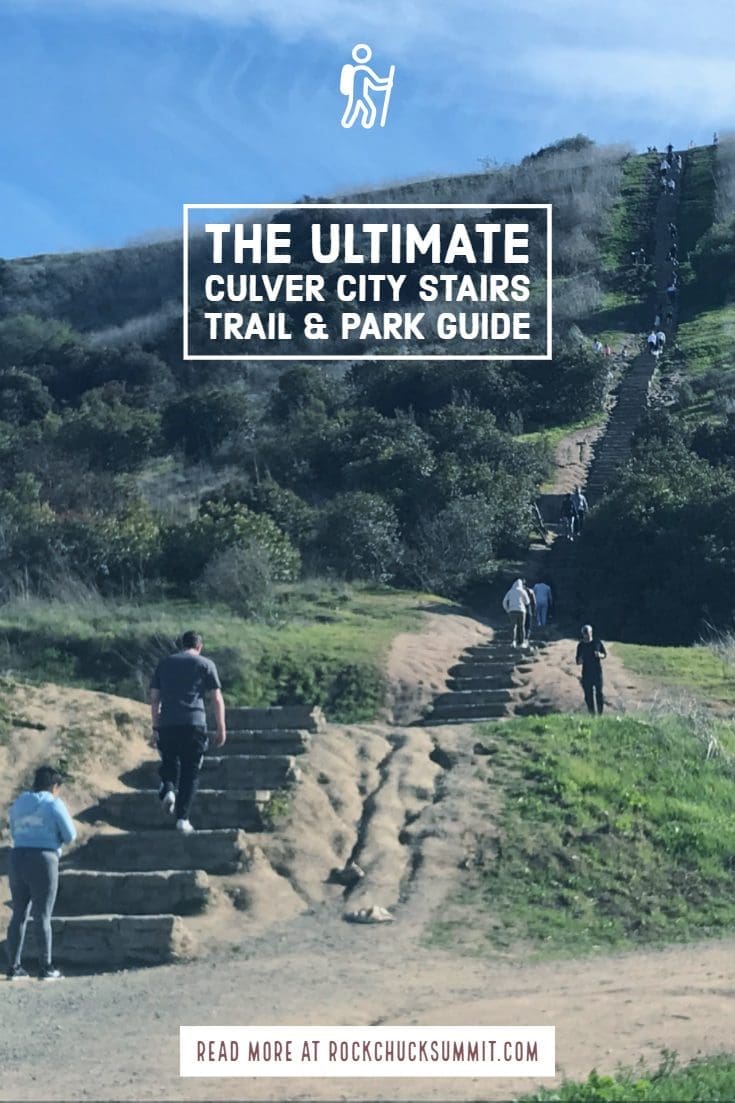 Hey there! I'm a professional content writer/copywriter who specializes in food/travel blogging & technical/marketing copy. My aim is to bring light to some of the more unpopular hikes and travel/food spots within the Los Angeles area, but I'm game to try out anything: popular trails, mountains, small trails, etc. When I'm not being a busy bee, I love to catch up on movies/video games and play with my fluffy furball, Daisy.