Looking to find some incredible caverns and caves to visit in the United States? I have three suggestions, based on a recent trip to the southeast during which I visited Russell Cave National Monument in Alabama, Ruby Falls in Tennessee, and Mammoth Cave National Park in Kentucky. This trio makes for a quick and convenient road-trip. Russell Cave and Ruby Falls are only about 45 minutes apart, so you can visit both in one day.
All three sites are distinctive in their own ways. Ruby Falls presents some spectacular cave formations and of course the waterfall itself. Mammoth Cave's #1 claim to fame is its sheer size: around 400 miles of documented cave trails (and people discover more every year). Some of these trails are cramped, forcing you to squeeze along narrow, twisting corridors with low ceilings, while other spaces like the awe-inspiring Rotunda are enormous underground rooms that look as if they were made for rock concerts. Russell Cave can only be viewed from the outside, but don't let that stop you from visiting! The cave itself is an impressive natural structure, and it has an incredibly interesting history. For over 10,000 years, it provided shelter to the region's inhabitants.
So, if you want to explore the great variety of caves and caverns in the United States, this road-trip is a great start!
Nashville, Tennessee: the perfect base
Nashville is right in the middle of these attractions. It's a little over two hours from the Russell Cave/Ruby Falls area, and about an hour and a half from Mammoth Cave. Plus, the city is a lot of fun!
Here's my general itinerary:
Day 1: Arrive in Nashville.
Days 2-4: Recover from awful cold!
Day 5: Drive to Russell Cave (visit for approximately 1 hour). Drive to Chickamauga and Chattanooga National Military Park in Georgia (visit for approximately 2-3 hours). Drive to Lookout Mountain in Chattanooga (visit for around 30 minutes since due to heavy fog there were no views). Drive to Ruby Falls (visit for approximately 1.5 hours). Eat dinner. Back to Nashville! This was a super ambitious day that was originally planned as a weekend trip. But since I lost a couple days due to illness, things got compressed.
Day 6: Nashville.
Day 7: Visit Mammoth Cave National Park. We took two tours, for a total of around 6 hours of hiking.
Day 8: Last day in Nashville.
Outdoorsy things to do in and around Nashville
If you attempt a similar itinerary, I'd encourage you to spend at least a few days in Nashville. There are plenty of outdoor activities in the area. My favorite is Radnor Lake, an easy and peaceful walk. You'll see some turtles and maybe even some wild turkeys. The spring ephemeral wildflowers are fantastic–Viriginia bluebells, shooting stars, and trillium, for example. The trail around the lake gets crowded on weekends, especially when the weather is nice, so I'd advise visiting on a weekday or when the weather is less than ideal. Parking can be a challenge on crowded days!  You can also go for a hike in the Percy and Edwin Warner Parks or go kayaking on the Harpeth River. And that's without even touching upon the food scene, music, and historic sites.
Now, on to the caves!
Russell Cave National Monument, Alabama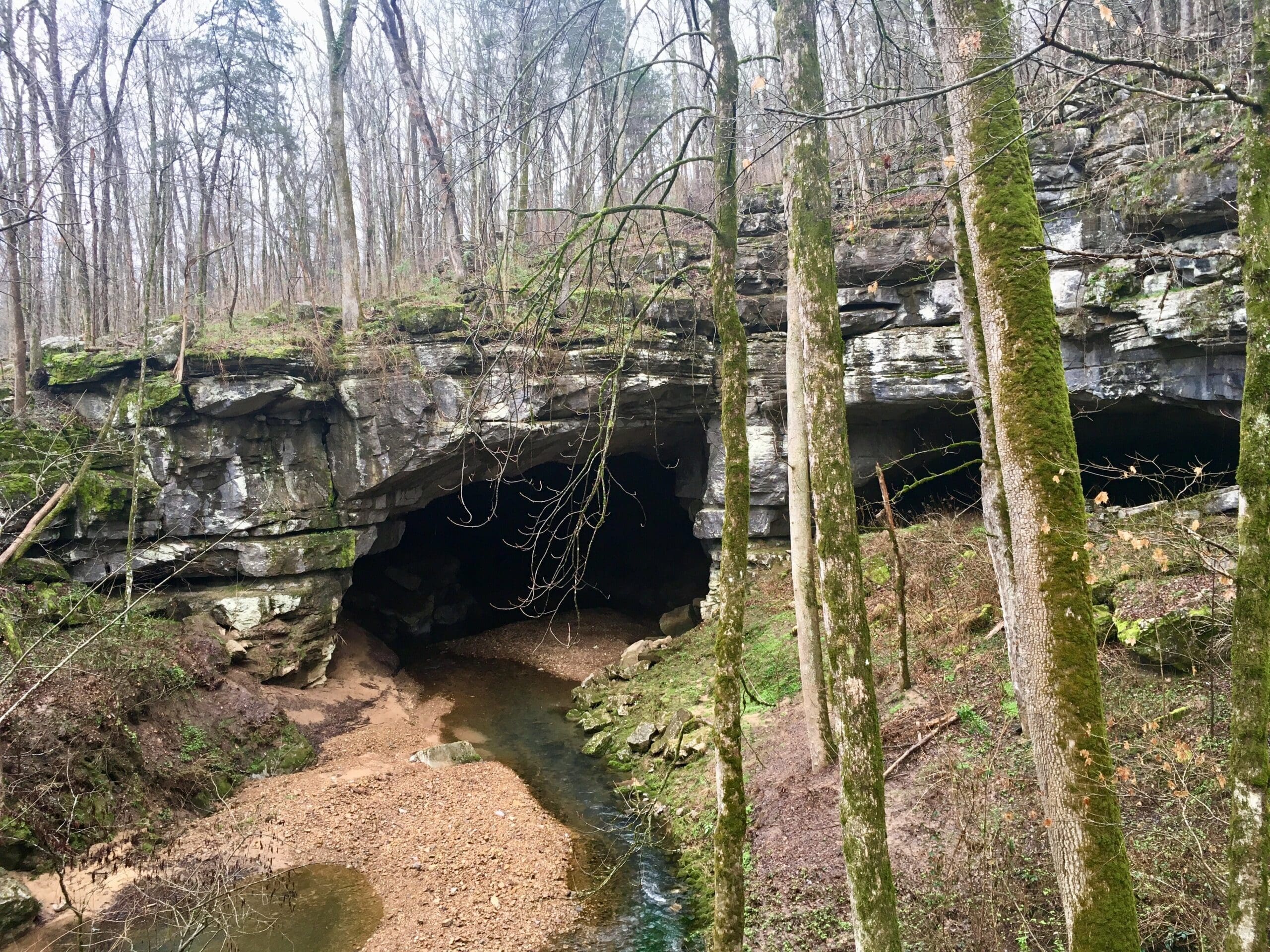 Why visit Russell Cave
Russell Cave National Monument offers a glimpse of how people lived in the area between 10,000 BC and 1650 AD. Archaeological excavations are still ongoing, and the exhibit in the visitor center showcases just a few of the many finds: arrowheads, fish hooks, animal bones, and so on. The cave seems to have been used in a variety of ways over time. It likely provided a permanent home for some people, and served as a winter shelter or brief stopping point for others, and as a hunting base for still more. So, if you're interested in Native American history, Russell Cave is definitely worth a trip.
The area is also very peaceful and beautiful. It was raining lightly when I visited, but I still went for a short hike on a ~1-mile loop trail. There are some additional trails available if you have more time (you can visit the wildflower meadow or take the birding trail). This is also a great place to go if you're looking for peace and solitude! On my trip to Russell Cave, I didn't come across anyone else, probably because I went on a rainy weekday morning in March, and because it's not a super well-known spot.
Ruby Falls, Tennessee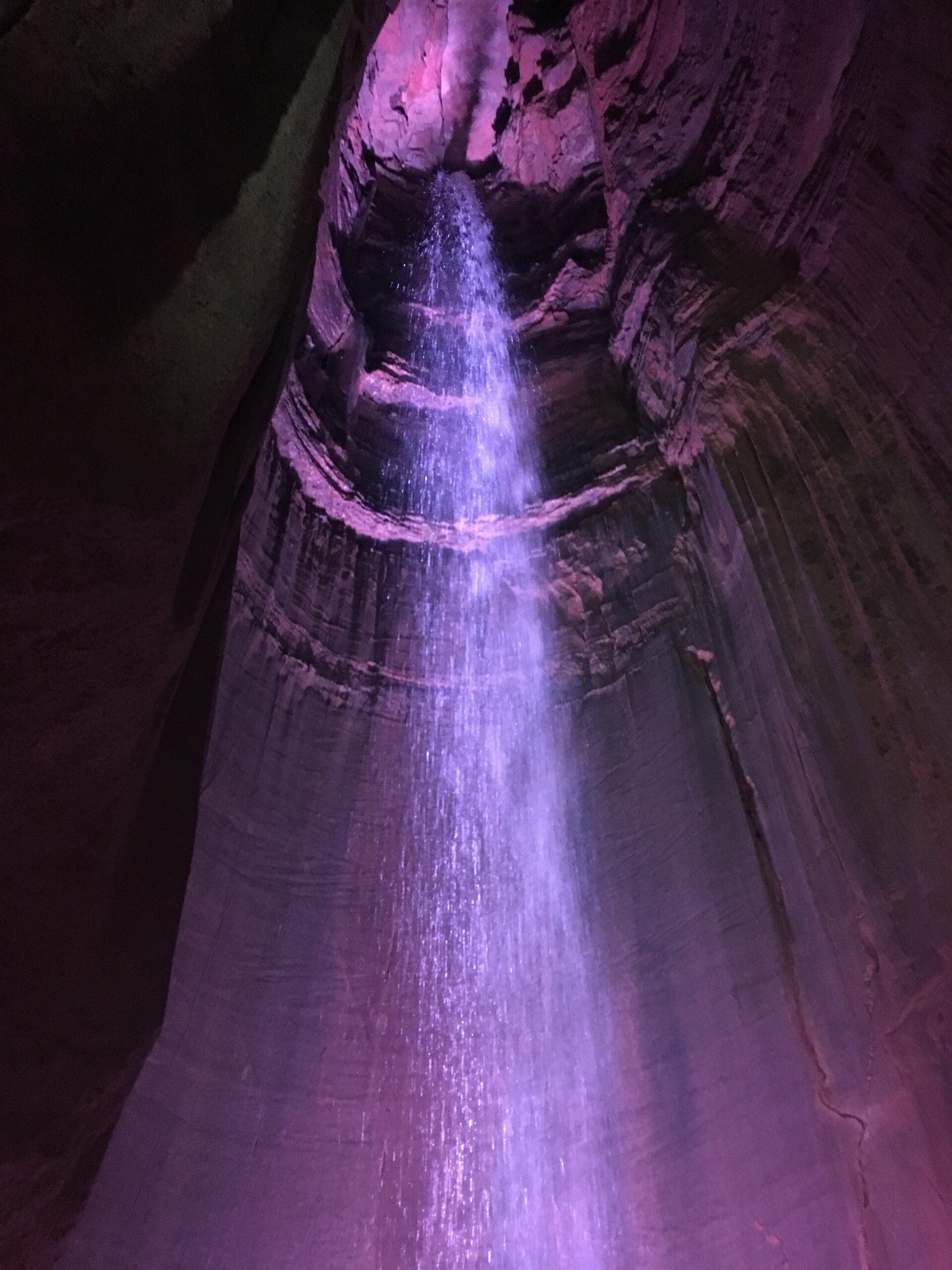 Ruby Falls, in contrast, definitely does not have a history of human involvement stretching back millennia. That's because this cavern has no natural opening to the outside world. It was only discovered in 1928 when Leo Lambert decided to drill into Lookout Mountain in an attempt to reopen Lookout Mountain Cave, which had been blocked off due to railway construction in 1905.  As he and his team excavated the mountain, they came across the small opening that would lead them to Ruby Falls. A new tourist attraction was born!
Be sure to wear comfortable hiking shoes when exploring these caves. They can be long, slippery or rocky trails.
Is it worth the money?
I paid about $20 for my ticket to Ruby Falls. I'll admit that the high price tag gave me some pause. Is it really worth it? Or is it just a tourist trap? There are tons of billboards in the Chattanooga area advertising Ruby Falls, and I wondered if it would be a total letdown. I skimmed through some online reviews. Most people seemed to like the experience! But some complained about overcrowding and not having enough time at the waterfall.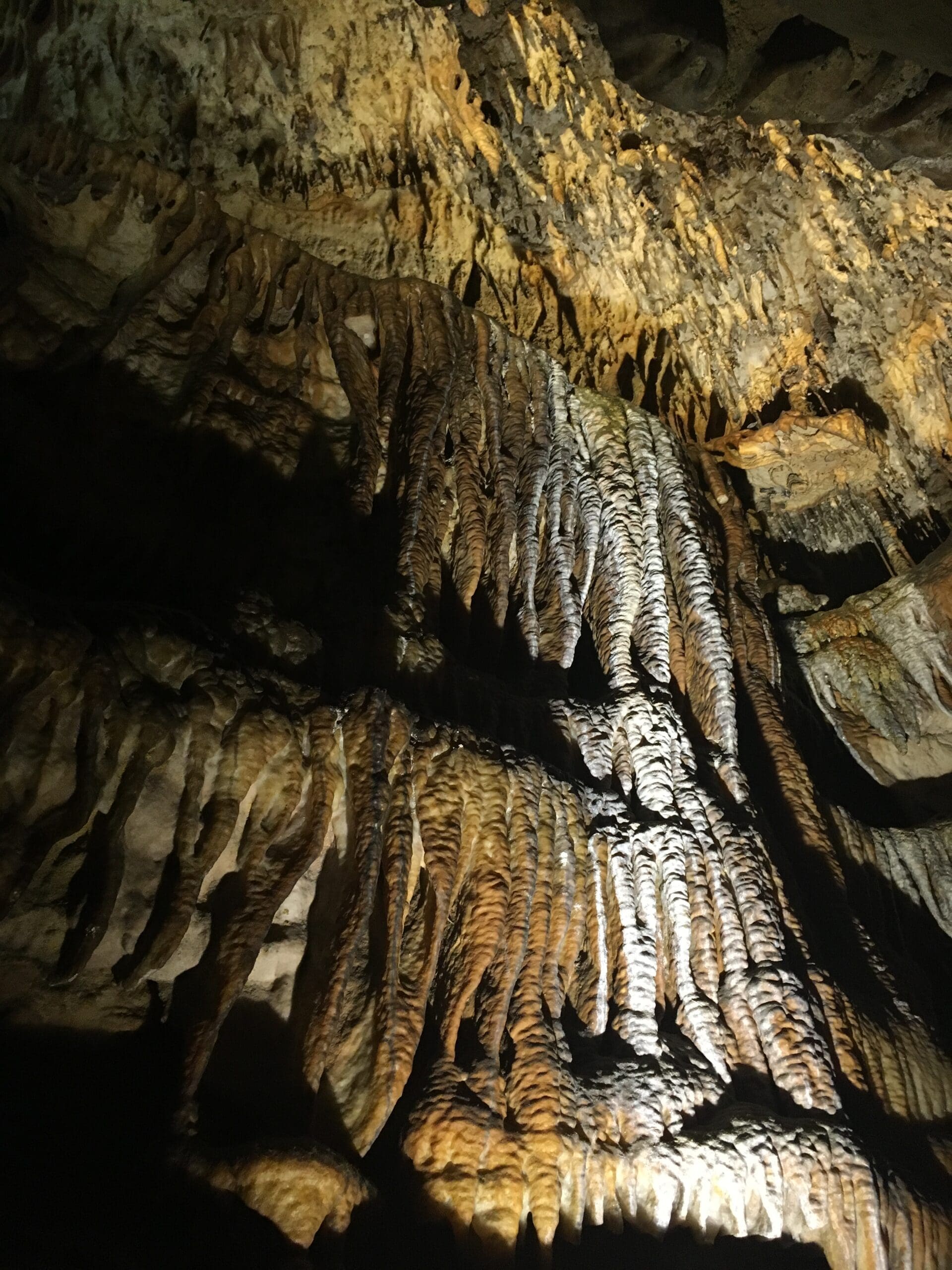 I'm happy to say that I really enjoyed my tours of Ruby Falls! The tour lasts about an hour, and our guide was very knowledgeable about the cavern. The rock formations truly are something else, and they seem to go on forever. Stalactites, stalagmites, drapery, columns…and of course the 145-foot-high waterfall itself.
Formations are lit with colored lights. Our guide mentioned offhand that some people don't like the colors, but honestly? I do. They might not be true to the natural color of the rock, but they set a dramatic mood that's more interesting than simple white light. As I'll get to below, the lights in Mammoth Cave aren't a neutral color either but rather a bright orange, which helps prevent algae growth. At any rate, all kinds of lights in a cave or cavern system are unnatural–the deep underground should be pitch black! So with all that said, I'm perfectly content to enjoy the colorfully lit rock formations of Ruby Falls. A little tacky and over-the-top for some people's taste, but I totally don't mind.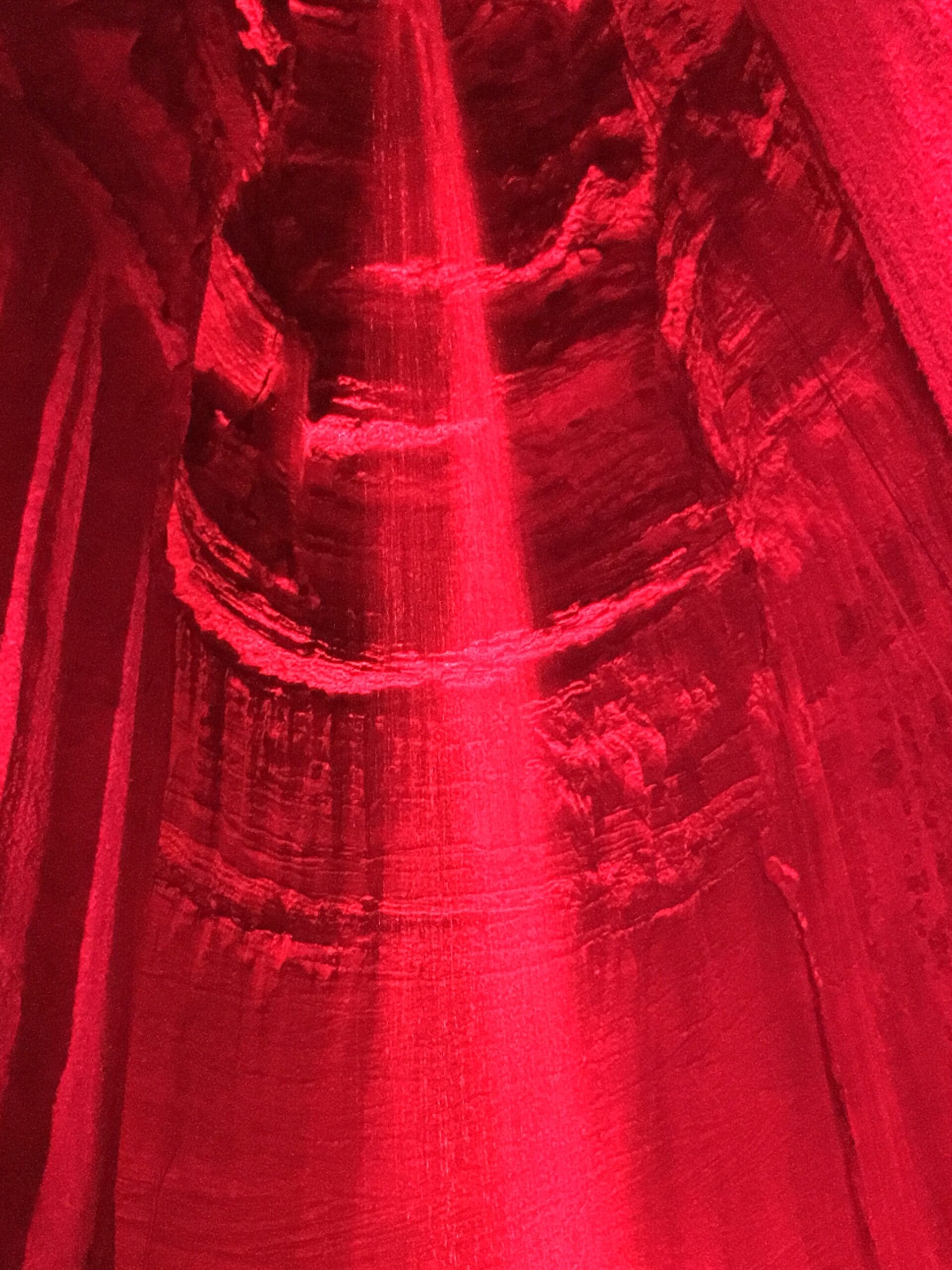 What to expect from your tour
Ruby Falls is one of the most popular tourist attractions in the Chattanooga area. Even though I went on a random weekday in March, I was expecting at least a small crowd. Our tour ended up having around 20-25 people, which is a pretty decent size. Our guide said she usually leads tours of 50 people, especially during the high season. We passed one or two other groups down in the cavern, all about the same size of ~25 people. I imagine if all the tour groups had 50 people, the constant coming and going and passing might be a little annoying, so I absolutely recommend going in the off-season if you can!
Where to eat in Chattanooga
After a long day exploring Chattanooga and Ruby Falls, you'll probably be hungry! I had dinner at the Public House, which was fantastic. As someone who's used to big city east coast prices, I found the prices here pretty reasonable ($30/person, but that could easily have been cut in half if I had chosen a less expensive dish and foregone the cocktail). Clumpie's ice cream is ridiculously good, so stop there for dessert.
Mammoth Cave National Park, Kentucky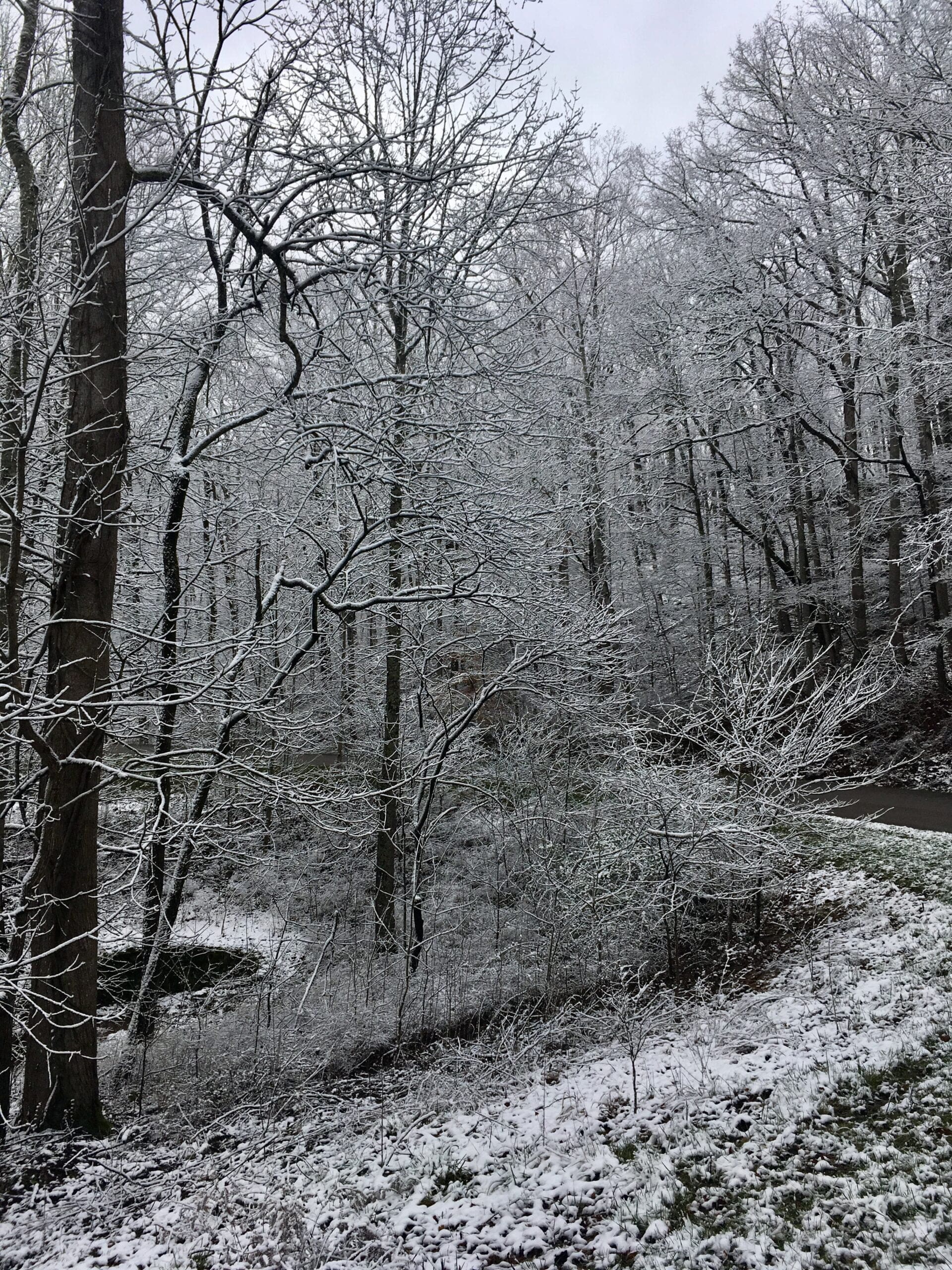 I visited Mammoth Cave with my fiancé and sister on a rather strange day in March. The day started off with snow, and the park looked like an ethereal winter wonderland. Six hours of cave tours later, the weather had jumped from winter to spring: the snow was all melted, the sun was shining, and flowers blossomed from the hillsides.
Highlights from the Grand Avenue tour
This is a map showing the part of the caves that this tour covers. As you'll see it's fairly extensive, taking you through 4 miles of cave (though that's only about 10% of the explored pathways!). The tour is described as very strenuous and includes about 700 stairs. The "very strenuous" rating is an exaggeration, but the rangers understandably don't want anyone to have a medical problem while down in the cave, potentially several hours away from help. So be sensible, but also don't be scared off. If you are reasonably fit and active, capable of walking up and down hills at a moderate pace for 4 hours (with breaks!), you'll probably be just fine.
So what were some of the highlights? First off, the sheer amount of time (4 hours) spent in the cave! It's a completely different environment, but after a while your eyes adjust and it seems perfectly normal. There's an orange glow throughout much of the cave. As I mentioned above, these orange lights are meant to stave off algae growth.
Another highlight: There comes a moment when the ranger turns out all the lights to give you a minute to enjoy true darkness. There's nothing quite like cave darkness. It doesn't matter if your eyes are open or closed because you'll see the exact same thing. Tours now are extremely safe, with guiding lights, handrails, and well-marked trails. But standing in the total darkness helps you imagine just how quickly these caves could become terrifying. Imagine exploring the area decades ago with only a torch or small lamp–what if it went out?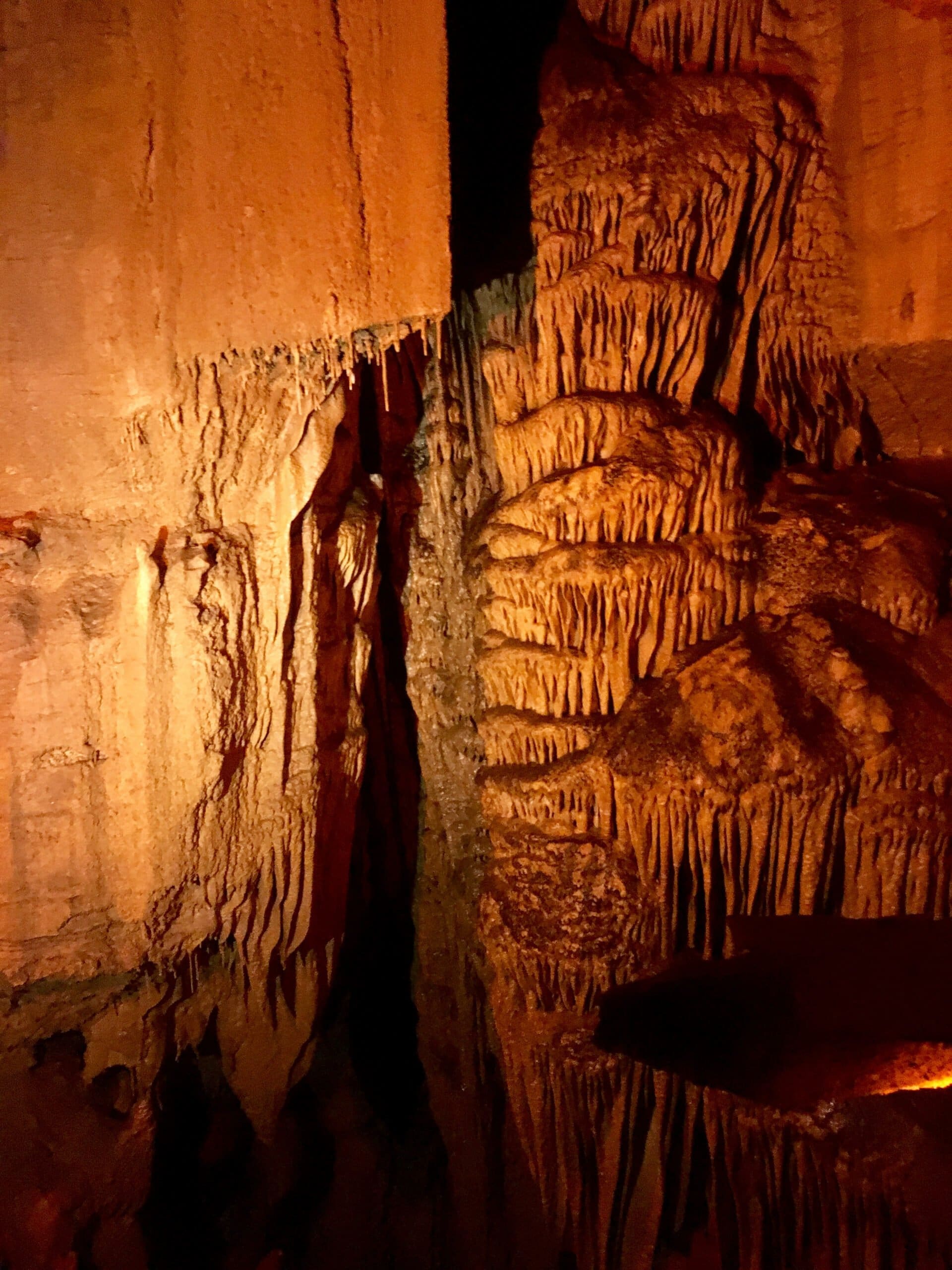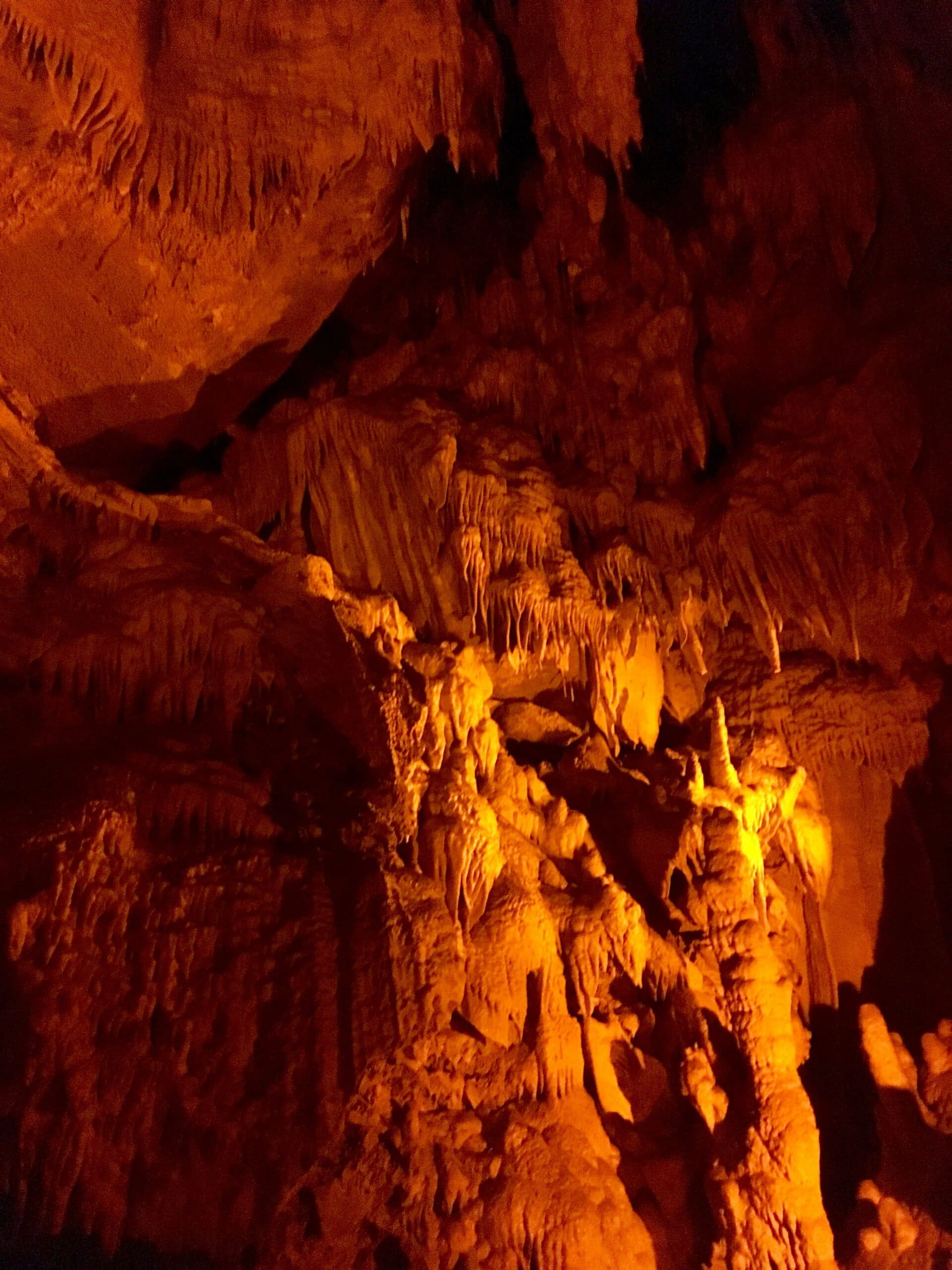 The tour finale is breathtaking. Most of the cave is dry, meaning that there are none of the cave formations–stalactites, stalagmites, columns, drapery, and so on–commonly associated with caves. All this changes once you get to the Drapery Room and Frozen Niagara. Descending into the Drapery Room feels like descending into a hellmouth.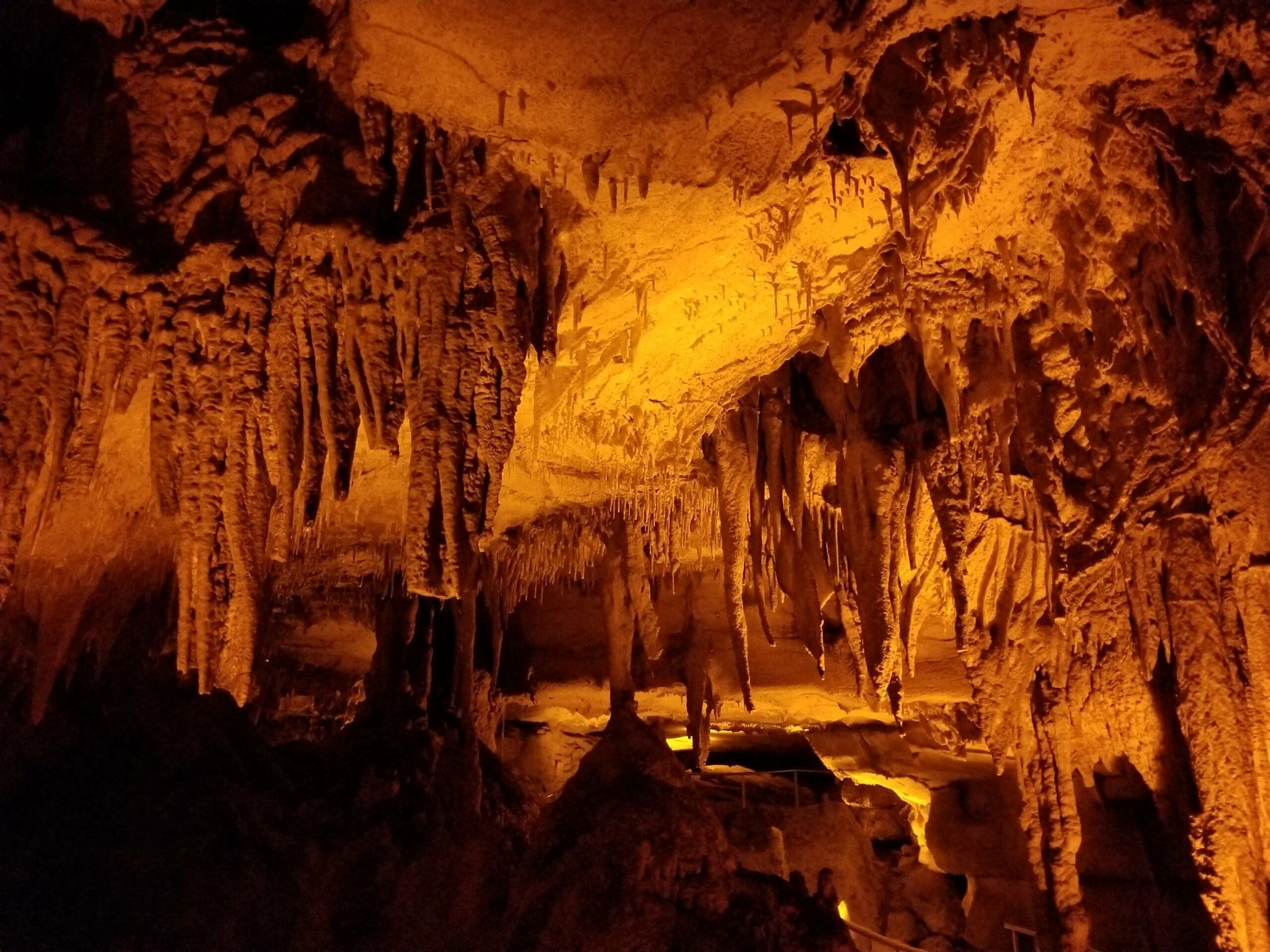 A few things to keep in mind:
Tours can run quite large (around 80 people).
There are a couple stops along the way for bathroom breaks.
You're allowed to take photos, but that's not the main purpose of this tour. I stopped to take a few quick pictures, but if you stop too much, you'll hold up the group. So set your expectations accordingly!
Respect the caves! Don't scratch your name anywhere or grab rock formations. Don't litter. A member of our tour group asked what the biggest challenge facing Mammoth Cave was today. The ranger responded simply, "Humans."
That said, some of the cave graffiti is actually pretty old, going back to the 19th century, and has considerable historical interest. Guides (often slaves, as I'll get to below) would "smoke-write" the names of their visitors using their tallow candles in exchange for a tip. This graffiti is quite distinctive looking and sheds light on some of the early visitors to Mammoth Cave. Just resist the temptation to add graffiti of your own!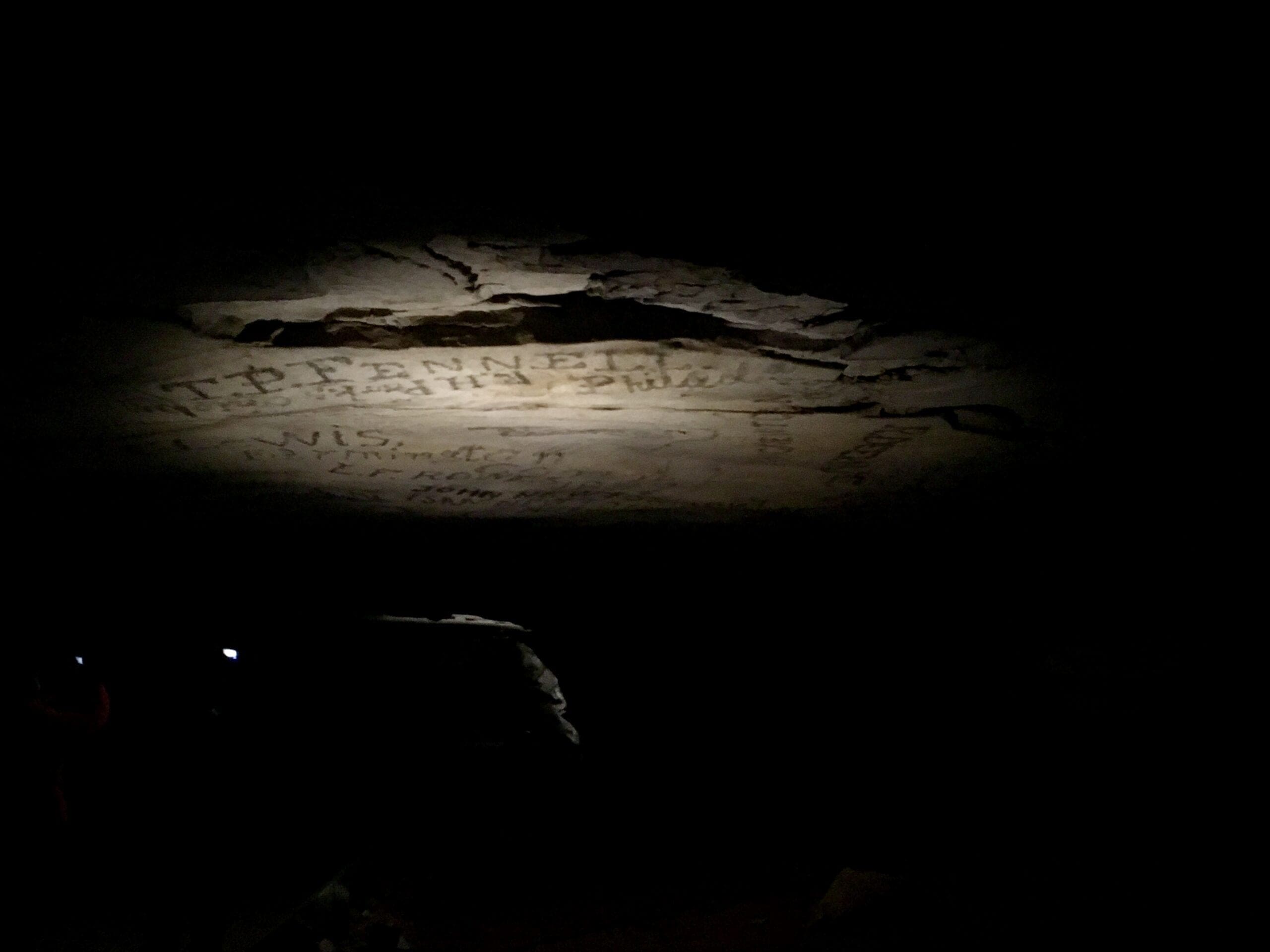 Highlights from the Historic tour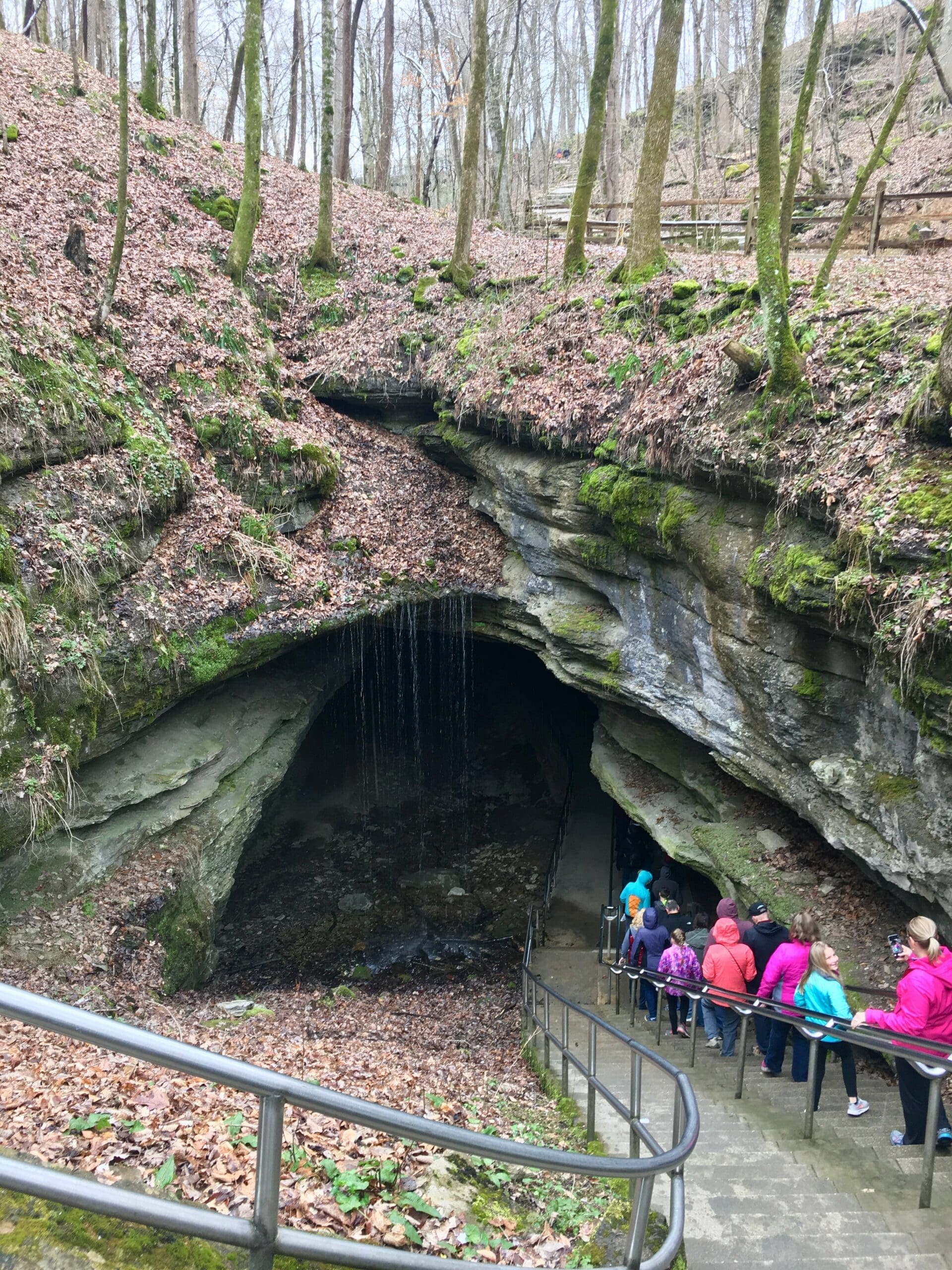 This tour was a fantastic introduction to the human history of the cave system, particularly the presence of slaves during the 19th century. During the War of 1812, the American military desperately needed saltpeter to make gunpowder. Around 70 slaves were forced to mine for calcium nitrate in Mammoth Cave. After the war, demand for saltpeter fell, and the cave became a tourist attraction. Many of the earliest tour guides were enslaved African Americans. Perhaps the most famous was Stephen Bishop, who explored the cave system extensively and produced maps of it, as well as publishing a guidebook called Rambles in the Mammoth Cave.
You can view the map here to see the paths covered on the historic tour. We visited some of the best-known areas of the cave, from the airy Rotunda to the aptly named Fat Man's Misery, a narrow, serpentine section that forces you to slither through the rock.
Visitor Center and Museum
I'd recommend allowing an extra 45 minutes or so to browse the museum exhibits. There's a lot of information on the karst landscape of the region, explaining how Mammoth Cave came to be. You can also learn about the history of cave exploration here, and the rangers' continued exploration of new pathways today.
Plans for next time…
As always, every time I visit a new place I immediately want to go back. Here's what I have in mind for my next trip to Mammoth Cave:
Go on the Wild Cave Tour.
Go on an above-the-ground hike or two. There are miles of backcountry trails at Mammoth, though understandably most visitors focus on visiting the unique cave system. But now that I've seen some of the cave, I'd love to return for some regular hiking.
These three sites–Russell Cave, Ruby Falls, and Mammoth Cave–represent a range of karst landscapes that played varying historic roles in the southeastern United States. There's Russell Cave, which provided shelter to people for millennia; Ruby Falls, excavated only in the 20th century and opened as a tourist site, now renowned for its stunning formations and underground waterfall; and of course the incomparable Mammoth Cave, with its seemingly endless trails.
Have you visited any of these locations? What was your experience?