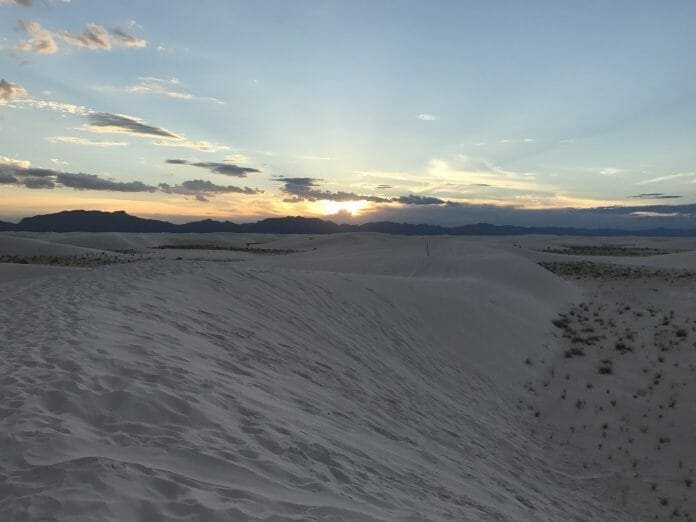 White Sands National Monument is a treasure of our national monument system that has a special place in my heart. I've been now a couple of times and each time is more amazing than the last. From the inspirational views of the majestic white dunes that reach out for miles to enjoying the soft gypsum sand on your toes, the experience of the park is mesmerizing and awe-inspiring.
White Sands National Monument
Driving out of central Texas is a long drive, so our entire family was ecstatic on the thought of getting out of the car, stretching our legs and starting off on our two-week vacation.  After twelve plus hours of windmills and Texas hill country (and Texas flat land), we were thrilled to be welcomed to New Mexico.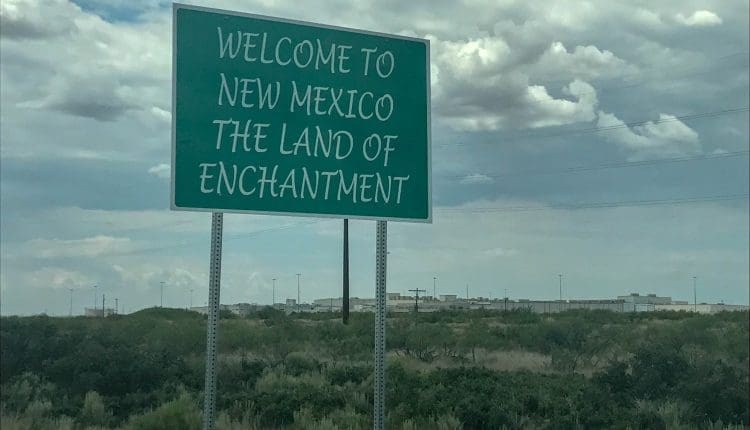 White Sands National Monument is on the Western end of the state – near the border with Mexico. We came in by way of Carlsbad Caverns (which was our first stop). Coming in from Carlsbad, crossing over the mountains, driving through Cloudcroft and coming back into the valley of White Sands is a beautiful way to actually see southern New Mexico and experience some amazing alpine views and desert views all within a few hours. There are some amazing vista views of the entire dune range you can see from pull-over spots as you drive down the zig-zag road from Cloudcroft.
Arriving at White Sands New Mexico
As we got closer to the park and could see the dunes and vast expanses of bright white sand the excitement of the park became contagious. Both my kids were super excited – one of them even exclaiming:
[bs-quote quote="I don't know why I'm so excited for sand, but I can't wait to play in it!!" style="style-17″ align="center" author_name="Ollie Miller" author_job="Happy Kid"][/bs-quote]
Checking into the park, you must first stop at the ranger station and get your vehicle permit/pass, top off your water (you did bring water bottles for everyone right?) and rent or buy a snow err sand sled. Once stocked up and ready to enter the monument, the park road goes a few miles into the dunes where you can easily find a parking spot. The road is usually clear and it will eventually disappear from pavement to pressed gypsum (sand) with lots of areas to park and turnout for safe parking.
It was only a matter of seconds after parking and heading out to the dunes before we had one of our kids buried in the sand. The gypsum sand is so soft and cold, and it hardly sticks to you at all which makes cleanup fast and easy (besides whatever may have got in your shorts). The white gypsom is cool and soothing so everyone was quick to burry their toes, feet and as you can see – their whole entire body.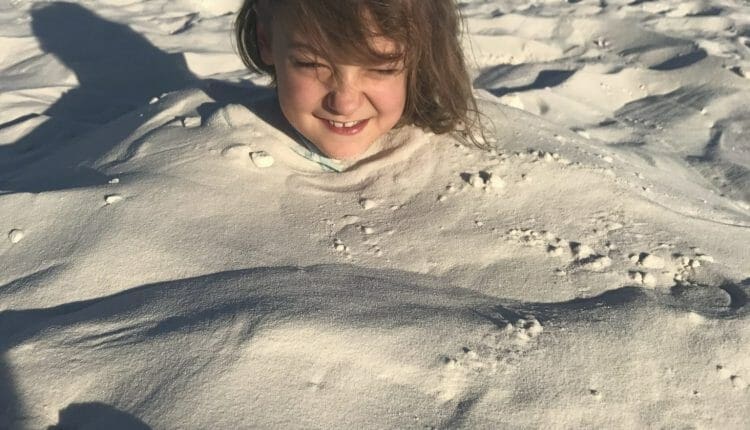 Playing in the sand was fun for the entire family, even I felt like a little kid running around barefoot and having fun in the sand. Once you're out there for a few minutes and have ventured off over a few dunes, you're gifted with skies and mountain views that are just majestic. I couldn't get enough photos to capture everything, and I mostly stood around in pure awe of the peacefulness and pure serenity of being on the dunes. Even caught some footage of a thunderstorm and lightning strikes in slow-motion!
Everyone walking around the park, everyone we meet, everyone we saw had a huge grin on their face. There is just something about the beauty, mystique, and character of this monument that brings a smile to your face and awakens your mind, body, and spirit.  You can just bury your feet in the cool sand and catch yourself staring off into the beautiful vistas and watching nature unfold in front of you for hours and never notice the time flying by – only people smiling back at you as they smile about the beauty they're experiencing as well.
White Sands Bucketlist
Fun things to do at White Sands – Get out and explore, hike, sled, if you enjoy primitive camping – Get out there and camp under one of the clearest skies you may ever see and be sure to bring your camera wherever you go!
Hiking – The park is wide open and the dunes travel with the winds, so not much is there for organized paths but there are some markers maintained for primitive spots. Otherwise, just bring a compass, track where you are and get out and explore the dunes.
Sledding – The Gypsum sand and disc sleds make for great fun. As you explore the area you will continually look for the best hill to slide down. Wiping out isn't bad, the sand just brushes right off. What is this magical stuff?
Camping – There is primitive camping allowed in parks. Permits must be purchased from the ranger station at the park entrance.
Photography – Take lots of photos and create lots of memories. Being that it is sand, a phone in a case works great if you don't want to risk getting expensive gear all scratched or dusty.
Picnic – While I wouldn't recommend lunch here – it gets blazing hot in the afternoons a picnic dinner on the dunes is sure to please – or even just a picnic snack.
White sands should be on your to-do list if you're planning to be anywhere near New Mexico. I've included some stops that we enjoyed in nearby towns that make great affordable and fun day trips for the entire family. White Sands is a national treasure, and you should check out!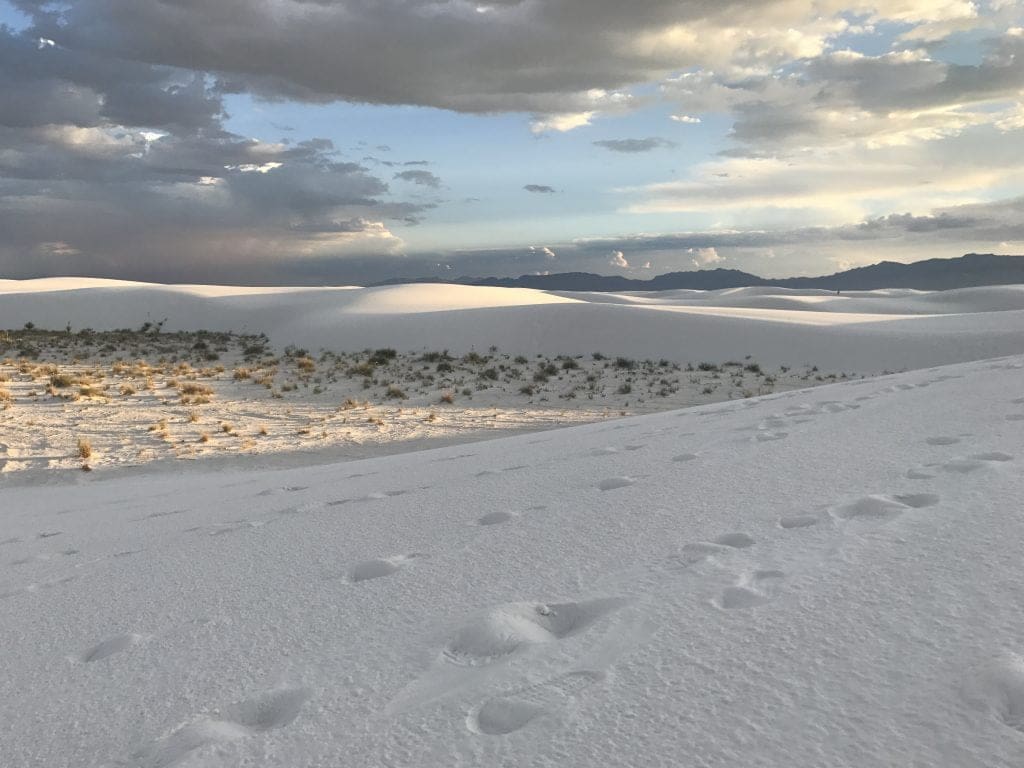 About White Sands National Monument
Website: https://www.nps.gov/whsa
Rising from the heart of the Tularosa Basin is one of the world's great natural wonders – the glistening white sands of New Mexico. Great wave-like dunes of gypsum sand have engulfed 275 square miles of desert, creating the world's largest gypsum dune field. White Sands National Monument preserves a major portion of this unique dune field, along with the plants and animals that live here.
White Sands National Monument has seasonal operating times. Be sure to check their website for most up to date information: https://www.nps.gov/whsa/planyourvisit/hours.htm
**Dunes Drive opens at 7:00 a.m. daily except on days when there is a monument closure.
| | | |
| --- | --- | --- |
| Dates: | Visitors Must Enter Before: | Visitors Must Exit Before: |
| January 1 –February 18 | 5:00 p.m. | 6:00 p.m. |
| February 19 –March 11 | 6:00 p.m. | 7:00 p.m. |
| March 12 –April 22 | 7:00 p.m. | 8:00 p.m. |
| April 23 –May 27 | 7:30 p.m. | 8:30 p.m. |
| May 28 –September 2 | 8:00 p.m. | 9:00 p.m. |
| September 3 –October 7 | 7:00 p.m. | 8:00 p.m. |
| October 8 –November 4 | 6:00 p.m. | 7:00 p.m. |
| November 5 –December 24 | 5:00 p.m. | 6:00 p.m. |
| **December 25** | CLOSED | CLOSED |
| December 26 –December 31 | 5:00 p.m. | 6:00 p.m. |
Wikipedia: https://en.wikipedia.org/wiki/White_Sands_National_Monument
Entry fee:  Entry fee is $5.00 per adult over 15. Children under 15 are free.
Getting to White Sands National Monument
Address: 19955 Hwy 70 W, Alamogordo, NM 88310
On your way to White Sands, I recommend stopping at Cloudcroft or if you're coming in from the southwest visiting Las Cruces and Alamogordo. All of these New Mexico towns offer great attractions to visit on your way to White Sands National Monument and entirely worth day trips.
Day Trips around White Sands
Cloudcroft New Mexico
Cloudcroft is a beautiful little town nestled in the mountains just to the east of White Sands.  Stop at many of the shops and be sure to get some fresh squeezed Cherry Cider, it's delicious. Not only does Cloudcroft have some unique stores and tasty treats but on your way down from Cloud Croft on route 82 you get some fantastic views of white sands and the valley below. Just be sure to focus on the road, the grade is steep and traffic abundant – there are pullover spots to park and soak it all in. We love driving through Cloudcroft on our trips since its one of our first "Alpine" experiences with the crisp mountain air and blue spruce trees.
Alamogordo New Mexico
If you come through Alamogordo, be sure to stop at the New Mexico Museum of Space History. Some excellent exhibits for any space nut with an outdoor and indoor display which is fun for the entire family – just pay attention to hours of operation as we showed up when they closed for a day off midweek.
Las Cruces New Mexico
If you're really out west – or just want more things to do around White Sands, Las Cruces was a great day trip for us as well since they have an abundance of free museums for the entire family to enjoy. We started with the fun Museum of Nature & Science with plenty of exhibits and displays for the whole family and a fantastic art museum in the adjacent building. After the "Nature and Science museum," we headed over to the Zuhl Museum and had an excellent time looking at their massive fossil and petrified wood exhibit. Last but not least, stop at Old Mesilla Village and enjoy some rustic shopping, collectibles and one of the many restaurants nearby. I was pleasantly surprised at what Las Cruces offered in addition to the beauty of the Sand Dunes National Monument.
Items to bring
White sands park is arid and dry, especially if you go during the peak of the day. Be sure to bring plenty of water for everyone in your group. I would heavily recommend that you pack in snacks, apply a layer of sunscreen and wear a hat and sunglasses.  If you want to enjoy sand-sledding, I recommend that you buy a "Snow Sled" disk and some wax in advance, so you don't have to wait at the ranger station. Lines can be long at the gift shop, especially in evenings when the park is cooling off. If you do buy at the ranger station, you can get a used one and return it to get some cash back, and they offer little cubes of wax inside too. The gift shop is always fun to browse around and while you're there grab some national monument sticks to put on your car to remember your trip.
Products from Amazon.com
‹
›
BTW, the snow sleds aka "Sand sleds" were a blast! Just be sure to run the wax parallel to the direction you are sledding – an up and down motion. The park rangers will give you a rundown if you buy a sled from the ranger station. (Video to come soon!)
Amenities
White sands park offers a full-service ranger station (don't forget to get your kids national park/monument passport stamped!). Primitive pack-in-pack-out camping is available if you have checked in.  For day use or camping, there are plenty of restroom facilities and parking spots along the drive. Just be sure to bring all the water you need for your day trip or overnight camp.
When to go to White Sands
My recommendation is an evening trip to White Sands National Park. The temperatures drop quickly, and often there are storms out in the distant mountains. Depending on the time of year you can see either a clear moonless night with more stars than you could dream of or a beautiful moonlit evening where the sand shimmers in the moonlight reflecting a bright silvery glow.
White Sands National Monument Photo Gallery
We took many photos and videos while at White Sands National Park, I hope you enjoy perusing through them as much as we enjoyed making them!