I must warn you; this post contains a little bit of sarcasm and light-hearted humor. Sometimes on family trips in the middle of the desert and deep underground adventures come from within and after the fact. We all suffered a little bit and ribbed each other a little bit but left with a memory we'll never forget. My kids have long since gotten beyond the hating dad for making them hike out – to a glimmer of not just acceptance but appreciation. Read on to discover some great family adventures we had, and ones we hope you can experience at Carlsbad Caverns NM.
What's more entertaining than having your 10-year-old daughter says she wants to "kick your ass"? How about having your 10-year-old daughter tell you this as you hike your way out of a cave deep in the mountains of southern New Mexico? Join us for our entertaining family adventure to Carlsbad Caverns and share a laugh as we reminisce about an experience that lies deep within the Chihuahuan desert of New Mexico.
Carlsbad Caverns Family Vacation
Last summer we started our two-week road trip family vacation adventure with our first stop being the beautiful Carlsbad Caverns. We've explored a few other cavern systems as a family, so we're not entirely new to them, but nothing prepared my kids and me for the experience of Carlsbad.
It was a sweltering day up top. Some of us were cranky after doing the never-ending drive across the great state of Texas, and we were just trying to get our camping groove on as well.  We all forgot our water bottles, and we wore the wrong shoes, we packed the wrong clothes, but we're at Carlsbad, and we're all itching to get out and explore.
Upon arriving at the park, it was apparent everyone in the entire southwestern part of NM had the same idea as we did – the place was packed!  We could see everyone was mostly pre-occupied with the gift stores, so we instantly jetted towards the elevators, and much to my surprise we only had to wait a few minutes to get one and start our caving adventure.
Once we were down in the caves and everyone happily complaining that they went from too hot to too cold, we all rolled our eyes and screamed at each other that this is supposed to be fun. We all agreed it could be and begrudgingly started searching for the route to take.
As we started on the self-guided tour, everyone forgot about how cold it was, how dark it was, how hot we once were.  Our eyes adjusted. Our minds adapted. The beauty of the cave sinks in. Both my kids got their cameras out and started taking pictures of everything. Before long, all they could do is announce every cool thing they saw and everything they wanted to take photos of to capture the moment.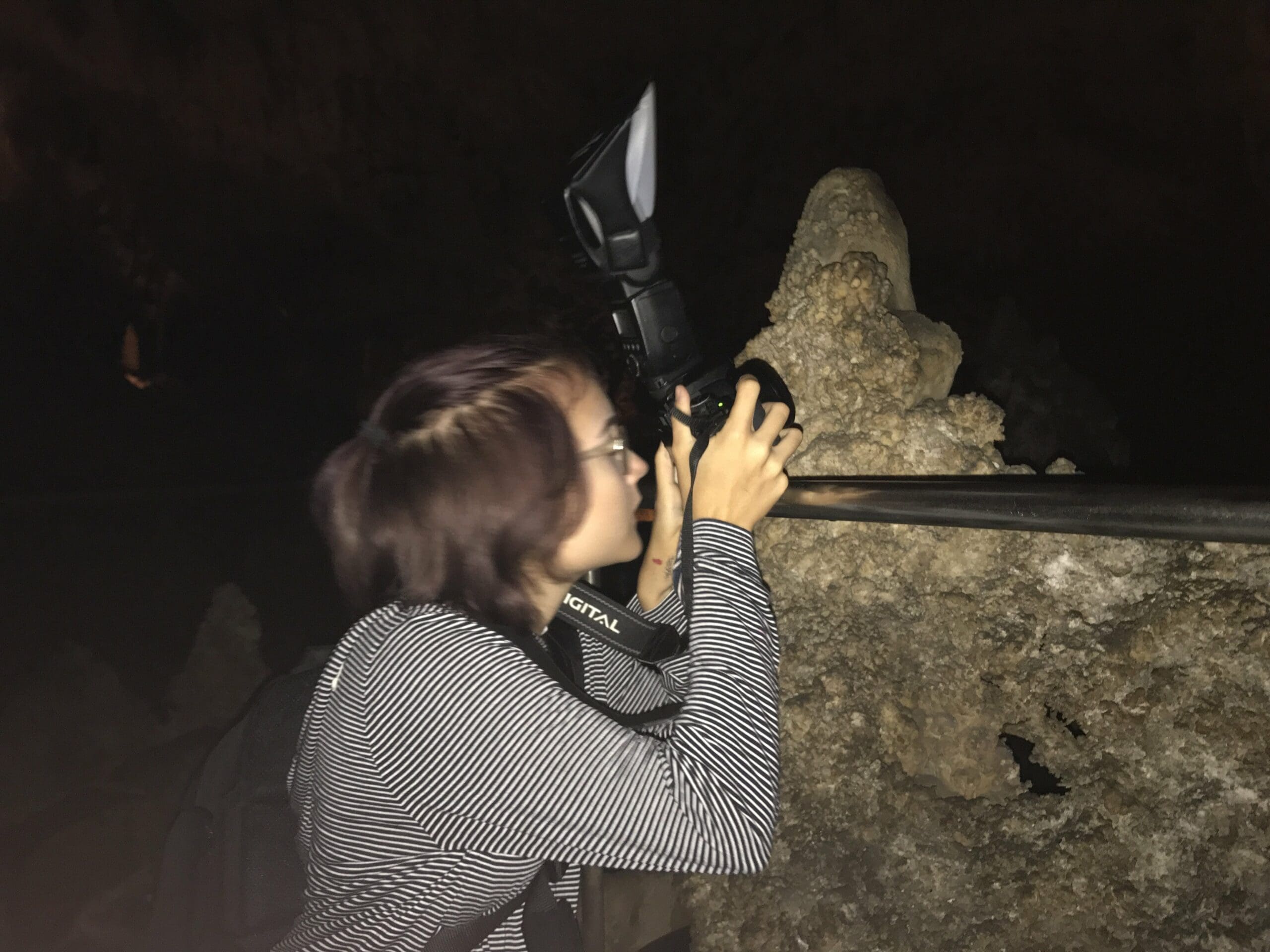 The enthusiasm was contagious.  We absorbed the entire self-guided tour in and just loved it all. Everyone was smiling, everyone was happy.  That was until we got to the end and saw the elevator line to get out was now HUGE.
Carlsbad Caverns National Park
Carlsbad Caverns National Park is in New Mexico in the Chihuahuan desert. The park is one of the hundreds of caves in the area formed from an ancient ocean which built up limestone deposits over 250 million years ago.
Phone: 575-785-2232
Things to do at Carlsbad Caverns
The park is fun for the entire family. Not only is it a wonderful place to explore in the cool comfort of being deep underground, but it's a beautiful place to see above ground with abundant desert wildlife and lots of trails and back country roads to explore.
Visitor Center
Carlsbad Caverns Visitor Center must be one of the largest visitor center and gift shops I've ever seen at a National Park. There is an enormous selection of collectibles, toys, and memorabilia for the entire family as well as plenty of snacks and food available. Be sure to stock up on water and eat before exploring the caves.
Cave Spelunking
Miles of underground caves to explore – from the main cave to hundreds of other caves. The main cave offers a self-guided tour with elevator access up and down or you can hike in or out through the main entrance.  Elevator lines may be long during peak times, so plan accordingly. There are restrooms and gift shops in the main cave entrance as well as the main cave elevator access below ground.
If you want to experience the "Real" spelunking, you can schedule tours in the other surrounding caves such as the Spider Cave Tour.
Hiking in the Chihuahuan desert
There are a dozen trails in and around Carlsbad Caverns area for you to explore. Please exercise extreme caution while hiking in the desert. There is no dependable water source in the backcountry, and some trails may require multiple days to complete. Check with the visitors center for permits and maps before heading out on one of the hikes. Because the hikes are often marked with cairns and may crisscross each other, good map reading skills and a compass are highly recommended.
Off-Roading Near Carlsbad Caverns
If you have a moderate clearance all-wheel drive or 4×4 vehicle you can take the 30-mile Guadalupe Backcountry Byway and explore the desert by car. There are many offshoot trails and roads to pull off and enjoy the scenery. As with hiking, be sure to bring plenty of water for everyone in your vehicle and plan appropriately with these offroad essentials.
Wildlife of Carlsbad New Mexico
The most famous of the wildlife are the birds and bats that live in the cave. During the evening hours, you can sit in an amphitheater and watch the millions of bats swirl out of the cave and fly off seeking food. It's a beautiful experience to see the desert at sunset, experience the cooling-off of the day and see the bats swarm out looking for insects.
Hiking Carlsbad Cavern with Kids
My kids aren't the ones to volunteer to do anything with physical activity. While we took the elevator down and explored the caverns by foot my kids whined and complained once they had enough. As we got close to the elevator lift we saw there was a huge line.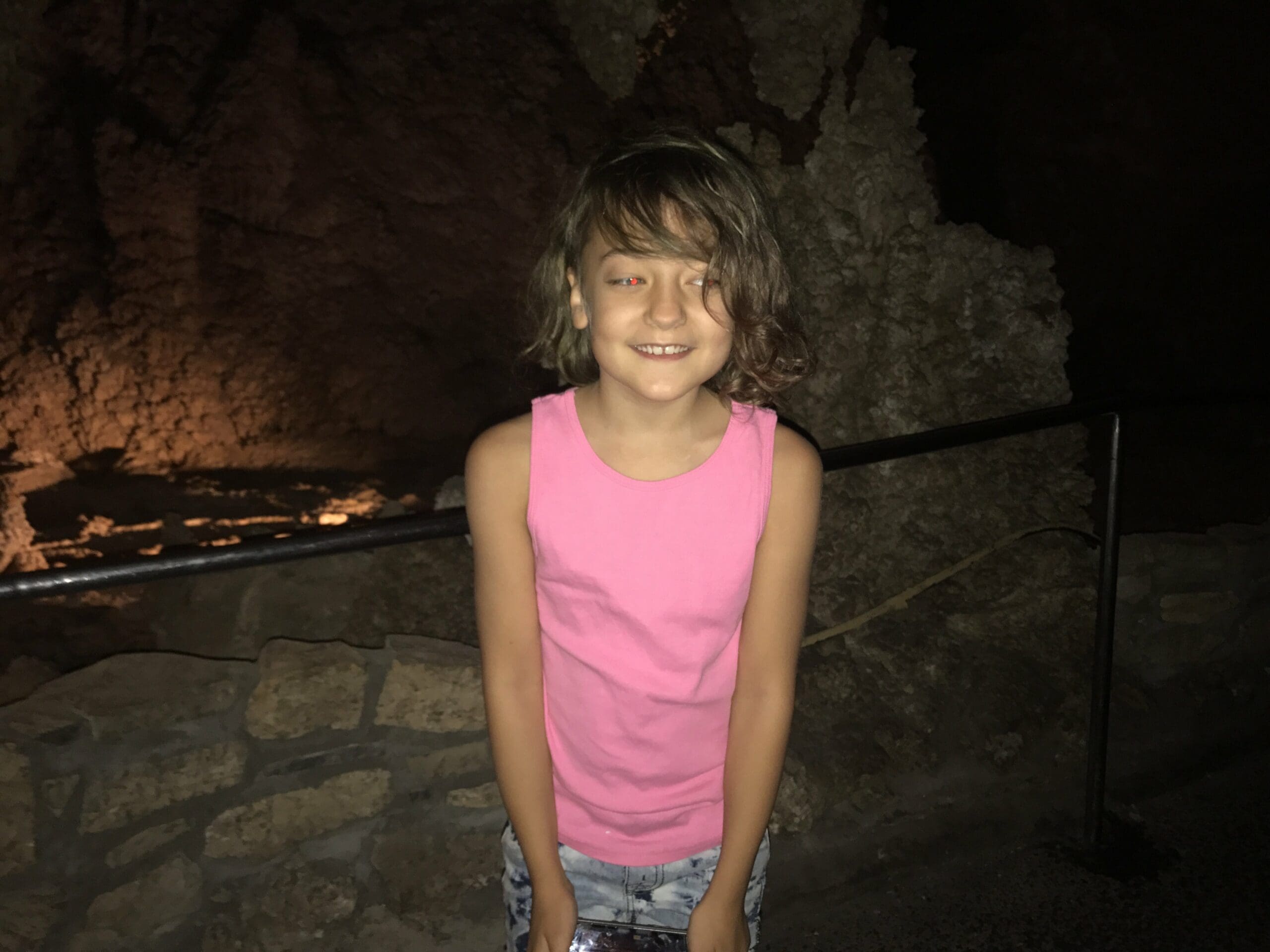 So I did what every dad does, "Hey kids, we're going to hike out!".  They had no idea what this meant, but they weren't the happiest either. I expect a 10-year-old and a 13-year-old don't see the fun in intense physical labor, do they?
My wife even agreed the lines looked huge and started out the journey with us. We started marching. One leg in front of the other. Up up up and up up up and up up up. Uhh.. Where's Mom?  My youngest tells me while I was focusing on the next step ahead of me that she decided to turn around and wait for the elevator.
At this point, the kids didn't entirely hate me yet. But… I should have planned better and taught them some hiking skills and brought more than the essentials.
So, we keep marching up up up and up.
The oldest says she's going to start crying if this doesn't end.
The youngest starts saying she hates me.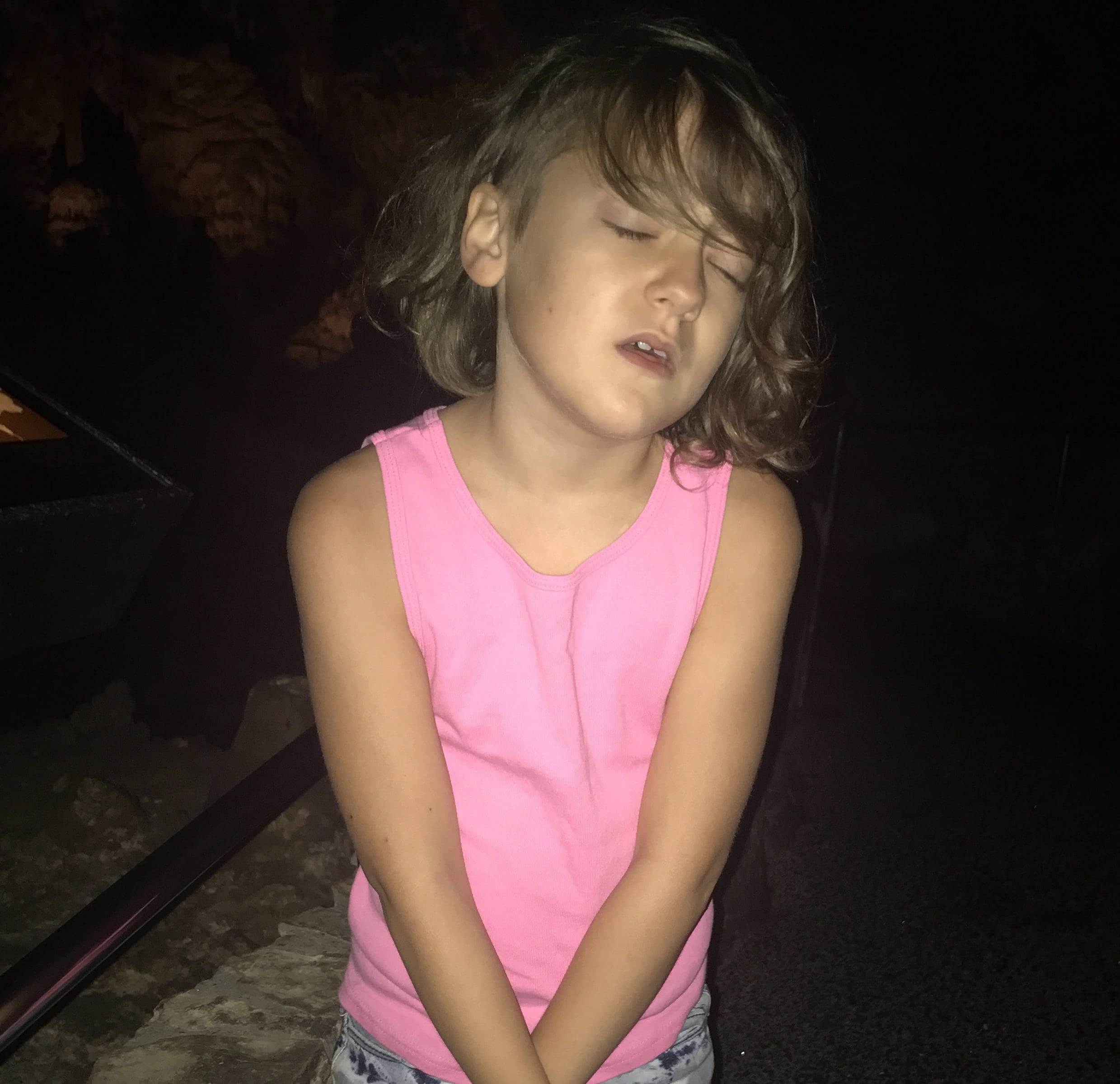 But we stop, we take rests, we look around. I could see it in everyone's eyes that they were tired, but at the same time, they were amazed. Not only surprised at the awesomeness of Carlsbad Caverns but amazed their dad is still making them hike up.
No point in turning around now though. Maybe we should have brough better Hiking shoes too!
It's not long before the temperature starts to rise. One begins to smell funny smells too. Not just our own BO of sweat pouring down and exhaustion kicking in but the perfume of black gold – the bat guano that has been in the caves for eons.
My kids are no longer amused. So much so they're now just acting as little sailors; talking about how crappy everything is and how bad it smells.  I agree. It does smell like shit. Did my kids just say shit?
Finally, we see the light. The bats are flying out and around us, and it stinks, but the end is near.
Up Up and Up some more.
We made it! We're out of the Carlsbad Caverns!  Now we're sweating our butts off running to the gift shop and looking for water.
My kids were mad. I was bemused. I was happy. I was tired. I was beginning what would be a few weeks of more climbs, more accomplishments, and more exciting journeys.  My kids certainly didn't feel the emotional accomplishment of climbing out at the time or the connection to nature, but I think its crept in over the days since.
Would I trade it for anything else or should I have taken the elevator? Nope.  Climbing out of Carlsbad Caverns was a great memory, a delightful story, and I'll forever remember Carlsbad as the place my kids love to hate me.
By all means, though, don't make my mistakes. Don't forget your water, wear the right clothes and plan to be hot and cold. I'd certainly recommend a backpack with water (CamelBak style) for everyone. Having your hands free to balance, take pictures and explore is super handy.
Visit Carlsbad. Walk out of that Cave. We did it in 45 minutes. Can you beat our time?
Ok Ok, so it wasn't a climb, more of a hike. We did have to pull ourselves up some of the railings though!
And my kids got to enjoy lots of activities where they got to sit down and enjoy the scenery such as enjoying the awesome Durango and Silverton Railroad.
Oh, and if your kids are looking for something else extra special to experience in New Mexico, you must see Meow Wolf in Santa Fe.
Location
727 Carlsbad Caverns Highway
Carlsbad, New Mexico 88220
Places to Stay in Carlsbad Caverns
There are a ton of places to stay in the neighboring city.
Carlsbad Caverns Camping
When we visited Carlsbad Caverns, we stayed in the Carlsbad KOA in one of their "Kamper Kabins".  The KOA is super friendly, well-staffed located right next to a large pecan tree grove. They have a small swimming pool to cool off in, offer a large game room behind their convenient gift shop and camp store.  They also provide food delivery at your campsite, RV or Cabin for those days when you don't feel like cooking after hiking out 🙂
FAQs
Question: Is Carlsbad Caverns Worth it?
Answer: Yes. There is no doubt that you should visit Carlsbad Caverns at least once in your life.
Question: Is Carlsbad Caverns Safe?
Answer: Yes. That National Park maintains the caves and all access to them with safety and accessibility in mind. Please wear appropriate shoes and clothing. The caves are damp and cool.
Question: Is Carlsbad Caverns dog-friendly?
Answer: They don't hate dogs, but dogs are not allowed. The caves are a delicate habitat and ecosystem. No Dogs are allowed in caves however dogs on leash are allowed within park grounds.
Question: Is Carlsbad Caverns kid-friendly?
Answer: Of course! The park is amazing for kids of all ages. They can get their National Park Pass stamped, they can do audio tours of the caves and they get to explore deep underground. What kid wouldn't like this?
Pin It! Save & Share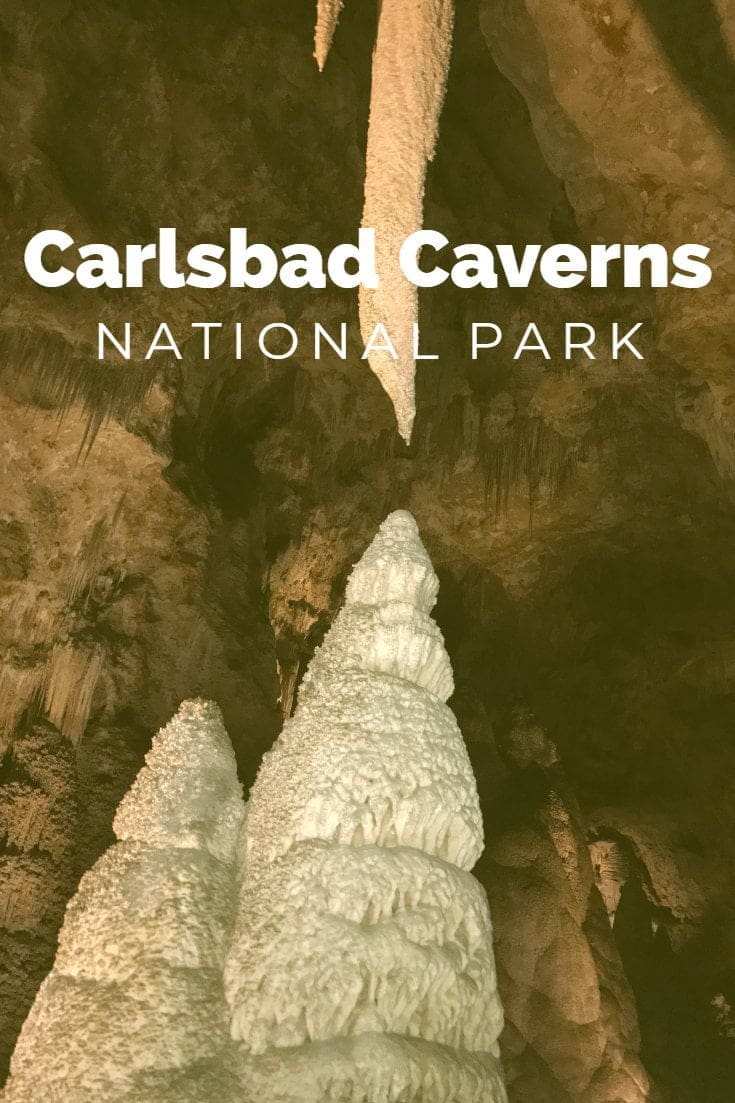 Have you been to Carlsbad Caverns? We love reader feedback. Leave a comment below and let us know what you liked or disliked about your trip to Carlsbad Caverns!