Escape the doldrums of the everyday ordinary and step into the realm of the extraordinary where all of your senses get bathed in light, color, sights, and sounds in an artful experience you will never forget.
Enter the House of Eternal Return and explore the extra dimensions of a family who figured it all out. Or have they?
Bring the entire family, plan to spend the better half a day soaking it in. Experience art, music, audio, and the lives of interdimensional beings.
Remember, you're not just stepping into the house of Eternal Return, you're stepping into a collective and set to experience a story that leaves you exploring every nook and cranny looking for answers in your journey through this house of wonders.
Meow Wolf Santa Fe – House of Eternal Return
The second you pull up to the building, you know you're in for something unique. From the giant statues that surround the parking lot to the line that is out the front door an hour before the art installation opens – it's alive and you can feel it.
Planning your Meow Wolf Trip
Order your meow wolf tickets online / in advance
Leave your bags in your car
No strollers – set your kids free or "wear them" and let them experience Meow Wolf from a unique perspective.
Plan to be there all day – don't rush yourself!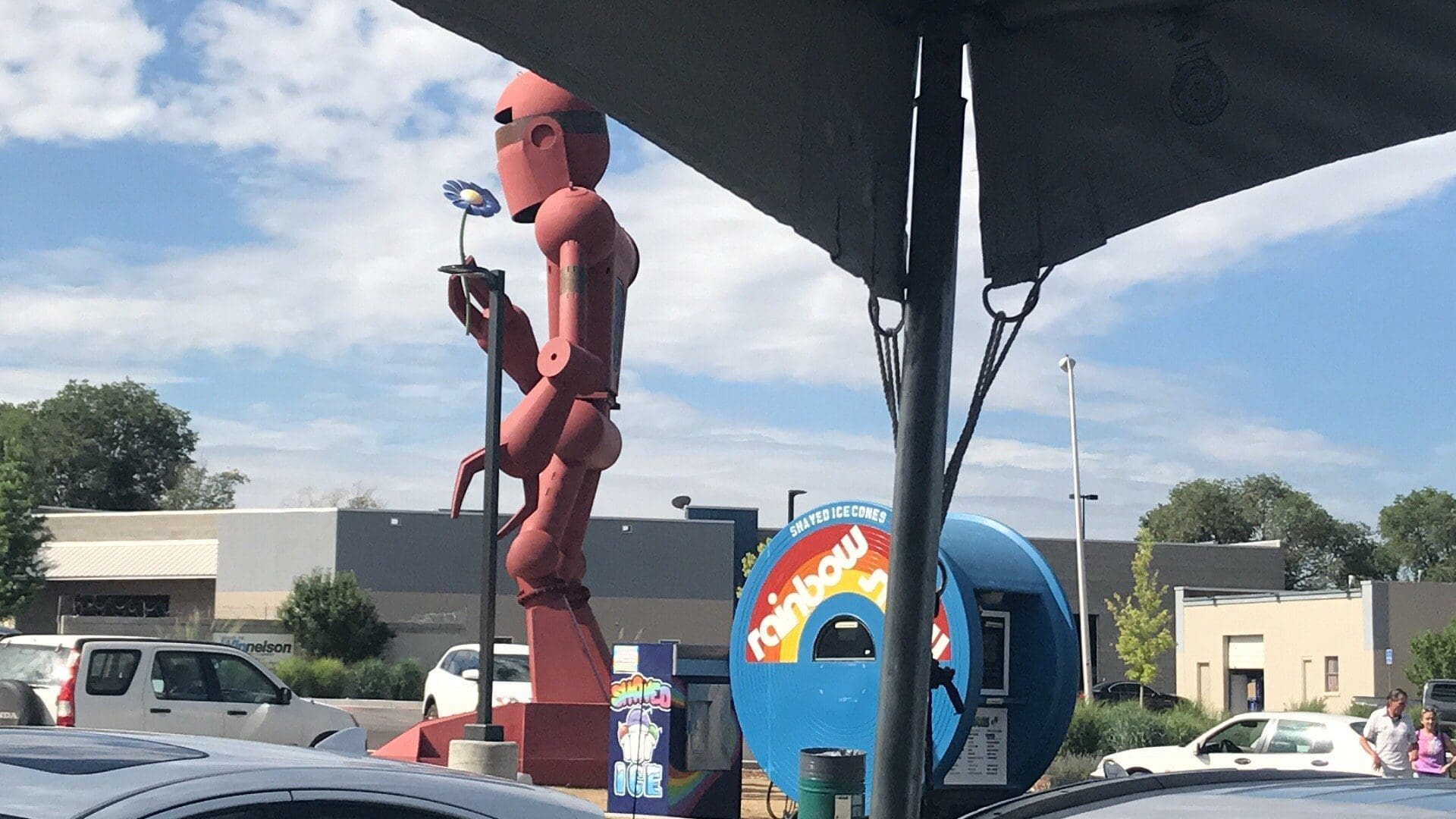 Get there early, get a parking spot, leave your bags in the car.  You're going to want as much time as you can to wander around, get lost, and immerse yourself in the experience that is Meow wolf.
This is a place re-discover wonder and curiosity and let yourself get immersed in the experience created by the artists.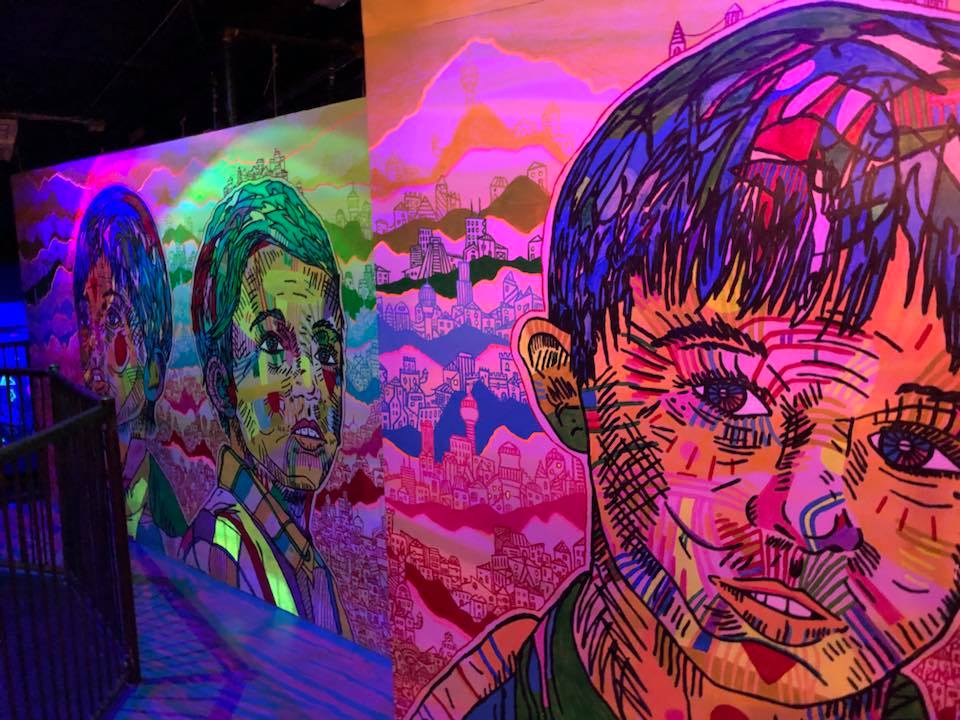 As of 2021, ticketing is all done online. It's imperative that you order your tickets in advance as you will be assigned an admittance time slot to enter the premise. I suggest the earlier the better. You don't want to rush yourself. Give yourself time to enjoy – let some of the people who want to rush through pass you by and give yourself a moment to experience and soak it all in.
So many rooms to explore, so many details to connect across all their dimensions.
Find a chair – watch for the actors.
Sit down and feel the rhythm of the music.
Lay back and watch people smile, observe, and explore.
Soon, you are part of the experience.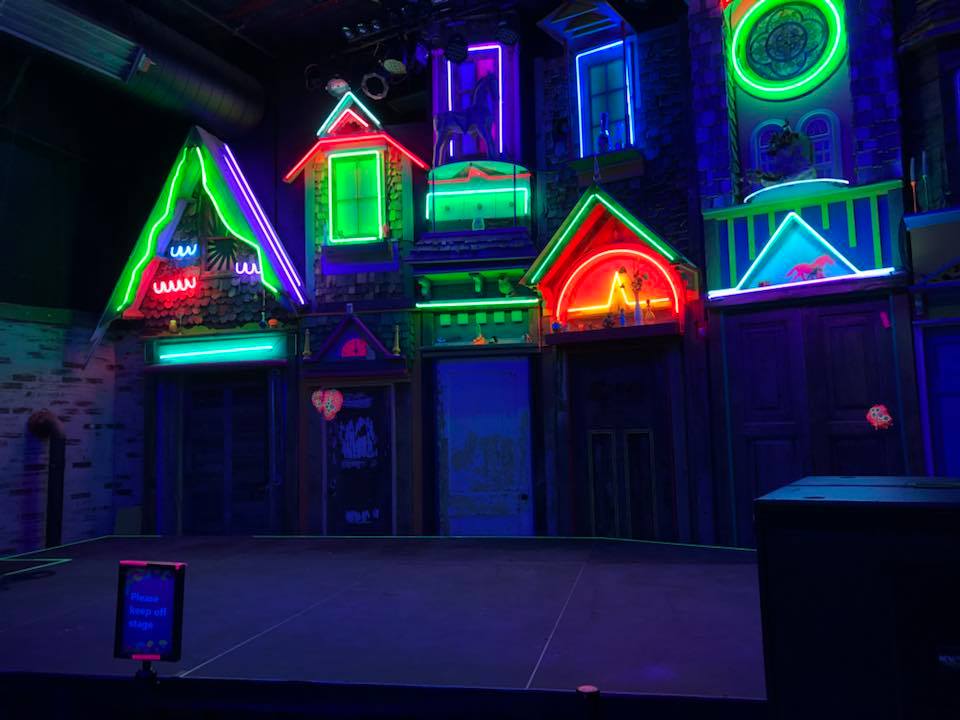 Describing the Meow Wolf is impossible. Experiencing it is necessary. It's not meant for me to give away the answers, but for you to explore and come to grips with what is or isn't.
Wander around, remember what you see – everything is a clue or hint about the dimensions of the lives you're viewing.
Look through the photos, open the doors, look under the table, look in the closet. Remember what you see, it may provide insight into the alternate dimensions you explore as you go further through the house.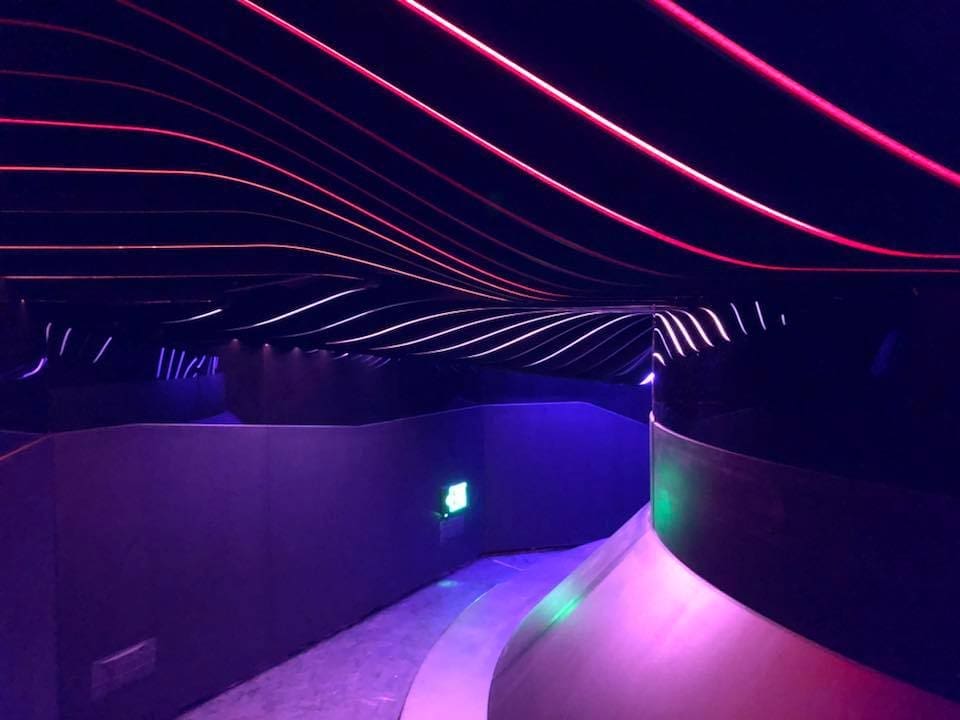 What reality is this? What does all this mean? Whatever it is – it sure puts a smile on your face!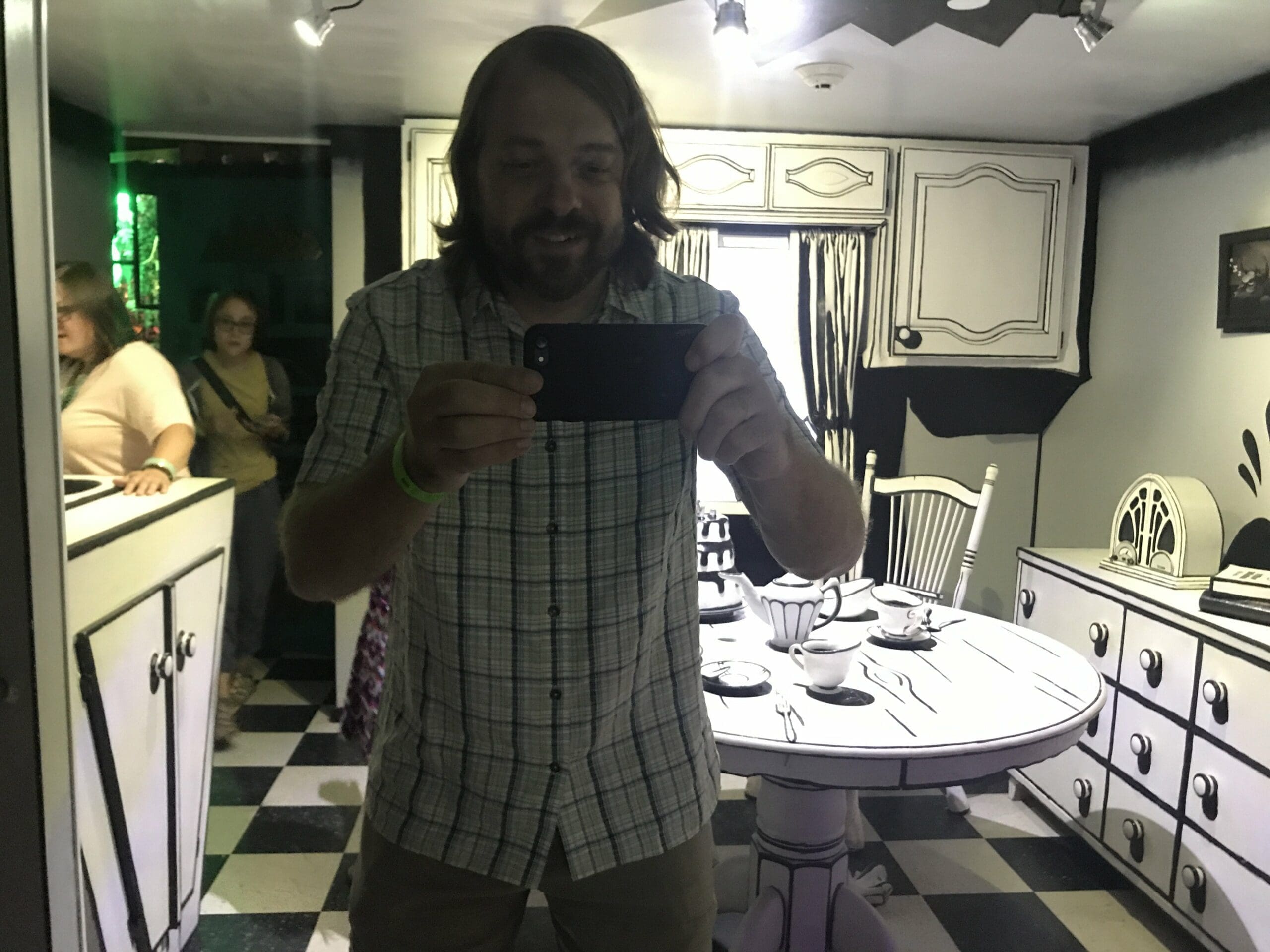 Go head – touch, climb, poke, open that door, follow that hallway, walk into that fridge.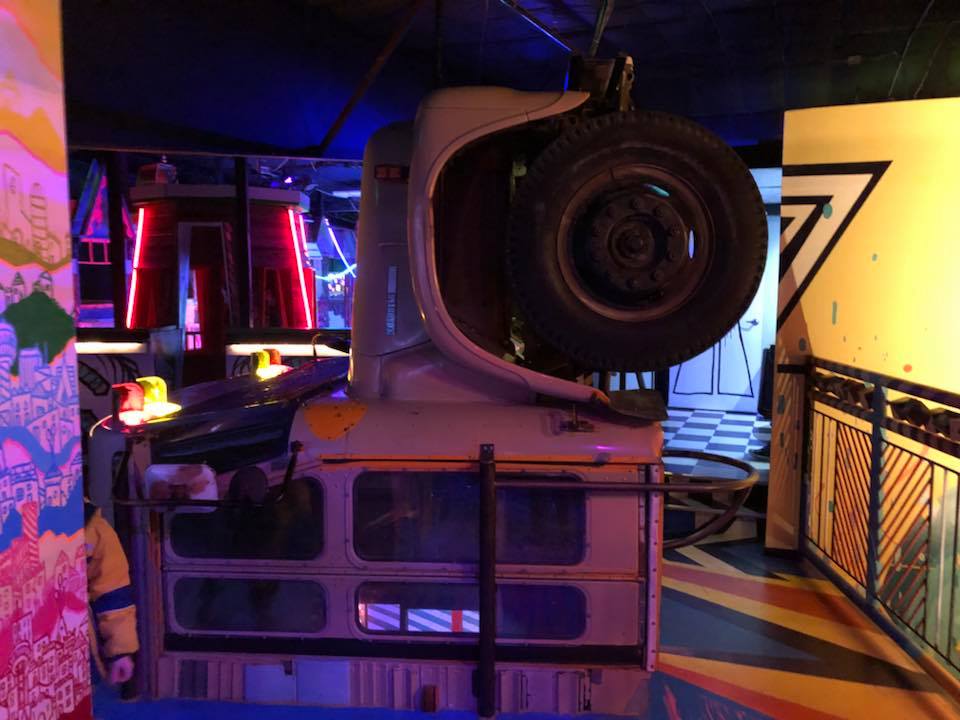 While you sit on the couch to take a break and enjoy the beats, you look up and notice something new. That light isn't just a light, but a fishbowl with bubbling water.
Meow Wolf is the culmination of many artists in a cooperative in the Santa Fe area. You wander around the installation getting lost (and found) through its many experiences – from music to treehouses and everything in between. You get to interact with the exhibits, and you get to smile with those around you. You get to be a kid, and you get to see your kids being kids.  You relish in the sights, sounds, textures. Some are overwhelming, some strike an emotional tone, and others just remind you of days past.  But you're in the place. You're "in the moment," and before long you realize that four hours have passed, and you don't know if you have seen it all.
Meow Wolf is simply magical. It filled something in my life that I didn't know I needed.  We ended our trip in meow wolf with a stop at the gift shop and purchased a few items and their fun ambient CDs. 
I can listen to music and put myself back into the experience and mentally escape back into this amazing experience.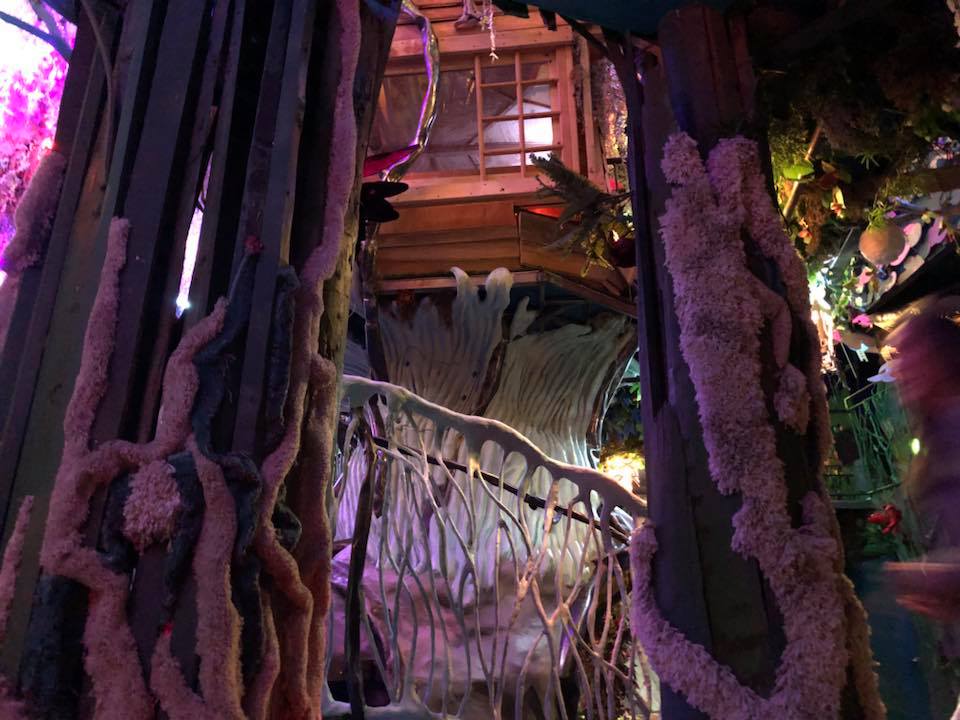 Take the entire family. Take your friends. Heck, call up your neighbors and tell them to go! It is a fun experience, and I hope art installations and cooperatives like this pop up around the world.  If you're in Santa Fe or even Albuquerque, don't miss this incredible place!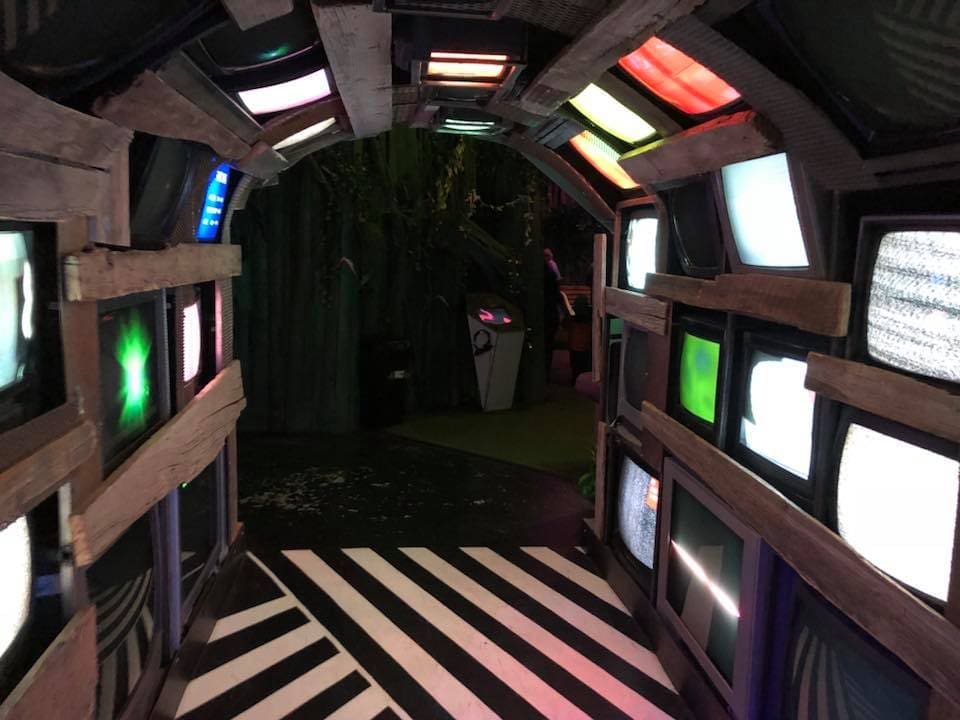 Location
Meow Wolf Santa Fe Address: 1352 Rufina Cir, Santa Fe, NM 87507
While you're in New Mexico, you should check out White Sands National Monument!
Tickets
You can order meow wolf tickets online for $25.00 a person
Meow Wolf Santa Fe  Order Tickets Online
Meow Wolf Review Wrap-up
My enthusiasm for Meow Wolf grows every day – With every announcement of a new display opening up, I keep hoping there will be one close to my hometown. I love the entire concept of art, music, media, shows. I love how the company participates in events across the world – doing road displays at SXSW and other major events. The experience has something for everyone – Young children get to experience a place straight out of their imagination, teenagers get to experience music, and multimedia experience and adults get to be a kid lost in a magical wonderland and share something with their children and teens they can all remember and come back to.
Website
Read more about Meow Wolf on their Website – https://meowwolf.com/
FAQ
Question: Is Meow Wolf Family Friendly?
Answer: Absolutely – The experience is fantastic for people of all ages.
Question: Where is Meow Wolf?
Answer: Meow Wolf is in Santa Fe New Mexico. There is a second Meow Wolf coming to Denver Colorado, and one has been announced for Washington DC.
Question: What time does Meow Wolf open?
Meow Wolf is open six days a week from 10 am. to 8 PM. Meow Wolf Santa Fe is closed on Tuesdays.
Pin It!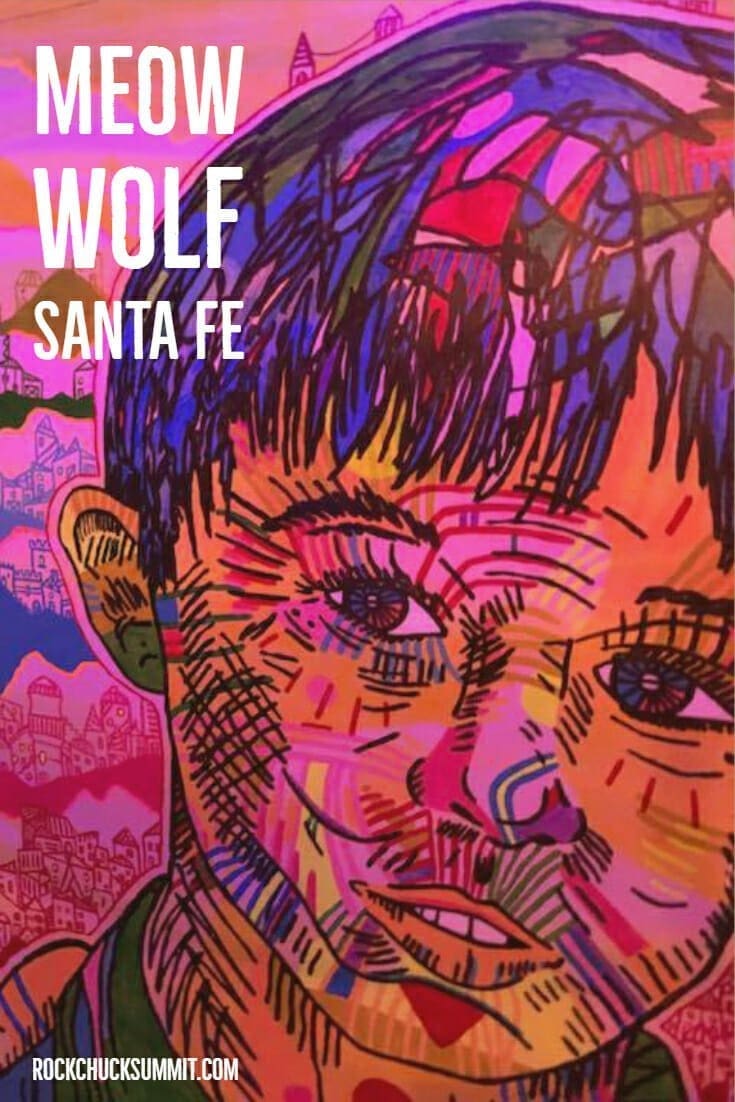 Go forth and experience this masterpiece of art, media, and creativity! Share your comments and reviews below! I know I can't wait to get back for another visit!
If you're like me and you feel in love with the place, the music, the arts, the experience, you can enjoy some of this at your home by listening to these audio CDs.  Your purchase from Amazon allows us to continue to share our experiences and we thank you for supporting us.