Life slows down when you head west. You start to pay attention to things that you may have long forgotten about or just never bothered to admire. You notice the beauty in the rugged terrain; a personal connection to the dry, arid desert brings a smile to your face.
The hues, colors, scents, and textures of the high desert brighten up your day. It grabs you by your heart, your ears, and your nose and screams "you are here!" and you either fall in love with it or you're still not paying attention. Welcome to Davis Mountains State Park!
Whether you're seeking the solace of the desert or some of the darkest skies in North America to observe the heavens, Davis Mountain SP should be on your Texas State Park or Dark Sky bucket list.
Davis Mountain State Park
State Park Website: https://tpwd.texas.gov/state-parks/davis-mountains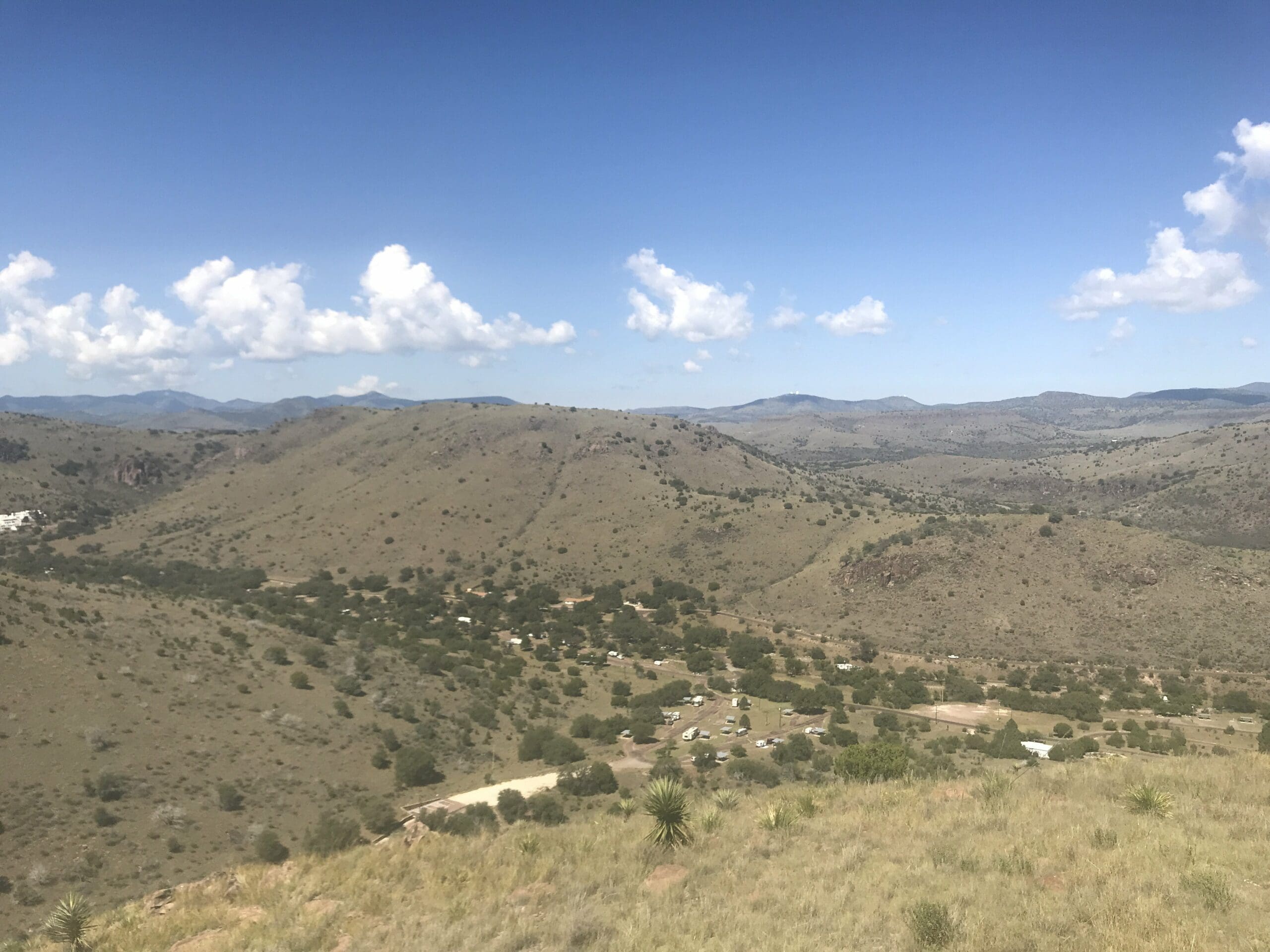 Hit a trail, go on a mountain bike ride, read a book under a tree. There is a lot to do in Davis Mountains State Park and within a short commute of the area. From the moment I arrived, I fell in love by the history of the park – from its groomed trails to the unique lodge that the CCC built. I sometimes wish my generation and my kids' generation had something like the CCC for them to experience America and provide services to the community such as building & enhancing our amazing parks.
The CCC was created to help pull America up, and out of the great depression and from the demanding work of the young men involved, Texas gets to enjoy the fruits of their labor with many of our state parks developed by CCC workers.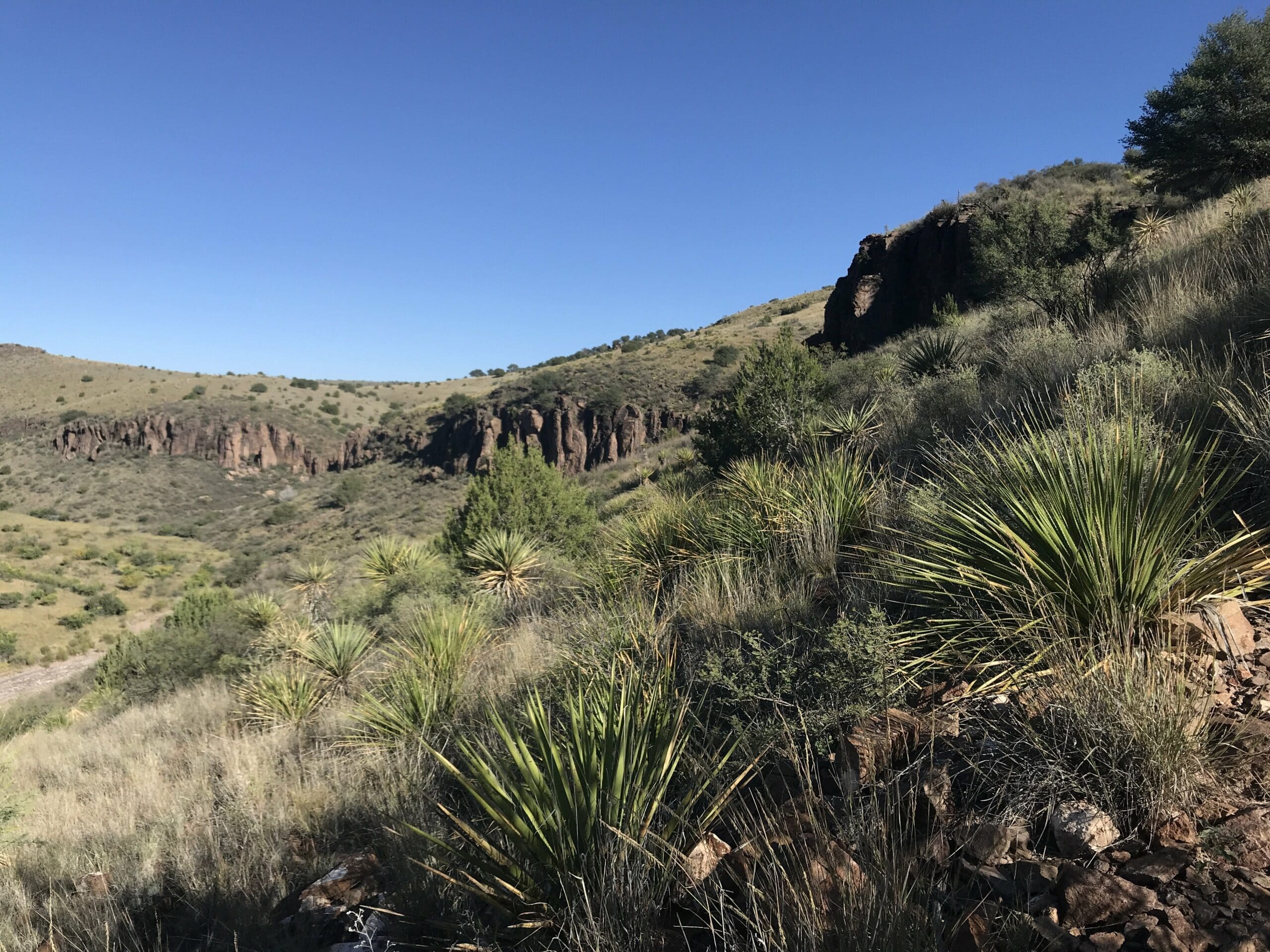 Whatever you do, don't miss the stars!  Be sure to take time to enjoy beautiful sunsets, dark skies, and some of the most amazing views of the cosmos you will ever see. This area is one of the darkest skies available in North America and is entirely worth travelling to on its own!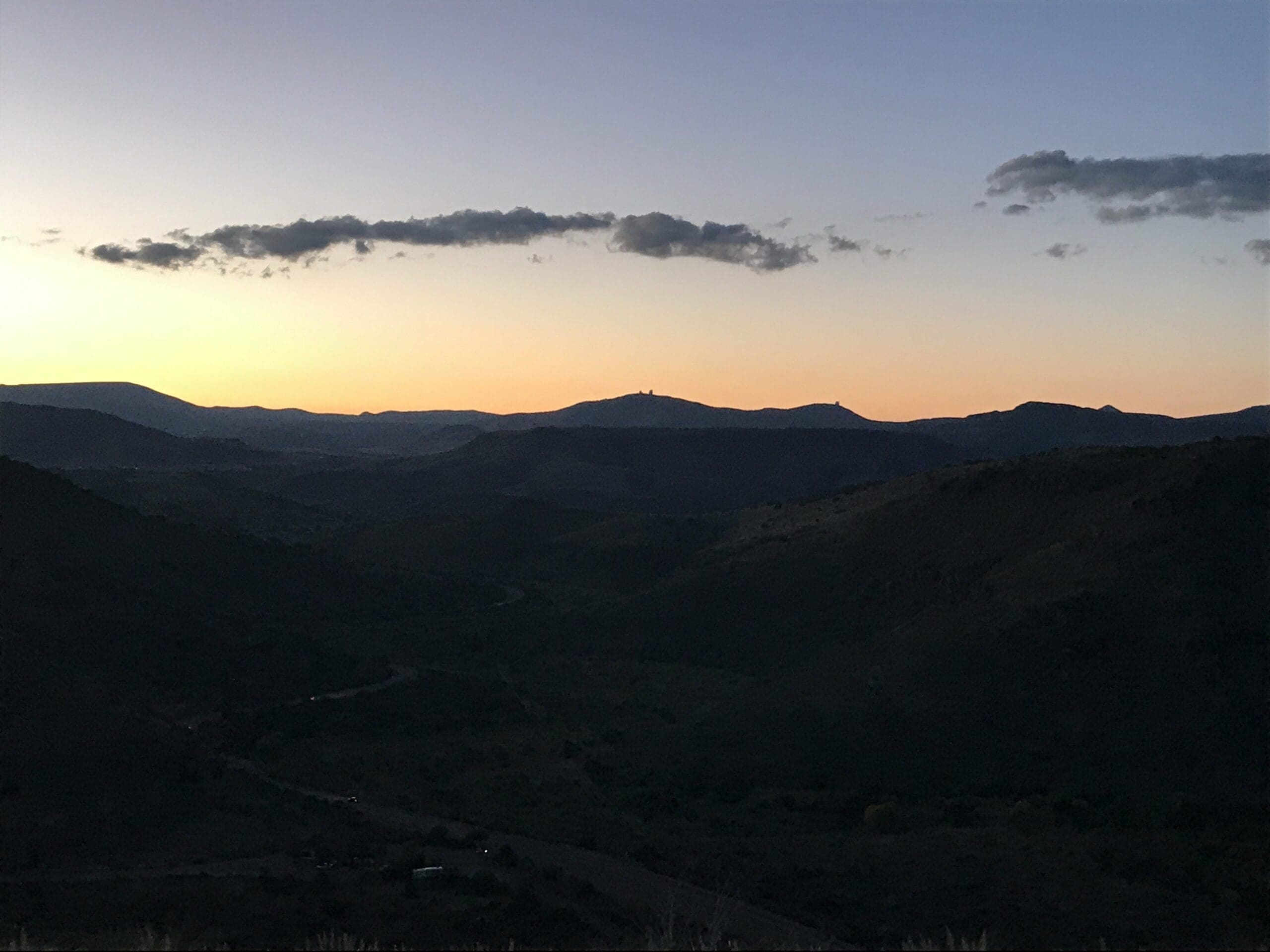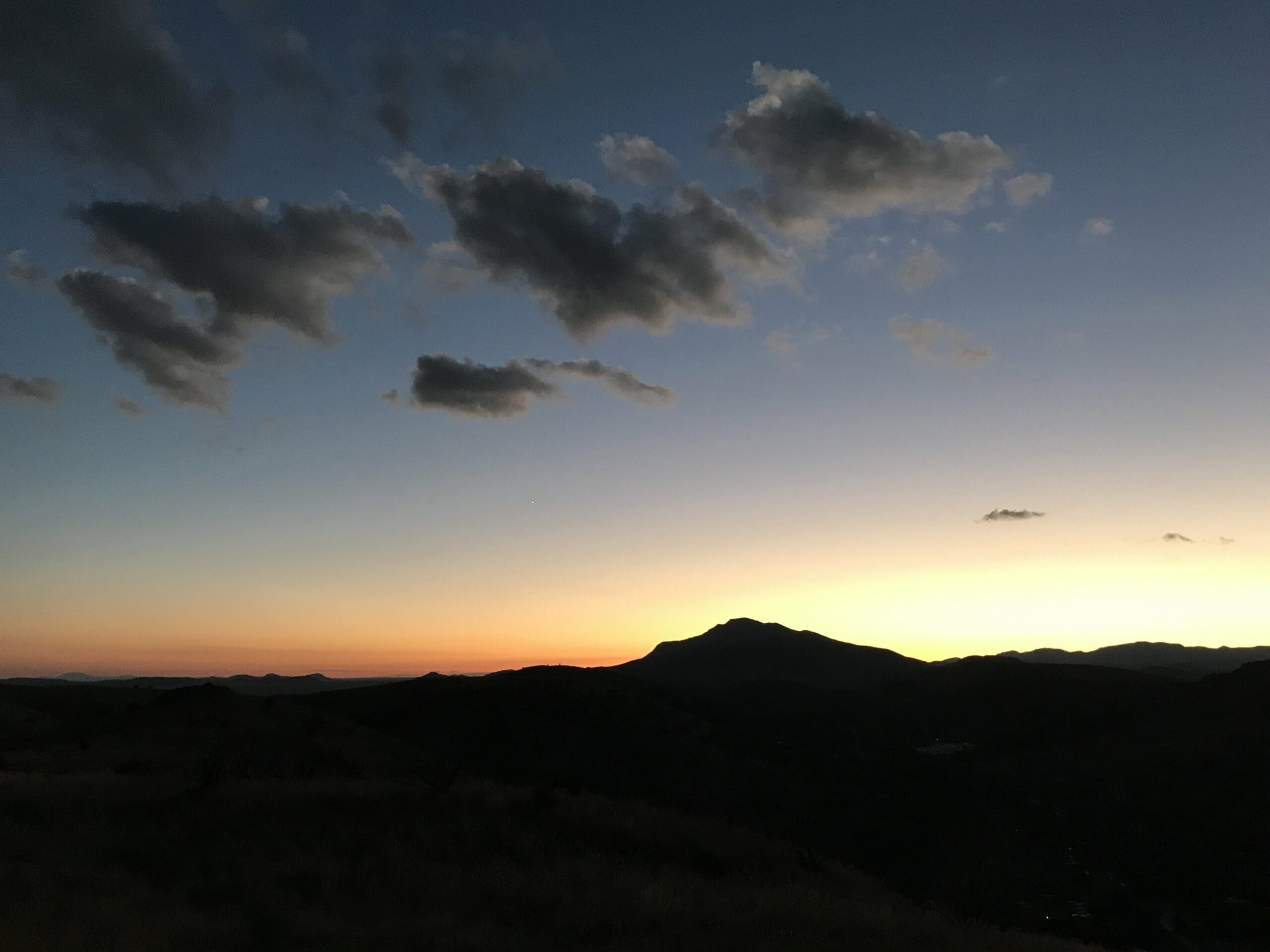 The colors of the setting sun are impossible to capture in a photo. I decided to leave these "As is" rather than doctor them up because they don't need doctoring.
One of the best reasons to stay out after these beautiful sunsets is to see the cosmos in all its glory with the milky way pouring across the entire night sky and more stars to gaze upon than modern man is used to these days. It's easy for city dwellers to forget what the skies look like!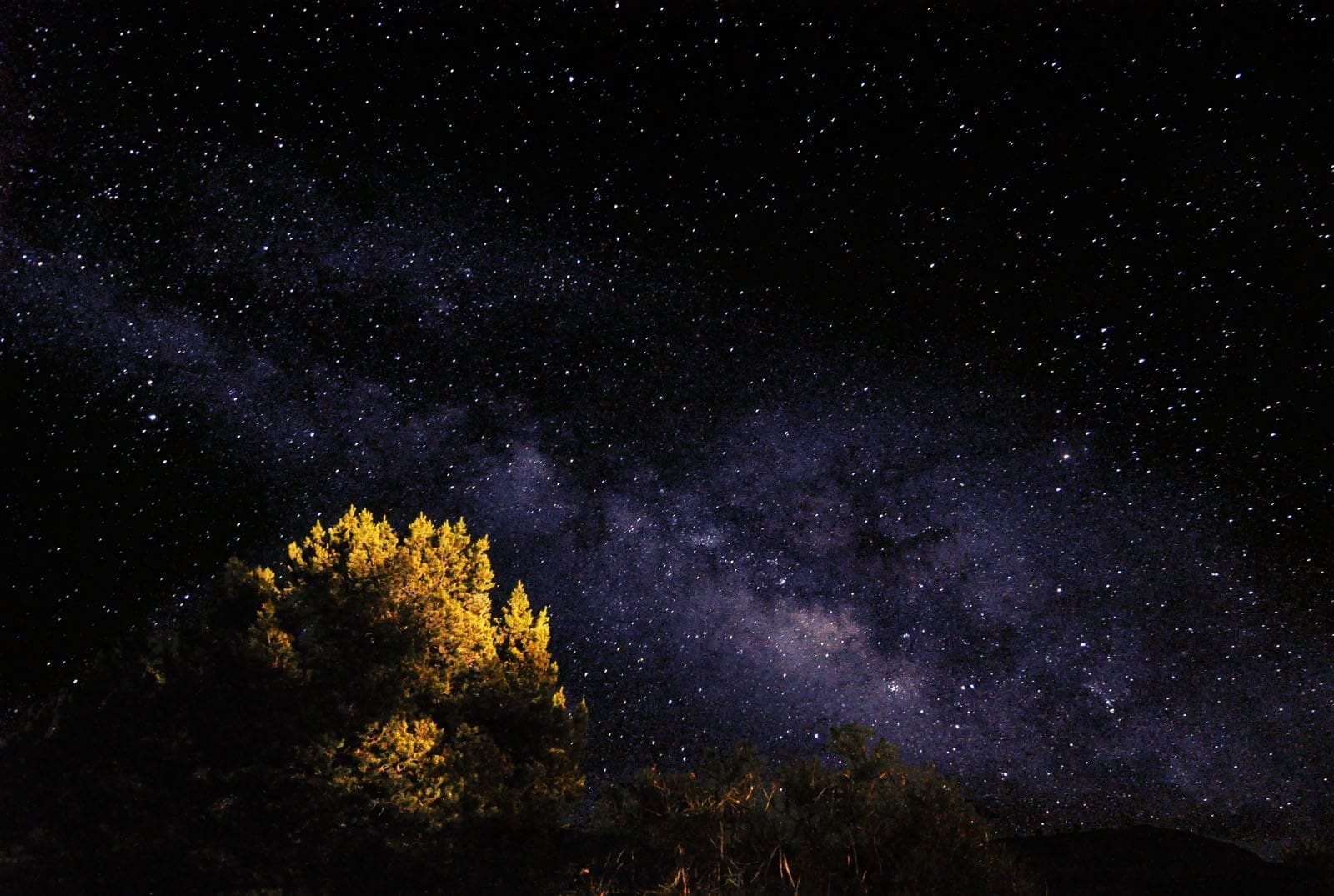 My photography skills of the night sky are severely lacking, thanks to Robert for such a fantastic photo.
Things to do at Davis Mountains
There is a ton of things to do in the Davis Mountains – From wildlife viewing to hiking to camping, trekking, exploring and of course touring the quaint little towns and cities nearby. Check out some of these topics below to discover some cool things to do that should be on your travel bucket list for the Davis Mountains.
Wildlife Viewing
The area is known for everything from Mule Deer that stand nearly 7-8 feet tall to fuzzy tarantulas that scurry around in the evenings often hanging out in the warmth radiating from the gravelly roads, but the one animal that steals the show out here are the Javelinas.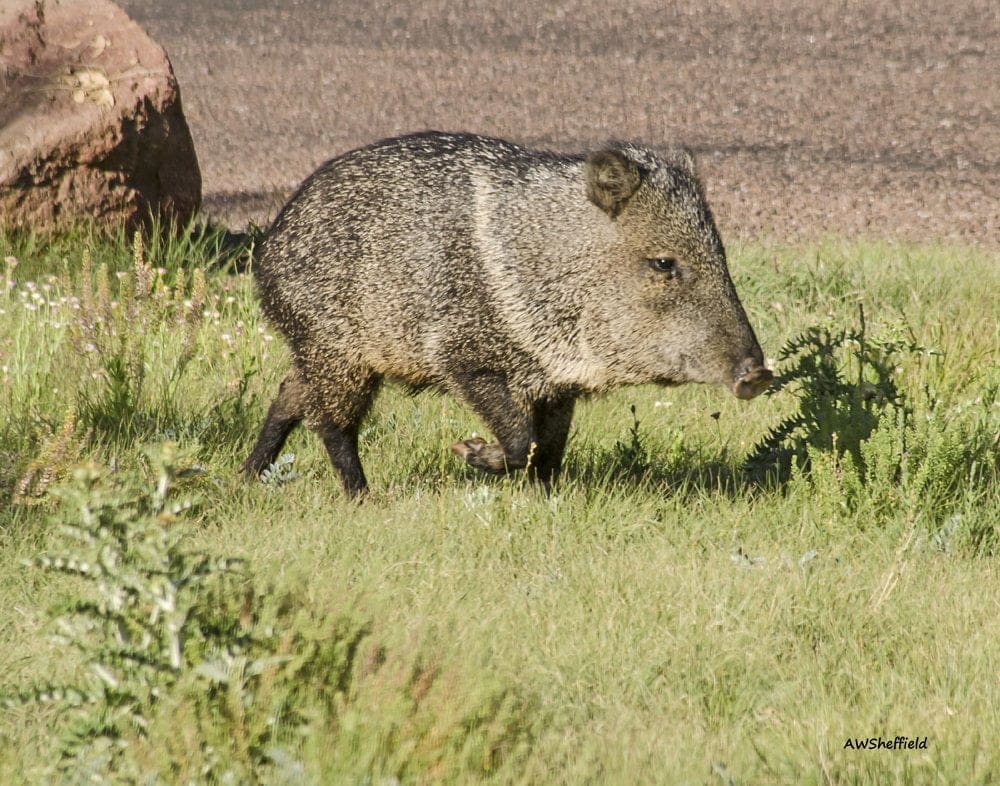 Did you know the Javalena isn't related to pigs? They're a hoofed mammal of the family Tayassuidae.
When we were at the park the mornings and evenings provided the best wildlife observing times. There are a few preserves within a short drive where you can see much of the wildlife that lives in the area.
Besides the Javalena running from tent to tent, at night time there are some gigantic skunks that go looking around for trash – be sure to keep your site clean and trash removed and you'll just get to enjoy watching from a distance!
Hiking
Hiking Davis State Park offers abundant and well-kept hiking trails of varying lengths and difficulties. On the main park side (where you can or stay at the Inn), you can take one of the many scenic trails up to the car pass or zigzagging on a mountainside heading to the Inn. If you want to experience longer trails or head out to the primitive campsites, you can check-in with the ranger station up front and get a gate code to go across the street and hike some of the longer trails.
The trails are well marked and easy to follow. I hiked for miles and miles and never lost sight of where the trailhead was.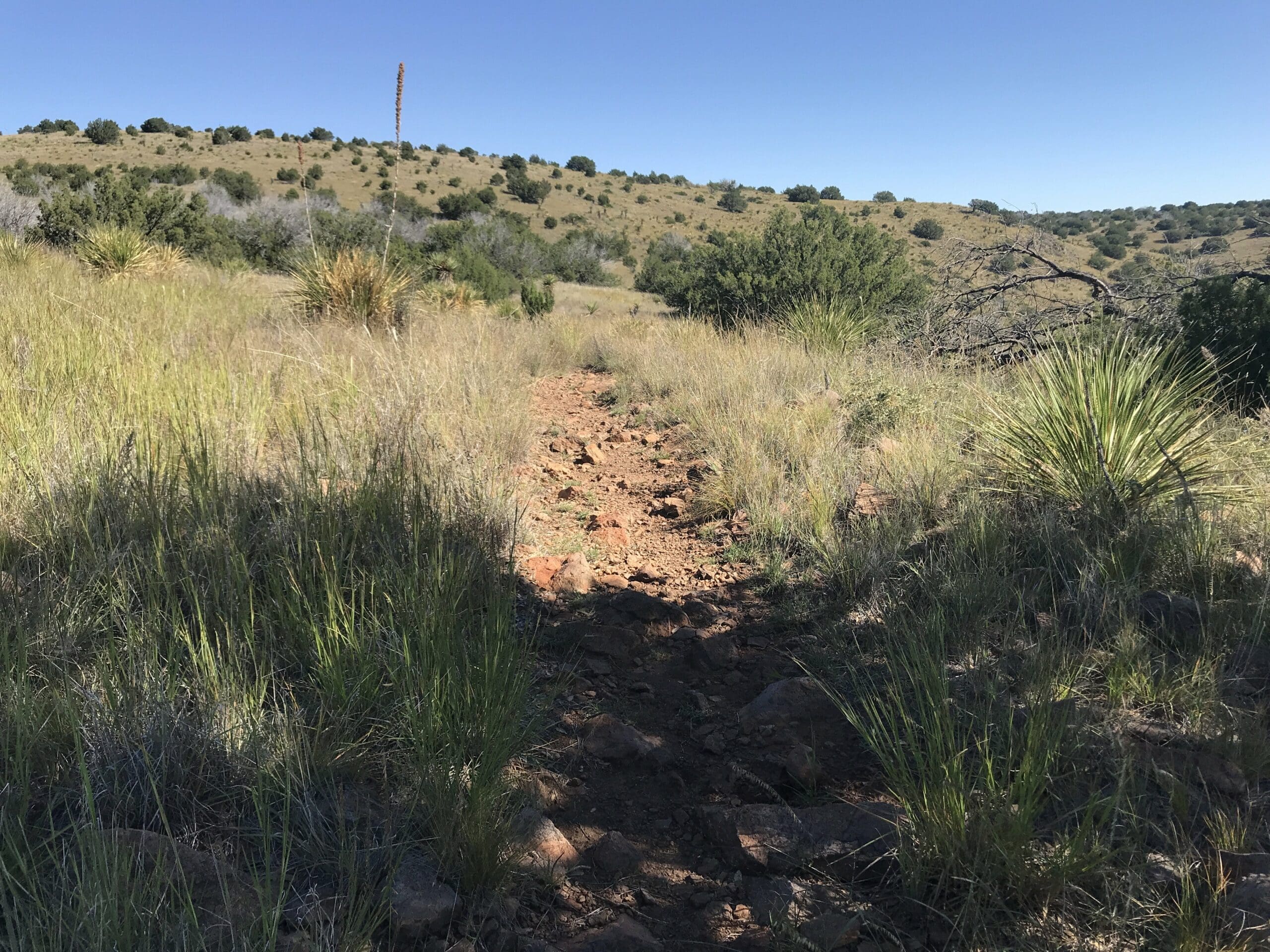 Be sure to leave early, bring lots of water & snacks.  Hiking poles are highly advisable because the terrain is often rocky, gravelly, and varied. It does get scorching in the summers out here, so I would recommend visiting during the spring or fall months if you're interested in lots of hiking or biking otherwise be prepared to learn early in the morning or later in the evenings.  Winter is beautiful as well. However, it can get chilly, and snow so be prepared and check the weather in advance of your arrival.
Will this be your first time out hiking? Check out our beginners hiking guide to help make sure that you're well prepared! This is the "Alpine Desert" – so don't go out without planning ahead!
A great pair of hiking shoes will make an enormous difference here – the ground goes from dirty to rocky and there is a ton of low-lying cactus and gravel. I would avoid open-toed shoes or anything that doesn't provide full foot protection.
Camping
We camped in Davis Mountains Park in September, and the weather was gorgeous for our time here.  The evenings were cool and crisp, and the days were pleasantly warm. The weather was cooler in the mountains than when we left our home in Austin, which I wasn't really expecting heading out to the desert – but this is a gentle reminder that this is considered the high desert and that higher altitude can mean cooler temperatures – especially in the evening.
If you're tent camping, be sure to bring a comfortable camping pad, a warm sleeping bag and don't forget to use your tent rainfly. Every morning when the dew settled if you didn't have a rainfly your gear would be damp and chilly.
The critters that live in the park fully know how to thrive with campers. Always secure your coolers, put away food, and trash every night. We witnessed some skunks trying to remove bags hanging from trees so just tying them up on a nearby branch isn't the best way to secure any of your goods.
Be sure to stay aware, wear shoes when you walk around and take basic precautionary measures and make sure your camping group is informed. It is gorgeous in the Davis Mountains and a fantastic place to camp.
The park offers facilities for RVs and Tent Campers with sites having electricity and full-service hookups. The showers are warm, the bathrooms are clean, and the staff is friendly and helpful. I found it odd that some of the RV sites were much better than camping sites so you may want to explore the area before selecting a site from the map. The RV sites have covered tables, larger trees and the tent sites are open with some tree coverage. It would be nice if the Tent sites had covered tables as well.
I had no problem driving in and setting up our Rooftop tent and as always, it proved to be quite the conversation starter with neighboring campers too!
Fire Ban! There has been an open fire ban in the park since 2017. No open fires are allowed however you may use charcoal in the firepits or camp stoves to prepare food (or smores!)
Mountain Biking
The lower CCC trail is set up as a mountain bike trail that connects all the way down to Fort Davis. Unfortunately, I didn't have my mountain bike with me, so I don't have any hands-on experience with the mountain bike trail. From what I saw on the hikes that run parallel and cross the CCC mountain bike trail it is packed dirt, gravel, rock and broader than the single-track hiking trails but appears to offer a good amount of varying terrain and distance. It's on my bucket list for the next visit to the area!
Trails Map
Download this PDF copy of the trails map and start planning some of your biking or hiking trips.
Davis Mountain State Park Trails Map
Indian Lodge
Davis Mountain State Park Indian Lodge is a hotel right on the state park. Built from Adobe by the CCC and recently remodeled the Indian Lodge hotel offers a charming way to enjoy the alpine desert.  You can reserve Indian Lodge rooms through the Texas Parks Reservation page. Be sure to plan as far in advance as possible since the thirty-nine rooms tend to book quickly.
There is a store in the lodge as well for supplies that campers may need as well since there are no other shops close by for those necessities – you know, the smores graham crackers and marshmallows.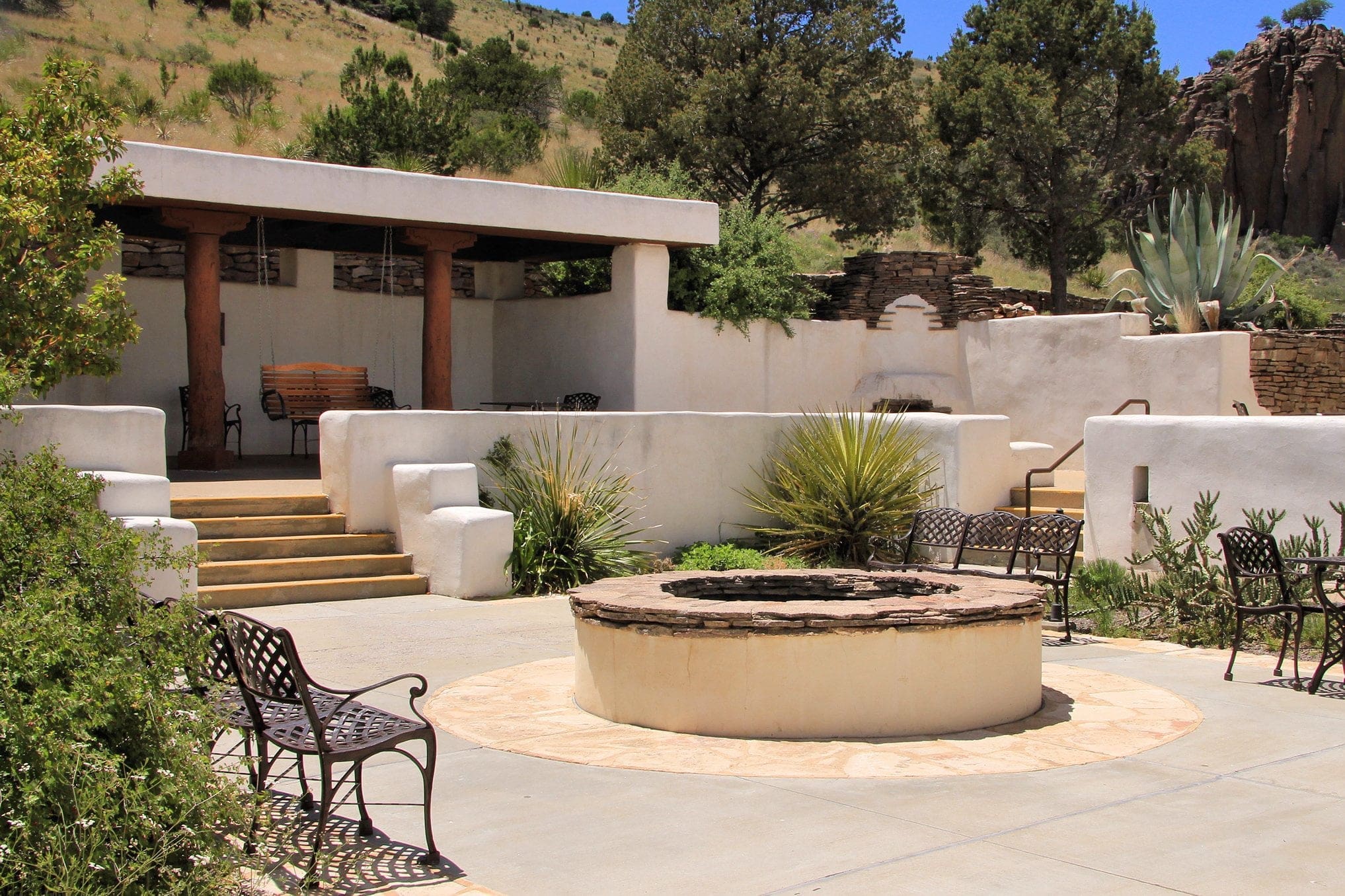 Nearby Attractions
If you love the outdoors, bird watching, astronomy, hiking, biking, and wildlife Davis Mountains State Park and surrounding areas are sure to please! From driving the winding roads, to exploring nature preserves or taking an opportunity to visit one of Texas's finest Observatories – there are lots of things for the family to do near the park.
McDonald Observatory
No visit to the Davis Mountains is complete without a star party at the McDonald Observatory. The observatory is about a half hour drive down the road and up some of the mountains. Make sure to make reservations on their website http://mcdonaldobservatory.org/ to attend a star party or to experience any of the fantastic programs they offer.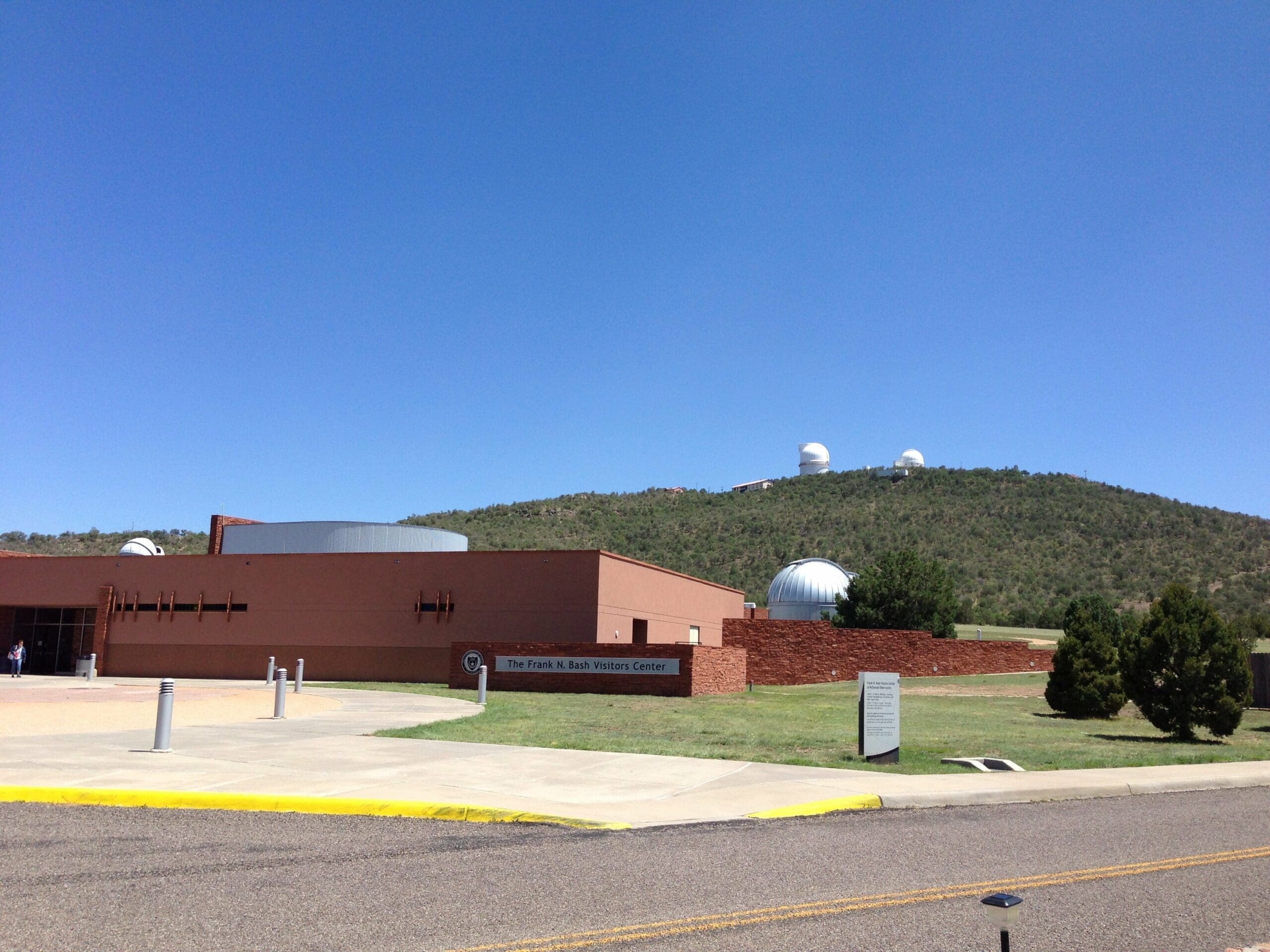 We stayed for one of their educational programs which were hosted by a fantastic speaker and enjoyed viewing the stars through telescopes during their star party. Everyone that works here and volunteers to support the programs are enthusiastic about astronomy and getting everyone to see stars, planets, and galaxies. Their enthusiasm and passion for astronomy is absolutely contageous.
Visiting the McDonald Observatory is always one of the highlights of my trip!
Chihuahuan Desert Reserve
Hiking Trails, Birding, Mining exhibit, botanical gardens and more. Dog-friendly too!
Davis Mountain Preserve
A beautiful, wild, and remote section of Davis Mounts preserved by the Nature Conservancy. The Nature Conservancy protects over 100,000 acres of the Davis Mountains desert!
Nearby Towns
The desert expanse is far and wide but not utterly devoid of quaint little towns offering a little oasis of civilization. These towns are fun places to explore, shop, eat and even go to school!
Did I say far and wide? Make sure you always plan for fuel accordingly. Some towns only have a single gas station, and it may not be open on Sunday – so don't push your limits here!
Marfa Texas
Marfa Texas is a unique town out in the middle of nowhere (it's seen better days), but still manages to survive. Marfa felt like you had to "know it, to understand it" so the infamy of the city is lost on our family. Not much is open in general, and all the art centers were closed behind covered windows and vaguely labeled buildings. It's really something that you need to plan for, and it is seasonal. It's not for me, so I won't delve into it.
Would I recommend going out of your way to see it? I wouldn't recommend it unless art and barren towns captivate you. I'd suggest heading to Alpine Texas for most family travelers looking for a small city to visit. They have a university, dining, restaurants, fuel and many other services to explore.
Alpine Texas
Alpine Texas offers food, dining, fuel, and a much larger town to explore. Built around a sizeable sprawling college campus of Sul Ross State University – Alpine has a lot more to offer than most other towns – especially if you need provisions, food, and supplies.
Fort Davis Texas
Visit the Fort Davis Outpost – An early Indian Wars frontier outpost built to protect the trans-Pecos segment of the San Antonio – El Passo Chihuahuan trail.
Getting to Davis State Park
Pin It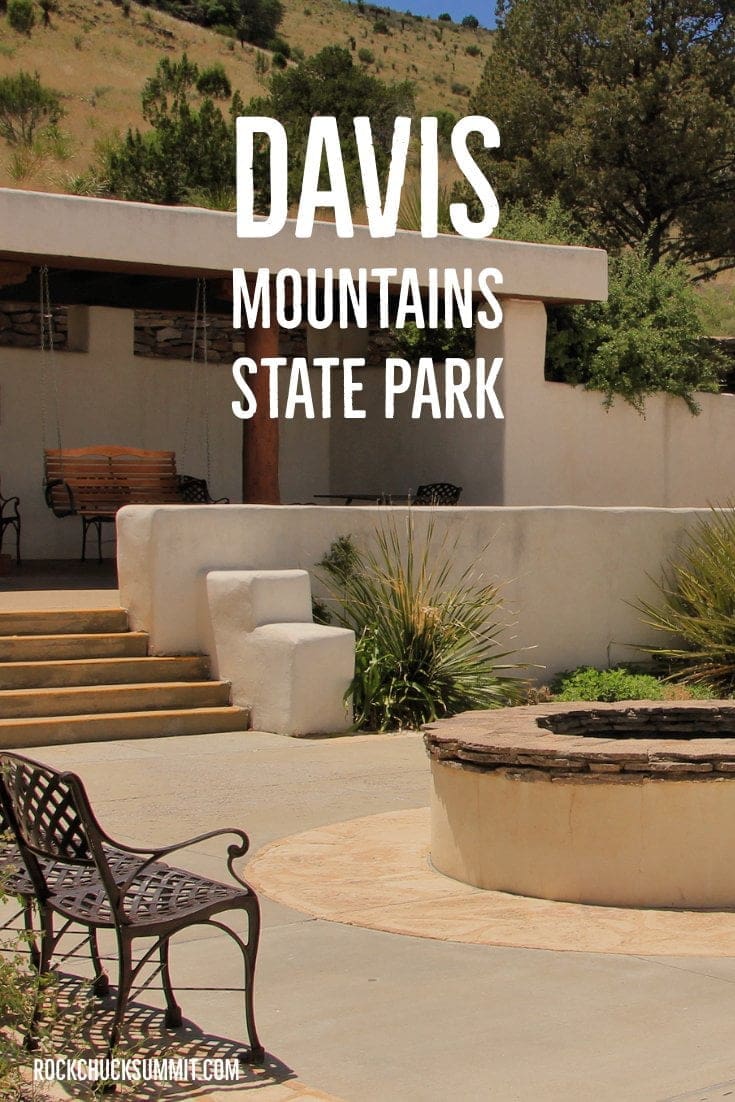 Have you been to Davis Mountains State Park? Do you have any feedback, advice, or tips for fellow travelers? Leave a comment below, we love to hear from our readers!