There is no better way to experience camping in the wilderness than to be perched in a fort above the elements with windows and views of nature above the ground. Rooftop tent (RTT) camping is an entirely new, exciting, and fun way to camp.
We're excited to welcome you to the wonderful world of RTT Camping, and we hope you read on to learn what you should know to make an informed decision on rooftop tents. We'll help you make sense of all the features, options, and capabilities you should be aware of in planning your purchase and finding a tent that fits your mission.
I've been using our Tepui Roof Top Tent for about four years now and we absolutely love it. There is no better way to go camping. One of the best things about our Tepui is that it's an instant conversation starter no matter where we go camping. It's a wonderful way to meet people, share our stories and I'm excited to share my experience with you. Please feel free to leave a comment below with any questions/concerns you may have – and we'll keep this guide updated with our experience and reader feedback.
What are Rooftop Tents?
It's widely rumored that the Rooftop Tent concept started in Australia. With bugs as big as some of our family pets it seems all the wiser that these amazing tents were championed down under to keep people safe above all the critters and creatures of the outback.
RTT's are tents that are aptly named "rooftop tents" because they get installed on your rooftop. They connect to the cross beams of your vehicle or trailer. They offer a more pleasant camping experience being that they're quick to deploy, up off the ground and usually built to handle the weather better.
If you're looking for "Overland Camping" and ease of use – the Rooftop Tent setup is what it's all about!
Types of Rooftop Tents
RTT's come in all sorts of shapes and sizes but the common groupings are a soft shell (fabric) and hard shell (some polymer or fiberglass) and variations of sizing & capacity therein. Beyond a hard-shell or soft shell design, they will usually be designed around how many people they can sleep.
Hard shell rooftop tent
Hardshell Roof top tents are usually pop-up or clam shell type tents. As the name implies, they have a hard shell – usually a clamshell hard & soft top design with fabric sides. These types of tents are excellent for 1-2-person camping with usually very quick setup times. Hardshell RTTs offer exceptionally good protection from the elements, quick setup times and simple setup. Some hard-shell tents even offer storage capability and utility space while on your roof.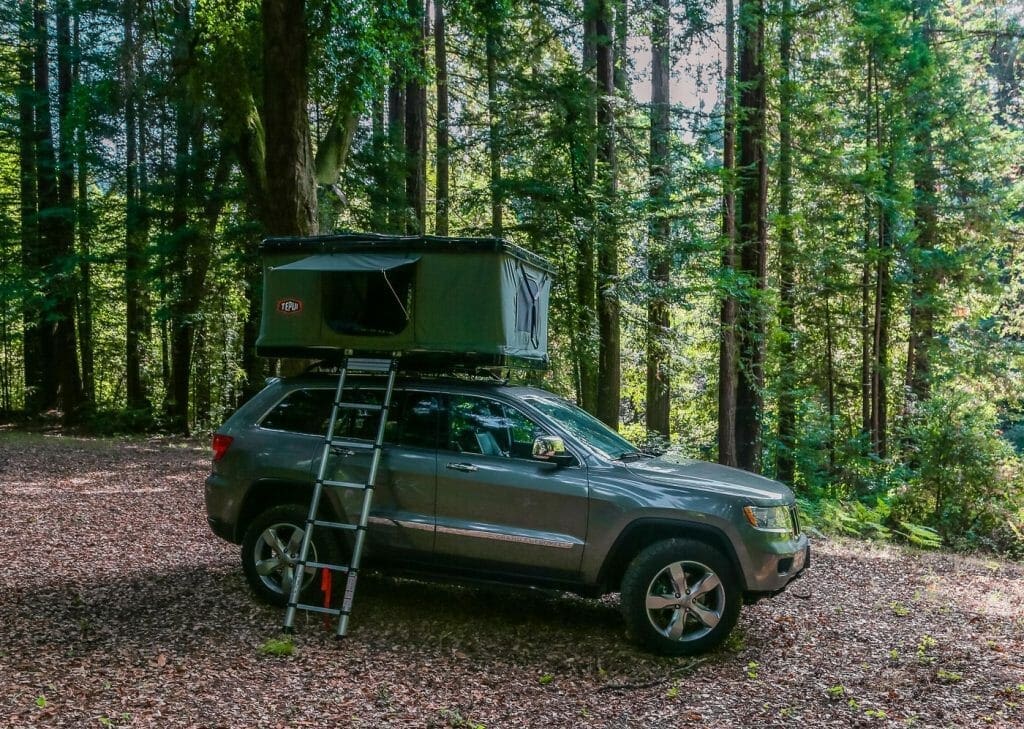 Soft shell rooftop tent
Soft shell roof top tents are the most common rooftop tents and usually the most affordable. Soft shell rooftop tents can be sized anywhere from one to four + people and are built of heavy-duty fabrics, poles, and attachment pieces.
In the industry, there are two major types of softshell tents – the ones where the ladder is at the very front, and you climb up through a door or ones where the ladder is under the tent, and you climb up under the tent through a bottom entrance.
I have no real preference here other than the two styles tend to lead to design choices for aesthetic purposes and some features.  For example, if you plan to have a vestibule setup and want space below your tent, then the style where the ladder is in the bottom means the ladder will be covered by the vestibule however front entries usually will be open to the elements. I like the front entry concept because the views when the doors are open are fantastic and I love the simplicity & design. The bottom entry units can be larger, which may be beneficial for people with pets so there is more room at the foot/entrance for them.
Side Entry RTT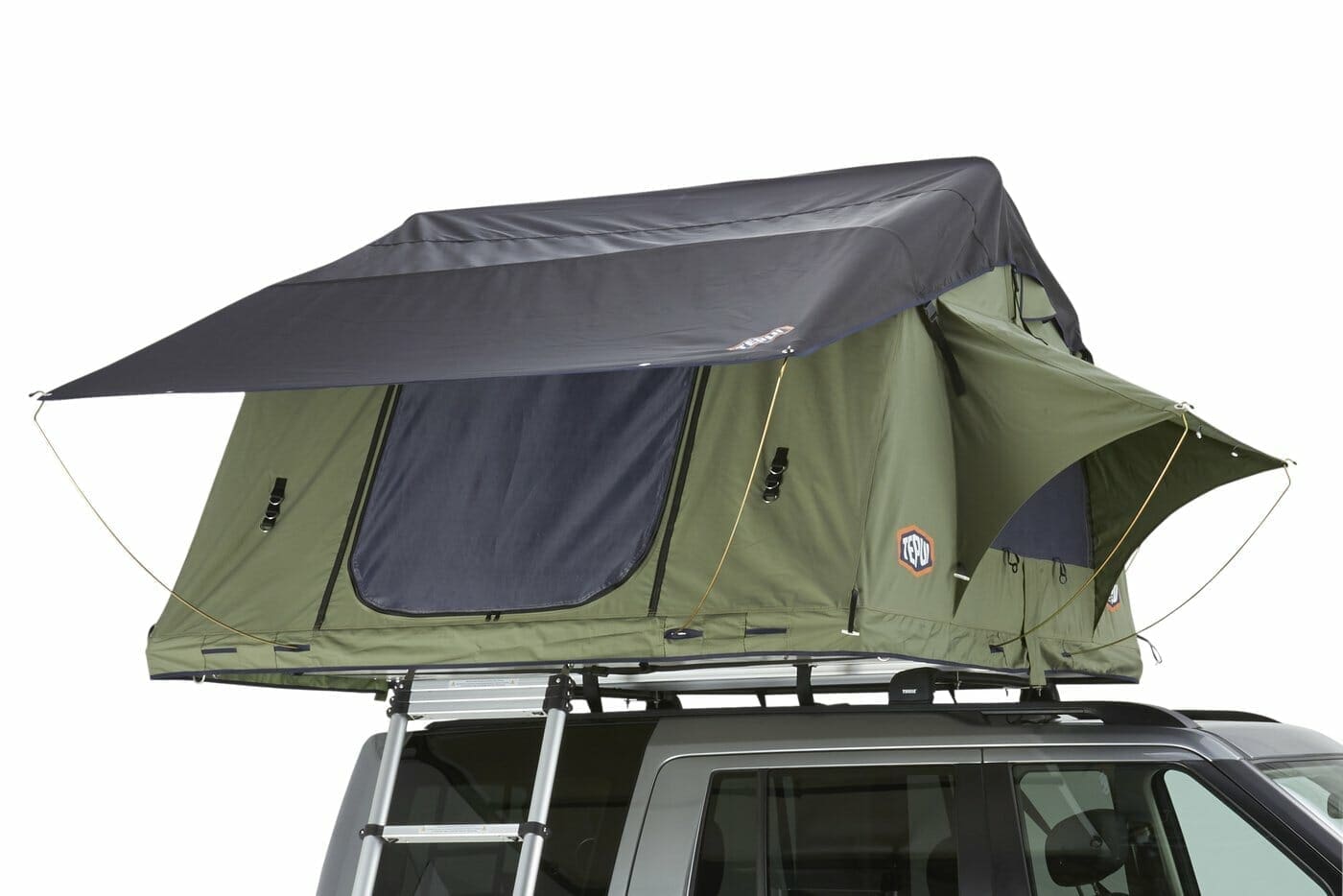 Bottom Entry RTT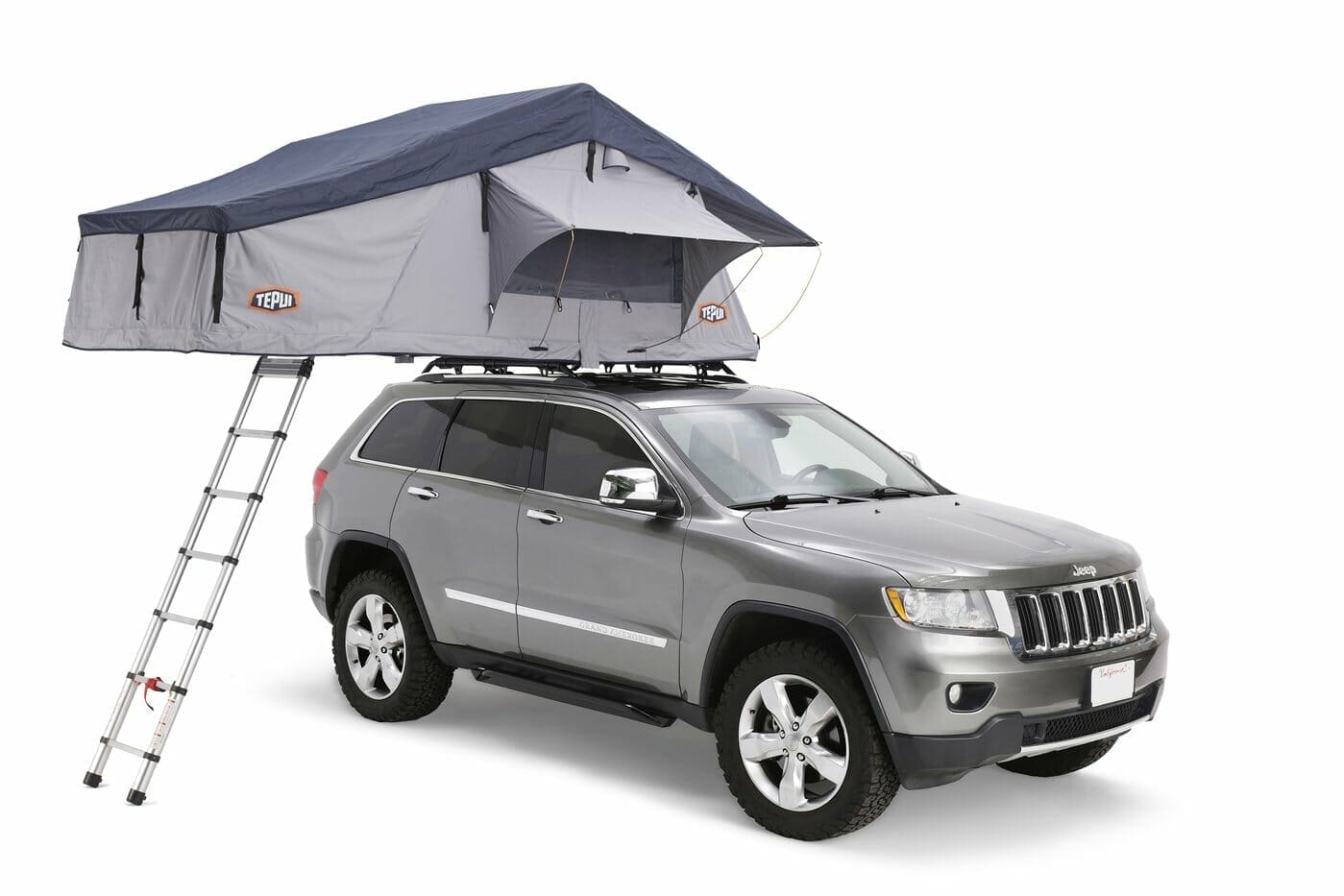 What to look for in shopping for a rooftop tent
When shopping for a rooftop tent, there are a few things you should look for. Beyond the design/appearance and looks that you strive for you should make sure that the tent will perform, last, and when the inevitable wear-outs and breakdowns happen that you can get parts and service for your gear.
What is your mission? Are you camping for two? Camping for a family? Going off roading? Overlanding? Weekend getaways a few days a year or spending weeks on the road in four season weather?
Think about your mission and then understand tent designs, quality and performance features needed to exceed your mission goals.
Build quality
The general build quality of deck, poles, platform, and shell.  Will it hold up to your mission? Will it be durable? Is it flimsy? Known problems?  Just like any camping gear – you often get what you pay for.  I look for wrapped poles – if the tent company can engineer a rooftop tent that collapses, has wrapped poles, and made of good materials then I know they put the effort in to think not just of RTT design but usability.
You also want a good sturdy base – it is folding up and holding you up above the car/trailer and giving you a rigid above-ground platform to sleep on. Not only should it be durable for this purpose but also durable on the bottom to withstand debris and water. My tent is on an expedition trailer that will be dragged around on old mining trails and off road useable so I opted for an extra durable build with diamond plating since trees/dirt/rocks may be flying up or brushing by.
Quality of fabrics
This is your second most major decision when choosing an RTT brand to go with – What is the quality of the fabrics and components but fabrics being topmost. You want durable fabrics, heavy weaves, and good protection. You want fabrics that will not only withstand weather, temperatures, humidity, and rain but also will withstand the force of being packed and stored and being zippered away.
Speaking of packing away, no matter which tent you buy or use, always be sure to let it dry out completely before any long-term storage. You don't want any mold or mildew buildup on your tent ruining your fabrics and shortening the lifespan of your investment.
Spares/parts
Ask your potential RTT vendor how long they have been around, whether they still sell spares and parts of tents that are discontinued.  The last thing you want to do is buy a tent from a company that won't make parts once they move on to newer designs or styles. You're investing a lot of money in a product that should last for many years to come.  Name brands like Tepui and CVT are known to support their products and offer good warranties as well.
Mattress
This is one of the beautiful things about RTT tents; they come with a padded mattress. It may not be essential or wise to spend a ton of money shopping for an RTT purely on the mattress comfort alone as you can often throw a foam mattress pad on top to give you just the comfort you seek.  We carry a 2.5″ king-size mattress pad that on top of our tents has a built-in pad that gives us a comfortable space to sleep in. (Totally spoiled!!)
Aesthetic Features
I love the roof skylights on my Tepui, and it was the reason I chose one brand over another. Choose a color you like; choose the layout you prefer and shop around for the features you want. Do you like both ends of your tent to open to have a portal view of the wilderness?  Do you like removing the rainfly and watching the stars while laying on a comfortable mattress protected from the elements through roof skylights/windows? These features vary between tents and manufacture and while they don't necessarily modify the tents' capability, they are excellent features I enjoy so be aware of the slight difference, features, and characteristics of the brands and products available.
Moisture pad/barrier
Moisture in any tent is always a problem regardless of being a rooftop tent or on the ground but In RTT's moisture can be excessive and it's wise to invest in a moisture pad/barrier to help keep your mattress pad and sleeping above any moisture that does wick through your tent. Most manufacturers include moisture barriers in their high-end models, but almost all of them will let you purchase them separately. I would advise investing in one to make sure your tent is comfortable and dry.
To help keep moisture down in my tent, I invested in an easy-to-use de-humidifier that I can plug in to dry-out and re-use. It doesn't require any electricity while in the tent, and so far, it has helped keep the humidity/moisture down in my tent.
Buy Online: Eva Dry E-500 Portable de-humidifier
Size
How many people are you looking to pack into your tent? How big are you willing to go?  How much weight can your vehicle or trailer handle safely on the road?  Sizing isn't universal, and just like regular tents, a two-person tent may be intended for two people who like to snuggle rather than two people who want their own space. If you like plenty of room and you're always just two people, then a 3+ or 4-person tent may be better for you.  I purchased a four-person tent even though it's just the wife and I, my kids still like to have their tent on the ground BUT if the weather is terrible or we are unsure of the area we can fit the entire family in the tent and be nice and cozy
As an addendum to size, I would like to remind people that a lot of tents may let you leave sleeping bags/blankets/pillows or mattress pads inside the tent while collapsed down. This is a wonderful time & space saver so if you're shopping around you may want to ask if the tent can collapse down with some sleeping essentials inside. Not every brand can do this, but some have room and extra space when collapsed so that the cover can cover them without too much stress.
Addon Features available
Annex room
Add a room below your tent. Annex Rooms are offered by many of the RTT manufacturers and can provide much-needed living space, privacy, and rooms below your tent, taking advantage of the covered space below. These are great for eating areas, extra sleeping space (kids!), pets, storage, shower/cleanup/privacy area.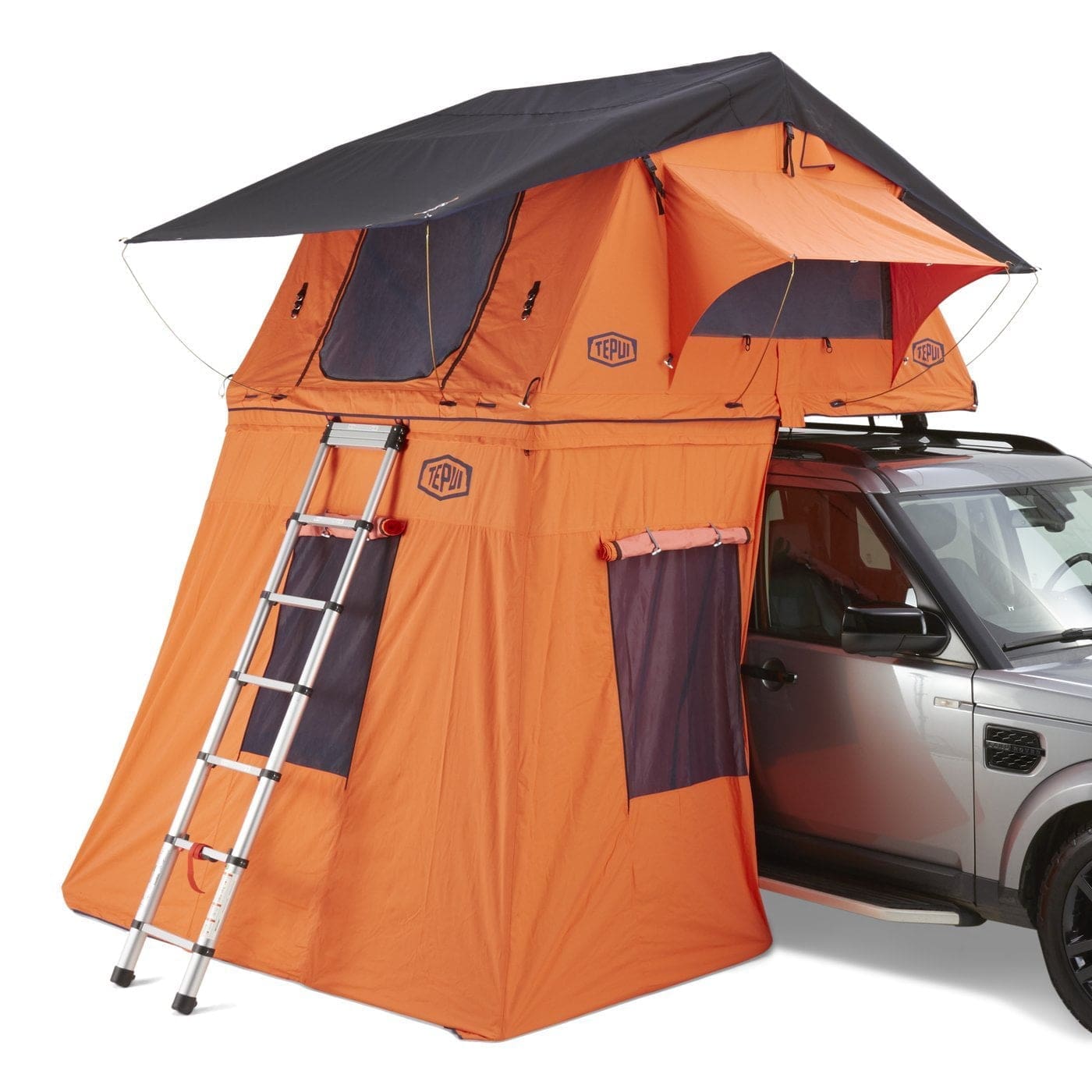 Awnings
Awnings aren't necessarily part of the rooftop tent design, but many companies offer awning accessories that complement rooftop tents. These usually provide great coverage and ease of setup & removal just like a tent, and some even offer up to 190 degrees of coverage. The 240-degree ones are great for having a left/right awning that covers your vehicle tailgate making them great for shade and vehicle access in inclement weather!

Accessories
There are an infinite number of accessories for your tent, but the common ones that we would recommend are shoe bags, lanterns, and lighting.  Most tents come with plenty of internal pockets, but we've learned its best to have a shoe bag or duffel type bag that can hang out by the front door, so you can easily take your shoes/flip flops on and off while climbing in and out to minimize dirt inside the tent.  Cool lanterns that can hang from the inside mounting brackets or bars are nice, and we love some of the rope lights that can be used to light up inside the tent.
If you're looking for an awesome Lithium-Ion Portable Power bank, check out our review of the RockPals 300w Portable Power system. This little device works great to provide power off the grid while you're out camping in your rooftop tent!
What do you need to install an RTT?
A roof rack is needed, and it must meet your tents' rating weight and size. There are multiple ratings when choosing roof racks and it's extremely important you know and understand these ratings.
Dynamic Weight Rating – This is the maximum rating of weight that can be on your vehicle while the vehicle is in motion. Your roof rack company (such as Yakima / Thule) or your Car manufacturer should have this rating in the vehicle sizing guide.
Static Weight Rating – This is the maximum weight rating of the entire system on your vehicle.
For many installations, the average max dynamic rating is usually around 160 lbs. This means that your tent collapsed and, on the road, should not weigh more than 160lbs – Including all the hardware and attachments on the rack system.
For static weight rating, you don't want to exceed the rating of the system while the tent is open, set up and with people in it. So, if you plan to have two adults and two children in a four-person tent, it's imperative that your static weight rating is strong enough to support the 150 lbs. of the tent, 30-40 lbs. of gear (mats/bags/clothing/shoes/lights) and the weight of four people in the tent.
I chose trailer mount because my Jeep with a hard top or soft top doesn't have manufacturer set static weight rating and I didn't want to install an exterior cage system for the tent.
Keep in mind that if you do have a Jeep or a truck with a bed cover that a lot of these vehicles don't have a static weight rating for a rack system on these plastic/polymer roofs and you may have to fabricate, build, or buy support systems to safely transport and use your tent. Always follow the manufacturer recommendations and never exceed the weight or balance of your vehicle.
Choosing where to put your RTT
You have two essential choices that come with purchasing an RTT – Do you install it on your vehicle, or do you mount it on a trailer?
When you install your rooftop tent on your vehicle, you must remember that any time you drive, you must close the tent. This process can take anywhere from 2-3 minutes to 15-20 minutes depending on the setup you have. If you have an annex room, awning, and a vast 4+ person tent, it will take you a while to set up and teardown the RTT, and you will want to keep this in mind for how you choose to carry your RTT.
If you install it on a trailer, then you can secure and leave the trailer set up as a basecamp. This is what we chose to do with our Tepui Roof Top Tent.  I have it installed on an expedition trailer that not only carries the RTT but all our gear and allows me to drive off with the Jeep and have a base camp.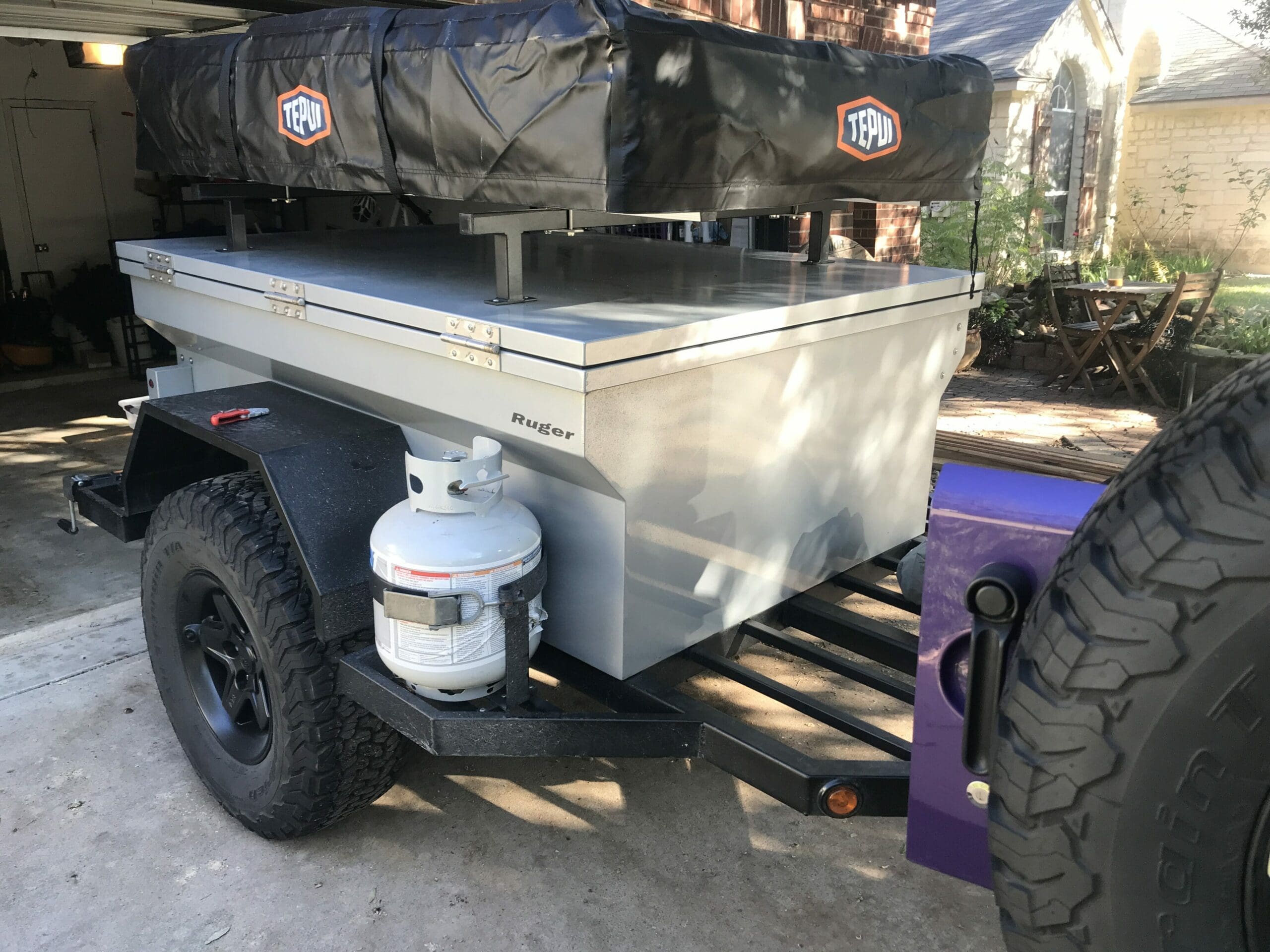 With the expedition trailer setup, I can carry hundreds of lbs. of gear inside the trailer and coolers on the tongue and keep my Jeep mostly free for the family and enjoying excursions. Before the trailer I had a roof top carrier and the vehicle packed to the brim, so I've enjoyed having much more space and a base camp style setup.
Regardless of trailer or roof install, it's common for people to call this type of camping "overlanding." With overlanding people build impressive off-road rigs capable of trail driving and off the beaten path camping. Overland/Expedition vehicles & camping is universally exchangeable to describe these setups and trailer systems.
Our primary rig is our Jeep, so check out our in-depth guide on our rooftop tent for Jeep.
Where to buy a roof top tent
RTT's can be heavy and awkward to ship – most companies will need to ship freight, and sometimes this can be another 200 to 300 dollars on top of your price – especially if they're delivering residential.  Some brands figure this into their base price if they specialize in internet sales, some brands ship through Amazon and offer amazon prime free shipping (yeah!!!) while others will focus on established retail channels such as your local sporting goods, off road, camping, or truck specialty shops. If you can buy local, I always say buy local – a local warranty is a beautiful thing to have (who wants to ship back and forth something that may cost you six hundred bucks!!!) otherwise if you order online Amazon is hard to beat if you don't go vendor direct.
Hopefully, we've given you some information to digest and enough knowledge to help you shop and select your new Rooftop tent! We love ours, and we agree that these tents are "game changers."  Every time we're out camping it's a conversation starter and every time, I get out to open it up and set up camp I do so with a big grin on my face.  There is some sticker shock and price to pay for this luxury, but it does come with the great reward of experiencing the majesty of the outdoors with a view above the ground that can warm the heart in ways that on-ground camping can't compete.
FAQs
What is the benefit of a rooftop tent?
Fast Setup, being off the ground, high durability, and amazing views are just a few benefits of rooftop tents. My Rooftop Tent is set up in less than 10 minutes and by set up, I mean my trailer is parked, my tent is up and we're sipping on drinks under the shade of our pop-up cover enjoying our temporary home.
What are good Rooftop tent brands?
From personal experience and knowledge CVT and Tepui are strong brands, however the market is growing and changing. We're always interested in hearing about your experiences.
What is the biggest rooftop tent?
The largest rooftop tents are typically four person tents.  CVT has XL variety of tents and will typically have some of the largest options of the many brands.
Is there a rooftop tent I can stand in?
Most are designed to be stable and have a low center of gravity and be safe to move around in. They feel safe and sturdy because of this low center of gravity and low roof. They're still amazingly comfortable and roomy inside.
Which Rooftop tent is the best?
Whatever fits your mission, budget, and desire.  I would advise that you buy from reputable companies that have been in business, stand by their product and those that offer good parts and warranty. Rooftop tents are in investment and you should get years if not decades out of your investment.
Where to buy a rooftop tent?
Rooftop Tents are big and weigh a LOT. If you can find a rooftop tent on Amazon with prime shipping, you may have just saved yourself over $350 dollars or so in freight shipping. Some retail stores will offer shipping to store for free – such as REI, so take advantage of ship to store or free prime shipping to save hundreds on delivery of your roof top tent.
Why are rooftop tents so expensive?
In general, Rooftop tents are heavy duty tents designed to withstand overlanding, off road and extreme conditions and weather – including being attached to a vehicle year-round. They're designed with heavy duty fabrics, long lasting mattress pads, moisture barriers, strong bases, pockets, sky lights, mosquito/bug netting and so much more.
Can rooftop tents go on my car?
I've seen them on about any car you can think of. The deciding factor is the vehicle's roof rack weight bearing capability and whether the Rooftop Tend exceeds that load.
Pin It!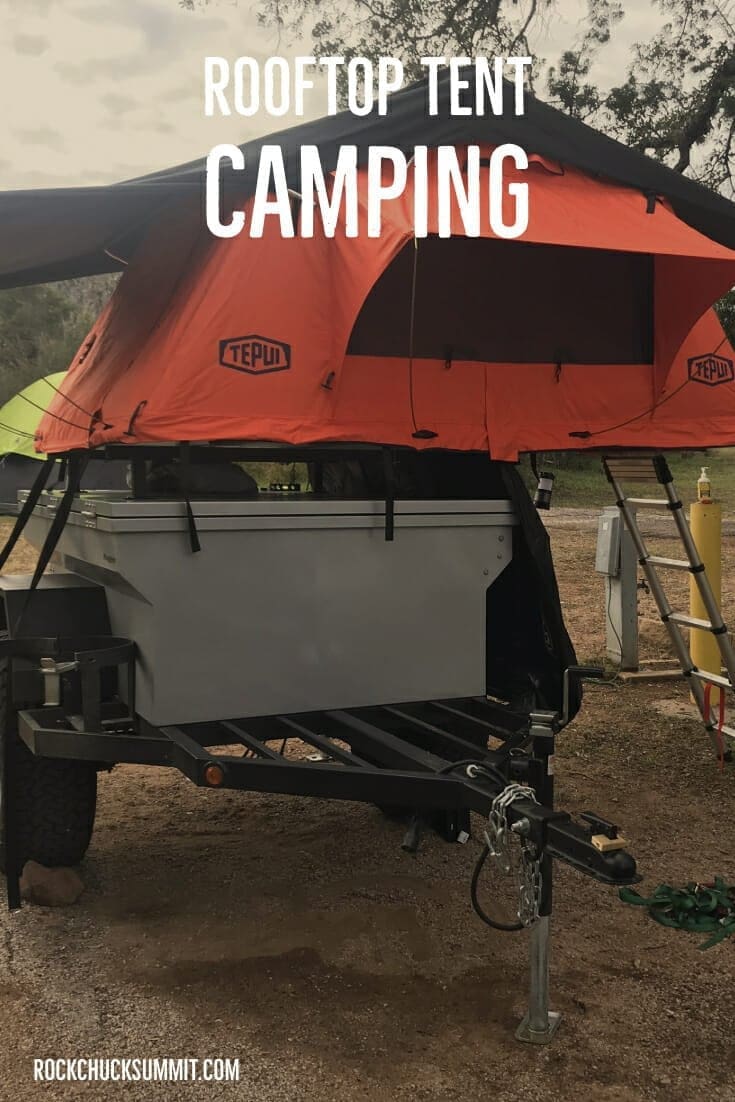 Do you have an RTT? Have any feedback, comments, or suggestions? We love hearing from our readers – leave a comment below and let us know what you think about these amazing rooftop tents!