There is an endless supply of portable power systems available today from small handheld battery packs people use to keep their cell phones charged too much larger systems capable of running several small devices and even 12-volt fridge systems and small appliances.
I needed a solution that would not only charge our phones but provide power to recharge devices such as cameras, drones, laptops, tablets and more. I wanted something I could easily pack up and use to fill up inflatable mattresses and more while camping. It needed to be small, portable, reliable, and easy to use.
I wanted something with a handle – not too big – not too small – something with 300-watt capacity and able to charge while driving from a 12v adapter as well as being able to plug in at home and use a solar panel to recharge.
After some research, we landed on the RockPals portable 300w generator and gathered up all the details for our product review.
RockPals' has Updated its lineup for 2022 and changed its appearance. We'll be testing out one of the larger sized battery backups but until then, we've updated our post to reflect the new product packaging – with the same great characteristics as tested on our prior designed model. One of the best new features is the use of USB-C as available charging options and outputs!
RockPals 300w Portable Generator
Upon receiving the item, I was surprised at how little the package is and how much it weighs. It's surprisingly small and light for its capacity. It arrived with a ~80% charge from the manufacturer, and they recommend that you run it dry before fully re-charging, so I was able to start playing around and seeing how it works immediately.
Capabilities
At this price point, you often have some glaring trade-offs you must deal with when shopping for a portable battery system. I was pleasantly surprised to see that this unit allows you to charge/use devices while plugged in and charging itself.
This "pass-through charge" means while you can use all the ports while you're charging the battery via car, wall or 12v charger. Few devices do this at this price range as they shut down all the plugs and ports while plugged into only focus on charging the internal battery.
Just be aware that you will increase the charge time while doing this, but it is a notable feature.
Beyond the "pass-through" charging support, Rockpals offers complete control and a comprehensive overview of everything going on.
You can enable/disable the individual power systems by clicking on the little button above them – such as disable the USB port or disable the 110v port. Controlling each port is convenient for leaving devices plugged in but selectively enabling the charging of specific ports/devices.
The LCD screen offers feedback on everything going on, and I mean everything. The screen shows what ports are in use, whether power is coming in or going out, the voltage of the battery, the fans enabled or disabled. It offers kill-a-watt style functionality on the 110v port so you can see the power draw for anything actively consuming electricity.
Lithium-Ion Portable Power
While we're out camping, we want to be able to use 100% of the battery, charge it as much as we can during the day and use it up at night. Lead acid batteries are more massive, need to be more significant for their power size and can be cumbersome to maintain compared to sealed lithium batteries. We don't need much electricity, just enough to be convenient, portable, and quiet. Which is why we researched battery systems vs. gas generators.
So far, I've tested the following items, and they all worked great!
Inflating Camping Mattress
Charging Surface Pro Tablet
MacBook Pro Charge (USB C power adapter on 110v)
Charging Drone Batteries
Charging Camera Batteries & GoPro
Running Christmas Lights (we like to light up our camp/trailer)
Phones/Tablets
I had no problems with self-inflating mattresses drawing too much current/power for this power system to handle. My Surface Pro was able to charge at 100% efficiency as well with no complaints of under voltage or slow charge warnings.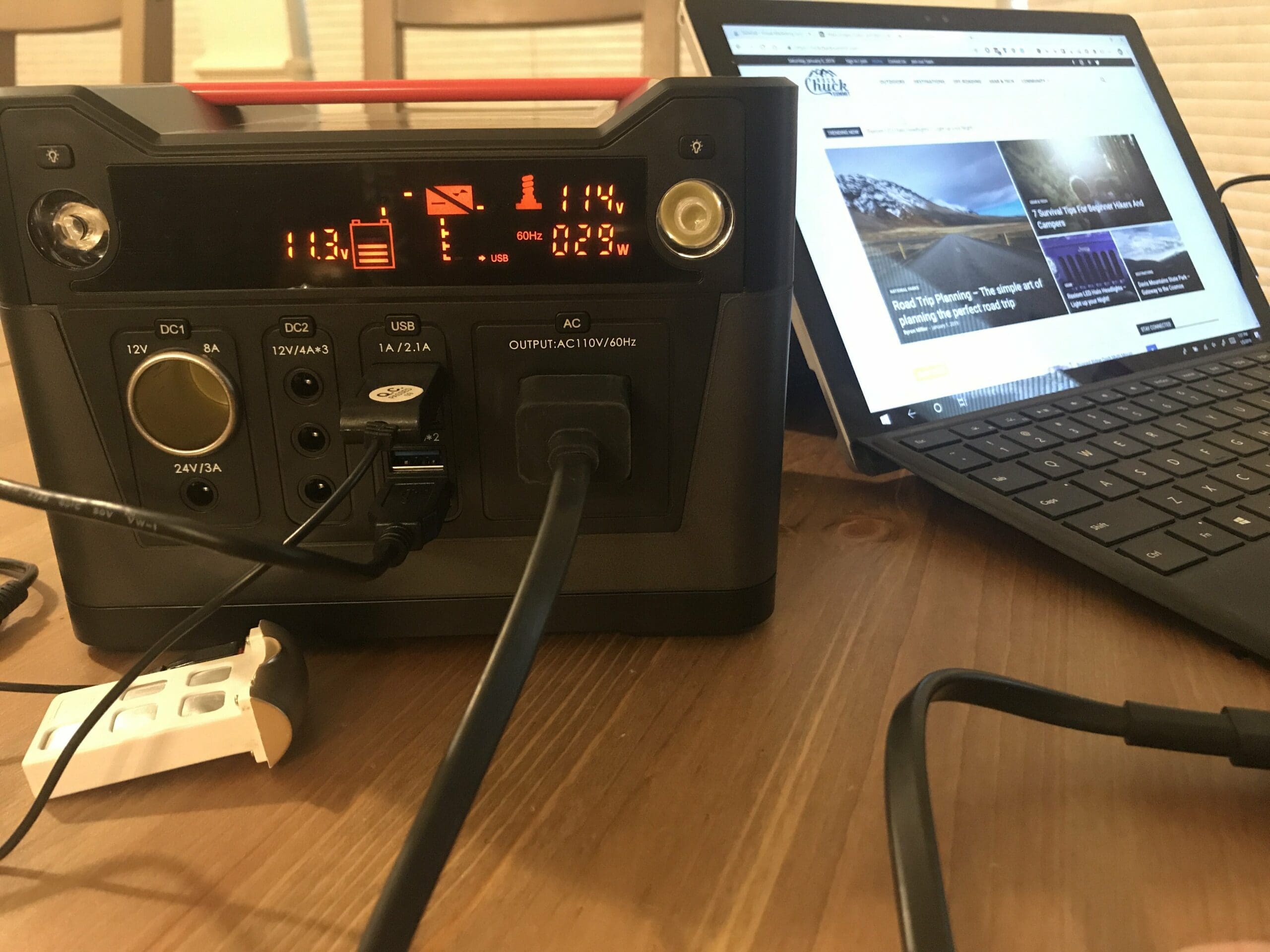 Beyond power for camping, these work great as backup power at home. One of the most common reviews is using this for backup power for CPAP machines.
Safety
The rockpals features a comprehensive safety system & BMS (Battery Management System) to protect you and your devices from failure
Overcharging
Overcurrent
Short Circuit
The device comes with full CE, FC, RoHS certifications.
CE certification is a significant deciding factor in not building my own. Having something so comprehensive and all-in-one is providing a piece of mind. I didn't want to have to worry about failing batteries, fires, sparks, voltage problems while I'm out camping and enjoying nature — plug & Play.
Solar Charging
The 300-watt generator includes built-in support for solar charging. You will need to purchase your solar panels. RockPals provides a standard MC4 interface cable, and they sell a couple of solar panels themselves, but any solar panel with the MC4 style connectors should work (as well as DC/12v power output).
12V Charging
Rockpals 300w generator includes a 12v cable for charging from a car or any 12v system.
Rockpals 300watt Generator Specs
3.7V/280 Watt-hour lithium-ion battery
75000mAh
600 peak watt output
340+/-20 overload protection
Pure Sine wave inverter
Two built-in flashlights
2x 30 AMP fuses
Handle
Lightweight Package
Solar Charging
12v Charging
1120v Charging
Ports
AC 110v Output (with ground plug)
DC 12v/24v Output
USB 5v 1a /2.1A output (4 ports) – USB 2.0 (x2) USB 3.0 (x2)
12V 4A 3 ports
12V 8A 1 port
24V/3A – 1 port
Dimensions
7.5 Inches Wide
5.5 Inches Deep
5.5 Inches Height
The unit by itself weighs just around 7lbs.
Unboxing
Rockpals portable generator came well packed and insulated in an easy to open box/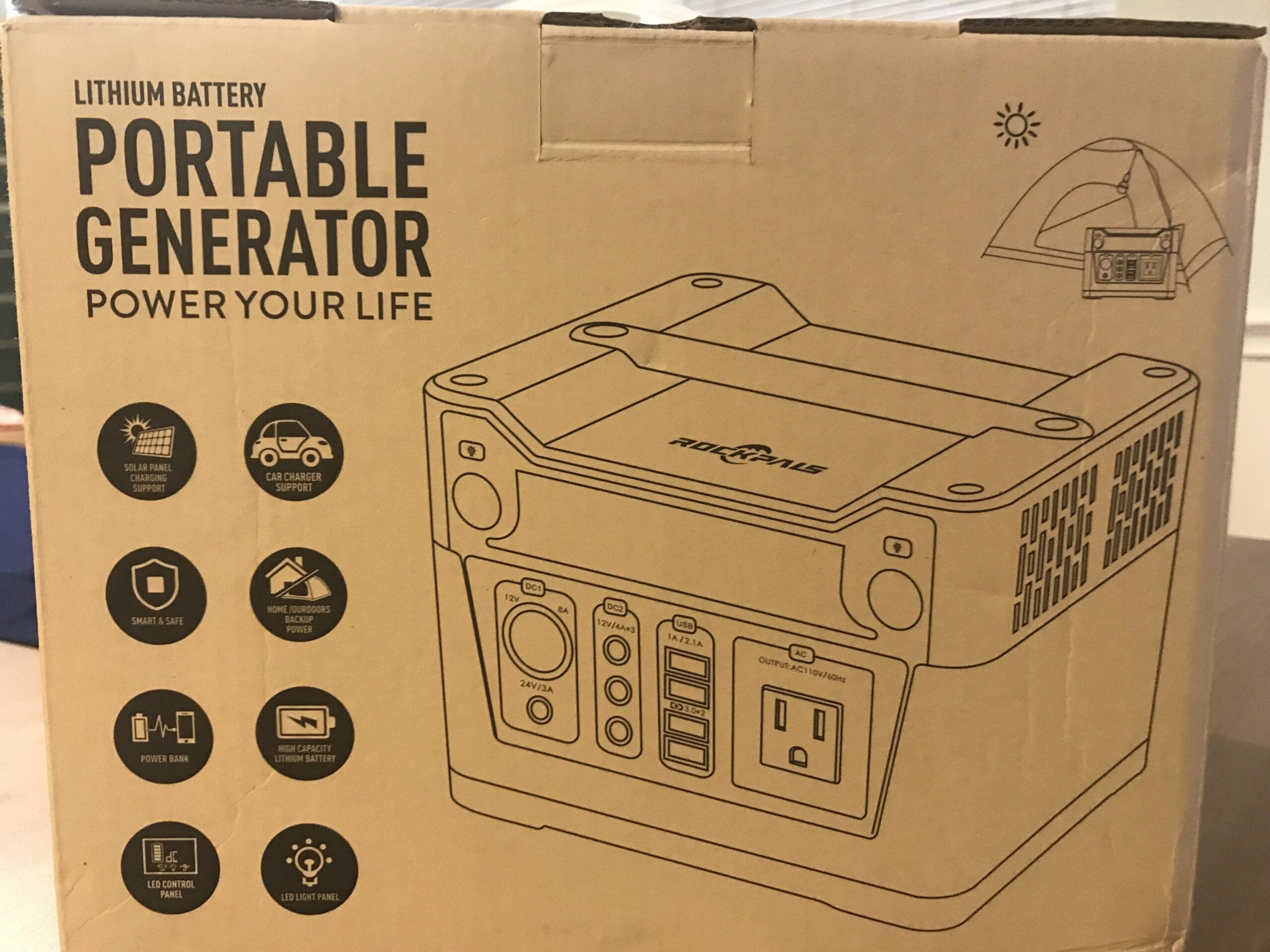 Immediately upon opening, I had fun playing with the built flashlight right out of the box.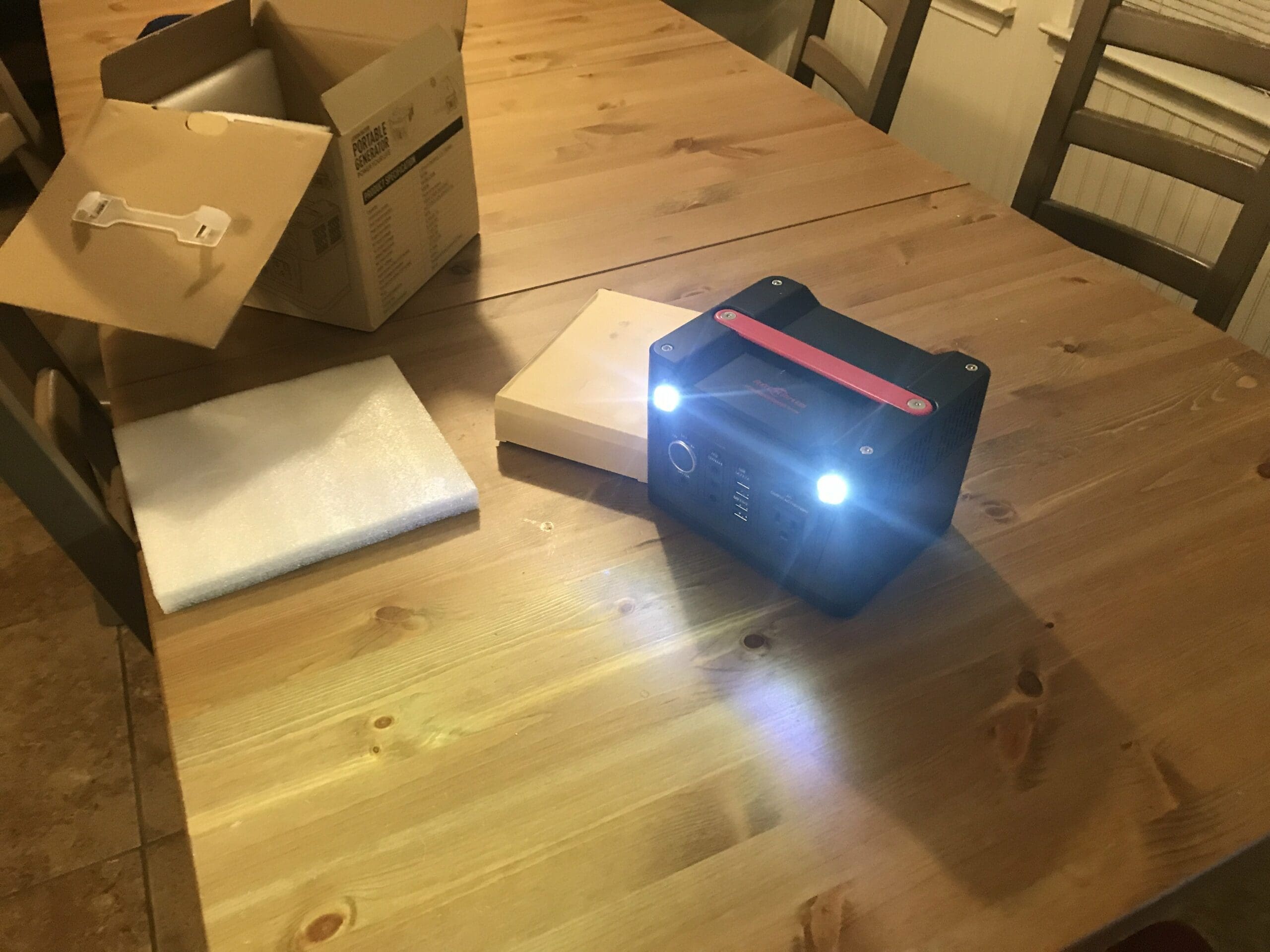 The power station is complete and slightly charged out of the box and ready to experiment with immediately upon opening.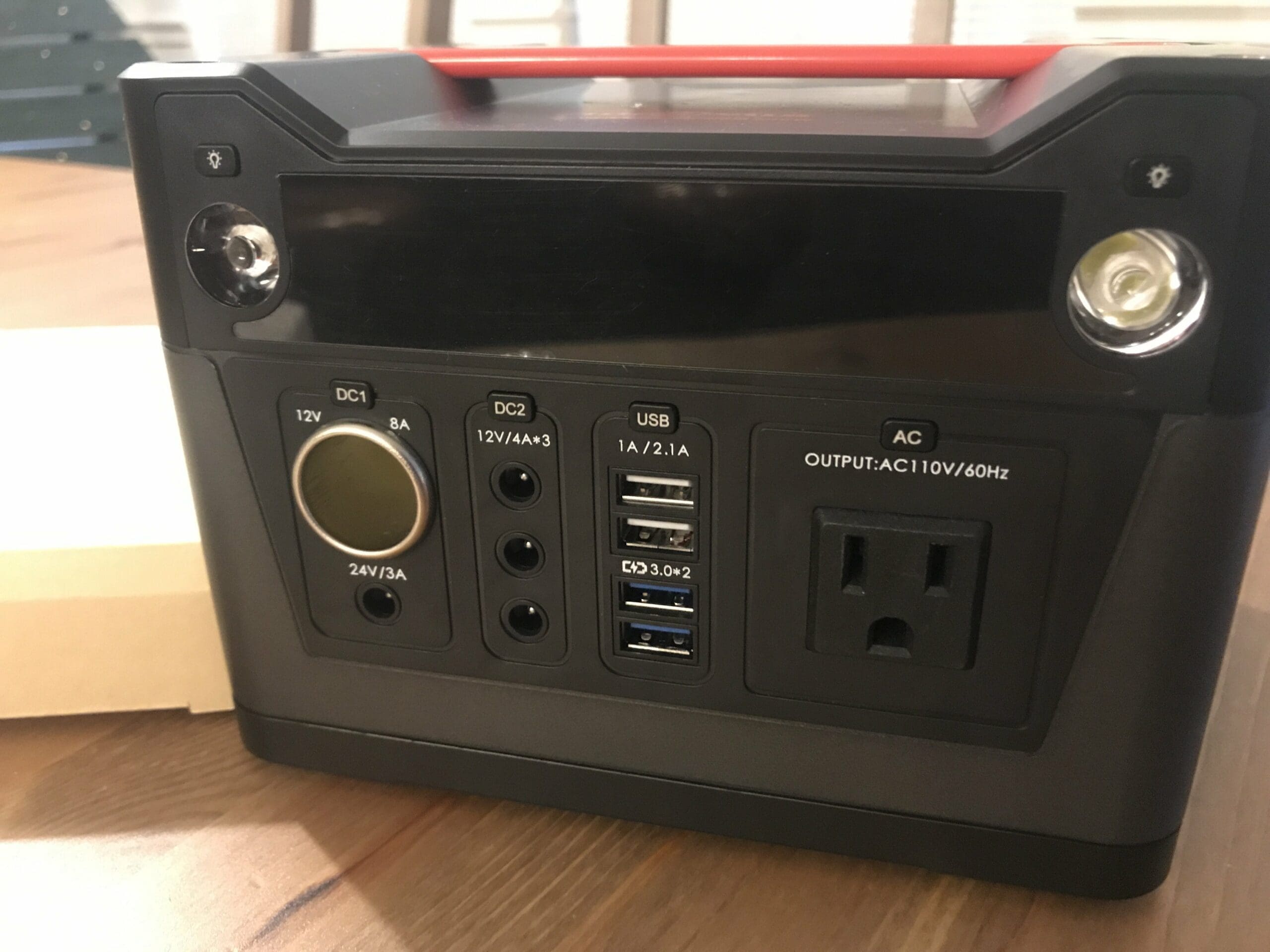 The small package contains three different charging cords.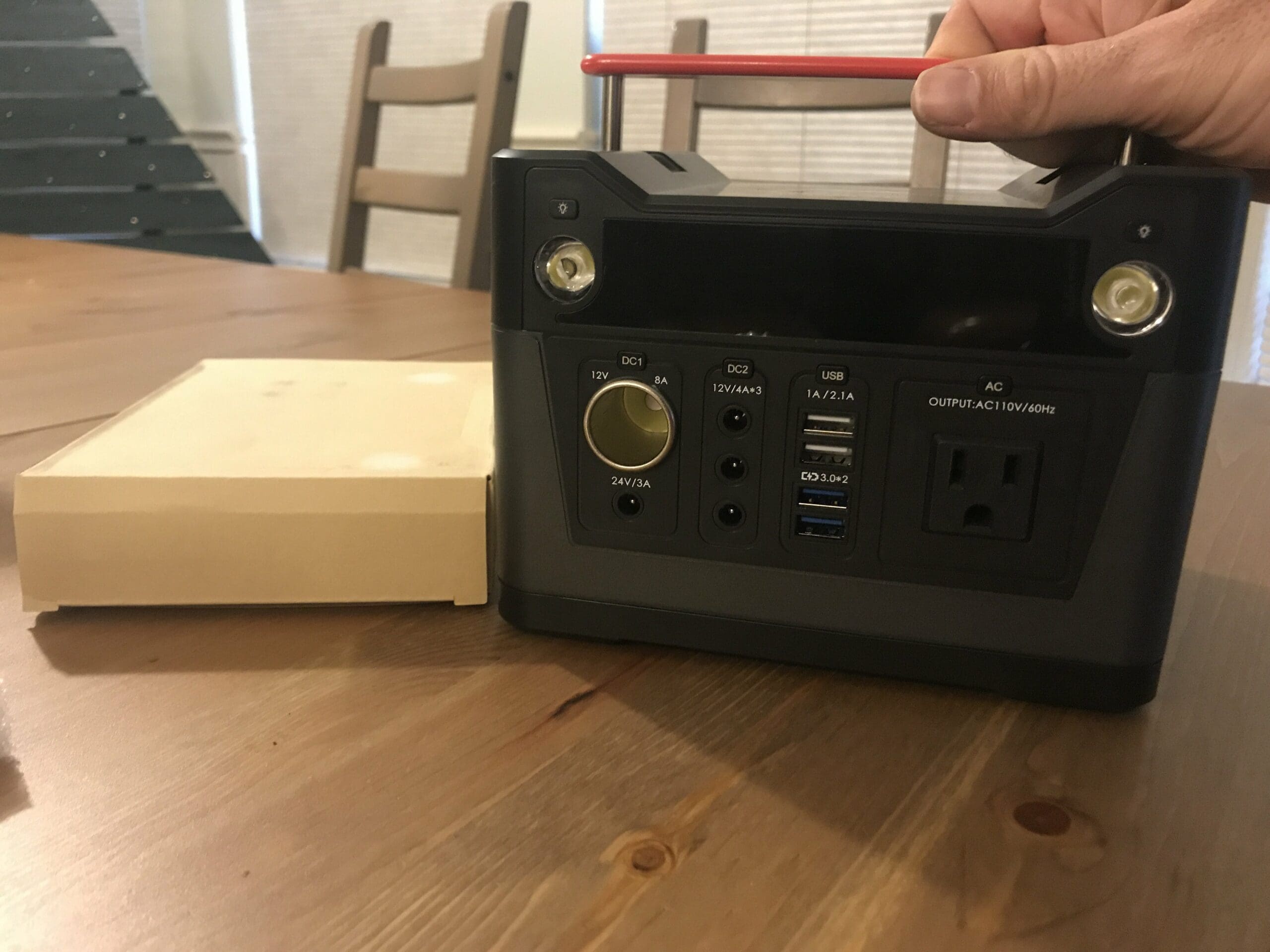 MC4 Solar Charger connectors come with the Rockpals 300w generator in the box.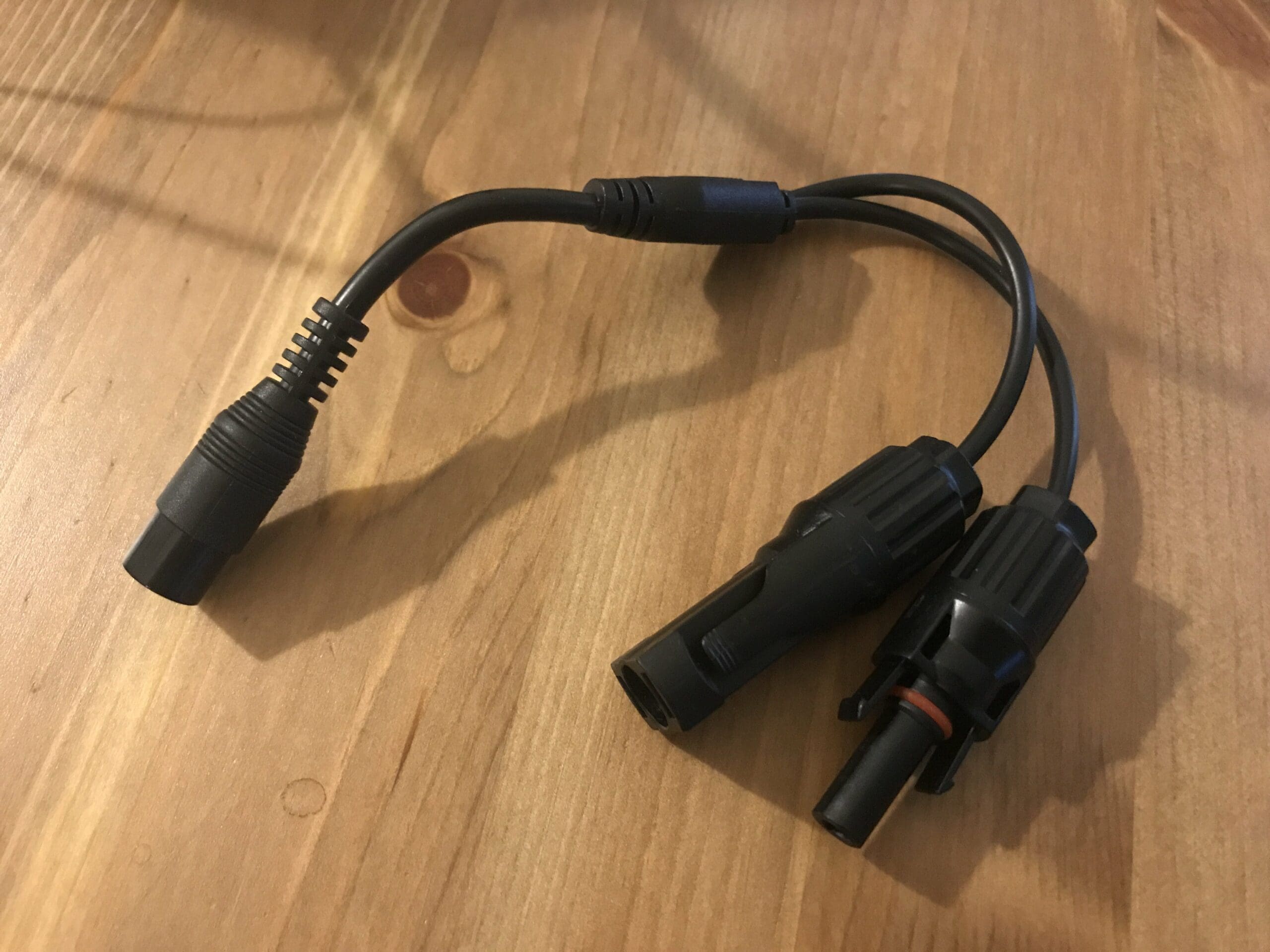 2.5mm DC power adaptor cable is included with the Rockpals Generator as well.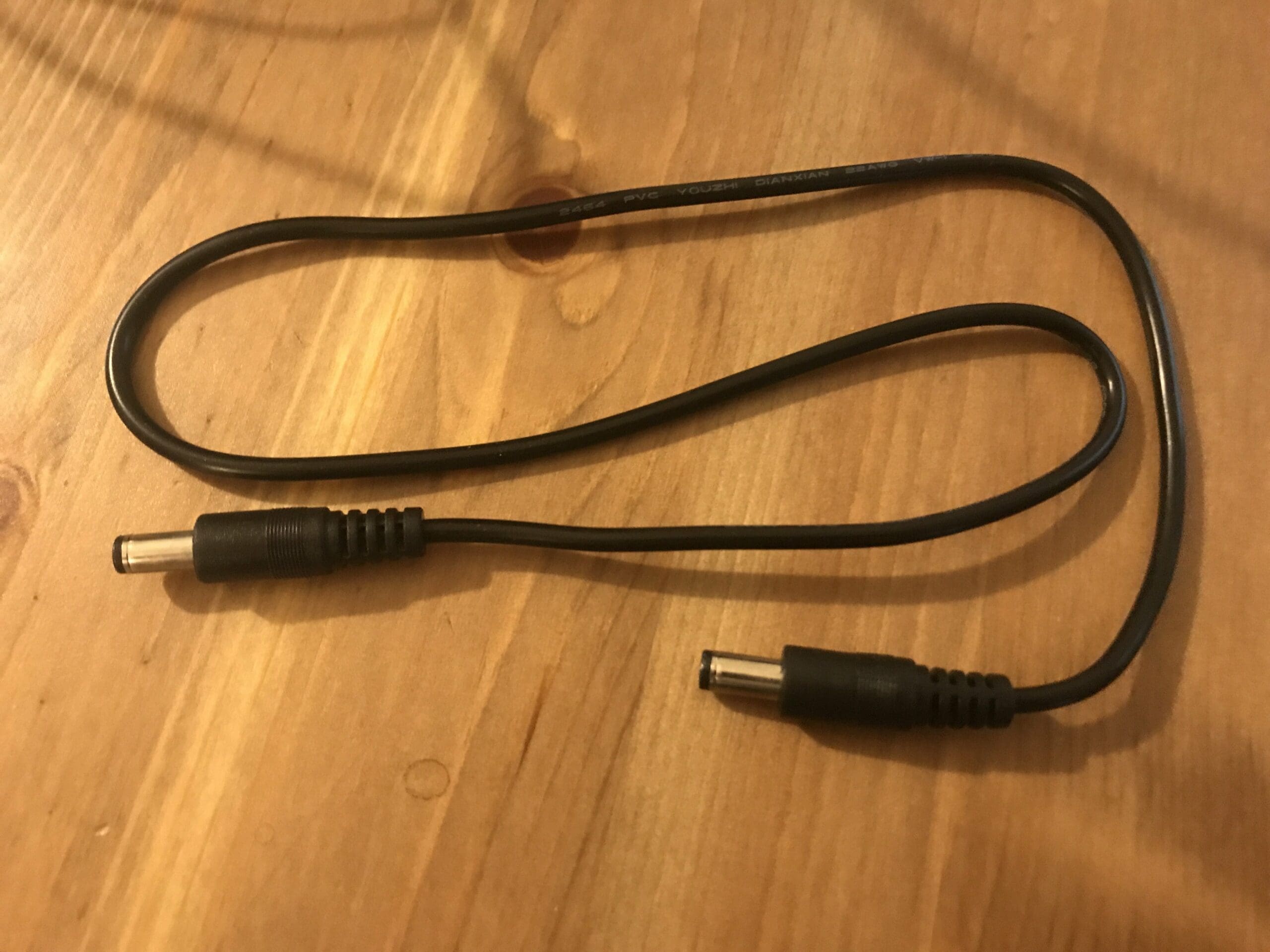 Rockpals 12vDC Power adaptor to charge from car power plus right into your cars lighter or 12v adaptor port.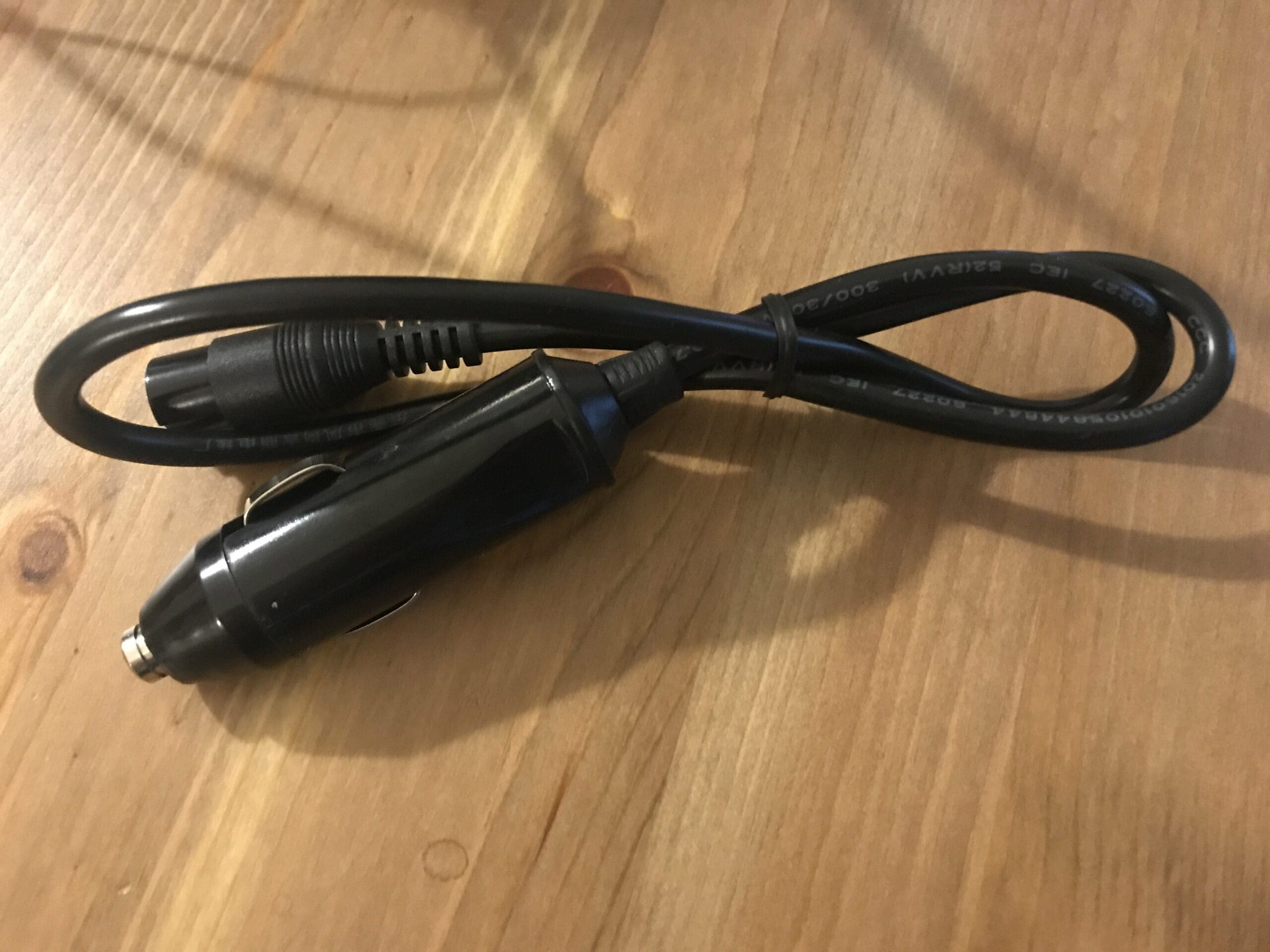 Charging Rockpals Portable Power Generator
The Rockpals generator is rechargeable by plugging into a 110v wall outlet, attaching to a solar panel or through a vehicle 12v system. One of the impressive features of the charging capability of this unit is that you can charge and use it at the same time!
Wall Charging
Plugin 110v wall adapter, Plugin to Wall, Unit will light up and show that it is charging. You will see the LCD panel light up to show electricity coming in, and some quiet little fans will kick in to keep things at the optimum temperature.
After some initial testing, it took about ~3 hours to fully charge from low power warning to max capacity while plugged into a 110v wall outlet.
Solar Charging
I am awaiting a solar panel to test out. I will update this review once we have tested and provided a full field report update as well.
12V Vehicle Charging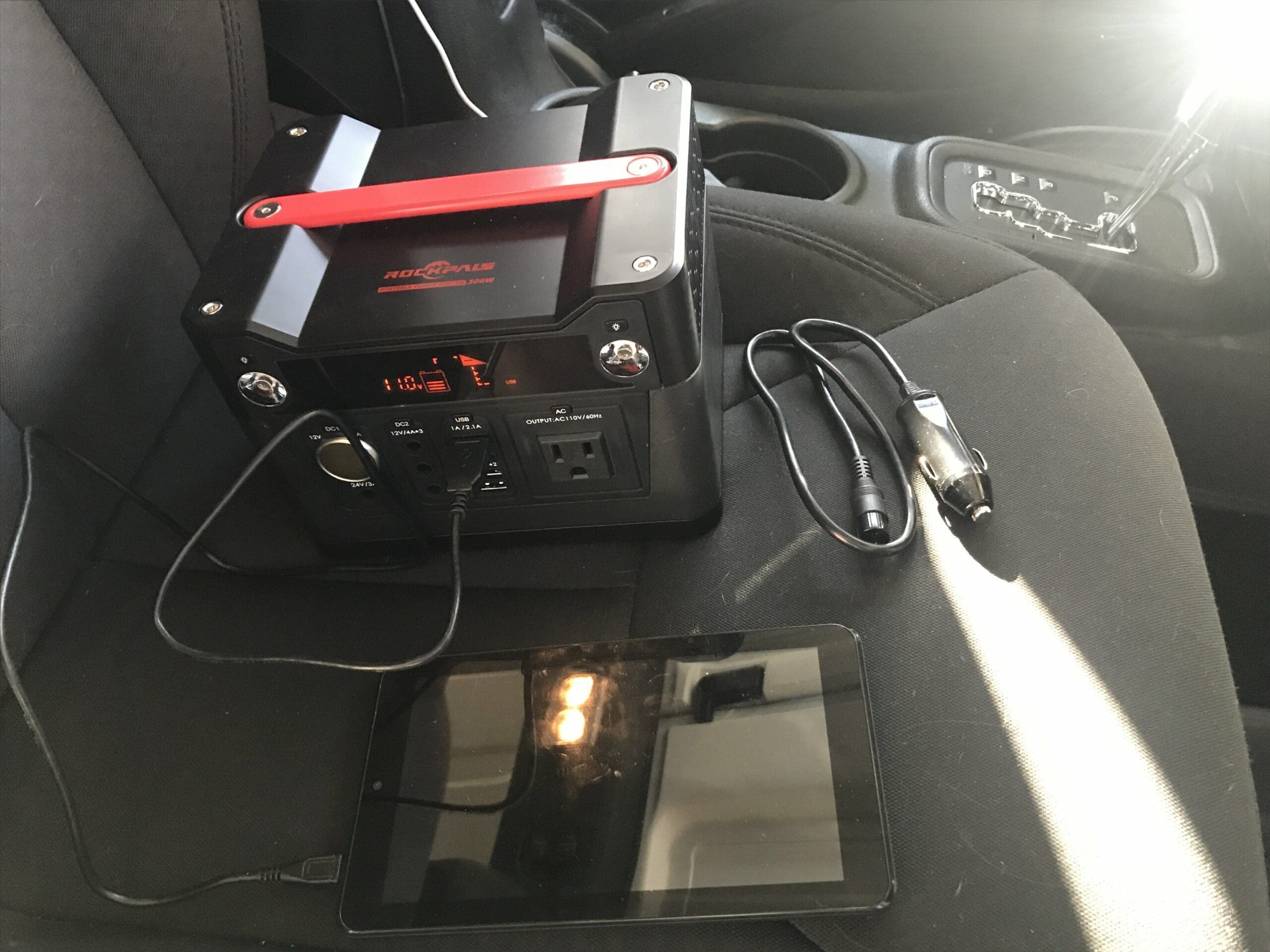 I grabbed the Rockpals, ran to my jeep. Plugged a Nook tablet into the power generator and you can see the USB light lit up and it started to charge the tablet.
The 12v connector directly plugs into your car's lighter adaptor and right into the input DC12-24V input on the back of the Rockpals 300w generator.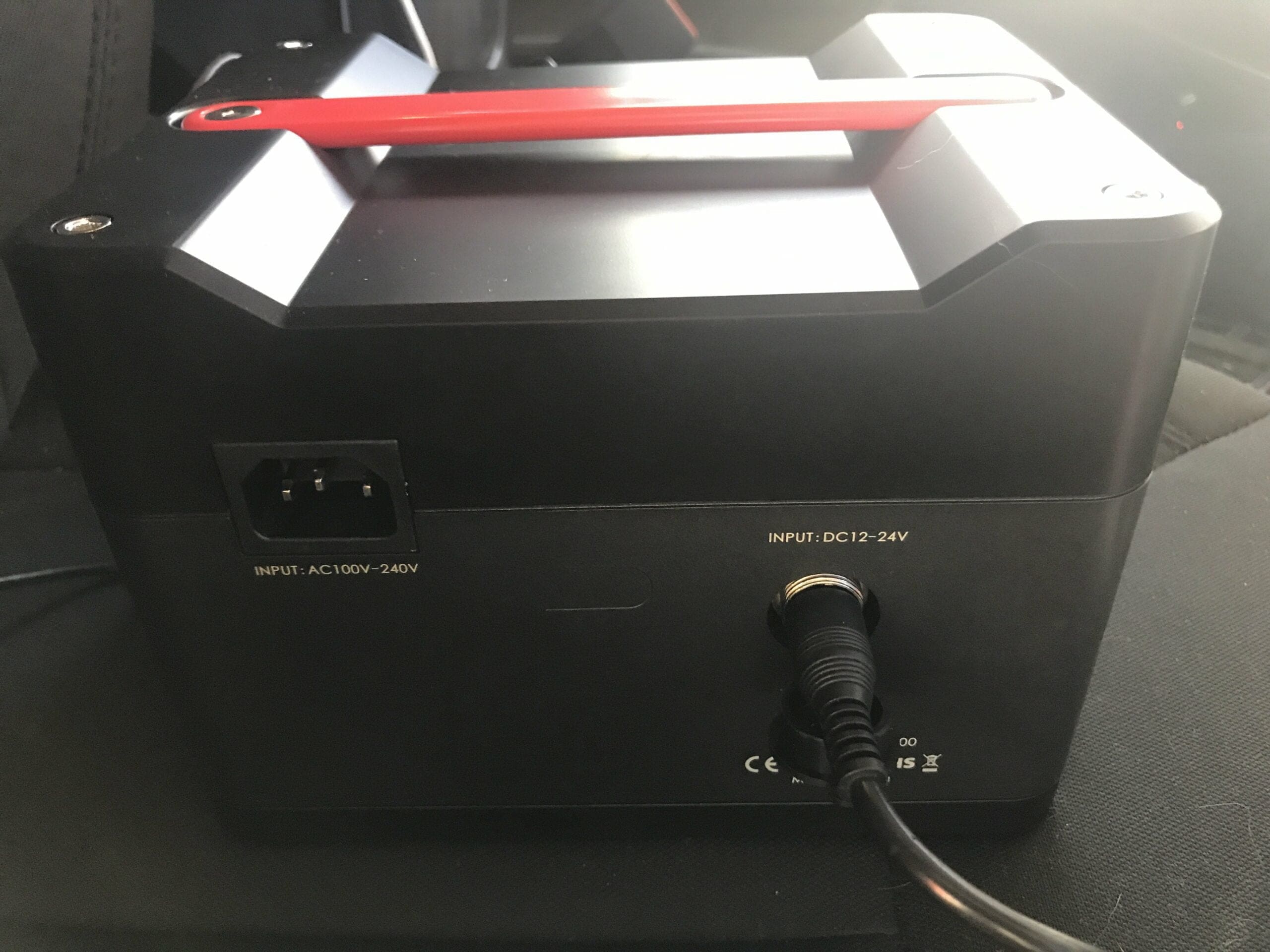 Once you have the 12v power source plugged in the device immediately lights up the LCD that it is charging and providing output to the tablet. The little fan will blow as well to keep the unit cooled/operating efficiently.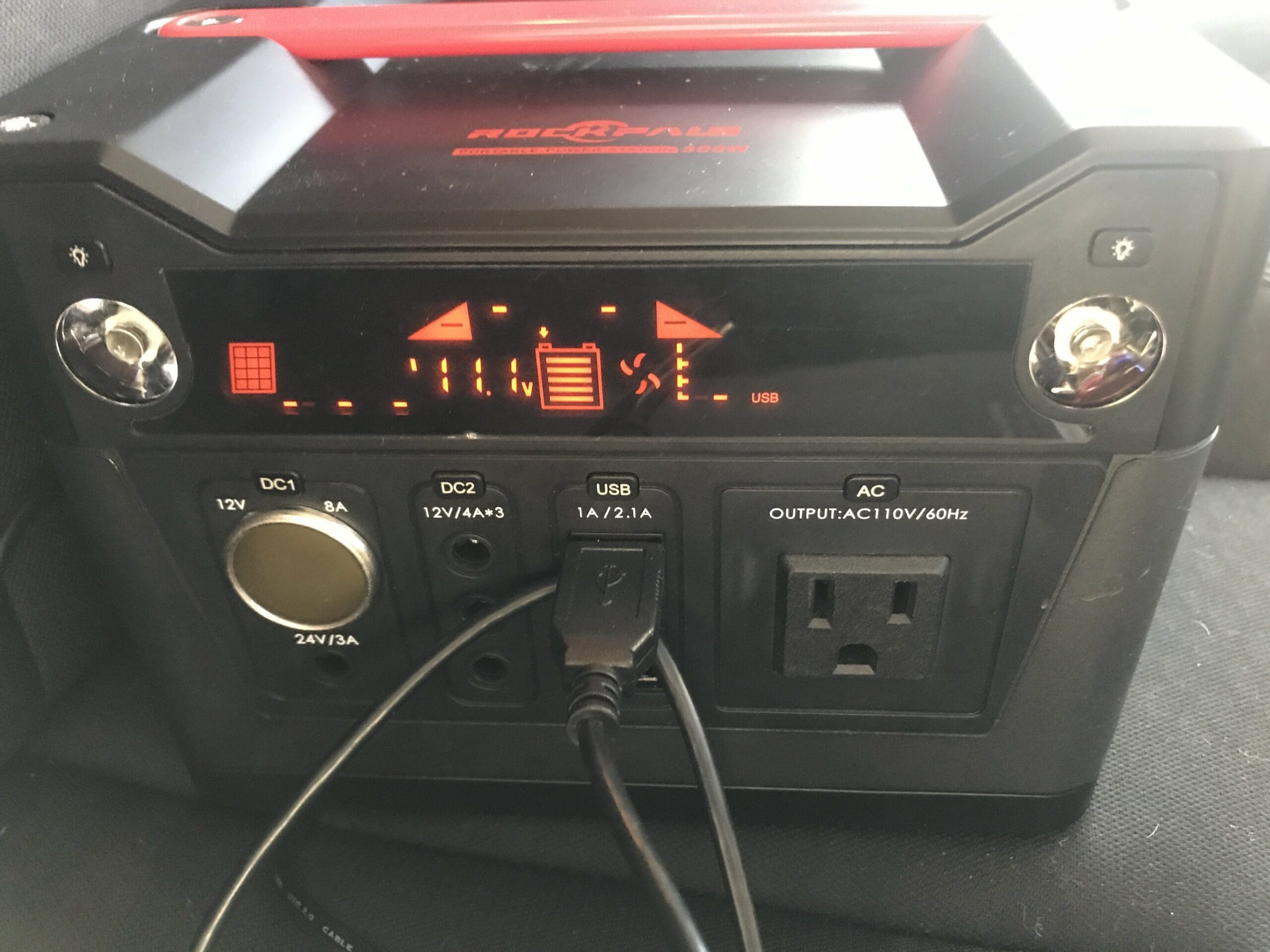 Super easy and simple to use!
I will update this post with a road trip test of the dead battery to full charge time while only charging from a 12v system.
Field Report
So far, we've just been validating the device in the comfort of our house. I did do a complete drain upon opening from the box – as per the manual. I plugged in as many USB devices as I could find and my Surface Pro tablet and charged them up. Once actively drained and still consuming energy, there is an audible alarm that you can hear that it will be shutting down soon.
Weather Gotchas
As with any battery system, chilly weather will reduce the storage capability. If you're winter camping, you will have reduced charge and battery storage if this unit does get cold.
Where to Buy
We reviewed the 300watt system, they have a variety available. RockPals updated their design for 2022 – We've linked to the currently available model for you to review.
Accessories and similar models:
ROCKPALS Portable Power Station 500W - 505Wh Solar Generator with 2 AC Outlet (Peak 750W), Solar Powered Generator - 12V Regulated Outdoor Generator for Camping Road Trip, Outdoor Adventure
ROCKPALS 500W Solar Generator with 120W Solar Panel Included, 505Wh Portable Power Station Outdoor Generator for Camping Road Trip, Outdoor Adventure, RV, Fishing, Home Use
ROCKPALS SP003 100W Portable Solar Panel for Solar Generator and USB Devices, Compatible with Jackery/EF/Bluetti/Anker/Goal Zero Power Station, Foldable Solar Panel Charger for Outdoor Camping Travel
ROCKPALS Portable Power Station 500W - 505Wh Solar Generator with 2 AC Outlet (Peak 750W), Solar Powered Generator - 12V Regulated Outdoor Generator for Camping Road Trip, Outdoor Adventure
ROCKPALS 500W Solar Generator with 120W Solar Panel Included, 505Wh Portable Power Station Outdoor Generator for Camping Road Trip, Outdoor Adventure, RV, Fishing, Home Use
Pin It!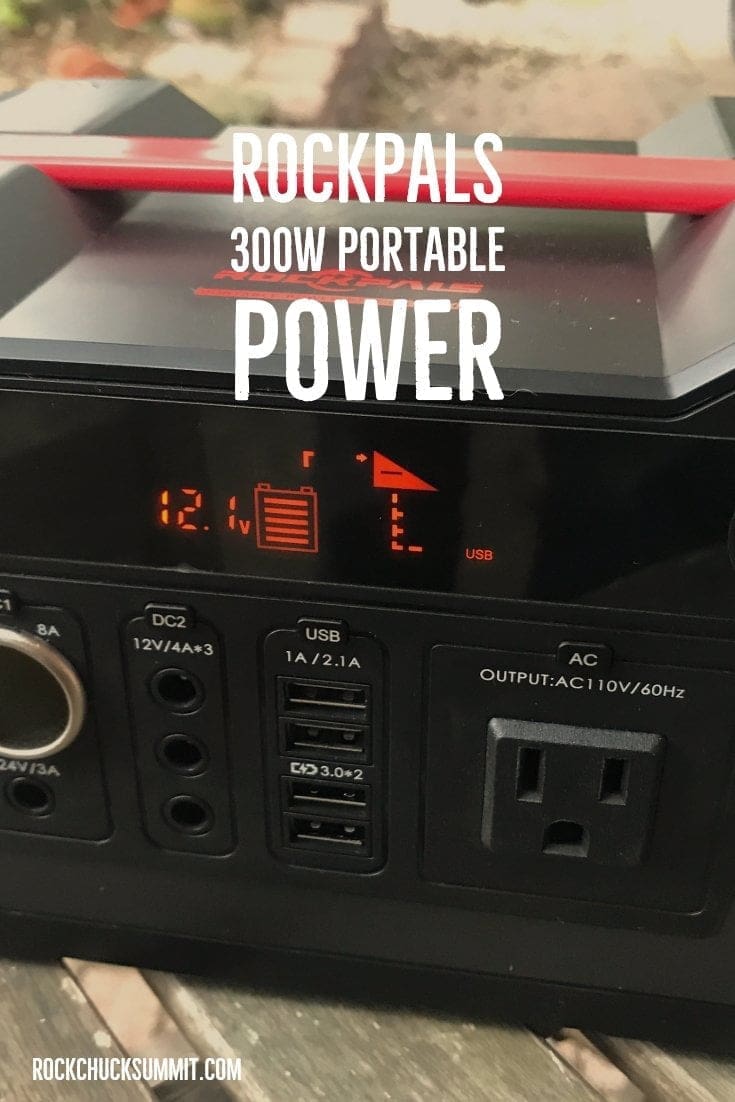 Rockpals Review Wrap-up
The Rockpals generator is easy to use and a comprehensive portable power system that offers all the plugs you would need for your next adventure or battery backup needs. After a few years use now, it's held up well, continued to provide reliable charging and not given us any hassle.
The only change I would make is to have an accessory bag to keep the cables nearby and somehow attached or tied to the unit. My only fear is that the solar or 12v wires will disappear on me.
Build Quality seems good. Feature functionality is impressive. You will have a screen showing all the power coming and going, and you can control all outputs by turning them on or off by pushing the little buttons above the ports.
The port above the 110v power port should feel a bit sturdier – the box will flex a little when plugging in cords, so only time will tell how that holds up. I plan to connect a small power strip to this and plugging/unplugging from strip anyway.
June 2019 Update – Battery holds long term storage well. It's been nice to carry the pack with me to charge up devices and not have to remember to pre-charge the night before! The last charge was about 4 months ago!
We're impressed and so far, delighted with our Rockpals 300w portable generator. After a few years of use I'm happy to report it's *still* holding a charge, still working and still keeping our phones and 12v devices running in our off grid camping adventures.

I'm a 40 something father of two girls who loves the mountains, still plays in the sand and enjoys being in the great outdoors. The mountains are always calling my name.
"Wilderness is a necessity" – John Muir