Glacier National Park sits on the northern border of Montana and Canada. Glacier is the only U.S. National Park crossing a border, with the Canadian side being Wharton National Park.
Many people wonder if they should stay on the east or west side when visiting Glacier, the answer is both! Do not limit yourself to staying one side of the park as they are quite different.
If you are feeling overwhelmed by the size of the park and what you should during your visit, here are the top things to do and see during any trip to Glacier.
Ride the Going to the Sun Road
The Going to the Sun Road (GTSR) is 50 miles long going east to west across Glacier National Park. There are many options for exploring the GTSR including driving your own vehicle (check the National Park website for restrictions – https://www.nps.gov/glac/planyourvisit/gtsrinfo.htm), the free shuttle (link – https://www.nps.gov/glac/planyourvisit/shuttles.htm), or the Red Bus Tour (see more on the Red Bus Tour below).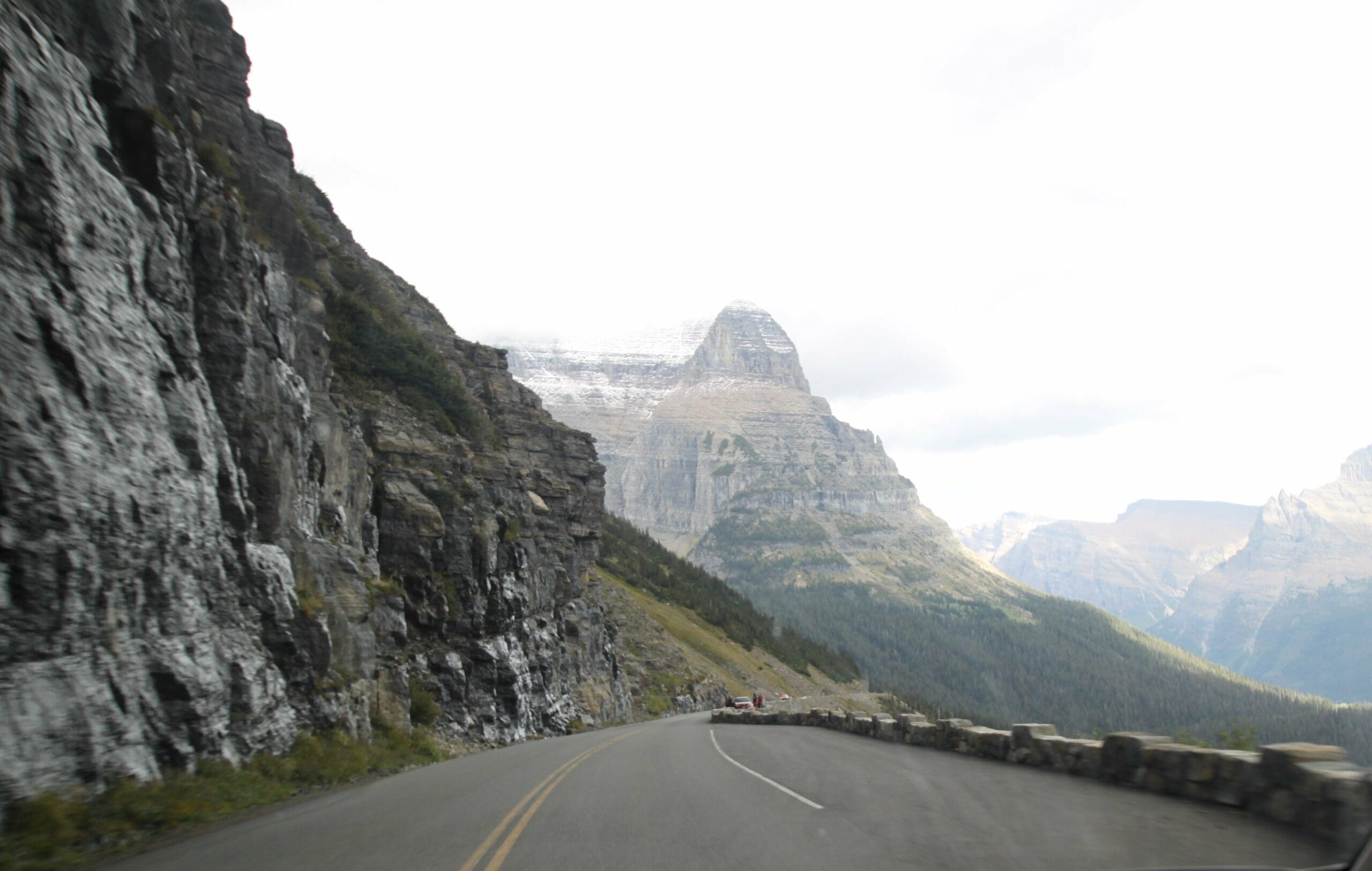 The GTSR is considered by many as one of the most scenic drives in the United States. With winding roads atop high drop-offs, it is sure to make anyone's heart race. Most notable stops are the following:
Lake McDonald
The Weeping Wall
Logan Pass Visitor Center
Jackson Glacier Overlook – 7th largest glacier in the world can be seen here.
Red Bus Tour
One way to see the GTSR if you aren't a fan of driving winding roads is to take a Red Bus Tour. This is not your typical school bus as these buses were built in the late 1930s by White Motor Company with the unique canvas roll-back tops. Sit back and relax while your driver provides a history of the park while also having a keen eye for wildlife.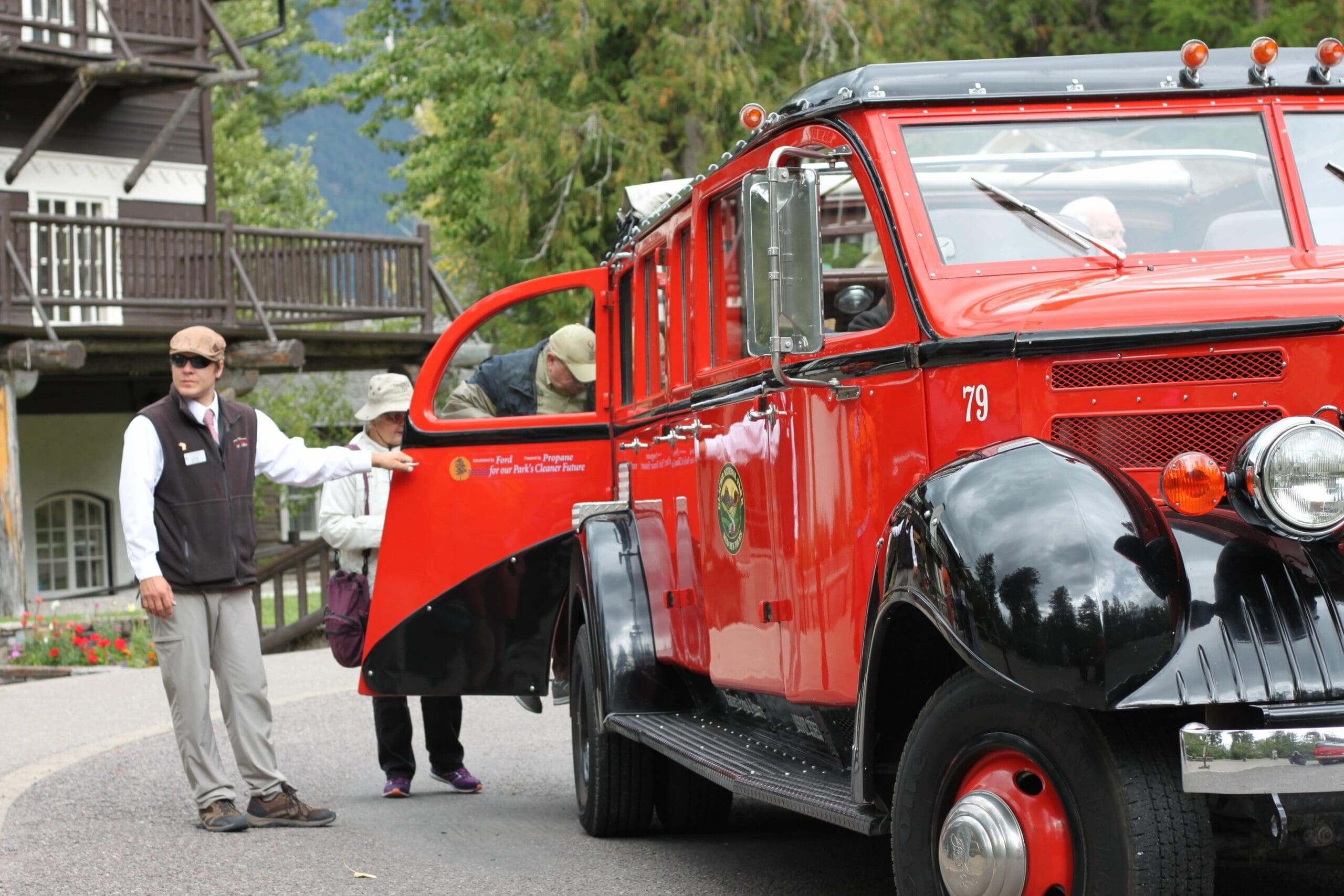 Expect to see bears roaming the mountainside – so bring your binoculars! There is a great chance the air will be cool, but not to worry as they all provide wool blankets so you can still enjoy the open roll-back top.
However, tours fill up fast, so be sure to book your tour (link – https://www.glacierparkcollection.com/glacier-national-park/red-bus-tours/) as soon as possible.
Wildlife
The wildlife is abundant at Glacier National Park. Whether you are hiking, riding in a car or chilling at Lake McDonald, be on the lookout for bears, moose, big horn sheep and other wildlife.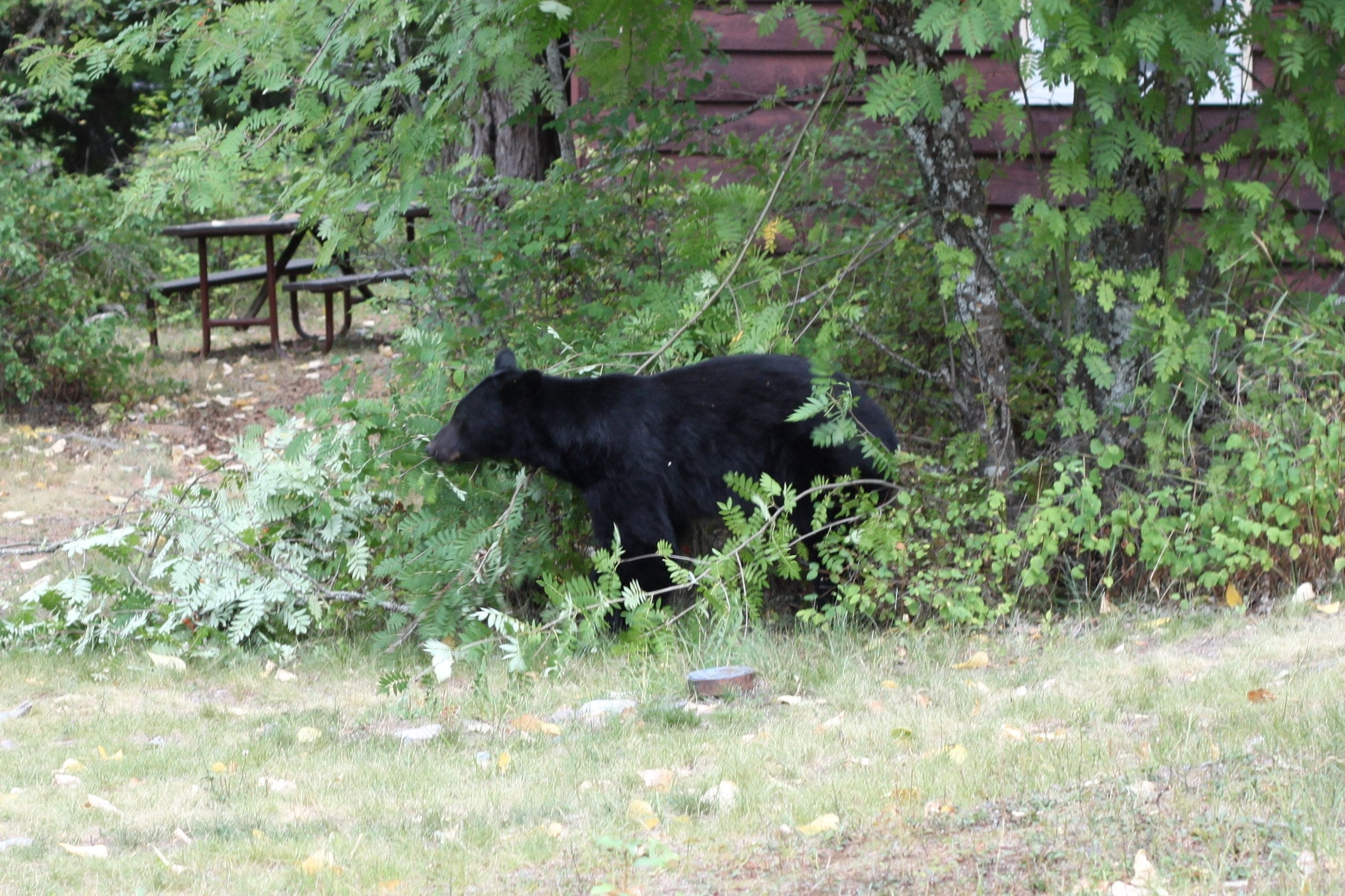 Go Hiking
There are many hikes of various lengths and difficulty for almost anyone.
Easy hikes
If you aren't a hiker but want to the hiking experience, here are a few short/easy hikes. Easy is defined as less than 3 miles and elevation gain of less than 500 feet. There are many others from which to choose, but these are a few of the more popular easy hikes.
Swiftcurrent Nature Trail – 2.7 miles of flat trails
Hidden Lake Overlook – 2.7 miles of very short elevation gain
Trail of the Cedars – short 1.0 mile along a boardwalk
Moderate hikes
Want a little more of challenge, but not a complete adventure? These hikes are for you. Moderate is defined as 3-9 miles and with elevation gain between 500-2000 feet. Again, there are many others from which to choose, but these are a few of the favorites.
Grinnell Glacier – 7 miles roundtrip with an elevation gain of 1,600 feet. You can extend this hike to 12 miles by skipping the Many Glacier boat ride.
Rockwell Falls – 7 miles roundtrip with an elevation gain of 375 feet
Ptarmigan Falls – 5 miles roundtrip with an elevation gain of 768 feet.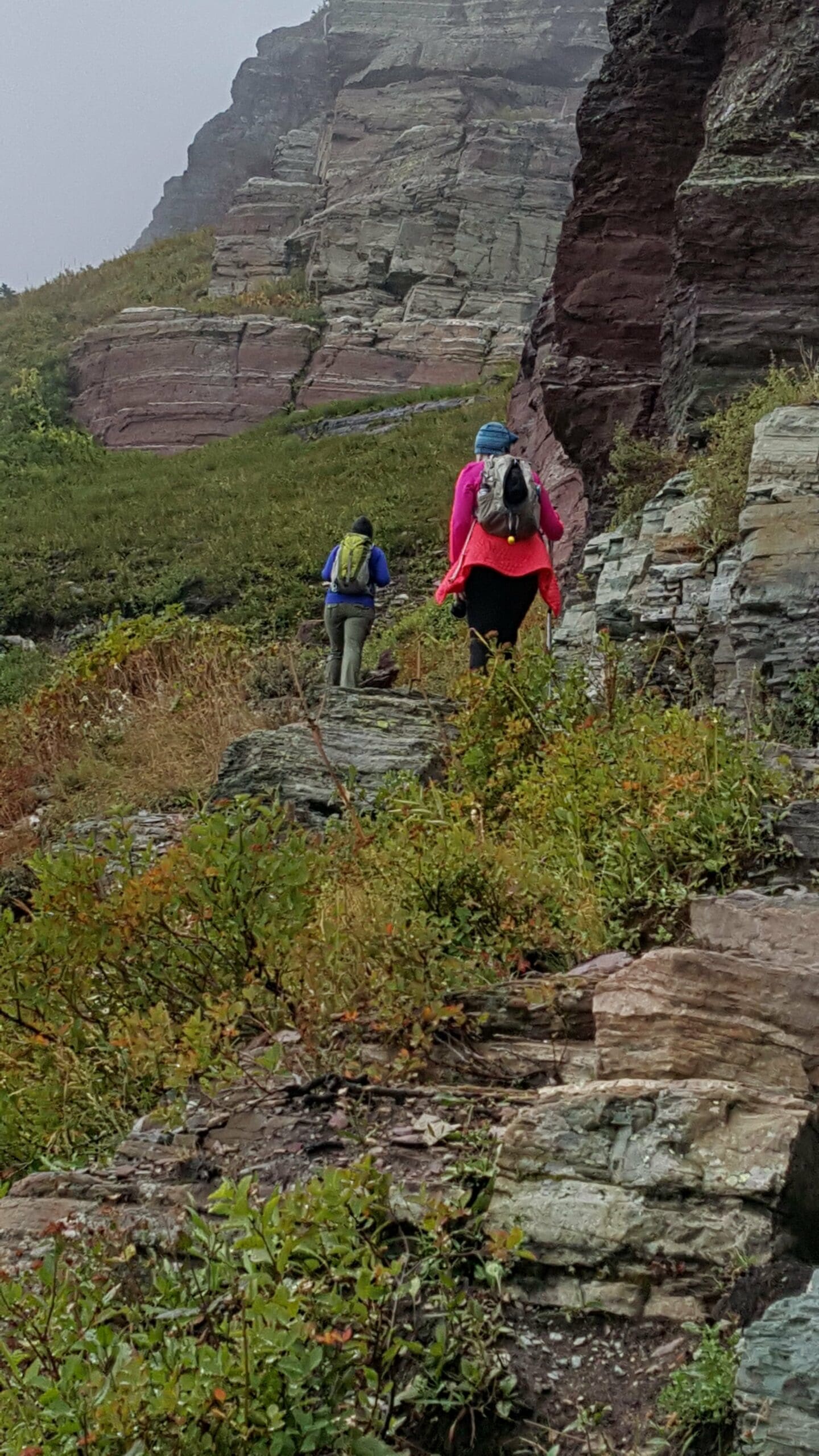 Difficult hikes
Piegan Pass – 9.2 miles roundtrip with an elevation gain of 1,850 feet
Iceberg Lake – If you are a moderate to difficult level hiker, this is a "can't miss" hike. 9.7 miles with an elevation gain of 1275 feet. It only falls into the difficult category due to the length of the trail. This is my favorite hike at Glacier National Park!
Highline Loop – 11.8 miles roundtrip with 1,950 feet of elevation gain
Glacier is also the home of Sperry Chalet, a 5.75-mile one-way hike from Lake McDonald Lodge. The dormitories of Sperry Chalet were lost during the fire of 2017. However, a restoration project is currently underway with a re-opening projected to be late-2019. Day hikers may still access the dining hall.
Best time to visit Glacier National Park
It is possible to visit Glacier National Park almost any time of year. But, if you want to experience the Going to the Sun Road and some of the more popular hikes, visiting between July and September is best.
Check the weather as it can snow almost anytime. Also, if you want to stay inside the park, reservations must be made many months in advance (if not one year!)
Where to stay when visiting Glacier National Park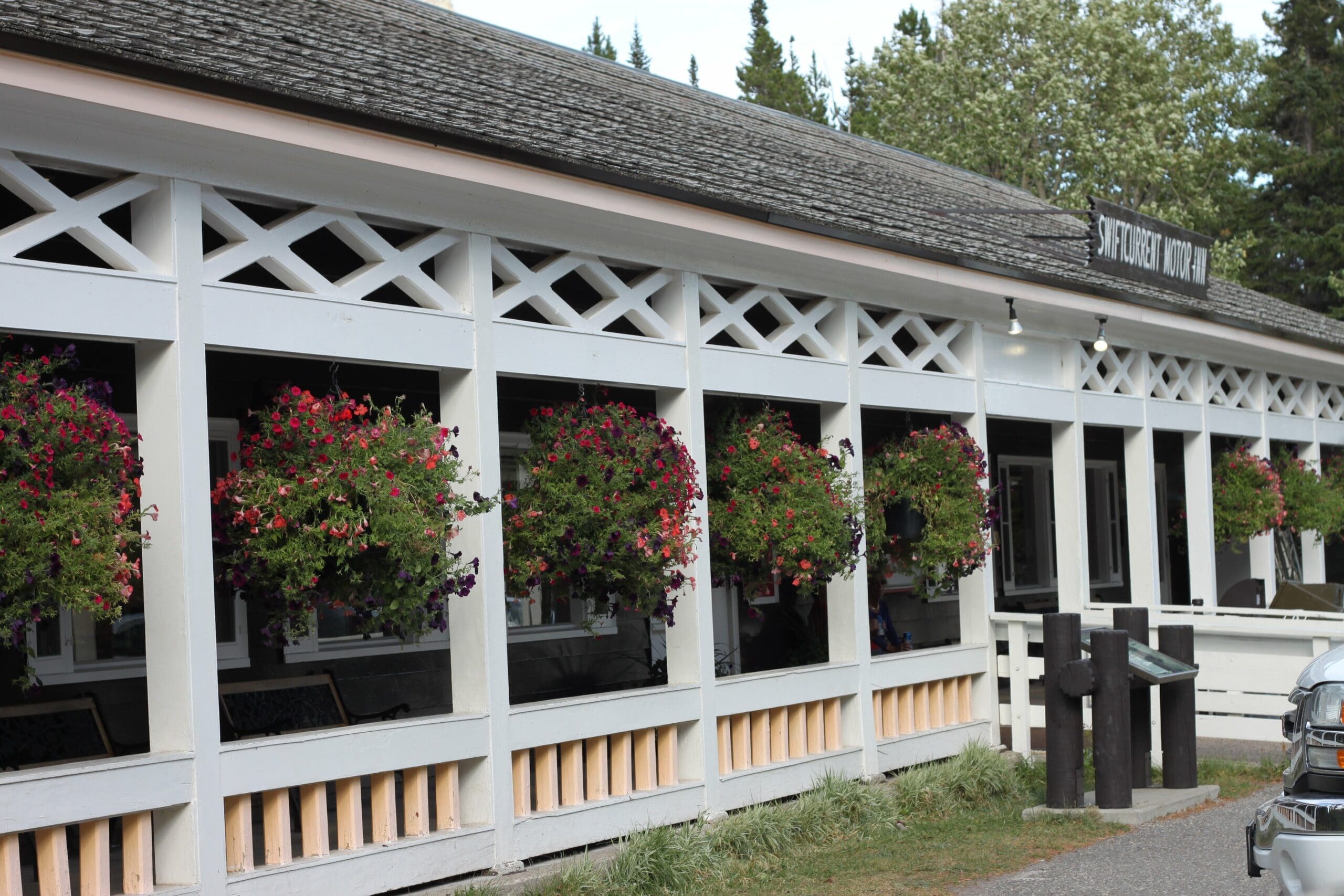 If you want to stay inside the National Park, Glacier has several options from which to choose including:
Historic Belton Chalet
Lake McDonald Lodge
Swiftcurrent Motor Inn
Many Glacier Hotel
Rising Sun Motor Inn & Cabins
Village Inn at Apgar
Additionally, you may find hotels just outside the park in Whitefish and St. Mary's, Montana.
Regardless of when you visit, it will be sure to create memories for a lifetime.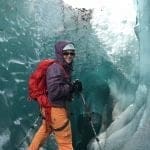 Hey there! I'm Nancy and there is nothing I love more than exploring new places.  Exploring the world, one place at a time – countries, cities, small towns and all the places in between.
I'm not your average travel blogger as this is not my full-time gig as I still work full a 9-5 job in the corporate world. Travel is my passion and I'm here to share my experiences with you and hope to inspire you to explore some of these places.