Let's face it. Some people just don't "Do" winter. I'm talking about those folks who think a day of winter fun is sitting by the fireplace in the lodge with a good book and a hot toddy. These guys need to try a day of snowshoe fun out in the wilderness! Did you know that living in southern California a day of snowshoe fun beneath the pines is closer than you may think? Best of all, you don't have to drive all the way to the high Sierras for a day on snowshoes. Big Bear Lake is less than a two-hour drive from most of the greater Los Angeles area!
Snowshoe Big Bear Lake
In the big cities, you may find yourself stuck inside for those cold and dreary months of January and February just aching for the sun to come out in April and for warm days, sunshine and Vitamin D to return to your life. You may miss being tan. You may miss the beach. It's easier than you would think to still get a little Vitamin D in January! Hop in the car and drive to the resort town of Big Bear Lake in the San Bernardino Forest overlooking Los Angeles down below in the valley. The winter months are a great time to enjoy a little outdoor time in the forests of Big Bear Lake.
A lot of people have a misconception of what snowshoeing is. Almost always when I tell people I enjoy snowshoeing I am met with a confused look and the question "Isn't it like walking with those tennis rackets on your shoes?" As someone who has been snowshoeing the trails of Big Bear Lake (And yes even running snowshoe 5K's) for over ten years, I can tell you there is a lot more to snowshoeing than just walking on snow.
The best places in Big Bear Lake to snowshoe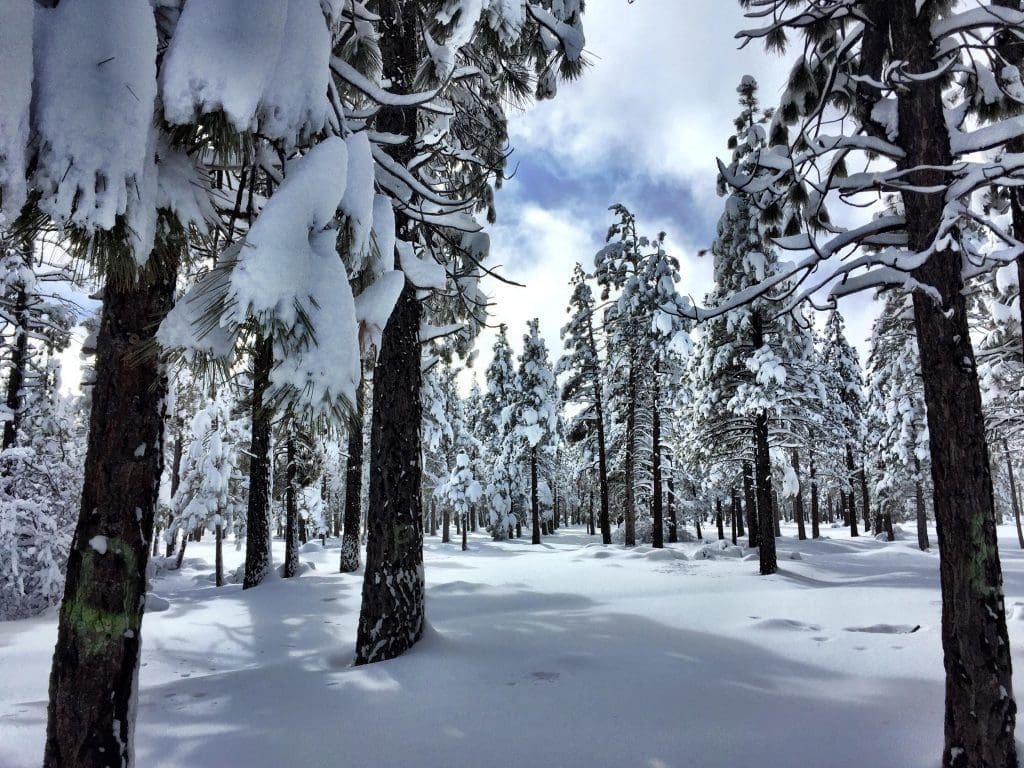 Yes, the sun does still shine in January! And this is one of my favorite times of year to get outside! I love the blustery winter days, and they are some of the best days to snowshoe in the San Bernardino National Forest! The easiest places to snowshoe in Big Bear Lake are any of our local jeep trails and dirt roads. These are big wide roads, and if you do not know the area, it's easiest to snowshoe on big roads as you have less of a chance of getting lost in a snowy forest that is unfamiliar to you.
Any of the roads that lead to Holcomb Valley are great for snowshoeing in the winter months. Van Dusen Canyon Road, Polique Canyon Road and Holcomb Valley Road all lead you (eventually) to deserted Holcomb Valley, the site of an old abandoned ghost town called Belleville. (Crazy enough Belleville was so populated during the Gold Rush days in the 1860's that it was almost the county seat!) It's a long day of snowshoeing to reach Holcomb Valley though. It's even longer to snowshoe across the entire valley (But doable and a great day of outdoor fun!) Depending on which route you take, it's an 8 mile out and back snowshoe hike just to reach the valley.
If you have all day and snowshoe quickly, it's possible to snowshoe from one side of the valley to the other (About 26 miles). The best way to do this would be to leave a car at the Holcomb Valley Roadside and shuttle from another vehicle from either the Polique Canyon Road or Van Dusen entrance. If you do any of this hike via Holcomb Valley Road, the road takes you by some cool old mines leftover from the Gold Rush days.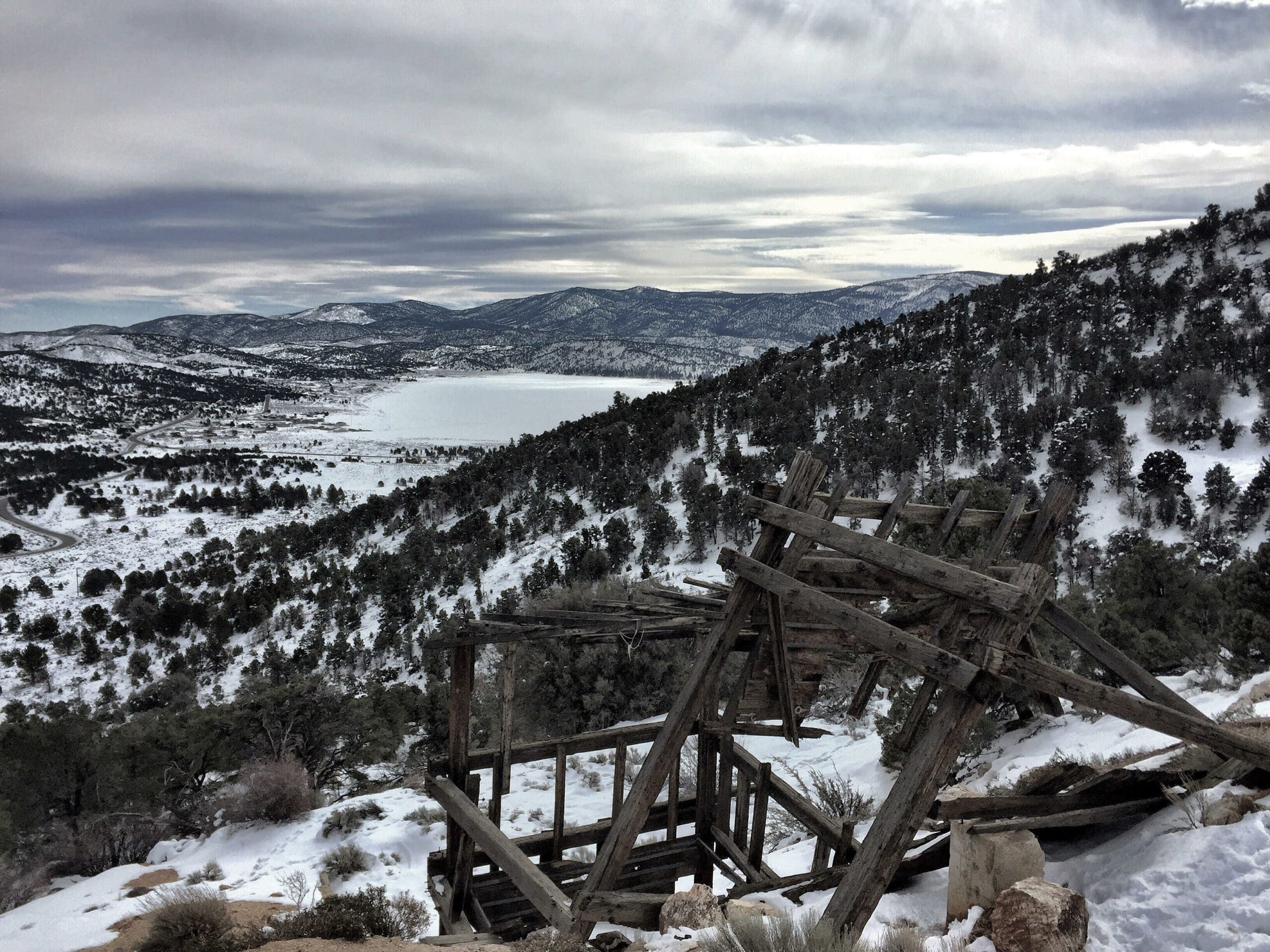 If you are feeling like more of an expert hiker then, by all means, try to snowshoe some of our popular Big Bear hiking trails. Cougar Crest Trail is the most popular trail in Big Bear to hike and gets hiked and snowshoed a lot by locals following almost every storm, so the trail is pretty easy to follow up to where it crosses the Pacific Crest Trail. When you get to the higher elevations of Cougar Crest Trail, the views are just outstanding of the Big Bear Valley down below. It's just over three miles climb up to reach the Pacific Crest Trail.
If you are feeling brave enough to attempt to snowshoe an actual trail, then Skyline Trail has some of the best views in the Big Bear Valley. This trail starts out of the higher in elevation Moonridge area. You will need a four-wheel-drive vehicle to get to this trailhead in the winter as this area gets a lot of snow. Or you can choose to pay to park at Bear Mountain and walk up Skyline Road to the trailhead. Skyline Trail is not too hard to follow in the wintertime even with feet of snow underneath you as the entire trail follows the ridgeline and the trail also parallels Skyline Road to the north.
If you are looking for a shorter day snowshoeing in Big Bear, there is a walking trail that follows the North Shore of the lake starting at North Shore Elementary School. This trail does get a little tough to follow if you are not local and do not know the trails though. The Big Bear Discovery Center leads guided snowshoe tours in the winter months if you would rather have a local guide take you on a snowshoe tour throughout spectacular winter forests.
Being safe on snowshoes 101
Before you set out into the snowy forest of Big Bear Lake, make sure you are prepared for anything while out on the trails. Days and days of snow make me super excited because it means early winter mornings on the trails of Big Bear Lake with the crispy snow crunching under my snowshoes. How does one not adore snowshoeing through a fresh snowy winter wonderland? I mean in what other kinds of exercise can you burn over a thousand calories in an hour and be outside enjoying the great outdoors and breathing in crisp mountain air?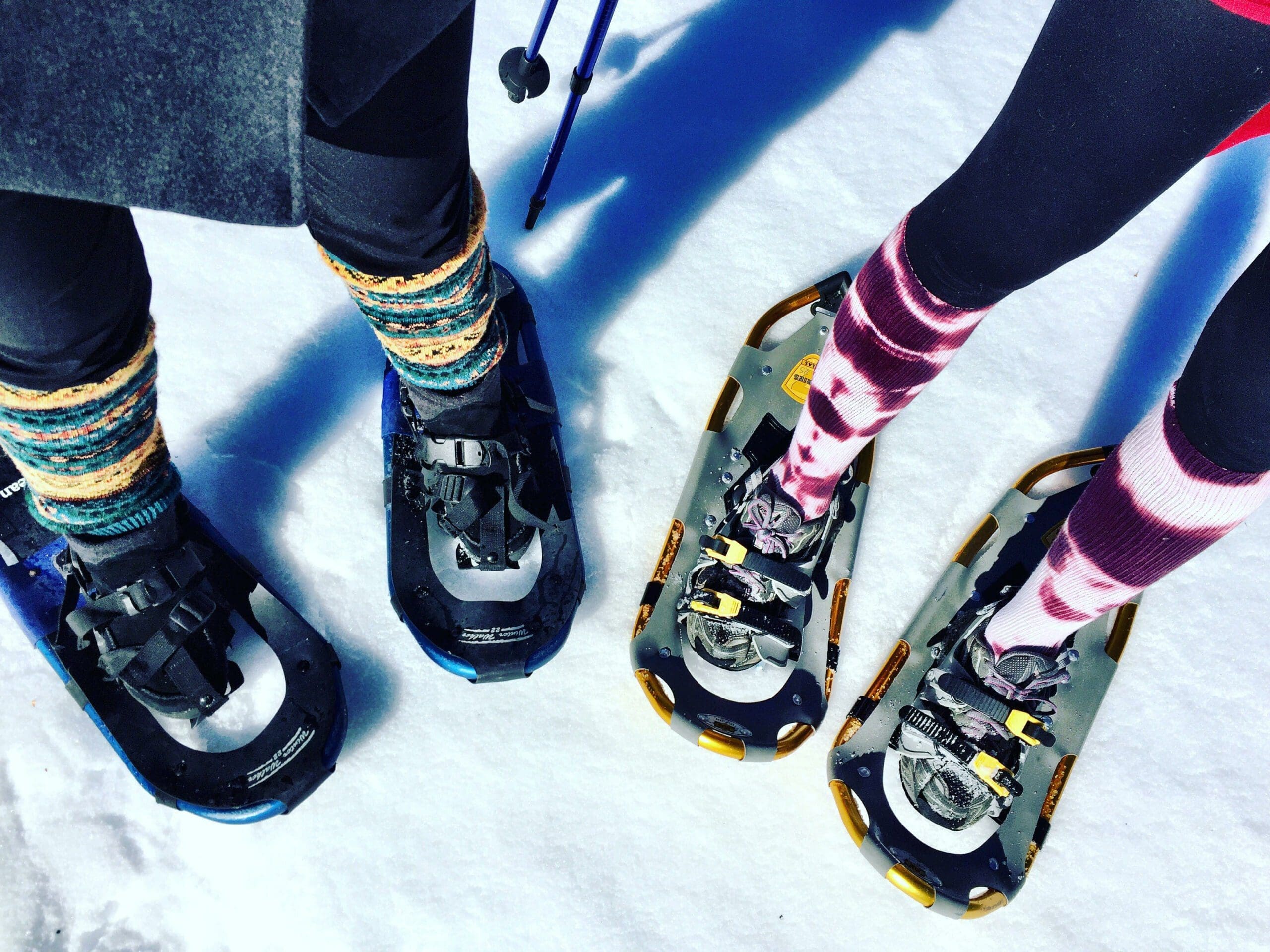 One thing you need to know about a day out in the forest in the winter, being prepared with correct winter equipment like GPS, waterproof boots and extra supplies is vital for having fun in the great (and snowy!) outdoors and having a fun day out and most importantly making it back to your car or camp safely. Always check the weather before you go out to see if any more snow is expected that day. If you are snowshoeing in an area you don't know, and it does snow a lot on your journey your footprints can get covered by new snowfall, and this is a very easy way to get lost in the forest! Be smart when setting out for a day of snowshoe or just hiking fun in the snow. If inclement weather is predicted, go on a short hike or don't go at all! It is gorgeous to snowshoe in a snowstorm, but if you do not know the area it is just safer to stay at the lodge and have a coffee with Kailua!
The most important part of going for a snowshoe hike is safety, of course. Always, always use GPS mapping when you go snowshoeing in a new area. I use Strava or Mapmyhike. I prefer Strava as even if your phone is in airplane mode, Strava is still mapping. There have been many times I have been snowshoeing during light snow and had my tracks covered by wind and fresh snowfall. Strava mapping is a lifesaver sometimes leading me back to my car in the snowy winter wilderness. Even if you think you know the area you are snowshoeing in it is easy to lose your trail in the snow.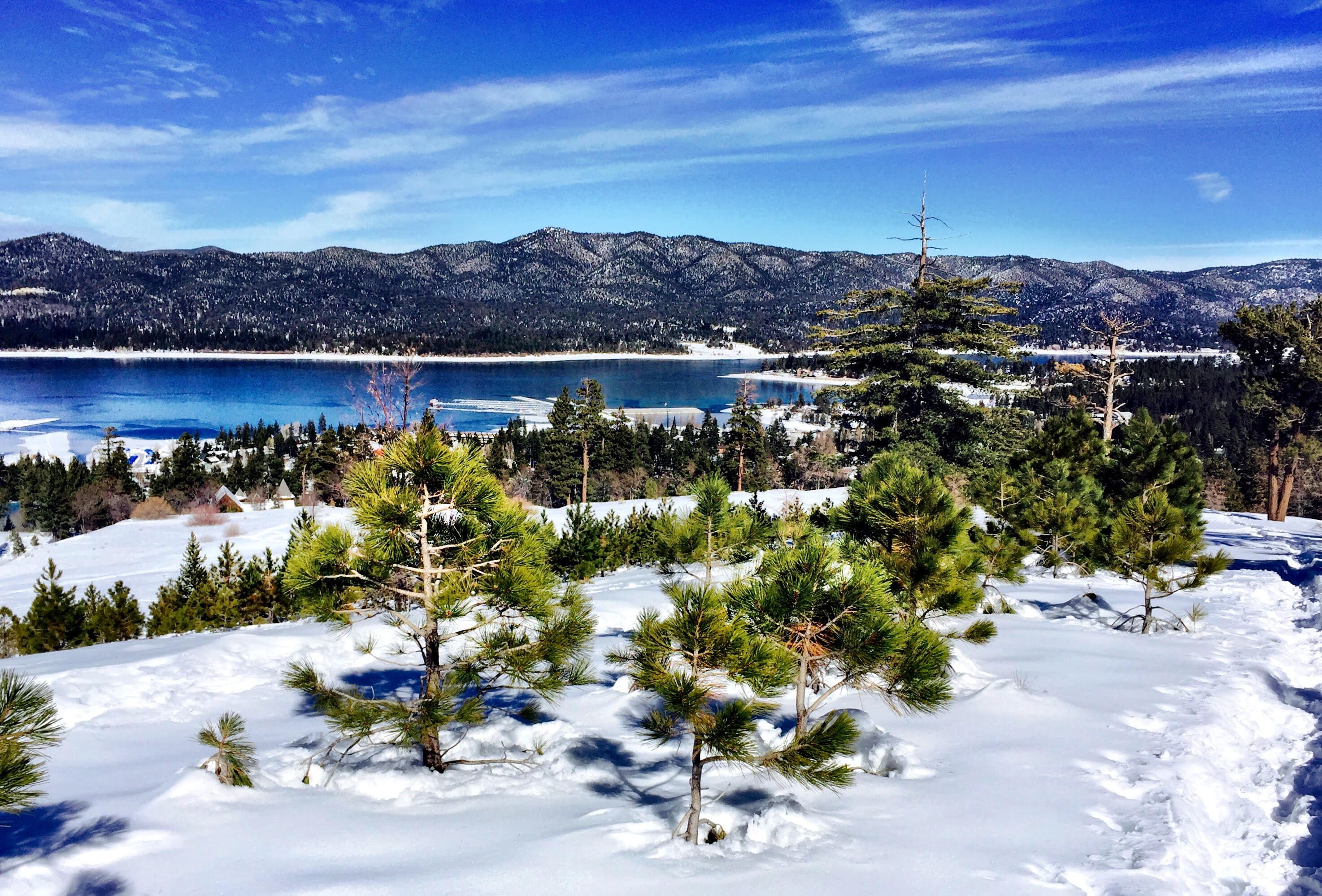 There are a lot of fantastic outdoor snowy winter activities but to me, a day out on snowshoes is the best because it's super easy, anyone can do it, and even if you don't own your snowshoes, they are super cheap to rent in ski towns! Plus going back to that a thousand calories burned thing; Kind of helps out when ski towns tend to have the best pizza and comfort food restaurants! (check out the braised beef ribs from 572Social in Big Bear Village if you don't believe me)
Bring Your Pup!
My dog just loves the snow. I love winter and snowy days because the rattlesnakes are finally hibernating and that makes me feel a lot better about taking my pup on the trails. Our dog seriously likes nothing more than to run through a snowy winter wonderland field and then try to bury herself (We like to say she is making snow angels) in the fresh snow. Taking your dog with you on a snowshoe hike is a fantastic idea and a great way to get some exercise for the pup too!
Be very careful when taking older dogs for a day of snowshoe fun. If a dog is older and the snow is deep, they may have issues climbing through it, and it is hard on their hips. (We found this out the hard way) Older dogs also can not hike as many miles without snow booties on their feet. It's possible that older dogs can get frostbite easily if they hike a lot of miles in the cold snow as their feet don't have the circulation of younger dogs.
Big Bear Lake is a great winter destination even if you do not ski. One of the things I love about snowshoe rentals also is that they are incredibly cheap compared to renting ski or snowboard equipment (Most places charge around $10 a day for snowshoe rentals) If you really get into snowshoeing Big Bear even hosts a snowshoe race, Snowshoe the Bear, usually in February or early March each winter.
I live in the ski town of Big Bear Lake, California and I adore the rain, the snow, the blizzards and the cold. To me, I see winter days as the perfect days to get out on the trails and enjoy the serene calm silence of the alpine forest under a blanket of snow. I just adore winter and exploring the fire roads of Big Bear Lake is a great way to get out and get a little exercise even in those cold winter months. If you find yourself searching for a little outdoor fun in the winter in southern California, come up to Big Bear Lake and spend a day out in the snowy forest!
Pin it! Save & Share with friends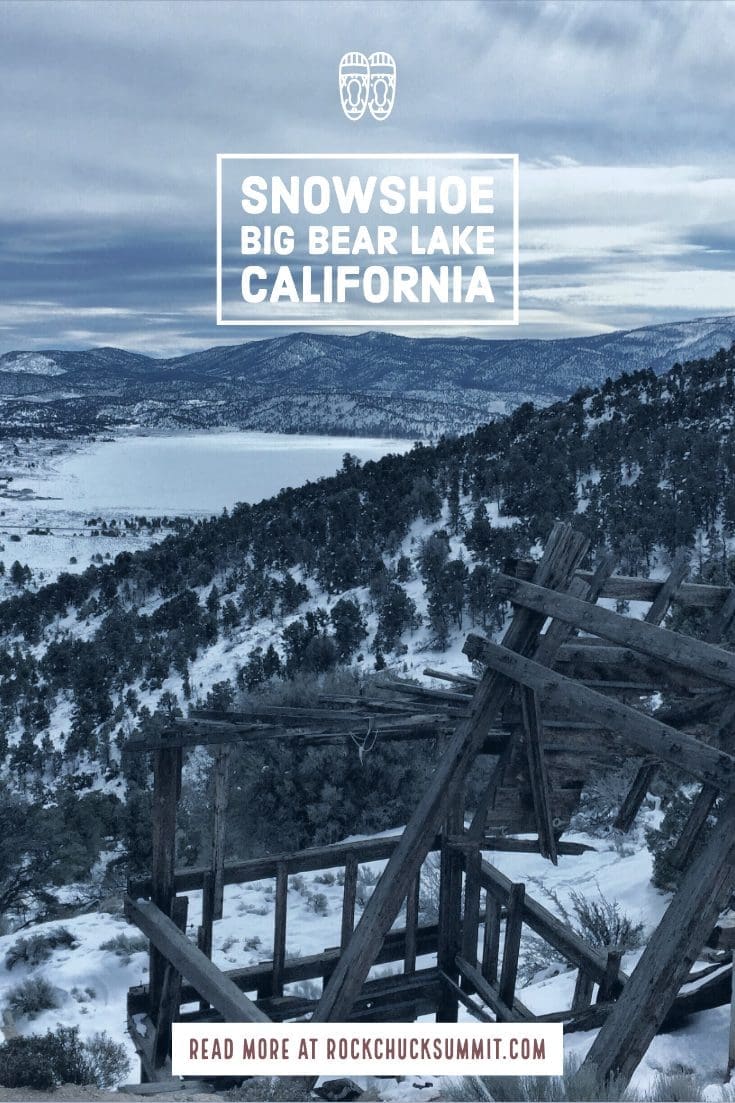 Do you snowshoe? Have any updates or feedback? Log in and leave us a comment below!