Arches National Park is one of the five National Parks in the state of Utah. Being part of the Mighty Five, Arches National Park receives a lot of attention from visitors all around the world. The park is incredibly expansive and leaves newcomers wondering what they should do when visiting. Here are the top things to see in Arches National Park on your next visit.
All of these places listed below are easy to access, beautiful, and don't require a large amount of time out of your schedule. The wonderful thing about Arches National Park is that you can easily see most of the park within a day. So you can either make this a 24-Hour Guide or even a Weekend Getaway. If you are planning on spending more than two days in the park, I would add some long hiking trails to your itinerary to fill up your time.
Delicate Arch
Hands down the most sought-after arch in Arches National Park would be delicate arch. In fact, it's so well known that the state of Utah decided to use it for their branded car plates. Consequently, delicate arch can be quite busy. Because of the expected crowds, I always suggest making delicate arch the first hike that you do for the day, especially if you are visiting during the summer.
The trail is easy to follow on All Trails and will take the average person 20-30 minutes to reach the endpoint. Once you've made it to the top, take a moment to soak it all in. There is a large, flat boulder that provides the perfect post-hike rest stop. This hike can be easily done is all seasons but is extremely difficult if there is snow or ice along the trail in the winter.
Park Avenue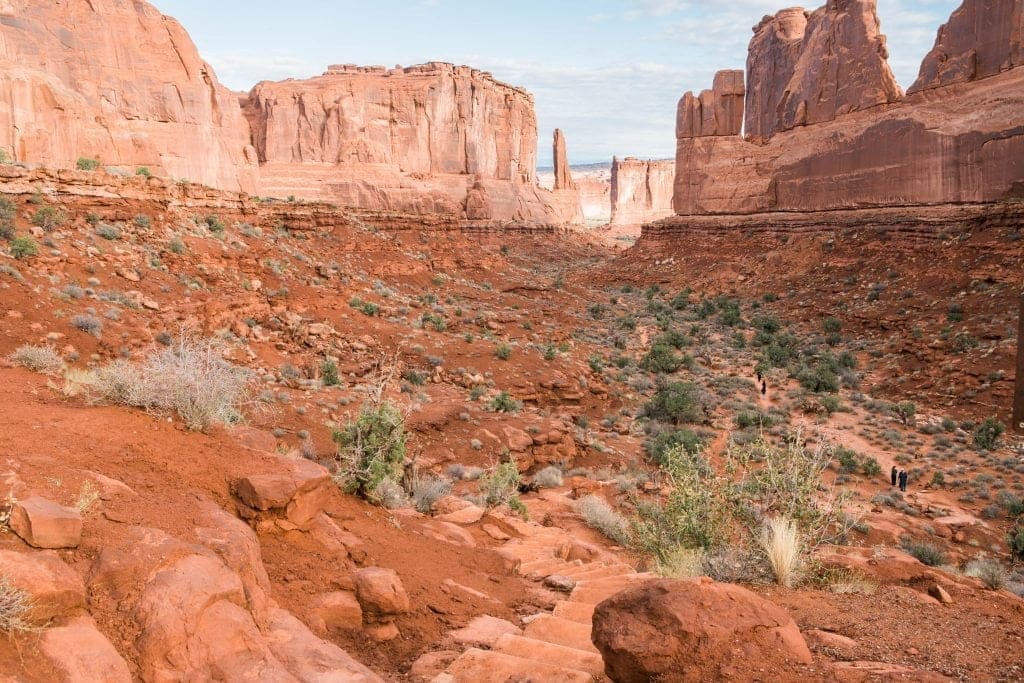 Most people drive right on by park avenue. It's probably because it's one of the first pull-out stops along the scenic byway and guests are seeking to find those precious arches. Whether you stop on your way in or out, it's worth the five minutes it will cost to take in the view.
If you are feeling extra adventurous, Park Avenue even has a hike that wraps around large, jutting rock formations with incredible, expansive views. Whether you hike the park avenue trail or not, this makes the top things to see list easily.
Turret Arch
Most people pass right by Turret Arch because of its proximity to the North and South Windows, but there is something special about walking up a red rock staircase and being greeted with an expansive arch. This requires very little hiking. In fact, you could consider it a stroll from the parking lot as it will only take about five minutes to reach this spot.
Double Arch, North Window, South Window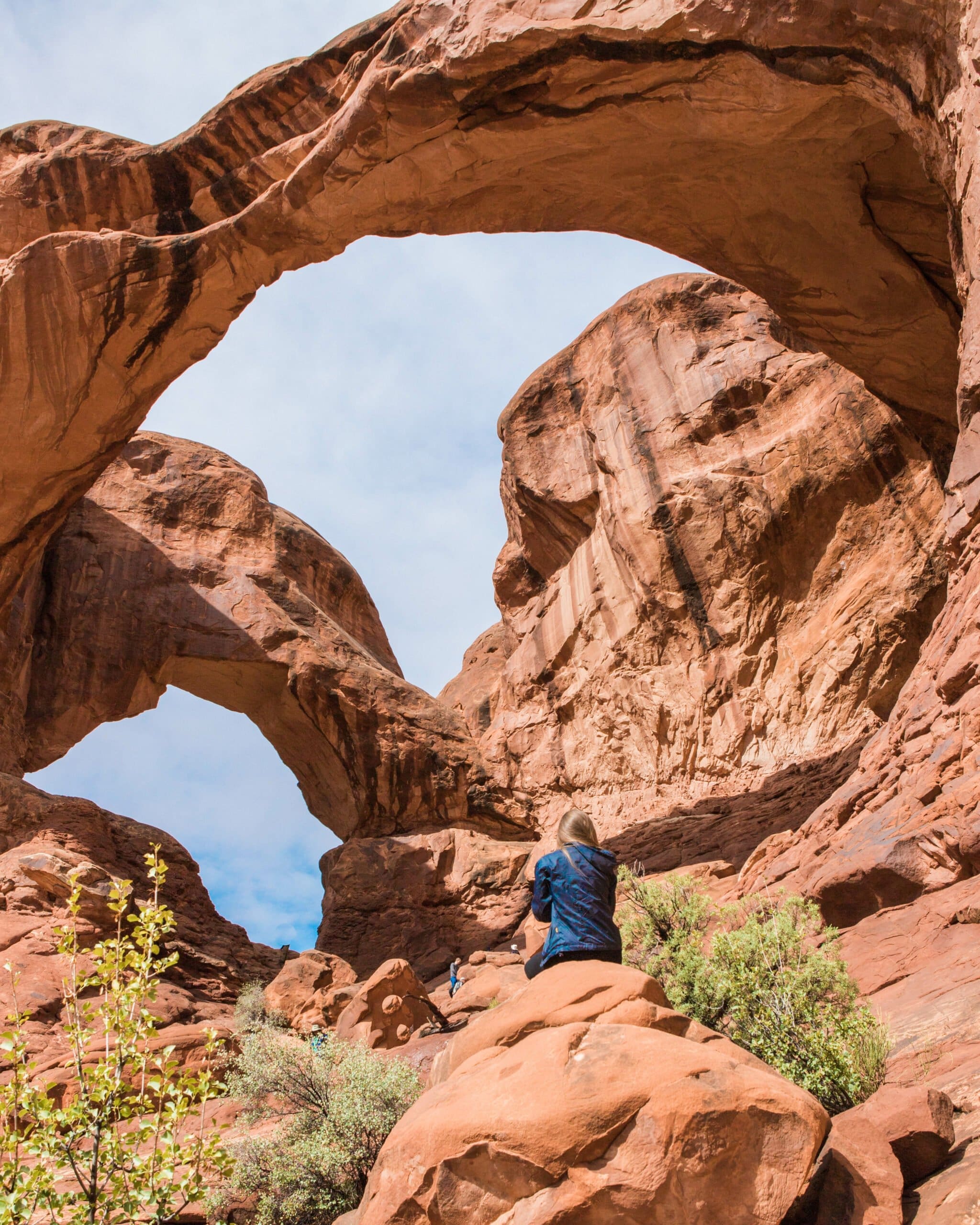 The best way to see all three of these arches is to find a parking spot in any one of the two parking lots nearby and then walk to all three arches (four if you include the Turret Arch). Don't try and park to see the North and South Window and then try and re-park further down the scenic path because chances are there won't be another space. These two small parking lots fill up quickly so if you find an open space, take it and then just do a full loop to see all three arches. What I love about these three arches is that they are so different although they are right next to each other. These arches prove that each rock formation is unique and deserves a visit.
Balanced Rock
It's no wonder why Balanced Rock has made the list of the top things to see in Arches National Park. This popular feature has many people stopping after seeing it from the road shortly after entering the park. A large boulder is held up by what seems to be an impossibly strong, jutting arm.
You are welcome to admire it from your car as you drive by. Or you can park in a small pull-out and hike all the way around this phenomenon. I personally like to take twenty minutes and walk up to this incredible rock structure.
Upper and Lower Delicate Arch Viewpoints
This is the closest approach to delicate arch without hiking to it. Whether you don't have time to hike to delicate arch or are unable to; make a point to stop at the Upper and Lower Delicate Arch Viewpoints. The arch is quite a bit further away than it would be if you hiked up to it, but it still provides stellar views of the famous landmark. Pro tip- If you are into photography, this would be the place to bring your long lens to fully capture the beauty of it.
When visiting Arches National Park, there are so many hikes, various trails, and look-out points that it can be overwhelming. Follow this guide and place these top things to see in Arches National Park on your to-do list and you'll have a wonderful trip.
Don't forget that Moab is very close by and these best hikes in Moab should be on your bucket list. It's really just a 10-minute drive and shouldn't be passed by!
If you're heading further west, be sure to check out Bryce Canyon and all its amazing rugged vistas and canyon views. Utah has an abundance of beautiful areas you should explore and exploring your way west through to these parks is a great way to experience them!
Best time to visit Arches National Park
The best time to visit the park is in the Fall. The crowds die down around September. Another great reason to visit in the Fall is that the temperatures are lower, which makes for better hiking weather! I also recommend to visitors that the ideal time to hike in Arches National Park is September through the first of November.
Park Info
Arches National Park has an entry fee of $30 per car which lasts for 7 days. If you plan to visit more than 3 national parks within a year it would be best to purchase the National Parks pass for $80 for the full year.
What is your favorite arch, trail, or area to explore at Arches National Park? We love reader comments & feedback!
Pin it! Save & Share