The fresh air, the beautiful views, and the sounds of nature are all the things that make the great outdoors a center for peace and serenity for lots of people and hiking trails are the best ways that people get to enjoy all of nature's wonderful gifts. Some trails are long while others are brief but regardless of the mileage, the treasures you experience along the way are priceless.
Hiking in Tennessee, The love of the Outdoors
So, what's the motivation behind hiking? Why is it that some people absolutely love to hike while others are repulsed at the thought of being in the woods, getting sweaty, and having bugs flying around them? Well, it really just depends on the person, of course, but with that, it depends on a person's intent and motivation to hike. For some people, it's all about the challenges that some trails present and being able to overcome those challenges. For others, it's about the journey and the reward at the end… the gorgeous views
Regardless of your motivation and intent to hike, the main thing is to get out there to hike! Tennessee is known for its beautiful trails and gorgeous views but it's not something you just see… it's something you have to experience. With summer making its debut appearance, why not spend your summer hitting some of Tennessee's most gorgeous hiking trails.
If you're not currently living in Tennessee, gather a big group of your friends together, figure out the costs of renting a charter bus, and head down to Tennessee! On your route to some of the trails, you'll be able to stop and visit some of the most beautiful caves and caverns too! If you're truly a lover of the outdoors, don't waste another minute; get down to Tennessee and see all the beauty it has to offer.
Fall Creek Falls
Located in Spencer, Tennessee, Fall Creek Falls is definitely one of Tennessee's most popular parks in the state. It's an easy trail for hikers of all difficulty levels… kids and dogs can even hike the trail, just make sure your dog is on a leash. Because it is a waterfall, the end goal of the trail is to get to the waterfall. In knowing that, make sure you pack water shoes for when you reach the falls.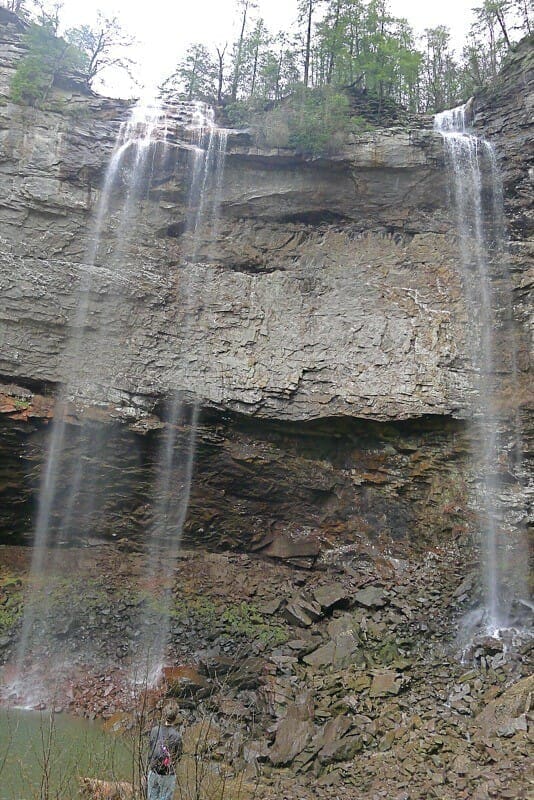 "Fall Creek Falls, from the bottom"by unquenchable.fire is licensed under CC BY-NC-ND 2.0
You'll start at the top of the plateau and hike your way down to the base of the gorge, giving you full and complete access to the waterfall's plunge pool. It's a sight to see so be sure to take plenty of photos. Hiking Fall Creek Falls may not be a trail of extreme difficulty, but it is a trail of beauty that you will never forget!
Address:
2009 Village Camp Road
Spencer, TN 38585
Phone: 423-881-5298
Website: Tennesse State Parks
Fiery Gizzard Trail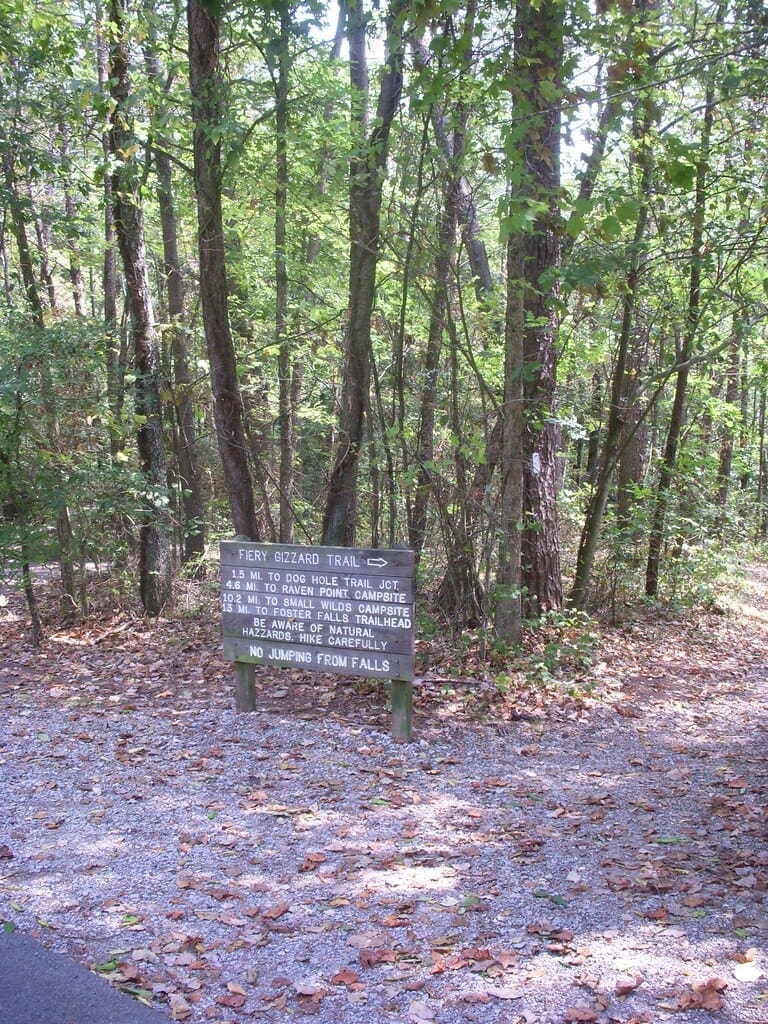 "firery gizzard trail head"by rickbradley is licensed under CC BY-SA 2.0
If you're looking for a good-sized trail to hike, try hiking the Fiery Gizzard Trail to Raven's Point, which is a 9.1-mile loop. This trail is in South Cumberland State Park and is considered difficult so, make sure that those who are embarking on this hike are experienced. While hiking this trail, you can experience a beautiful waterfall, unique rock formations, and panoramic views of the park.
The park is 30,000 acres and has swimming lakes, picnic areas, and campsites in case your group wants to camp overnight. Because this trail is so lengthy, it's important to make sure you're safe while hiking. Active.com says that food, shelter, and water are life's most basic needs, but we take them for granted so often but when it comes to hiking in an unfamiliar place, you have to take extra precautions to make sure you're being safe before heading out on the open trails.
Address:
11745 US 41
Monteagle, TN 37356
Phone: 931-924-2980
Website: South Cumberland State Park
T.O. Fuller State Park
T.O. Fuller State Park is a four-mile trail that's located a little outside of Memphis, Tennessee. This trail is dog-friendly and it's also one of the favorite trails among runners because of its quick rise in elevation… that's pretty impressive being that it's not an extremely long trail. While on the trail, you'll be able to see the Wetlands and the Chucalissa Native American Village.
A brief history of the park is that it's named after Dr. Thomas O. Fuller, who came to Memphis as a pastor and dedicated his life to educating African Americans. This park is also the second park in the world that was open to African Americans.
Address:
1500 W. Mitchell Road
Memphis, TN 38109
Phone: 901-543-7581
Website: TO Fuller
Are there any other hikes & trails we missed that you think should be on our list? Leave a comment below and we'll add your recommended trails!
Pin It!