The 9.5-mile hike from Camogli to San Fruttuoso to Portofino is a must-do for anyone who plans to visit the Liguria region of Italy. The hike goes through the Mount Portofino Regional Park of Italy which has several different hiking trails and is free to the public.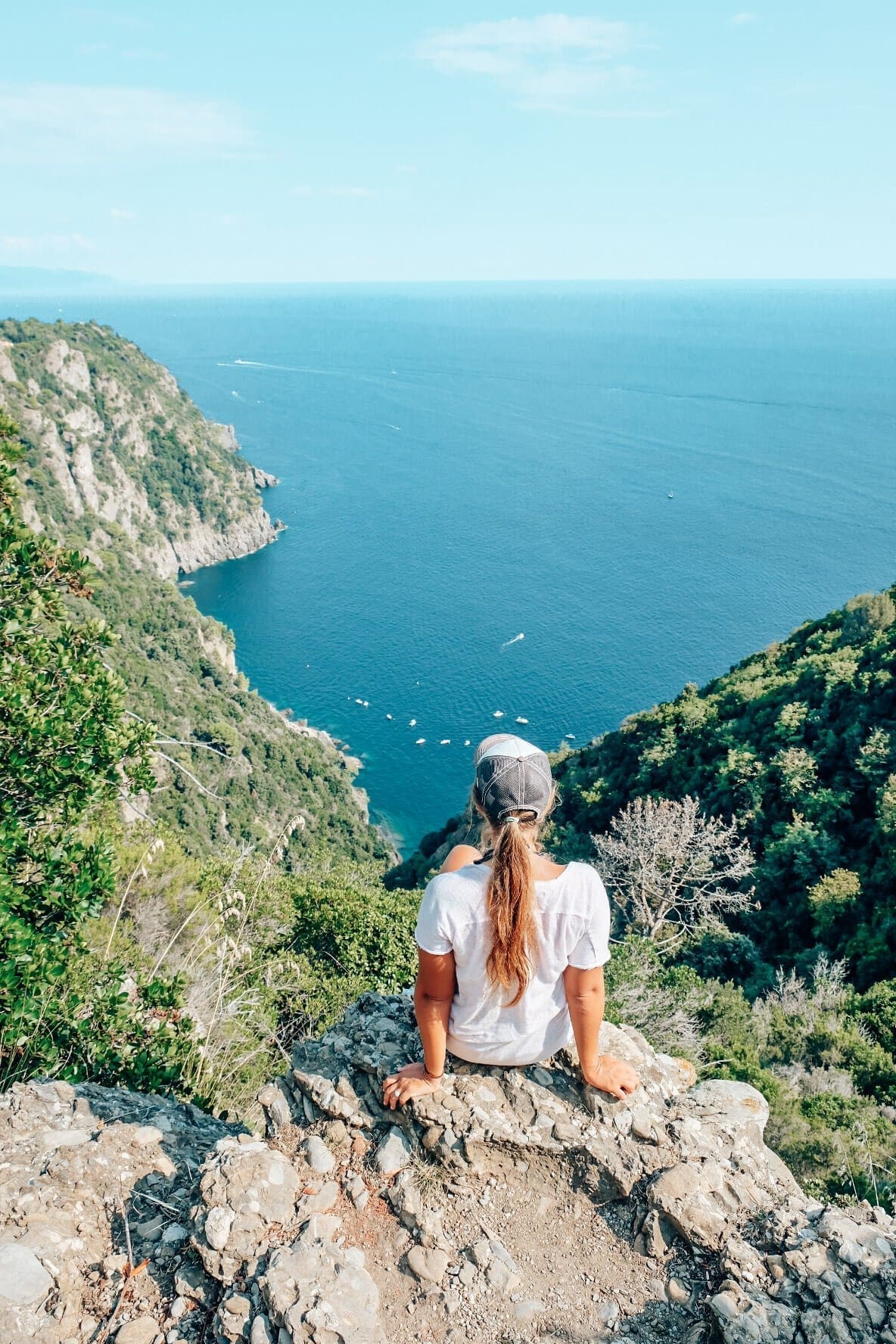 Where to stay
If you are looking to stay in this area on a budget, the best place to stay is in the city of Genoa! You can use Genoa as a base to do this hike, see the city itself (Christopher Columbus was born here!) and also get to Cinque Terre, one of the World UNESCO sites in Italy.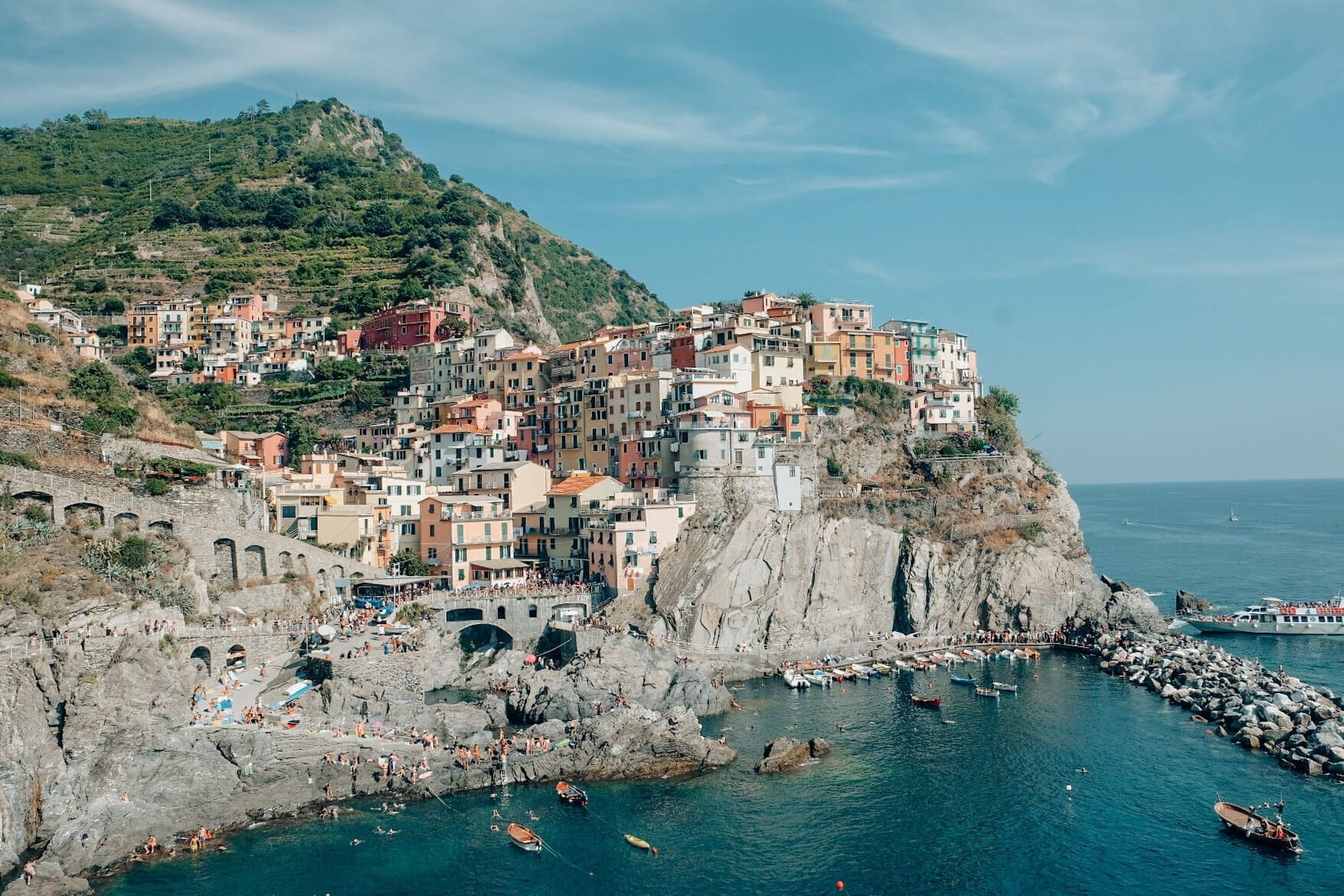 Where to start the hike
Technically you could do this hike forwards or backward. Either from Camogli to Portofino or from Portofino back to Camogli. Both ways lead you through the sanctuary on the beach which is San Fruttuoso.
Alternatively, if you only want to hike part of the trail, you have the option to hike into San Fruttuoso from either city and then catch a ferry.
If you are starting from Camogli, you should hike up to San Rocco and from there follow the trail signs. Unfortunately, this hike is not correctly marked on Google Maps, so you will need to follow the signs instead of a cell phone. Just start heading up towards the mountain that can be seen from the town. The beginning of the trail is narrow and looks like this: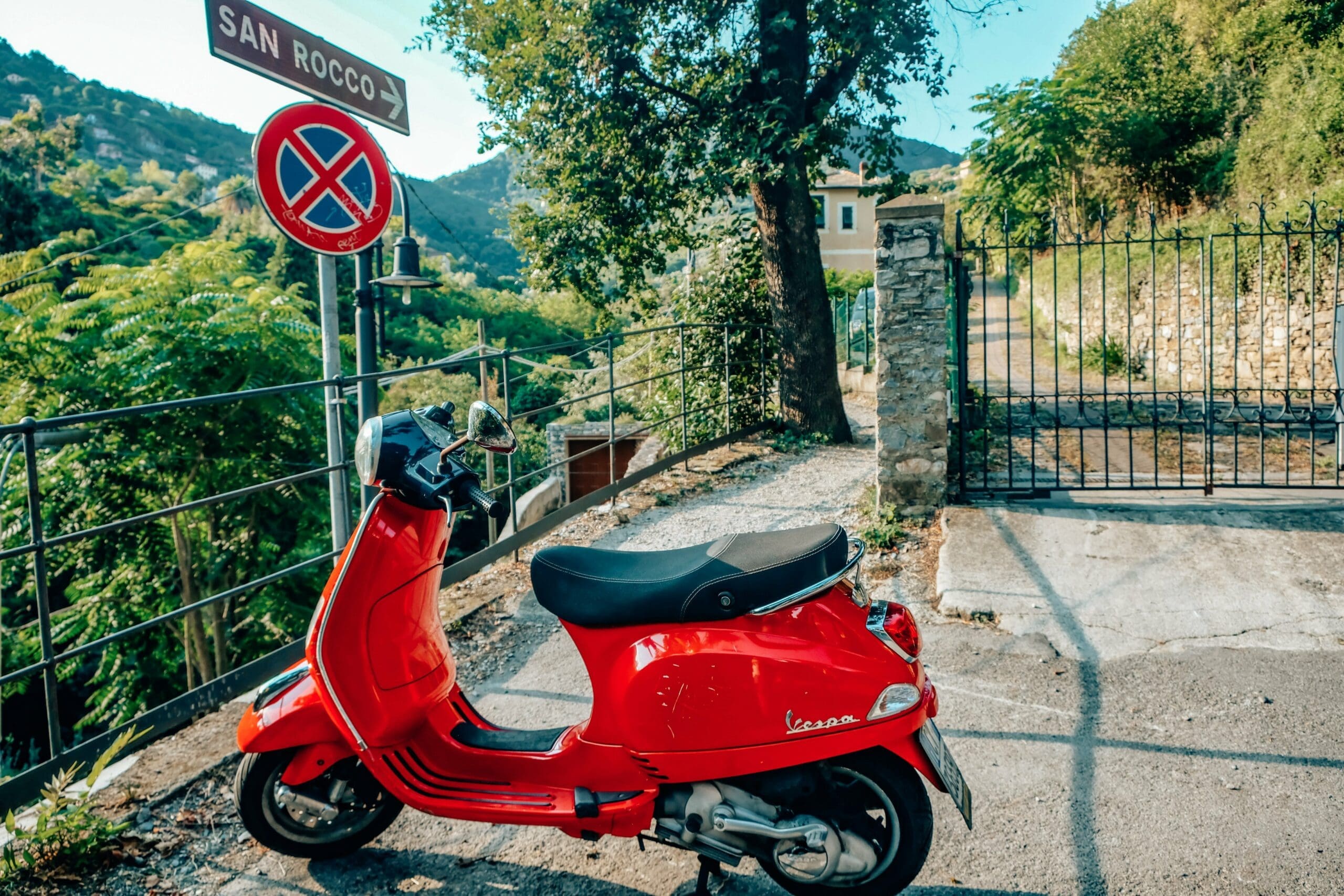 From Portofino, you start the hike near the Chiesa di San Martino and use this map as a guide:
For the full hike, you can use this map from WikiLoc to follow along the trail!
When to start the hike
You should start the hike before sunrise, especially if you are hiking during the summer. The more hiking you can do before the sun gets too strong, the better!
The hike, including taking breaks, swimming, and taking pictures, should take you almost all day. We started before sunrise during the summer, which was at 6:30 am and finished hiking by about 4 pm.
What to Pack
At least 2-3 liters of water per person. (You can fill up your water bottle in Batterie)
Sunscreen
Hat
Sunglasses
A shirt that covers shoulders
Swimsuit (you can either wear this during the hike or change into it in San Fruttuoso)
A camera (I brought my mirrorless Fujifilm XT-20 for the hike and a GoPro for underwater photography)
Snorkeling Gear or Swimming Goggles
Light Towels for drying off or laying out in San Fruttuoso
Breakfast, Lunch & Snacks (there is no food available during the hike, I suggest you find a bakery and buy some pre-made foods while in Genoa)
Shoes with good grip (they don't need to be hiking shoes, in fact, I've never owned a pair, but they shouldn't be Converse either.)
Medium-length socks (they should cover the whole back of your heel when walking)
Difficulty of the hike
The full hike is 9.5 miles long. If you'd like to cut it in half, the trail from Camogli to San Fruttuoso is 5.5 miles and should take you about 3 hours (not including stops.) From Portofino to San Fruttuoso is 3.75 miles. Altogether, the full hike from start to finish should take about 10 hours to finish.
I am not an avid hiker, so I would say that this hike was an Intermediate-level of difficulty. Of course, hiking along the Italian coast all day long can be wonderful for distracting yourself from the amount of walking you have already done.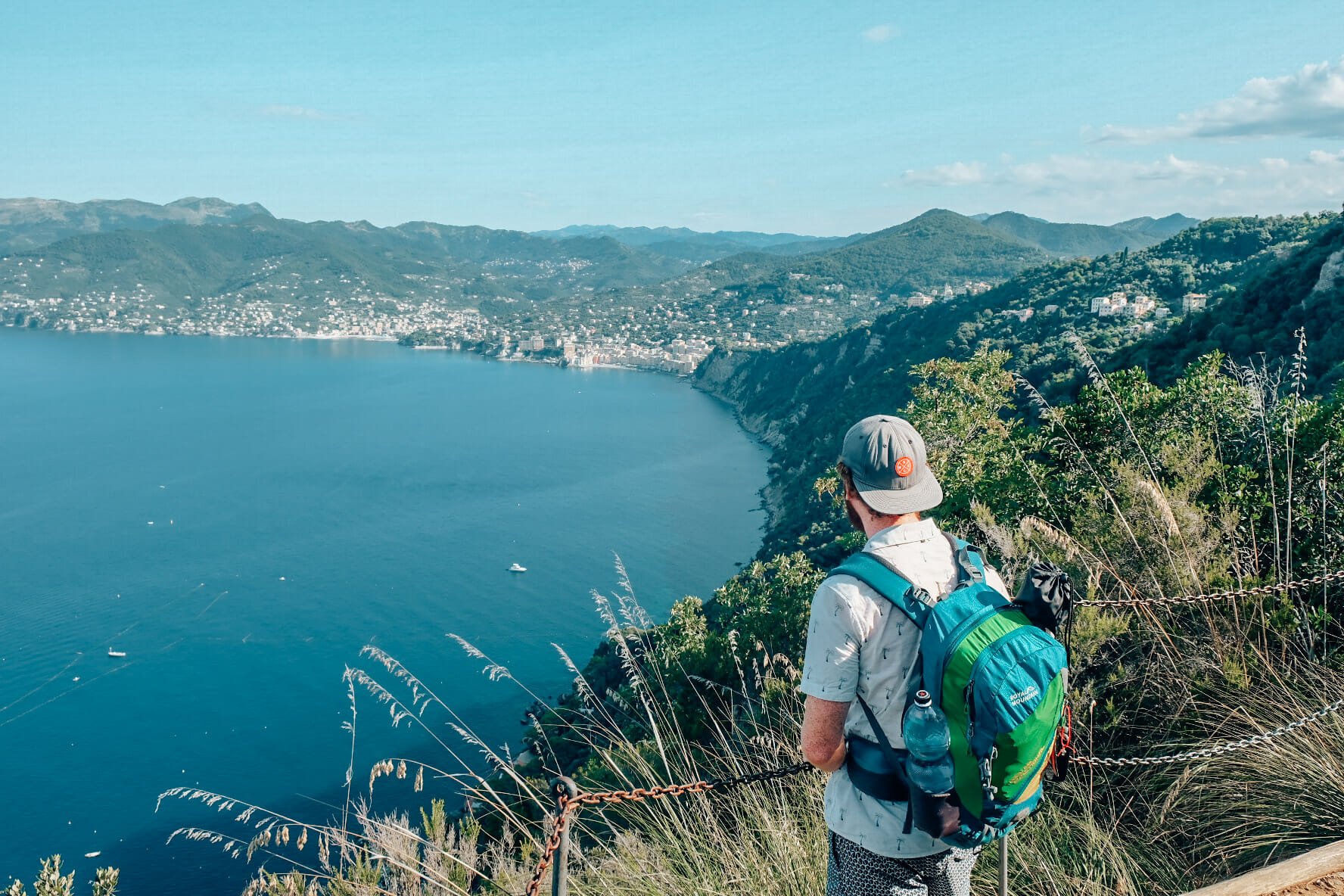 Even though there were some parts of the hike that seemed to ascend forever without an end in sight, I would not hesitate to do it again. The views are some of the most incredible I have ever seen and there's something about hiking into an area that ends with beautiful views that makes those views that much more rewarding.
2 different routes
There are two main routes that will take you to San Fruttuoso and then on to Portofino. One goes more inland and the other follows the cliffside almost the whole hike. Obviously, we chose the incredible cliff views! In order to make sure you are following the coastal route, you should plan to pass from San Rocco to Batterie then onto San Fruttuoso.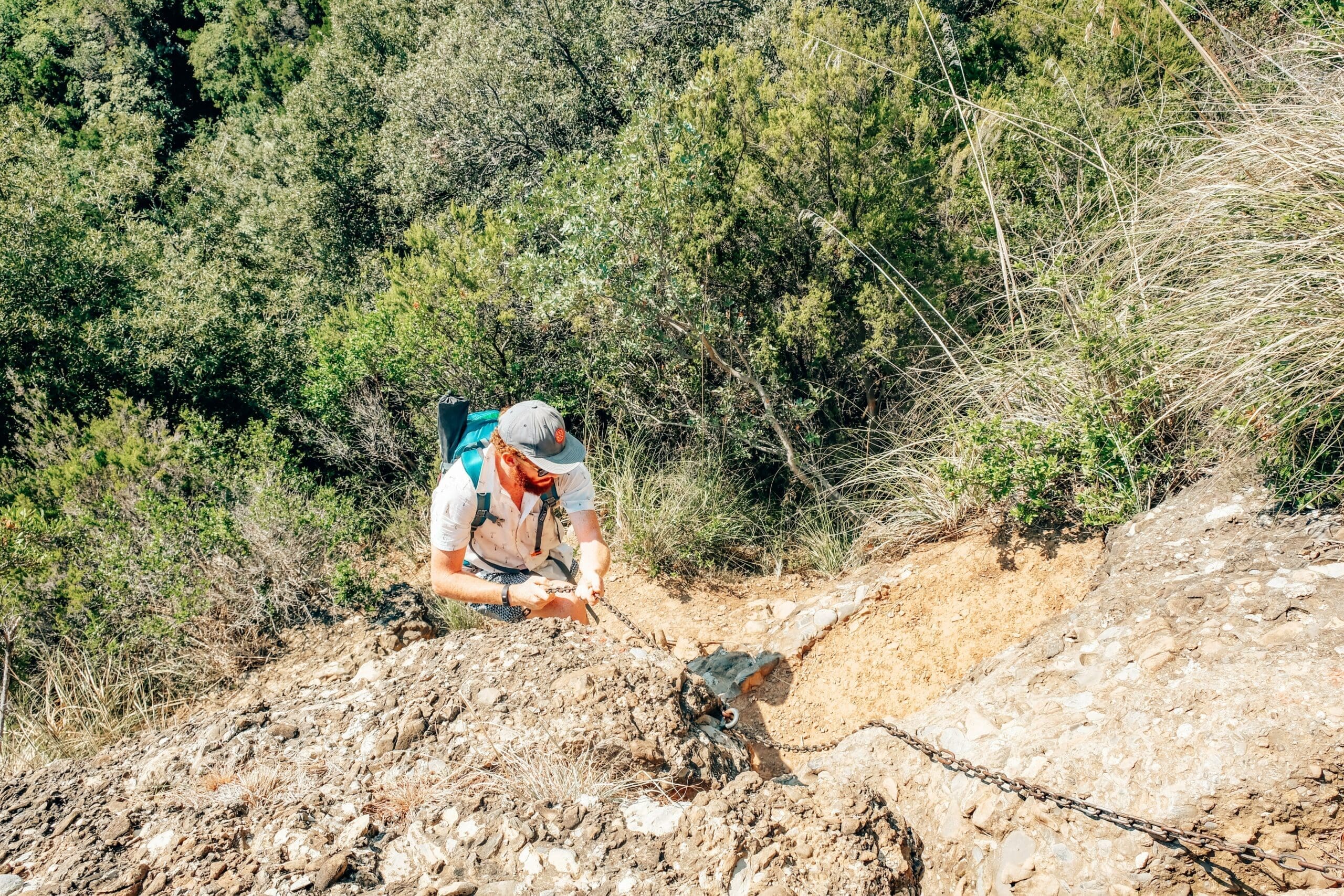 There were some technical parts where you needed to be very careful near the edges. There are chains and cables to on this hike to help you get through some of the more difficult and dangerous areas.
Optional stops along the way
The first stop that you could make is on the way from Camogli to San Fruttuoso. It is called Punta Chiappa. It takes about an hour and a half to get down and back and it is straight up and down. It was a beautiful rock and is famous for being a swimming spot for yachts, however, I did not find the hike worth it. Maybe taking a boat there would be more enjoyable!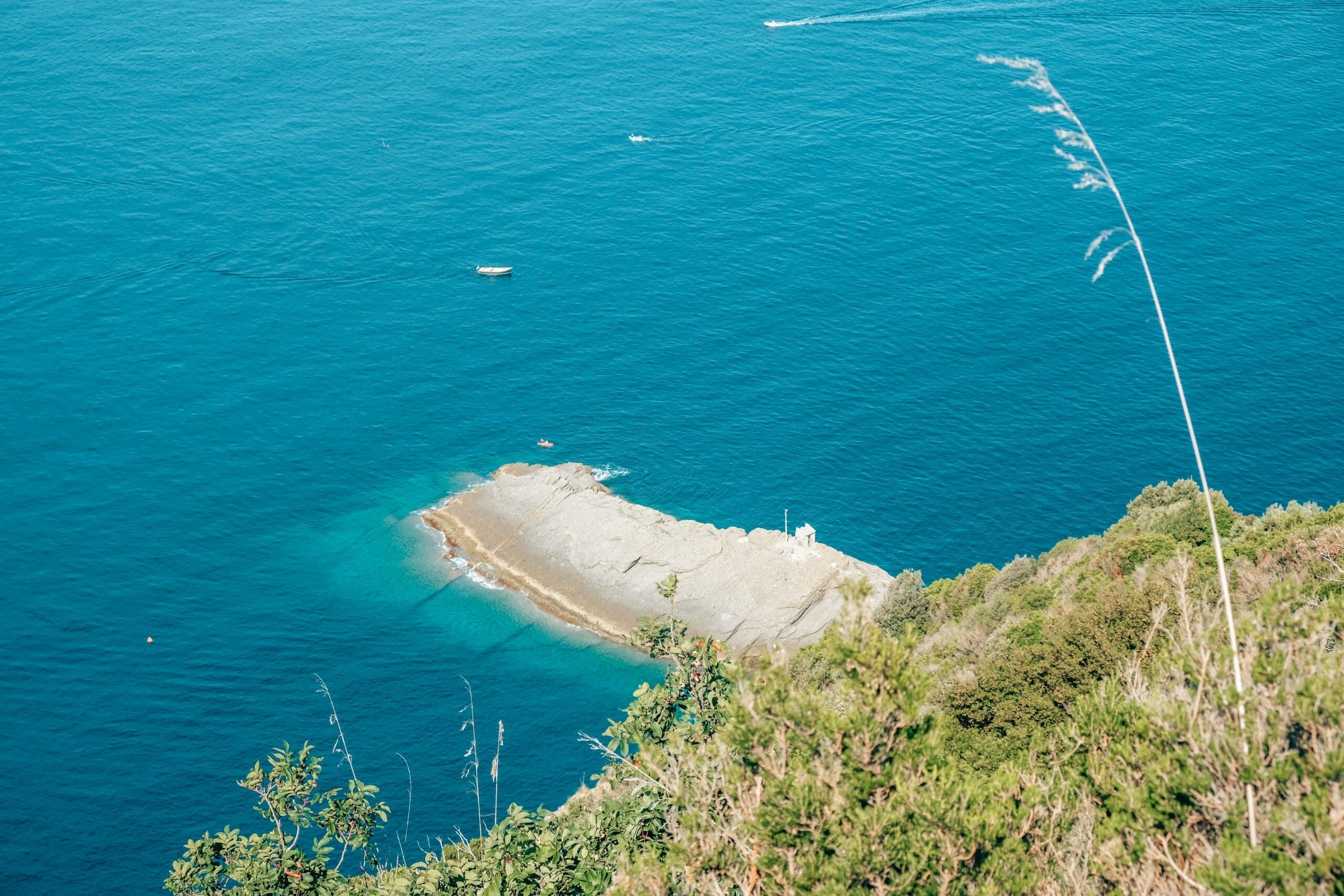 The second stop that you could add is in San Fruttoso itself. The sanctuary is absolutely stunning, but if bring snorkel gear you can see something just as incredible under the water! It takes about 30 minutes of swimming to get there, but once you dive under you will see an Underwater Jesus statue! It is called "Cristo degli Abissi", which you can find marked on Google Maps.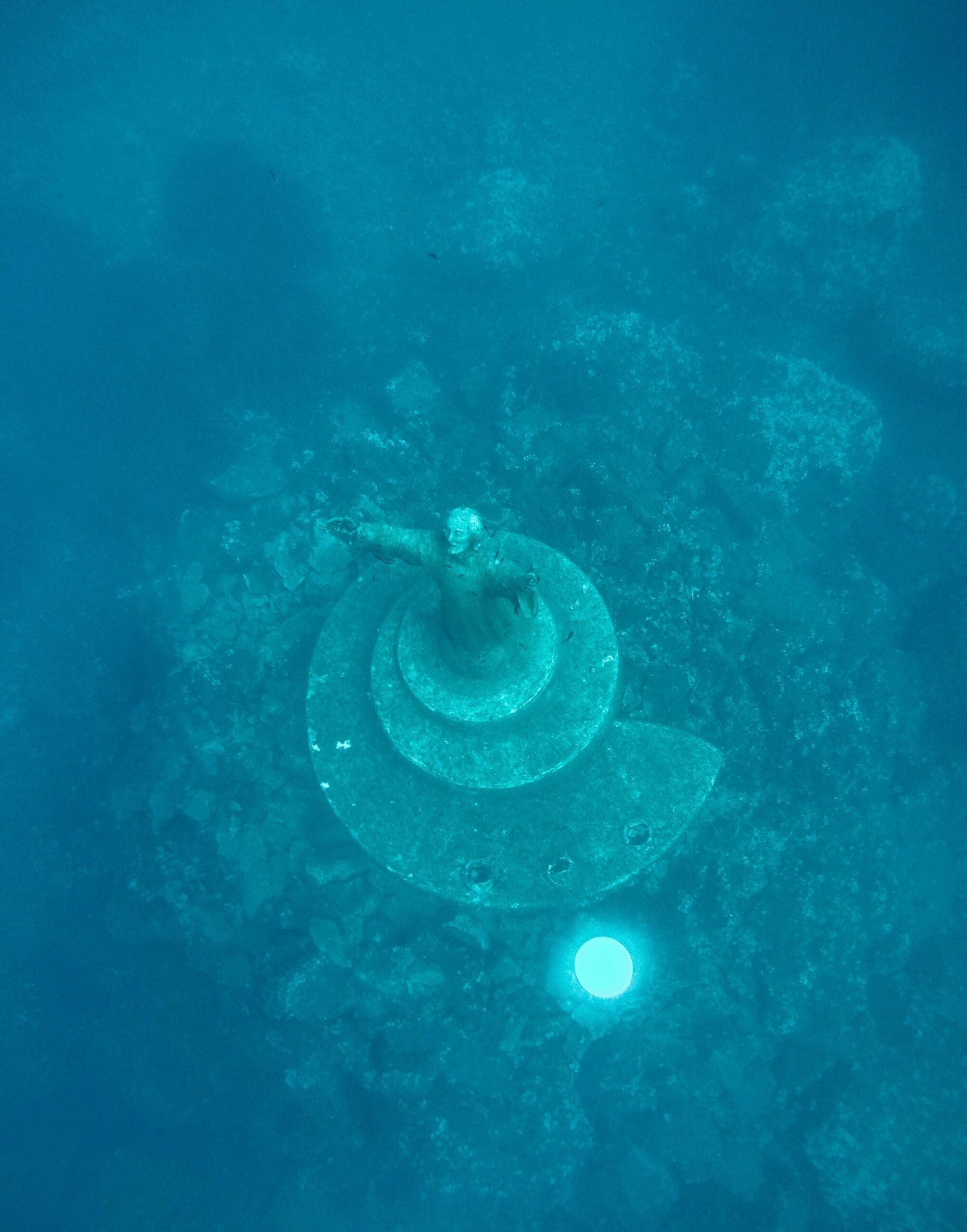 The best way to find it is to follow other swimmers. A lot of people will be looking for the same spot, so don't worry, you'll find it!
First time exploring Europe? Don't make the same mistakes I did – Our 1,000 Europe Mistake and how to avoid it.
Where to go at the end
You finish the hike with the best views of Portofino that you've ever seen. I had been to Portofino before by boat, but this is a view you have to work for!
From there, you can take bus 82 for 3 euro to San Margherita. You have to buy the bus ticket from the ticket machine before getting on the bus.
From San Margherita, it is easy to catch the same train you took in from Genoa back into town. You could also continue hiking from Portofino to San Margherita, but it would add another 2 hours or so onto your hike.
Overall, the hike was a full day of coastal views and Italian sun! La dolce vita!
Pin It! Save & Share (thank you!)