When people think of Las Vegas, the last thing that comes to their mind is hiking. Upon hearing the words "Las Vegas," your mind immediately goes to casinos, showgirls, and partying all day and all night but what a lot of people don't realize is that there is so much more to do in Las Vegas than staying on The Strip.
Staying on The Strip is what a lot of tourists will do without trying to get a small glimpse of what else Nevada has to offer. If anything, on your trip to Vegas, try to get the best of both worlds. You can definitely party at some of the hottest nightclubs in Vegas but also take the time out to hike some of the gorgeous trails that are in the surrounding areas. Some of the hikes even have easy and kid-friendly trails so you can bring the whole family along!
Hittin' the Trails
Just within an hour of leaving Las Vegas, you will find some of the most beautiful landscapes and formations you will ever see. You have Calico Tank-Red Rock Canyon National Conservation Area, Valley of Fire State Park, and Lake Mead Railway Trail. These trails are absolutely stunning and full of nature but you have to see it to believe it. Take a look at the three top-rated hiking trails near Sin City!
Calico Tank- Red Rock Canyon National Conservation Area
Calico Tank is the most popular hike out of the many hiking trails found in Red Rock Canyon National Conservation Area. Not only do the unique formations attract hikers from all over the world but the fact that the hike isn't long but still has that challenge factor is also what brings the hikers in. Typically, with hiking, there is an end goal. Whether it's to get to the top of a mountain or to make it down to the base of a canyon, there is always some type of goal to reach… With this particular hike, the goal is to reach Calico Tank, which is a natural water catchment.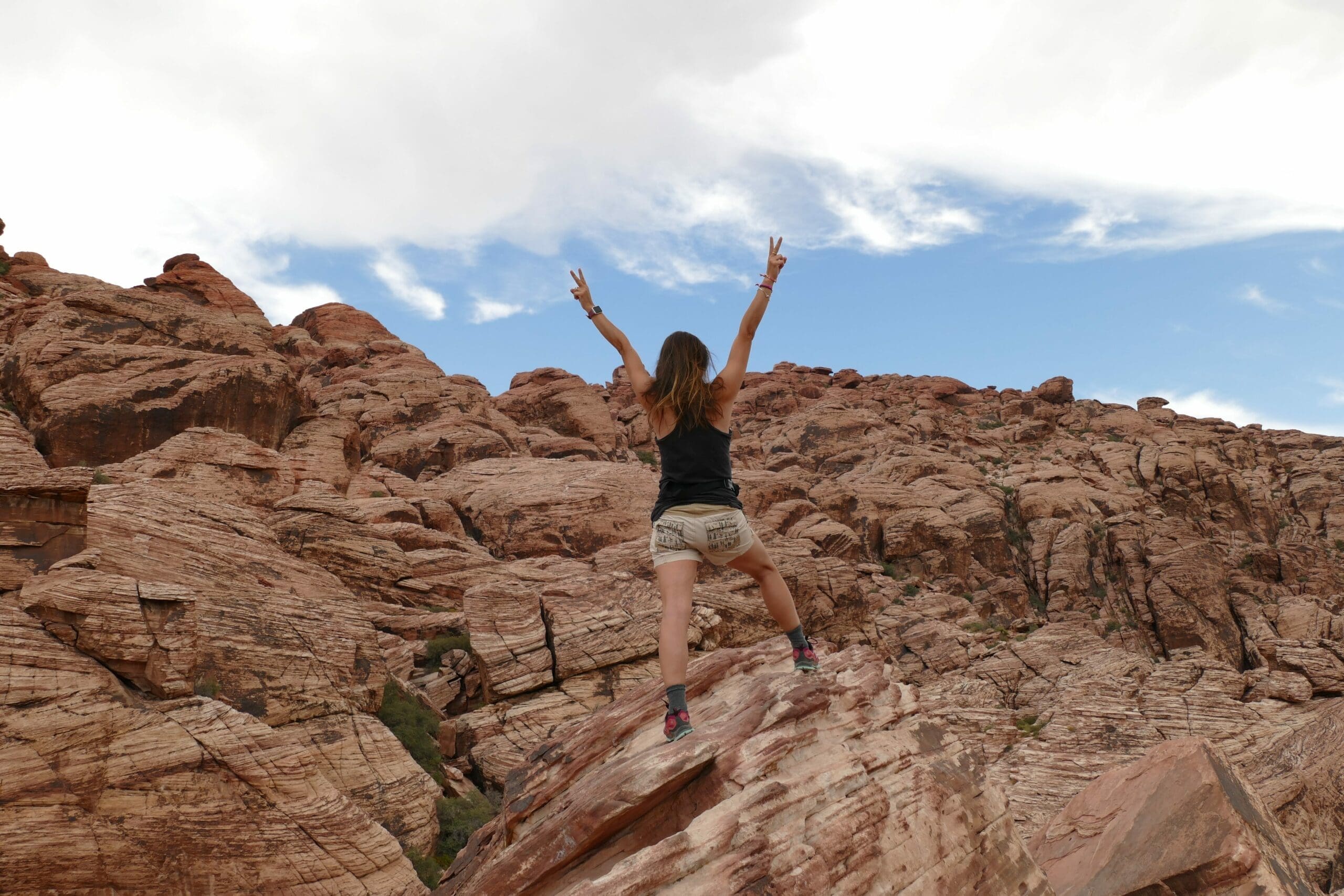 In order to get to Calico Tank, it will involve you climbing over the red rocks and stairs made of stone. Because of the challenge factor, you may have to use your hands and feet and a strong grip to climb certain parts of the hike so be sure to wear proper attire. The hike is semi-challenging but don't forget to take in the beautiful views along the way too!
More Info: BLM Red Rock Canyon Website
Fire Wave- Valley of Fire State Park
Valley of Fire State Park's Fire Wave trail is definitely the park's most interesting hike to explore. It's 1.2 miles and showcases some of the most eclectic scenery that you just have to see to believe. You can expect to see colorful rolling stone hills and ribbed sandstone.
When you first start on this hike, you will be on sand. It will eventually curve around, and you'll then see all the beautiful streaked, rolling stone (Fire Wave was the original rolling stone, not that rock band!). While you're hiking, you'll see views that stretch far out to the distance and the colors you'll see are just as breathtaking.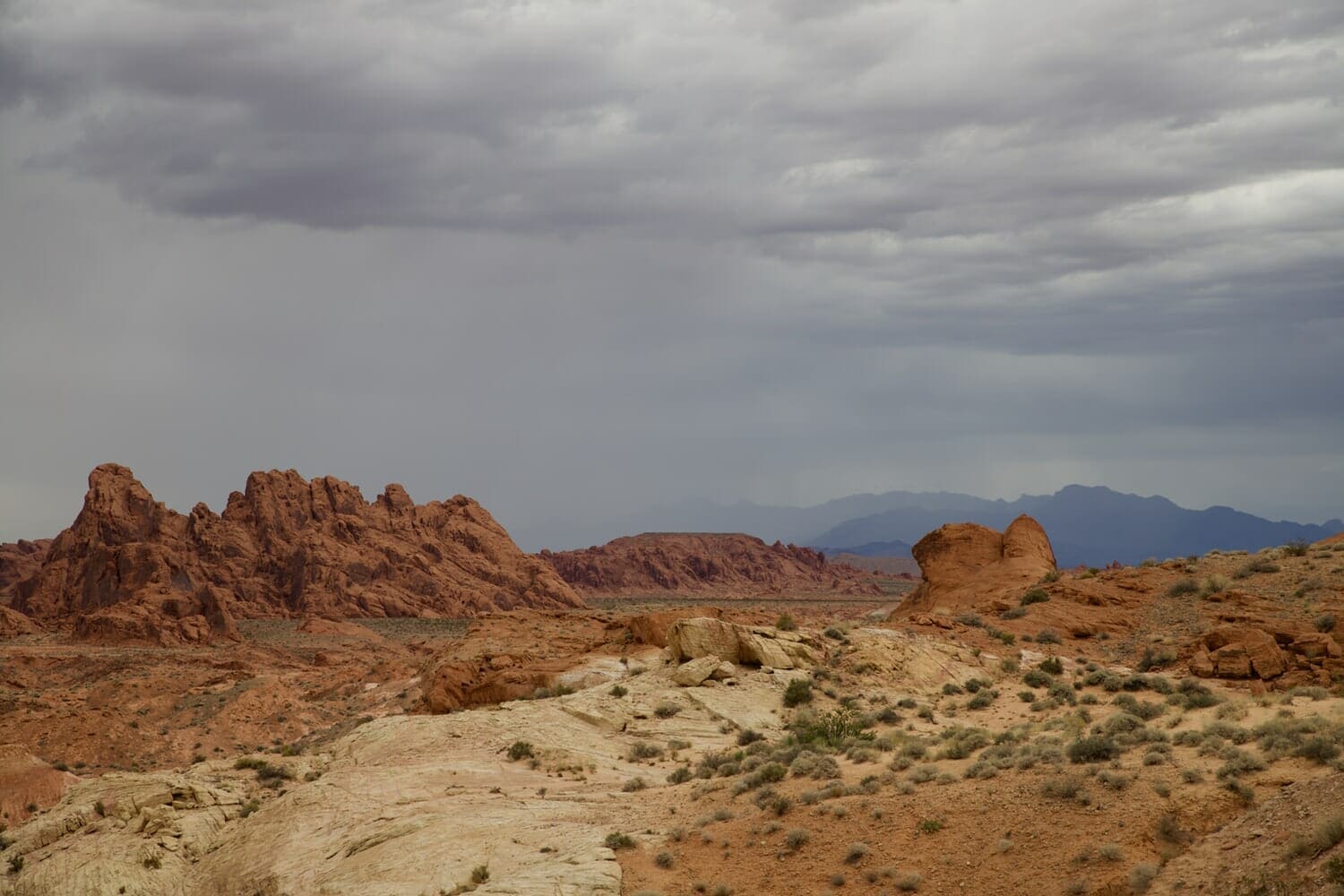 Just imagine experiencing nature in living color. Yellow and burnt orange transition to green and turquoise. Now the fact that this trail is in Nevada and there is absolutely no shade from the sun, you want to make sure you drink plenty of water and wear sunscreen. 
According to MSN, Nevada is one of the sunniest places in the world and Las Vegas, in particular, is one of the sunniest bringing in nearly 4,000 hours of sunshine each year. The fact that a lot of these trails are near Las Vegas means that while you're hiking, you'll be getting a lot of that sunshine and heat too so hike safely!
More Info: Nevada Parks Website
Lake Mead Railway Trail
Lake Mead Railway Trail is definitely a favorite among many visitors because it's accessible to anyone… the trail is even wheelchair accessible! The appeal of this trail is that it is a lengthy one, 7.5 miles to be exact, and it runs through five tunnels. Now, you don't have to do the entire trail if you don't want to. There is actually an entranceway that will cut the distance down quite a bit for you… you'll want to start the trail at the Alan Bible Visitor Center. The most beautiful part about the trail is that it overlooks Lake Mead.
More Info Historic Lake Mead Trail Info
Pin it! Save & Share