When we decided to get into backpacking, we quickly found out that we lived in the wrong state. Short of a very long drive to Big Bend National Park, Texas doesn't have much to offer when it comes to 20-mile backpacking trails. We were looking for something within a few hours drive and suitable for beginners. Luckily, I happened upon Goodwater Trail Loop in Georgetown, TX (just north of Austin). 
Goodwater Trail Loop
Goodwater Trail Loop is an approximately 26-mile loop around Lake Georgetown and the north fork of the San Gabriel River. Along the loop, there are several parks and options for off-the-grid camping, as well as some paid campgrounds with more amenities.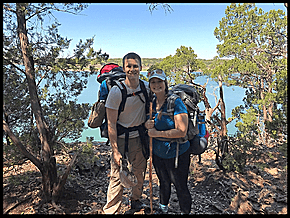 AllTrails rates the loop as "moderate" and I would agree. You wouldn't think that you would find a lot of elevation gain in Texas, but the trail has a surprising number of ups and downs. 
There was also plenty of water along the way, but don't take hiking around a lake for granted; a lot of the time the lake is inaccessible as a water source due to distance or elevation. We didn't fill up completely at some sources (in an attempt to lighten our pack weight) and came close to empty on water on one occasion.
Most of the trail is pretty secluded, but there are stretches where you'll be hiking on the back side of neighborhoods and ranch houses, over a dam, and through busy parks. For the most part, we felt isolated from civilization (though it is never far away). It was a great introduction to backpacking.
We chose to do our trip in March, which typically has great weather in the Austin area (avg. high 73°F and avg. low 51°F). Austin makes for a great hub since it is only 40 minutes away from the loop, so we chose to do a long weekend trip and stay one night following our hike in downtown Austin.
Trip Itinerary
We recommend starting the trip from Cedar Breaks Park and hiking clockwise around the lake. While the hike can be done in two days, three is best (especially for beginners). Plan your trip as follows:
Day 1: 7-miles, camp at Sawyer Park

This is a primitive camping spot that does not require reservations.

There is an outhouse here (no TP and pretty nasty).

Great place to swim, trees for hammocks available further from the water.

Day 2: 13½-miles, camp at Jim Hogg Park**

Reserve a standard, no-electric spot near the water if possible.

Besides the steep up-hill to start your day, these 10-miles are flat.

** Alternatively, camp at Russell Park to shorten Day 2 to 10-miles **

Reservations also required in advance

Day 3: 5½-miles, back to Cedar Breaks Park

Most of these miles are wooded and great for seeing wildlife.

The last 2-miles require you to hike over the dam (cool view, but potentially hot).
Getting There
Put "Cedar Breaks Park" into your GPS. After passing the entrance, take the first left to park at the round-about parking lot. Click on satellite view for a better idea of the area. So many people don't know about this lake Georgetown hiking gem. It is right in the backyard of Austin!
Resources
Resources:
The Hike
Goodwater Trail Loop Day 1:
Meagan, me, and our dog Chief (a Brittany) left Houston, TX early and arrived in Georgetown, TX around 9-AM. After a quick stop at Walmart for some last-minute supplies, we arrived at Cedar Breaks Park around 10-AM to begin our hike.
In the first ¼-mile or so there is a nice overlook (where the picture on the left was taken). We hike along the southern edge of Lake Georgetown at a pace of about 2-mph. With several ups-and-downs, elevation swings in the 50 to 100-ft range are just enough to get your blood flowing.
We arrive at the Sawyer Park campsites around 1:30 or 2-PM (about 7-miles in), which leaves us plenty of time to grab a great spot on the water and set up camp. Chief was excited to be let off the leash with space to explore while Meagan and I pitch the tent and organize our things.
We spent the afternoon relaxing, gathering firewood, wrestling with Chief, and chatting with a father/son pair of hammock campers who were set up about 40-yard uphill.
After a freeze-dried dinner from our knock-off Jet Boil, I lit the campfire, and the three of us sat and talked until 9-PM or so before retiring for the night.
Goodwater Trail
Day 2:
After a peaceful night, we wake up and have a protein bar and instant coffee for breakfast. We quickly pack up camp and get on the trail by 9:30-AM.
Before leaving we filled up our water containers (we use a Sawyer-Mini) and began with a full load.
The hike from Sawyer Park begins with a steep, 120-ft climb that gets the blood flowing and the legs burning.
We hiked along, passing a jogger or two, before coming to Tejas Park between mile-marker 11 and 12 (4-miles into our 10-mile day). We take a long break for lunch at an unoccupied day-camping picnic table, let our feet air out, and get back on the trail around 12:30-PM (making a pace of about 2-mph before lunch).
Tip: On longer multi-day hikes we love to use
Trekking Poles
to help lighten our load and use some of our upper body strength while on the trail.
We crossed the San Gabriel River at Tejas Park requiring us to change into our Crocs and get our feet wet up to our shins (Chief just happily ran across).
Water Up at Tejas Park
Make sure to fill up your water at Tejas Park. The next few miles are pretty far from the river and have infrequent spring crossings for resupplying. The hike along the northern perimeter of the lake is a pretty flat and uninteresting trail for about 4-miles, we count the mile-markers and stop periodically to rest.
This section is pretty monotonous our spirits were on the low side with hurting feet and not much to look at. Somewhere in this section, we hit a short burst of rain.
Around mile marker 16 the trail becomes more interesting (and more strenuous), and we started up an approximately 100-ft gain in elevation in the next mile before we approached Russell Park. I would strongly encourage anyone else who is doing the loop to camp at Russell Park. 
However, Meagan and I (imprudently) decided to continue to push approximately four more miles to Jim Hogg Park for the night. It was only 3-PM, we were still making good time, and it would cut time off of our morning hike to the car.
What we did NOT consider was Chief's condition. We fail to notice that he was developing some nasty cuts in his pads from all the rocks. His hyper-demeanor also meant that he had probably hikes at least 50% farther than us from running back-and-forth. We didn't realize the cuts until we neared Jim Hogg Park and he began to limp.
At 5:30-PM and we arrive and we're fortunate enough to get a campsite despite not reserving one in advance. We set up camp, eat dinner, and inspect Chief's feet. We clean his cuts and wrap them in bandages, but ultimately decide Chief would not be able to make the 5-mile hike back to the car the next morning. Had we stopped at Russell Park instead, Chief likely would have been okay.
Goodwater Loop 
Day 3:
I woke up just before sunrise on Day 3. Meagan and I had decided that the best option was for me to hike back to the car while she packed up camp and stayed with Chief. This also allowed me to leave my big backpack behind and hike only with the day-pack.
In the last stretch of the hike before reaching the dam, progress is quick and very peaceful. I saw several deer and rabbits along the way and no other humans. I made good time with the lighter pack-load (about 3½-mph). Right before arriving at the dam, there was a well-maintained park with several joggers and families fishing. Fill up your water bottles at the park here before you continue.
Goodwater Loop Trail gets a little confusing here. Note that there is not a way to avoid walking on the road (which is not open to normal traffic). Do not attempt to hike past the road and get onto the dam farther down. I made that mistake and had to back-track about a ½-mile. Get onto the road leading to the dam as soon as you hit it, and hike across. The view from the top of the dam is pretty impressive. If you hike later in the day in full sunlight, I could see it being sweltering so plan accordingly. The road over the dam turns in to Cedar Breaks Rd., which I followed all the way back to the car. I drive back and pick up Meagan and Chief, who were both shows disappoint that they won't finish the full loop.
Review
As far as backpacking loops in Texas go, this is the cream of the crop. Meagan, Chief and I enjoyed the hike and were surprised at the level of difficulty and scenery factor. We came into it with pretty low expectations and minimal experience backpacking, and we all left with a great story and valuable experience. I recommend Goodwater Trail Loop to anyone interested in getting into to backpacking and looking for options in Texas.
It's definitely recommended as an "Early Season" trail – plan your trip during fall, winter or spring as the summer months will be extremely hot.
Pin it!  Save this pin & share with friends!