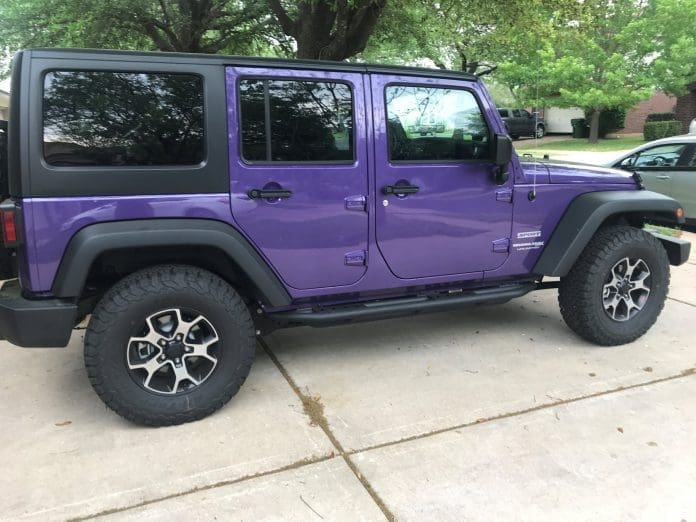 Looking for a simple Jeep body lift kit to help clear larger tires or handle more considerable articulation with your sway bar disconnected? The Teraflex 1.25 inch body lift kit is a simple kit to give you more room without modifying your drivetrain or changing vehicle geometry. The kit simply ads "pucks" between the body and your frame to increase the clearance of your fenders over driveline and also allowing you to run a slightly larger tire size such as 33″ tires.
I opted for the body lift kit so I could better fit my KO2 33″ Tires with minimal change vs. a typical suspension style lift kit (that most likely changes vehicle performance and drive geometry).  My mission is mostly driving around Austin with some pleasure trips up to the San Juans and weekend trips to Hidden Falls Adventure Park.  My goal was simplicity of install, as few/little modifications to vehicle as possible and keeping fuel efficiency and driving performance as close to factory as possible. The Teraflex lift kit achieves this, and I think it looks great to boot.
With that being said, some people despise body lifts because of a few minor changes to how your body rests on the frame. I've taken a lot of pictures to help show before, after and point out the changes to looks. For me, it's not a problem at all, and as I replace my factory bumpers, I'll see about finding ones that minimize the gap.
Before Jeep Body Lift Kit Photos
One of the most common questions is what does the lift kit look like before & after. Here are some photos with measurements and different angles for you to see how the lift kit appears visually.  You will notice that fender flares don't go all the way down and that there is a gap between the bumpers on front and back.  The front bumper doesn't change much visually, but the rear bumper has a different appearance.
Before Body Lift Kit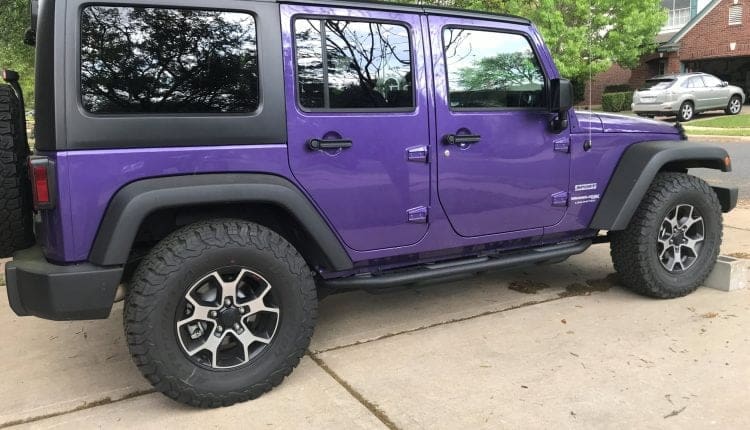 2018 JKU on 33″ Tires.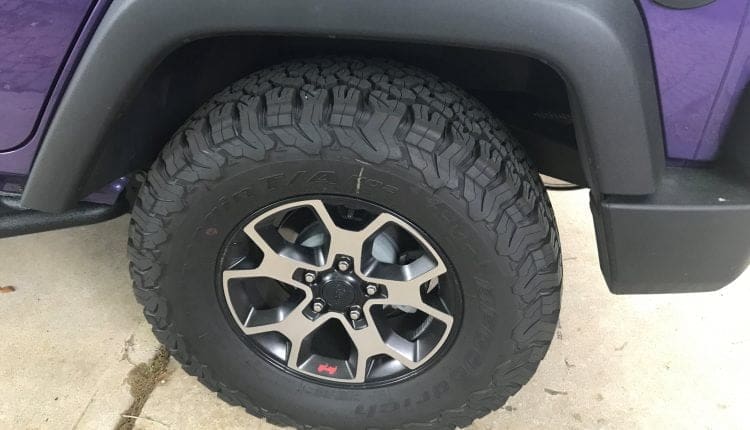 Body height at the top of the wheel well before lift kit.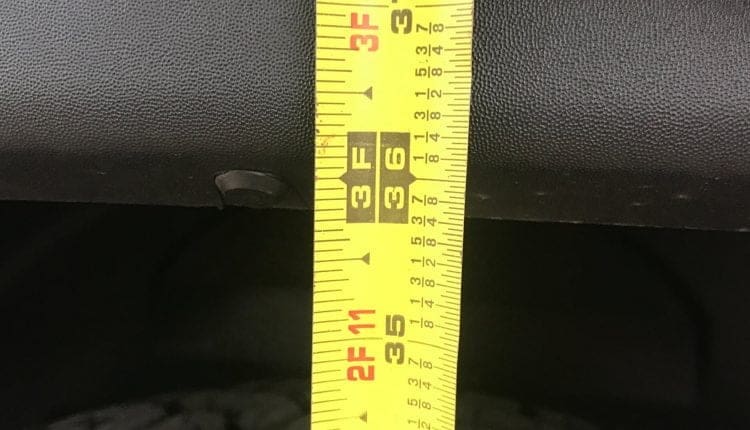 Sorry for the low-quality photo but the following image shows the clearance in the wheel well between tire and frame.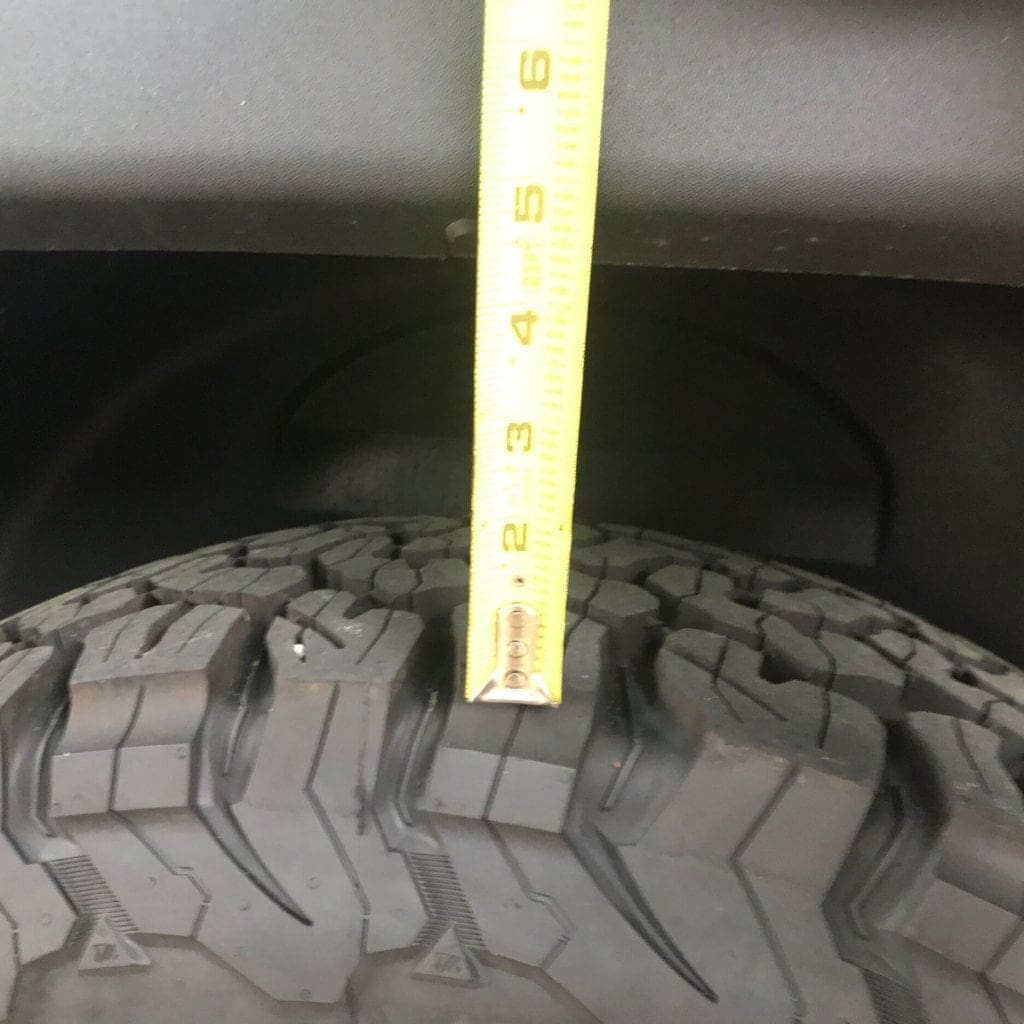 Jeep Wrangler Unlimited after Teraflex 1.25″ Body Lift Kit
You can see that there is a noticeable amount of clearance between wheels and wheel well now. I didn't think 1.25 inches would change much, but it gives the Jeep some character.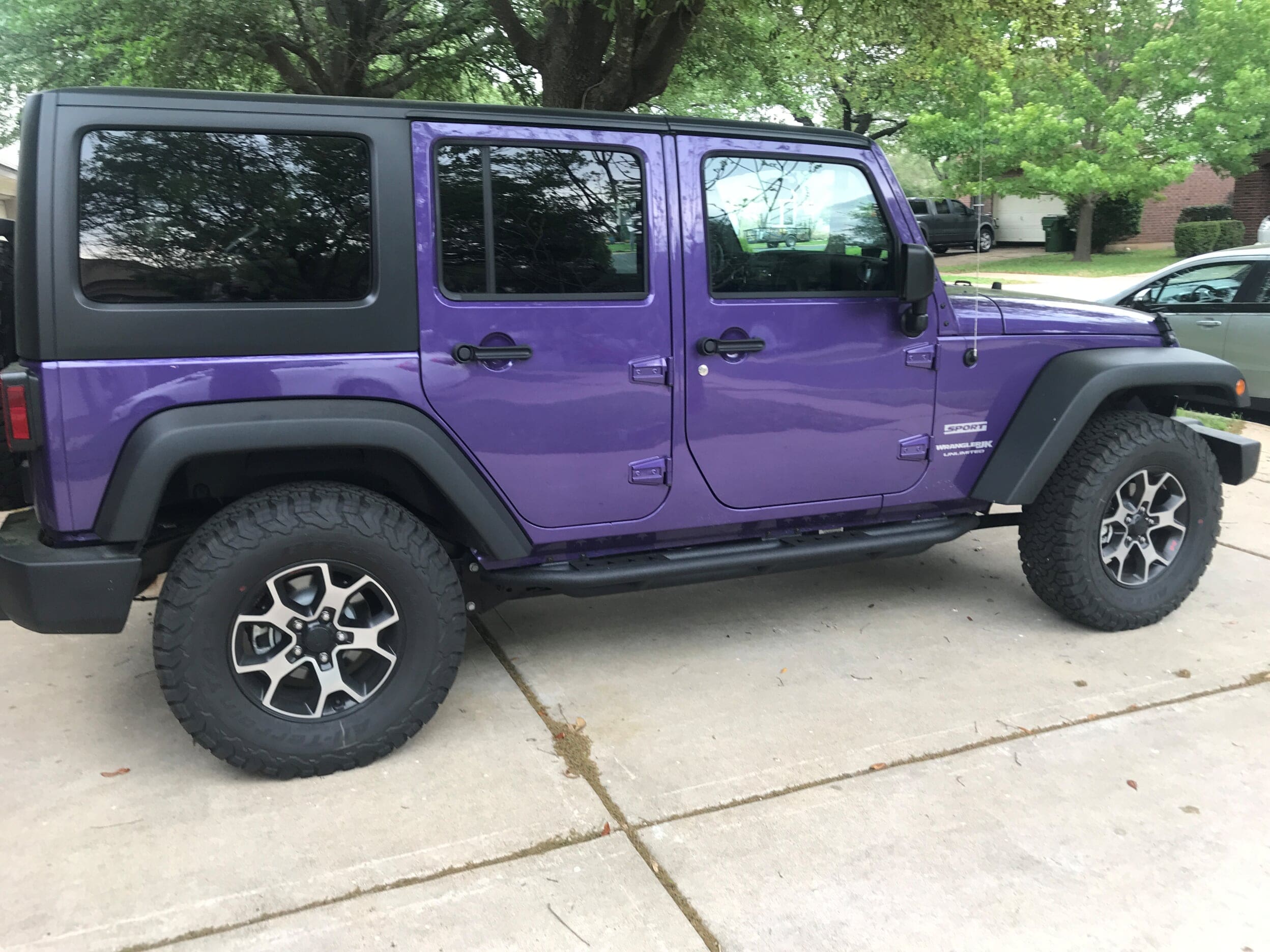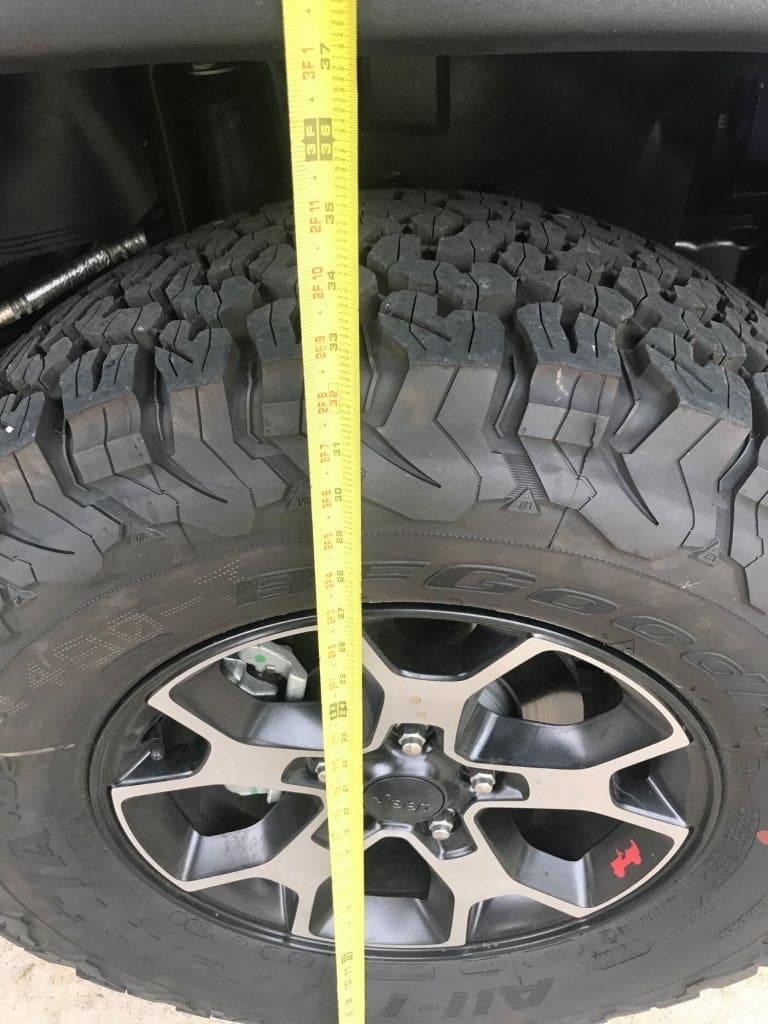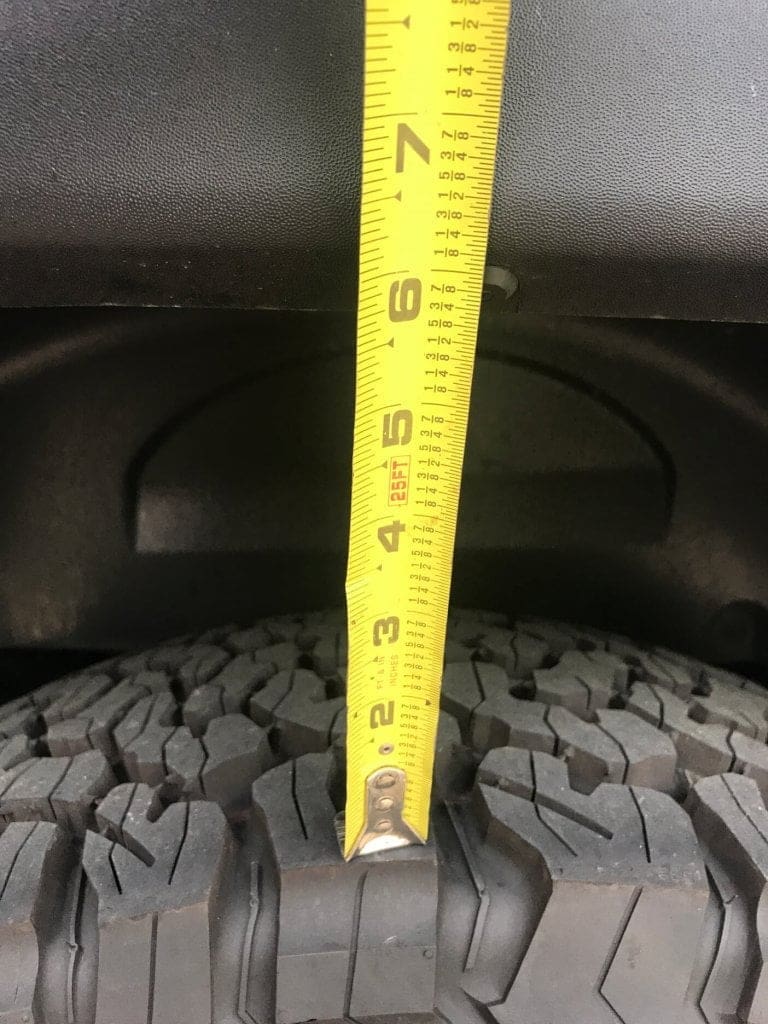 Body lift "Gap."
When you lift your body with the Teraflex body lift kit, you will notice a small gap/seem along your front/rear bumpers and the wheel fenders.  Front bumper doesn't show nearly as visible as the rear bumper does.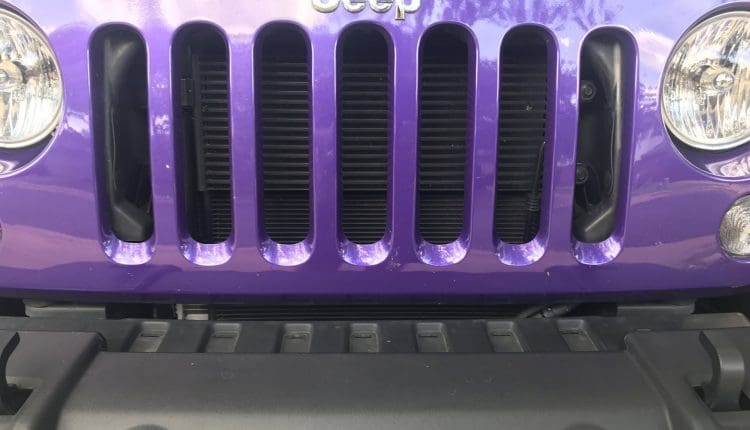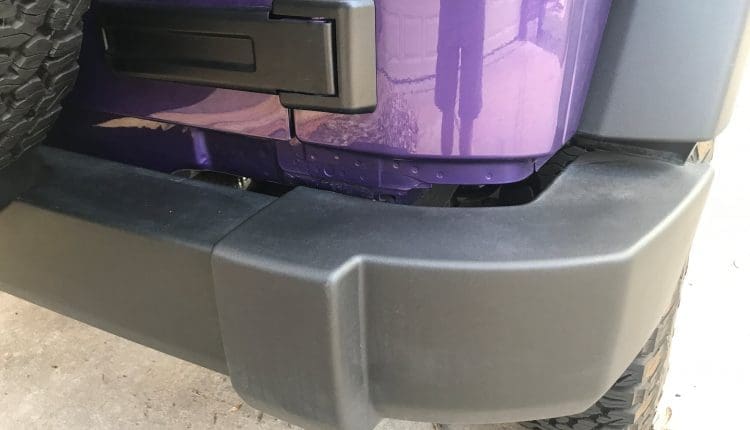 Teraflex Body Lift Install
Please be sure to follow the instructions provided within your kit or check for the latest instructions from Teraflex website.  When installing it is essential that you work on your vehicle taking all safety precautions. Be sure your vehicle is parked, with parking brake fully engaged and wheels chocked on a level and smooth surface.  You don't want your vehicle rolling away nor do you want your body sliding off chassis because your driveway or workspace is not level.
We won't walk you through the install step-by-step, but I will update you with some photos of some of the major components and share some advice from lessons learned.
Teraflex 1.25″ Body Lift Kit Components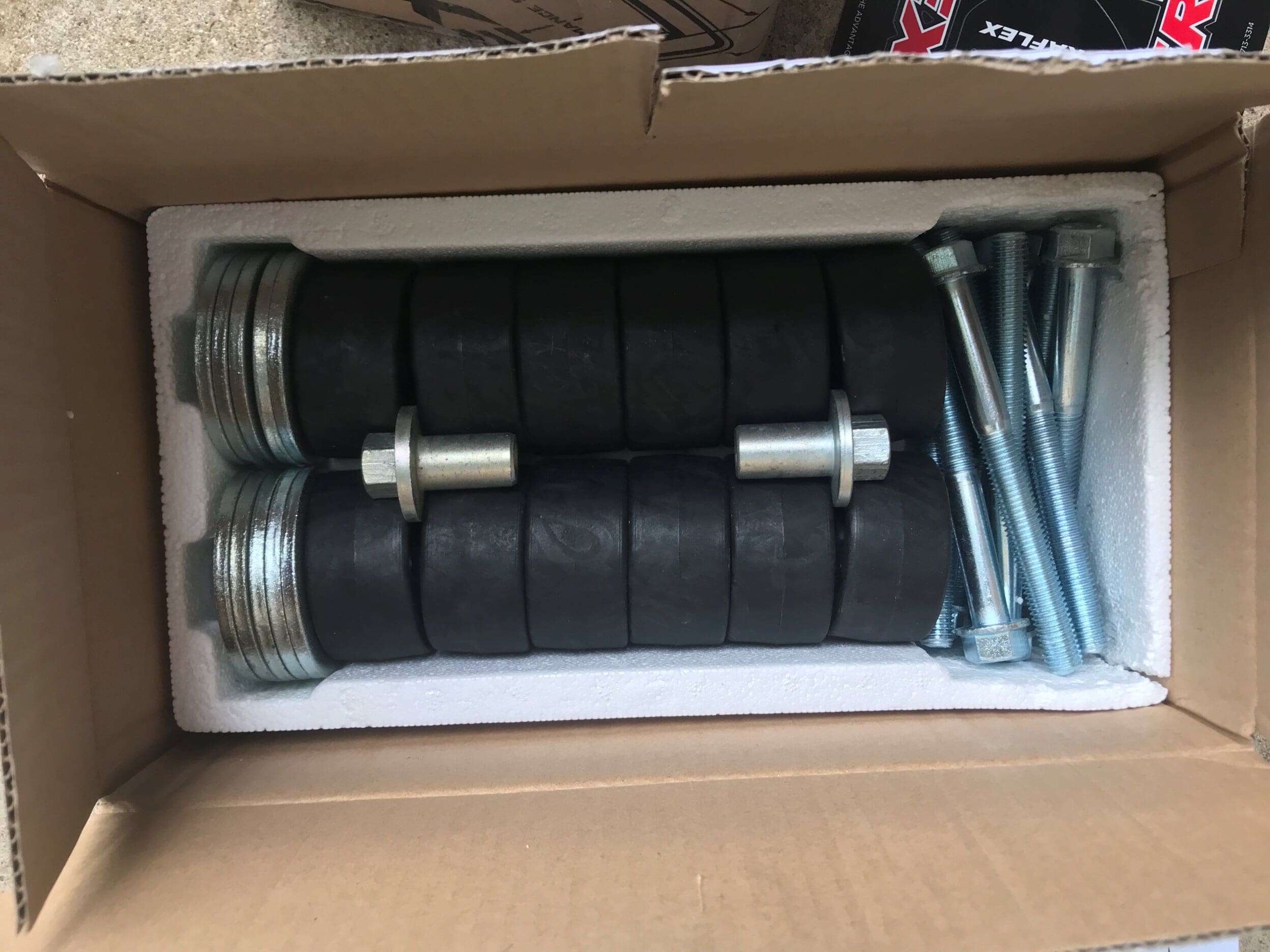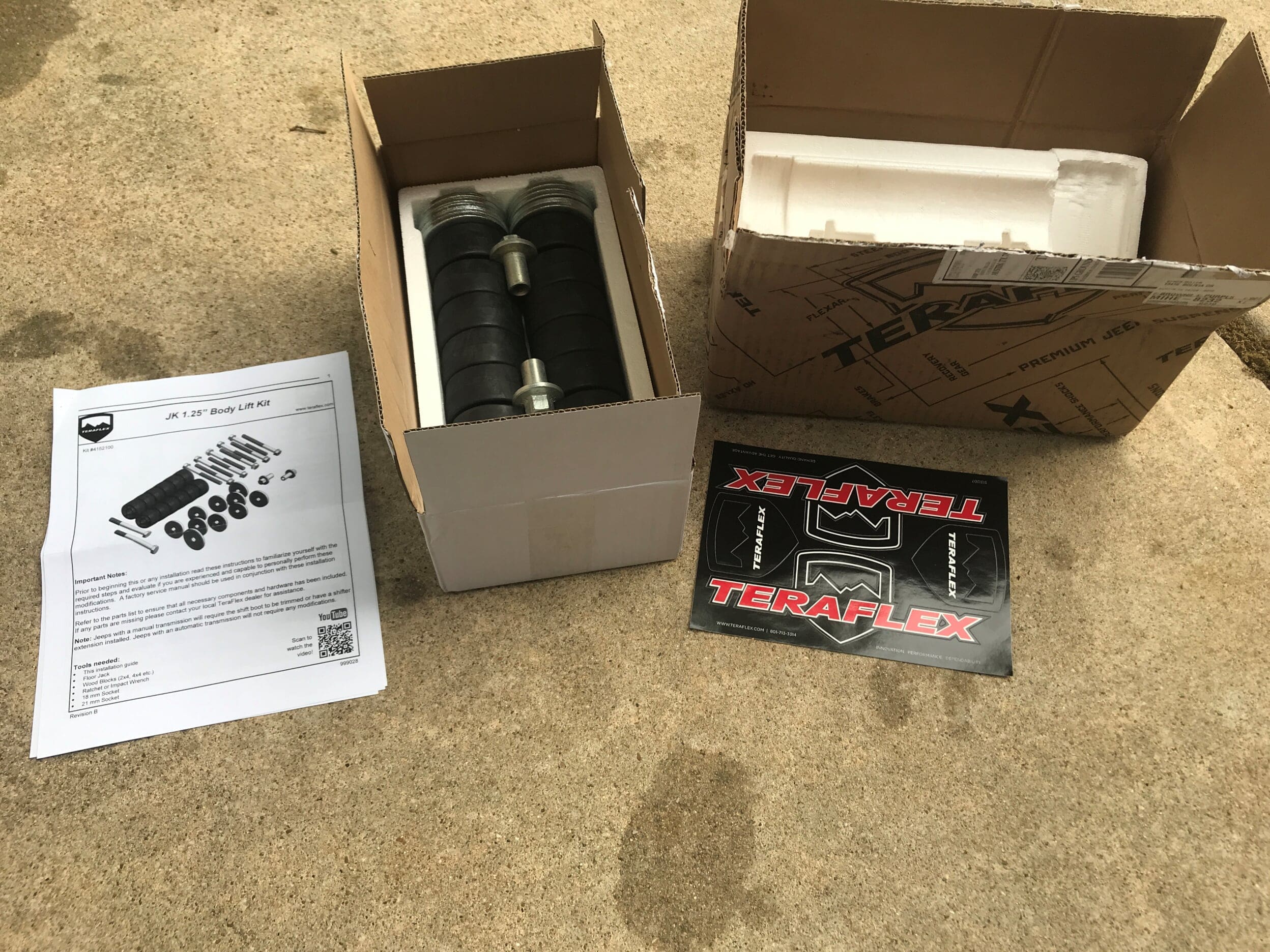 Teraflex Body Lift Tools Required:
Jack with crossbar support
14mm Socket
Torque Wrench
Impact Wrench
A Jack stand with crossbar support like the one imaged below worked well enough to "jack up" the body on one side of the vehicle to lift the body off the mounts to insert the lift "pucks."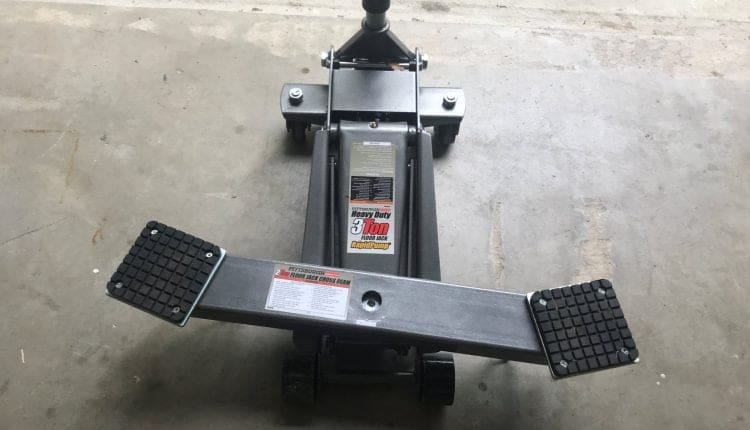 Products from Amazon.com
‹
›
Please be aware, that to insert the pucks on all positions on the vehicle you will jack the body up higher than you expect – I won't lie, it looks and feels awkward. The crossbeam support add-on that many of the floor jacks offer worked well and felt safer than boards being mashed up by the head of the floor jack.
Products from Amazon.com
‹
›
If you need help identifying what a body bolt it, it is these large bolts with the large washer. If your Jeep has lots of miles they can be tough to break loose and even if your Jeep is new, they put these dreaded bolt clips in there during assembly that without an impact wrench, hand pulling these can be a painful experience. If you are stuck with using a wrench or socket to pull your body mounts be aware of the retaining clip – your bolt may not drop out but spin forever, and you may need to be creative to pull it out.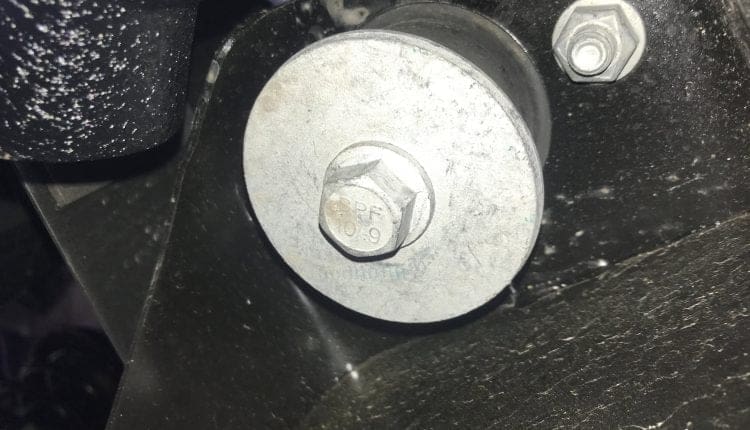 I'm a novice mechanic, and for the most part, the install was easy but a little nerve-racking.  My Jeep was only a week old, and here I was pulling body mounts and jacking the body off the frame. I certainly didn't want to screw up.  If you don't like the thought of doing it yourself, most shops will charge $150 or so for the install on top of 175-200 dollars for parts.
The hardest "puck" to get in are the ones on the front of the vehicle as they have the toughest clearance needed to slide them in.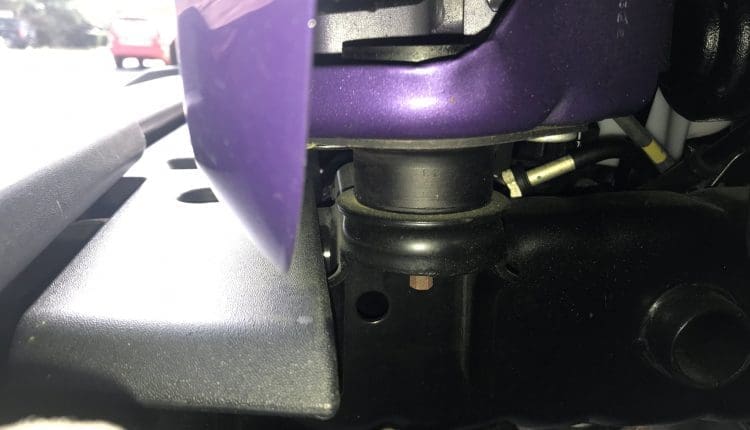 Lessons Learned during Body Lift Install
Body bolts are clipped in – impact wrench released them nicely – otherwise, you will have to get creative to pull bolts.
Floor Jack cross beam is highly recommended for more stable lift. Allows you to use 4×4 lumber for spacers to jack your body off the frame.
Remove your "nerf" bars to ease install. With my nerf bars on I couldn't separate the body from the mounts because the bars were grabbing the frame.  If you have close in nerf bars or factory running boards, this may not be much of a problem. Just be aware that if you start lifting and your wheels start coming off the ground, it's probably your nerf bars.
Follow safety precautions to the T. Don't mess around here folks!
Teraflex 1.25″ Body Lift Kit Install Video
Teraflex provides this great video for installing the Teraflex body lift kit.  Great reference for reviewing along with the printed instructions.
Buy Teraflex 1.25 Inch Lift Kit
Products from Amazon.com
‹
›
Teraflex Body Lift Review
Compared to other body lift kits, the install is rather simple. There is nothing that needs to be moved, no relocation of anything and no change to your drivetrain geometry – which is a good thing. The tools required are fairly abundant and simple and good to have, so nothing specialized that you need to buy or borrow. This means you have a rather simple and straightforward to install the lift kit.
The one gotcha that I had is that nerf bars/steps that connect to your body tub, and pinch seem may bump into your body mount brackets – They're often designed/assume one inch of clearance, but if you lift the body, you're lifting the attached nerf bars as well – so make sure they won't bump into your body mount brackets or it will be squeaky ride (rubbing) or not fit at all.
October 2018 Update! We've had quite a bit of time and trail use with the body lift kit and no significant issues to report. We do experience some tire rubbing when hard turning under extreme conditions and we will be looking at wheel spacers to address that as well as possibly adding the Mopar 2″ lift – which won't violate warranties and change geometry adhering to my goal of minimal fuss, maximum capability.