I am not exactly what you would call a Glamis camper. Living in Southern California my whole life I had so many friends who would pilgrimage to these epic sand dunes a hundred miles to the east of Palm Springs every holiday weekend. Even though our good friends have some expensive and fun off-road toys we have always spent our weekends beneath the pines of the eastern Sierra mountains taking the dirt bikes and Yamaha side by side to Obsidian Dome and exploring the old Jeep roads near Mammoth Lake. This Thanksgiving weekend we decided to do something a little bizarre for us and check out the miles and miles of sand fifty miles from the Mexican border. We had a ton of fun, a lot of adventures, and came away from this holiday weekend with some terrific tips for a newbie's first trip to Glamis.
Glamis Sand Dunes
Glamis Sand Dunes is found in the Imperial Valley of California. (Map below)
Weather at Glamis Sand Dunes
Always check the weather prior to your trip to Glamis. Glamis California Weather Report
Directions to Glamis
There are many access roads, camp pads, and campsites available in Glamis Dunes.  Please call ahead and schedule or check in to obtain permits when using public land as necessary.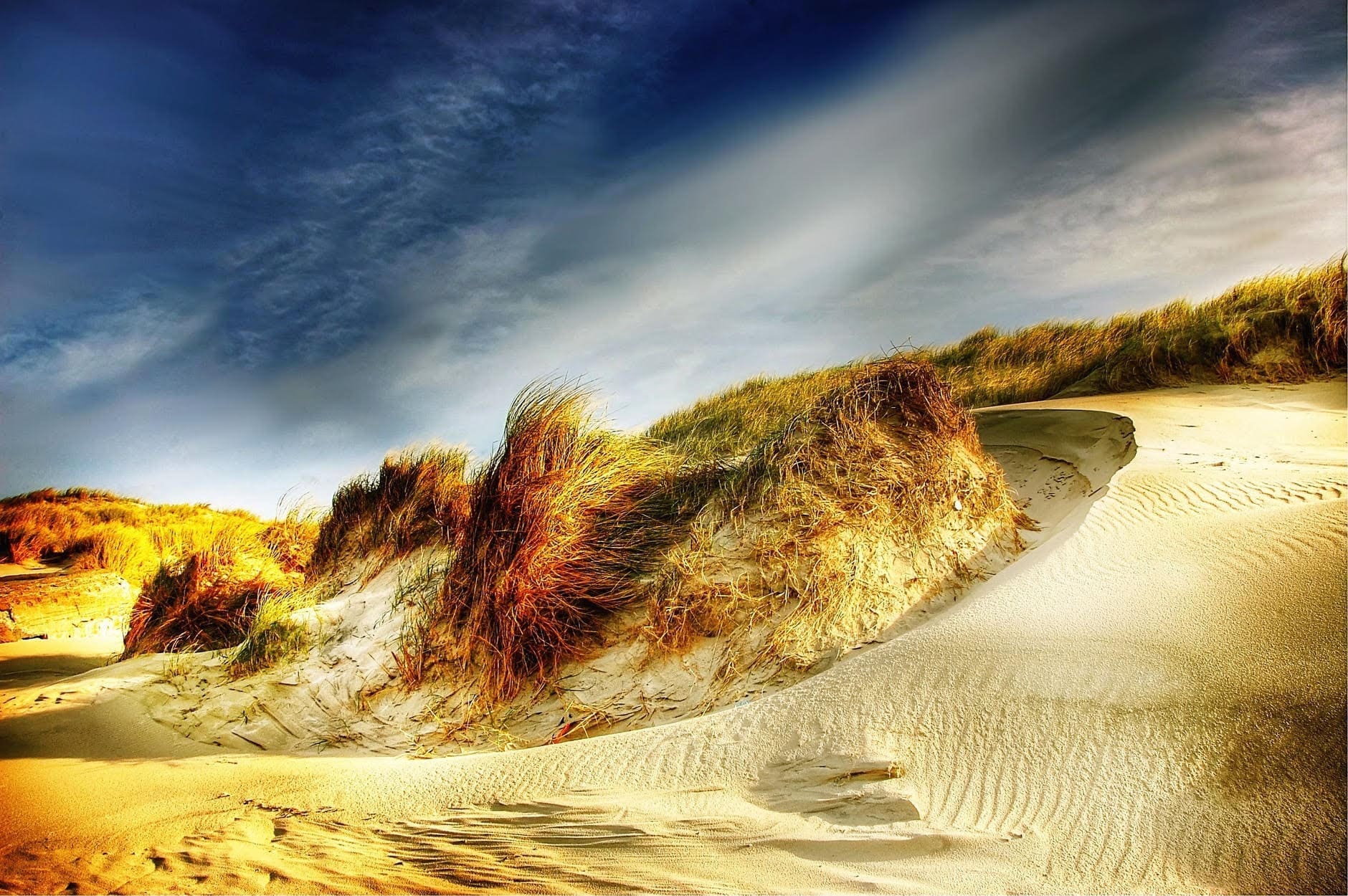 Getting Glamorous at Glamis
First things first, OMG bro, what are you going to wear? Now, this may seem a bit silly to be discussing the latest in fashion for a weekend out in the sand dunes but packing the right clothing for a weekend off-roading at Glamis Sand Dunes is super important and will leave you feeling more comfortable when you go out on rides later.
Looking back now on my first night out in Glamis I was fashionably not prepared in the least bit. I knew there would be sand everywhere, so I brought my mountain biking sunglasses that hug my face and normally keep the dust out of my eyes when I'm biking twenty miles an hour down mountain fire roads and get passed by a ranger in a pickup truck. Out here in the sand dunes of Glamis, California those sunglasses barely protected my blue eyes, and I felt like I spent a week afterward rubbing sand particles out of my corneas. When traveling to Glamis, California, especially if you have contact lenses like I do, make sure you have a well-fitting helmet with an excellent quality face mask. Bring eye drops with you for sure everywhere you go in Glamis if you have contact lenses just in case you do get sand in your eyes.
When we got out on the trails, I noticed all the other girls were wearing scarves to keep the sand out of their faces and some of the guys had Buff's covering most of their face with just their eyes visible (Under the goggles.) I highly recommend wearing a Buff covering most of your face. Bringing a lightweight scarf to wrap around your neck and shoulders helps when sand comes flying at you when out on the dunes. And of course, bring vats of sunscreen as you will be out in the hot desert sun most of the day. Bug spray is also a must-have in case the sand flies are biting.
If you are riding dirt bikes that do not belong to you or borrowing gear to ride dirt bikes, try the gear on ahead of time. Luckily, our friends brought a plethora of helmets, so we found some that fit but everyone's head is different and not having a helmet that fits correctly can lead to discomfort. The same thing is true with boots if you go out on a dirt bike ride. My boyfriend did not try on the borrowed boots to ride the dirt bikes before we arrived in Glamis and the boots were too small for his feet, so he had to ride in sneakers which makes it harder to change gears while riding a dirt bike. Check equipment and gear ahead of time to make sure you have enough gear to fit your friends and family who want to go out riding.
The law of the land… I mean sand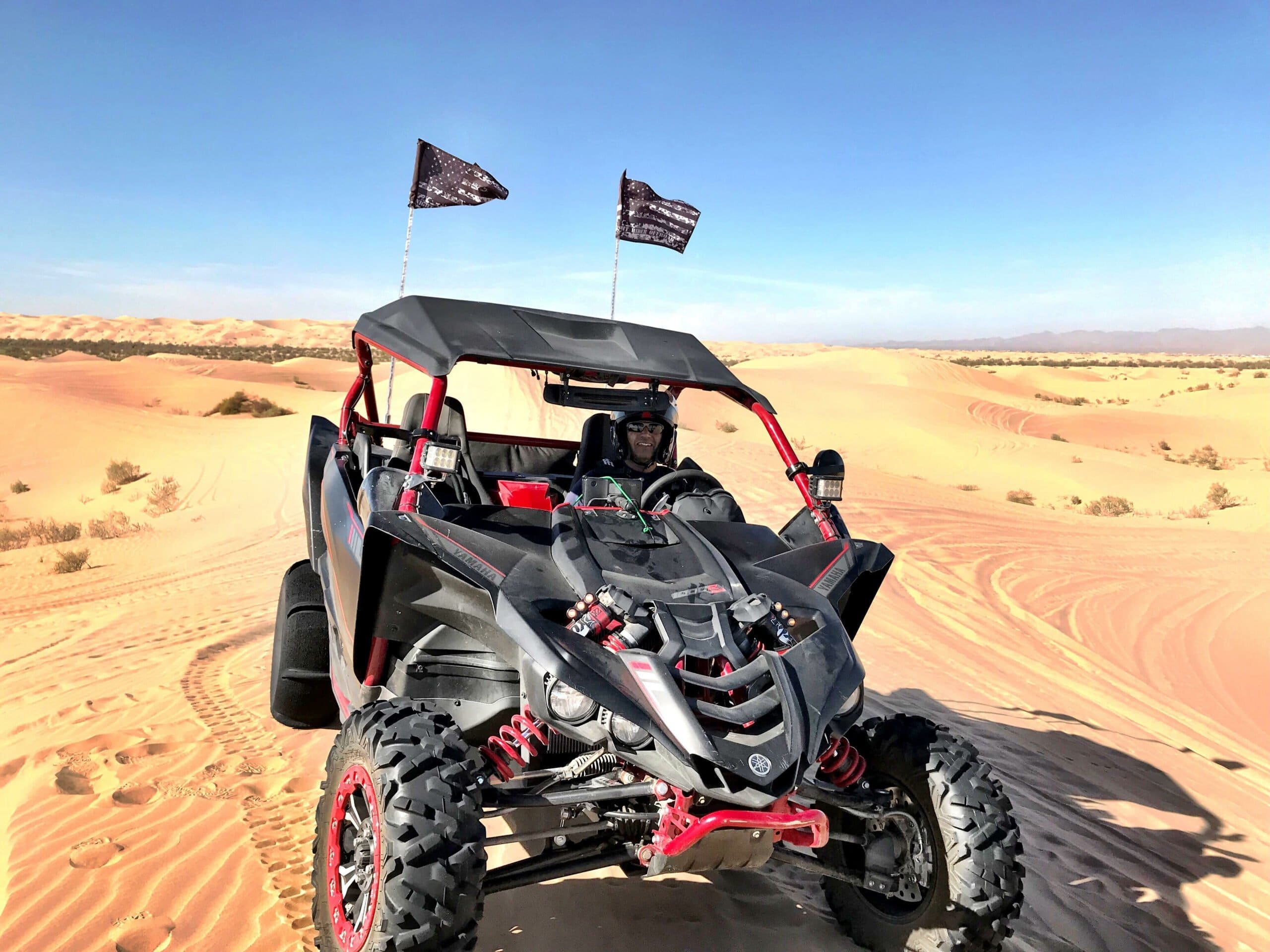 Safety is so extremely important when riding at Glamis. People are going amazingly fast on their sand rails and dune buggies out in these dunes, and unfortunately, accidents do happen. Be extra careful when out riding through the dunes of other riders coming from all directions.  While we were vacationing in Glamis this past Thanksgiving holiday, two separate major off-road accidents were reported in local newspapers of people getting badly hurt at the dunes. Riding at night is easier and safer as you can see headlights coming at you.
It's a good idea to have a first aid kit on your rides just in case something terrible happens like someone rolls a dune buggy or anyone gets hurt. I recommend bringing Alieve and Tylenol on your trip out to the sand dunes for the weekend also as you can easily get body sore if you are not used to all this being shaken around off-roading.
Group Rides
Going on a long ride with a group is a wonderful way to spend a few hours out in the Glamis Dunes. It's also a great idea for safety and to make sure if anyone gets stuck the buddy system is in place. Make sure every vehicle in the group has one person with a walkie-talkie so your group can communicate. This is super important if someone in your group gets stuck or if someone in your group "Has to tinkle", which happens quite often in a group of twenty-five people out for a long ride together. In your group of riders, find a leader who makes executive decisions for the group. As you travel over the dunes, know as many vehicles as possible in your group. There are so many different ATV's and side by sides out in the dunes sometimes it's easy to get lost from your original group on a busy holiday weekend. If someone is following you specifically on a ride, wait for them. We lost radio contact at the end of the night and were completely lost in one of the washes, and the driver we were following back to camp was going super-fast ahead of us. We had only driven the Yamaha YXZ1000 three times prior and never in the sand before, so we were the newbies of the group and slowing everyone down. It was a challenge at the tail end of a four-hour ride when we were exhausted trying to keep up with a veteran driver who was still driving super-fast as we raced back towards camp.
Don't go out with a group that is past your comfort level. Our friend in our group decided to take his dirt bike on our night ride. He was the only dirt bike we saw out on the dunes, and that should have been our first clue that this was not a good decision. He constantly fell on our ride, and the whole group ride was delayed for hours every time he went down. Three hours into the ride he was so tired and sore from falling that someone else in the group had to take over and ride his dirt bike back to camp.
Glamis with pets
I recommend not bringing your pets to Glamis for the sole reason that some people are very impolite and will race quickly through your campsite on their dirt bikes or quads and not even see your dog. Dogs are unfortunately hit every year at Glamis Dunes, and it's extremely tragic. With that said, our dog, being man's best friend, goes everywhere with us and we couldn't stand to leave her at home for the holiday weekend. We decided to bring her and just keep her in the RV with the air conditioning running most of the trip. That was the plan anyway.
If you do want to bring your favorite four-legged friend the safest way to do this is for everyone in your group to set up their RV's and fifth wheels in a tight circle so that if anyone wants to enter your "Camp" they must go slow. Even though our dogs tend to not wander, whenever we had them outside the safe confines of the RV, we left them tethered to the RV in the shade for most of the trip just in case. Except for when we took Mocha and Carly for rides in the Yamaha to visit our friends in neighboring camps.
The two dogs had a wonderful time hanging out together in the sand and the air conditioning of the RV. It's rough to be a husky in the middle of the sandy desert when it's 92 degrees outside. Luckily, I'm quite sure besides "walk" and "dog park" This husky now knows the word "air conditioning" Glamis is an extremely hot place even in November, and that's why in the middle of the day all of us (Even the dogs) relaxed inside the RV with the air conditioning running. Early morning and late afternoon it was very pleasant relaxing in the shade our circle of RV's threw, and even Mocha the Husky was not too hot. Bring lots of books, good movies, and card games with you for a weekend in Glamis for those heat of the day times when hanging out in the air conditioning of the RV is the best option.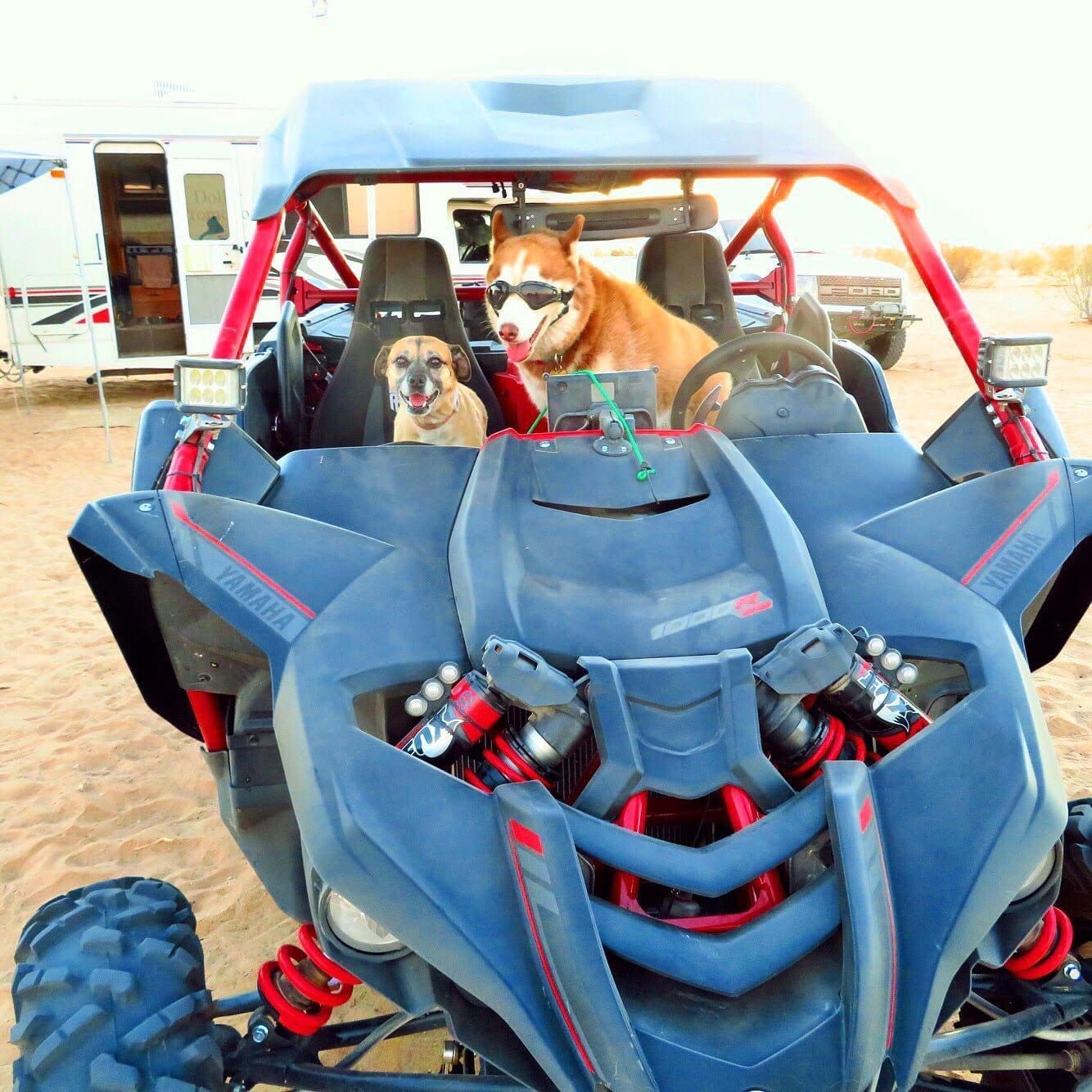 Besides worrying about how your dog will handle the heat of Glamis, the quads, dirt bikes and sand rails everywhere, one challenge I was not expecting to face was the commotion of illegal fireworks. Even though they are illegal, on big holiday weekends people in Glamis set off firecrackers. The BLM police force is super-fast to hand out tickets, but you still hear and see the fireworks none stop starting at sunset. If you leave your dog alone in the RV at night be advised that there will be loud noises and she will be terrified! Our first evening out in Glamis we had no idea about the fireworks and went out for a four-hour sunset/ night ride. It turned into a much longer ride with people getting stuck in the sand (mainly the dirt bike) and breaks to enjoy that Glamis sunset.
When we got back to our RV we only had one dog, not two and our blinds were destroyed, and our screen door was damaged by frantic, terrified paws. Our dog was so scared that she eventually jumped through the blinds, a screen window and eight feet down to safety. Luckily, she landed in the sand and did not get hurt and even more luckily someone who had stayed behind in our camp had found her. We are complete newbies to Glamis and had no idea about the fireworks and that our poor dog would be terrified while we were gone. Take my advice and if you bring your dog along on your Glamis adventure, be near her in the evenings to keep her calm when the fireworks start around sunset.
Tips for camping at Glamis
You are in the middle of the desert, and that crazy desert wind could kick up at any minute. Be prepared to bring down your RV awning in a hurry. Always check the weather before approaching Glamis to see if the wind may kick up. The wind isn't just a pain for your awning and having trash cans and camping chairs fly away but if you plan to bar-b-q outside most of your Glamis trip it is nearly impossible with sand flying through the air at forty miles an hour. Have a backup plan in case it's too windy to bar-b-q outside. If the wind is expected and you plan to go for a long ride, make sure camp chairs, trash cans, and your awning are put away or secured just in case.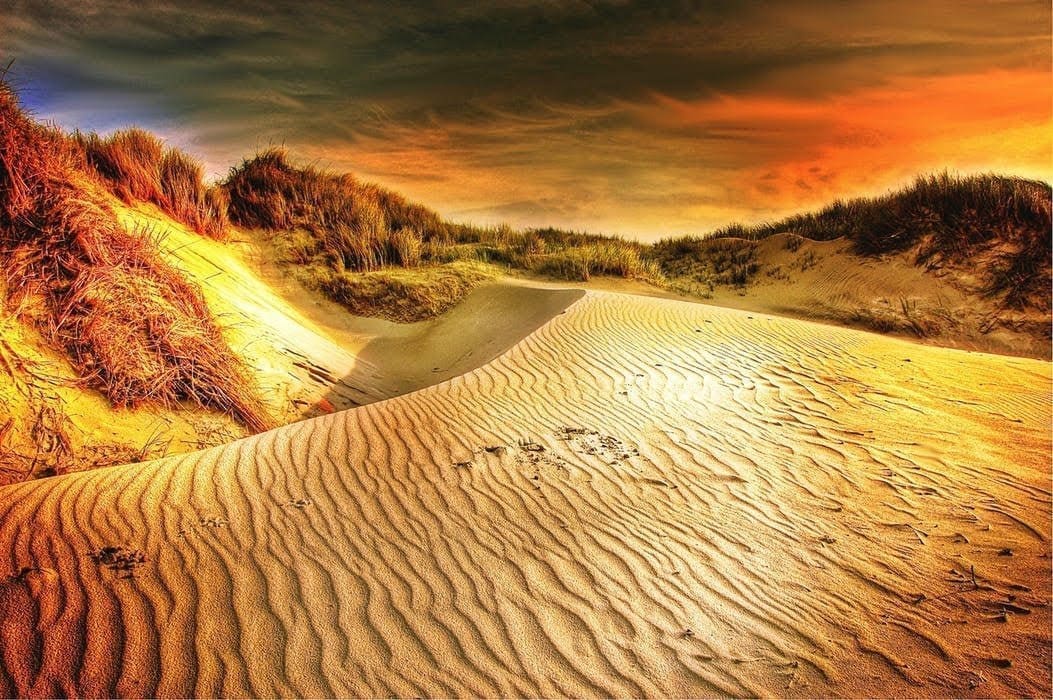 A weekend out in Glamis Sand Dunes is such a fun thing to do if you have sand toys and are local to southern California. The sand dunes are awe-inspiring out in the middle of the desert, and when you approach the Glamis Sand Dunes area on a holiday weekend, it's like a small city has sprung up here overnight between Gecko Road and Ted Kipf Road. Besides going out on group rides, BBQ'ing with good friends and having some cocktails around the campfire, I recommend watching the sunset from the top of Oldsmobile Hill. You get a magnificent view of the Imperial Valley as the sun crashes into the Pacific Ocean 220 miles to the west.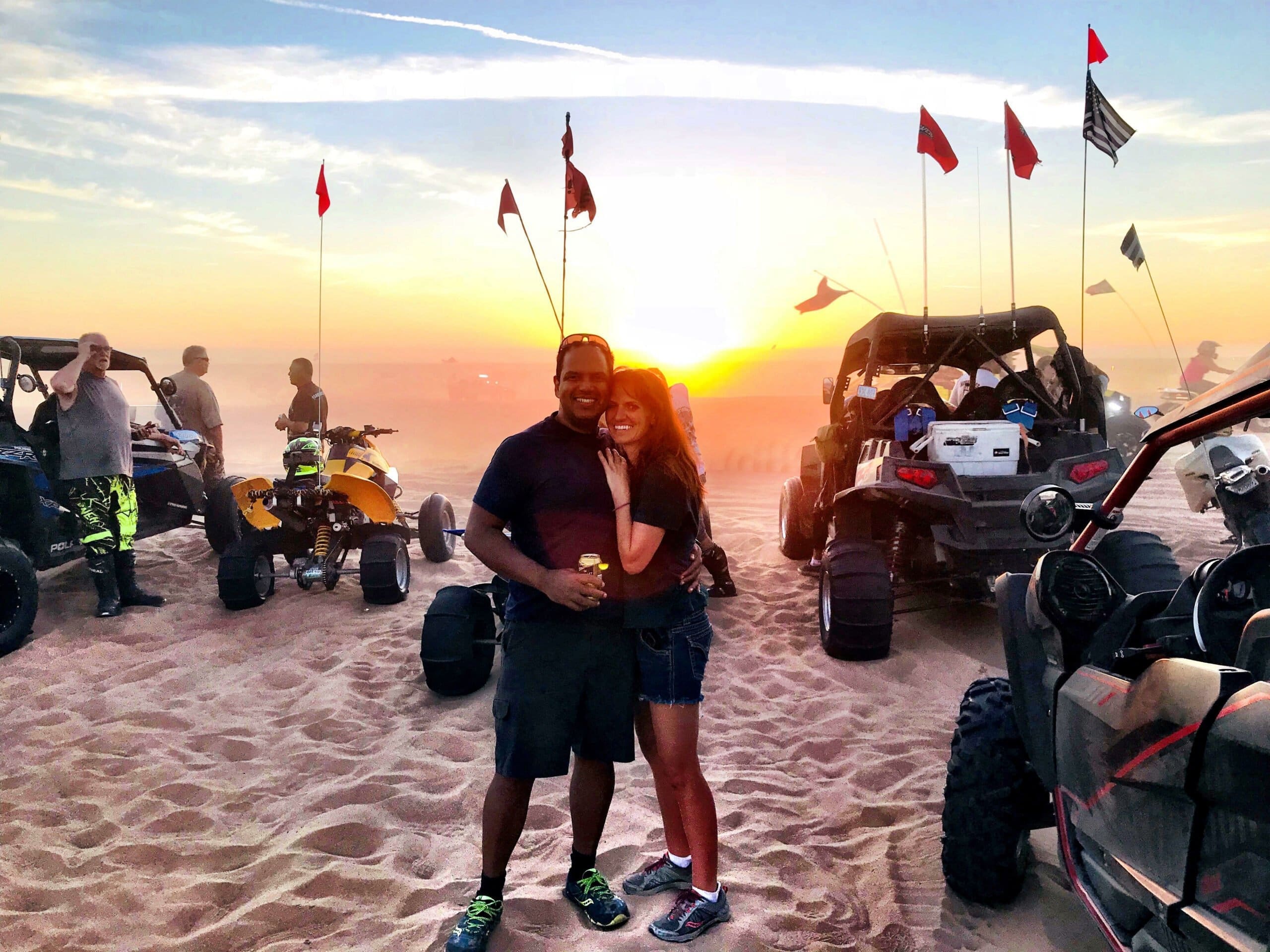 Thanksgiving weekend at Glamis Dunes in the Imperial Desert was a super fun way to spend a long holiday weekend, and for us, it took us out of our comfort zone and into the world of sand dunes, dune buggies, and off road and trails.
Pin It!