Snowmobile Colorado
In the past couple of years, we've had the opportunity to enjoy a lot of Colorado's adventure sports. We're in love with the endless number of options we have to opt outside for fitness, adventure, and entertainment. The first time we went snowmobiling, we had an absolute blast! The tour company we chose was Nova Guides, who have an extensive selection of outdoor activities!      
Rocky Mountain Snowmobile Tours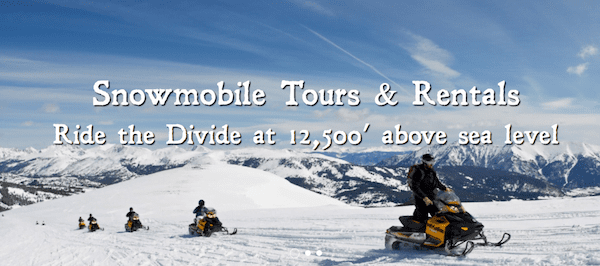 The snowmobile tours include door to door transportation from areas in the Vail Valley between Avon, Beaver Creek, and Vail. When you get there, the staff at Nova Guides will get you fitted with the right sized helmet, and they have some snowsuits and boots if you don't have your own. They do not provide goggles, or any other accessories like hats, gloves, or neck gators, so be sure to bring your own. The air can get pretty cold when you're speeding through elevated mountain winds, so be sure to layer up, and dress appropriately for the weather on the day of your adventure.
Snowmobile Gear
At a bare minimum, you need good boots, snow pants, and a snow jacket with goggles, gloves, and I highly recommend a neck gaiter that can cover up your ears and mouth, if not your whole head. You can always pull it down if it gets too warm, and you'll be good to go if the winter winds start to nip at your face. I made the mistake of forgetting my neck gaiter at home, and we happened to hit a decent snowstorm as we made it to the top. My whole face was feeling the freeze, but it was my first time on a snowmobile at the top of the mountain, so I didn't mind!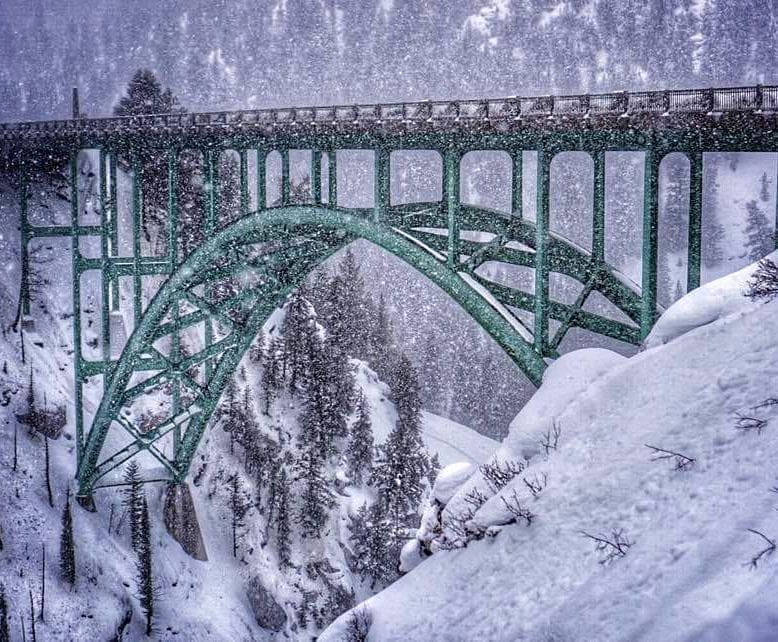 Camp Hale Lodge is surrounded by the White River National Forest and is considered a National Historic Site. The drive out is a beautiful one, along Highway 24. It's recommended you follow the specific directions on the Nova Guide website instead of using GPS. Otherwise, you'll end up too far south. If you're coming from the Vail Valley area, you'll get the chance to stop and marvel at this incredible bridge, among many other beautiful views of the canyon.
Once you arrive and make your way inside you can expect to be greeted by a very energetic and hospitable staff, eager to get everyone ready for their big adventure. Once you've got your helmet, you'll head outside to mount on your brand new Ski-Doo Snowmobile. Single riders get to feel the power of the four-stroke MXZ Sport 600, and double riders go out on the Grand Touring Sport 600. Then, when everyone is ready, you will be given a rider operating and safety course, and then you're off to explore the top of the Colorado Rockies! 
Snowmobiling in the Rockies
I chose the Top of the Rockies Snowmobile Tour because I wanted to go camping at Hale. This is where the 10th Mountain Division, and several other military groups, trained specifically for winter weather warfare on mountainous terrain. The idea of sharing the same land on a snowmobile as our nation's soldiers, who had trained and fought in World War II, was an instant draw for me. I will admit, I did let my imagination loose on the tour, suddenly escaping into a story of espionage and evasive maneuvers reminiscent of several James Bond scenes I still have floating around my subconscious. If the other people enjoying the tour had been able to see inside my action fantasy, I believe it would have been like watching a Calvin and Hobbes comic play out around them.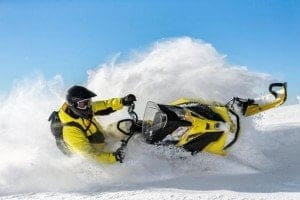 The group of tourists had quickly become a group of highly important scientists who I had just rescued from their recent kidnapping and imprisonment on a top secret military base in the Rocky Mountains. I had already broken them out of the base and was escorting them to the extraction point when we were ambushed. We were outnumbered and overpowered, but being the suave secret agent I am, I managed to evade death and capture from chasing enemy forces. I neutralized all targets, and we made it to the extraction point with only a few wounded, and no casualties. It was a successful mission, and I was watching the chopper land on the mountainside as the gusts of wind from the propellers bitterly whipped fresh snow powder into my face when I snapped back into the real world.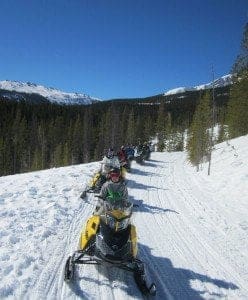 Our tour group had made it to the top, and it was time for some pictures. It was a frigid day when we went, and it was snowing so there wasn't much visibility at the top. The winds were whipping fresh snow in our faces as we all took selfies and then took turns taking each other's photos to capture the memory of our exploration. On the way back the ride was much faster as we all sped down the mountain, although I'm not sure we all wanted the tour to be over with just yet. Although lunch is included in both the morning half day and full day options, my wife and I chose the afternoon half day which does not. Even though we didn't get to the try the Nova Guides lunch, we had a thrilling ride on those Ski-Doos! By the time we returned, my face felt frozen, and I felt very alive with excitement.
Nova Guides Snowmobile Tours
After experiencing the Nova Guides treatment, I would go back, and I would highly recommend snowmobiling in general. It's like riding a motorcycle through the snow, on top of a mountain! Who wouldn't want to do that!? When you do go, remember to dress appropriately, pay attention to your guide, and maybe allow your imagination to run wild! Whatever you do, have as much fun as possible! Happy exploring!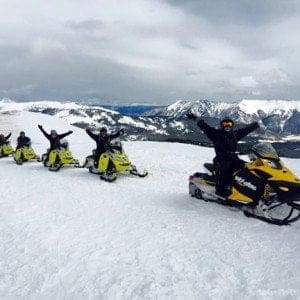 (All photos compliments of Nova Guides)
What snowmobile tours have you done, or would you recommend? We'd love to hear about your snowmobile Colorado Rockies adventure – Leave a comment below.