It's not very often you have a single trail that includes so much variety and so much to experience in one adventure. Queens Bath lets you explore the rugged terrain, small waterfalls, creek crossing, challenging terrain, and beautiful oceanfront all in a single 1.3km or so trail (There and back).
Be careful
I don't usually start a hike/trail with a warning, but it bears repeating. This trail and the activity of swimming in the pool do come with risks. The path is often very slippery, rocky, muddy, and heavily "rooted" – easy to twist an ankle, slip and fall or slide and break a bone. Beyond this, the actual pool itself has an entire ocean at its back, and it's vital that you visit during low tide and NEVER stand up against the sea or have your back against it.
Swimming at Queens Bath
If you plan on swimming, please be sure to only swim at LOW TIDE.  High tide is when the bath is re-filled, and massive waves wash over the lava. It can be extremely dangerous during high tide. Swim at your own risk.
What time to visit?
Arrive early in the morning or later in the evening. During the heat of the afternoon, the lava shelf can get extremely hot.
**NOTE** There have been multiple fatalities in Queens Bath. The ocean is unforgiving, and it is up to you to be safe. Please heed all safety and warning signs and respect trail closures.
What to bring
This trail is a dangerous trail. You're walking down steep descents, crossing rooted & muddy paths, and trekking over an ancient lava flow. Be prepared, and you will enjoy your hike and experience.
Sunscreen – Wear lots of sunscreen and sun-protective wear. The ocean reflects a lot of light at you, and it's incredibly easy to get sunburned quickly! I recommend coral safe sunscreens.
Shoes – water shoes such as Keen work great. The trail starts extremely muddy in some sections and is walking along ancient lava flows in others. I wouldn't recommend normal flip flips because of this.
Hiking Poles – Because the trail is so rooted and uneven, hiking poles can be a real advantage here. I may recommend using one pole, and one free hand vs. using two since having a hand free may be helpful. Check out our Hiking Pole Guide for all the details on them.
Nutrition – Bring plenty of water, sunscreen, and snacks. The lava flows get hot during the day, and you will get parched whether you're swimming or walking about.
Camera – You will want to capture photos! If you plan on snorkeling bring a waterproof action camera such as a GoPro
Snorkeling – If you plan on snorkeling in the pool, I recommend you bring a snorkel and mask. Leave your fins at home, they're not needed while swimming in the pool.
You can rent snorkeling gear on the island or purchase it online. It's an extremely affordable thing to do either way.
Queens Bath Weather & Tides
Check the weather and the tides – especially if you plan to swim or snorkel.  I would advise against hiking the trail if it has recently rained or will rain.
Trailhead
Arrive early, parking at trailhead fills up quick. If the car park is full, do NOT park in the neighborhood or you will be towed. Park up at the golf resort and hike in.  I do not recommend just sitting there idling your engine for a while to park. You annoy everyone who must drive around you or the houses nearby that must listen and see and see the traffic jam. Treading lightly is also treating neighbors with respect. The trail entry is in the middle of a neighborhood.
Queens Bath Trailhead Parking
The trail may be gated with a big warning sign. Read and heed the warnings. If the gate is locked there really isn't much to keep you out as you just follow the trail around it.
Queens Bath Trail
Queen's bath trail is a difficult trail with the quality of the trail entirely depending on the weather that winds itself down through to the lava cliffs of Kauai.  Queen's bath is an appropriately named inlet that looks like a giant bathtub that you can explore and snorkel in.
The trail starts out on what can be a muddy and slippery slope. Depending on which section is open/cleared, if you start the trail after a morning rain shower then be prepared to wipe out on the slick mud or try and use some of the vines and plants to help give yourself stability.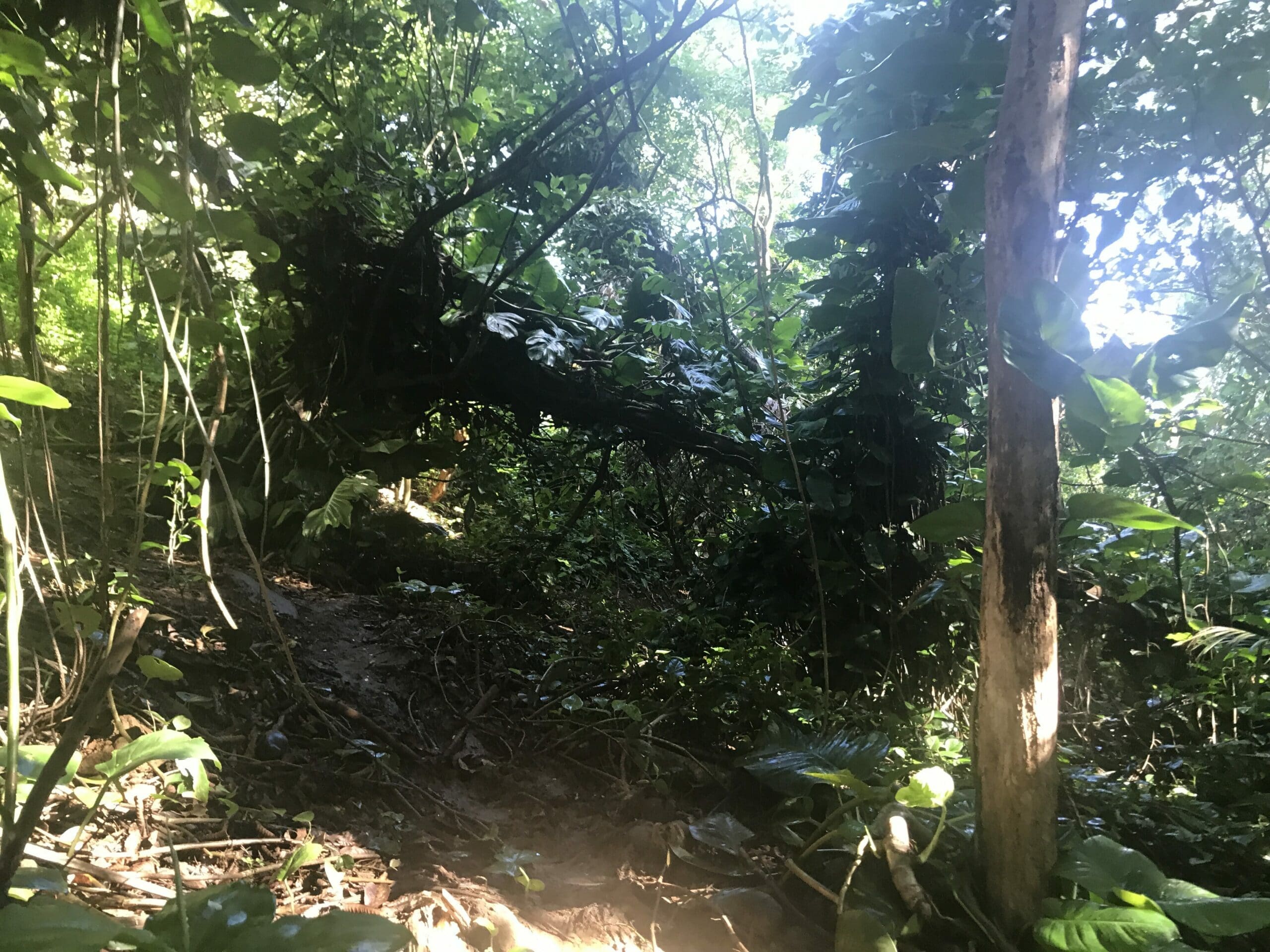 Once down the immediate entrance, the trail is just a "Washer board" trail – the only thing holding it together is its roots, and the roots are gnarly.  Wear shoes that can get muddy, give you traction, and are comfortable. You will be turning them red-orange and covering them in the mud unless you happen upon an arid day of hiking.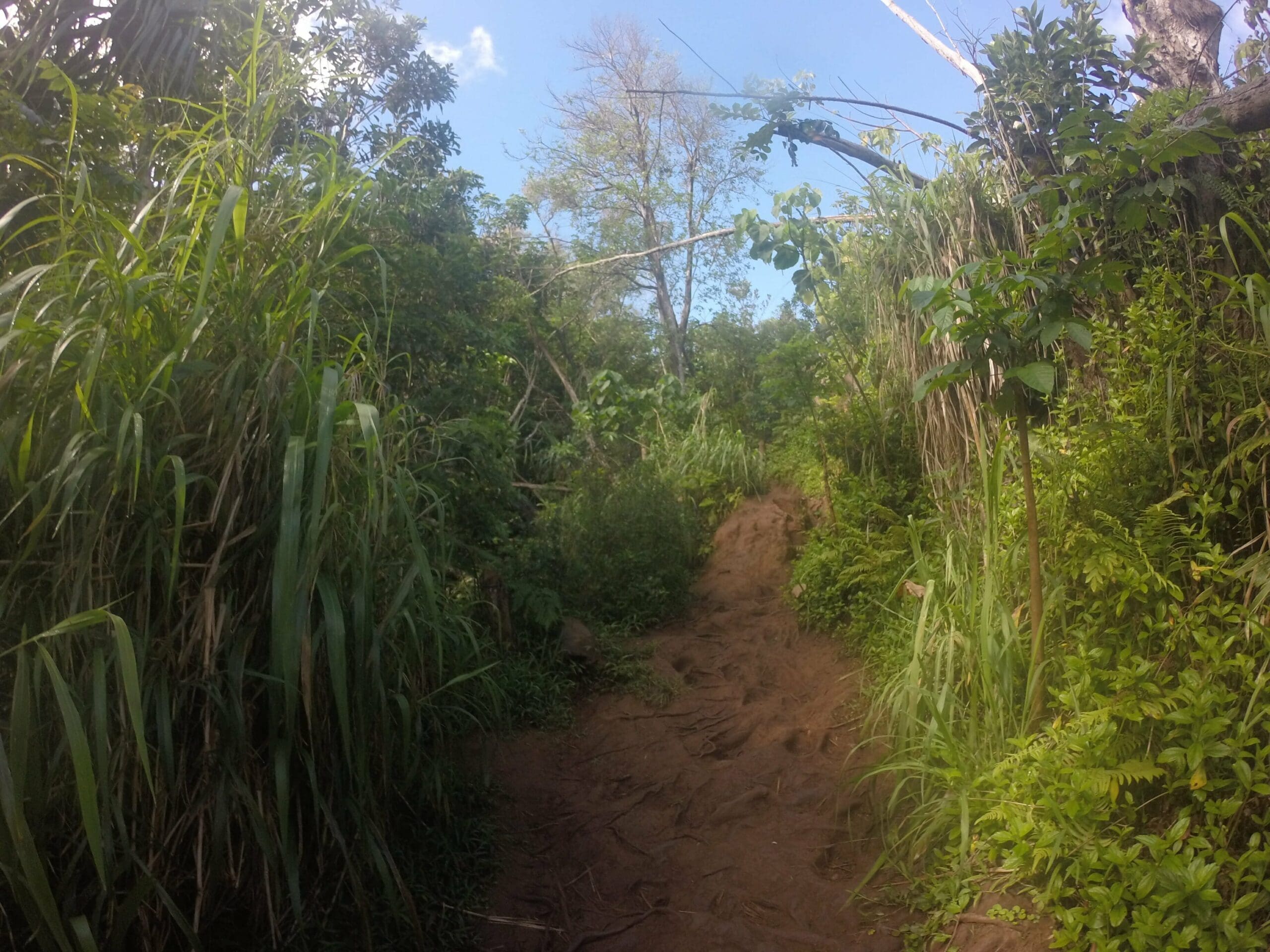 I can't speak to the ruts and roots enough. It's about a kilometer of navigating them so be prepared!
Kauai Waterfalls
About halfway down the trail, you will come across some small waterfalls. I'm not sure if these are named or not. There are places on the path that you can pull over and get out of the way to sit and relax or take photos of the small falls. Here is one waterfall as seen from the upper section.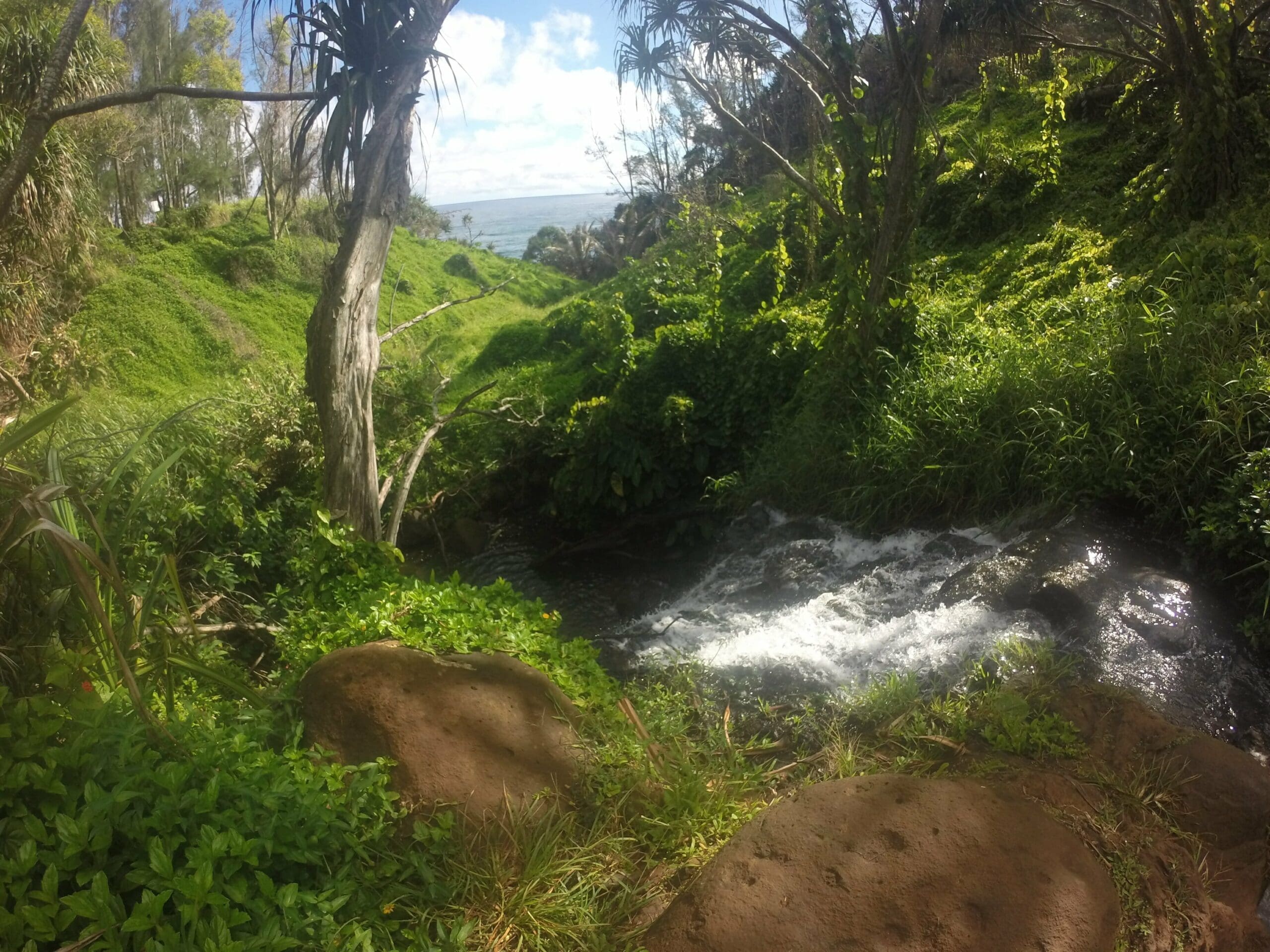 From the photo above, you can see the ocean start to appear. The "rutted" / rooted trail isn't much longer from this point, but it does have some steep spots that you may have to climb down backward, on or over downed trees.   Looking from this vantage point, you would take a left once you hit the beach to make it to the Queens Bath pool.
What are all these Pineapple looking plants in the trees?
Along the ocean, you may see some of these plants that look like big pineapples in the trees.  These aren't pineapples growing in a big tree but are "Hala Plants."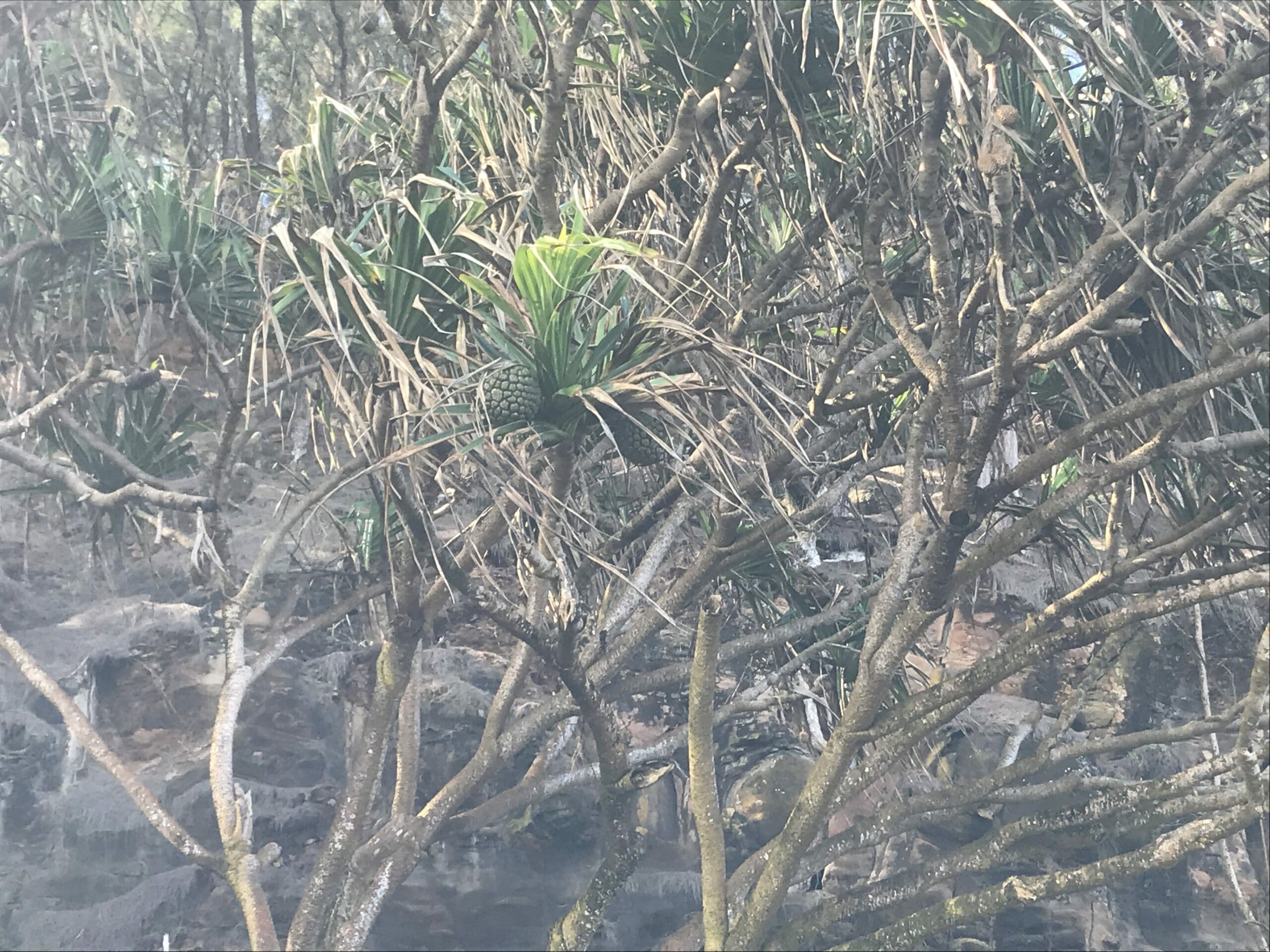 Hala Plants are essential in Hawaiin history since the leaves were used in woven materials, the dried-out Hala plant segments were used as paintbrushes, and the fruits are super nutritious.  These plants were everywhere along the trail and ocean cliffs.
You will hike (and climb, depending on downed trees and such) through a Hola grove and notice their fascinating roots as well.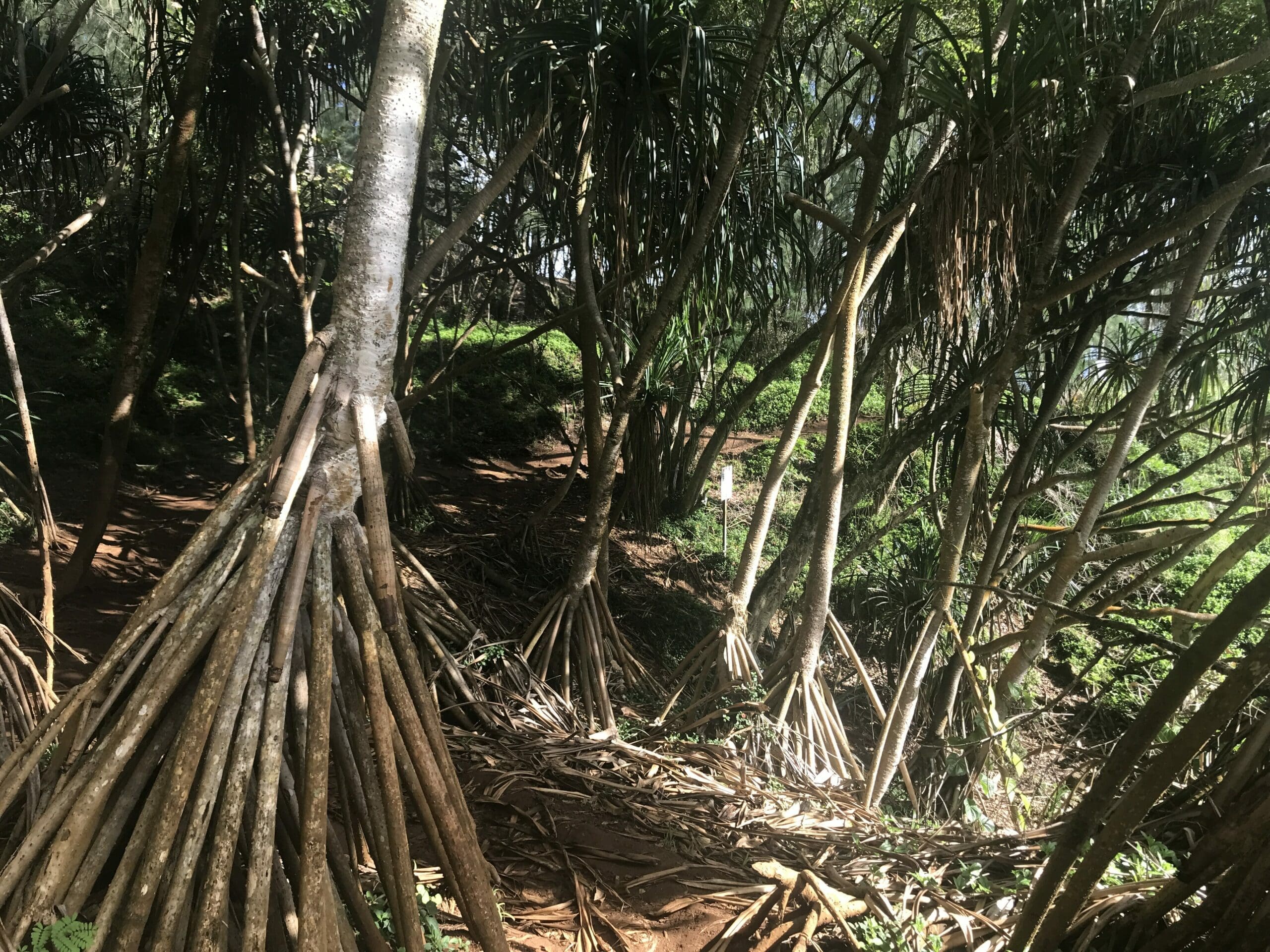 Once you clear these Hola groves, the ocean will open into full view.
Ocean View
Here you will want to head left – there is no more real trail at this point. Safely navigate across the lava field.  One hint is to look out along the lava flow you, and you will see some poles sticking up that may or may not have warning signs on them – if you follow this poles that is the best route to Queens Bath. Do not ever turn your back against the ocean and do NOT get close to the cliff faces.  Rogue waves can happen and do happen at any time.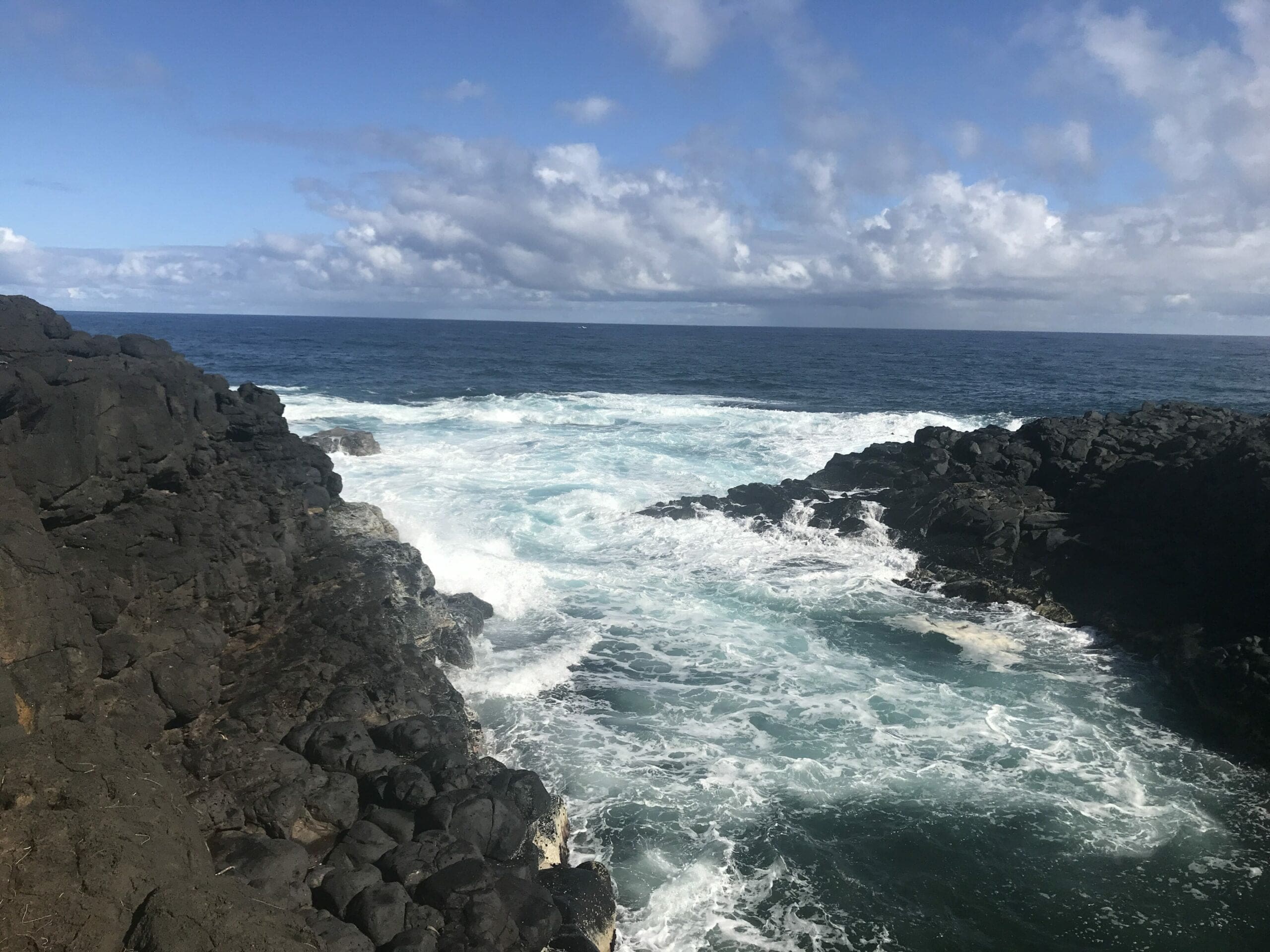 As you hike along you will see this pool – this is *not* queens' bath. Do NOT swim here. Just enjoy the waterfall into the ocean and look out for turtles. We saw a lot of huge sea turtles swimming in the mouth of this pool.
Once you pass this pool as you head north, be sure to look back – you will see the waterfall into the ocean. Such a beautiful view!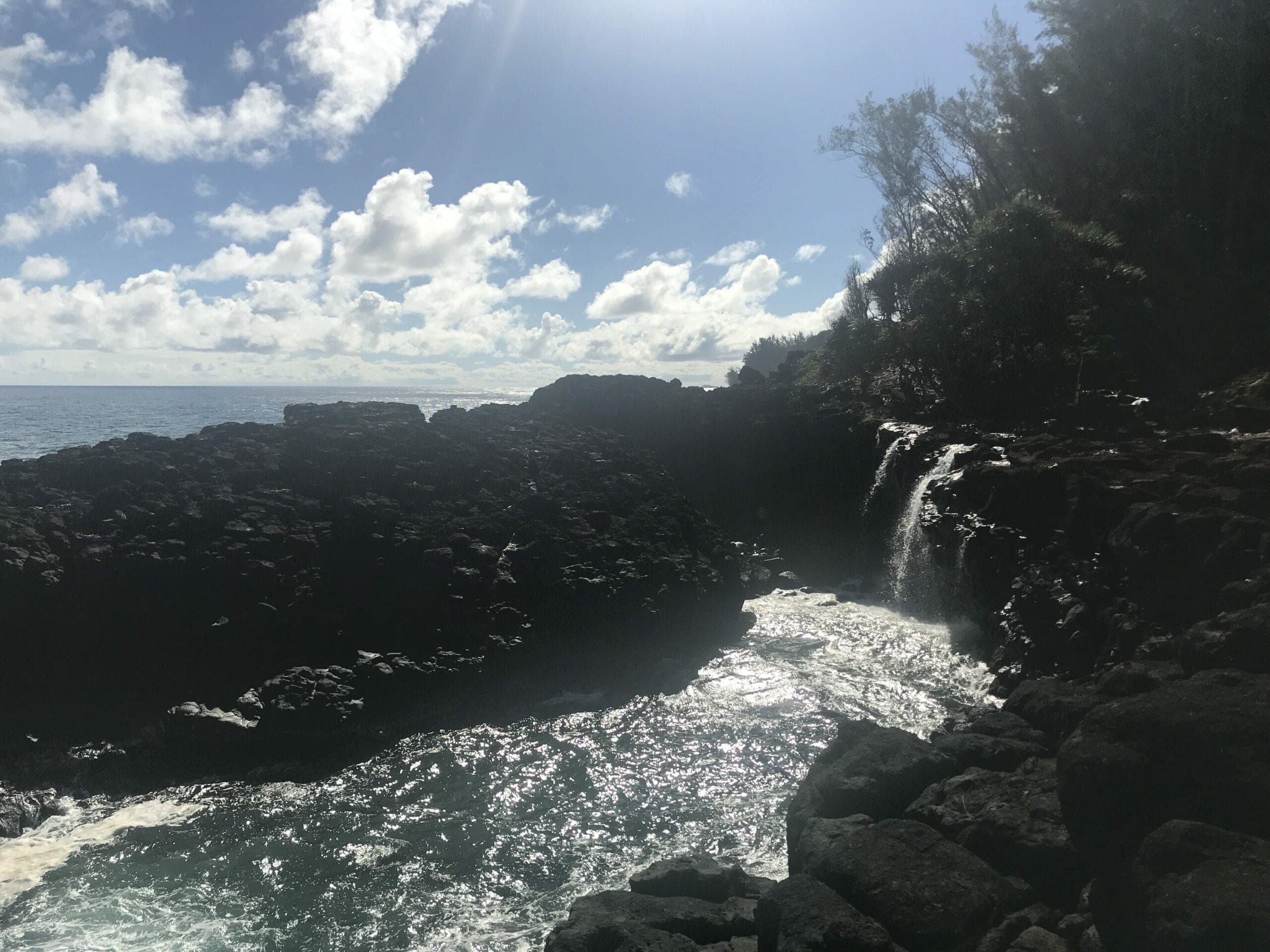 Queens Bath Pool
While this pool is known as the Queen's bath, it is, unfortunately, not the real "Queens bath." The real queen's bath is along a river on the way to secret falls. We'll share a post about that soon. I'm not sure how/why this got the same name, but the Queen of Hawaii bathed in a freshwater bath not here.
You will know you're at queen's bath pool when you see people swimming. It's also MUCH tamer than the prior basins and inlets you may have passed on the way here. The pool is fed more gently by waves crashing over the lava rather than an entirely open face directly to the ocean.
The view from here is beautiful! I felt like I was transported back 250 million years to the time of dinosaurs as I looked out over the ocean into the distant jungle and tropical cliffs and mountains.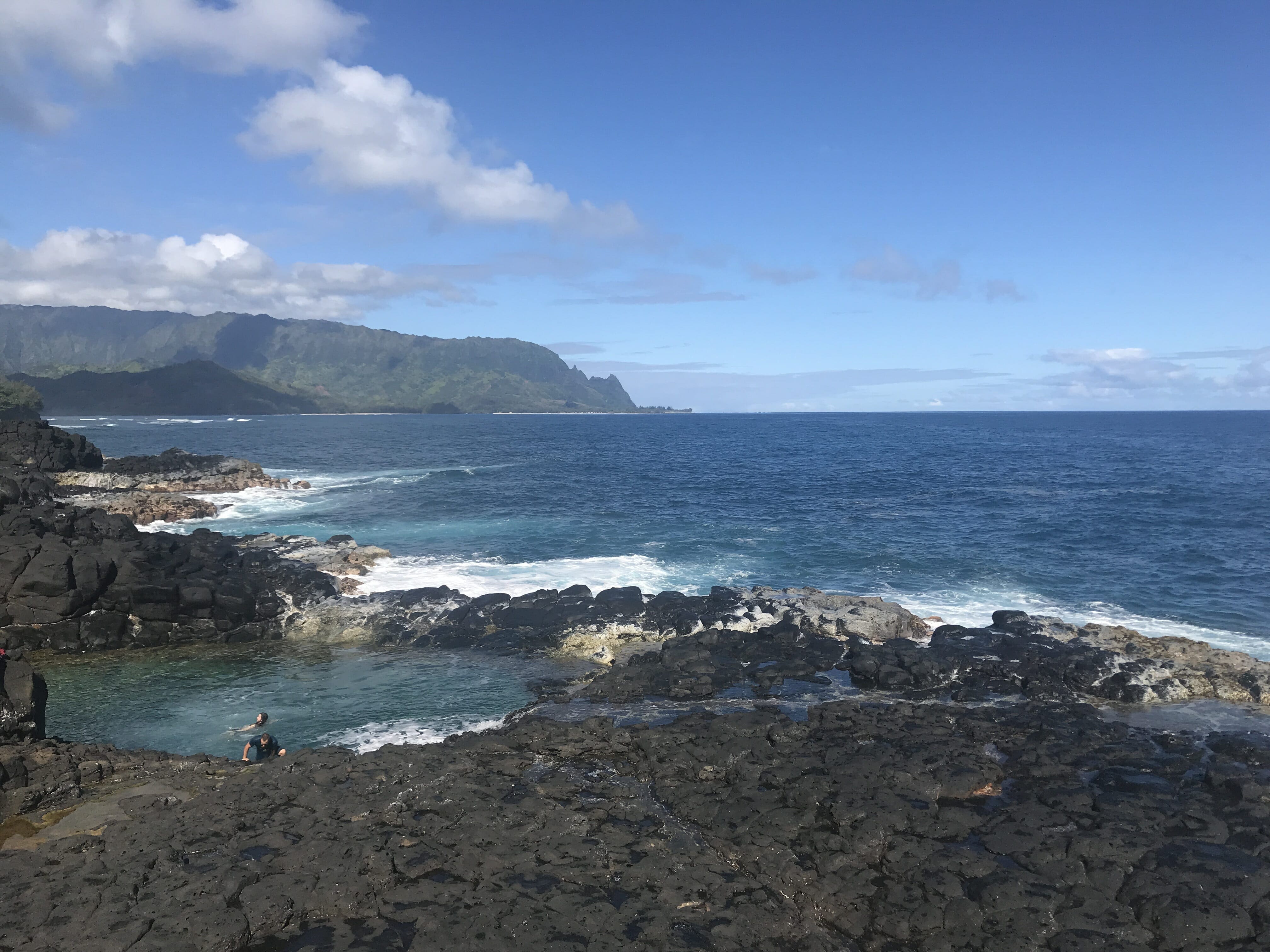 While you're at Queen's bath – never climb or stand on the rocks along the ocean.
Snorkeling at Queens Bath
What an awesome experience! There is so much variety of life in this small pool. Fish of all sizes, sea urchins and crabs swimming and crawling all around. I was surprised by the abundance of life in a single pool. It really has its own ecosystem there!
Here is some footage of the fish & wildlife in the pool – I was surprised how many fish were in the little pool.  Sorry about the shaky cam, we'll try and upload a smoothed-out video shortly.
Warning
It bears repeating over and over – do NOT stand on the lava section at the front of the pool and especially never face your back to the ocean. During low tide, rogue waves can wash over you or wash you away.
Wrap Up
For someone who spends most of his life hiking around Texas with some adventures to the Rockies, I was impressed by the experience of this trail.
The trail is crazy at times, but the views and experiences are priceless. Watch sea turtles swim around, capture the schools of fish and urchins in the pools or marvel at all the tropical plants along the trail. It's unfamiliar, beautiful, and jaw-dropping.
I did this trail multiple times during our stay in Kauai, and once we had figured out a good route, we did bring the entire family down. The kids enjoyed the views and loved swimming but hated the trail. Traffic on the trail is high. Expect lots of people coming and going.
Pin it!