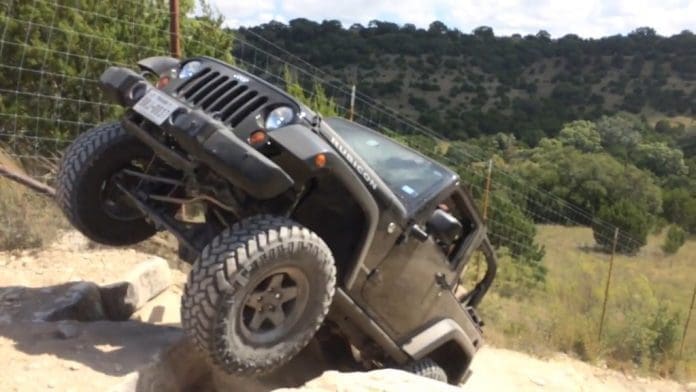 September 23rd, 2017 marks the day of our maiden off-road voyage with our new Jeep JK with a trip to our local off-road stomping ground Hidden Falls Adventure Park. Hidden Falls Adventure Park is a 4×4/off-road park for vehicles of all types, makes and capabilities and offers miles of varying terrains of all difficulties – add in the Texas weather, and even the beginner trails can provide a vast adventure!
Hidden Falls Adventure Park
Phone: 

(830) 798-9820

Address: 

7030 E Fm 1431, Marble Falls, TX 78654
Arriving at Hidden Falls Adventure Park
We adventured off to meetup up and check-in at 9:00 am.  Upon arrival to the park, you just bring your license plate number, the registration fee ($25 bucks per driver and a separate charge for passengers for day use) a quick waiver signature and off you go.  The registration staff was super friendly, and they had three windows open getting people in and out super quick.  Yes, they accept credit card so no need to find cash – just find fuel before you get out there.
Once you have checked in, the friendly staff give you a Park Map and a Mirror Hanger to hang on your mirror.
Before we headed off to the trails, our entire group dropped our tire pressure down to ~20-25psi.  The lower tire pressure seems to help grip the sandstone and handle the bumps smoother (some people go even lower PSI). A tire deflation device is a time saver (see the gear guide below).
Hidden Falls Adventure Park Map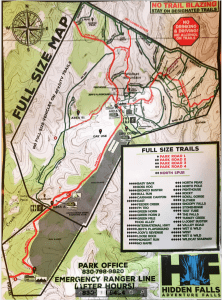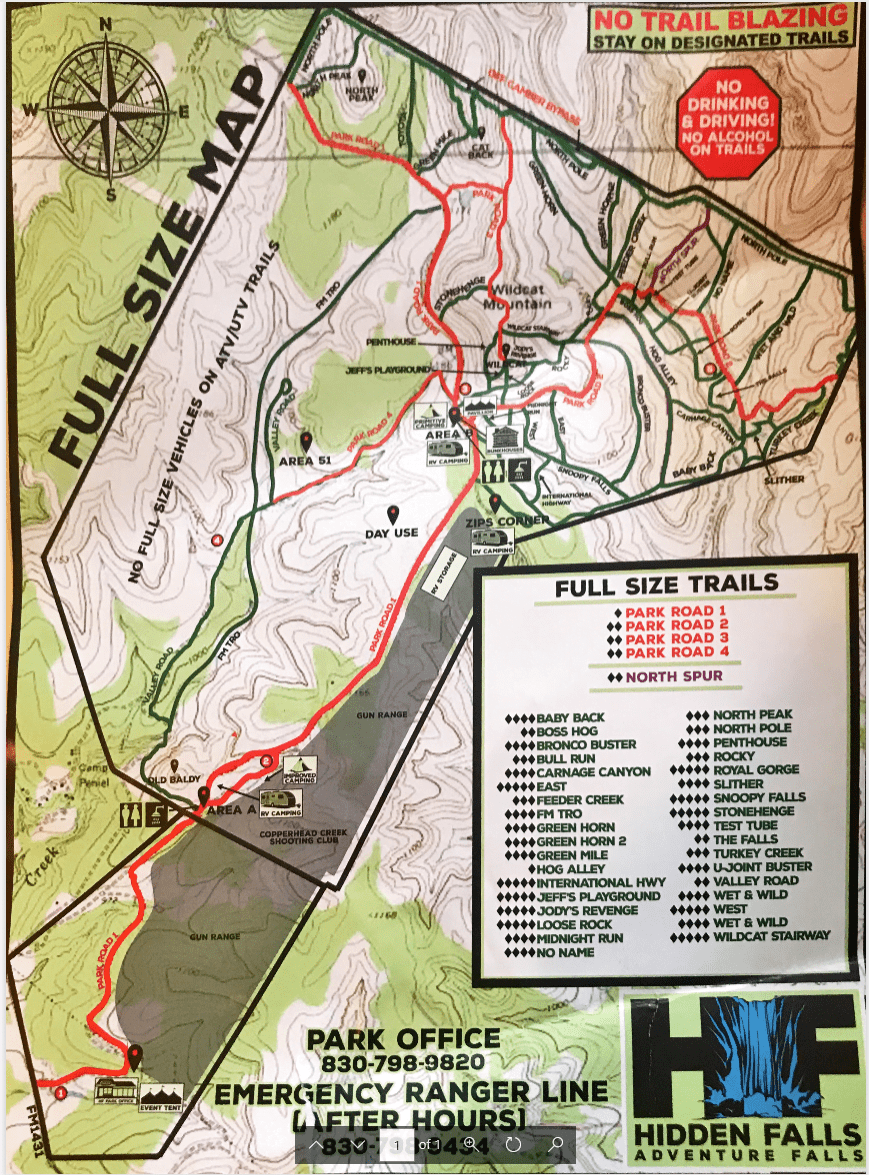 The park map is detailed enough for most to get around and the star rating is pretty spot on for trail difficulties. My advice is if you don't know or don't have a group to ride with, ask the friendly people at check-in what they recommend and stick to it.
Exploring Hidden Falls Adventure Park
Being my first time out, I appreciated that I drove with a group aware of the park. I was honestly blissfully unaware of any direction or where we were, and this was great since I was just getting used to my new Jeep and able to have fun and follow around with experienced drivers. If it is your first time out as well, I can't recommend it enough to have an experienced driver lead the way – it can be easy to get lost as trail markers can be down/hidden/easy to miss if they've recently re-groomed.
Novice Trails
I can only speak to the novice trails for this particular trip. My jeep is bone stock Sahara JK and did fantastically. We started out following the "fire road" type road to the north-east and warmed up driving up and down a few of these vertical climbs.  Got the following video of me going up and around:
Here I am stretching out my legs and leaning over.
Time-lapse with some cheesy music as I experiment with GoPro Quik
Difficult Trails
Here are some videos of some friends trying some more difficult sections.  My Stock jeep would never have made it up there but was fun to watch a Rubicon and Toyota give it a run.
A friend jumps over the ledge in his Rubicon with 35″ tires and 2.5″ lift. Fun little horn honk at the end 🙂
What to bring?
Water
Snacks
Full tank of gas (gas stations are a few miles away)
Sunglasses
Sunscreen
Tire deflation gauge
Tire pressure gauge
Spare tire (don't leave it at home!)
Camera
Tow strap or winch
I can't speak to water enough. In the summer and hotter days, its blistering out there on the dry, dusty sandstone trails. Oh, did I mention it gets exceptionally dusty up there? If you do come before/after/during rain, the sandstone does turn into a mushy play-dough consistency that builds up in your wheel wells so choose your days wisely and be prepared!
Be careful with camera gear on the trails – it gets severely dusty/muddy depending on the weather and while your out on the trails your number one focus should be on having fun and focusing on the trail. Get good shots and have fun with the GoPro but be safe! (and don't let technical difficulties with gear ruin your day!)
Jeep Gear
If you choose to do some of the more technical climbs/challenges my recommendation would be to ensure you have rock sliders at a minimum. These "nerf bars" will save your side panels and undercarriage from the inevitable bumps and bruises as you cross rocks/channels/washouts. Choose sliders that are attached to your vehicle frame.
If you're looking to make 3-star trails and above adding control arm and differential armor is my next recommendation. The sandstone and dirt can be slippery on traction, and when you do get traction, your jeep loves to travel in a lateral movement and if your luck is just like our luck when your line fails you usually land on your control arms or differential.  These are very economical armor options to add and from experience shared by fellow Jeep owners a sound investment.
The more advanced 4 and 5-star tails I would recommend a 2.5″ lift and 33″ tires or higher – not because it looks incredible but because you need the clearance. Several people in our group also used their locking differentials when attempting these more difficult trails.
We did bust out the tow strap when one of our vehicles got stuck on a tree stump, so don't leave that at home!
Related Gear
Hidden Falls Amenities
The park provides clean restrooms, camping facilities, parking areas for those who trailer in bikes/vehicles and compressed air to re-fill tires if you drop down a few lbs.
Wrap Up
I enjoyed my Saturday morning/afternoon at the park. Got to play around on some trails of varying difficulty, watched some friends do some challenges my stock Jeep just wouldn't do and finished up the day with a fantastic lunch and pie over at Blue Bonnet Café in Marble Falls.  As if the day couldn't get any better we were invited out for some time boating on Lake Travis. What an awesome weekend it was.
Hidden Falls Adventure park was a great time. If you're in the Austin area and are looking to go out for a trip feel free to reach out, always looking for group rides and this park is a fun one to play around.
I'll update this post with some time-lapse video soon to show more of the trails & park.