Ever since my first trip to the mountains as a kid I've dreamed of hiking to the top and experiencing the mountains on foot. It wasn't until July of 2018 that the opportunity came about when we decided to make a one week stop to Breckenridge on our family vacation and conquer Quandary Peak and visit one of our favorite mountain towns – Breckenridge Colorado.
Quandary Mountain
Mt Quandary is the tallest mountain in Colorado's 10-mile range located about 9 miles from the city of Breckenridge.
Summit: 14250 feet
Elevation Gain: 3450 feet

Difficulty:

Very Hard

Summary:

~6.7 miles round trip · estimated 6 hours (my trip was 8 miles!)

Main Season:

June to October – (Otherwise snowshoes & appropriate gear)
Quandary Peak Trail
Directions to quandary peak trail:
Parking is available in several parking spots off the road as well as along the road leading up to the trailhead itself.
Hiking Quandary Mountain
Immediately upon setting foot on the trail, you begin your climb. The trail is beautifully maintained and well-marked for the lower sections, it's impossible to get lost.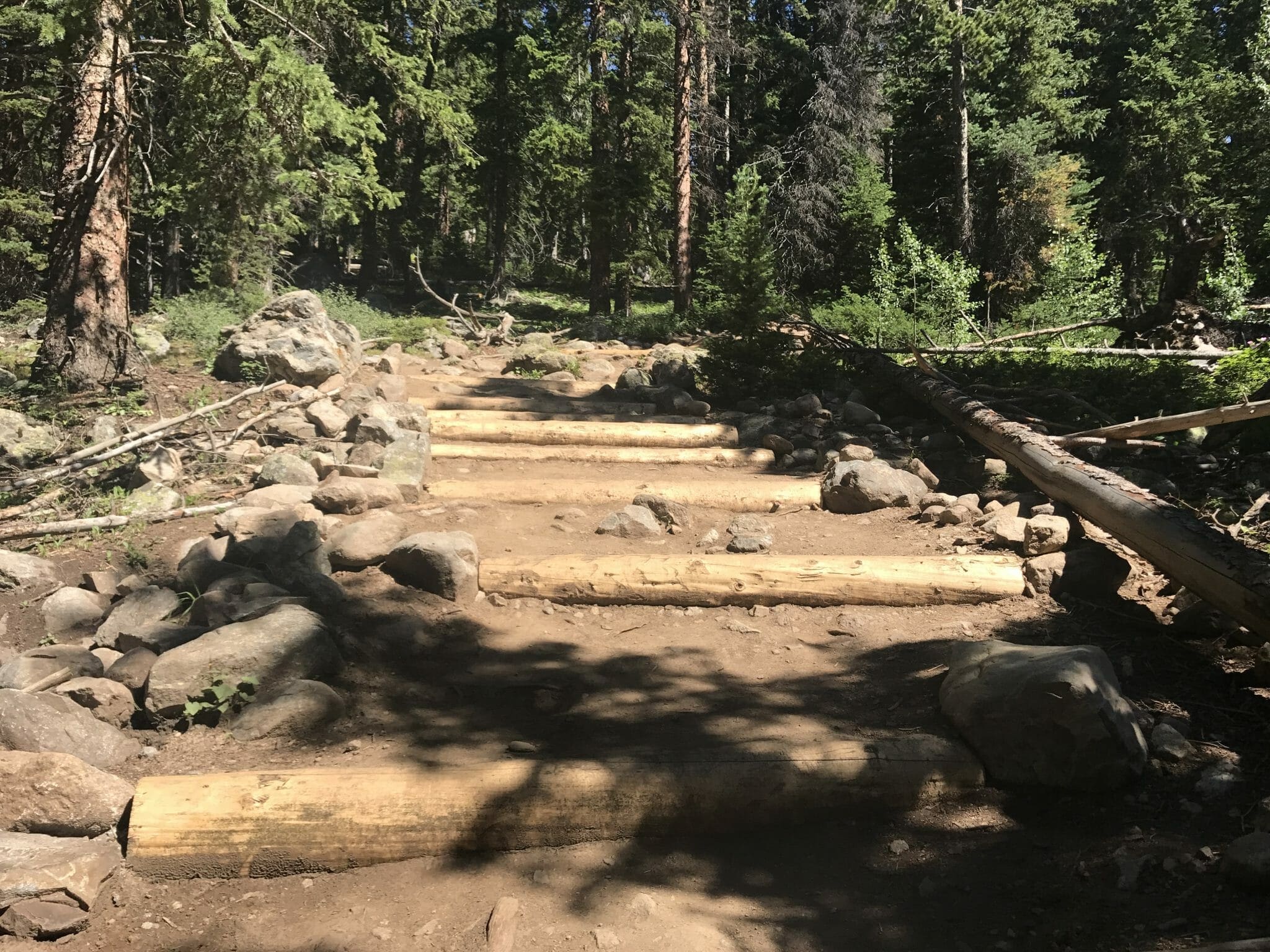 You will see a ton of these well laid out and freshly maintained logs along the trail. They help keep erosion down and help keep all the hikers going up safely along areas that can get muddy, rocky, or eroded quickly.
This section of the trail zigzags across the beautiful, lush forest with lots of squirrels zooming around and the chirps of birds. I love the crisp mountain air and fresh pine forest smells here. Just writing about it takes me back there!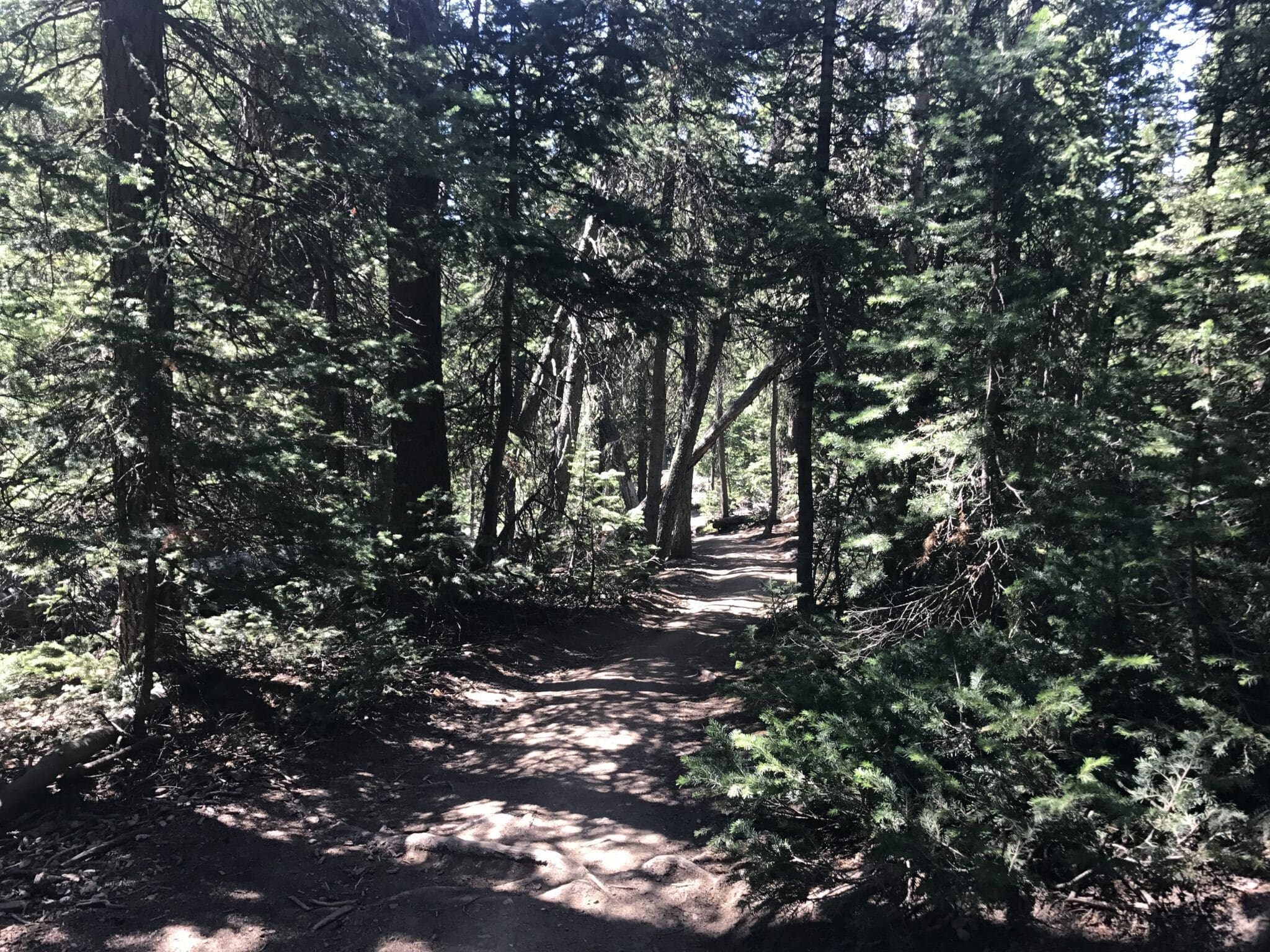 Take plenty of breaks and drink lots of water. You want to be well hydrated! Hiking at altitude stresses your body, especially if you're not used to it already. Better to be well hydrated on this lower section and be ahead of the game than to risk being thirsty and triggering altitude sickness higher up the mountain.
Through the early sections, you will be walking on hard-pack dirt. For those just looking to get to the tree line and see some amazing mountain views and not summit, this is a fantastic family-friendly section to hike to. The views are beautiful, and you can get back down quickly and have plenty of your day left to explore the surrounding area.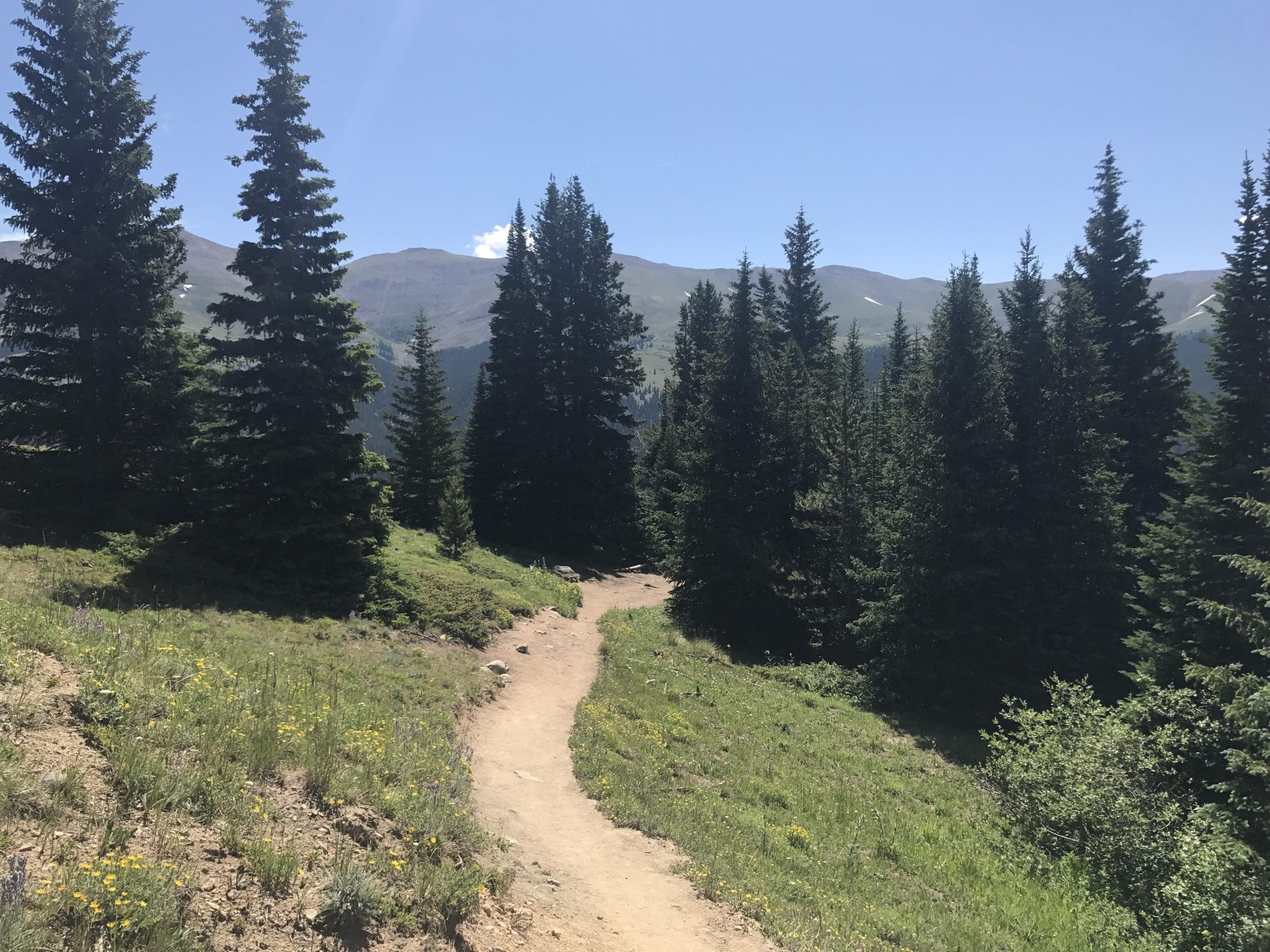 Once you have climbed about one thousand feet in altitude (and a mile of the trail), you start to break out of the thick forest and come across some exposed areas and clearings and crisscrossing above the tree line.
Take some time to soak in the views, the mountains across the way give you glimmers of being above the tree line, and the views start to open. If you haven't applied sunscreen yet do so here before you proceed as you are wide-open now and exposed to direct sunlight with no trees.
The climb is still a good pace – mostly good brisk walk and altitude gain with some logs/steps to turn through a few areas where there is drainage. From here you will start winding your way to a small aspen grove with all the leaves happily waiving to you as you smile and trudge your way on.
I started to feel the burn of the ascent and the drain of altitude right above the tree line. I ended up taking a few rests along the way to relax and recharge.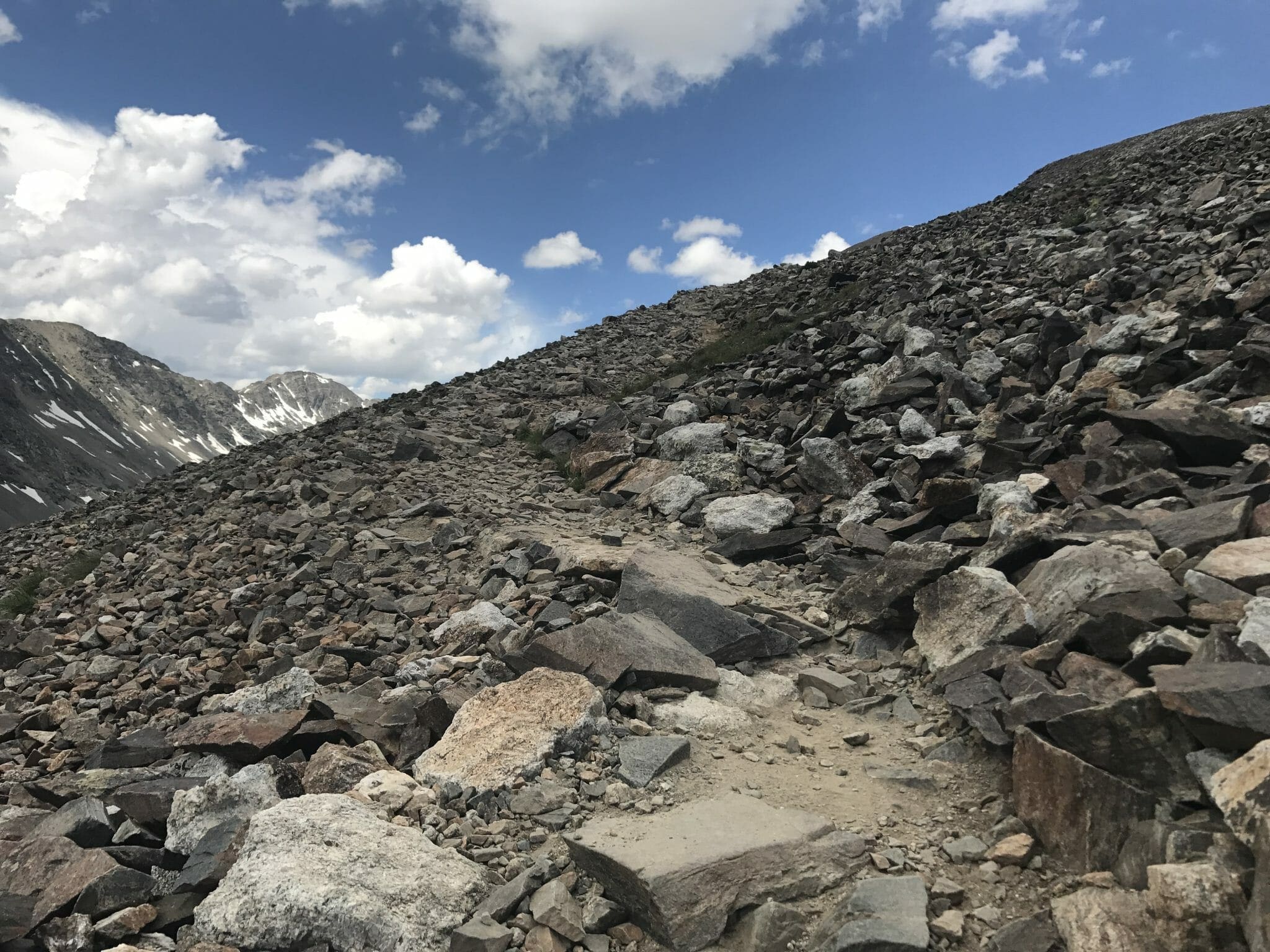 Above the tree line the mountain changes from soil/dirt trails to rock pack and manicured stone steps. At this point this is the part where I started using my trekking poles – Anything to help with stability and using my arms for additional climbing strength helped immensely.
Make sure to take lots of breaks, enjoy the views and sip water. If you haven't taken a snack break yet, do so now I found that as I got much higher on the mountain my digestion and appetite completely changed – That delicious chocolate bar at the beginning of the trail was instant regret when I was much higher up.  A banana did me well, just be sure to pack out the peel – Bananas aren't natural up here. Take it easy, use those poles and enjoy the alpine air! Watch your footing, it's all rocks and boulders from here on up.
So far, the weather was cooperating, and it was still blue skies and visibility for miles.
It seemed this late in the day I was the only human on the mountain, so the wild sheep were very inquisitive. It was a pleasure to meet them on my way up and to wonder how they survive and thrive so far up here!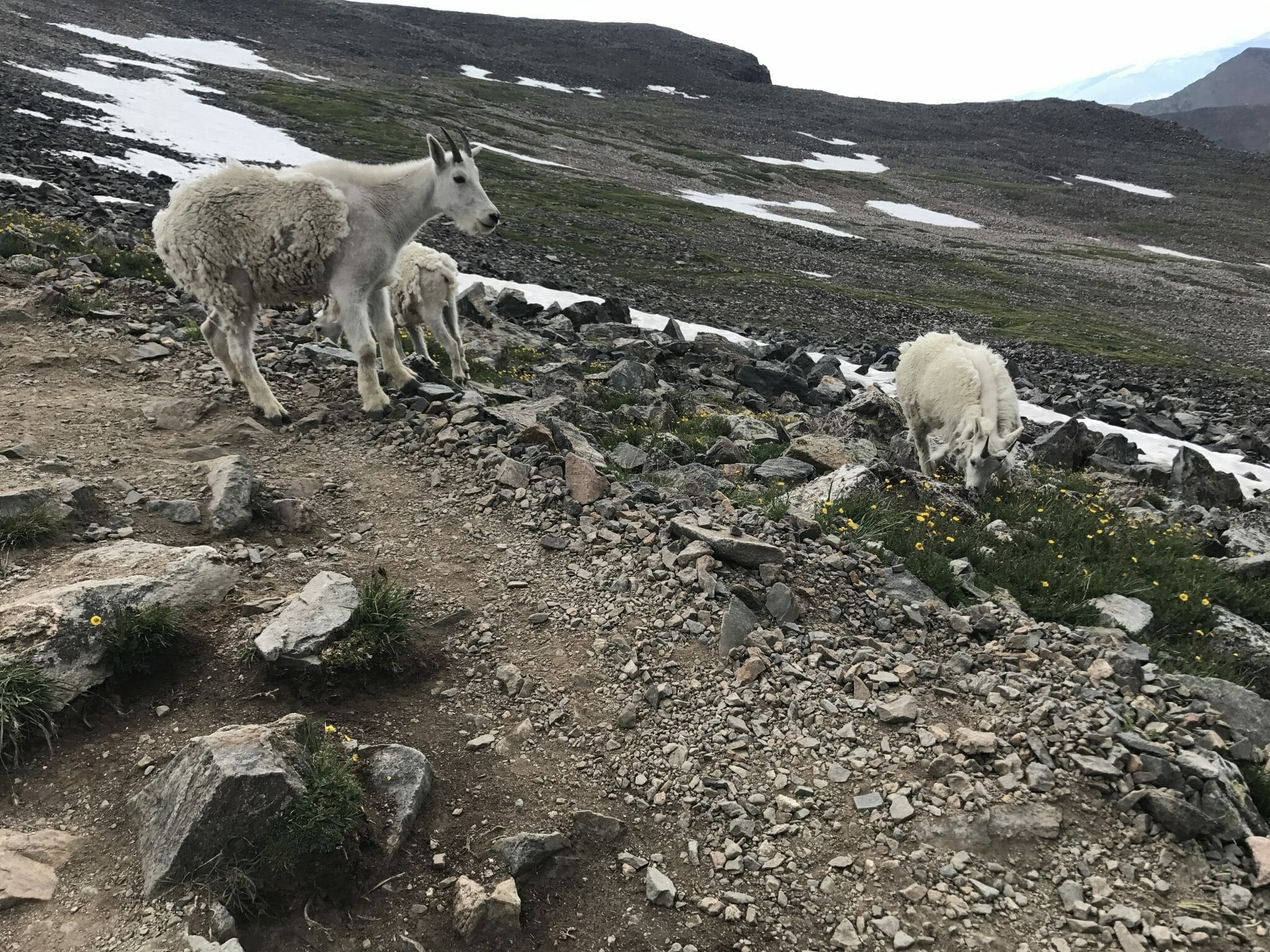 As with all wildlife, keep your distance, take some pictures, and don't try and pet them.  The sheep are cute and make funny noises, which is good because you have just now realized you're only on a false summit and you stare up at another 1000+ foot climb above you.
Afternoon showers started settling in as I got around the 13,000-foot level.  Colorado's monsoon season is during the summer and it's like clockwork to see storms in the mid to late afternoon.  There were only a handful of people on the trail now.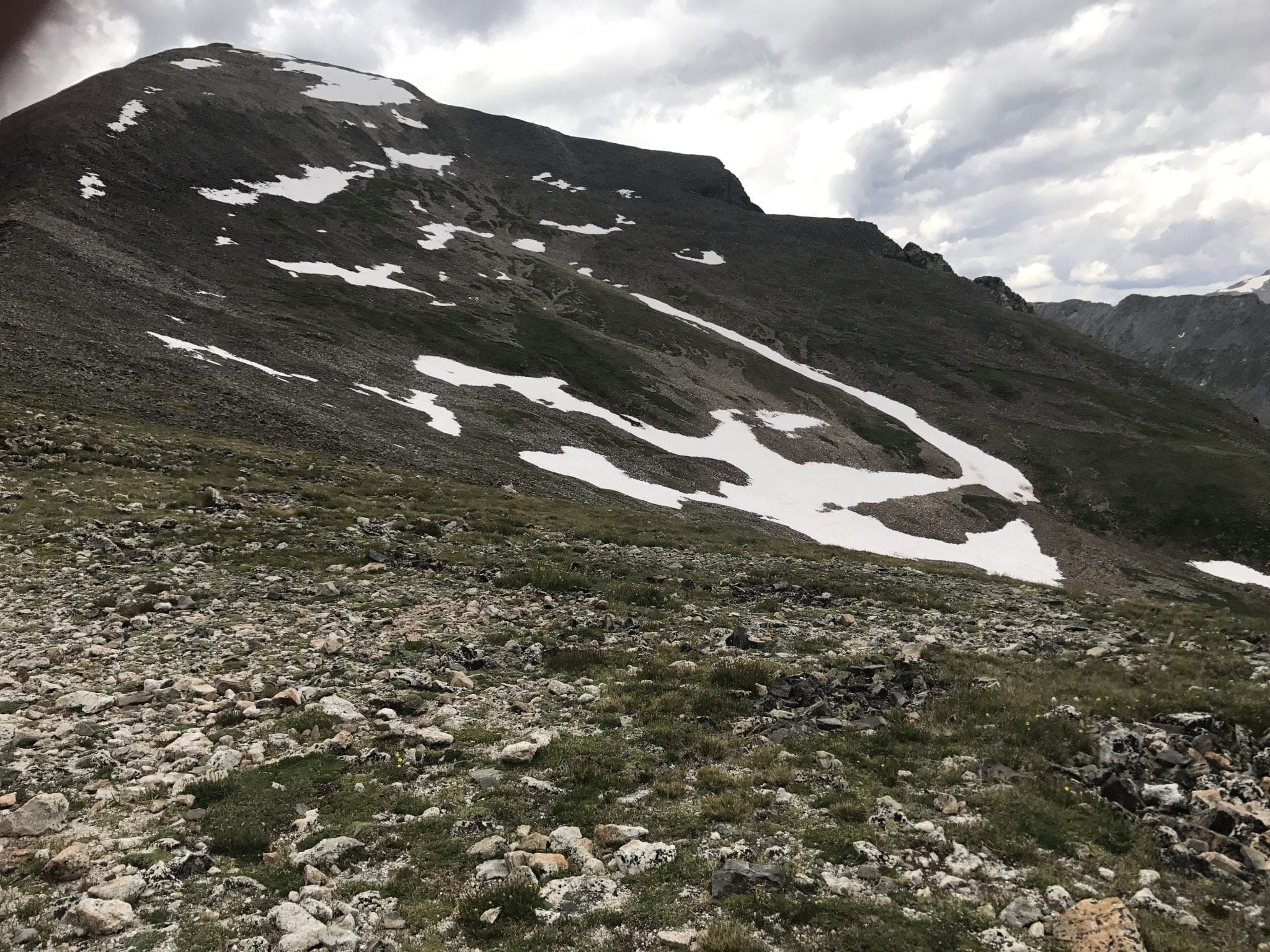 This is where the trail gets narrow, sometimes hard to find (there was a repair warning when I was up) and it's just step by step from here. You and your knees will appreciate having hiking poles right now! I wish I had a better photo here (and that my finger wasn't on the upper left corner), but you can see that even though you're now at 13k feet on the false summit, that you have a LONG way to go yet. A picture just doesn't do it justice but that ridge along the left there is where you walk.  The trail at this point can disappear so take your time and look for worn-out sections and look further up the mountain to see where the path recovers and follow back. The weather can be fierce up here, and it shows! Be prepared!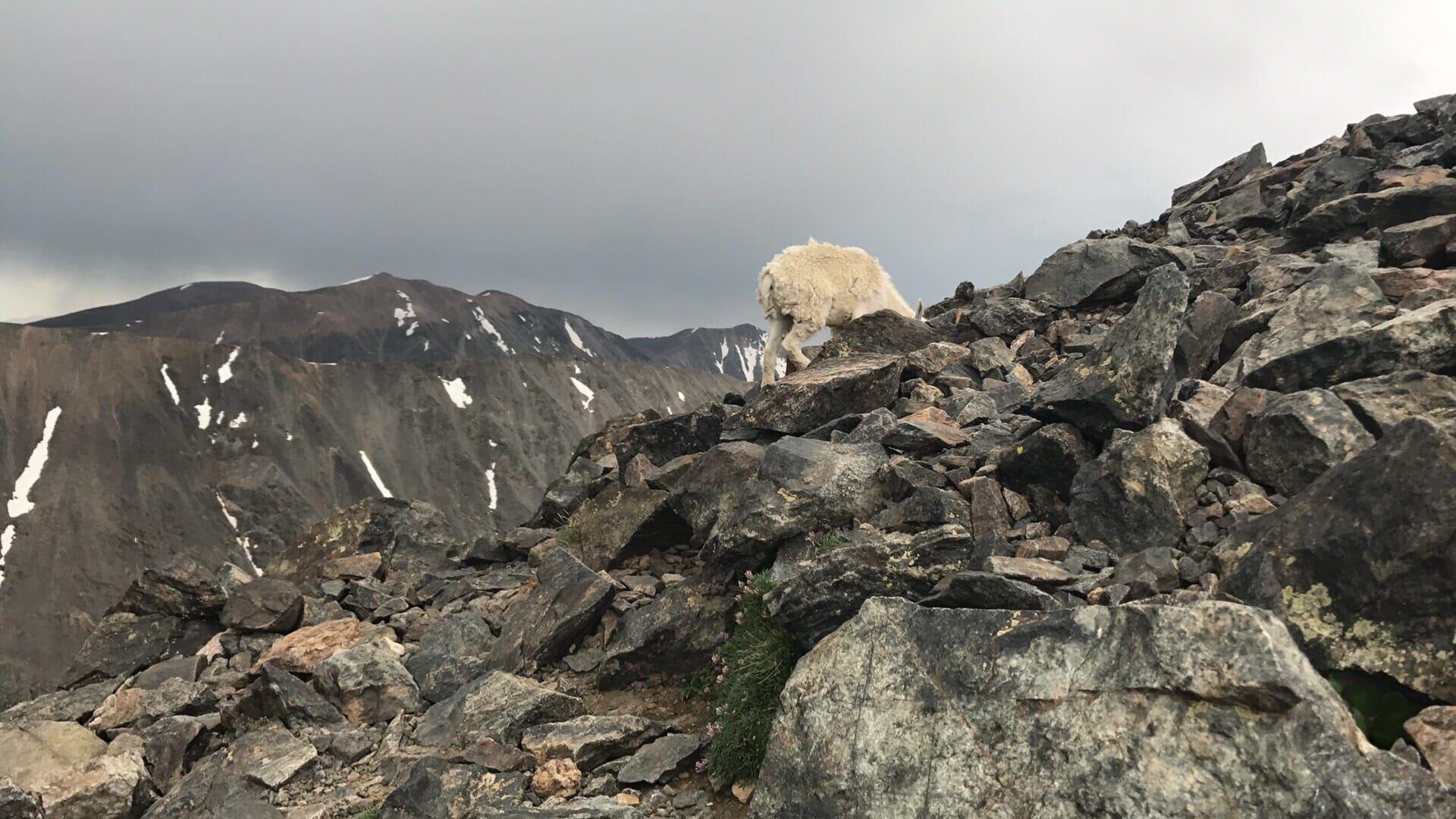 I must be honest; the last 1000+ feet were the hardest. I stayed in touch with my family at the cabin below because the weather was changing fast, and I could see storms in every direction around me. What started out as a beautiful clear blue sky quickly turned into rain, sleet, and storms in surrounding areas. At this point, I appreciated my investment in right gear and preparation for the trip as well as the support of my wife helping relay weather and check on my status up here.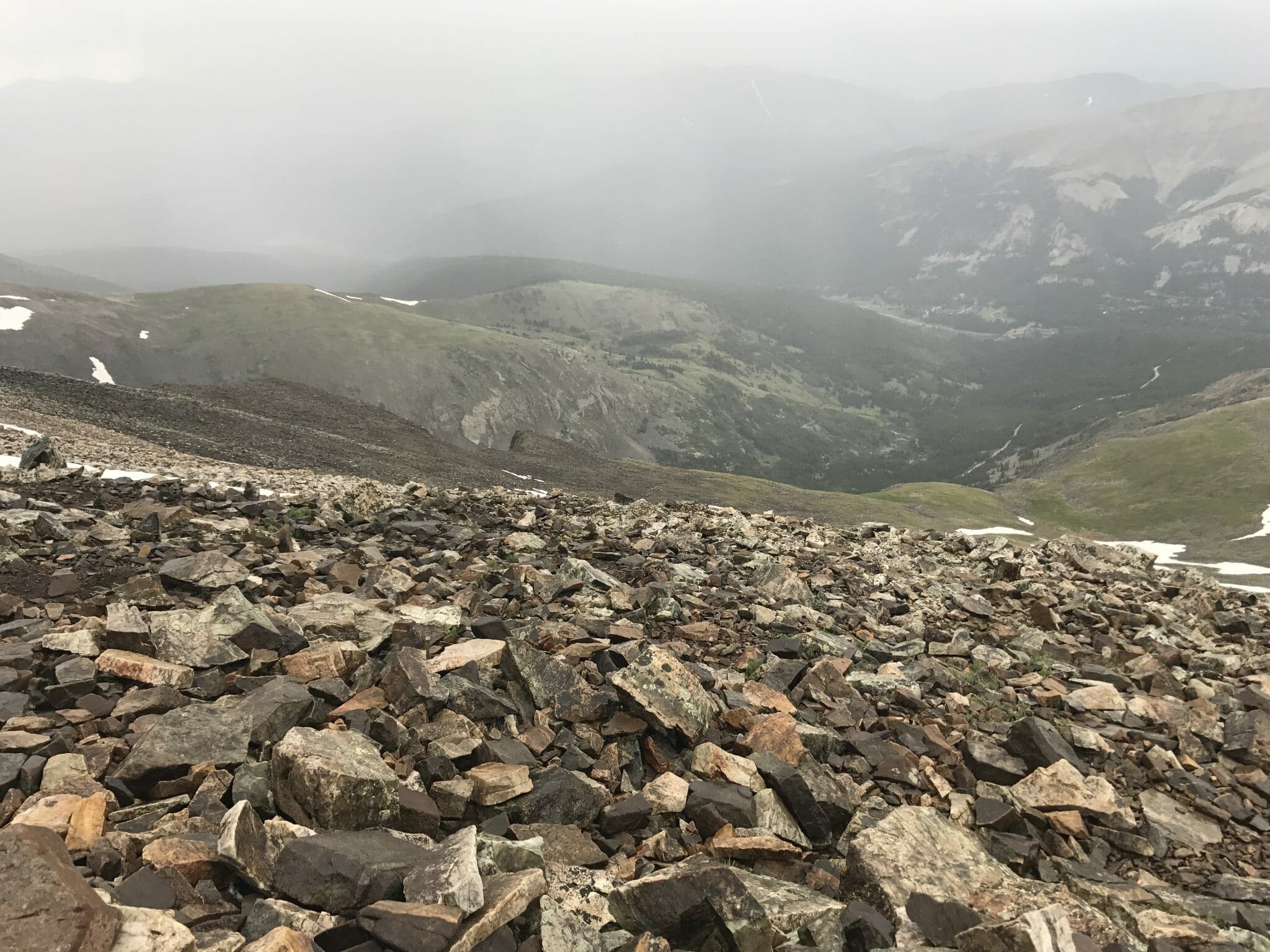 Quandary Mountain Summit
Once you're on top of the mountain, it looks like you can see forever. Extremely hard to capture these views and the iPhone panorama feature does a decent job of trying to capture a chunk of it.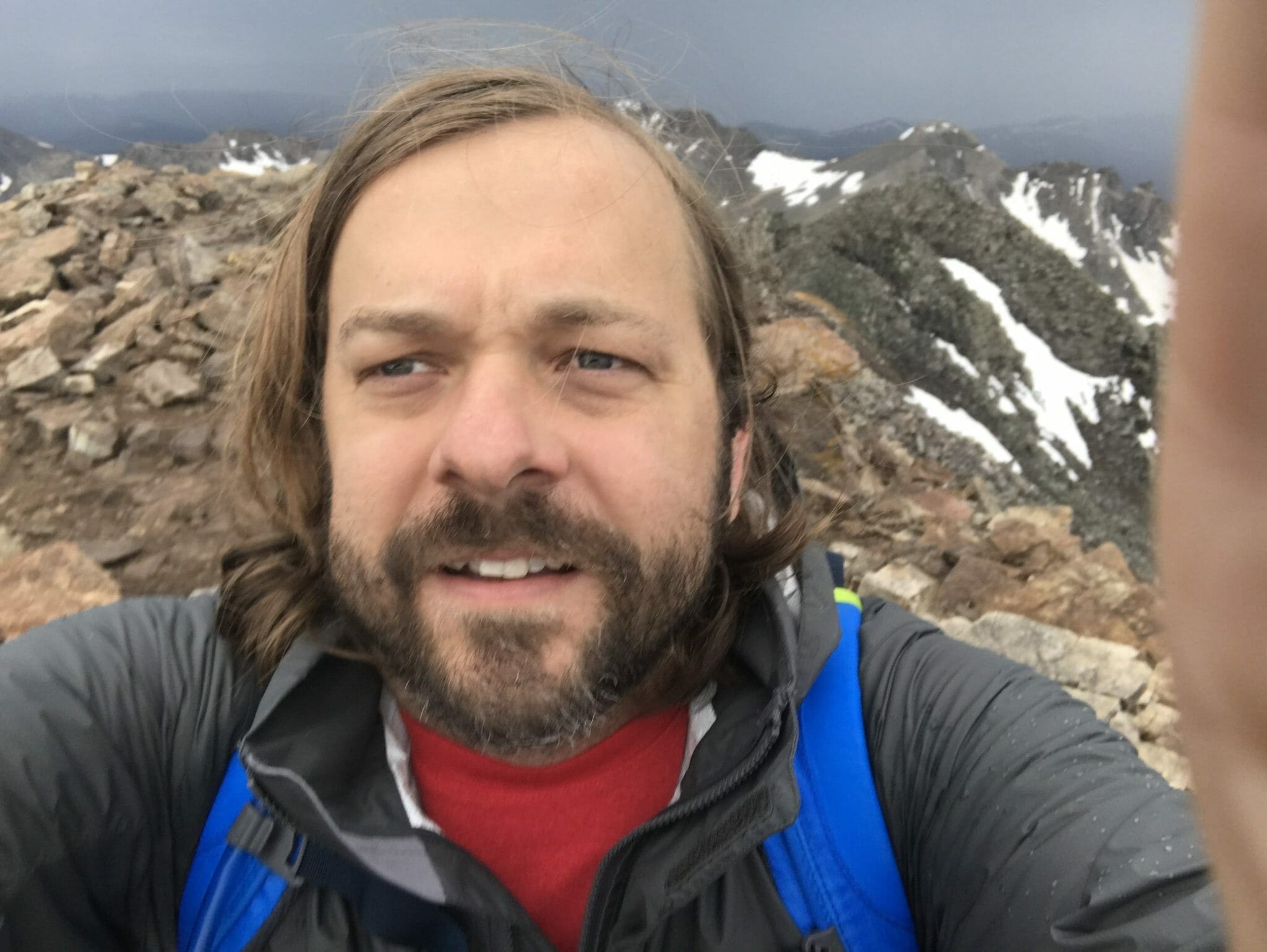 As I stood on top of Quandary peak, thoroughly exhausted I was overwhelmed with emotions – happiness to finally complete something I had only dreamed of as a kid, strength that as a forty something I still had the ability to summit a 14k mountains and a sense of awe and wonder that was overwhelming, exciting, and scary at the same time. (it's hard to get selfies and not feel like you're going to fall off!)
I mean, here you are, standing on top of the world, on a pile of rocks that mother nature is desperately trying to destroy over the millennia, and you can see forever in every direction an astounding amount of beauty and wonder. While you stand there, you know you still need to make it down, and the task ahead of you and behind you sink in. You had been so focused to have one foot in front of the other that the sheer scale of everything – the cliffs, the narrows of the trail and such may have escaped you but slowly sink in.  It's not that it scares you or instills fear but it's a recognition of yourself and your abilities to push hard, be safe and experience something so dramatic and empowering that it's life-changing and uplifting.
Don't forget to get photo proof of being at the top! Nothing beats a picture of the survey marker 🙂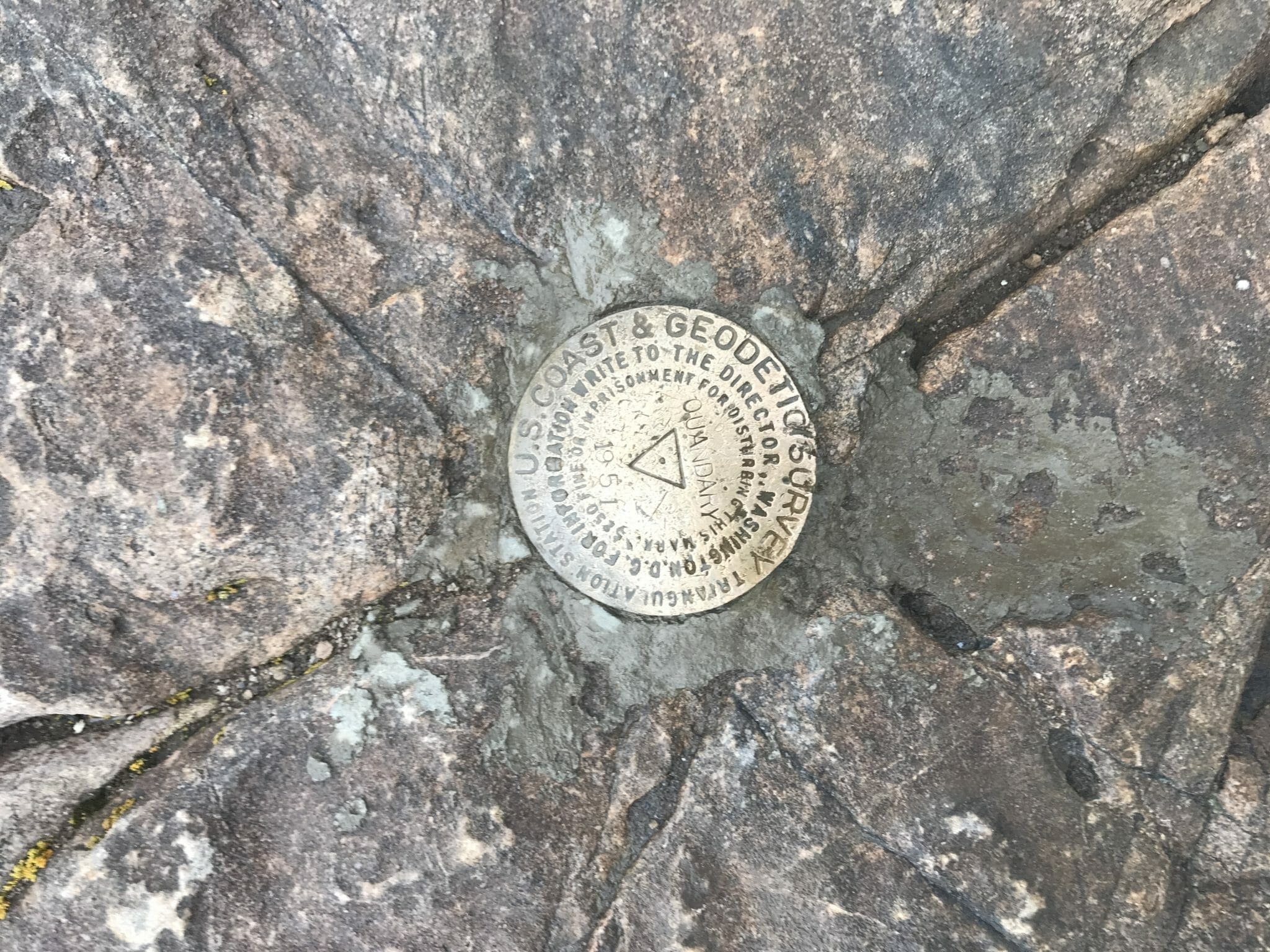 Panoramas are incredible up here. I didn't get many because the wind/rain and sleet picked up. I had to start down quick since being on top is being in the middle of the elements.

I arrived at the summit around 1 pm. It took me over four hours to get to the top. Had I not walked from our HomeAway Cabin and added another mile all uphill, I would have made it up an hour earlier and missed some of the rain.
As I made my descent, it took about 2.5 hours to make it all the way down, and for those 2.5 hours, it was as if I was the only human on that mountain.
Planning your Quandary Peak Hike
To have the most favorable chance of completing your hike it's imperative to be prepared with equipment, clothing, and gear you can trust as well as proper acclimation and trail times.
Acclimating
It's important to get acclimated first.  If you haven't already been staying in the 10k foot range for a few days, I would highly recommend you first get acclimated at "basecamp" around the 10k altitude level. Attempting MT Quandary without acclimation usually leads to massive headaches and other potential health risks, so don't drive/fly in and then attempt the climb on your first day here. The last thing you want to do is to stop your hike and feel sick and have a headache all the way down. Altitude sickness is not something to be taken lightly!
When to Start
Get up and start your hike as early as you can. I can't stress this enough; Summer is the monsoon season for these mountains – thunderstorms tend to form right around 1-2 pm. You do not want to be above the tree line and the tallest object standing on the mountain if storms approach. Knowing it can take a healthy person six hours to complete the full loop, leaving by 7 am or earlier is highly recommended. Lots of people start around 5 a.m. with headlamps to light the way on the lower section.
What to wear
Dress for the mountains!
Hiking a 14kr puts you and your gear through all sorts of experiences and weather conditions. In the middle of July, it can mean blazing sun early in the morning and rain/sleet in the afternoon, and everything can change in an instant. You may be hot and sweaty, and minutes later you may be cold and wet trying to shelter yourself from a 40-mph wind. Be prepared and plan well!
Mountain Hiking Gear
Shirt: I wore a REI fast-dry SPF shirt. Kept me from getting sunburned, removed moisture quickly and was comfortable. Sleeves would roll up if needed.
Pants: REI SPF pants with detachable legs. Great for keeping me warm/cool and dried fast when I got soaked in the rain.
Shoes: Keen hiking boots. They were comfortable, had great grip & stability. I would recommend if you do get keens, purchase their inserts. A lot of people are switching to trail running shoes for day hikes, they would work great on this mountain during late summer months otherwise you may be crossing ice and slush if you start early in the summer.
Socks: "wicking" hiking socks. Dry feet or quickly dry feet are necessary when ascending/descending a mountain. Wet feet = misery (in many ways!).
Windbreaker/Raincoat: Marmot rain jacket/windbreaker was a lifesaver! I experienced wind, rain, and sleet. The Marmot rain jacket with a second layer (a fleece over that gray shirt) kept me warm & dry, and it was easy to remove layers as the weather quickly changed. I would have been miserable without the windbreaker and aborted my attempt had I not had it.
Hydration: I carried the Camel Bak, and it worked great. I do wish I had another bottle of water to go inside the bag as I ran out of water on my way back down. Next time I'll bring along my Grayl water bottle for additional water and filtration options when near base of mountain.
Misc: Sunglasses, Sunscreen, first-aid kit, hand-held radio, snacks, headlamp/flashlight, hat, pocketknife, and trekking poles (all of which fit easily into my Camel Bak or attached nicely to outside!)
Sale
Neutrogena Beach Defense Water-Resistant SPF 50+ Sunscreen Stick, Broad Spectrum UVA/UVB Protection, PABA- & Oxybenzone-Free Face & Body Sunscreen Stick, Hands-Free Application, 1.5 oz
1.5-ounces of Neutrogena Beach Defense Sunscreen Stick with Broad Spectrum SPF 50+ for superior skin protection from harsh summer elements for active...
Clinically proven to help defend against the signs of sun and water damage to prevent sunburn, this face & body sunscreen stick is made with...
Lightweight sunscreen stick glides on easily for convenient, hands free, no-mess application and the new formula is formulated to be oxybenzone-free,...
Our SPF 50+ stick sunscreen can stand up to any outdoor activity, is water-resistant for 80 minutes, and provides beach-strength sun and water...
From the dermatologist-recommended suncare brand, defend yourself with broad spectrum SPF 50+ with our unique Beach Defense sun protection sunscreen...
Sale
Petzl ACTIK CORE Headlamp - Rechargeable, Compact 450 Lumen Light with Red Lighting for Hiking, Climbing, and Camping - Black
LIGHT FOR ANY ACTIVITY: With 450 lumens, two beam patterns (flood or mixed), and several white brightness levels; the ACTIK CORE provides...
RELIABLE PERFORMANCE: With Petzl's 50:50 Brightness-to-Burn-Time ratio, your Petzl headlamp will retain 50% of its original brightness halfway through...
HYBRID CONCEPT: The Petzl ACTIK CORE comes with a rechargeable CORE battery. Like other Petzl Headlamps it can run on either the CORE rechargeable...
ANY USER-FRIENDLY: The ACTIK is simple to use. And practical. Single button for quick and easy selection of brightness or light color. LOCK function...
RED LED: Red lighting preserves night vision and prevents members of a group from blinding each other.
The Trekking poles were one of my "maybe I don't need these" purchases but in hindsight was the BEST purchase I made to make the trip possible. They just do wonders for balance, stability, and comfort going up and down the mountain.
Be Safe!
Leave early, stay hydrated, bring plenty of food & water. If you go with a group, stay as a group – if you're going up solo – take a handheld radio and stay connected with friends/family on the ground. My cheap hand-held radio had no problem reaching cabins miles down the valley to stay in touch!
Have fun!
I enjoyed the experience more than I thought I would – even though it was hard physically and mentally. I'm already planning other 14ker climbs and look forward to writing about them soon! If you have plans or have already hiked a 14er, we would love to hear your store. Drop a comment below!
FAQ
How difficult is Quandary Peak Trail?
The trail itself is well maintained, well traversed, and upkept by some dedicated volunteers but the difficulty is set by how well you can acclimate to altitude and how much energy you have. Quandary Mountain has several false summits on the way up that get your hopes up and let you down, so as long as you are prepared mentally and physically it's just the effort of putting one foot in front of the other.
Are dogs allowed on Quandary Trail?
Yes. I even saw a cute dachshund that made it to the top! Please just bring baggies to pack dog poop out. It doesn't belong on the trail or the mountain. Please be aware that there is an abundance of wildlife on the trail.
How long is the Quandary Peak Trail?
From trail head to summit and back it is 6.7 miles.
Pin it!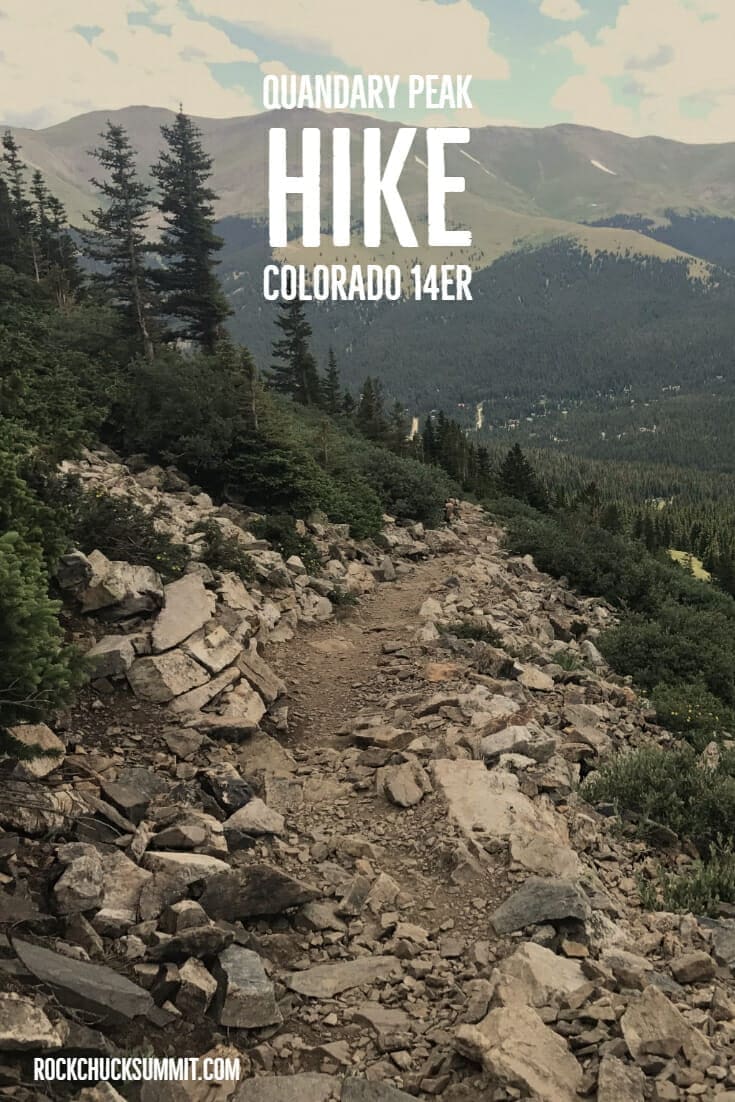 Have you ever hiked Quandary Peak, or do you have this on your plans? Leave a comment below, we love reader feedback and input! If you hit the mountain this summer report back and let us know how it was for you!