Once upon a time in a thirty-four foot Fleetwood RV I traveled to Yellowstone National Park with my boyfriend, his eleven-year-old daughter, his seventy-seven-year-old Anglo-Indian mother and our two mutt rescue dogs who hate each other. This ramshackle group of characters had a few fights and a lot of fun as we drove, hiked and cooked up some amazing Anglo-Indian cuisine in the tiny kitchen of our 1999 Fleetwood Storm. It was a one-month long summertime journey on the highways of America where we saw all the beauty that the west coast has to offer, encountered a lot of bison and had some crazy outdoor adventures to last a lifetime. Looking back at our journey to our eventual destination, Yellowstone National Park, we learned a lot of things about RV travel and Yellowstone National Park in general. We learned that RV travel takes so many more hours then car travel when everything from gassing up takes three times longer to things constantly break and always need to be repaired in a town with a population of 50. We also learned that there are so many awe-inspiring things to see just off the highways of this grand country of ours.
Yellowstone RV Trip
When traversing the wild and wonderful bison filled world of Yellowstone National Park you may be overwhelmed especially in the planning stages of your trip, and especially if you are new to RV travel like we were. Traveling across country in a brand new, yet gently used 1999 RV and driving over 3,000 miles in one summer is a big endeavor for first time RVer's but when the final destination is a place as enchantingly gorgeous as awe-inspiring Yellowstone National Park, well the bumps in the road are well worth the journey. One thing you need to know about planning an RV trip to Yellowstone National Park; It's never to early to start planning! Especially when RV campgrounds book out a year in advance! If you are journeying to the wildlands of Montana, Wyoming and Yellowstone National Park like we did in a 35 foot RV, you may be exceptionally overwhelmed when planning such a big endeavor and driving cross country into an unknown and moose studded wilderness. Let me offer some well-researched advice on how to have an amazing RV outdoor adventure filled vacation.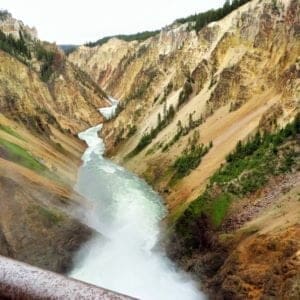 In late June of 2017, we drove 1,000 miles to Yellowstone National Park. We took the long way from our home in alpine Big Bear Lake, California to the mountains of Montana and Wyoming. We met up with friends in awe-inspiring Telluride, Colorado along the way, Dispersed camped near simply gorgeous Jacob Lake at the North Rim of the Grand Canyon, and swam in Lake Powell on a 110 degree summers day. We had so many outdoor adventures in our month on the road and made memories to last a lifetime in the great outdoors of America. And then, eventually, we made it to gorgeous Yellowstone National Park, our summer fun destination!
I'm going to Yellowstone! What do I need to know?
Make your reservations at Yellowstone National Park a year in advance.
Always account for drives to take about two hours longer then you expect it to if traveling in an RV.
There is always road work everywhere in the summer months and this will make drives take longer.
Driving more than 6 hours in one day in an RV is just exhausting.
Pack a ladder and every tool you may need, and even the ones you may not need if driving an RV cross-country.
You can never pack too much duct tape.
Staying inside the park is recommended.
Get out on the roads of Yellowstone National Park as early as possible, even mid-morning the traffic is terrible.
All food and beverage located inside the park is terrible and overpriced. Bring your own.
Plan your road trip to Yellowstone with our simple but effective Road Trip Planning strategy!
Home is Where You Park It
Where to Hang Your Hat
Our goal for this trip was to stay inside Yellowstone National Park, but I tried booking a campsite in February for our June trip, and all the sites that would fit our needs were already booked. This is why I recommend booking your campsite a year in advance. There are not many campsites available inside the park, and these fill up quickly. That being said, we camped at Rainbow Point Campground in West Yellowstone. This campground was great, right on Hebgen Lake but staying outside the park was not ideal. It was just a pain to have to drive to the park to see all the things each day. If we were to stay again in an RV, I would book at either Bridge Bay Campground or Fishing Bridge RV Park. Both of these campsites look pretty and are centrally located in the park.
Pebble Creek Campground is located in scenic Lamar Valley where all the wildlife viewing for bison and wolves is located. This would be my first choice for campsites, but all these sites are first come, first serve. I'm not keen on the idea of driving 1,000 miles to a campground without having a reserved spot. There are two campsites near Yellowstone Lake that both take reservations and our next trip I will be looking into booking one of them for sure. Bridge Bay Campground sits just below the snow peaked Absaroka Range rising above the eastern shore of Yellowstone Lake. This is a great location, close to the lake and very convenient to all kinds of attractions, general store, etc. in YNP.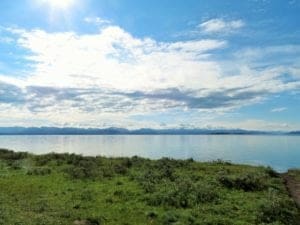 Fishing Bridge RV park was our first choice when booking our trip, but booking only eight months in advance, we could not get a site that fit our needs. This site offers full hookups that are great for RV use. It's a good thing we choose not to book here anyway as we had friends staying with us camping in a tent and this site is only for hard-sided RVs. This site is in a densely Grizzly bear populated area, and that is why there is no tent camping here. Grizzlies are the crazies of the bear family and not to be taken lightly. There are so many fun things to do inside Yellowstone National Park and staying outside the park makes it a lot harder and more time consuming to get to all the fun!
Fly fishing on the Yellowstone River (or learning how to. You can easily get a guide in the park)
Hiking Black Tail Deer Creek Trail.
Hiking at Lava Creek Trail.
Biking the ten-mile Fairy falls bike trail
Check out geysers like West Thumb, Old Faithful, and the Grand Prismatic.
Fishing at Yellowstone Lake.
Soak and relax in natural hot springs in the area.
Driving the roads of Yellowstone National Park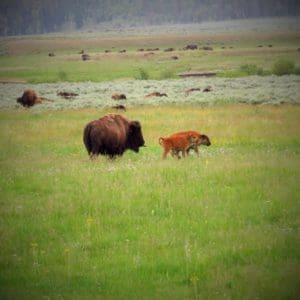 The best advice I can give you for going for a scenic drive in Yellowstone National Park is to hit the roads as early as possible and be patient. Daybreak is the best time to start out. Obviously, the main reason for this is you will see way more animals at dawn. The problem with this being that when you see an animal, there will usually be gridlock traffic as everyone gets out of their cars to photograph the animal. People see a bison, and they just lose their mind and their will to think logically. We had to stop multiple times on our journey through Yellowstone National Park to let bison pass in and around our car or RV. Whatever you do when travelling through beautiful Yellowstone National Park, pay attention to the warnings about wildlife and stay the proper amount away from the animals. When we had to stop for twenty minutes because a herd of about a hundred bison were passing right in front of our RV, we watched so many tourists getting out of their cars with their kids and approaching the bison, getting right in their path just to grab a few photos. Ridiculous. Don't be that tourist. One week after we left Yellowstone National Park some dumb dumbs were attacked by a bison and had to be airlifted to the hospital. Don't be that person on the news.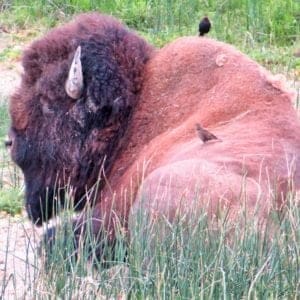 The other big reason to start your day early is anytime after 9:30 AM there is so much traffic everywhere you go in the park. Not only are there a lot of tourists checking out the sights but there are constant traffic delays for animal sightings. Our first full day at the park we left camp in West Yellowstone at 9:30, then got stuck in a bison traffic jam for half an hour and followed so much traffic all over the park, plus every lot for parking was full of cars and packed with tourists.
This brings me to a good point. Days in Yellowstone National Park can be long, congested, scenic and sometimes frustrating. If you go out driving and hiking and doing all the scenic things in Yosemite National Park;
DO NOT BUY COFFEE IN THE PARK!
Let's face it, any time you buy anything concessional at a national park, a Dodger game or Disneyland it's beyond expensive and terrible. Yellowstone National Park was the worst example of this ever! Thanks, Yellowstone National Park for giving me the experience of having the worst coffee I have ever had in my entire life! Our second day at the park, we had driven into the town of West Yellowstone at 7 Am bright-eyed and bushy-tailed and ready for a day of fun in Yellowstone National Park. Okay, not exactly bright-eyed and bushy tailed. We arose from our warm bed inside the RV at 5 AM and were leaving West Yellowstone for the park right after sunrise. We were ready to see some animals, and we could use a cup of Joe. Unfortunately for us the coffee stop advertising espresso and cappuccino was still closed as the hour approached six AM and most of these coffee stops in West Yellowstone don't open until 8 or 9 a.m. As we drove through the park, I was drowsy and running on fumes as we approached Canyon Village and their awesome general store. Awesome if you don't order a cappuccino or regular cup of coffee! The latte tasted like a cup of sugar milk water with a teaspoon of coffee drizzled in, and the French roast tasted like hot water with a coffee flavor. I've never in my life had coffee quite this bad. It was a waste of twelve dollars. Yes, twelve dollars. Food and drink in the park is expensive and not great although they do have some authentic Montana snack items like huckleberry elk jerky. ($15) That was delicious but pricey.
Take my advice; When you travel into the park for the day pack a picnic lunch and bring your own homemade coffee in a thermos. Everyone could go for a hot Starbucks latte on a cold and windy thunderstormy day in Yellowstone National Park, but you won't find that in YNP. Come out for an early morning drive well prepared for a day of fun with snacks and drinks to keep your body fueled for fun.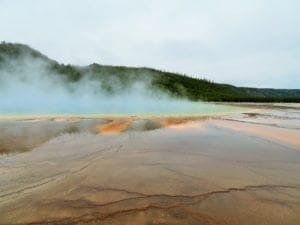 Family fun in West Yellowstone National Park
It's late afternoon or early evening, and you have escaped the crowded roads and the congested parking lots of Yellowstone National Park. It's early afternoon, and you are craving a bison burger and maybe looking for a delightful family-friendly thing to do that is very outdoorsy. Did you get to see any wolves while exploring the Lamar Valley? Well if you didn't, then never fear because West Yellowstone has the Grizzly and Wolf Discovery Center!
The rates for the Discovery center are very low ($13 a day for adults and $8 for kids) This discovery center is non-profit, and all the animals you are seeing in captivity cannot survive in the wilds. The eight Grizzlies who live here were orphaned as cubs and could not survive in the wild. The six wolves that live at the park live in three different packs and were all born in captivity and are not able to live in the wild. This discovery center is a great way to see some of the animals you may not get to see while hiking through the park. (Okay let's face it, these are the animals you do not want to see while on a hike!) The discovery center also hosts two remarkably interesting birds of prey/ raptors.
So, what do you do in the evenings in a cowboy town? Have you ever had a fun night out at the rodeo? It's so Montana! The Yellowstone Rodeo is held every late July in West Yellowstone. Rain or shine this is a terrific way to spend an evening in West Yellowstone! Take your family and kids to see a true wild west show; Calve roping, bucking broncos and steer roping all take center stage on sweltering summer nights in West Yellowstone. This is a great family-friendly thing to do that so many people can only experience in cowboy country like Montana or Wyoming.
Check out the areas surrounding the park
When leaving through the south entrance, you drive directly into the Grand Tetons, and this is such a gorgeous drive, Even if a fire a few years ago burned through the first few miles of this scenic drive. You cruise by beautiful Jackson Lake and fields of wildflowers on your way to the crazy high Grand Tetons jutting into the blue Wyoming skyline.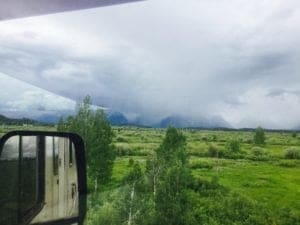 At the very end of the Tetons is Jenny Lake; An awesome lake to check out but extremely crazy crowded anytime in the summer months. The best way to spend a day in the Tetons is to start a bike ride near the town of Jackson, Wyoming, and bike into the Tetons and Jenny Lake. There is a great paved cycling trail that parallels the main road into the Grand Tetons. You can even do this bike ride in the early springtime as soon as the snow melts and have the park all to yourself! It's pretty much the only way to get a secluded trip to Jenny Lake. After the bike ride, stay at the awesome RV Park in Jackson, walking distance to downtown and the world-famous Million Dollar Cowboy Bar. Is it a museum or a great watering hole? You decide. The Cowboy Bar has some great western memorabilia and is located in the town square, the happening downtown of Jackson.
Yellowstone can be extremely busy at times, check out this peaceful and solitary hike of Lembert Dome if you're looking to escape some of the crowds. Click the Search icon and search for Lembert Dome!
Yellowstone National Park and the surrounding areas are chock full of family-friendly fun things to do that don't have to break the bank! Grizzly bears, geysers, and ginormous cowboy hats all await you this summer whether you are in the part of the park that lies in Wyoming or Montana!
What advice do you have for the Perfect RV Trip to Yellowstone National Park?
Pin It!