My mom, sister, and I arrived in California's majestic Yosemite National Park in May with no real plan besides 1) go hiking, and 2) avoid crowds. We thought at first we might head straight to Yosemite Valley, but found ourselves enjoying the beautiful hike up Lembert Dome instead.
We all have different priorities when it comes to visiting national parks—and of course, our goals and priorities can shift from day to day. Sometimes I just want a glimpse of a famous natural landmark, whether it's Mt. Denali or the Grand Canyon. Other times, I seek out nature for the peace, quiet, and solitude it offers. I want the tranquility of hiking a trail by myself, looking out over views full of trees and rocks and zero other people. On those days, I shun the big attractions in favor of less populated hikes—like the stunning Lembert Dome.
On this trip to Yosemite, it was all about finding solitude.
But Yosemite is one of the most famous, popular, and therefore crowded of the National Parks. Over 5 million visitors were reported at the park in 2016, and those numbers have risen steadily over the years. It's easy to understand why. As John Muir famously wrote, "No temple made with hands can compare with Yosemite. Every rock in its wall seems to glow with life."
Where are all the crowds?
First of all, keep in mind that Yosemite is big: 1169 square miles. That's a lot of space to spread out in, but most visitors stay clumped in the most popular bits. In particular, Yosemite Valley is (rightfully) extremely famous. That's where you'll find some of the famous views and waterfalls, along with a visitor center, wilderness center, museum, nature center, and more. This area is accessible by car and bus year-round, which of course adds to the crowds.
One of the best-known Yosemite hikes is Half Dome, which today enjoys iconic status. It's so popular that you need to acquire a permit in advance to attempt it. Up to 300 hikers per day make the trek, which takes around ten to twelve hours. Famous hikes and sites are famous for a reason: they're incredible. But they're not the only incredible thing the enormous Yosemite park has to offer.
So how did we avoid crowds in Yosemite?
Quite simply, we avoided the biggest attractions! Take a look at the park map here. We were staying at the Rodeway Inn in Mammoth Lakes, California, so we approached the park from the east. It was May, and the Tioga Road (120) had recently reopened (it's closed over the winter, generally from November to May). The first part of the park we came to was Tuolumne Meadows.  We parked the car, got out, and looked around. Lembert Dome towered above us. Lots of beautiful nature, not so many people.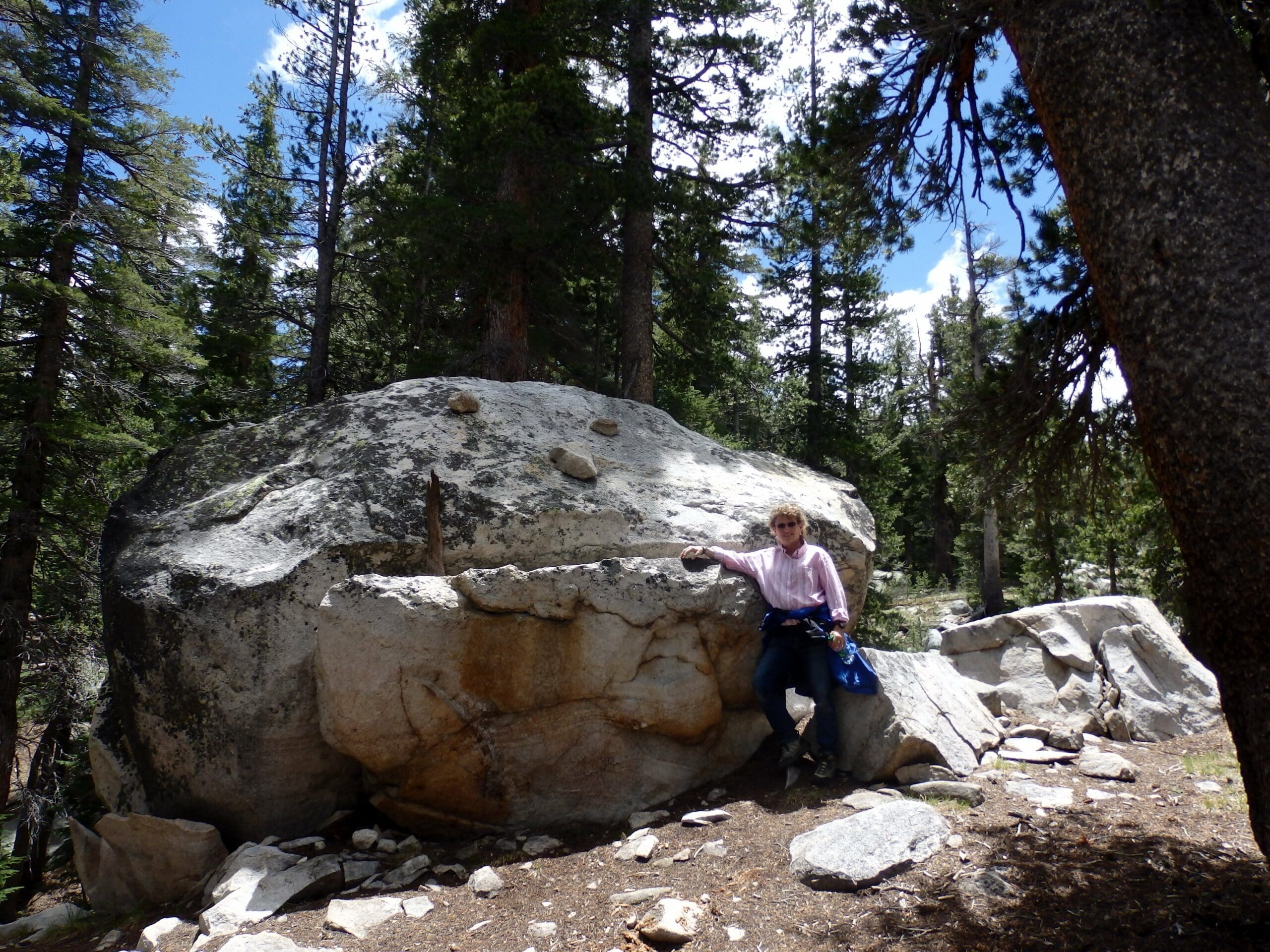 We considered driving further into the park until we reached Yosemite Valley. We had limited time, however, and only had one full day at Yosemite. Did we really want to spend any longer than we had to in traffic? If we stayed at Tuolumne, it looked like we could pretty much have the place to ourselves. So we stayed!
After a quick chat with a ranger, we decided to head off on a hike to Elizabeth Lake, carved out by glaciers in the shadow of Unicorn Peak.
The Elizabeth Lake Hike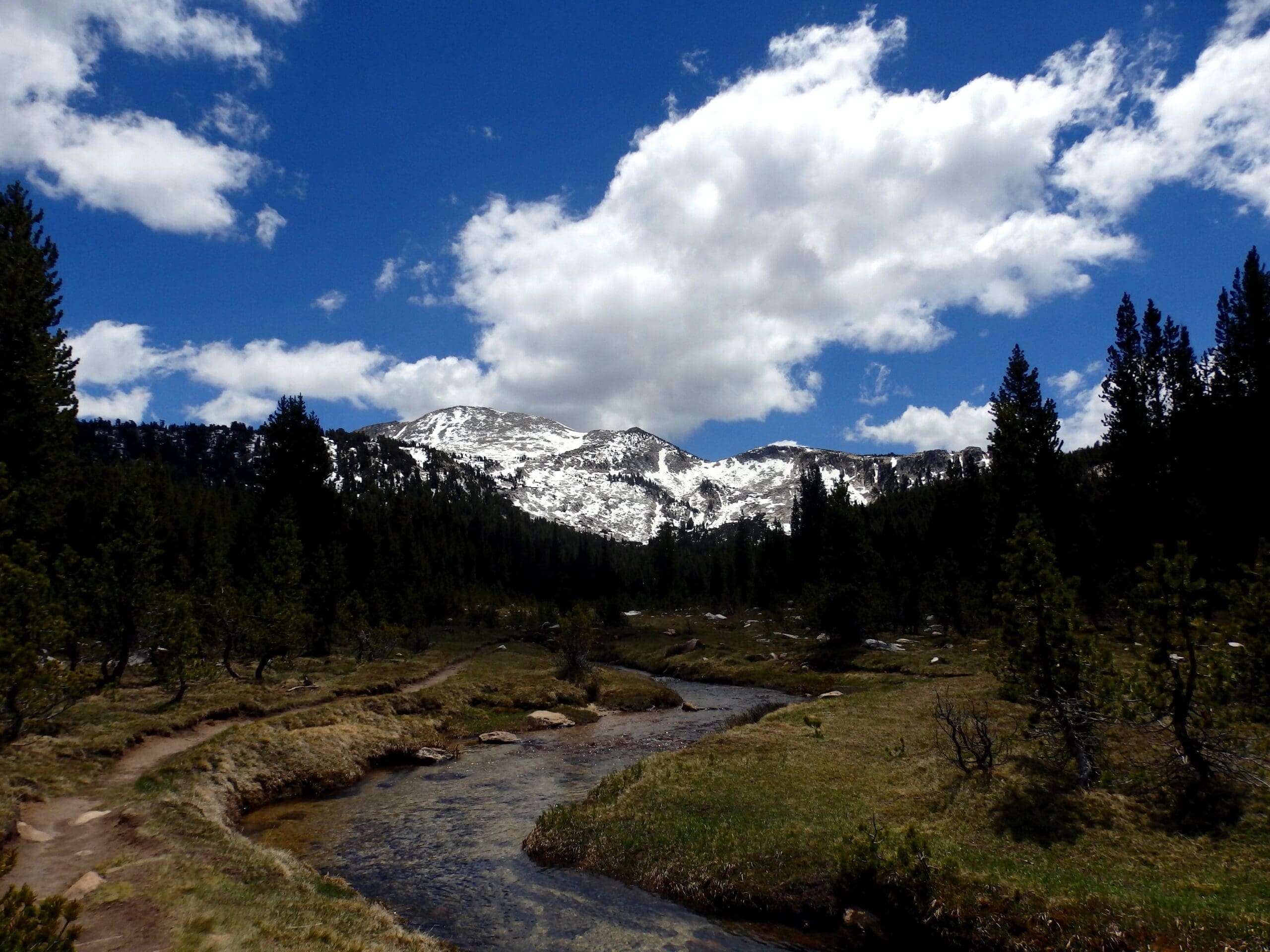 Highly recommended if you're looking for a peaceful, relaxing hike with woods, water, and a striking mountain backdrop. This hike has a fairly gradual climb, and you'll eventually follow along (and splash through) a small spring until you reach the lake itself. Its clear waters and the mountains in the background provide the perfect setting to do a little contemplation. Plus, I'd say we passed only about half a dozen other hikers on the entire route.
Hiking up Lembert Dome
Our second hike of the day, of course, had to be Lembert Dome! This bald, protruding rock had been staring at us ever since we arrived in the park. Once you find the trailhead (at the Dog Lake parking area), you basically just walk uphill for three-quarters of a mile. Then there's a junction, giving you the option to turn left for Lembert Dome, or continue straight to visit Dog Lake. Turn left, walk a bit more, and there you are! Less than a mile and a half each way.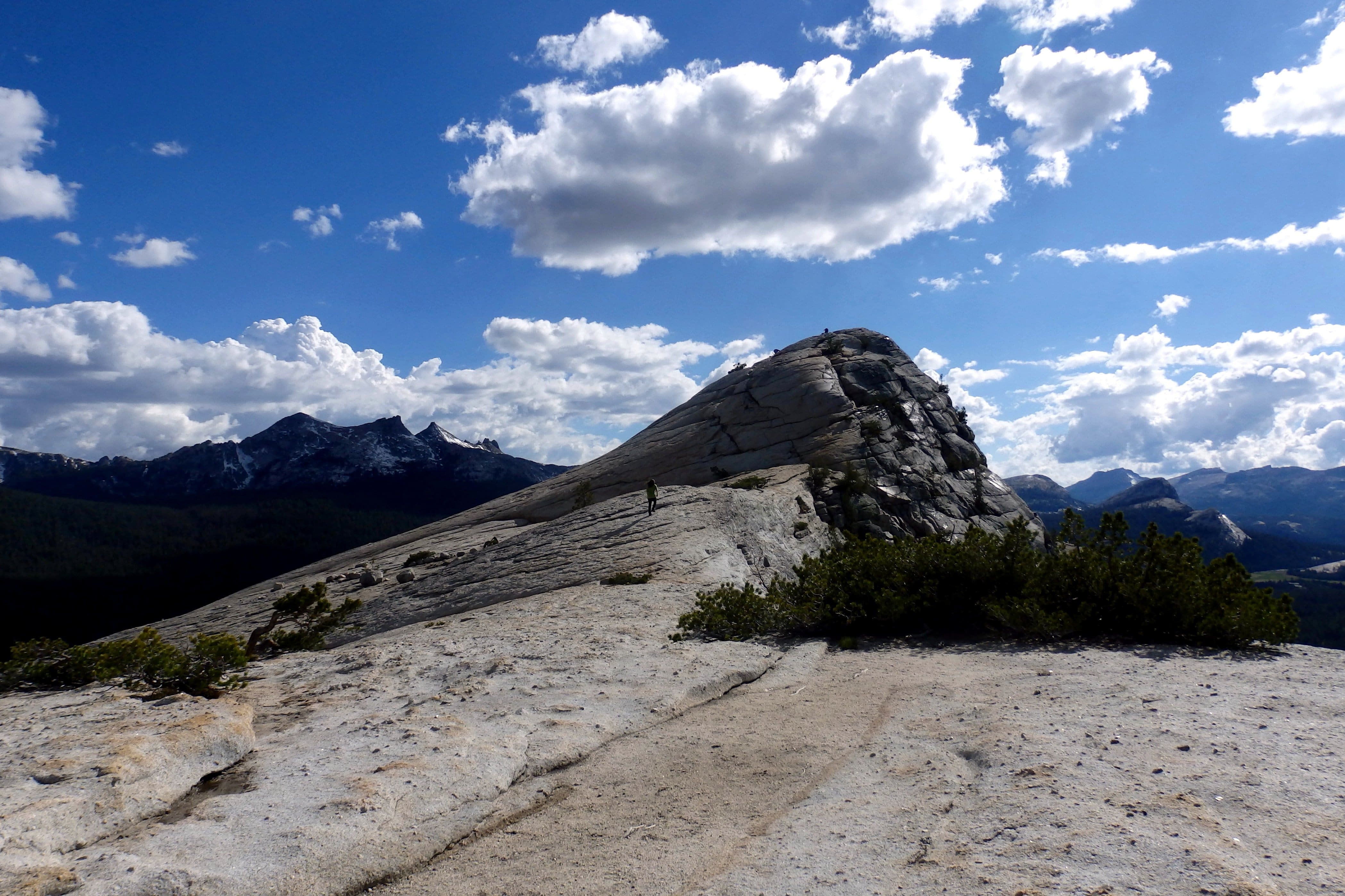 You'll eventually emerge from the forest onto this rocky expanse. Here's a view up the Lembert dome. I'm the tiny figure in the middle running up it.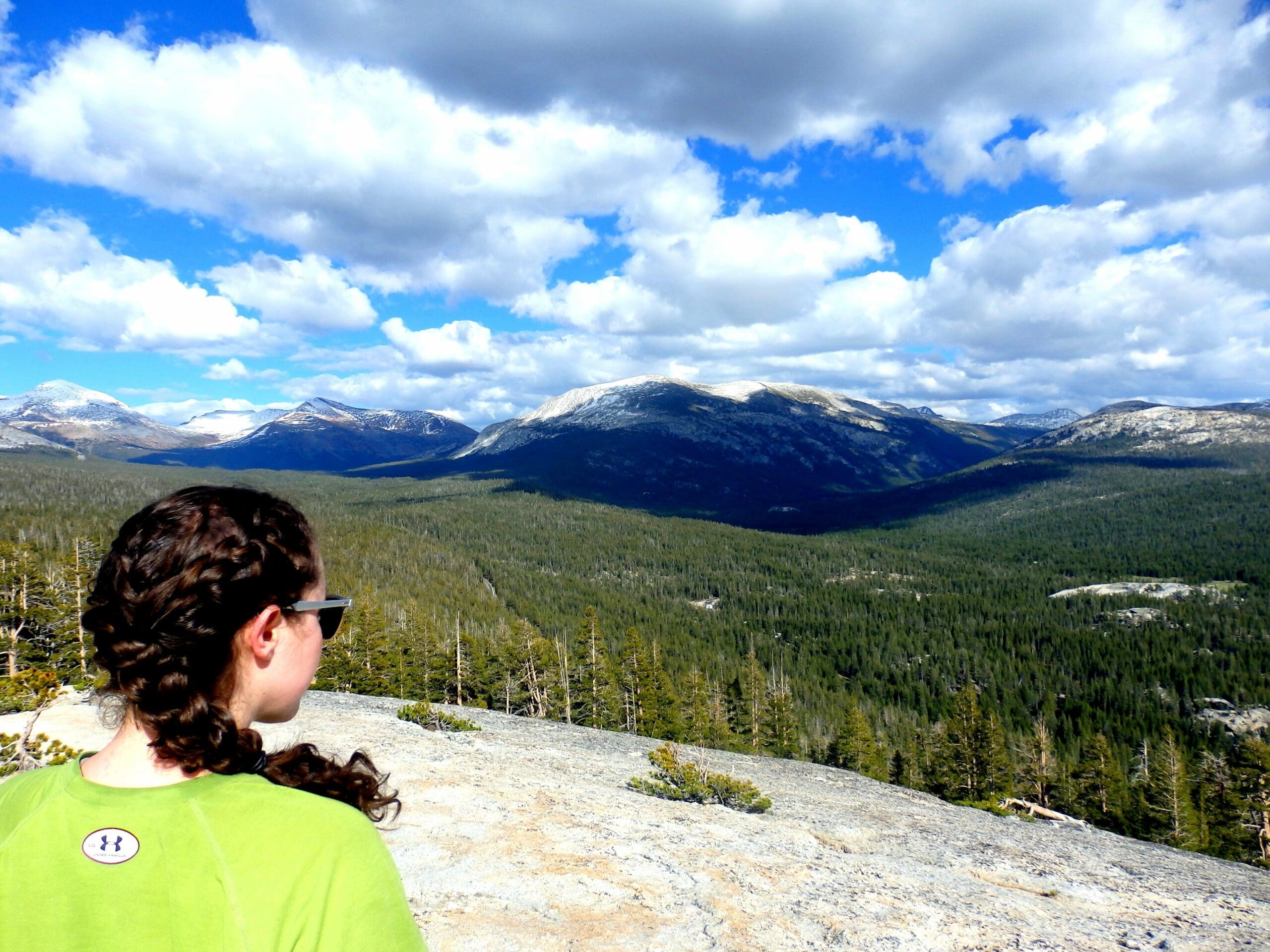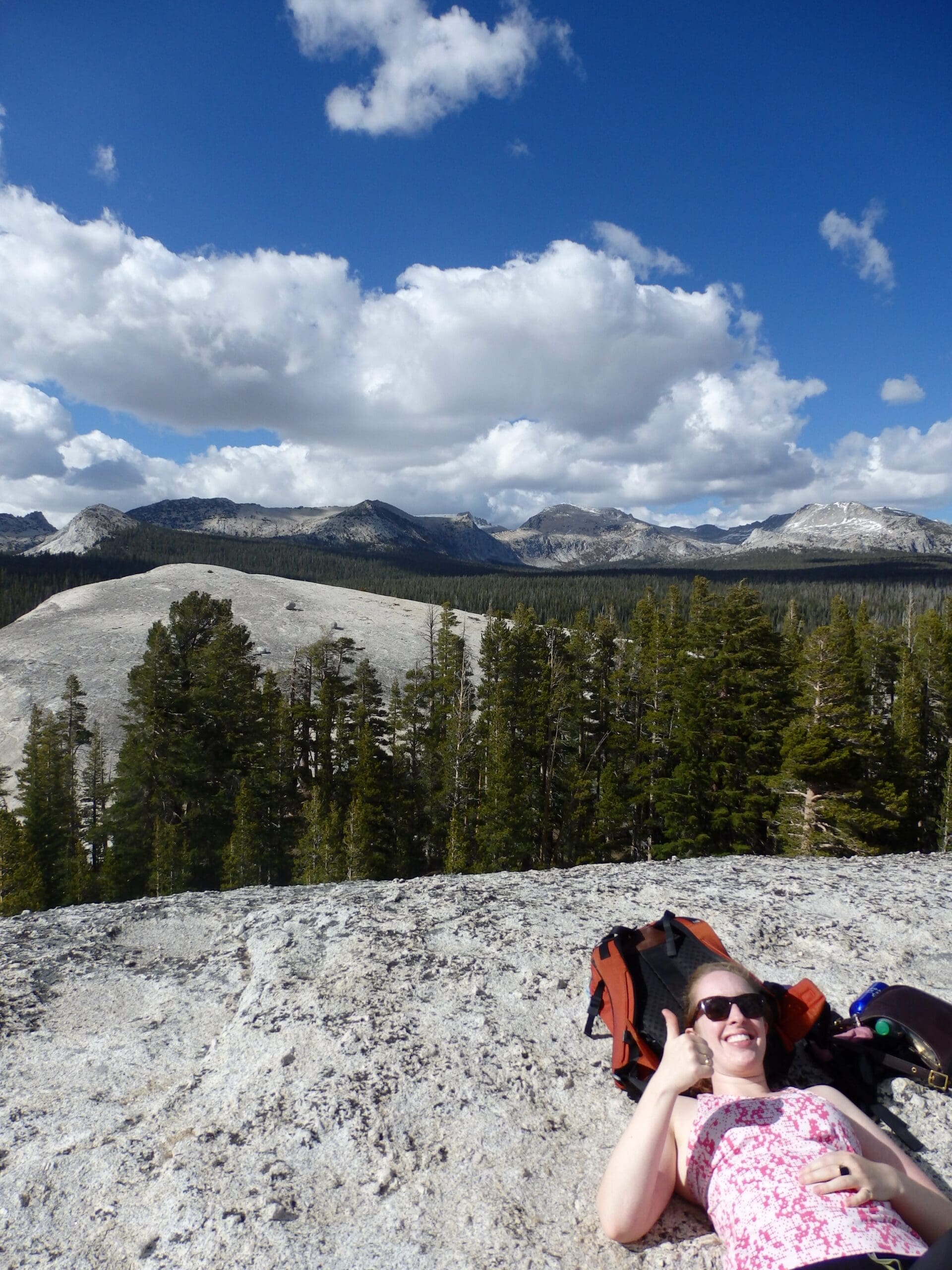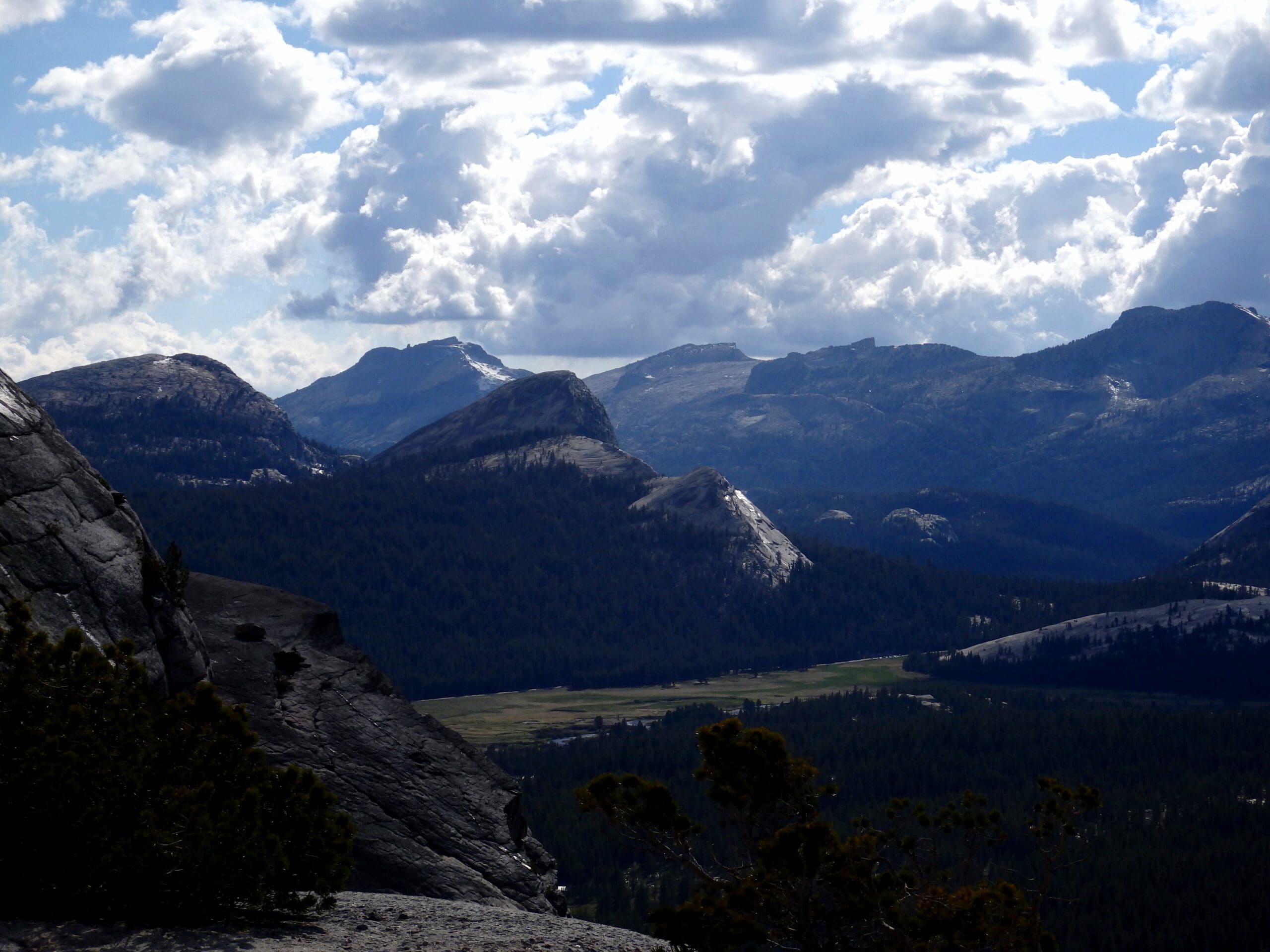 Now I'm sure that there are some days when Lembert Dome gets packed with people.
Maybe we just got lucky on the perfect, sunny May afternoon. We also had timing on our side. Take a look at these month-by-month visit statistics. Yosemite has, on average, around 350,000 visitors in May. Compare that to the top three months of June (~490,000), July (~590,000), and August (~600,000). Even September is a big month, drawing in some 465,000 visitors. When it comes to Yosemite, visiting in May is clearly going to lead to a more peaceful, less jampacked experience.
Couple our good timing with the choice to stick with Tuolumne Meadows, and you have the explanation for our success finding solitude even in a famously crowded park.
Overcrowding is a serious issue.
Beloved hikes and wilderness areas like Yellowstone, Preikestolen in Norway, and Machu Pichu often face similar problems to cities and towns like Cinque Terre and Venice in Italy,  among others. Solving the problems of overcrowding will take large-scale initiatives. Some of the suggested solutions include: introducing timed tickets and mandatory reservations, banning cruise ships, building more roads to handle higher traffic volumes, and encouraging tourists to stay home or go elsewhere.
The problem of overcrowding is clearly a global issue. It's not something that the individual traveler can fix in one afternoon over a cup of coffee. But there are things you can do to enjoy a wilderness getaway without tripping over thousands of like-minded folks.
At Yosemite, my family and I found that hiking Lembert Dome in May was perfect, exactly what we wanted. Someday, we'll go back to the park to see the renowned Tunnel View—but honestly, it's okay to arrange your trip however you want. Decide for yourself what your priorities are and what your own definition of "must-see" is.
A few other tips for avoiding crowds:
Travel in the off-season or shoulder season if you can.
Deliberately seek out less-visited parks.
And if you do want to visit a popular park, go for the less popular corners like Tuolumne Meadows. Or for another example, consider Denali National Park. If you stick close to the bus route, you'll never escape the crowds. Hike a few hundred meters in any direction though, and the backcountry is all yours (to be shared with a few grizzlies).
Even better, stop by the backcountry office to pick up a backcountry camping permit. The system is designed to disperse backcountry campers throughout the park, so you'll never have to worry about overcrowding.
By making strategic choices about where to visit and when you can find the tranquil natural oasis you seek.
Thanks for checking out our post about Yosemite's Lembert Dome – have you been? Do you have any advice? We love feedback and hearing about your adventures – post in the comments below!