When I think of California's central coast I think of miles of sand dunes and hiking through a eucalyptus grove forest all with the crash of the waves from the Pacific Ocean at my back. There are a lot of gorgeous places you can enjoy coastal hiking, camp and explore the wilds of California but if you are looking for the best beach vacation of your life look no farther than the central coast between Gaviota and Carmel. Growing up in southern California going to the beach to me meant crowds, no parking, beaches swarming with bodies like ants and paying top dollar for everything from an ice cream cone to a parking spot. Then when I was eighteen my best friend went off to college at Cal Poly San Luis Obispo and as I loaded up my pickup truck and drove along Highway 101 (Blaring America's Ventura Highway from my old pickups stereo of course) along the green rolling hills that lead you past Santa Maria and into San Luis Obispo County, I thought, how have I never hiked these trails overlooking vineyards and never mountain biked through these eucalyptus forests? California's central coast has a rugged beauty that you just can't find on the crowded beaches of Southern California. These tourist-free beaches are perfect for coastal hikes, tide pool searches and spying on local wildlife. Most people who holiday in California think of Disneyland, palm trees and crowded beaches like Venice or Santa Monica. Southern California eclectic sunny and warm beaches are great for surfing and sunbathing and people watching but the central coast from north of Santa Barbara to the south of Carmel is full of so much nature and wildlife just dying to be discovered.
Eucalyptus forests, hidden hot spring resorts, miles of sand dunes and rugged coastal beauty; This is why you need to plan a road trip to the rolling green hills of California's central coast.  The beaches of the central coast surrounded by the green lush rolling hills of the Santa Lucia Range of mountains that always end in aqua ocean are like something out of a Hollywood motion picture compared to the concrete jungle meets the ocean of Los Angeles beaches. Take my advice and explore the sand dunes of Montano De Oro and gaze at the fat sea lions basking in the warm sunshine at the Port of San Luis. Road trip up the coast and explore Highway 1 (And definitely blast America from your iPhone) take breaks to hike along the trails that lead into the Santa Lucia Range, and stop at every beachside small town you can find along the coast.
A beach vacation to me means seeing elephant seals in their native habitat (And I don't mean the ultra-popular touristy Monterey Bay Aquarium) while sipping on an organic coffee. On a chilly morning right after sunrise a hot dark roast coffee drink in hand, I like to watch as the massive seal's bark at each other and bask in the few rays of the sunrise that a central coast morning consists of. (And I'll tell you where to go on the central coast to see this wild sea life yourself!) A week of vacation camping on the central coast means you better love the cold chilly weather! Leave the bathing suit at home. Where do you start on this journey into all the fun things that California's central coast has to offer? Let me tell you a few of my favorite things to do if you have a week or two to enjoy the central coast of San Luis Obispo County and beyond.
Road Tripping California's central coast from the north
Obviously, when a lot of people think of California's central coast they think driving. A budget-friendly road trip is a great way to travel as long as you have some great pointers on things to do and places to see. There are so many fun things to do along the drive from the north that it would be hard to fit all this fun into one week and also have massive amounts of time for relaxation and more importantly, enjoying many beers while chilling by a campfire ring at night and enjoying meteor showers. If you love the challenge of trying to pack way to much fun into a week of coastal hiking, outdoor hi-jinks and road trip shenanigans then read on and let the adventure planning begin!
There are so many fun outdoor adventures to be had on the central coast that this list of budget-friendly fun is enough for way more than a one-week long road trip. California's central coast is fun anytime of year (If you don't mind camping in rain and cold in winter) but the spring is to me the best season to enjoy all the outdoor fun the central coast has to offer. The lush rolling hills are so green in the springtime, that is my favorite time to visit, but summer is good too because the weather heats up just a bit and it's the best time of year to enjoy the meteor showers on a deserted beach at night. The summer Perseid's Meteor Shower is usually the best one of the because it has the brightest, easiest to see meteors and a secluded beach is the best place to watch. If you head to the central coast in the autumn than you simply must make the drive to Paso Robles, not just for the fantastic wine tasting, cheese shops, and breweries but Paso Robles is incredibly gorgeous in the fall when all the maple trees change colors to deep auburns and oranges. This is one of the best-kept fall foliage secrets on the central coast and California in general. Barrel House Brewery is an awesome local brew house to check out in Paso Robles. It may be kind of in a random place; by the quarry but it's a gorgeous little brewery to hang out at in the afternoon and enjoy some locally brewed beers.
Big Adventure, Redwood Trees and Wildlife Viewing from Big Sur to Carmel
The drive north on historic Highway 1 from Carmel is absolutely gorgeous. If you love to hike the way that I do then every turnout hosts a trail leading to a gorgeous deserted beach and fantastic coastal hiking trails. Carmel-by-the Sea is known to be the land of the uber-rich and is full of expensive restaurants, people driving the coastal road in Range Rovers and million dollar beach front homes but there is so much to do in this area for the budget-friendly traveler, especially if you have a love of the outdoors in your heart. The area in between Carmel and Big Sur is out of this world beautiful, with hundreds of miles of trails stretching into redwood forests and hugging beachside cliffs. One thing about hiking in Big Sur, though; There is poison oak everywhere! Stay on trails and know what poison oak looks like trailside. I really try to just not touch anything green while hiking on the central coast as I am highly sensitive to poison oak. (Literally, I just broke out into a rash just writing about it; no joke) If you do happen to get poison oak, there are easy online ointments for it. The best working ointments are expensive but trust me from someone who is highly allergic to poison oak; The expensive stuff works best! If you are hiking with your dogs in San Luis Obispo County or Big Sur, keep your dogs on a leash and away from anything green trailside.
If you have to choose just one of the coastal hiking trails to try while in this mega gorgeous area then the Ewoldsen Trail that starts out of Julia Pfeiffer State Park is the hike to do. This partially coastal hike gives you every sight from old-growth redwoods to canyon and ocean views as you hike deeper into the wilderness that surrounds Big Sur. This trail follows McWay Creek as you enter the lush redwood forest. This trail is just a two-mile hike so if you have a busy day of fun and site-seeing it's a great fast hike and then you can get back on to all the sites that the northern central coast has to offer.
One of the prettiest places to enjoy coastal hiking along Highway 1 near Big Sur is Point Lobos State Park. The coastal hiking you can do in Point Lobos State Park really showcase some of the best cliff side hiking trails and best features of this seaside region. This state park is extremely easy to get to and is full of amazing tide pools, sea caves and just gorgeous deserted beaches. Be on the lookout for sea otters swimming in the waters just off the shore. If otters and wildlife viewing are right up your alley than the California Sea Otter Refuge in between Carmel and Big Sur is a must-see during your day driving through this crazy beautiful seascape.
While hiking miles of sandy central coastal hiking trails are always a highlight of my trip north, exploring tide pools and gazing on wildlife is one of many budget-friendly adventures to be had in this seaside area of central California. This is why California's central coast has to be one of my all-time favorite places to go on a road trip down highway 1.
After a day of fun and exploring every beach from Carmel to Big Sur you need an excellent and gorgeous campsite to rest up for the rest of the week of fun on the central coast. Looking for the greatest place to camp in this area? Then definitely check out Julia Pfeiffer Burns State Park. This state park was one of the very first places I ever camped with family when I was twelve years old and camping amongst the redwood trees and so close to windswept deserted beaches of California's central coast really awakened my love of the great outdoors.
San Simeon; Eucalyptus forests and wild elephant seals
Hearst Castle is a super popular destination along this tourist-friendly road trip route as is the Madonna Inn and the Aquarium in dreary Monterey Bay but these are not exactly the kind of touristy outdoor adventures I like to enjoy while traveling. I prefer the outdoor memories where adventures are had and stories are told for years afterward. Also traveling off the beaten path and away from the crowds and swarms of tourists is my idea of a vacation good time. I would much rather chill with the Elephant Seals beachside then stare at them behind the glass walls of an aquarium with hundreds of other tourists. Luckily the drive up Highway 1 gives you a chance to get out of your car and see these majestic fat sea creatures up close if you know where to look. The drive up Highway 1 around the San Simeon area is so unbelievably beautiful in a lonely, undiscovered and almost creepy way. It kind of makes you wonder, why does no one live here? It's so hauntingly gorgeous….
Then you get out of your car at a seaside beach trail and try to do a coastal hike and discover it's freezing cold and windy even in July. That's when you jump back into your car, stop in the seaside hamlet of Cambria for a warm cappuccino and beeline it to the Elephant Seal Rookery viewpoint on Highway 1. This is a well-marked elephant seal viewpoint on Highway 1. Give yourself lots of time for this stop because the elephant seals are extremely interesting. I could spend a good hour watching the bulls fighting on the beach, or watching the extremely fat older seals sunning themselves in the sand. This is a fantastic place to get photos and although the seals are down below on the sand beyond the fence you can get pretty close up to these grey sea creatures. Take my word on this; This one seaside adventure is way better than seeing animals in cages or fish tanks at the ultra-popular aquarium to the north. One hint for the elephant seal viewpoint; Get here as early in the morning as possible before it gets crowded. On the weekends the small parking lot fills up entirely. If you are traveling in an RV or larger vehicle you will not find parking here after nine A.M. Even in the summertime the days can be overcast up here on the central coast and the temperatures can be very cold. Bundle up when checking out the Elephant Seals along Highway 1, as you step out on those sandy beach trails hoping to get some photos of wild sea otters, seals and sometimes even grey whales if it happens to be when they are migrating. (They head south to Mexico for breeding season in December through February and head back north to feed in April and May. If you happen to be on the central coast at any of these times keep your eyes peeled for these amazing gigantic sea beasts.)
A great place to whale watch would be during a beach hike along the unmarked dog beach at the San Simeon Pier. The dog beach is just to the right of the pier and if you follow the beach north you will see a coastal hiking trail that takes you on among the most amazing smelling eucalyptus trees. It smells like the ocean meets the most wonderful day spa as you enjoy this coastal hiking trail along the San Simeon shoreline. Trendy and touristy Hearst Castle may have zebras but nothing beats the kind of views you get on a hike through a eucalyptus forest.
Morro Bay: A Big beautiful Rock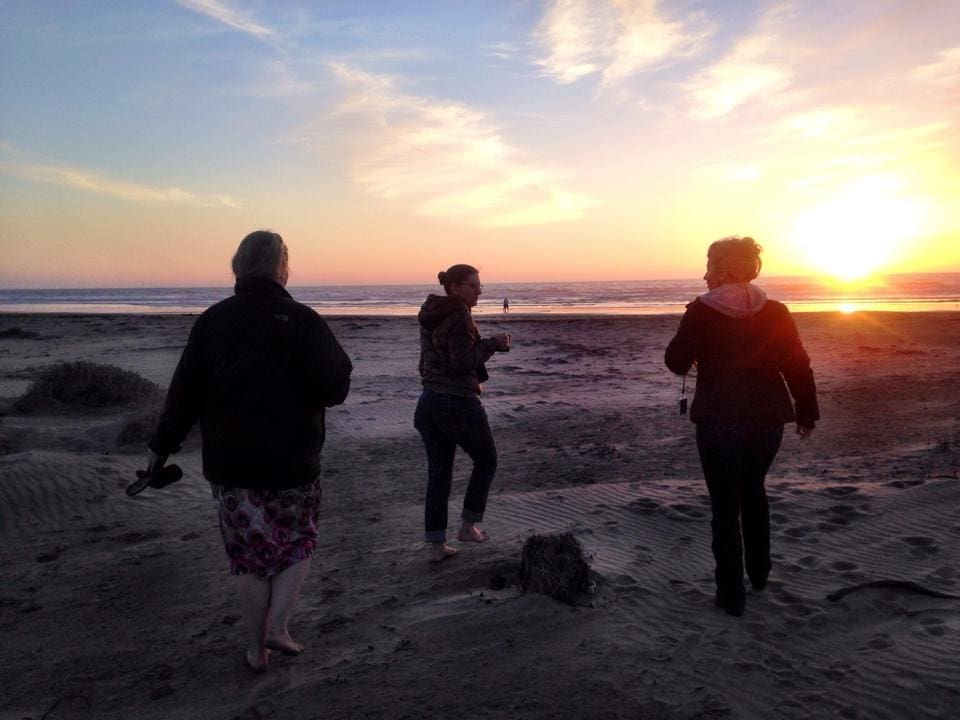 Cayucos is a charming little beach town that no one has ever heard of. Their big deal is that this tiny beach hamlet of 2,500 people that sits off the Estero Bay has a cookie factory. Are you not impressed yet? Well did I mention that they give free samples of all their brown butter cookie flavors? You simply must check out the Brown Butter Cookie Co while in Cayucos. Once you fill your stomach on all the delicious fresh made cookies that Cayucos has to offer drive just a few miles to the south to my favorite campsite on the central coast; Morro Strand State Campground located just north of the gigantic Morro Rock. I love camping at Morro Strand because the campsites literally back up to the beach. The one downside to this campsite is at this section of beach, you can not have dogs on the beach. Besides that small setback, this is one of my two absolute favorite campsites on the central coast.
Morro Strand is an excellent campsite because it is a deserted, quiet and peaceful beach. I love to get up on a cold morning at sunrise and go for a run to Morro Rock (This run feels like it takes forever. Morro Rock looks so close when you begin to run towards it. It's actually about three miles away from Morro Strand though) Just to the south of the campsites there is an excellent cycling trail that takes you as far as Morro Rock if you happen to bring a bike with you on this trip. In the early springtime there are millions of Monarch butterflies in this area as they do their migrating thing. They live in the eucalyptus groves of the central coast in the winter, hiding from the chilly northern winter.
The best camping and coastal hiking are in the Pismo Beach and San Luis Obispo
When I'm planning out a camping adventure trip I'm all for doing it as budget friendly as possible. When planning out a central coast there are so many great ways to spend a week on the road and be totally within your budget. The Pismo Beach area and San Luis Obispo are full of so many great budget-friendly outdoor adventures. Take your pick; Do you want to spend your day one with nature hiking through green flower covered hills overlooking the ocean, or jump off of massive sand dunes before exploring tide pools
One of my favorite things about the central coast is this is where you can enjoy some of the best beach camping in California. I absolutely adore camping at the beach, or within walking distance to coastal hiking trails. There is nothing better than waking up on a crisp and cold spring morning and having that first whiff of the salty ocean invade your campsite as you emerge from your nice warm tent. It makes you want to warm up with a quick run on the beach, right?
When partaking in a week of fun on the central coast I usually choose to camp at Morro Strand Camp Ground or Montano De Oro's Islay Creek Camp Ground. Both of these campsites are beyond gorgeous. They are also central to a lot of the fun outdoor things I love to do on the central coast. The state park, Montano De Oro is absolutely stunning and full of so much nature and coastal hiking fun to enjoy. Every time we camp at Montano De Oro we get tons of wildlife sightings. I'll never forget the second time we camped at Montano De Oro when we saw a bobcat just outside our campsite meandering by the creek! So cool to have wildlife so close! We have deer meandering through this campsite at Islay Creek Campground every time we stay here, and yes we even had a bear ransack our campground one night!
Montano De Oro is one of my all-time favorite places on the central coast.  This 8,000-acre state park is a great area to explore and enjoy stunning bays lined with high rocks and deserted coastlines that are just begging to be hiked. The beaches at Montano De Oro are some of the most lovely I have ever seen. This whole park is a fantastic place for coastal hiking.  My favorite place to do a coastal hike in Montano De Oro is the Hazard Peak Trail. This trail is very popular with mountain bikers and best to do mid-week when it is less crowded. Most of the cyclists wear bells so you can hear them coming. This trail starts out of a turn out (Large dirt area in which to park) from the main road and goes up and up into the hills giving you incredible views of the Pacific Ocean down below and Morro Bay in the distance. It then enters an absolutely stunning eucalyptus grove before winding back into the green lush countryside and farther into the grassy hills of San Luis Obispo. I try to hike this trail every time I'm in the San Luis Obispo area. The one drawback is dogs are not allowed on this trail. This trail also intersects with Bloody Nose Trail which is a shortcut back down to the main road and is not quite as terrible as it sounds. (It's actually super gorgeous and a great fast way to head back to the car if tide pools and sandy beaches are up on the agenda next)
When I'm not hiking at Montano De Oro's best peaks and trying not to get hurt at Bloody Nose Trail you can find me at one of the most gorgeous little beaches I have ever seen, Spooner's Cove. Spooner's Cove is the only beach in the park that allows dogs on the beach. This awesome little cove has these giant seascape rocks you can climb on (If the tide is not too high and dangerous) and sea caves you can explore when the tide is out. The beach is covered with so many sandy ocean buffed rocks and shells. This is one of the best kept secret beaches on the central coast.
One of my absolute favorite ways to spend a day at Montano De Oro is a day of exploring the tide pools below Montano De Oro's sand dunes. As you drive into the state park of Montano De Oro you drive through a gloriously green eucalyptus forest on the north side of the main road. Besides the jungles of India, this is the largest eucalyptus forest I have ever seen. You will want to have the windows of your car down for this drive as the ocean fragrance and the scents of the eucalyptus forests fill the morning air. I recommend cutting some fresh eucalyptus boughs to take back with you to camp and make your campsite tent smell like a day spa.
As you drive into the park halfway through the eucalyptus forest you will see giant thirty feet sand dunes on the ocean side of the road. Park in the parking areas that are close to the sand dunes and pack up backpacks with snacks, water, sunscreen and sunglasses for a few hours of sand dune fun and the most interesting tide pools you will see in California.
Don't forget the sunglasses if you want to jump off the sand dunes which is a super fun thing to do! Hike up any of the trails heading towards the beaches and go up to the top of the dunes. Bring water on this coastal hike. It gets very warm quickly and walking through the deep sand feels like it takes forever and like you are hiking through the sandy Sahara Desert.  Once you reach the top of the dune it is super fun to get a running start and jump off the massive dunes into the soft sand below! This is why you don't want to forget the sunglasses! I have gotten sand in my eyes doing this and it's terrible! Make sure you have a friend down below the dune to get a photo or video of you flying through the air (This is really cool with the slow motion feature on the Apple iPhone) After jumping off the sand dunes for a bit I usually lead groups of my friends down the pirate trails of the sand dunes to the beach and tide pools below. These trails make a steep descent from most of the dunes. They look treacherous and intimidating but the sand is so soft that its like you are in a safe free fall down to the beach below the dunes.
Once you get down to the beach and the tide pools below you will be shocked at this gorgeous beach. The beach is covered with these rocky outcroppings that you walk across (Extremely carefully!) and look for all kinds of sea life. Barnacles, snails, limpets, crabs and sometimes even sea stars are hidden amongst the pools. We love to spend the morning trying to catch the hermit crabs that skitter amongst the ocean waves and the pink coralline algae that covers some of the rocks. If you have reef or water shoes I highly recommend using them here as the wet rocks get super slippery. I feel like I could spend hours in this magical, misty ocean filled place but then I always remember all the other fun things I love to do on the central coast.
After days of being a dirty camper, smelling like campfire and a few days without a shower a dip in a hot spring may sound terrific. Your hiker muscles may be sore from all those beach hikes or possibly sleeping on the hard ground of a campsite for so many nights. What is the body sore hiker to do? A visit to Sycamore Mineral Springs Resort and Spa is a great solution and a fantastic way to spend an evening on the central coast. All of the private soaking tubs are located up a hillside path and this whole property is very quiet, private and gives you the ultimate spa experience if soaking in a natural sulfur smelling bath is your thing. Yup, when you live the dirty camper natural lifestyle this is the closest thing to a bath! I always bring a bottle of wine, maybe a book if I'm going by myself. This is a great evening outing for a group of friends and the hot springs are very reasonably priced at $15 an hour.
There are a plethora of things you can do for fun in the Pismo Beach to San Luis Obispo area before heading back down south towards Solvang. There are literally so many budget-friendly things to do on the central coast that I have not even delved into here!
Road biking the country roads in the green farm studded Los Osos area.
Checking out San Luis Obispo awesome country style farmers market downtown on Thursday evenings.
Bring your quads or sandrails and go off-roading at Oceana Dunes SVRA.
Wine tasting anywhere in the central coast area. I love Edna Valley Vineyards. They have a great tasting room and their newly remodeled outdoor patio has lovely views of the Edna Valley.
Every spring in early May the Amgen Tour of California rides through Pismo Beach and Morro Bay and is a super fun to watch (And very fast, the cyclists fly by you in just minutes!)
Checking out the seals and the people fishing at the San Luis Pier (Did you know it's actually free to fish off a pier in  California? You don't even need a state fishing license!)
If you decide to stop at the pier for an afternoon of free fishing and you happen to have an RV there is extremely inexpensive RV camping in one of the two turnouts just near the port. You can camp here very cheaply and be just steps from the ocean!
Solving to Gaviota; Ostriches and Danish Bakeries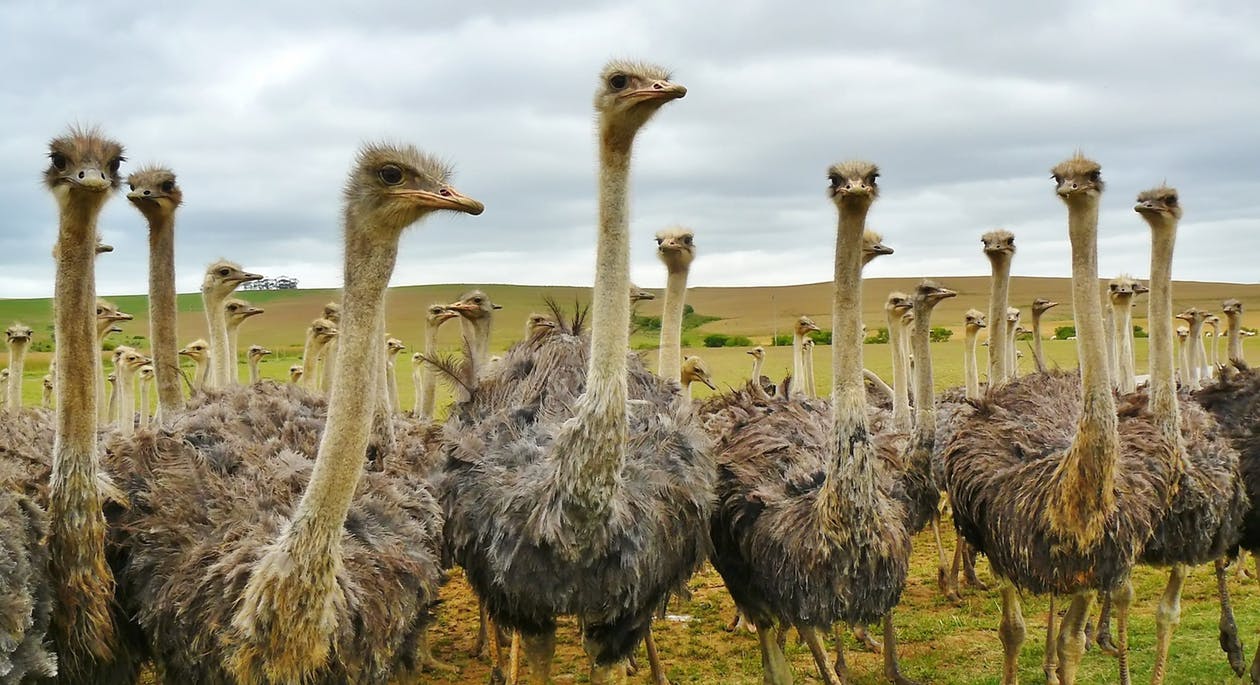 While driving up the curving lanes of the Pacific Coast Highway and starring at all the green wild lands to your north if you feel like taking a detour to the countryside than exit at Highway 246 and check out the quaint Danish town of Solvang California. If nothing else take a break to grab a snack at one of thirty or so Danish bakeries. (I recommend the Kringle) before driving towards Nojoqui Falls. The hike to the waterfall is very short but this is an excellent place to take a break from road tripping while having a quick picnic lunch. If you go early morning or late afternoon you may see deer and herds of wild turkeys in this area. The other fun thing to do on a Solvang detour is stop to pet an Ostrich and than try an Ostrich burger. The best road trips involve petting Big Bird right? Ostrichland (Kind of like Disneyland but with way more feathers and no rides) is a great place to stop and get some souvenirs and maybe take a selfie with an actual ostrich! Take my advice and grab some delicious ostrich eggs to add to your morning meal and maybe pet an ostrich before heading back down south.
Solvang is full of fantastic German restaurants as well as wine tasting from local wineries to round out the end of your trip down the central coast. After you leave the countryside of Solvang and get back on the 101 Freeway the road hugs the Pacific Ocean and passes fabulous, not touristy at all state beaches like Refugio and El Capitan before taking you back to the concrete jungle of Oxnard and Ventura County. There are about fifteen great little beaches to stop at just off the freeway in between Solvang and Oxnard and if you need a quick break before once again entering the metropolis of Los Angeles; any of these relaxing not well known at all beaches will do just fine. A week of coastal hiking beach fun should end with your toes in the sand, right?
We hope you enjoy your own adventures on California's Central Coast, Please leave your comments and recommendations below! We'd love to hear about your trip!