Every Labor Day weekend for the last fifty-two years hundreds of die-hard hikers, trail runners, and plain old crazy outdoor adventurers attempt to run to the top of Mt Baldy, the tallest mountain that overlooks Los Angeles. This trail run, Mt Baldy's Run to the Top, is not for the faint of heart, anyone afraid of heights or those who get altitude sickness.
The first time I attempted to summit Mt Baldy during Labor Day's Run to the Top, I had altitude sickness so bad that search and rescue threated to take me down the mountain on a stretcher if I didn't turn around and stop puking all over their precious mountain. That was five years and thousands of miles hiked ago and after summiting countless peaks and hiking over many mountain passes over the past five years, I no longer get the altitude sickness and I can summit mountains without embarrassing myself or involving search and rescue. You may not be interested in running to the top of Mt Baldy but hiking this 10,064-foot peak is a beautiful way to spend a late winter or early spring morning above the city of angels.
Mt Baldy Hike
Elevation: Mt Baldy elevation is 10,064 feet.
Total Ascent: Nearly 4000 feet of ascent from base to summit.
Difficulty: Varied
Visitors Center
Mt. Baldy Visitor Center Interpretive Site
Mt Baldy Web-Cams
Check out the surrounding area visible conditions of these live webcams for zip code 91759
Mt Baldy Weather
Weather Underground Forecast for Mt Baldy & Surrounding area
Parking
Parking is available at Manker Flats / Manker Campground. A park pass is needed to park here.
Directions
Summit Mt Baldy
There are multiple ways to summit Mt Baldy. You can try it the hardcore hiker way; hiking straight uphill under the rickety old mountain ski lift built in 1952, and gaining over 3,000 feet in a three-mile crazy calve workout hike. Or you may want to try the easier way and taking the ski lift halfway up the mountain to a less tough starting point at the Mt Baldy Ski Lodge. If you are short on time, or not in the kind of hikers shape to hike over ten miles in one day then maybe utilizing the ski lift is the better and safer choice for you. Or maybe you want to challenge your legs and your lungs and go for the harder way, the Ski Hut Trail with nearly four thousand feet of altitude gain between Manker Flats and the summit. Which route should you take to summit Mt Baldy? Well, that is up to you and how hard of a hike you want to challenge yourself with.
Which way should I summit?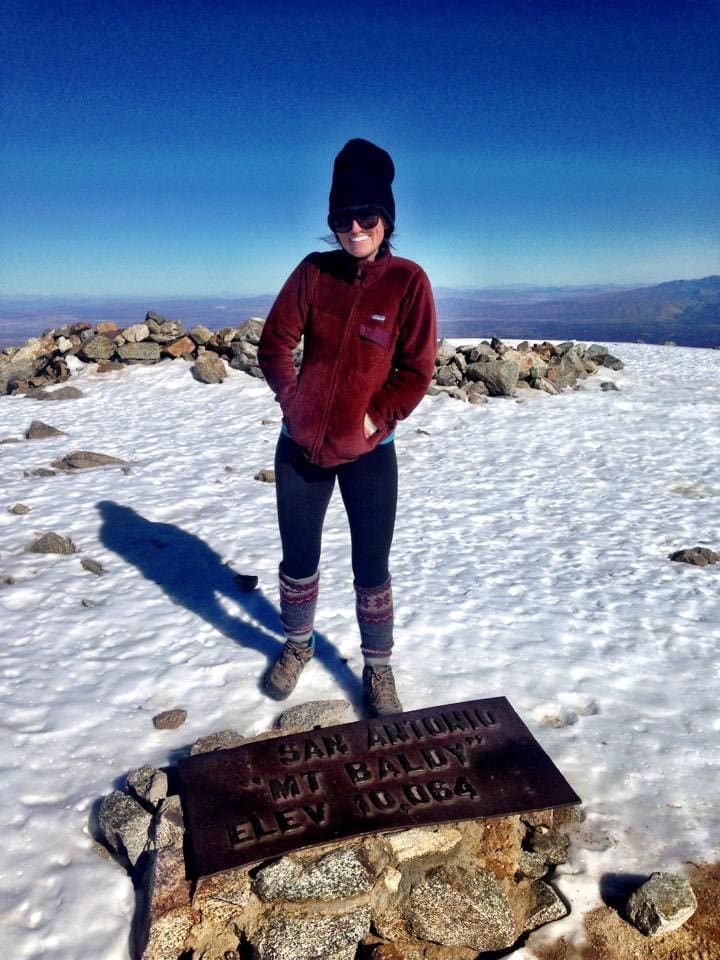 Mt San Antonio, or Mt Baldy as it's called colloquially referred to by Los Angeles locals, is a forty-five minutes' drive east of the city of angels. This is the closest ski area to Los Angeles in the winter months and when southern California does see snow the mountain has twenty-six runs in operation. But did you know that there is more to do at Mt Baldy than just skiing? Hiking to the top of San Antonio is one of the ultimate hikes in the Los Angeles area. The summit gives you a birds-eye view of everything from downtown Los Angeles to the Cajon Pass to the north, to sometimes even boats out on the Pacific Ocean almost sixty miles to the west. Sometimes on a clear day, you can even see the shadow of Catalina Island in the distance. These kinds of views are why I prefer to hike Mt Baldy in the winter months. The smog is much lighter and the skies above Los Angeles are clearer in February and March and the views at over 10,000 feet are just fantastic. Not to mention hiking Mt Baldy in the snow is unbelievably pretty.
Deciding which route to summit Mt Baldy may depend on what kind of shape you are in or how much time you have. The easier route is definitely the route with taking the chairlift up and down the mountain between the upper parking lot and the Top of the Notch Restaurant. Most times of the year Mt Baldy offers a Groupon for a discounted rate to take the chairlift also. If you plan to take the chairlift, make sure you look for the Groupon ahead of time. They even have a deal with lunch at the Top of the Notch Restaurant included. (And their burgers are delicious after a hard hike) If you want to do a longer hike you may want to start up the Ski Hut Trail, hike to the summit, hike across Devil's Backbone, have a burger and a beer at the Top of the Notch Restaurant and hike or run down the road, back to the parking lot at Manker Flats. This is, I believe, the best way to do the hike if you have all day and are in good hikers shape. This route is under twelve miles with 3,900 feet altitude gain from the parking lot at Manker Flats back down the dirt road. (And did I mention beer and a burger after a strenuous hike up a mountain?)
The Ski Hut Trail
Hiking the Ski Hut Trail up to the summit is one of the hardest ways to hike Mt Baldy. On a Saturday or Sunday morning, this way seems the busiest, so this is a route I like to do on weekdays. No joke on a sunny Saturday in March you may pass two hundred people trying to ascend Old Baldy via this route. This is one of the most popular hikes in Los Angeles for those in shape enough to actually summit via this tough route to the top. Hiking the Ski Hut Trail makes for a very crowded weekend on the mountain. Hiking and sweating your way up the Ski Hut Trail gives you some fantastic views of Los Angeles County as you hike, what feels like, straight up the single-track trail in places. If you bring a sleeping bag, you can camp overnight at the ski hut. There are multiple cots set up for weary hikers who want to spend the night on the mountain. If hiking the Ski Hut Trail in the winter months, it tends to be snow-free the first few miles but always assume you will need crampons and waders for the deep snow in places when you get above 8,000 feet, especially on the shady faces of the mountain.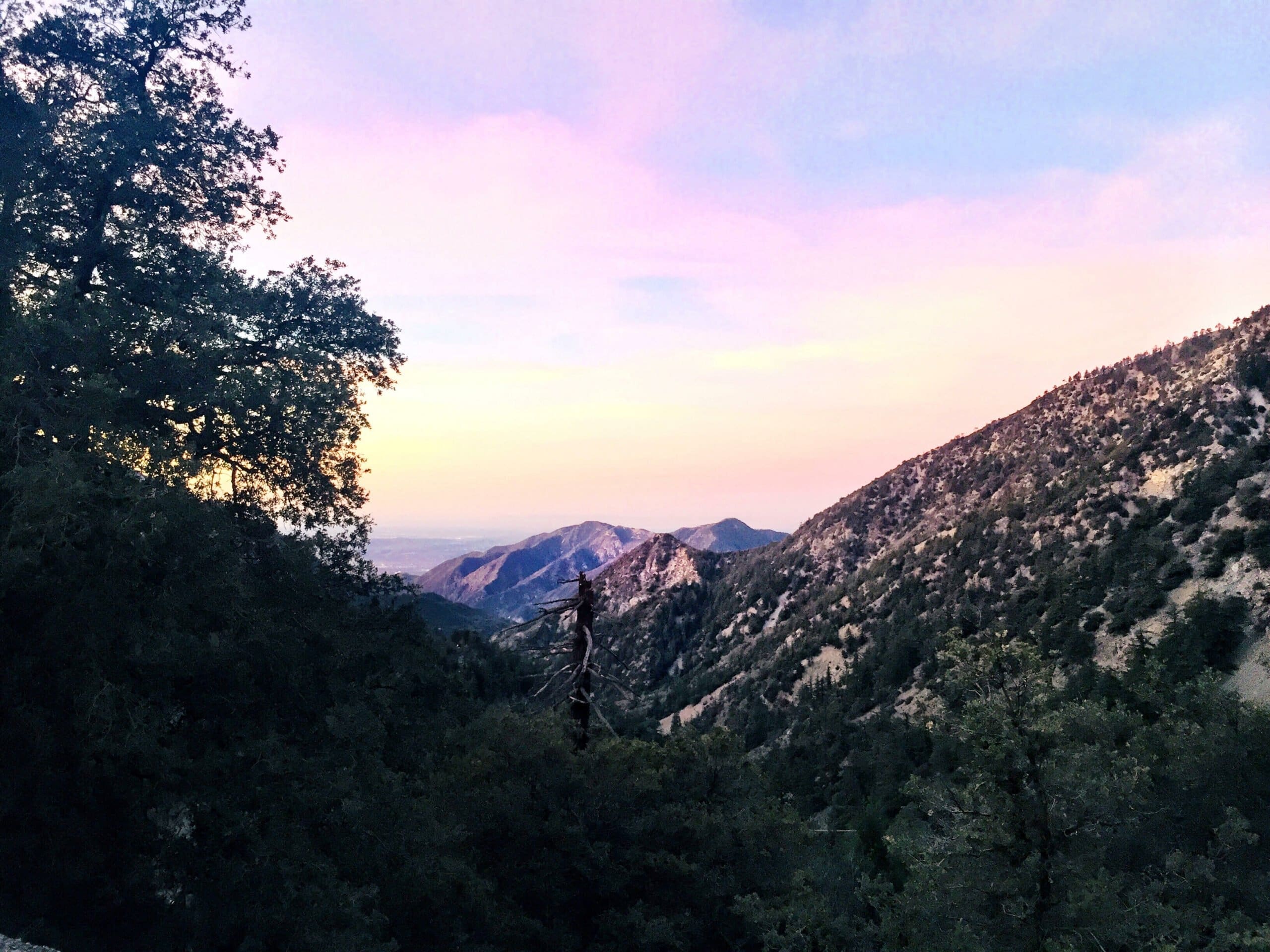 This route is also known as the Baldy Bowl Trail. This hike begins at Manker Flats, you hike less than a mile up the dirt road past the waterfall and then keep an eye out for the Ski Hut Trail jutting off up the left-hand side of the mountain. The trailhead is hard to see, and I have missed it and had to double back many times. This route to the top of Mt San Antonio gains over 4,000 feet altitude gain in four miles. It's very tough and very steep but worth it once you have summited the hard way. This trail averages 1,000 feet of altitude gain a mile, so yes, it is super tough. Want to try an easier way for your first ascent up the mountain? Check out these easier ways to summit Mt Baldy!
Hike up the Road

Hiking up the dirt forest service road and then meeting up with the Devil's Backbone Trail is an easier way to ascend Mt Baldy. This makes the hike longer, more like twelve miles, but the altitude gain is the same as the Ski Hut Trail. The Ski Hut Trail is prettier for sure and much more wilderness like (I mean, it's not a dirt road with Ski Lodge employees driving past you) but this is an easier route with the altitude gain just not as intense. If you want to try and run any of the Mt Baldy Trail this is the best way to go as the dirt fire road is mostly a very even running surface.
The Ski Lift Trail
Hiking Mt Baldy via the ski lift is the straightforward way. The first mile and last few miles to the summit are extremely hard. In the first mile, you gain just under 1,000 feet altitude gain. It may feel like you are hiking straight up at times. But after that first mile, you get incredible views of the Devil's Backbone. You are not afraid of heights, are you? Even if you just want to do a short hike and not even summit, just hiking to the Devil's Backbone itself and back is a hard hike with incredible views. The Devil's Backbone has drop-offs on both sides of the trail and is unlike any other hike you can do in all of California. It's not for the faint of heart if heights are not your thing.
Just past the Devil's Backbone, you will find yourself hiking at over 9,000 feet as the hike once again gets harder as you go around the west side of the mountain. This is where the altitude usually starts to bother me, and my hiking speed really slows down. From the lodge to the summit is under five miles roundtrip; with 2,300 altitude gain. This is the fastest and easiest way up the mountain.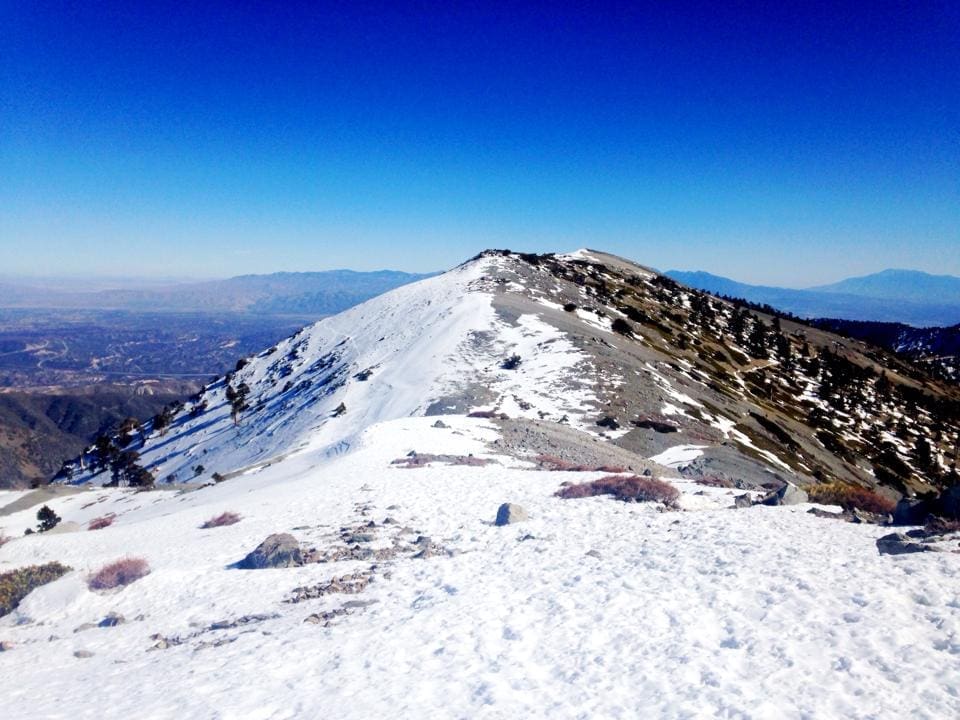 Hike up the Ski Lift Trail
This to me is the hardest way to summit Mt Baldy. You start hiking below the Ski Lift and hike up the trail right underneath the lift. You gain 1,500 feet of altitude gain in under a mile and a half.
It's hard and hiking straight up a mountain. I can hike this way up to the lodge in 35 minutes if I really hurry and take no breaks. I have found that I can hike faster than the rickety old 1950's ski lift runs and that is why I love this route. It's challenging and a time saver!
If you don't have a lot of time to summit Mt Baldy, then this is the quickest route to the top. It is also the route that will leave you with aching calves the next day. If planning to hike back down the ski lift trail, bring hiking poles as it's very steep going back down and a good pair of trekking poles will really help with that. From the lodge to the summit of Mt Baldy it's another 3.5 miles up and it gets extremely hard in places, but not at all as hard as going straight up the Ski Lift Trail.
Hiking Mt Blady at night
Hiking Mt Baldy at night may sound a bit intimidating but it's a fun and easy hike with a group of friends. When I do this hike, I gather as many friends or family members as I can, and we start hiking up the road to the Top of the Notch Restaurant about an hour and a half before sunset. The goal is to reach the restaurant by happy hour. It's a three-mile hike to the restaurant so adjust the timing to your hiking speed.
The most important thing to remember about hiking Mt Baldy at night is to bring headlamps, as you will be hiking back down the dirt road in complete darkness.  It's a really fun night out in the mountains above Los Angeles to hike up to the Top of the Notch Restaurant for drinks, dinner and to watch the sunset then hike back down the mountain just by the glow of headlamps and check out the starry night above Los Angeles. This is also a fantastic date night hike. (As long as it's not the first date, as who wants to be alone in the forest on a dark night with a weirdo.)
Help! I have altitude sickness!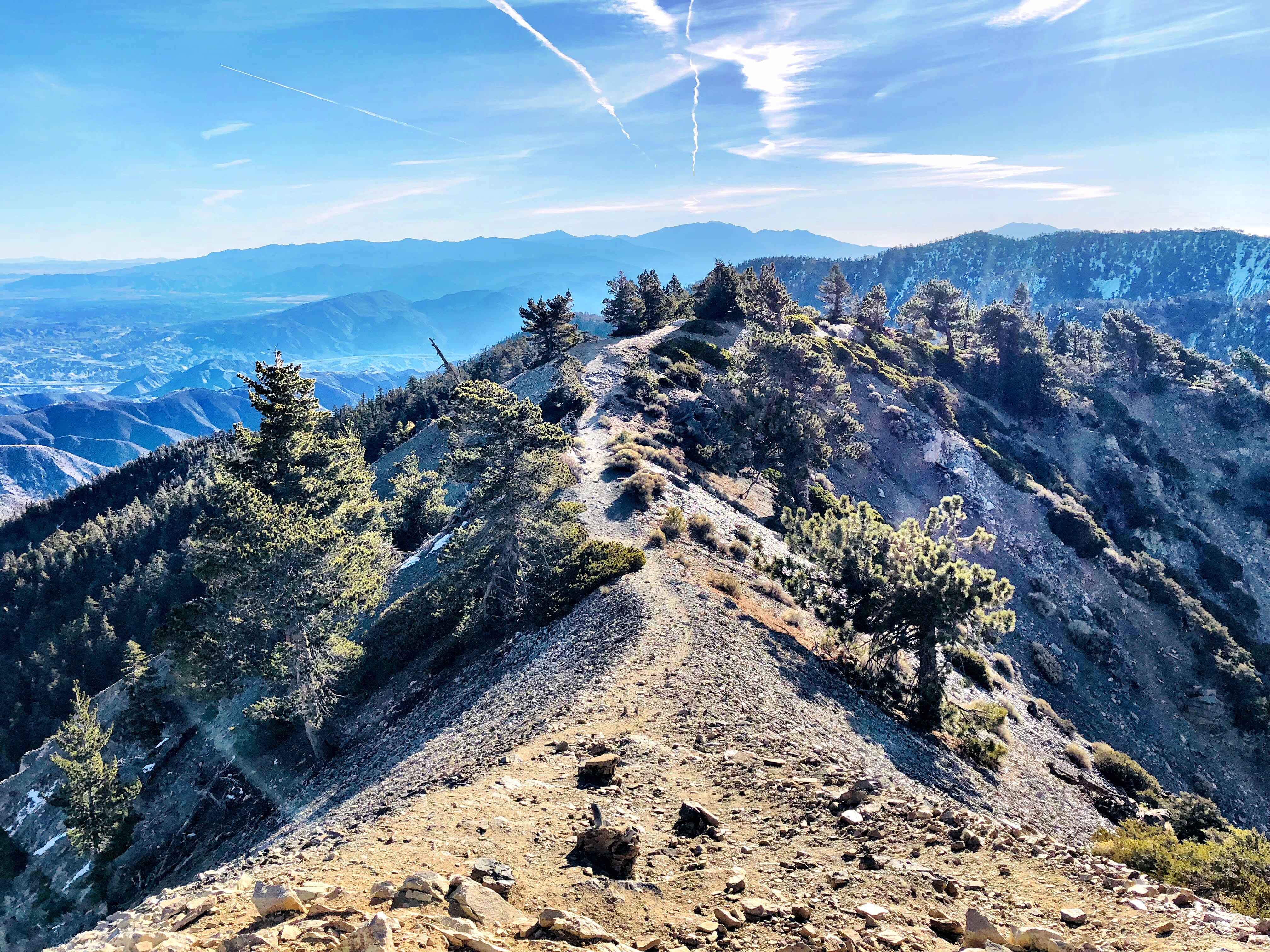 Most people who try and climb Mt Baldy from the flatlands below will find themselves with altitude sickness when they are between 6,000 and 8,000 feet. It may just be feeling tired, or you could feel woozy and dizzy. Signs of altitude sickness also are headaches and nausea. Altitude sickness can ruin any high-altitude hike for sure and I always take Altitude RX Oxyboost a few days before starting any high-altitude hiking, just in case. These pills are Ginkgo Biloba and all natural. Another way to combat altitude sickness is to drink a lot of water on the hike and hike slowly so your body can adjust to the higher altitude. Your body will get dehydrated quickly at higher elevations. Make sure you apply more sunscreen then normal also, as you can get sunburnt faster at higher elevations.
[amazon_link asins='B004U2JN70′ template='ProductCarousel' store='rockchucksumm-20′ marketplace='US' link_id='aa709e26-3dcc-11e8-9738-e985da5a8ccd']
Things to know before you hike
You will need a forest adventure pass to park in the parking area at Manker Flats. They are for sale in Mt Baldy Village or at any local Sports Chalet or REI.
There is no cell service anywhere on the mountain if you have an emergency or need to meet friends. If meeting friends on the mountain, I suggest carpooling from Claremont or Upland or following each other's cars up the mountain. If you do not know Mt Blady Ski area well, it's hard to locate people once you reach one of the parking areas. Make sure you download your GPS tracker maps before you leave home!
There are bathrooms now at Manker Flats, but they are disgusting and never stocked with toilet paper. If hiking anywhere near the Top of the Notch Restaurant, they have clean bathrooms that are open to the public and are open twenty-four seven.
The food at Top of the Notch Restaurant is delicious and they have a great craft beer selection for after the hike.
Make sure you're prepared for your hike, our beginners guide to hiking is a wonderful place to start!
Mt Baldy is an excellent place in Los Angeles County to do some winter hiking and trail exploring. You can hike here year-round of course, but I think the snow on the peaks just makes this route so stunningly gorgeous in the winter months. The view from the top of the mountain to the city of angels below is just killer, especially on a cloudless day when you can see boats sailing on their way to Catalina. With all this great info at your fingertips, what's stopping you? Plan your trip to hike Mt Baldy today!