Rugged Ridge Dash Multi-Mount system is a super easy to install and simple, functional multi-mount system for Jeep Wranglers. With options available from JK to JL years, Rugged Ridge has a dash mount system that does it all and for an affordable price. The kit is a complete kit with everything you need to have a 17mm ball mount with an optional "grabby" phone adaptor.
This dash mount is one of the most used first Jeep upgrades we did on our Jeep and it's still working well years later.
Rugged Rish Dash Mount
2/22/22 Update: We've had the Rugged Ridge Dash Mount System installed in our Jeep for over a year now and it's been problem-free and working great. No problems to report.
Rugged Ridge Dash Mount Features:
Fits 3.6 inch wide phone
Adjustable – Portrait and Landscape mountable
5 Year Warranty
I like the fact that I can buy another adaptor for bigger phones or mount an android tablet for GPS mapping and real-time data collections & engine monitoring with an OBD-II adapter.  The 3.6″ phone adapter is easily removable so if you don't want to stare at it all the time, you can remove the top pieces of the post and clear out your view.
The kit is super simple. It Comes in a large box.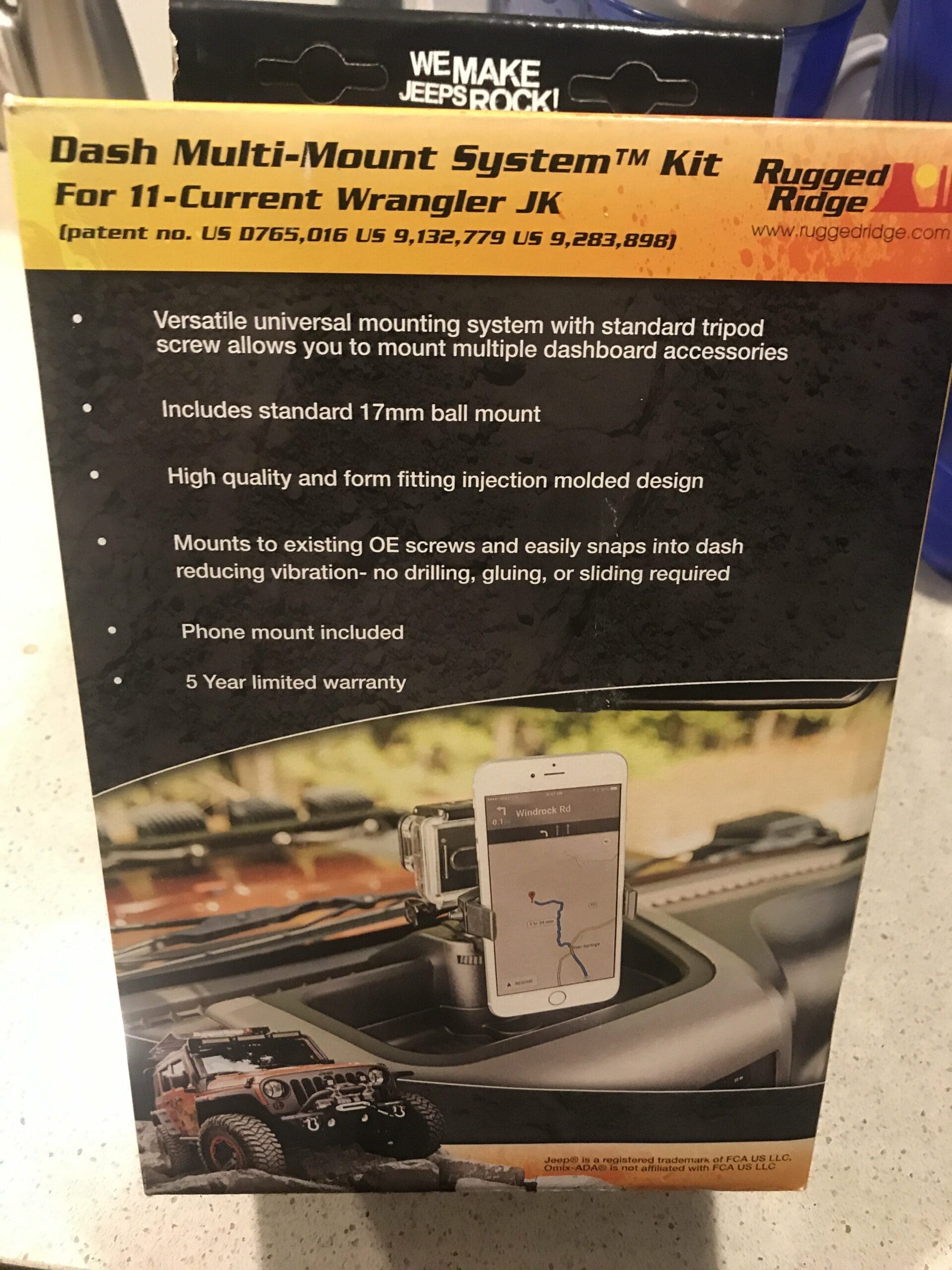 The following items are individually packaged inside the box for the Rugged Ridge 13551.16 JK Kit.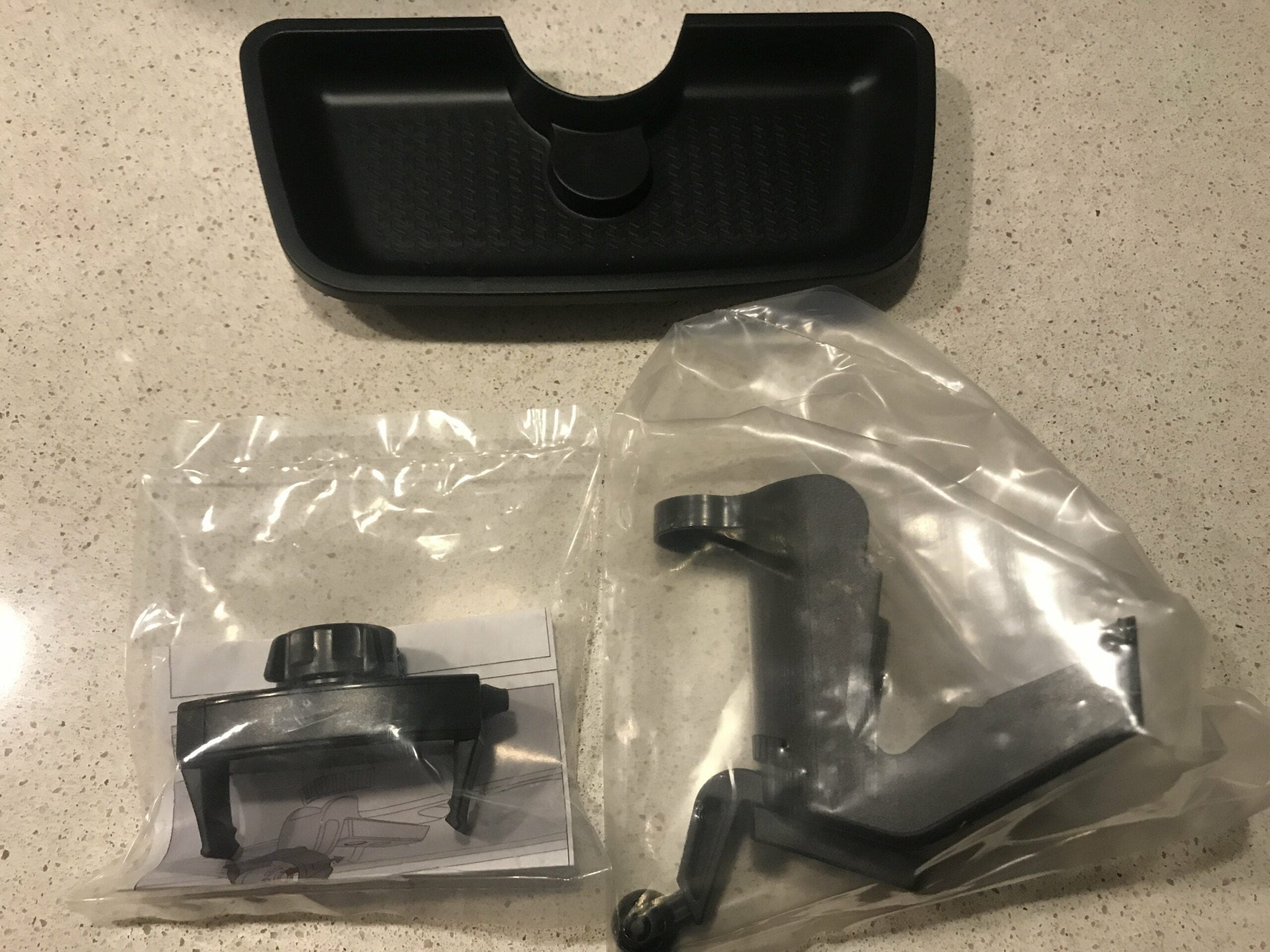 Nothing was broken, scratched, or sloppily made. All looks good upon inspection.
Rugged Ridge Dash Mount System Installation
Installing the Rugged Ridge dash mount kit is super simple. Just need a single tool and follow the simple instructions. We've developed this quick guide to help you understand the process.
Tools
You just need a 7mm socket – that's it!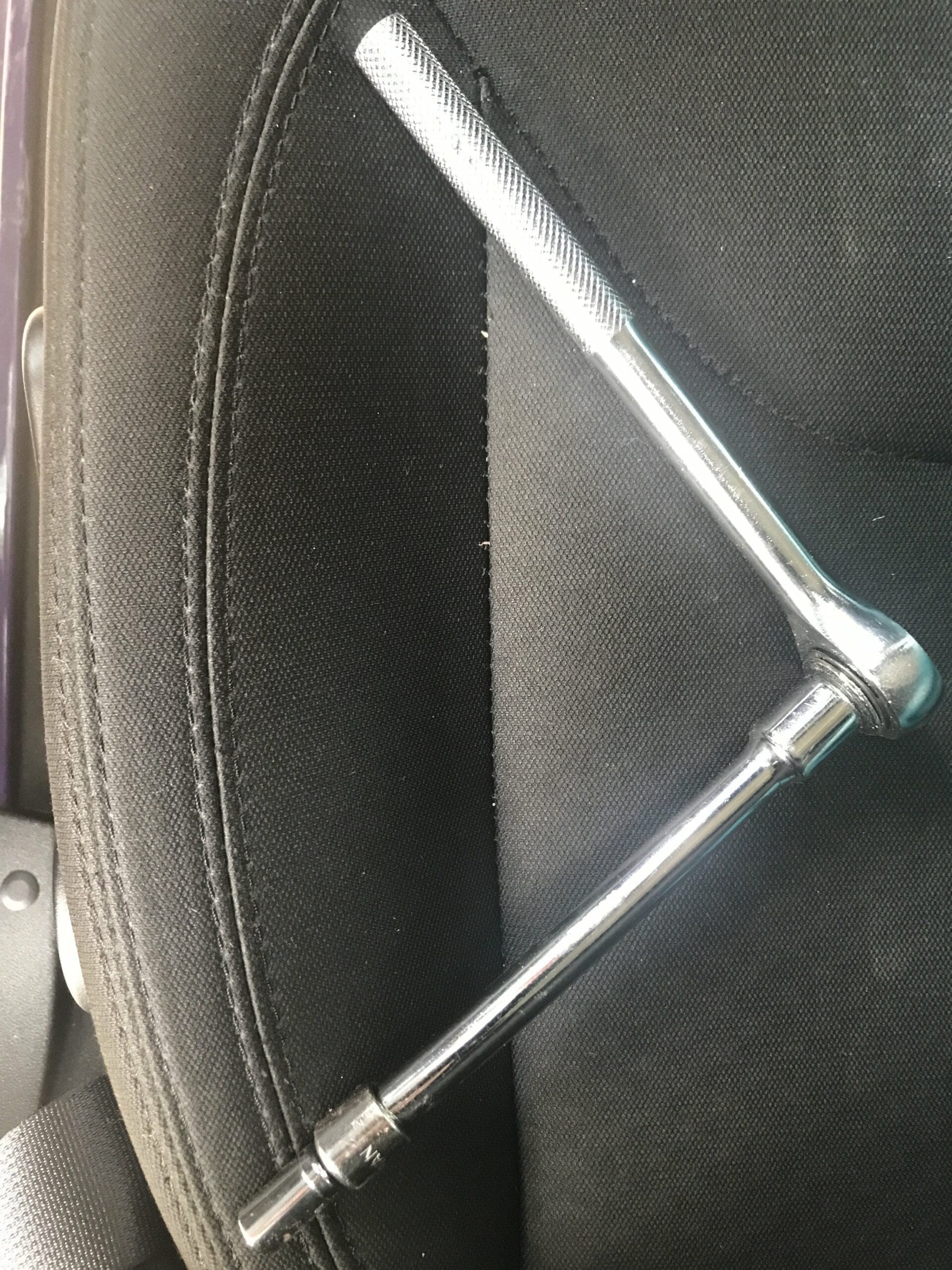 I used the only extension I could find at the time so that I wouldn't scratch the console with my tools but when I tightened the bolt back in during installation, I could carefully tighten without the extension as it just got in the way.
Installation
Installation of the Rugged Ridge dash mount is straightforward. NO Vehicle modifications Needed!  Remove the existing rubber tray – pull it out. Grab it by the middle ridge and lift it out. If you're like me and have kids, it's probably a bit sticky from whatever it is they always stick in every crevice on my Jeep.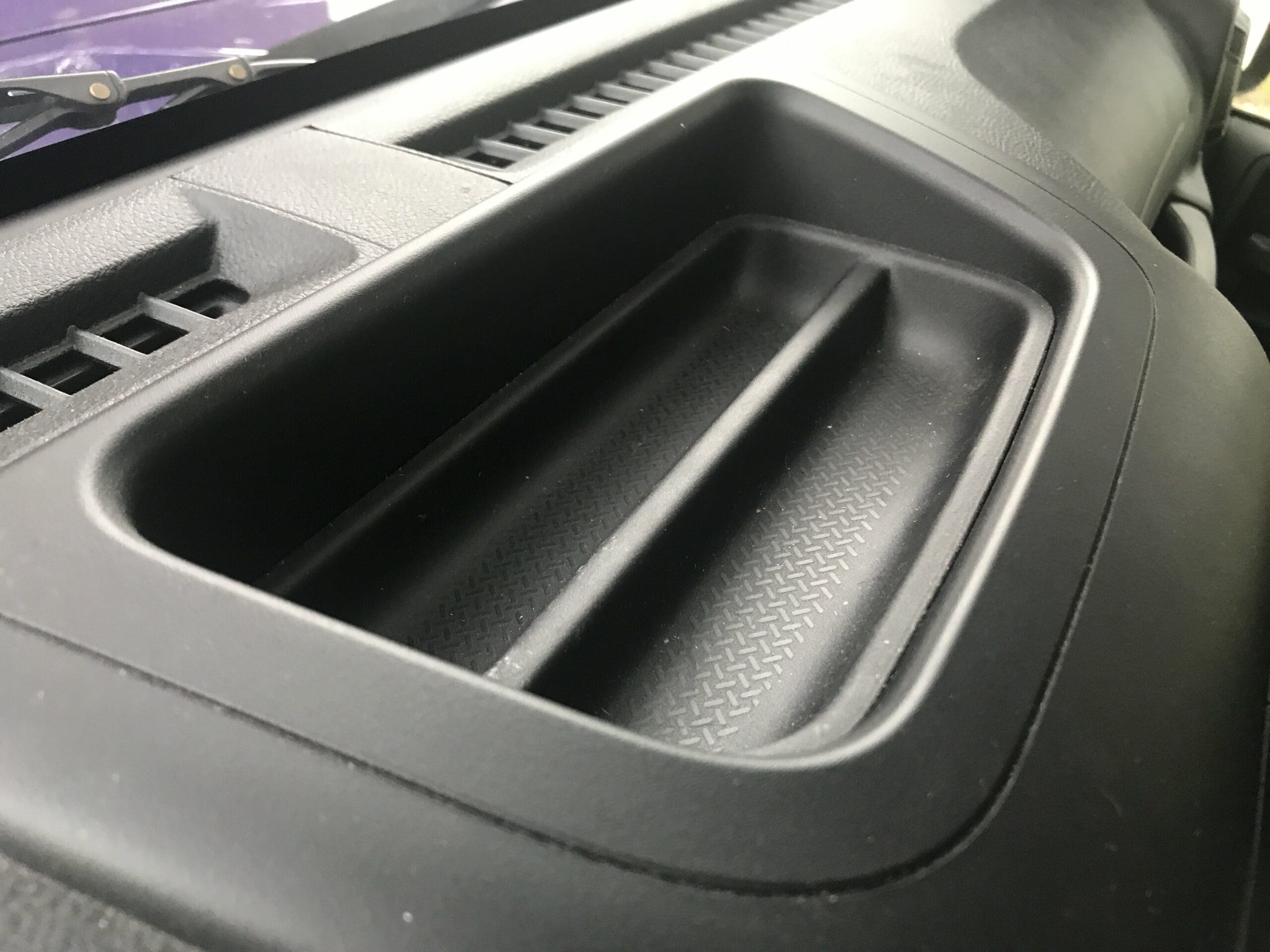 Remove the 7mm screw that is in the top center of the tray with your 7mm socket, set aside.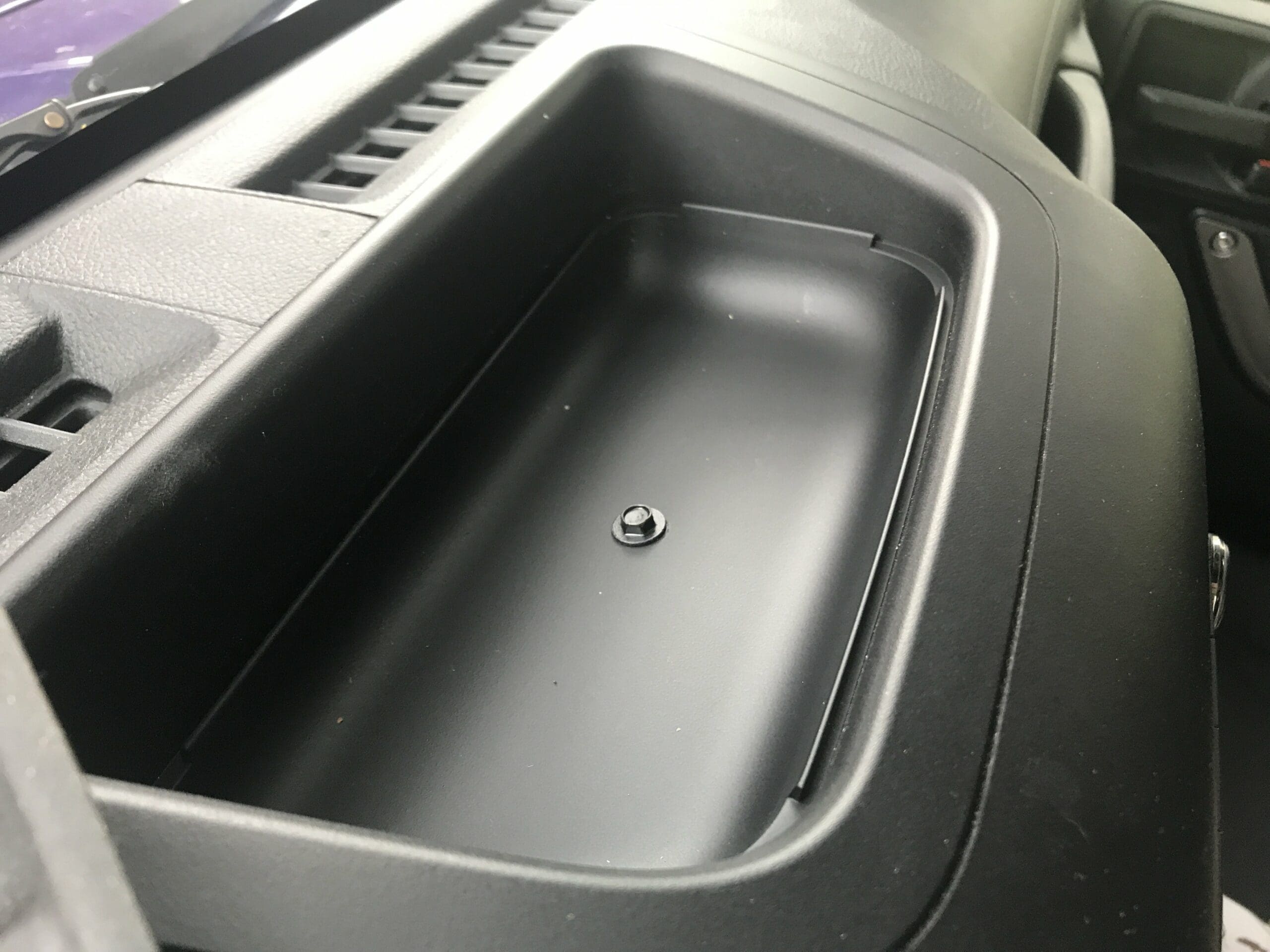 Snap in the mounting bracket – I chose to just snap straight down. The included instructions seem to say to connect the bracket in the rear and then pull forward, but I've read some reviews that people who did that scratched their dash. I didn't see any scratching when just pushing straight down.  There was an audible click when it was secured.
Once the bracket has "clicked" in, re-install the 7MM screw and tighten until the mount is secure.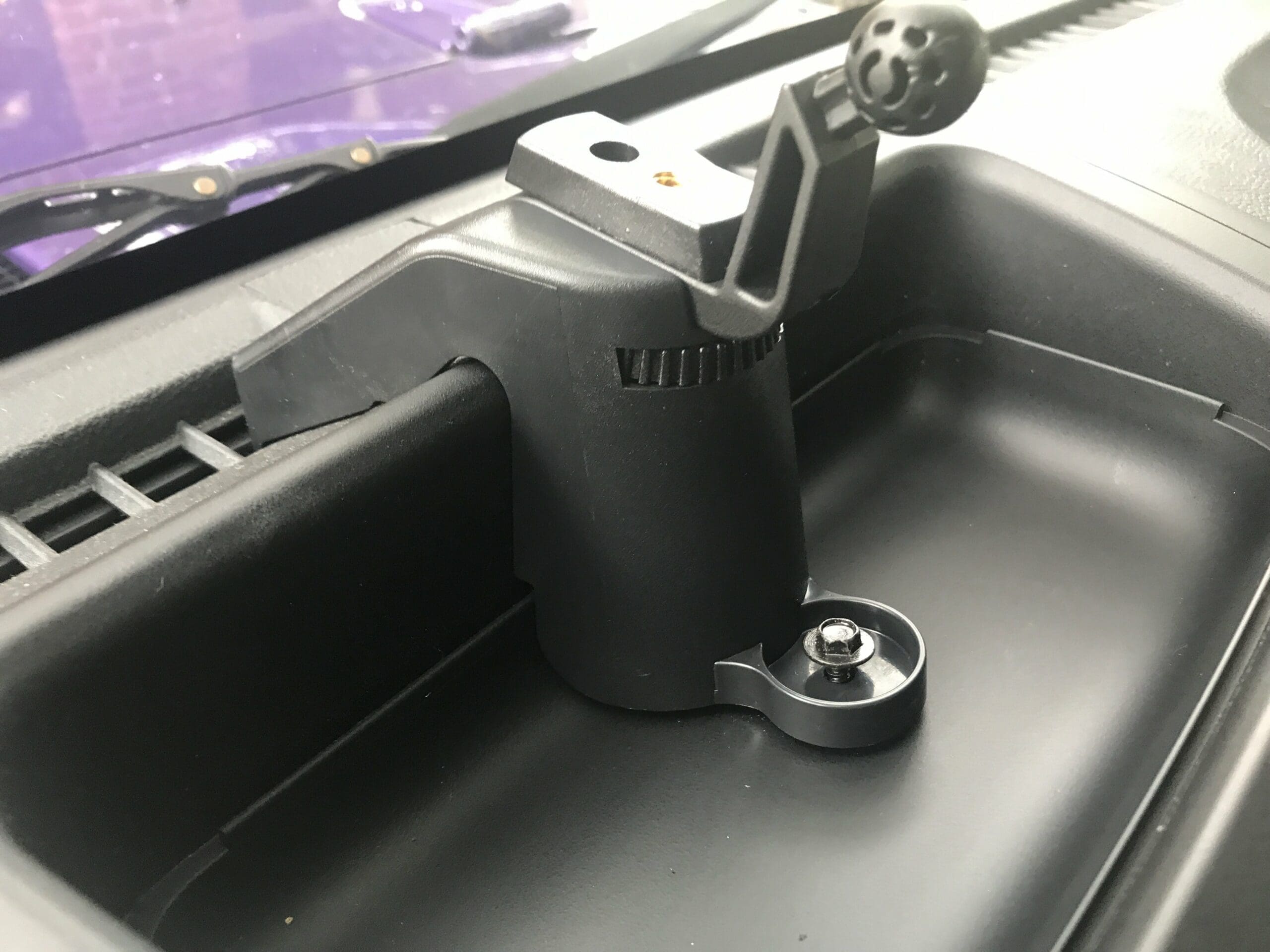 Snap the included tray back in. (It just rests in the cubby)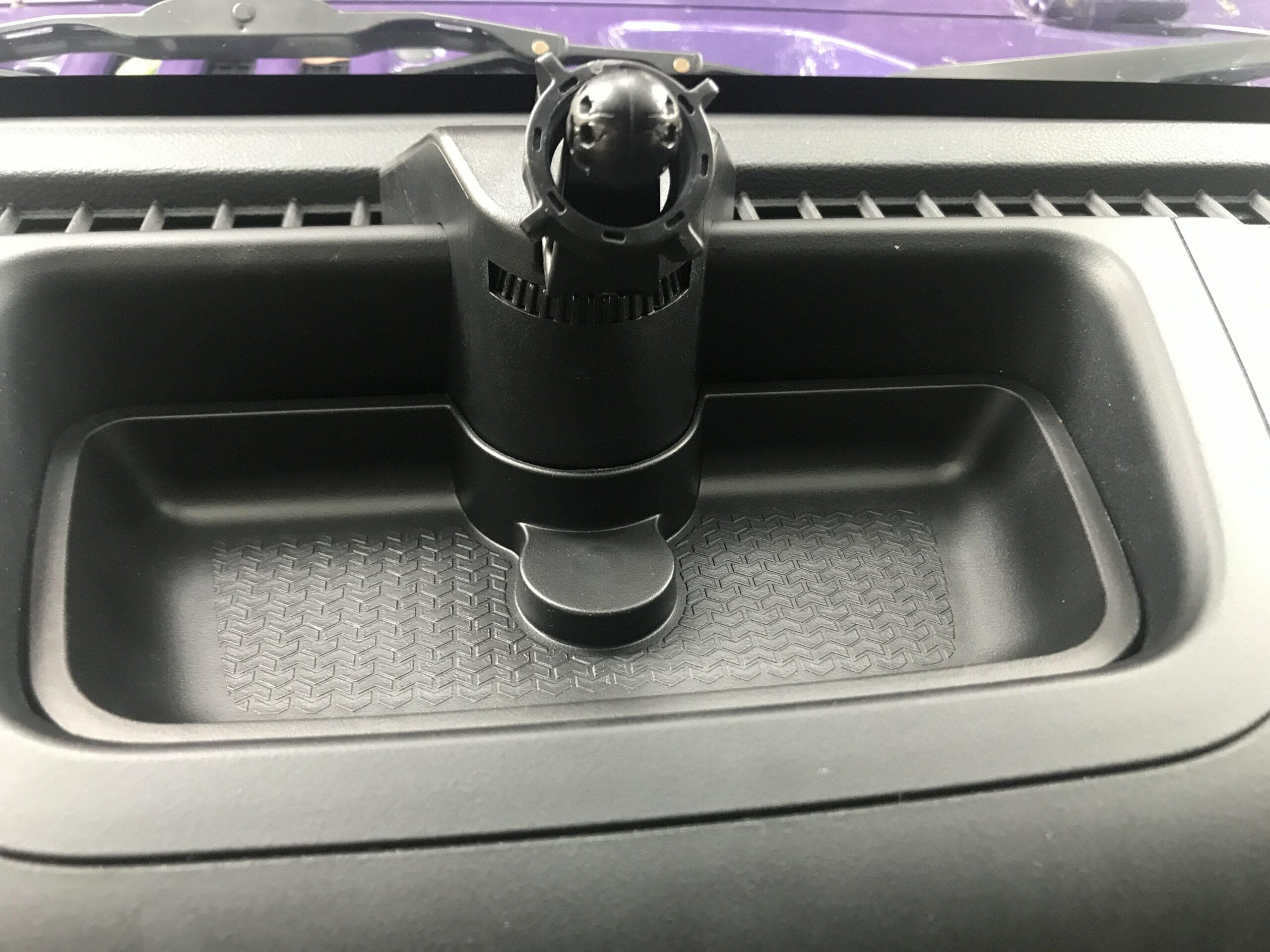 To install the cell phone mount, unscrew the plastic nut and pop it off the ball clasps on back of cell phone mount.  Put plastic nut over ball mount with threads facing up and then push the cell phone mount on top of the ball until it snaps in.  Re-thread washer to ball and lightly tighten. I didn't need to tighten much to secure my mount. Remember the tightening is reversed when you tighten the nut by hand.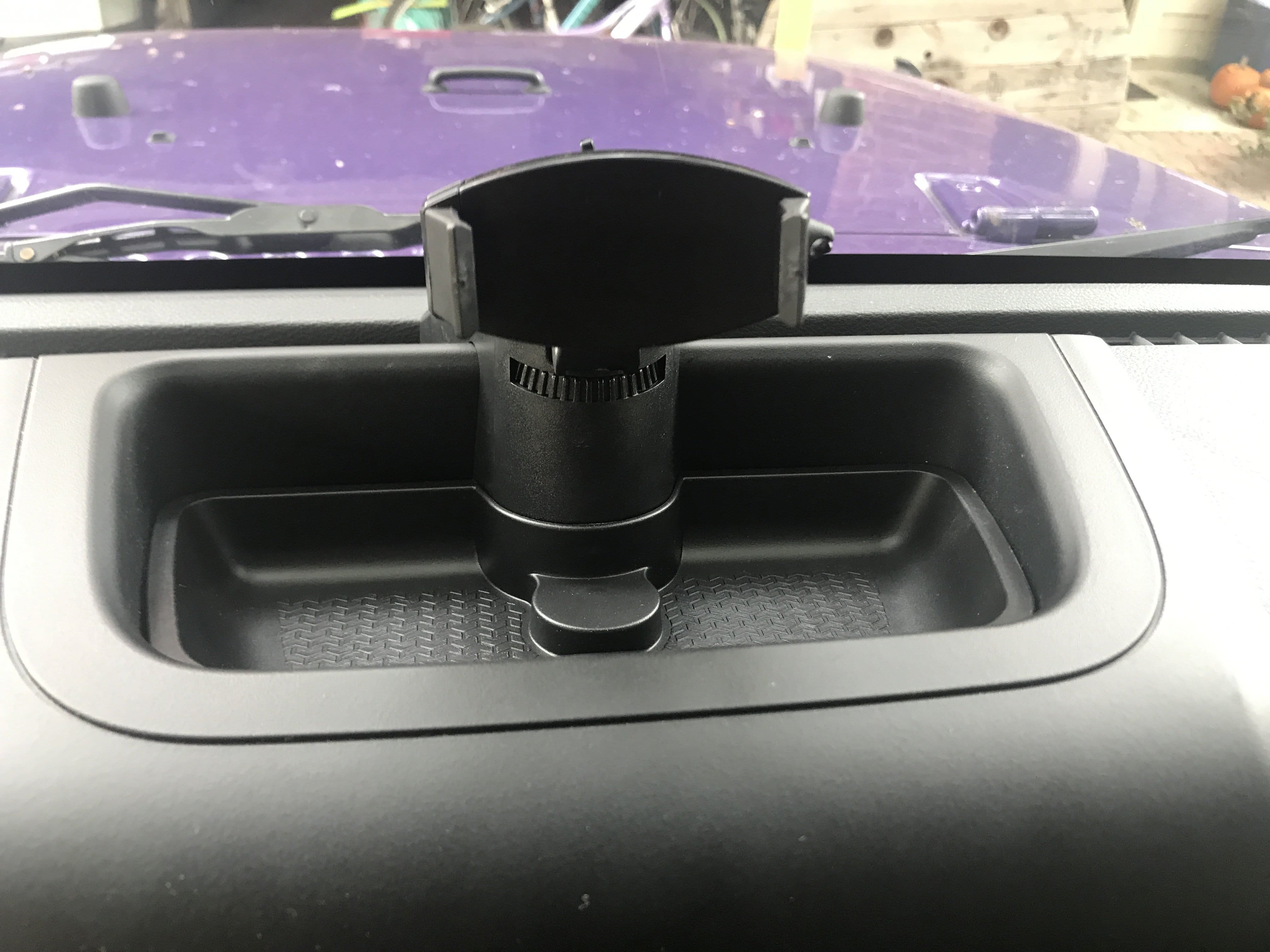 You can also rotate the mount for landscape mode.  To increase the longevity of components it's always good to loosen and re-tighten the nut while rotating so you don't wear down the plastics.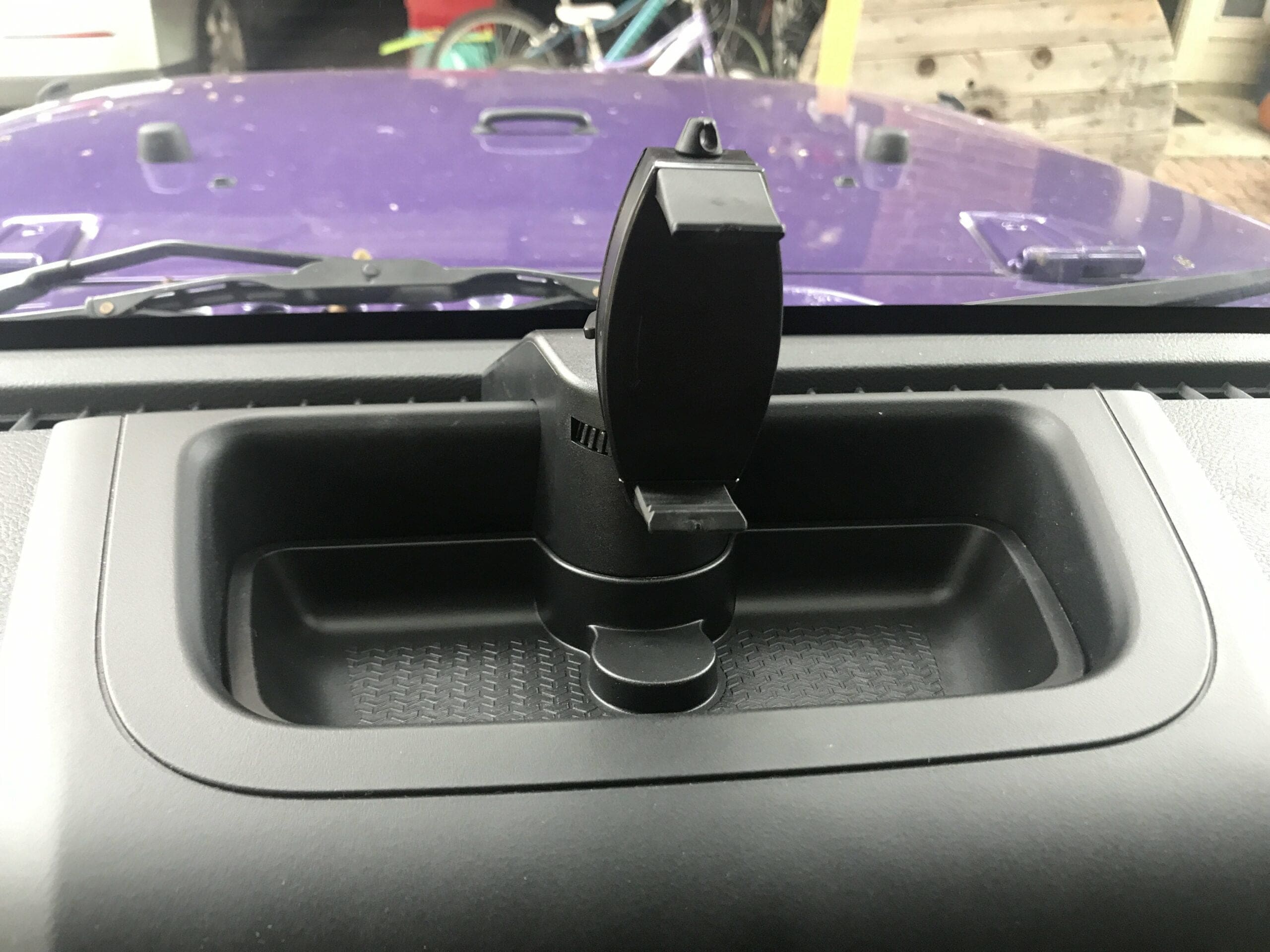 Buy Online
There are options available for 07-10 Wrangler, 11-17 JK Wrangler, 18-19 JL, and 97-06 Wrangler. Click the link below to purchase and select the one that matches your Jeep Wrangler make.
Jeep Wrangler Model Year 11-17 JK/JKU – Part #13551.16
Jeep Wrangler Model Year 18-19 JL/JLU – Part #13551.23
Jeep Wrangler Model Year 97-06 Wrangler – Part # 13551.19
17mm ball mount accessories
Some of the Rugged Ridge Multi Mount kits include a phone grip mount for phones up to 3.6″ wide, however, if you have a larger device, tablet or handheld these compatible adaptors will fit the 17mm ball mount on the mounting bracket.
What do you look for in a Jeep Wrangler Dash Multi Mount system? Have you tried the Rugged Ridge Mounts? What is your experience with them? We'd love to hear your reader reviews and we'll be sure to update this post as we build experience with this on our Jeep!