Looking to replace your plastic factory side steps or add more foot room than the Rubicon Rock Sliders? The Tyger Auto Star Armor Kit for Jeep Wranglers is an excellent option for those of you looking for running boards, (rock rails, nerf bars/side steps) for your Jeep Wrangler. We'll take you through the super simple installation and report back with our first trail trips and keep you updated on our experience with these affordable & great looking running bars.
What are Jeep Nerf Bars?
These running boards have a lot of names that they go by, but overall – they're usually serving the same utility or purpose.  Sometimes these are called Side Steps, Running Boards, Nerf Bars, Rock Sliders, Sliders.  All these devices usually serve two purposes – primarily – Vehicle protection from dings & dents as you take your vehicle off road and second – a step.  Some armor kits are just straight up body armor and don't offer any steps, but with my mission, I wanted to achieve both – which is why I selected to try out these Tyger Auto Running Boards on my 2018 Jeep Wrangler Unlimited 4 Door.
These running boards are an excellent first upgrade for your Jeep and they have lasted several years now!
Tyger Auto Jeep Wrangler Running Boards
These running boards fit the 2007-2018 JKU series Jeeps. They do NOT currently fit the brand new 2018+ JL series yet. We'll update this post if we see Tyger Auto make any available for the new 2018 JLs.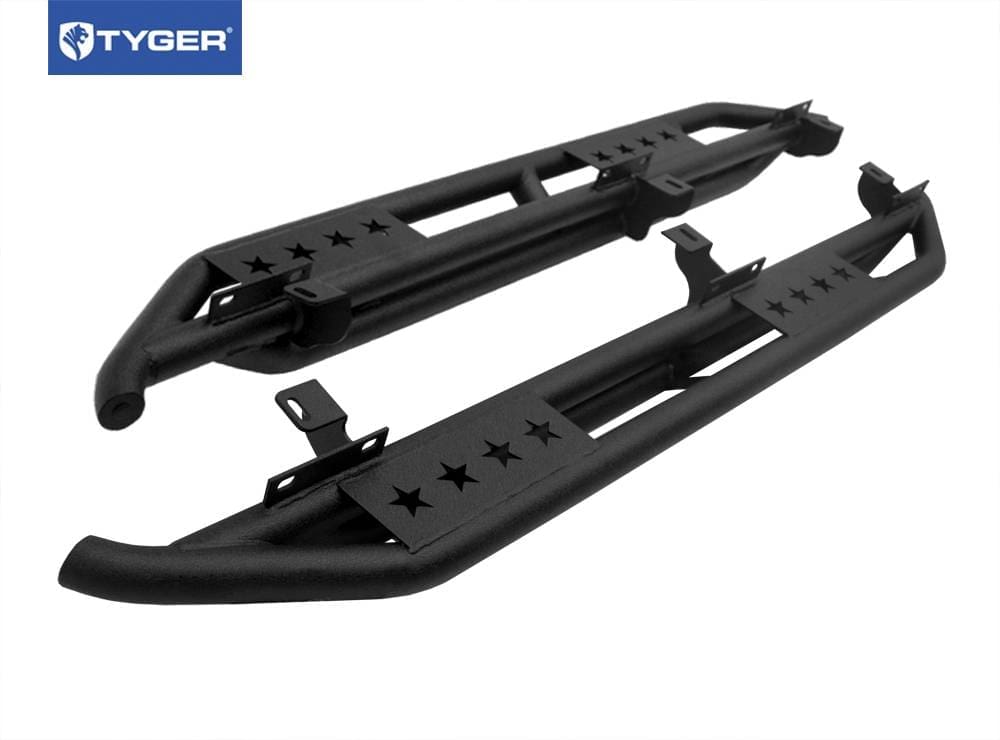 Tyger Auto TG-JA2J2239B 
2007-2018 JKU Fitment
Easy Bolt on Installation – No Drilling
Heavy Duty 2inch diameter tubing with .120 Inch wall thickness
Warranty against manufacturing defects
Item Weight – 86 Lbs (Shipping weight ~ 100 lbs)
Product Dimensions – 76×12.6×19 (Boxed)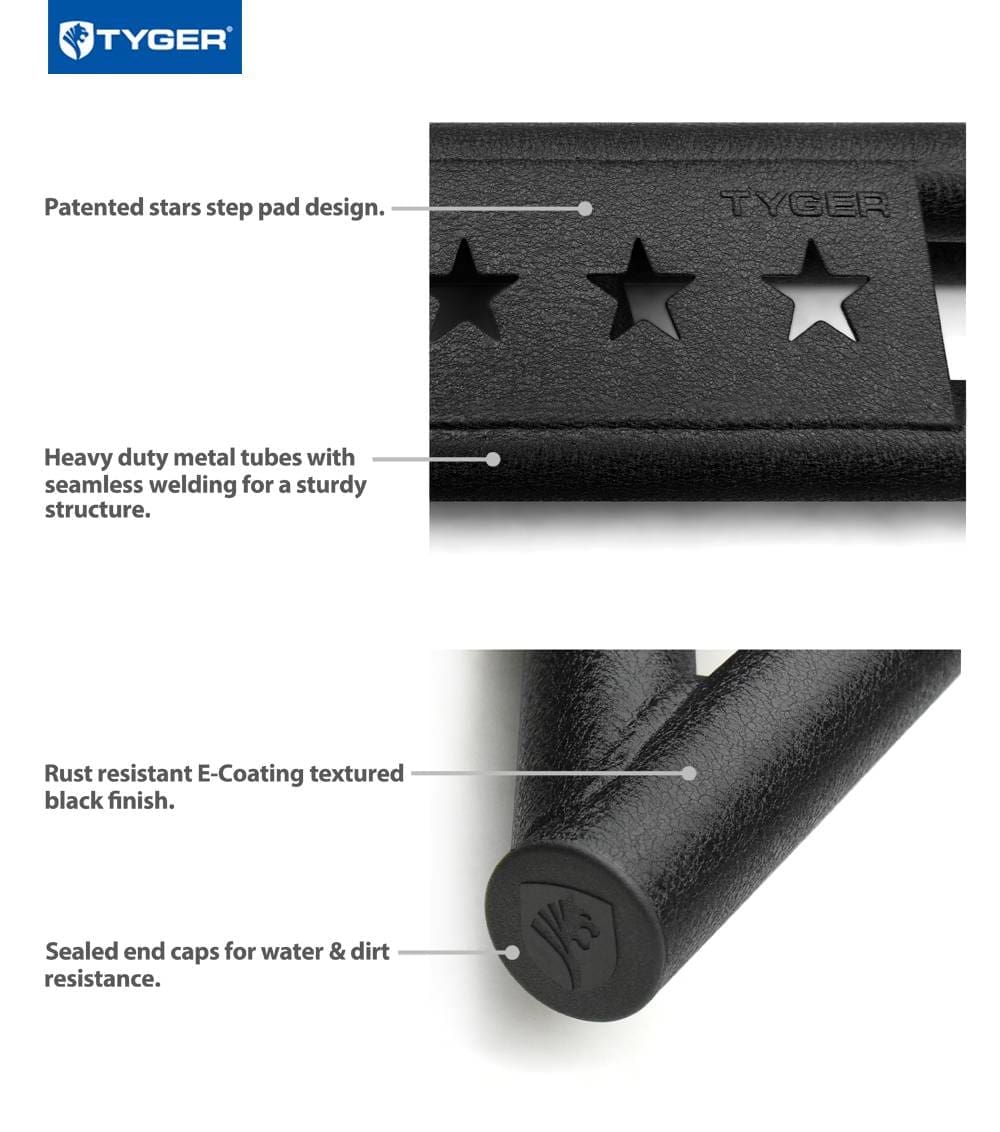 Packaging
I received the running boards in great condition via UPS in a well-packed box with no signs of shipping damage – which is good considering its a pretty hefty box to lug around.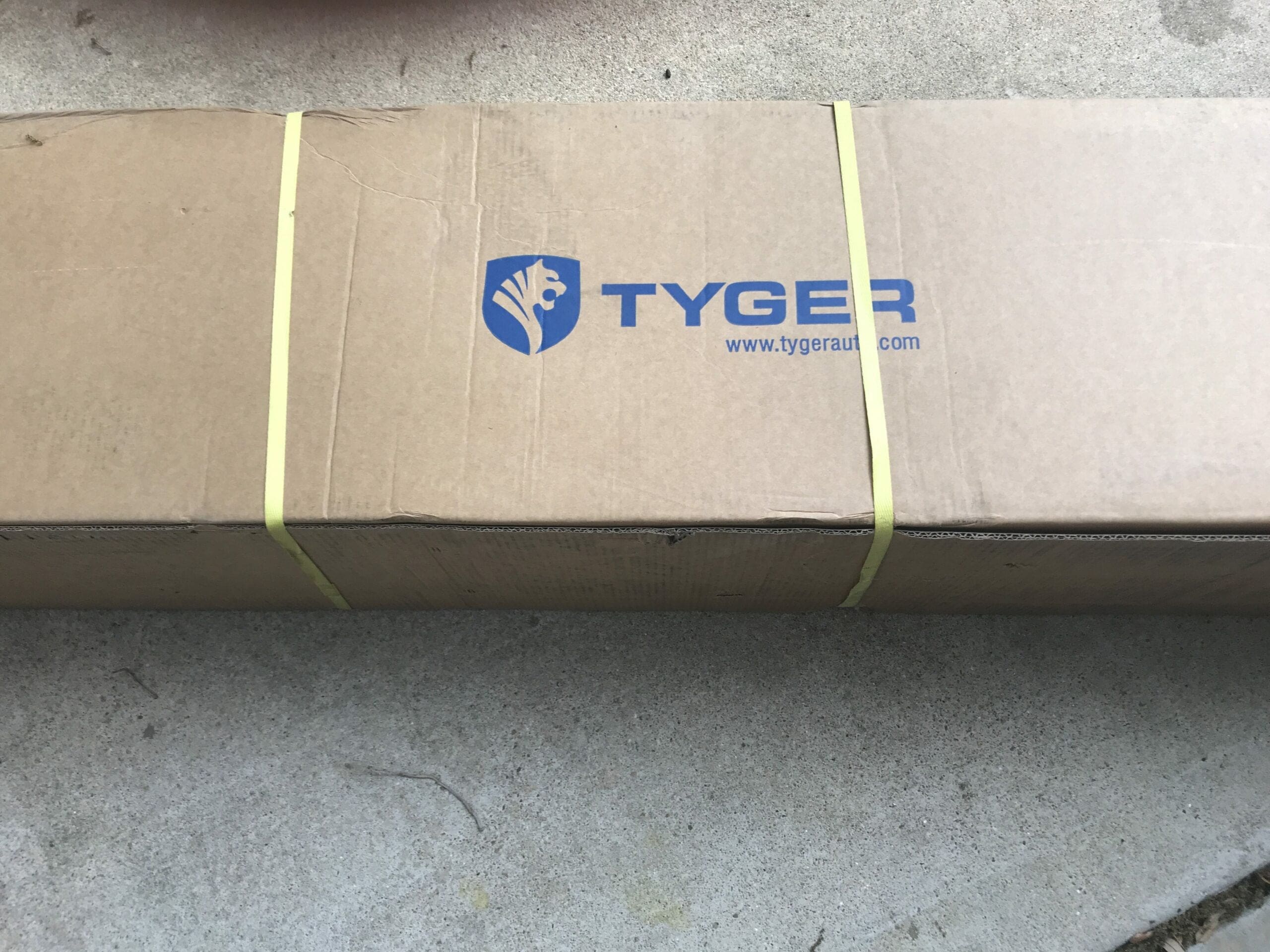 Each Running board was wrapped and stabilized in foam packers. Very happy with the shipping job from Tyger Auto. I've seen people receive parts just wrapped in plastic and no protection whatsoever.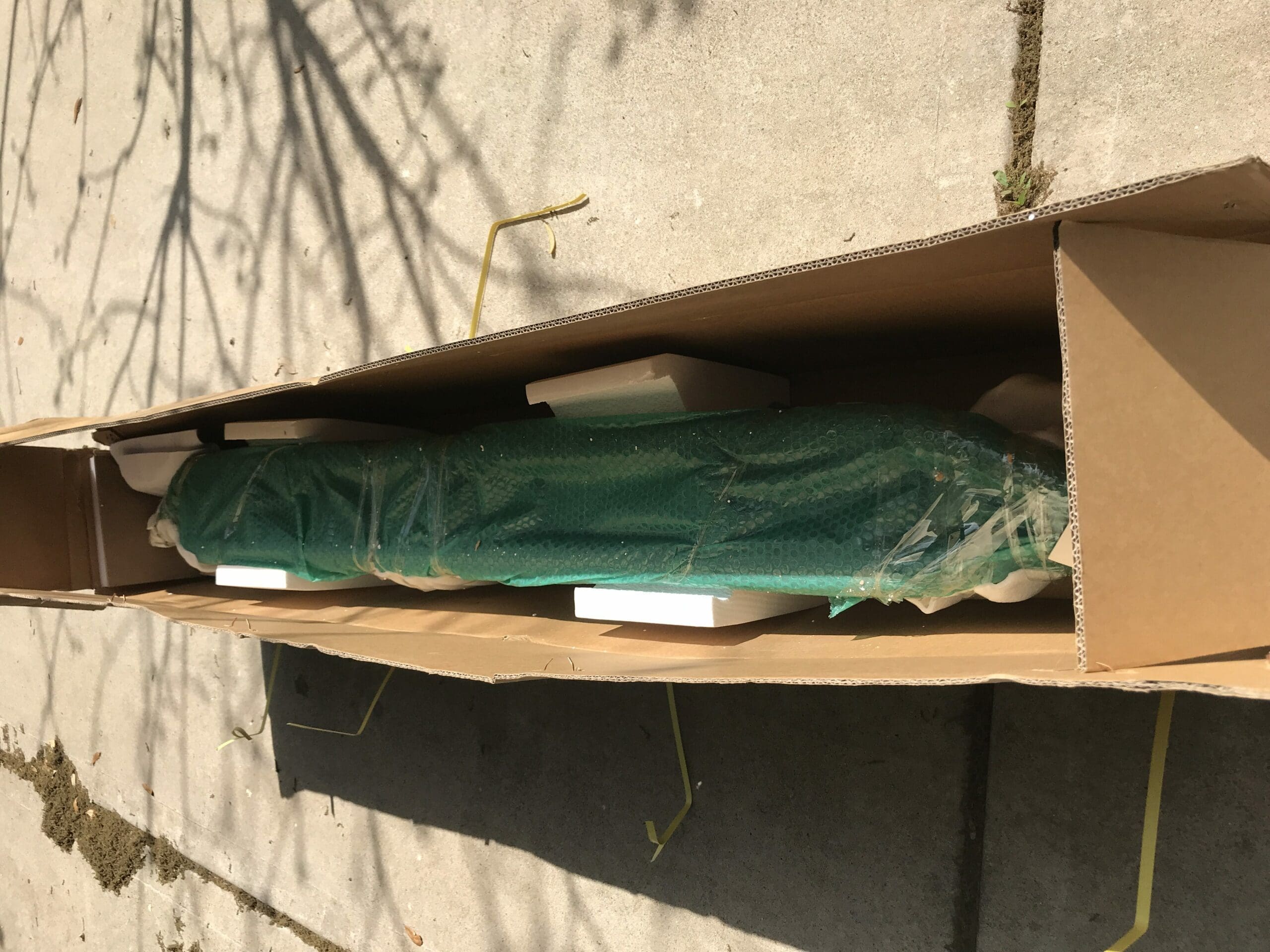 The passenger and driver sides were labeled and color-coded and wrapped individually – which means no dings/dents/scratches from lazy packaging and easy to follow installation with no confusion.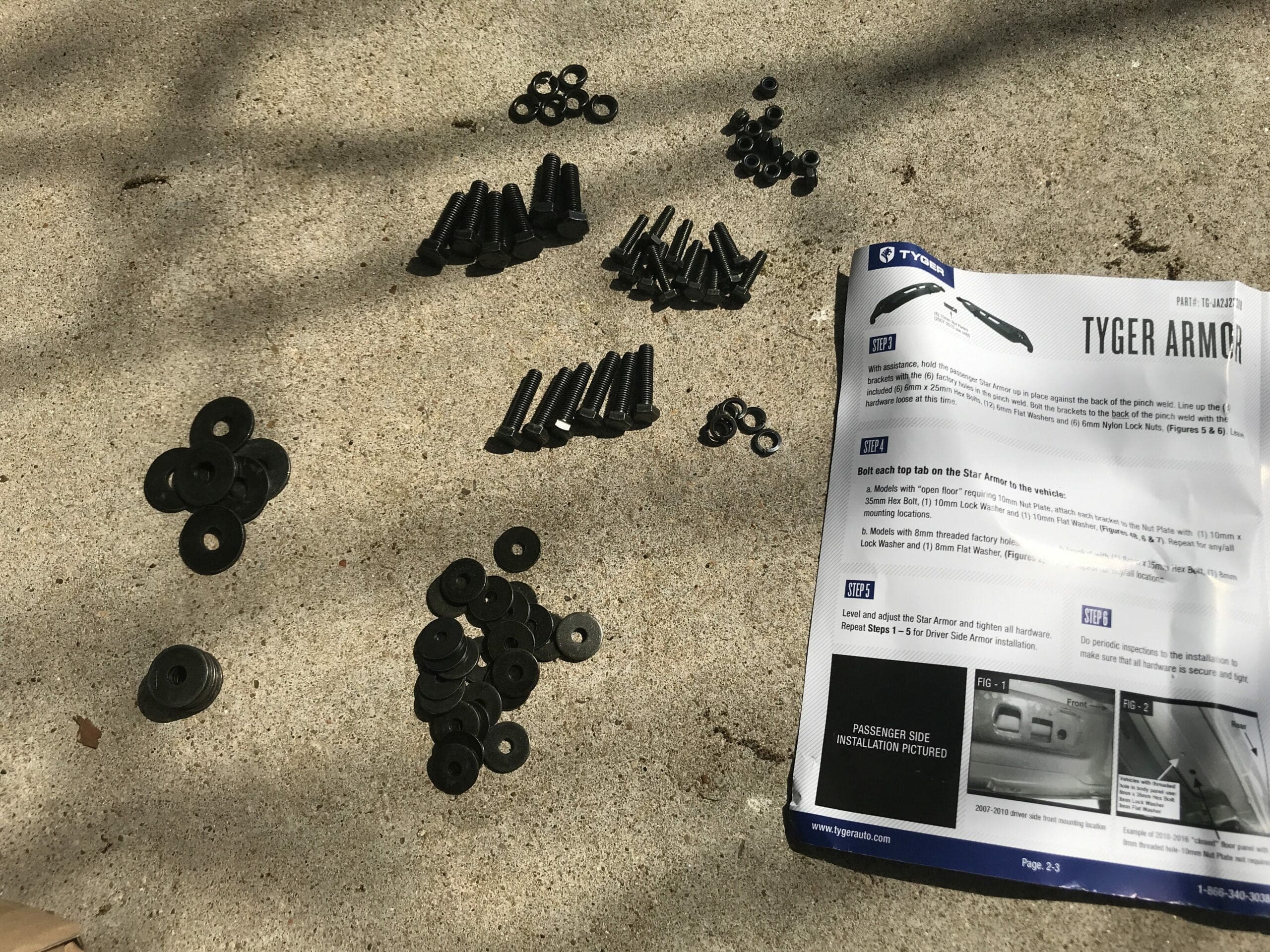 All of the hardware was included. I'm not showing the brackets for the 2010 or older Jeep JKU's here since I didn't need it – but everything was included and nothing missing.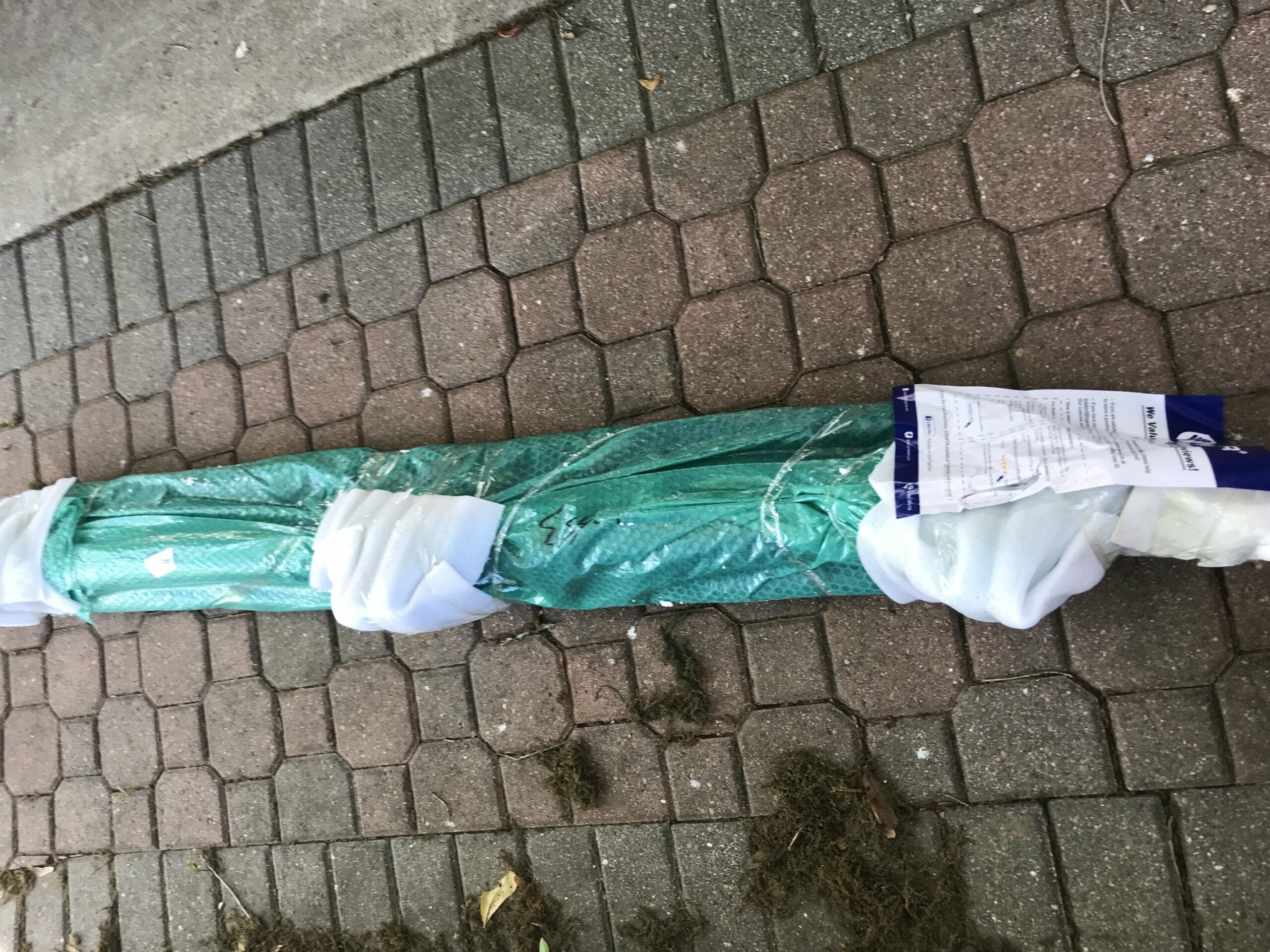 The color-coded packaging and individually wrapped components was very nice.
Installation
After everything is unboxed – be sure to read the attached installation worksheet and make sure that you line up the bars with the respective side – one will be marked driver and the other marked passenger side.
Required Tools
Before you start, make sure you have a nice socket set. A socket extender is needed to be able to reach the bolts not just on the front of pinch seam but on the three under mount brackets as well.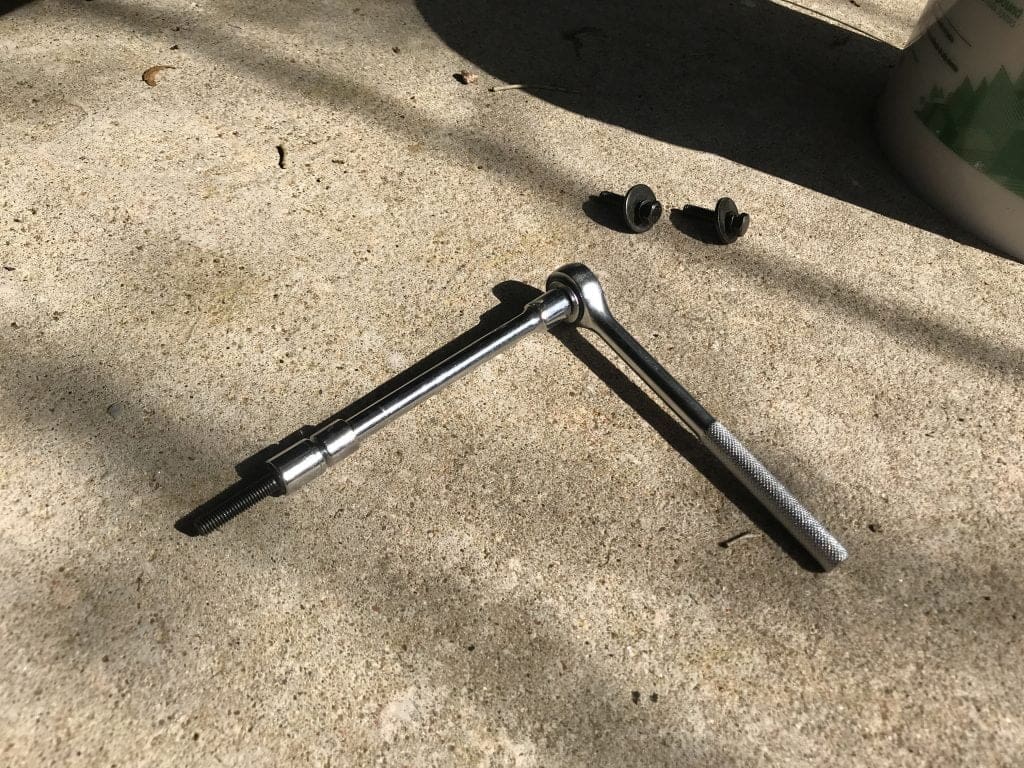 One Man install "Cheat"
Once I had everything unpacked and understood the instructions and bolt dimensions/layout, I put some 5-gallon buckets under my vehicle to help prop up the rails while I finger-tightened the bolts in the pinch seam.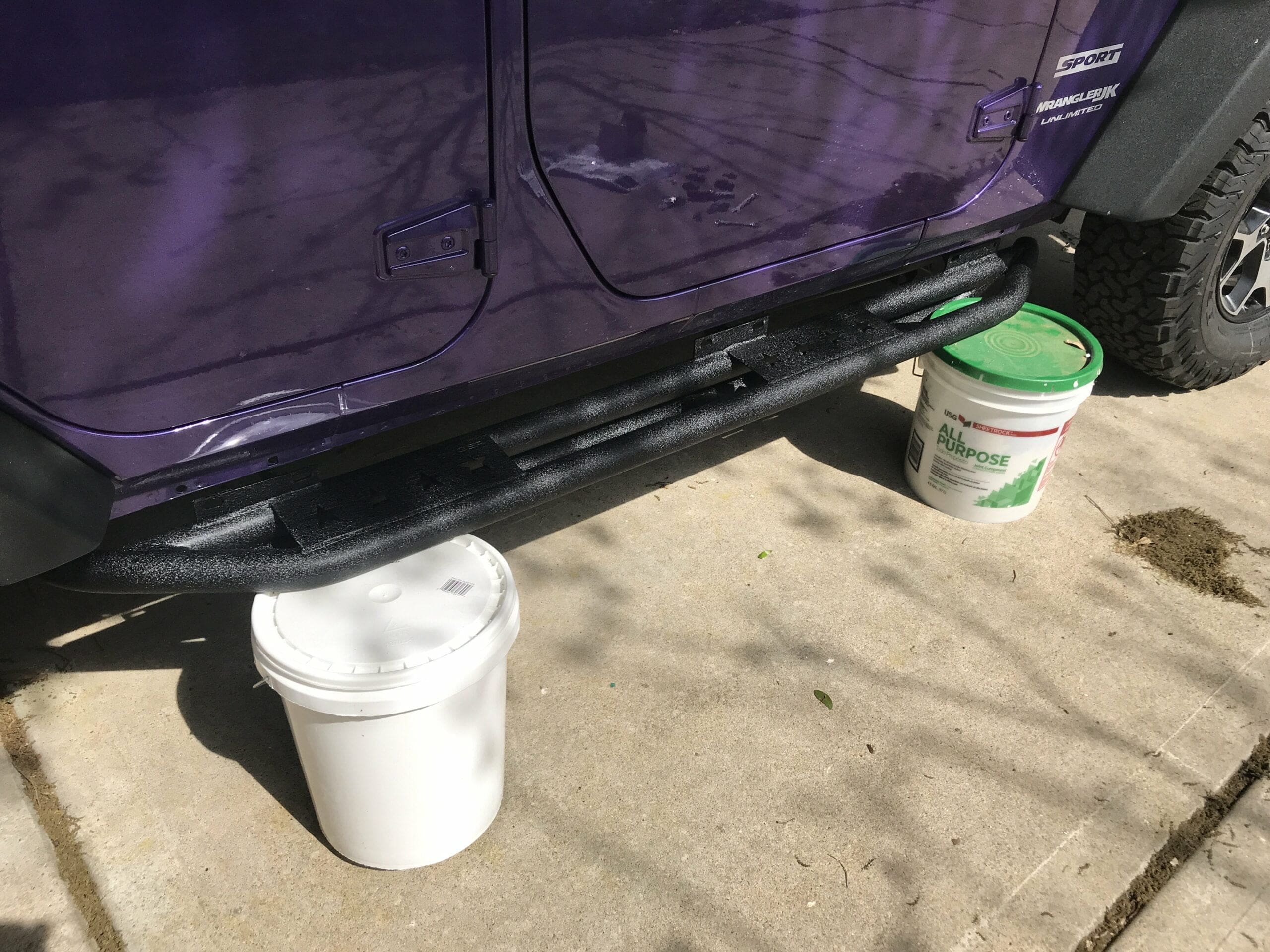 Using five-gallon buckets helped hold the bulk of the weight, I just installed these bolts by hand – make sure you follow the instructions and that the seam bracket is behind the Jeeps pinch seam. I would only finger tighten these for now since you may need to adjust the bar laterally to get the main brackets to line up with tub holes.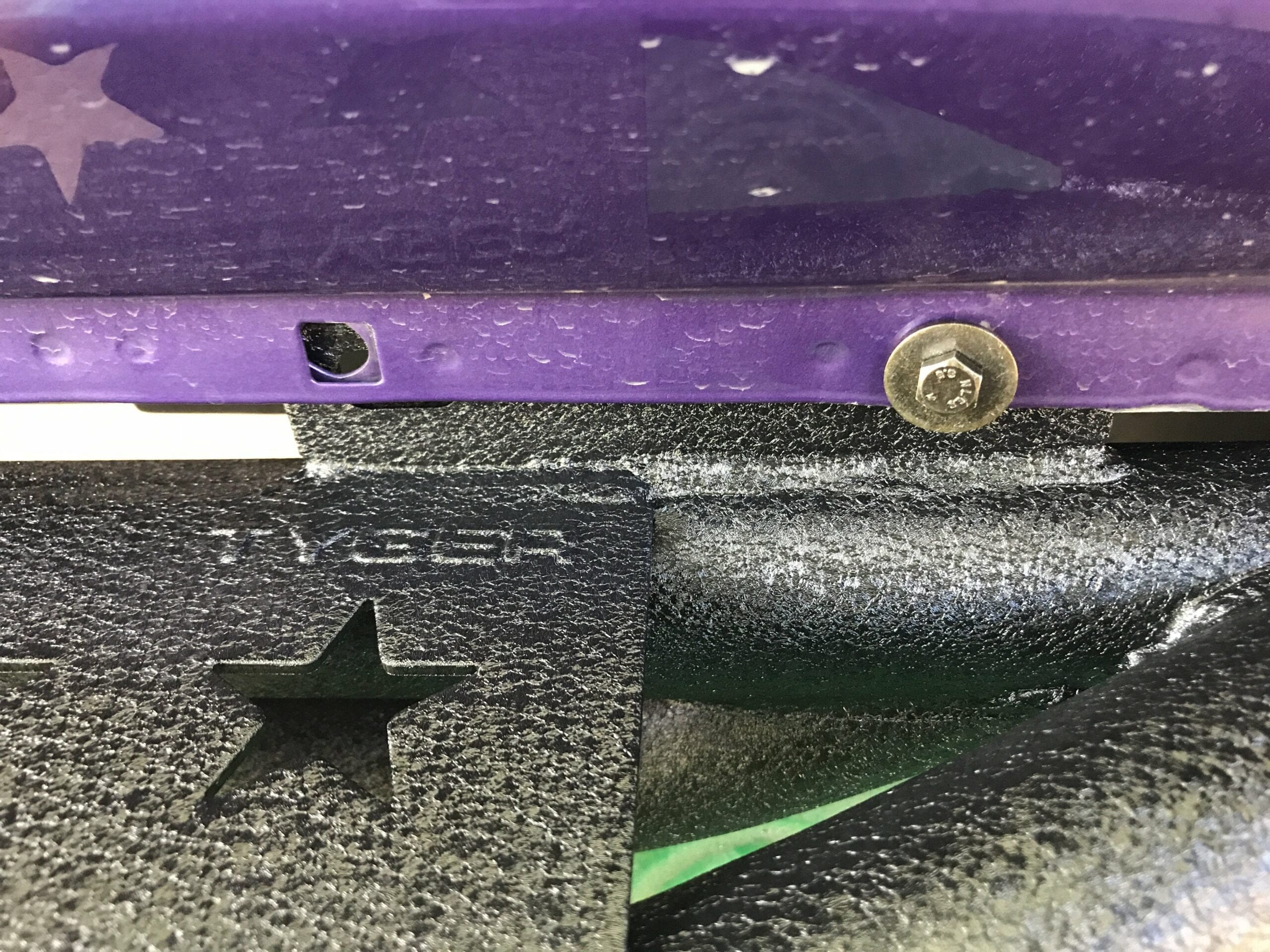 At rear section of nerf bar, I just slid the 5-gallon bucket up along the angled part of the nerf bar which gave me enough height & stability to finger tighten the seam bolts.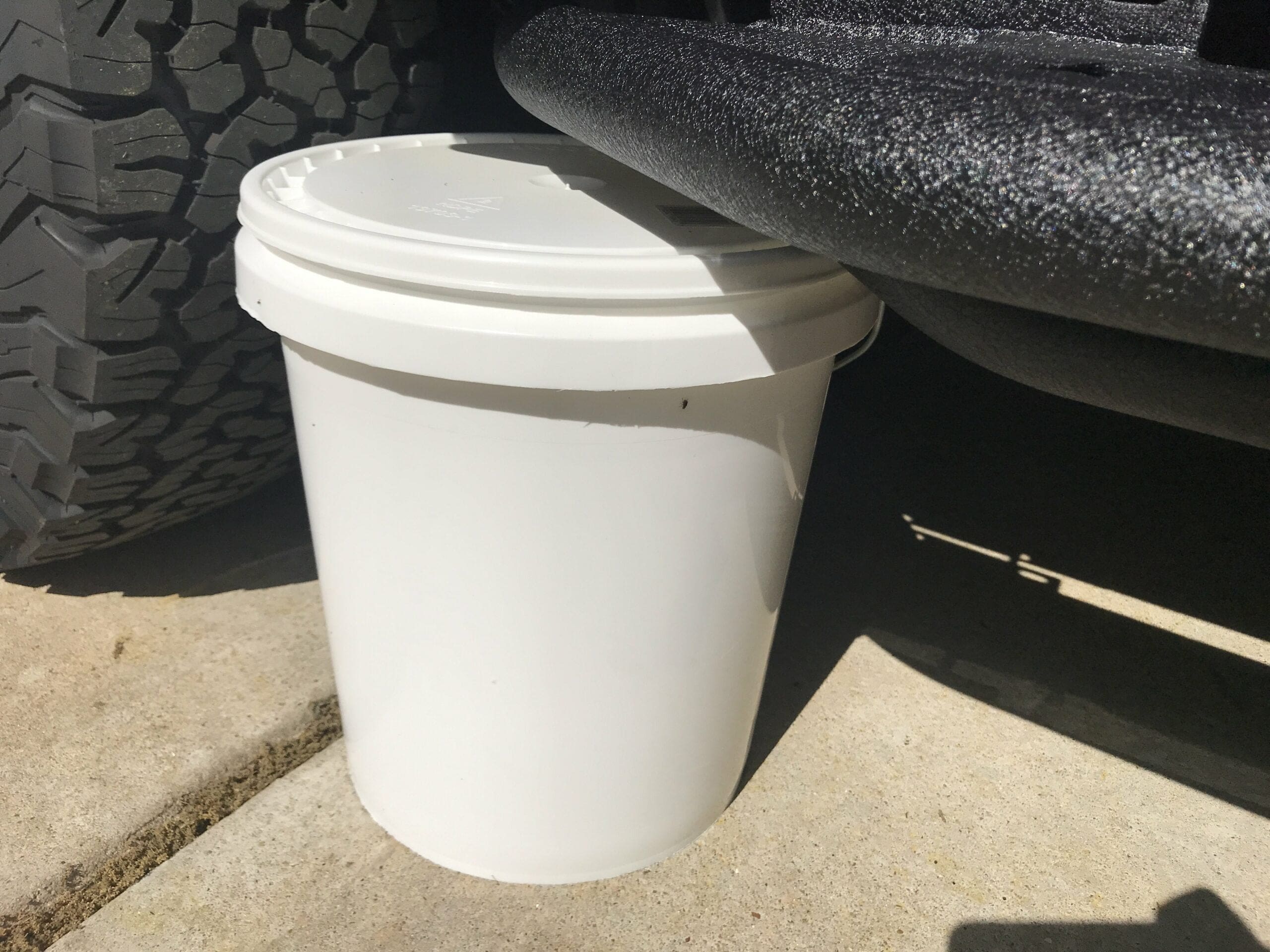 Once I had the front & rear bolts in, I was able to align the bar so that the three tub mount bolts tightened right up and that was it.  I tightened the three tub bolts and then went back and tightened the six pinch seam bolts.
Bars were Installed!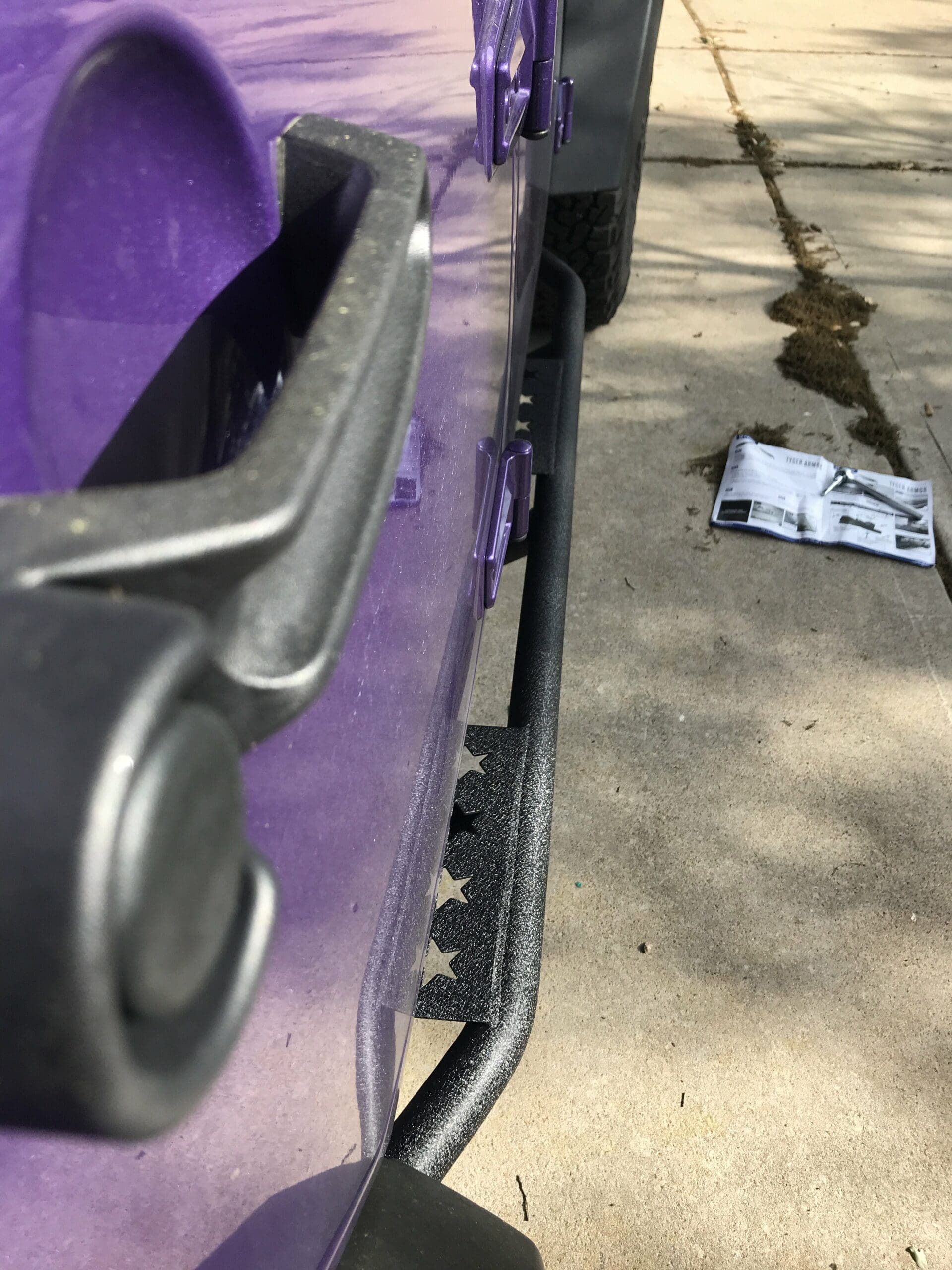 Tyger Star Armor Installation Video on YouTube:
Tyger Star Armor Installation Guide PDF Download:
Pleasantly surprised at how easy it was to get installed. After reading a ton of reviews of similar products, I was leery of having to cut/drill/bend/machine parts, but I had none of that with this kit. Tons of other kids on many of the large Jeep sites and shopping sites all reported problems/mods/missing alignment or squeaks while driving.
Before & After Photos
I was pleasantly surprised by the packaging, installation, and appearance of this kit. I've seen people order similar kits and have problems with fitment, installation, paint and so much more. I didn't see anything that would lead me to believe it would be rusted out by next week or have water problems or anything like that. The bolts aligned right up, all the hardware was there, and installation even by myself went quick – just took my time.
Before: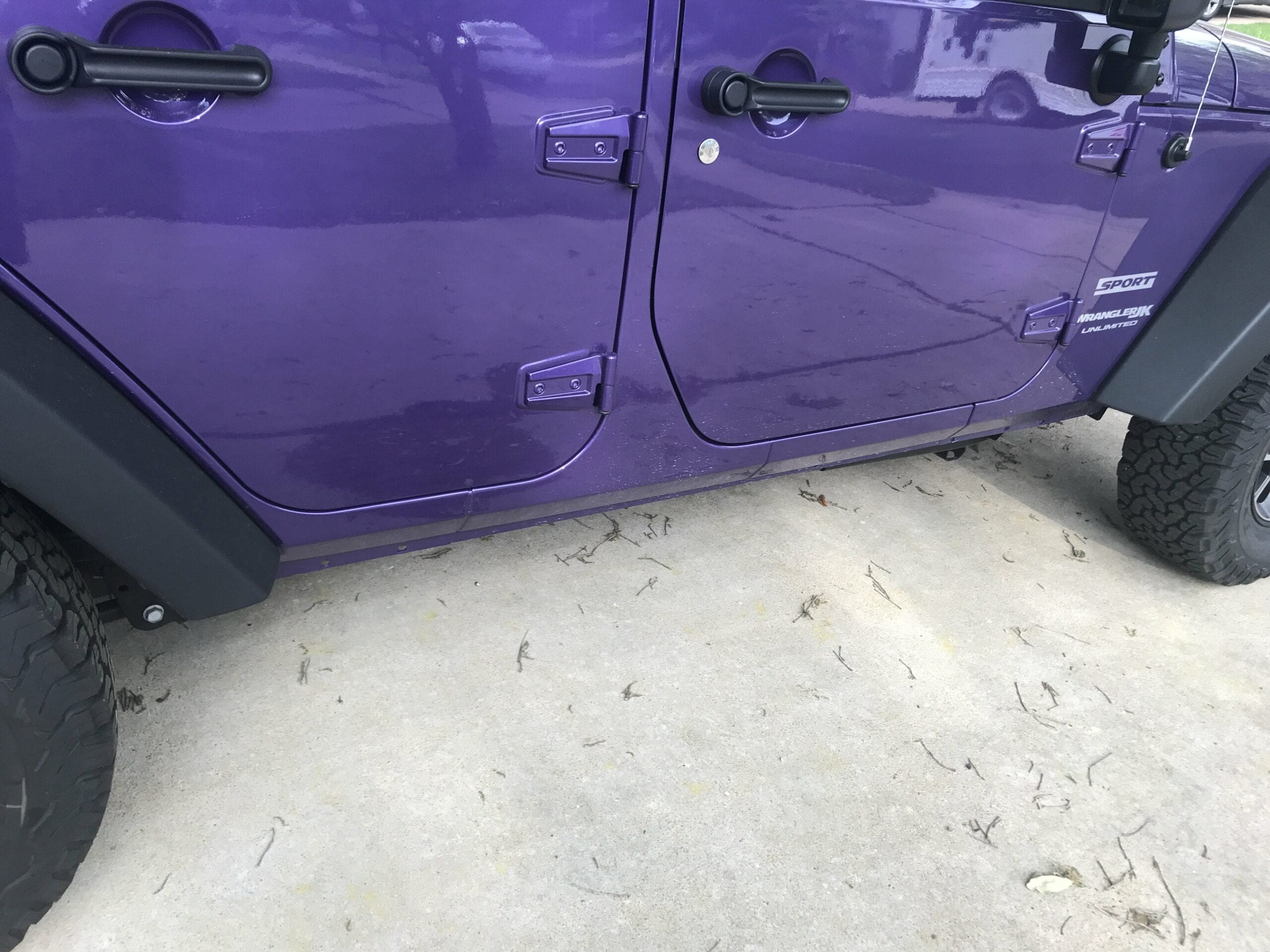 After: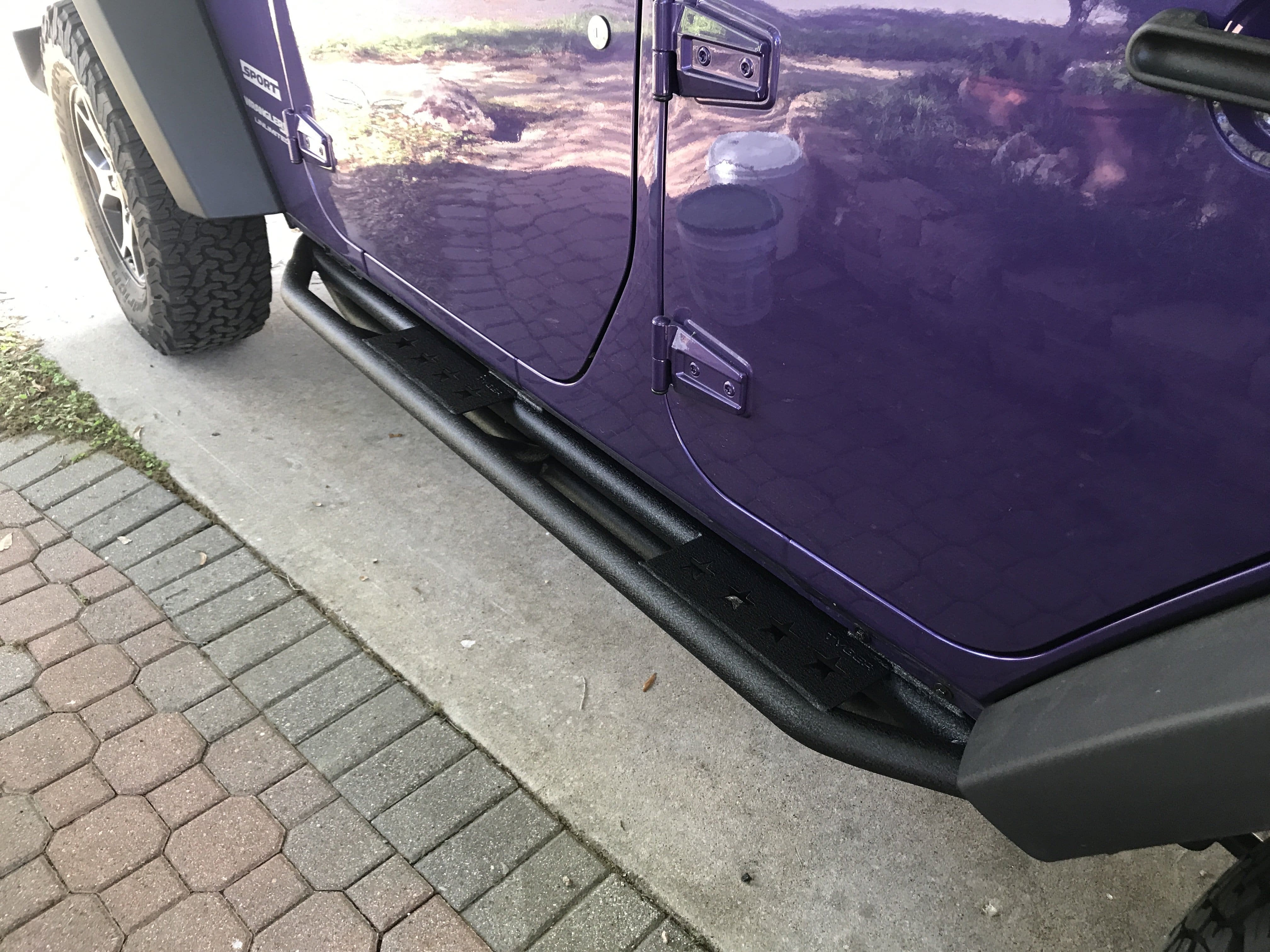 I know a lot of people are concerned that you lose some ground clearance. On my vehicle the passenger side has a gas tank skid plate that sits even below these nerf bars so overall I'm not losing any height/clearance that I can see. I took some undercarriage photos below for you to see.
Looking across vehicle undercarriage – can't See the passenger side hanging below fuel tank: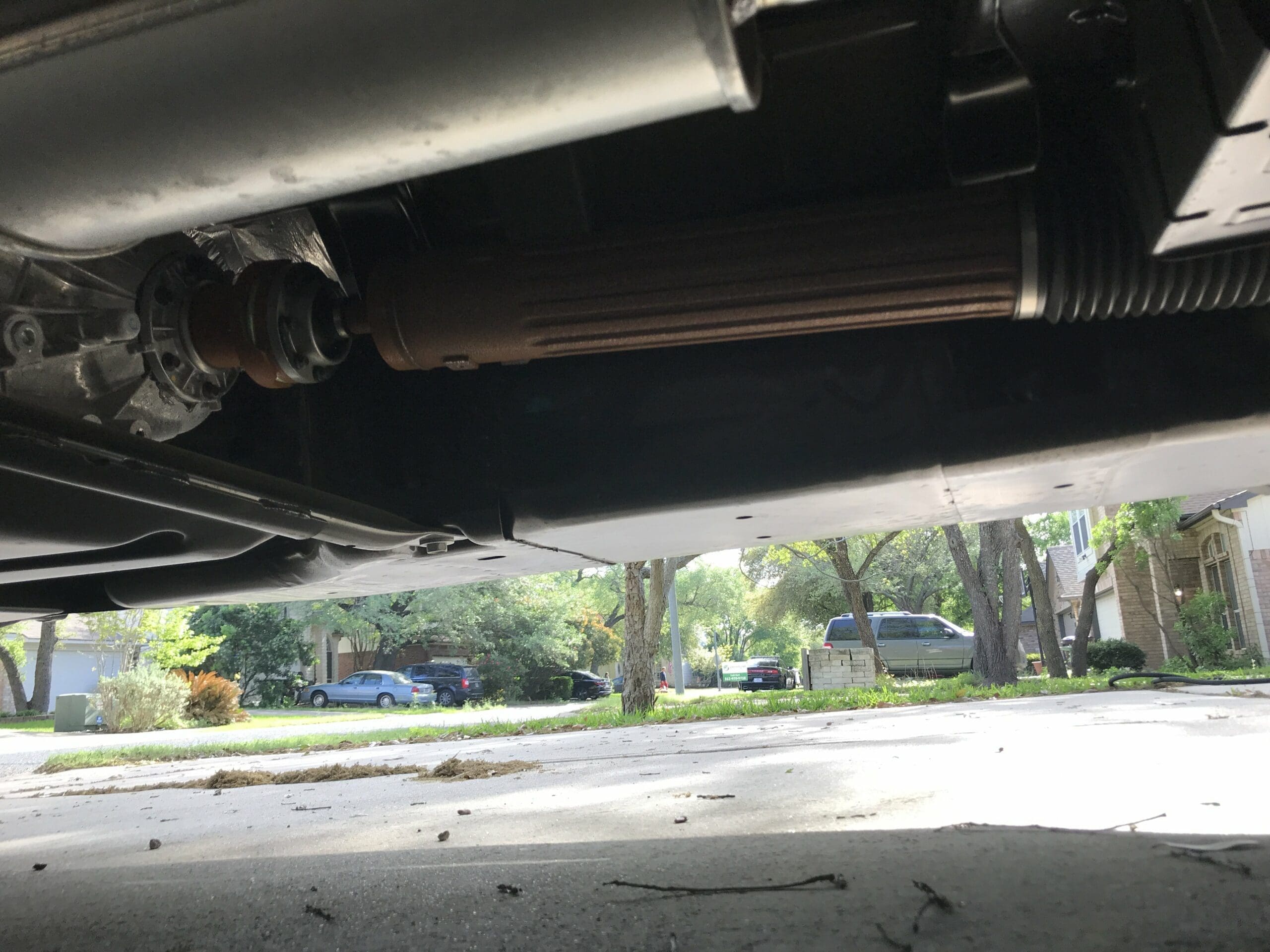 Directly below nerf-bars – Parallel to frame – not much height difference if any at all.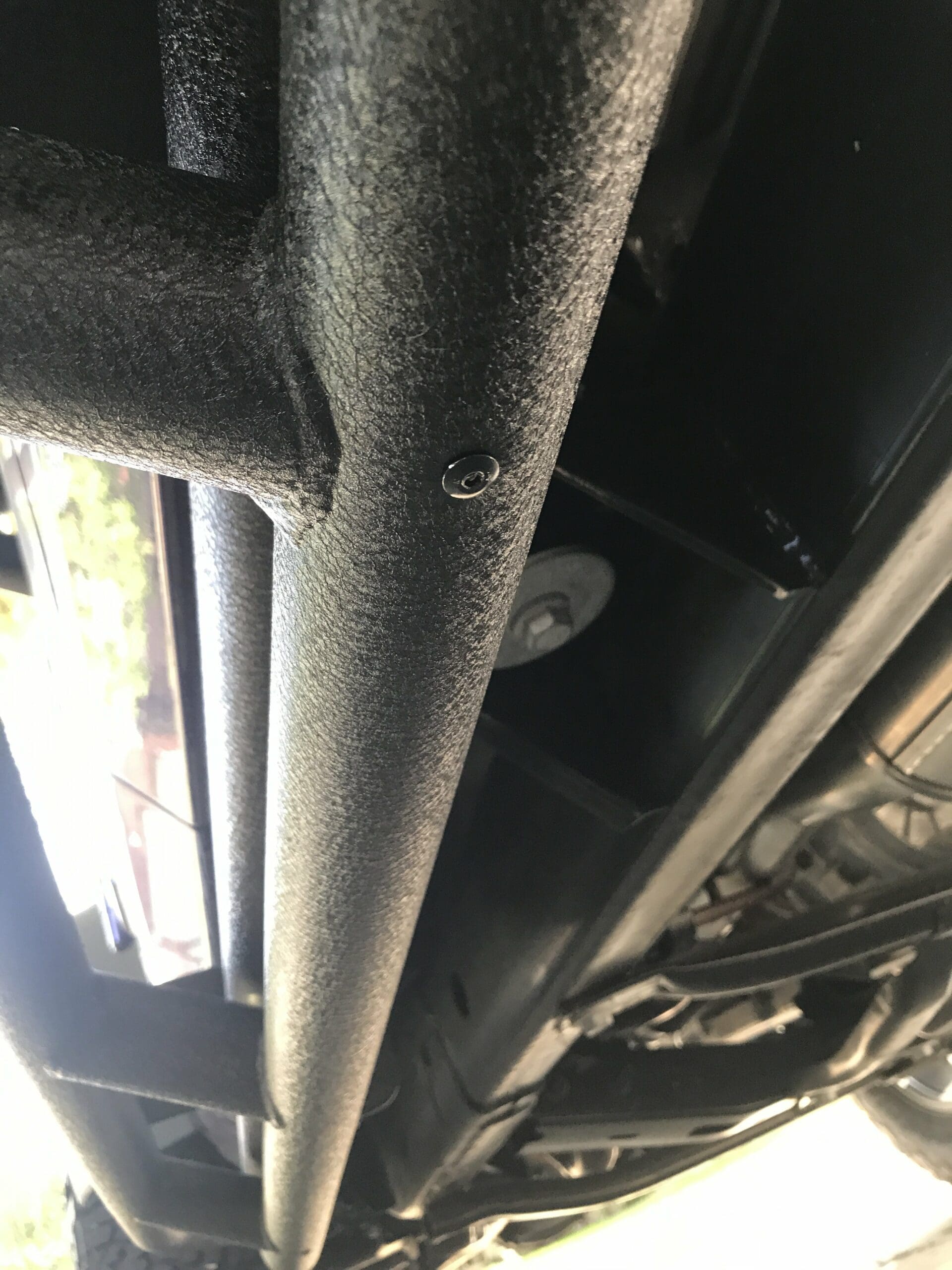 Looking across undercarriage from Drivers side – not much if any loss of clearance.  This is a stock JKU suspension with 33″ Ko2 Wheels & 17″ Rims.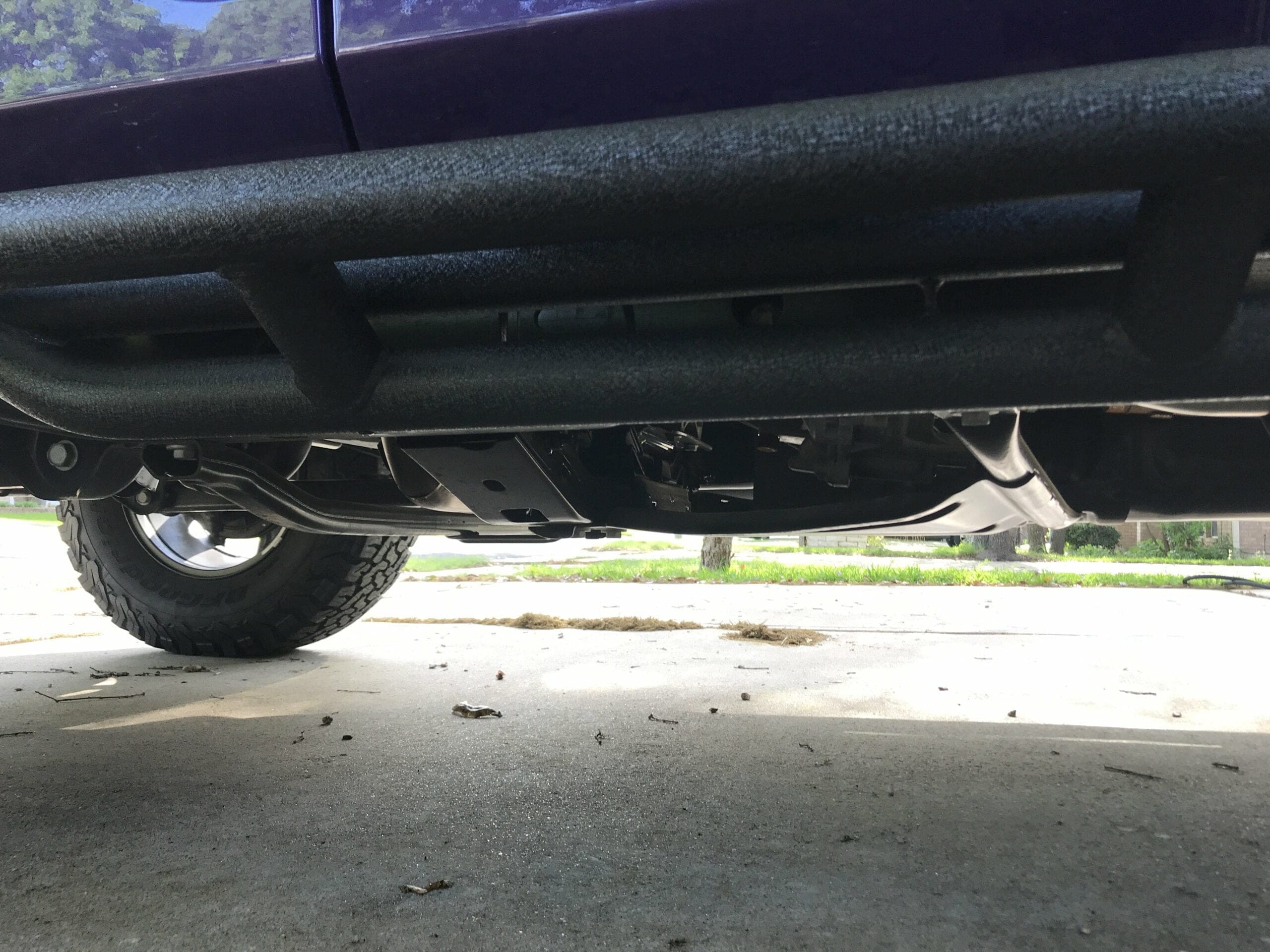 I'm happy with the appearance, happy with not losing any clearance and looking forward to taking it out on the trails and reporting back with a field update.
Field Testing
We'll keep this post updated as we field test of these Tyger Auto Running Boards shortly – Meanwhile, it's safe to note that road handling is great, no new noises/squeaks to report and no change in vehicle behavior – even while driving 75MPH wide Texas highways.
October Field Update – A few months with these awesome Jeep Side Steps
We've had these Jeep Wrangler running boards installed for a few months now and driven a few thousand miles. So far everything is holding up well, and there is no damage, rust or failure of any of the hardware. We'll be taking a trip back to Hidden Falls Adventure Park now that the weather is cooling off and will have a good off road field test shortly.
Buy Online
Tyger Running Boards are now available for 4 Door, 2 Door JK, and JLU Models. Follow the link below and select the right option for your Jeep!
Review
It's 2022 and these things still look and feel new. I'm happy to report there is no rust, no broken welds, or any visible failures of any kind.