I love the outdoors but have a severe problem with overzealousness and lack of basic map skills.  My husband is much more practical than me but is no match for my overwhelming enthusiasm when I plot our outdoor schemes.  This has caused minor hiking failures and longer-than-intended park visits many times.  One of our most adventurous examples of this was a summer day trip to Sleeping Giant Provincial Park in Ontario, Canada.
Our Misadventures at Sleeping Giant
We started the day off with a short, uneventful hike to the Sea Lion, one of Sleeping Giant's famed rock formations.  The path down the start Kabeyun Trail was easy, well-maintained, and full of people.  As beautiful as the Sea Lion's final outlook was, I was aiming to find "the one less traveled."  We decided to check out Middlebrun Bay Trail, a 4.2-kilometer path to a sandy beach.  It had been recommended to us by a park ranger as slightly off the beaten path, but very flat and accessible.  As we traversed tree roots as thick as my arm and walked up and down, up, and down, up and down, we had to laugh at the relativity of the terms "accessible" and "flat."  Grandma wasn't taking the wheelchair on this route!  Nonetheless, it was a satisfactory level for us, and I loved the scenery.  Every now and then a break in the trees provided sweeping views onto an endless forest, and the trail itself was dotted with beautiful mossy hills and rocky outcroppings.
The primary trail ended at Middlebrun Bay beach, which was a gorgeously long and almost-empty stretch of Lake Superior.  The air was warm, but the lake maintained its northern frigidity enough to deter any would-be beachgoing families.  We wandered down its sandy shore until we were at the end and could barely see the few people relaxing at the other end.  This would have been the perfect end to our hike – soaking up the views a bit before heading back for a timely supper.  Instead, fueled by our success, I had begun eyeing up the map.  There was an uninformative note simply stating, "An extension of the trail at the end of the beach leads to Finlay Bay."  My active imagination wondered, "Could it be better than this beach?  What hidden treasures await just beyond us?"  Images of a secluded oasis danced before my eyes, and my husband gamely agreed to forge on.
The problem with this was that we weren't exactly sure where the extension began.  After a couple of false starts into breaks in the woods along the shore, we turned back to the beach.  Wildly overgrown trees extended into the lake itself, signaling – we assumed – a dead end.  "You don't think…?"  With no other option presenting itself, we took off our shoes and socks and hopped our way through the icy water, pushing branches back in an attempt to not go so far in as to get our rolled-up pants wet.  We were rewarded with a trail sign.  Triumphant, we decided to leave our shoes off.  "It's only a short way, and I don't want to get my socks wet.  We'll have to take them off again soon enough."  After walking a while, the pine needles were starting to hurt my feet and I was beginning to remember the sign in the park bathroom that had warned me of what to do in case of bear sightings.  We kept on, me eyeing the dark and silent forest suspiciously.  Much longer than expected later – due to the slow pace our bare footedness brought about – we reached the anticipated Finlay Bay… to find a four-foot patch of rocks looking out into a tiny bay occupied by a family on their motorboat.  As we put our shoes back on, our disappointment was compounded by a swarm of bloodthirsty mosquitoes attacking our every limb.  Not to say we didn't appreciate the humor in our failure!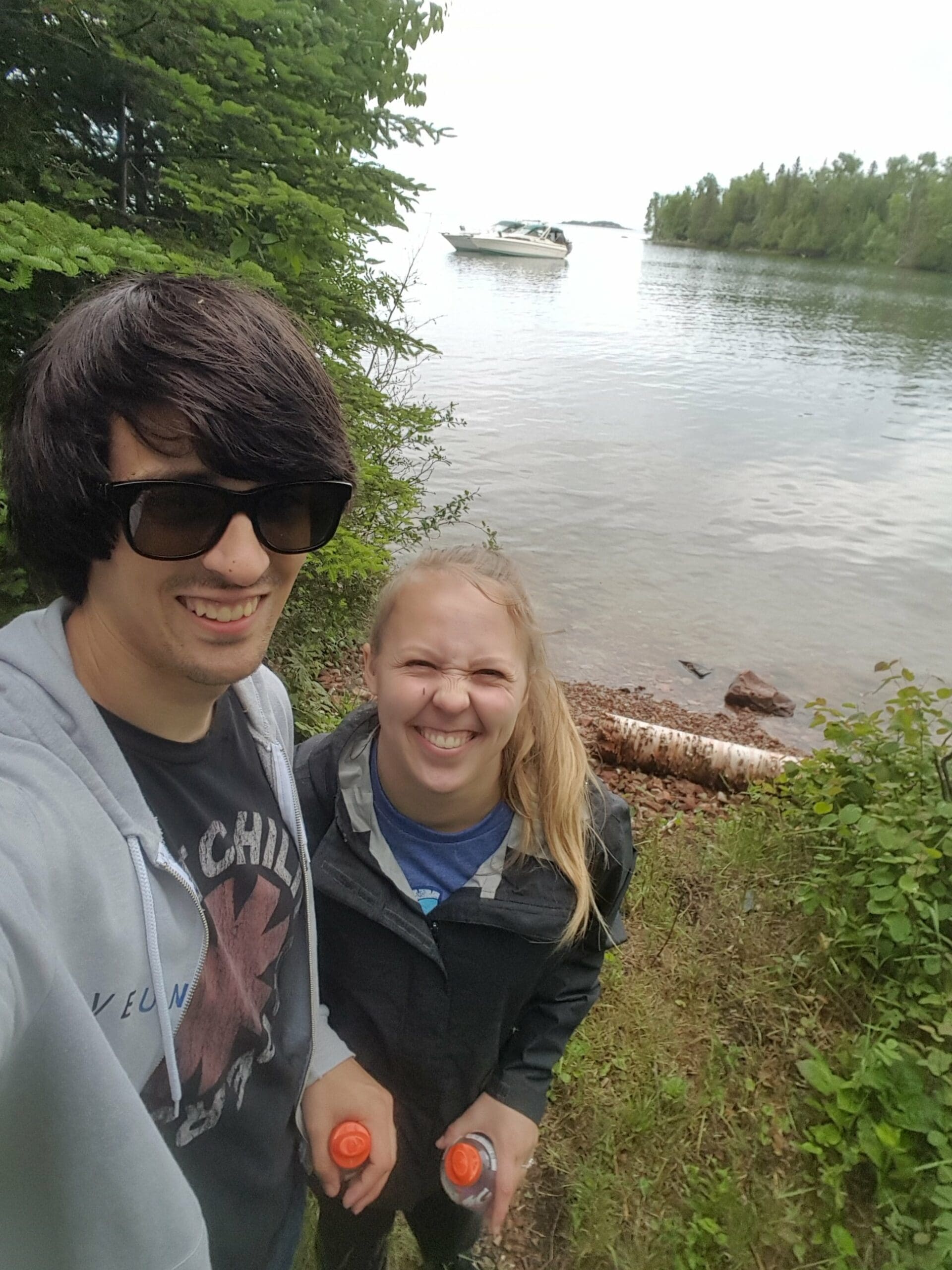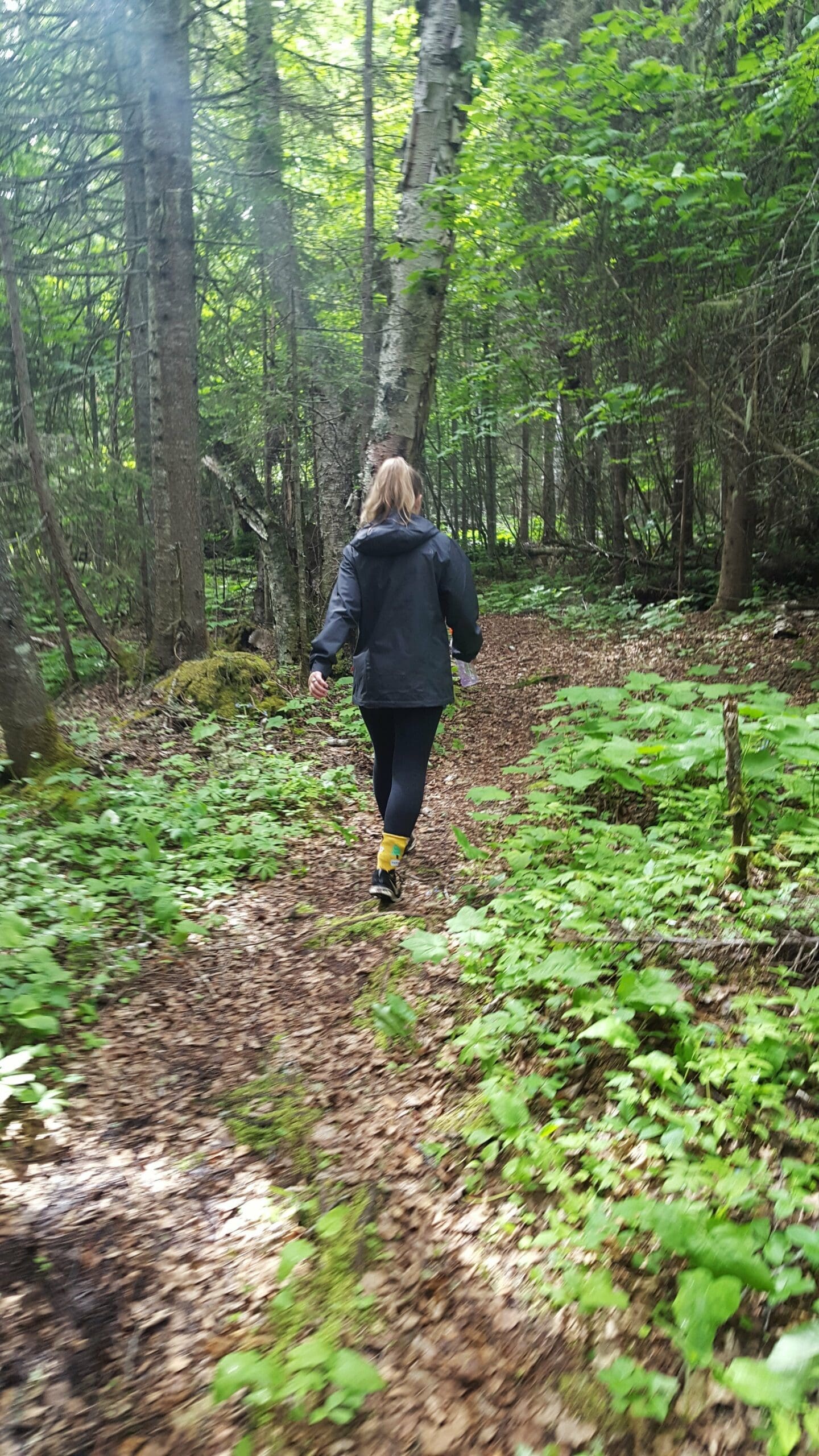 The return trip did have one final failure, as I stubbornly refused to take my shoes off to wade through the branches on our way back to the main path.  "I'll go quickly! I'll forge my way through the middle, they'll barely get wet!"  The cold squelch each step brought on our way back attested to the stupidity of this idea.  Lesson learned!
Canada is vast and beautiful. If you're looking for another adventure on the very western edge of Canada just north of Vancouver be sure to add Garibaldi Provincial Park to your plans. You won't want to miss its many miles of Alpine summit trails and beautiful Panoramic Ridge!
Planning Your Trip to Sleeping Giant Provincial Park
So, what do I recommend for a slightly less adventure-ridden trip to Sleeping Giant Provincial Park?  First, Middlebrun Bay is worth it – but there is absolutely no need to take the extension to Finlay Bay!  Of course, be sure to talk to a park ranger before heading out to check if they have any recommended routes that might be better for your fitness level, time frame, and desired sights.  If you are a serious hiker, look into reaching the top of the Sleeping Giant via Kabeyun Trail.  This is a strenuous day hike that boasts incredible views.  Second, arrive early in the day.  We really enjoyed the Sea Lion and Middlebrun Bay's beach, but ran out of time to find the overlook of the park's famous namesake, the Sleeping Giant itself.  This was partially due to the time, but also because we were getting pretty hungry and had devoured all our snacks.  Which leads me to my final advice, pack a meal or two!  The park is huge and relatively distant from nearby towns.  In retrospect, a picnic dinner overlooking the Giant would have been the perfect end to our day trip.
If you're now eagerly planning your trip to this beautiful Canadian treasure (which you should be!), here is a little more practical information to get you started:
Phone: 807-977-2526
Address: R.R. #1, Pass Lake, ON P0T 2M0 (East of Thunder Bay on Highway 11/17, then take Highway 587)
Day Pass: $14/vehicle (Gate hours vary; generally 9 a.m.–9 p.m. during peak season)
Camping: mid-May until mid-October, reserve online or call 1-888-668-7275
Activity Options: Biking, Canoeing, Fishing, Hiking (over 100 km of trails), Swimming, Cross-Country Skiing
Have you been to Sleeping Giant Provincial Park? Leave your comments and reviews below! We'd love to hear from our readers.