Living under the dome of light pollution, we often forget some of the majestic neighbors that grace our skies. M31 is one such wonder, that most living in light polluted will never see and always take for granted. Under dark skies, the naked eye can make out the smudge, binoculars can see the airy disc and simple telescopes remind you just how massive and close our cosmic neighbor is.
Enjoy Andromeda and have fun editing it! Yes, we're releasing the stacked fits, xisf and JPG as creative commons attribution license. These photos were collected in our Austin TX backyard. We hope to visit this galaxy again un a better sky (bortle two) and we plan to share those too!
M31 – Andromeda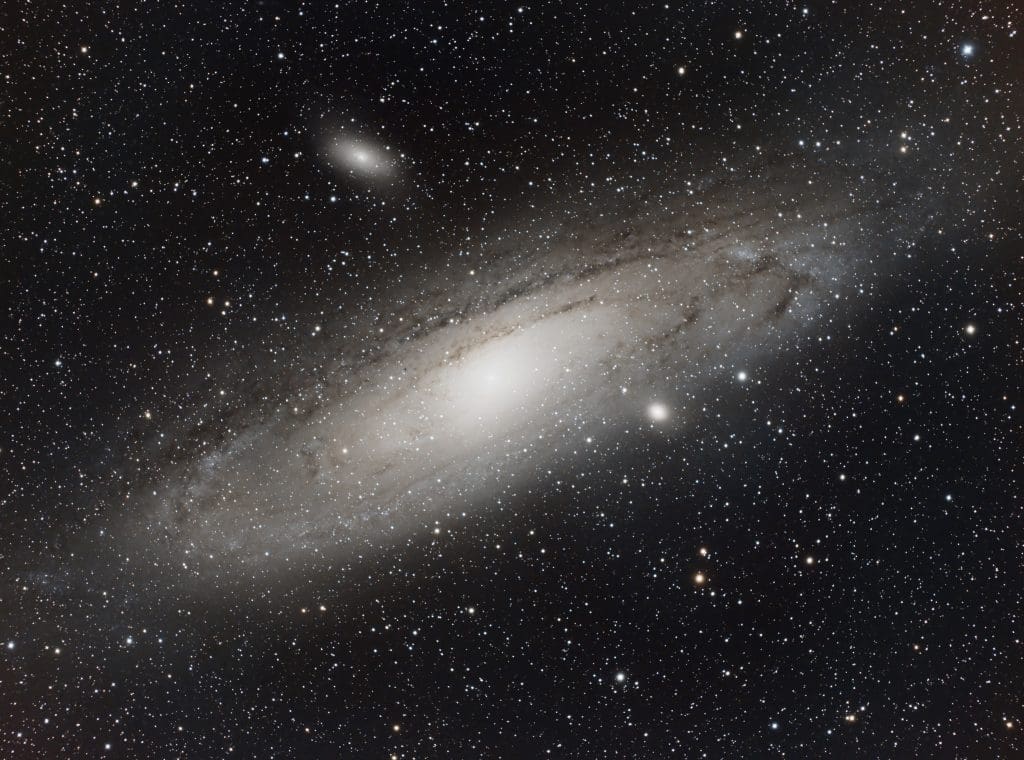 Please feel free to leave comments linking to your attempts at processing this image!
Download M31

This work is licensed under a Creative Commons Attribution 4.0 International License.
The XISF and FITS have already been stacked and calibrated with flats.
If you would like access to the raw subs, Flats and Flat darks, please contact us and we'll be happy to provide them.
Processing
This data was collected on an ED80 Apochromatic Telescope with an APS-C ASI 2600MC pro sensor. Due to an issue with a flat field corrector, you may have to crop some of the edges. You can use star correction tools such as binarize, convolute and deconvolute and other techniques to repair these stars. I cropped some of it for our sample image, however, I felt it was a good experience to leave it out there so others may be able to share their experience in processing images like this.
It's part of the growing pains of moving to modern larger format sensors 🙂
~bortle 6 or 7 skies
Group of 165 Light frames
BINNING : 1
Filter : NoFilter
Exposure : 120.00s
PixInsight Processing
Remarkably simple processing done in PixInsight
DBE – Dynamic Background Extraction. Use the marks in the upper left corner and bottom right corner to remove gradient. This will remove the blue color (symptom of RGGB bayer and broadband imaging)
Photometric Color Calibration
SCNR – Remove Green
EZ-Denoise
EZ-Soft Stretch
Some light "Curves" to diminish rest of gradient and darken some of the dark nebulosity.
Enjoy
The "EZ-Suite" simplifies complex deconvolution, masking, denoise and other steps. You can download it here.
Share your processing
Please leave a comment with your version of M31. We'd love to see what people can do with this data. We'll be happy to release more data into creative commons if people find it useful!

I'm a 40 something father of two girls who loves the mountains, still plays in the sand and enjoys being in the great outdoors. The mountains are always calling my name.
"Wilderness is a necessity" – John Muir