We'll guide you through how to choose the best Camera for Astrophotography and explain to you some of the choices, products, brands, and technologies available. So many choices, options, cameras, and brands to choose from – our guide will focus on a few specific areas to help you make sense of the options and get started on the right foot.
There are a few things you should know about astrophotography cameras before you start spending money. My first piece of advice is that the best camera to begin with, is the camera you have. If you have a Canon or Nikon DSLR, I recommend you start there. They're great cameras for learning, enjoying, and getting great photos from. The more you know about your camera that you may already be used to, the less of the learning curve you have in getting started with Astrophotography.
However, if you're already looking to upgrade and just need some help figuring out what your next steps are, read on and let us know in a comment below which camera you are looking to buy!
Astrophotography Camera Options
Before we dive into what we believe the best cameras for astrophotography are, I want to cover some terminology and technologies covered by this article so you're more aware of what the differences, capabilities and features of cameras are.
CCD Cameras are Charged Couple Devices. Traditionally they use a global shutter – the shutter opens and closes exposing the entire CCD at once. CCD is considered older tech in the consumer space. Extremely popular especially in research, scientific and medical industries but quickly losing ground on the consumer side as they're prohibitively expensive and CMOS is really showing its strength in ways that improve our capabilities in astrophotography.
CMOS Cameras are Complementary Metal Oxide Semiconductor – They use a rolling shutter that exposes the CMOS sensor at different points in time. Modern CMOS sensors have brought in a new era of imaging with extremely low noise, low dark current, and high-resolution sensors at an extremely affordable cost in comparison to CCD. It is for this reason alone; this guide to choosing the beast astrophotography camera focuses on CMOS sensors.
Color Sensors
Color cameras shave a bayer matrix. This matrix is a RGGB filter on top of the sensor that allows your software to "debayer" the image to gather color details.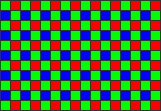 Color Astrophotography cameras and DSLR cameras are traditionally CMOS sensors with a Bayer matrix. There are a few historical brands of CCDs with a bayer matrix however in the consumer space I would not recommend them at this time.
Mono Sensors
Mono sensors have no bayer matrix. It is expected you will run an LRGB or SHO filter on top of the filter to gather light frames that can be colored in post-processing. Many sensors are made color or mono options – the CMOS behind the color bayer-matrix being exactly the same.
Best Camera for Astrophotography
A word of caution…
This is advice based on experience. There are battle lines drawn in some communities about all of what I'm going to spell out here and instead of trying to convince you to pick one battle line, I'll just lay it all out so you can choose what you want to choose just based on having valuable information. If I'm missing anything, please leave a comment!
I'm going to simplify this Best Camera for Astrophotography guide into simple topics, products, and pros and cons for those products. I'm not really going to fight the battle of DSLR vs OSC vs MONO… I find that tiring and quite frankly a colossal waste of time since people can enjoy imaging and get great images using all those technologies.
I will however speak to the truth as to how well these technologies can image, how well they can be calibrated, and any strengths/weaknesses one has over another in comparison to each other for specific uses where those differences may be a weakness or advantageous.
DLSR Cameras for Astrophotography
DSLR Cameras are your typical store purchase camera. With a T-Ring adaptor, they can be connected to telescopes and used for imaging the night sky. DSLR is a wonderful way to start and learn from since the cameras are multi-use. If you have poor imaging weather, you can enjoy the camera for other uses. (poor weather can be as simple as beautiful nights with just a few clouds). There is something to be said about the utility of DSLR.
Pros
Affordable
Abundant parts/service
High Resolution
Multi-Use
Cons
Harder to Calibrate (uncooled)
Need to be modified for full spectrum
Invest in filters wisely – Can you use 2″ astro filters in lieu of clip-in filters?
Calibration is a process by which we remove sensor noise, dust, vignette, and such from our light frames. When you can control the temperature of your sensor, you can save a library of calibration frames to use at any time. Without a cooled camera, you must take these calibration frames any time you image. This is one of the driving factors for cooled cameras vs Uncooled / DSLRs.
If you do choose to use DSLR, I highly recommend you buy a DC power pack so you can run your camera off a wall plug vs having to swap batteries all night.
DSLR Camera Price Matrix
| | | |
| --- | --- | --- |
| Gear | Avg Cost | Functionality |
| D5300 | 349 | Camera |
| T-Ring | $29 | Camera to Scope Connection |
| NB Filter | $329 | Clip-in NB Filter |
Dedicated One Shot Color (OSC) Cameras for Astrophotography
OSC Cameras have a Bayer Matrix on them that is in the RGGB – Red, Green, Green, Blue color pattern. These cameras do not need any filters to shoot in color because they have the built-in Bayer Matrix. You can still shoot narrowband with OSC Cameras. There are many tri, duo, and quad filters you can use, or you can use independent filters as well.
OSC Cameras are closely related to DSLR Cameras in many ways, however, they have a tuned IR filter and pass through to capture more light. Commercial DSLRs tend to need to be modded to increase their performance in the red spectrum (Ha).
Pros
Affordable
Cooled options
M42/M48/M54 Connection Options
Cons
Can't fine tune your emission targets as much as mono
Some people with a good eye may catch that the cons are short – much shorter than you will get asking around on communities, forums, and message boards. The reason the cons list is short, with modern OSC cameras – which will dive into here in a few minutes – the difference between Mono and OSC is more about HOW you want to use the camera vs WHAT you can do with the camera.
The bayer-matrix isn't much of a penalty for shooting narrowband as it once was, and the bayer-matrix is extremely efficient for shooting broadband. If you dither and bayer-drizzle, the "Cost" of the bayer matrix is reduced since the pixels will be shifted across images and when stacked color/fidelity will not have to be inferred across the matrix. More on this to come with a blog post here soon.
OSC Camera Price Matrix
When shopping for a Color Astrophotography Camera you can start with just the Camera. Some cameras absolutely need a UV-IR filter to get started otherwise you may get star bloat. Higher-end cameras tend to come with the UV-IR filter treatment on the sensor window. Be sure to find out which coatings come with your camera and make sure you have the appropriate filter.
| | | |
| --- | --- | --- |
| Gear | Avg Cost | functionality |
| ASI 533mc | $999 | Camera |
| L-extreme | $329 | NB Filter |
| UV-IR | $49 | UV-IR Filter |
| Filter Drawer | $59 | Filter Drawer |
Affordability with OSC sensors is one of the driving factors of their adoption.
Dedicated MONO Cameras for Astrophotography
These cameras do not have a Bayer matrix and instead, just have a mono sensor that you need to use filters with in order to capture color. For Color images, you need LRGB Filters and for Narrowband you would want SII, Ha, OIII filters or otherwise known as "SHO" filters.
Mono cameras are superb for the utmost control of your imaging session. You can take black and white with no filter or just a luminance filter. You can take Hubble Pallete SHO images with Sii, Ha, OIII filters. You can combine color + nb and do HaRGB or whatever you wish to do.
If you like to target very diffuse or SII rich regions, the mono is a hard camera to beat simply because you can image in the spectrums you desire to enhance for as long as you wish without any penalty other than time.
Pros
Targeted Imaging
Great Resolution
Cons
I'm not one to say having filters or a filter wheel makes one thing harder, more difficult, or a con in any way. I use an electronic filter wheel even with my color cameras.
Mono Camera Price Matrix
This price matrix shows typical medium-end gear/equipment needed to image with a Mono camera. You do not need all the filters nor will the price be exact as you can find deals to spend more or less – these are just generalized numbers to show the cost of entry.
| | | |
| --- | --- | --- |
| Gear | Avg Cost | Functionality |
| zwo 1600mm | $1299 | Camera |
| SHO Filters | $800 | NB Filter Set |
| LRGB | $300 | RGB Filter Set |
| EFW | 299 | Filter Wheel |
Just like with color cameras, you can buy a MONO and only shoot luminance (black and white) or shoot Hydrogen (nebula luminance) to save costs or start building filters gradually.
Best Cheap Camera for Astrophotography
The venerable Nikon D5300 camera is one of the best affordable/cheap cameras for Astrophotography. They have a good used market; they have a quality sensor, and they have components shared with many of the dedicated One-Shot Color Cameras.
The D5300 hasn't been made in a while, but still proves to be a great DSLR to learn from and can be found in the used market.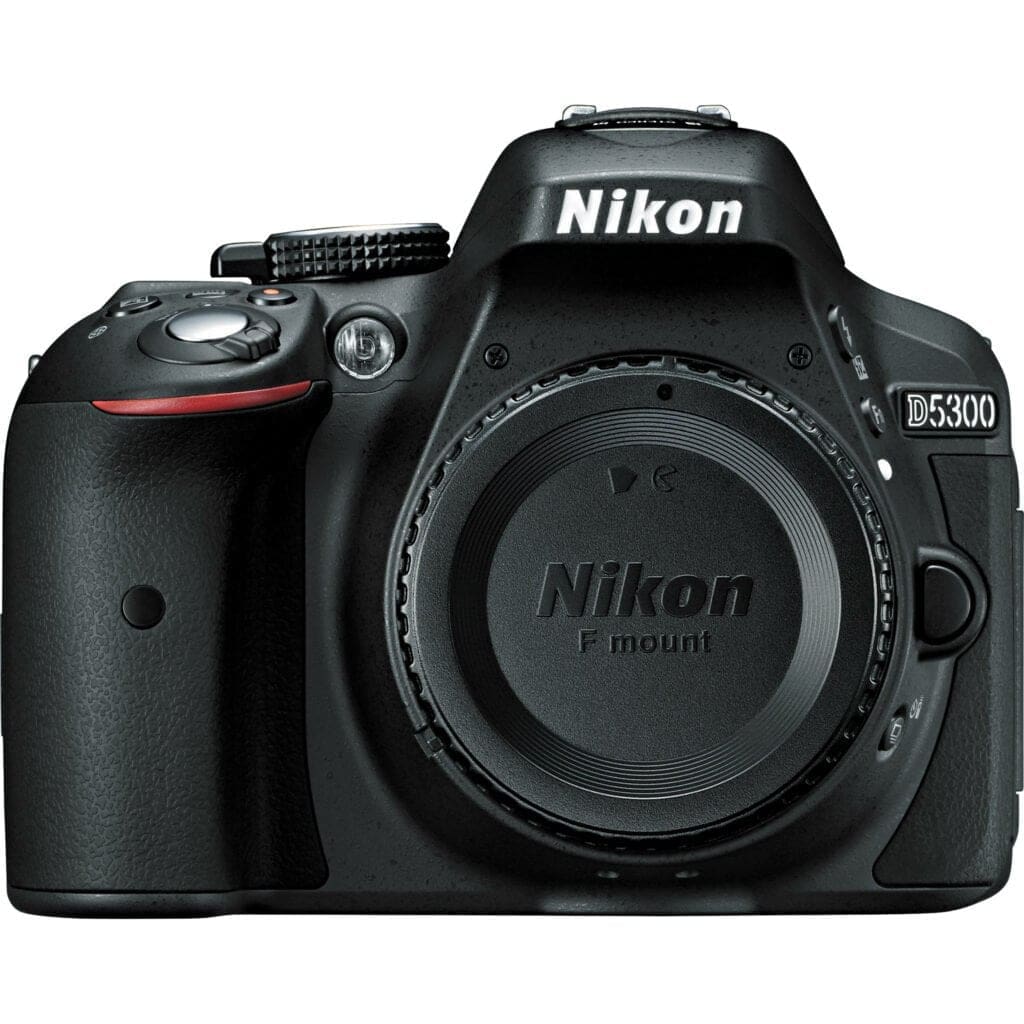 If you didn't know, some of the cooled cameras that cost 1,000s of dollars are based on the same sensor tech in the D5300 so it's for this reason alone, I'd say the best cheap camera for Astrophotography is the Nikon D5300. The D5300 is based on the Sony IMX 193 Sensor. Just, for example, the QHY 247C based on the same sensor (with modifications for astrophotography – including cooling/UV/IR) is $1,999!
The D5300 has a great red (Ha) response compared to other cameras. The Ha response is critical for imaging nebula and getting the most color/detail/resolution (Ha is often a good luminance channel). You can get your D5300 modified to increase the Ha response to full spectrum if you wish, however without appropriate IR filters this will limit your camera to astrophotography only.
Please Note: If you do modify your D5300 for full spectrum, you will still need to run a snap in UV-IR filter if your modification does not include one. You want to open the spectrum, not remove it completely. Ha specific modifications reduce the risk of needing UV/IR filters since they're targeted.
Nikon D5300 Product page & manual: https://imaging.nikon.com/lineup/dslr/d5300/index.htm
D5300 Chip Specs
28.21mm diagonal
3.89 um pixel pitch
24.2 megapixels
If you're not a fan of Nikon, the Canon T3i comes in second place as a camera that is great to get started with AP and won't break the bank. Anything older than the T3i and the noise/banding is exceedingly difficult to cope with.
Both the T3i and the D5300 have similar cons. This is applicable to any DSLR apart from some very niche Astrophotography labeled DSLRs.
DSLR Pros
Affordable
Abundant parts/service
High Resolution
Multi-Use
DSLR Cons
Harder to Calibrate (uncooled)
Need to be modified for full spectrum
Nonstandard filters if you use clip-in filters.
If you can splurge a bit more or find that the pricing is identical, then the D5500 is a great camera too. It has the same resolution, but an improved user experience and chip inside.
Gonine EH-5 Plus EP-5A Power AC Adapter Kit (Nikon EL-14/ EL-14a Battery Charger Replacement) for Nikon D3100,D3200,D3300,D5100,D5200,D5300,D5500,Df,P7000,P7100,P7700,D7800 Digital Cameras
[COMPATIBILITY MODELS] : The EP-5A DC Coupler power adapter Kit compatible with Nikon D3100, D3200, D3300, D3400, D3500, D5100, D5200, D5300, D5500,...
[ADVANTAGE:] ep 5a dummy battery can replace the Nikon EL14/ EL14a Battery, It will work with the Gonine power adapter to continuously provide power...
[SAFTE PROTECTION:] CE FCC and ROHS certified, Have over voltage protection, over heat protection,overcharge and short circuit protection.
[Very IMPORTANT:] Please be sure to close the battery compartment door, otherwise it may not be able to start the camera. Do not connect other brand...
[PACKING LIST:] Gonine EH 5A AC power adapter*1, US AC power wire*1, EP5A dummy battery*1, Storage bag *1, cleaning cloth *1, instruction manual *1....
Best Dedicated Astrophotography Camera
The best dedicated astrophotography camera belongs more to a "camera generation" than say any specific camera. This is more of a reflection of the reality of matching scope and camera and the decisions you must be aware of than one camera or another being superb in any way. The reality is, camera size seems to scale with cost – not just of the camera itself but how well that camera fits with your gear.
What parameters did we focus on to choose the best dedicated astrophotography camera?
Large Pixels
Low Dark Current
Low Read Noise
Cooled CMOS
Back side illuminated (BSI)

Large Pixels
There is no fixed rule here, but just sampling logic. Pixel sizes matter more about being correctly sampled than anything else – but by and large – a good large pixel increases your Signal to Noise Ratio (SNR) vs smaller pixels. SNR means everything in Astrophotography.
These series of cameras all use 3.76um pixels which are great middle ground for sampling across many telescopes.
Low Dark Current
This generation of CMOS is a low dark current. Dark current (and hot pixels) is what we calibrate out by taking associated dark frames. With little to no dark current to concern yourself with, you're afforded the flexibility to calibrate your light frames in other ways, such as Flats, Flat Darks or Flats, and Bias frames. You can still use darks to calibrate out what little dark current there is. Still, we find we enjoy the flexibility of not needing a dark library or dark images with this latest generation of sensors.
Low Read Noise
There is an associated noise related to reading the image off the sensor and in comparison, to other cameras, this generation of CMOS sensors have extremely low read noises to overcome which means you're collecting more signal faster. You can choose to take shorter subs and integrate more subs to improve the signal. Shorter subs reduce the risk of losing time to clouds, aircraft, satellite trails, and such.
Back Side Illuminated
BSI sensors increase the amount of light captured in low light conditions – which is extremely useful for astrophotography. All the latest generation of Sony sensors mentioned here are based on BSI sensors.
Cooled CMOS
Cooling cameras reduces noise from heat. If you try and image in Texas with a DSLR in the heat of summer, you may notice a substantial number of hot-pixels and camera noise. Cooling your sensor reduces this noise footprint and increases your imaging quality. Cooled sensors also aid in calibration since you can take calibration frames and save them in a library for later use at temperatures you typically cool down too.
| | | | | | |
| --- | --- | --- | --- | --- | --- |
| Sensor | Size | Color | Mono | ZWO | QHY |
| IMX455 | Full Frame | X | X | 6200 | 600 |
| IMX571 | APS-C | X | Soon | 2600mc | 268mc |
| IMX533 | 1″ Square | X | N/A | 533 | N/A |
All of these are based on the same sensor tech from Sony. A 3.76um pixel, low noise, low dark current, Color and Mono CMOS chip.
When it comes to the "Best" Here, it's more about knowing what you're in for vs "What the best dedicated astrophotography camera is".
How do you choose your sensor size?
Below is a guide to sensor sizes as they compare to each other and between the varied brands. This chart is important to know how the sensor size relates to your optics/telescope capability.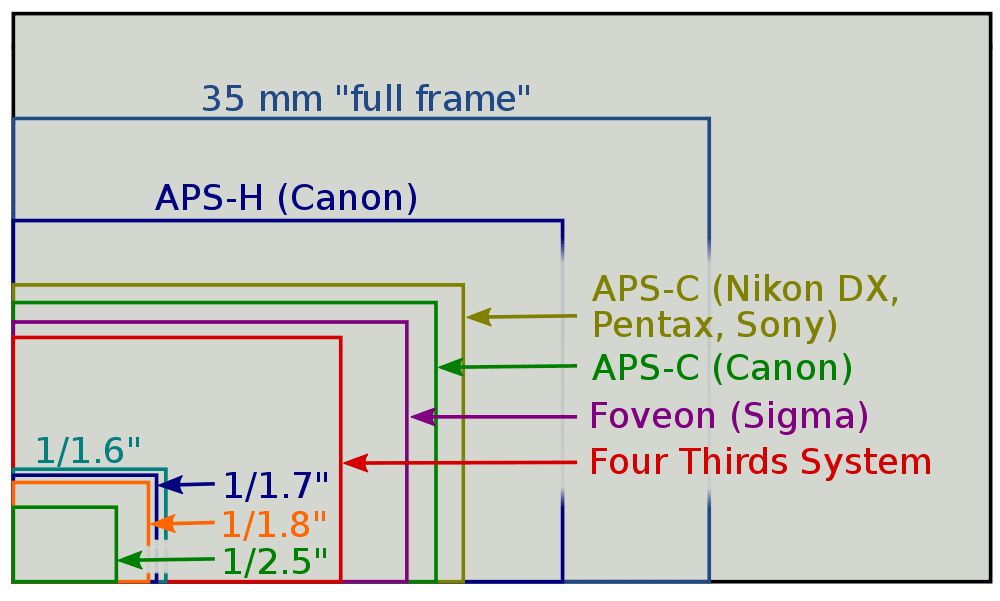 We'll focus on three specific sizes and show the pro's and con's you need to be aware of in choosing the best dedicated astrophotography camera for your telescope / optical system.
Full Frame Sensors
Full frame sensors are called full-frame since they match the size of the classic 35mm film sensor. This large sensor provides a beautiful full-frame field of view and high-resolution images typically in the 60-megapixel range in CMOS sensors.
Full frame sensors are expensive, they're notorious for needing custom parts and fine-tuning to work with extremely specific scopes, setups, and field flatteners.
You want to make sure that your telescope/optical systems image circle is flat and illuminates a full 44mm image circle. Otherwise, you will experience severe vignette, star deformation, or lack of illumination on the full sensor. If your telescope isn't up to spec, I would advise a smaller APS-C or one of the more common four-thirds "Smaller Sensors".
Full Frame Pros
Wide/Vast Field of View
35mm Format for print/production
High Resolution
Full Frame Cons
Extremely hard to pair with telescopes, flatteners and reducers
Extremely unforgiving with tilt/flattener flatness
Huge files to download and manage when binned 1:1 and calibrated – calibrated image size larger than 1gb
APS-C Sensors
Extremely popular in midrange DSLR systems and growing in popularity with dedicated astrophotography cameras. APS-C offers a nice large field of view with a bit more compatibility with consumer-grade telescope and optics systems.
Not many telescopes and focal reducers/flatteners advertise their fully corrected image circle. Many will list something like 40mm image circle – but really that is 30 something with a large vignette on the last 10mm or so. Be sure to know that APS-C is a great middle-ground here however it is still fairly difficult to get fully illuminated and fully flat – work with your telescope manufacturer of choice to get this matched.
APS-C Pros
Wide/large field of view
High Resolution
APS-C Cons
Can be difficult to pair with scope/flattener/reducer
Slightly unforgiving with tilt/flatteners
Large files to manage, they get large quick when you stack and calibrate – image sizes of ~1gb
Smaller Sensors
Often called four-thirds or one-inch sensors – these are the best types of sensors to learn from. They fit about any telescope/lens you can throw at and they're extremely forgiving to learn with. Whether you have superb quality optics or troublesome optics – these sensors don't seem to exude the problems of their larger siblings.
Great to start with, more affordable least amount of hassle overall.
Smaller Sensor Pros
Small Image Size
Forgiving installation/configuration
Less concern of tilt/flatness
Cons of Smaller Sensors
Smaller field of view
May need to mosaic to capture regions
Small Sensor Camera Options
ASI1600 mc/mm / QHY 163
ASI 183/QHY 183
ASI 533
Best Cheap Dedicated Astrophotography Camera
You can't go wrong with the ASI533 from ZWO. It's a cooled One Shot Color (OSC) astro camera that is very forgiving. Takes great shots and performs well. It works with about any scope you could dream of. A 533 pairs well with a small APO, a Newt, or an SCT.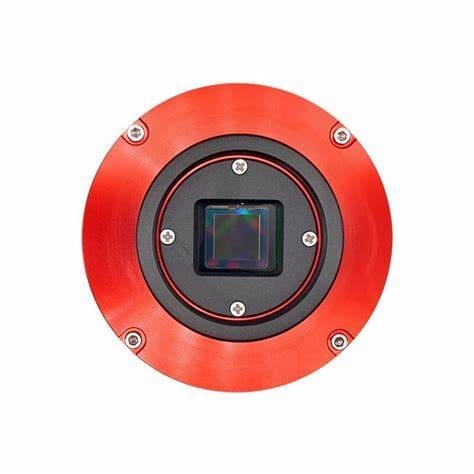 Square Sensor
Never worry about framing things. Square sensors allow you to have your object centered easily. In addition to being easy to center objects, a square sensor fits in your optics "prime circle" much better. This means with the ASI533 camera your images look great because the image sensor is the prime image circle. No need to know how "Weird" rotation of GEM mounts are with a wide sensor – a square is much easier to understand.
Simple Calibration
With extremely low dark current, you can use Bias and Flats to do your frame calibrations. This affords great flexibility in exposure time not needing to take darks or maintain a dark library for whatever exposure you wish to use.
Example Images from 533 on an ED80 Apo Telescope using a Dual Band Filter (Ha and OIII)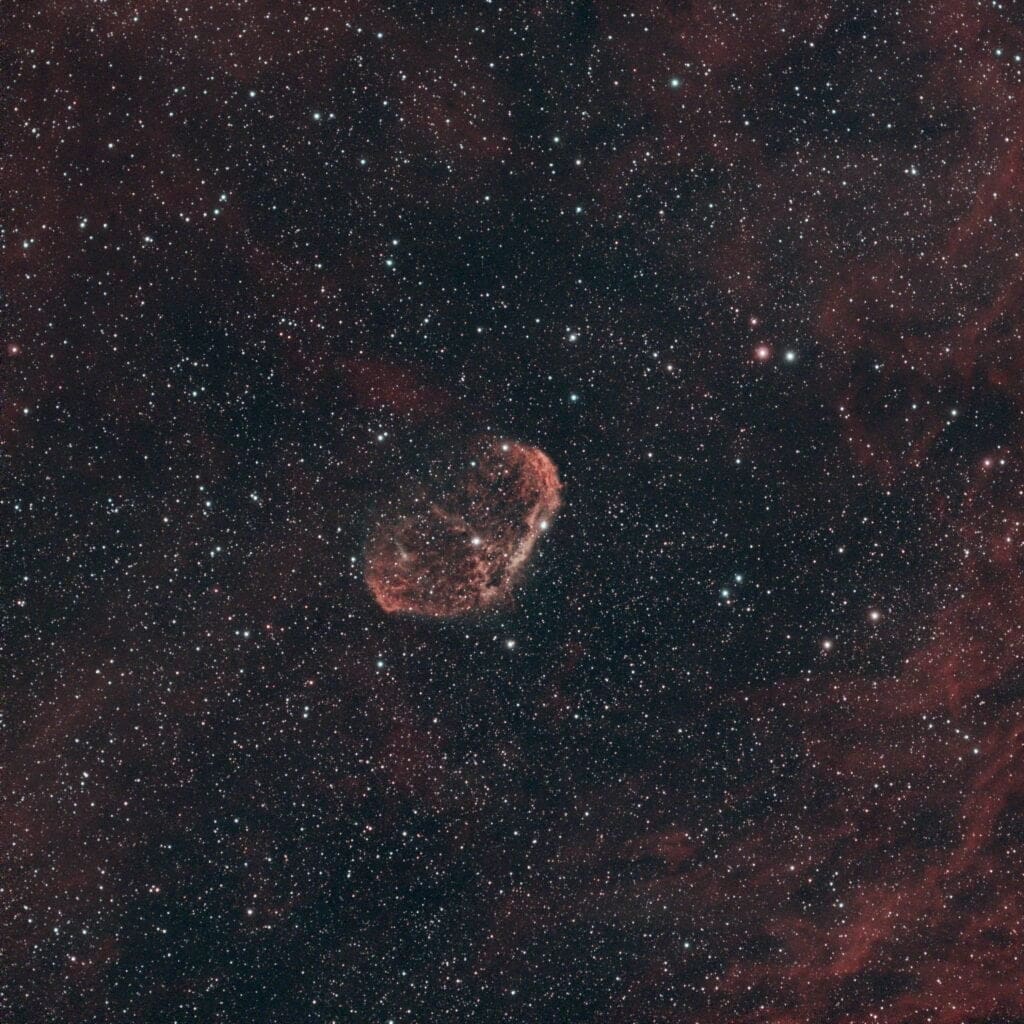 Affordable
Less than 1k new, and often more affordable in used markets – the 533 is a fantastic value. If you choose to upgrade, the value is returned as others will buy your camera without much loss if any.
Works on about Anything
As mentioned before, the small sensor is very forgiving and its pixel size of 3.76um makes it useful for many telescopes from SCTs to APOS and Newts. It's lightweight, so it doesn't cause excessive sagging issues on your telescope. Just an all-around amazing camera.
We feel you can't go wrong with the 533. If you are just starting out today and don't already own a DSLR and want to buy a camera to get started, the 533 is the camera you should consider.
Wrap Up
We hope this guide helps you choose the best camera for astrophotography for YOU and YOUR setup. If you have ANY questions or need further clarification, please leave a comment below! We'll keep this guide updated and try and improve it as we get questions, comments, and feedback!
The reality is this guide is still a 10,000-foot view of your options. There are entire books, science, and research papers written on this topic, but we hope we give you enough information to start making sense of it all.