Romania is slowly but steadily becoming quite a popular destination for a European city break. However, few tourists know that the true beauty of our country is not to be found in medieval cities mixed with communist buildings and modern skyscrapers, but in the Carpathian Mountains – a natural blessing for all adventurers who are looking to get a taste of wilderness. After all, they do cover more than half of Romania's land area!
If you were to ask a local what they like best about the Carpathians, they would not know where to start. Some will tell you it's the landscapes, some will tell you it's the untamed wilderness that lies in its forests and others will tell you it's the beauty and peaceful life found only in remote mountain villages. So best is to find out for yourself: put your hiking boots on, get your backpack ready and go for a hiking trip in Romania! Follow this guide to discover five hiking destinations that are sure to give you a unique perspective about our country and challenge any hiker from beginner hikers to experienced. 
Apuseni Mountains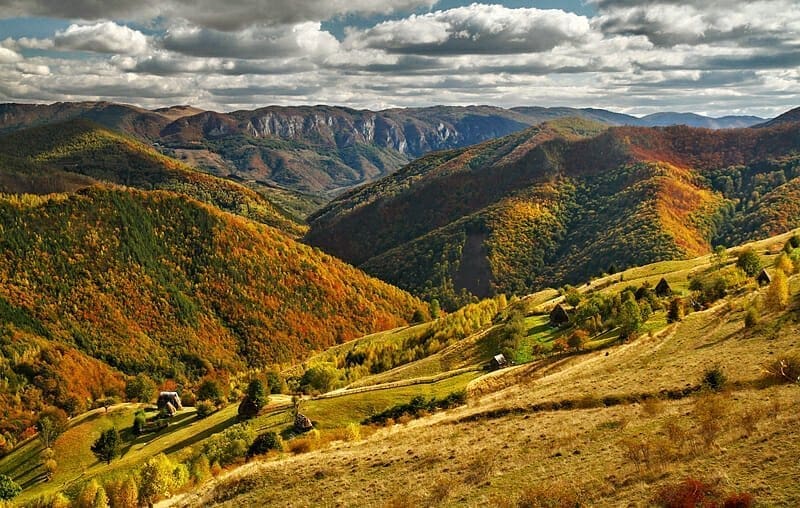 The easiest option on this list but definitely not the least entertaining, Apuseni Mountains are home to over 400 caves, one of them being the Bears' Cave, named after 140 bear skeletons were discovered there – all of which are still on display! Another natural wonder of the country is here: Scarisoara Cave hosts a 3,000 years old glacier which is the second-biggest underground glacier in South-Eastern Europe. 
Hiking trails are medium difficulty and the highest peak is Bihor Peak at 1,849 m (6,066 ft) but there are also other activities and sports you can do here: deep caving, nightsky observation, rappelling, via ferrata and water rafting. A true heaven for the extreme sports enthusiasts, trails usually start in Cluj-Napoca, but are also available from Oradea and Timisoara. And don't miss the hidden spot of these mountains: the ethnographic traditional region known as Motilor Land.
Piatra Craiului Mountains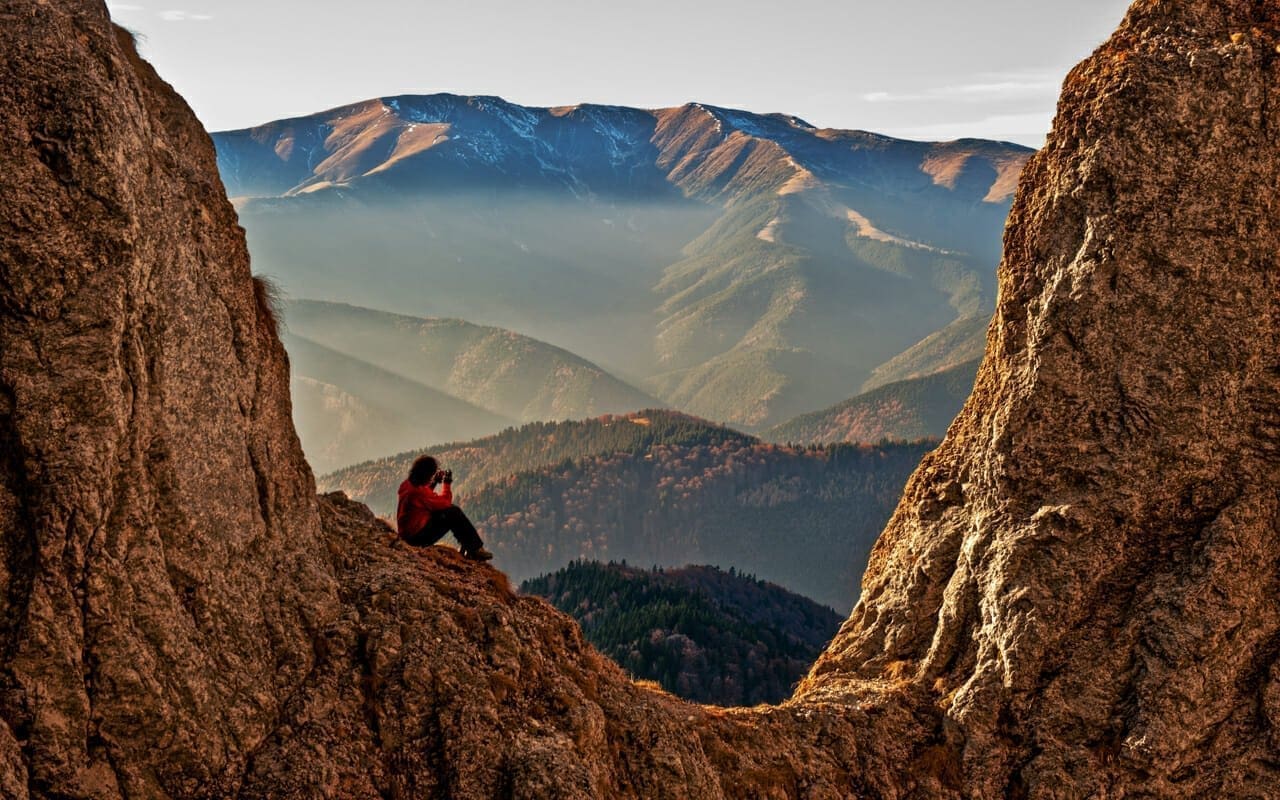 With the highest peak La Om reaching 2.244 m (7,362 ft), Piatra Craiului Mountains offer a variety of medium-difficulty hiking routes all ready to impress you with incredibly picturesque sights. One interesting attraction is Zarnesti Gorge: a 2 km-long canyon that will close on you with fresh and pure mountain air – surely you won't want to return to a bustling city!
Most trails takes 1 or 2 days to complete and will reward you with Romania's most beautiful scenes of mountain villages and rural life. At the base of Piatra Craiului Mts. the trails will take you wandering around traditional villages, such as Magura, Pestera or Moeciu, where you will be welcomed by locals with authentic Romanian hospitality: bread, salt, cheese and tuica! Don't miss the chance to taste branza de burduf – a traditional and regional cheese specialty matured in fir wood and smoked! Most hiking routes start in Brasov and also include visits to sheep farms or traditional villages – so a perfect eco-experience! 
Bucegi Mountains 
A quite accessible, but challenging trip is the one you can take through the Bucegi Mountains. They hold two of the most popular attractions, the Sphinx and Babele rocks, sculpted by nothing else but the wind! Most trekking routes start at one of the winter resorts located along the Prahova Valley, such as Busteni, Azuga, Sinaia or Predeal. Here you can find plenty of accommodation, where you can get yourself ready for the trip.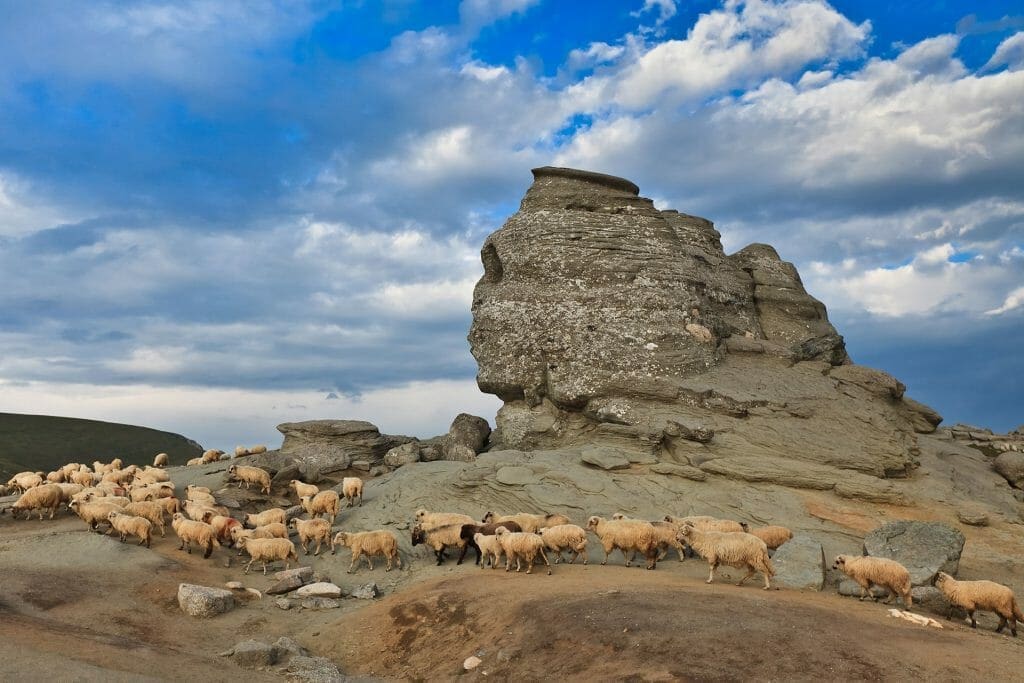 The most rewarding view is the one from Omu Peak, the second highest peak in Romania, at 2,505 m (8,219 ft). Valea Cerbului, just as rewarding, is also located nearby. Because of its popularity, the hiking trails on Bucegi Mountains are quite crowded, so it might be hard to find overnight shelter at the mountain cabins atop which are few.
If you are interested in a beginners' route, try the hiking trail that starts at Busteni and goes all the way up to Urlatoarea Waterfall. The route takes about one hour to complete, but the views will most likely make you want to spend at least half of the day there. 
Retezat Mountains 
The Retezat Mountains host one of the last truly wild areas in Europe, Retezat National Park, one of the most popular hiking destinations for locals and foreigners alike. The mountains reach a maximum altitude of 2,509 m (8,232 ft) on Peleaga Peak, which is the third highest peak in Romania. Only a couple of votes away from being included in the 7 New Wonders of Nature, Retezat Mountains are the perfect place to spot some of the most impressive flora and fauna. The park is home to over 55 species of mammals, including black goats, deer, wolves, lynxes and, of course, bears.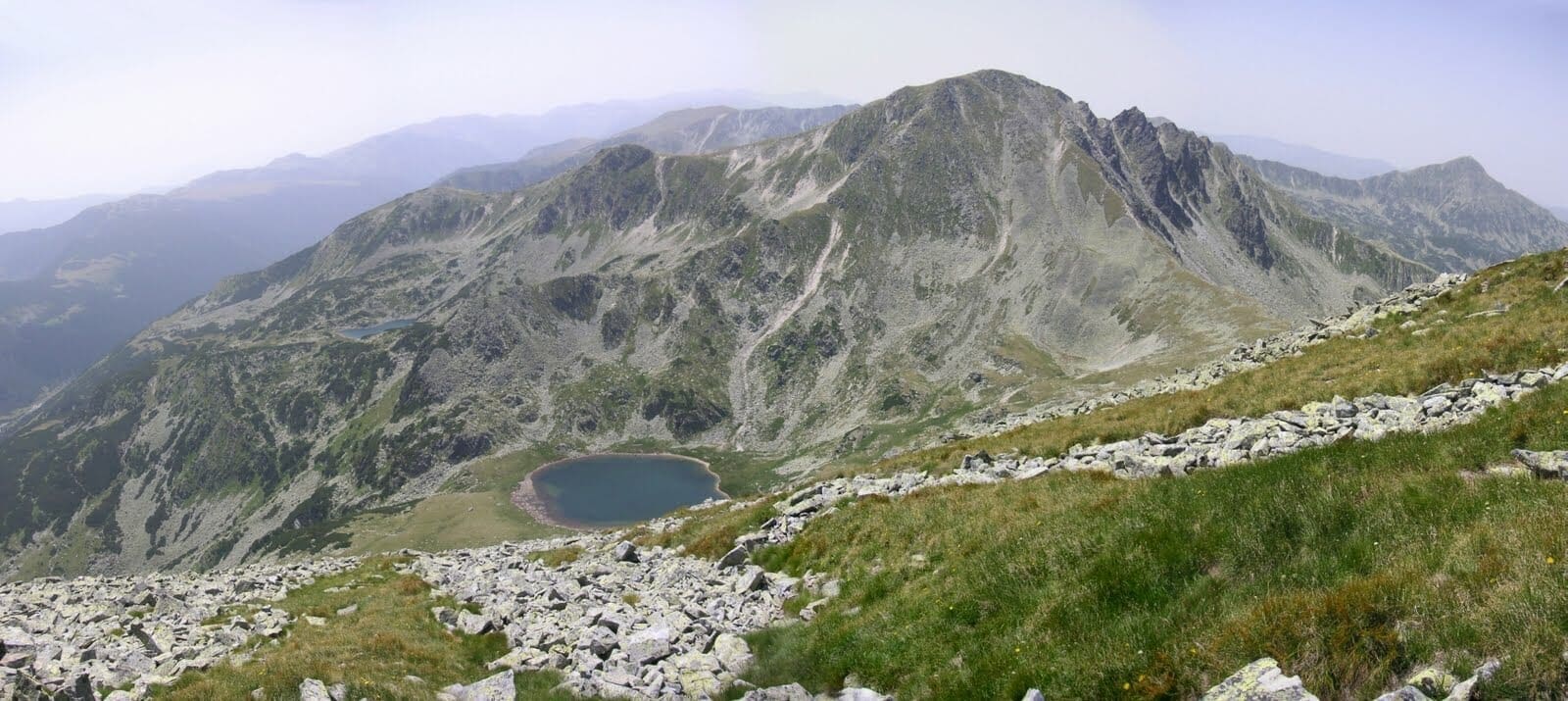 Keep in mind that the Retezat Mountains are not exactly the easiest to hike, so you will need to be well-equipped and trained in order to finish the trip. Make sure to pack your camping gear, as there are little accommodation options available along the trail. This is a favorite destination for trekking tours in Romania and camping expeditions! If you are looking for an easier trail, chose that of the glacial lakes, which starts from Bucura Lake and gives you a chance to discover 7 of the 80 glacial lakes that dot the Retezat Mountains. 
Fagaras Mountains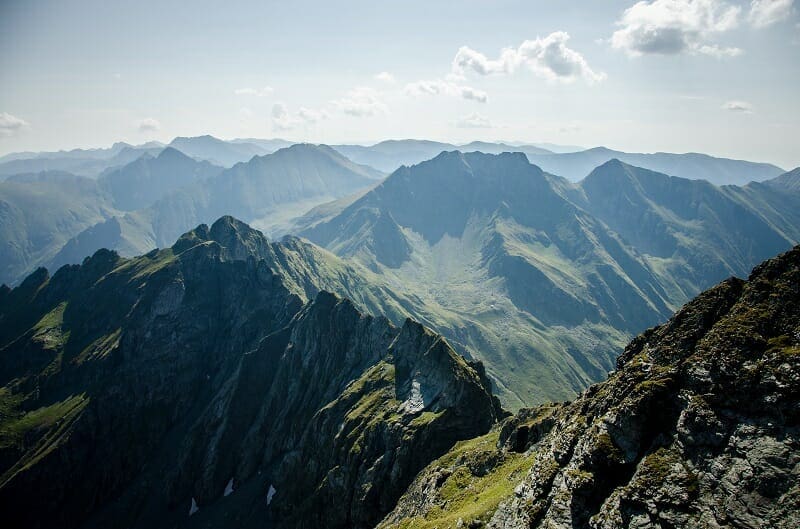 Saving the highest, most challenging, and beautiful for last: Fagaras Mountains stand as tall as 2,544m (8,346 ft) on Moldoveanu Peak and are located in the heart of the country. The wild landscapes, narrow trails and stony crests are what earned Fagaras the reputation of Transylvania's Alps. Every hiker who's dared to reach the highest peak will tell you that, as soon as you get there, you'll feel like you're on top of the world. 
The mountains offer multiple trail runs, including a 10-kilometer one starting from Balea Waterfall to Balea Lake. If you are in for a less challenging route, try the one that starts at Capra Cabin and ends at Carpra Lake. The most challenging trail is the one that gets to Moldoveanu Peak. It starts from Brasov and requires at least 3 days to finish. Come prepared, as apart from a few mountain huts, there is no sign of civilization at the higher altitudes! 
Have you ever been hiking in Romania? Looking to plan a hiking trip? If so, we'd love to hear your comments below!