"Twenty-six miles across the sea, Santa Catalina is a-waitin' for me.
"Santa Catalina, the island of romance (romance, romance)."
– "26 Miles (Santa Catalina)," Four Preps
Across the sea from Los Angeles – 26 miles, according to the song – sits beautiful Catalina Island, an escape-from-the-city oasis that's really about a thousand mental miles from busy L.A.
To Southern California boaters, it's an easy-to-reach destination, an idyllic place to spend a weekend. Power boaters generally head to the popular town of Avalon with its several shops, restaurants and quirky bars lined up along the harbor, including the "noisy bar on Avalon" from the Crosby, Stills & Nash song "Southern Cross" (The Galleon) as well as Luau Larry's, home of the Week Wacker and the big Jimmy Buffett concert-style hat you get with it.
Yet most "true" skippers skip Avalon – cruise ships dock there for cryin' out loud! – Avalon and instead point the bow toward the hamlet of Two Harbors. This is a place for sailboats – the occasional mega yacht notwithstanding – where you're rarely in a hurry to do anything, even on the journey across the Pacific.
Sailing to Two Harbors takes four to five hours from any of the several ports in Los Angeles – Marina del Rey, Redondo Beach, Long Beach, Huntington Beach, Newport Beach and Dana Point. Some people even sail up from San Diego.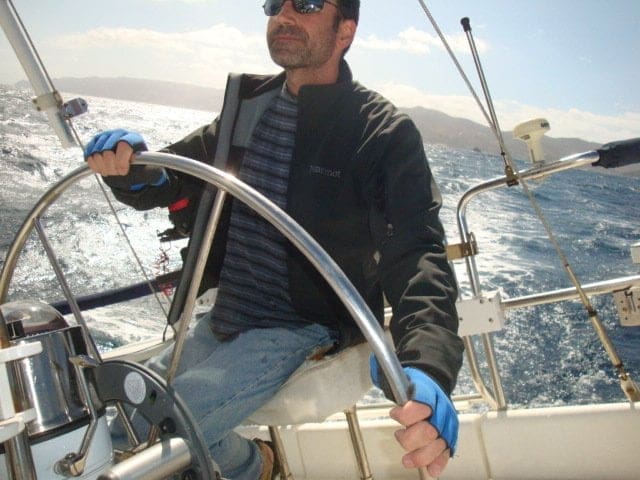 The seas are generally calm and you're never outside of the site of land, either the mainland or Catalina. But, as with any sailing adventure, conditions can change in a hurry and veterans know to be sure and have plenty of provisions on board such as water and food. And beers, rum and wine, of course.
A key part of the crossing is avoiding the big tankers and other ships, for you cross the busy Pacific Ocean shipping lanes. This may seem pretty easy, but those ships go faster than you think and their skippers high up on the bridge may not see a small sailboat approaching them.
While looking ahead, you should also look down, for it is common to see dolphins, whales and other sealife in the water. There are also a lot of seagulls, some just sitting on the surface and bobbing on top of the swells.
As you approach Catalina, you call into the Harbor Master, who will assign you a mooring ball for your stay. There is no dock to tie up to, so to get to shore you've got to use the dingy, a kayak if you have one, or call the shore boat. This is the case on Avalon and well as in Two Harbors.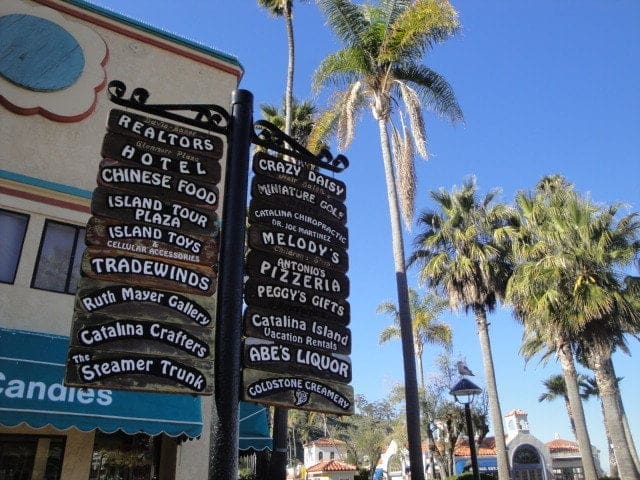 The water in both harbors and in particularly Two Harbors is so clear you can practically see down to the bottom from your mooring spot. A plunge off the stern is a refreshing and exhilarating feeling, tho do be warned you'll get an initial chill. The water rarely exceeds 70F even In the summertime and you have to be petty bold to dive Into it from mid-October until about June.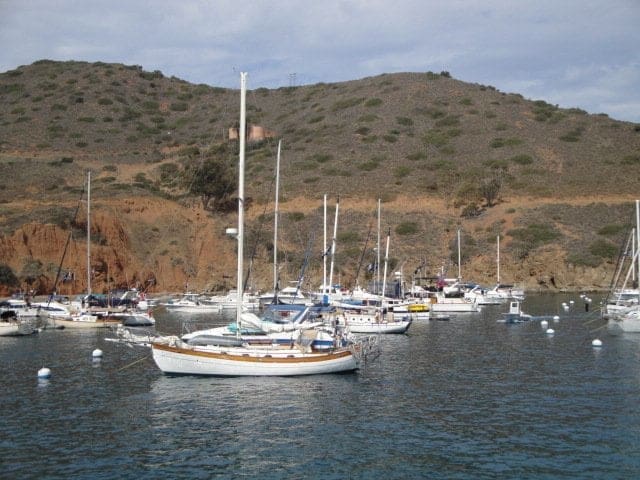 At Two Harbors, which is an isthmus with a very small harbor on the back side of Catalina, the pace of life slows to that of something resembling the Caribbean or Hawaii. There's simply no need to be in a hurry.
On the water, you can go for a swim, snorkel and kayak around the harbor. On land, there's a small beach for sunning and swimming and there is a hiking/running/walking dirt trail along a cliff with spectacular ocean views but the main attraction is the  bar, which is basically a wooden deck overlooking the harbor.
The Harbor Reef Saloon is where the boaters toss out the anchor, so to speak, while on the isthmus. Drinking Catalina's signature Buffalo Milk cocktail (vodka, Kahlua coffee liqueur, creme de bananes and creme de cacao, topped with whipped cream) under the sun or the stars with other skippers and sailboaters is what brings people back to this part of Catalina time and time again.
On summer nights, there is a band and the open-air deck is packed with people. Not one of them is wearing long pants or shoes. This is a shorts and flip flops place.
Come Sunday, it's back to the boat for the crossing to the home port. For many, the busy life of Los Angeles awaits on Monday but mental relaxation of spending a weekend sailing to Catalina lasts a lot longer than even that next morning's commute.
We'd love to hear about your trips sailing to Catalina Island –  Let us know about your adventures and leave a comment below!